Best Foot Soaks Reviewed & Rated
In a Hurry? Editors choice: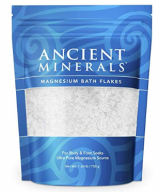 Test Winner: Ancient Minerals Magnesium

Self-care has seen a resurgence recently, and more and more people have begun feeling comfortable with spoiling themselves. Nurturing our minds and bodies is no small feat - pun intended. With rich minerals and natural extracts, these products prepare you to dive into life feet first. You deserve a little pampering for all you do, so why not try something new? As either a
medicinal treatment or a relaxation method
, feet soaks have a plethora of benefits that are waiting to be discovered by you! So the only thing left is to choose your fighter, sit back, and enjoy your routine of self-care and relaxation.
Standout Picks
Criteria Used for Evaluation
Effectiveness
What good is a feet soak if it doesn't perform how it says it will perform? Unless a product is tested and continues to be a tried and true customer favorite, it probably isn't very effective. For our favorite formulas, the biggest priority was for them to do the things they claim to do.
If a particular blend says it is anti-fungal? Then it better bet anti-fungal! Dry, cracked skin causing you pain? The soak should soften that dead skin it promises to.
Getting a new spa product and trying it out after a long day should be rewarding, not disappointing. All our picks deliver like they advertise they will because you deserve for them to.
Product Purity
Product purity is the amount of a certain component of a pure substance compared to the full weight of the substance. Many of the products shown are beyond pharmaceutical grade and pledge transparency to the consumer.
There are certain products out there that tout USP or pharmacy standards as a practice to hide dangerous heavy metals in their treatments. Things like mercury, lead, arsenic, and fluoride, can be snuck into certain and harm the body. We find that highly unethical and, quite frankly, we won't stand for that kind of insincerity from any brand.
The pharmaceutical standard is 10 parts per million. What is frightening about that is one part per million can be toxic and have adverse effects. We care about your health and safety and only have suggested the salts blends we believe in.
Potency
Potency generally refers to how powerful something is. Well, these blends are powerful. All of our picks contain powerhouse mineral or oil blends that have so many benefits it is scary. There are a few ways to ensure a potent result when mixing soaks. One way is to create blends like Purely Northwest, consisting of 7 essential oils and three separate salts.
The other is to keep the product streamlined and simple. Like the Pink Stork Flakes, which are only magnesium but in a great enough dose to be medicinal for mommy and child. The Purely Northwest proprietary blend gets a rest with the lavender version for sole relaxation and aromatherapy. The Westlab Himalayan salt is insanely powerful and is also a pure salt product.
Value
It is really important to us that what we promote is accessible, especially when addressing an issue of public health. Self-care is important for both mental and physical health. We need to take care of ourselves on multiple levels to survive. We often have to pick and choose which issues we pay attention to and try to combat. Due to either time or money, we just don't have the resources to invest in ourselves. These soaks are a small way to break away from the usual dilemma we have when tending to our needs.
The items here are affordable and allow everyone an opportunity to pamper themselves on any budget. A pedicure can very expensive for the average joe. A relaxing feet soak when utilizing prepackaged blends costs less than a trip to the salon and lasts for multiple uses. You don't have to be broke to be fabulous!
Brand
There are a lot of brands really inexperienced and sketchy within the beauty product and skin care business. It can be hard to find a product with integrity and positive reception that is not fabricated through illegitimate practices. Some may say it is even impossible.
Luckily, we know it is not. With enough sifting and research, you can scrounge up brands that have your best interest at heart. All but one of our picks are small family owned and operated companies. "Does this really make a difference?" you might wonder. Well, the answer is yes. It absolutely does.
Every feet or body soak we chose to feature has a 100% satisfaction guaranteed policy within the company. If they don't do what they claim, they will completely refund the consumer whatever medium they purchase the product on. This is a big deal! Companies who believe in themselves make it easier for us to believe in them as well.
Top 10 Picks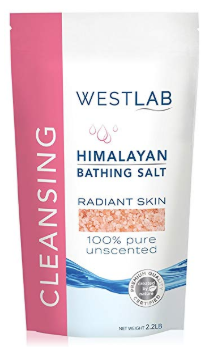 A fun lesson of history is in store if looking into Westlab's product integrity. Their commitment to beauty products first flourished due to their son's untreatable eczema. After much time and repeated frustrations, they finally decided to do something about it: make their own product. From athletes and A-list celebrities to doctors and health nut parents, the integrity and purity of Westlabs minerals are hard to beat. Sourcing ingredients for a cause, they're a rising company that deserves close attention as they grow.
Himalayan salt is really quite the powerhouse. It balances your systemic pH, which is the measure of the hydrogen ions in the body. Human bodies are slightly alkaline and to maintain this balance is very important because when the body is in an acidic state, it will try to protect itself from acidic damage by storing acid in fat cells. Most of our functions happen at a certain level of acidity or alkalinity and maintaining balance is so wildly important to promote healthy bodies!
Westlab's blend combines 84 minerals, which hydrate and detoxify the body. It will improve water retention and bloating, rash, cramping, fatigue, soreness, and a plethora of other ailments. Sourced from a 250 million-year-old mountain range, the detoxifying effects of this natural salt are equivalent to a three day fast. Minerals in Himalayan sea salt actually are identical to those needed for the human body to thrive. Fine-grain, this detoxifying luxe bath is ultra-affordable and would be amazing in a homemade spa blend.

2

. Ancient Minerals Magnesium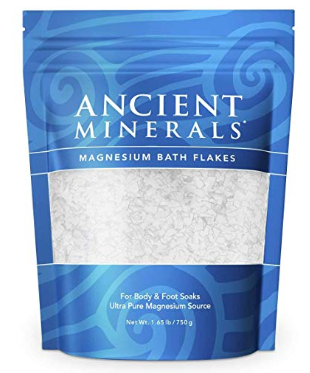 Enviromedica creates and distributes Ancient Minerals and they specialize in magnetic clay baths and topical magnesium. Interested in evolutionary medicine, the company believes that we have developed along with our natural environments to thrive and self-regulate. It may seem contradictory that a company promoting natural health sells products to promote health. What they are providing are the purest forms of natural resources that they believe our bodies have come to thrive using.
This Magnesium bath doesn't have to be exclusively used on your feet, it also works very well as a full bath. Magnesium has so many extraordinary benefits, and it has been shown that with multiple supplements, the full potential has not been reached. That is because the GI tract can't fully absorb magnesium as it should be. This is bypassed completely when we talk about Magnesium Salt treatments, and this Magnesium sourced from the Zechstein seabed is the purest substance your skin could be absorbing.
Magnesium Sulfate may sound familiar, it is the true name for the substance in Epsom salts. While both can do wonders through skin absorption, as opposed to oral Magnesium supplements. This formula, Magnesium Chloride, is not only a gentle alternative to harsher skin remedies, but it is absorbed better than even Epsom Salts. This is an amazing pain reliever for sore and achy feet, will improve overall circulation, calm restless legs, and so much more.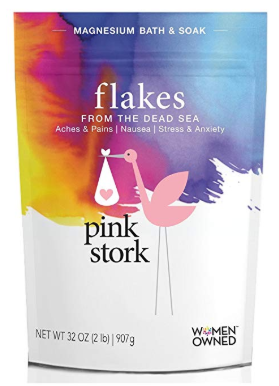 If you couldn't tell by the name, this company is all about pampering the future mamas of the world. Their products range from anti-nausea teas to prenatal vitamins and everything else in between. While the brand launched in 2014, their story started in 2009, when founder Amy experienced her first pregnancy. Diagnosed with Hyperemesis Gravidarim, Amy was constantly sick, plus sick and tired, from constant hospitalizations with no relief. She found the problem lied in her gut and began utilizing methods from all over the world to finally have a normal, healthy pregnancy.
Her methods for Pink Stork products have remained the same. Searching all over the world to find the best ingredients for any ailment. Determination has paid off, and Pink Stork now creates wonderfully effective, homeopathic products for future and current moms, during all stages of pregnancy and life in general. This magnesium body/foot soak is sourced from the dead sea and aids in preventing and eliminating morning sickness, which can often be caused by magnesium deficiencies.
Of course, this is not only great for morning sickness sufferer. There are also several other benefits provided by this product. While magnesium can help perk you up and make you feel energized during the day, it also is great for improving sleep quality, making it truly the best of both worlds! This item works to calm the central nervous system while soothing your achy feet, so pregnant mommies will see an increase in restful nights for baby too at a modest price!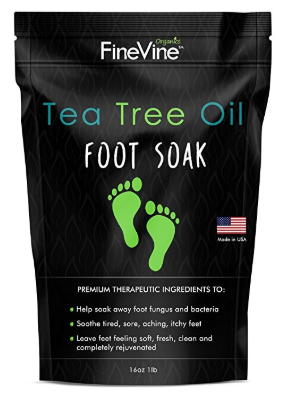 A company originally dedicated to specifically dental hygiene, FineVine has branched out to cover a long list of personal care products. The company wants to keep quality high and cost low to consumers. They keep a very tight reign on their production and the items that they create. FineVine Organics wishes to exceed customer expectations and go above and beyond the usual skincare products. Focusing specifically on the consumer, they have developed multiple amazing solutions to everyday problems.
While this item is wonderful for fighting fungus and bacteria, its real shining feature is its success as a relaxation aid. Also a proprietary blend of multiple different salts, including Epsom, MSM, and sea salt, which all aid weary toes, this tops off their patented formula with a large combination of oils. These essential oils have so many benefits. The oils used are Tea Tree, Eucalyptus, Peppermint, Cajuput, Camphor, Rosemary, and Lavender. I can smell the treatment already!
Not only will this combat weird or stubborn scents that you can't seem to shake off, but certain oils, like Rosemary, are known for improving skin damage and discouraging free-radicals. The antiseptic quality cleans even the small corners, cracks, and crevices. For an affordable low to mid-range price, you will receive maximum relaxation and relief from all your worst woes!

5

. Purely Northwest Lavender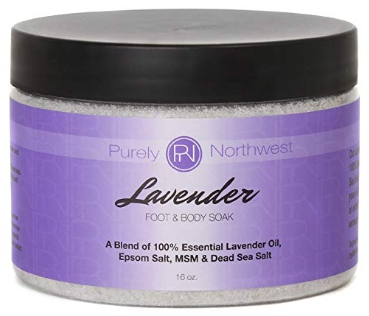 Purely Northwest has another product on our list because they have established a brand so consistent that they are hard to beat. Treating every customer like family and every family member like they'd want to be treated, their commitment to integrity and product quality is apparent. Distillation and origin of natural ingredients are indispensable in manufacturing a great blend and extreme care is taken to guarantee only the best and purest minerals go into their formulas. Their special combination is the epitome of skin and nail care. You shouldn't just take my word for it, you have to try for yourself.
Their lavender formula keeps with their normal proprietary blend of salts but with an aromatherapy and relaxation component of purely lavender. While they usually use a blend of seven different essential oils, this has a more streamlined usage. An amazing choice for night time or after a particularly stressful day, this soak will melt all your cares away and provide an amazing scent during the process, thanks to the pure lavender oil.
With no synthetic fragrances or dyes, this blend is safe and soothing for sensitive skin. It will relax your muscles and relieve cramping and tightness, while also entrancing you and allowing your body to slip into total relief. This will give you the softest, most supple skin and is fully compatible with any foot basin or tub. If you have a fancy spa, this fine grain, quick absorbing soak will be perfect for you. Though slightly higher in price due to its high concentration of pure lavender oil, this is still a super affordable way to unwind and pamper your feet.

6

. Purely Northwest Tea Tree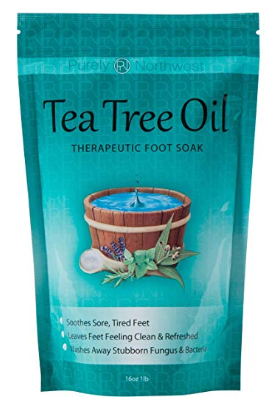 Their brand philosophy is essentially the golden rule. "Create high-quality products that deliver exceptional results and treat every customer the way we would want to be treated." This seems simple but unfortunately, in the current day and age, it is becoming more and more rare to see brands delivering on these grassroots promises. Purely Northwest doesn't share in this problem. To do this, they keep their customer service in the company, research and understand their ingredients and their sources, and guarantee customer
This proprietary blend has become wildly popular with customers for good reason. The special combination combines Epsom salt, sea salt, MSM, Australian Tea Tree Oil, and six additional essential oils to create something spectacular. Not only will this do wonders for your feet and skin but they formulated it to also heal and maintain your nails. This is practically a pedicure in just one easy step!
Super fast dissolving and safe to use in any foot spa or bath, Purely Northwest offers a quick relief for your worst aches and pains. The medicinal ingredients and their results are apparent immediately. If you have thick or discolored nails affected by fungus or bacteria, this will soften and alleviate discomfort enough to maintain and care for them further after the soak. In the lower to mid price range and utilizing no synthetic dyes, fragrances, or ingredients, this is great for those with medical problems with nail growth, infection, or fungus.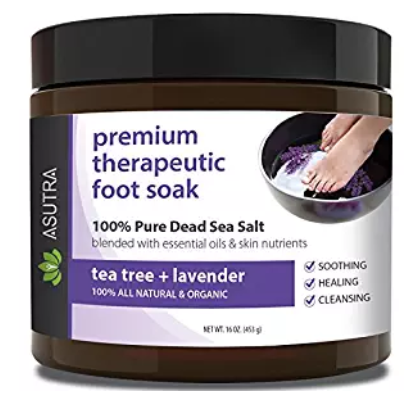 Most of us could use a dose of positivity in our lives and this brand takes special care to deliver it. With slogans reminding us that self care is about how we feel not how we look, and little reminders about how beautiful we already are, the company gladly offers up wholesome, refreshing messages. Here for when you want to "refresh your mind, reenergize your body, or replenish your soul" their organic products range from simple aromatherapy items to powerful pain relievers. Products are made by hand with that small business level of care. Asutra is a brand that is doing things right.
This gorgeous, relaxing lavender soak is a total wonder and contains over 20 natural healing minerals sourced from Dead Sea salt. Lavender is often the main ingredient in many sleep remedies but it isn't only because the smell encourages relaxation, it also physically reduces heart rate and blood pressure. Utilizing essential oils to stimulate and improve circulation, this option is amazing for diabetics, or anyone struggling with circulation in their legs, feet, and ankles.
Not only does using this feel like a dream but it can help prevent against dreaded foot conditions and treat impending ones. From athletes foot and toe fungus to blisters and callouses, this can help get your often most neglected body parts in tip-top shape. In the rush of our busy lives, it is easy to forget to stop every once in a while and take care of ourselves. This mid to high price ranged product is super concentrated and perfect for coming back around to self-care. It even includes a free pumice stone with purchase!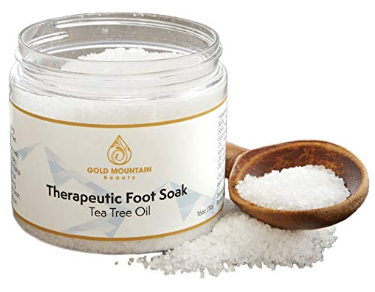 Another small family business because the level of quality control in intimate companies is incomparable with the big name brands. Not only are they concerned about the health of their customers but also the environment and world in general. Gold Mountain Beauty ensures every product is vegan/vegetarian, cruelty-free, and made of natural and organic ingredients. A more sustainable beauty item helps make way for a more sustainable world. They make themselves available directly to the consumer to close the gap between product and user and consider that relationship in every formula they create.
A simple and straightforward blend, this soak is no frills and gets right down to the root of your skincare problems. Using simple ethically sourced ingredients and avoiding animal products and testing, they combine five essential oils with an Epsom salt blend to give your tootsies a much-needed break. If it has been a while since you have taken a load off, this small family-owned American company is a good place to start.
Australian pure tea tree oil is amazing for fungus and bacteria. Many essential oils are naturally antiseptic, but tea tree oil repairs skin and nails like few others are able to. This blend follows with the Australian vibe by combining eucalyptus essential oils in the mix. Not only is eucalyptus a strong pain reliever and immune booster, but it can also steam away congestion. It even can show significant improvement in asthma sufferers, which makes this a multipurpose blend. In the medium price range, this is a great choice for the perpetually sick and sore, or anyone who wants a simple salt combo.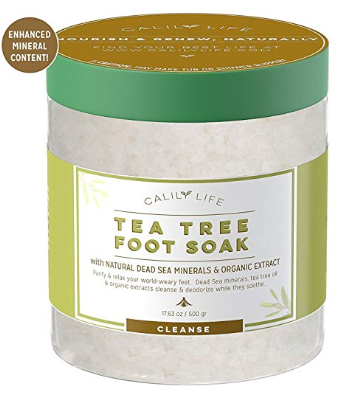 Calily Life is a company that has been making natural beauty products for the last two decades. Formed by a group of naturalists interested in only the most refined essential oils, Calily is no joke. They are committed to creating skin care items with nutrient-rich minerals and high-quality extracts. Whatever your beauty needs are, whether abundant or simple, Calily Life will have a perfectly tailored formula for you. With solutions for sensitive skin, or rough, oily skin, Calily Life covers all their bases with every concoction they dream up.
Of course, a foot soak should be luxurious so the first feature we are going to talk about is how silky smooth this tea tree option will make your skin baby soft. In just a 20 minute soak, calluses and dead skin can be completely removed with this dead sea mineral option. Though it removes rough and dry skin, it also moisturizes and aids cracked and painful skin as well, both buffing and healing.
Deodorizing and cleaning is also a factor and this Calily Life product will help prevent bacteria and fungus from spreading on your feet. Along with preventing bacteria, it will clean and deodorize, because often harmful bacteria is a cause of the dreaded stinky toes! Organic and pleasant smelling, this helps combat inflammation and discomfort for days to come. In the middle price range for similar products, soaks are one of the most cost-effective ways to bring the spa home with you, so this definitely won't hurt to spend on.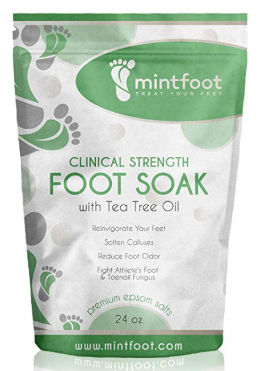 Produced and distributed by Frederick Medical Supply, Mintfoot provides multiple feet care needs. From clippers to pain relief pads, anything other the sun that you need to keep your soles and toes feeling amazing is available from Mintfoot. They want to be a compassionate and caring company to every patient who utilizes their products. Mintfoot is concentrated solely on feet care and once you try this soak you will know why!
Tea tree oil has been used for hundreds of years and with good reason. Aesthetics can be important and this highly concentrated blend provides relief for redness and dry, flakey foot skin, so no more self-conscious outings in sandals. Not only will this aid in how your feet look, but it will greatly reduce inflammation, swelling, and water retention, which can cause pain and discomfort in your day to day life. There is no reason to needlessly suffer, and self-care is an important aspect in preventing that.
This minty smelling soak works wonders for fungus as well. If you have a serious medical issue with fungal or bacterial growth, a high concentration of tea tree oil may be the answer. Used medicinally for a very long time due to its anti-inflammatory and antimicrobial properties, this may be just the formula you need to get rid of thick, yellow toenails and painful infections. The smell isn't overly perfumed or floral, which gives it a nice neutral, but pleasant, element to the experience. Priced extremely affordable but at a slightly above average weight, this is a great product for long-term prevention against fungus.

Subscribe to our Newsletter