Best Folding Bikes Tested & Reviewed – 2022 Edition
In a Hurry? Editors choice: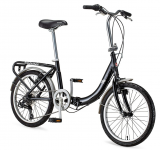 Test Winner: Schwinn Loop Adult Folding Bike

Cycling is a great way of exercising. It improves your fitness, it is enjoyable and cost-effective.

If you have limited space to store your bike, a folding bike is a fantastic solution. They can be quickly and easily be folded down in just a few simple steps and stored away. The folding bike can also be taken on public transport if you are commuting. They also tend to be less attractive to thieves in comparison to a regular bike. 

Over recent years the folding bikes have become increasingly popular. This has resulted in a growing selection of folding bikes available to choose from. To make your life easier, we have researched and reviewed the best options currently available and have put together reviews of our top picks. We have rated each on comfort, versatility, durability, and brand. 

Check out our best folding bikes today! 
Standout Picks
Criteria Used for Evaluation
Comfort
Comfort is key when it comes to a product. If a product like a bike is not comfortable to sit on you will not want to ride it again.
You will either end up buying the bike and not using it or will end up selling it for less than you bought it, making a loss on the money. 
It was important that the folding bikes we selected for this collection were lightweight and were easy to carry. It was essential that the bike had a comfy seat and that both the seat and handlebars could be easily adjusted to the correct height, ensuring a comfortable riding experience. Some of the bikes we selected had wider saddles. We selected bikes that had smooth brakes, making transitions easy.
We also included bikes that featured a water bottle holder, making it easier for the rider to stay hydrated. Some of the folding bikes we selected included a carrying rack and carry bag, providing somewhere to store and carry personal items when out and about.
We selected bikes that had splash-proofs fenders and shock absorbers. We tried to select folding bikes that were suitable for people who varied in height. Most of the bikes we chose were suitable for people ranging from 5ft to 6ft. 
Versatility
Having a versatile option can be extremely beneficial because it gives you more features and benefits.
When it comes to versatility, we tried to select folding bikes that came in a variety of colors giving customers a variety of styles to choose from. We paid close attention to the process of folding the bikes down. We only selected bikes that could be quickly and easily folded in a few simple steps, allowing them to be stored away, transported in a car or public transport. We also selected folding bikes that offered a good number of gears, allowing the bike to go at a variety of speeds. 
To give our collection of folding bikes a bit of variety we included a mixture of electric and regular folding bikes.
Durability
The durability of a folding bike is extremely important. Having a durable product means that it will last for a long time and will not need to be replaced after a few months.
 We chose folding bikes that featured durable frames, ensuring that they had a good solid foundation. Our collection of folding bikes was either made from an aluminum or a high-carbon steel material. We selected bikes that could withstand wet and windy conditions.
We chose bikes that featured high-quality durable wheels and some that had anti-slip resistant thick tires. Some of the bikes featured high-quality resistant rubber and aluminum handlebars with alloy rims. We also selected bikes that featured reflectors and lights, providing better visibility in lower, dim levels of light. 
Brand
The brand of a product says a lot about the product itself. The brand gives a product a certain level of status and carries certain connotations that you expect from that brand.
When it comes to our collection of folding bikes, we chose bikes that had been designed and manufactured from some of the worlds leading brands in the market. Some of the businesses were well-known whereas some were new.
Either way, we felt it was important to include a variety of brands, allowing customers to research and find out more about the brand and select the bike they preferred. 
Top 10 Picks
1

. Schwinn Loop Adult Folding Bike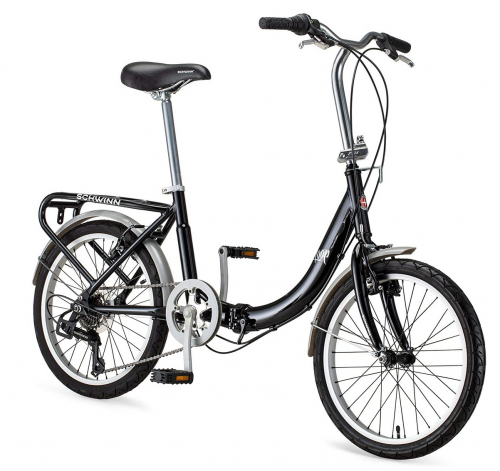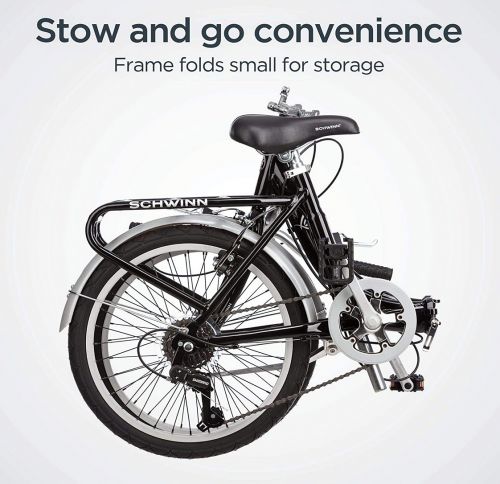 This Schwinn Loop folding bike is one of the comfiest folding bikes in our collection!
Comfort
With a lightweight aluminum step-through frame and adjustable seat post, this bike will deliver a comfy riding experience. To add to the experience, the piece has linear-pull brakes and 20-inch pavement tires. It also shifts gears smoothly. 
The bike includes a carrying rack and has a nylon carry bag so you can store your positions safely. Splash-proof fenders minimize the risk of you and your carrier bags getting wet. The bike frame can also be folded down and stored safely.
The bike is approximately 29.5 inches by 29 inches by 19 inches in size and weighs approximately 33 pounds. The wheels measure 20 inches. It is important to be aware that the piece has a limited lifetime warranty.  
Versatility
The fantastic benefit of this bike is that it can be folded in just a few easy steps so no bike rack is required. This bike is big enough for a 6ft rider, making it suitable for a variety of sizes. It also comes with 7 gears, allowing you to reach high speeds. 
Durability
The piece features steel hinges and includes a kickstand so you can confidently position it stationary without the bike falling over. The bike can withstand windy and wet weather conditions, making it great for cross country rides and commuting. 
Brand 
The American Schwinn is best-known and loved for its bicycles. Established in 1895, Schwinn's mission has been to develop bicycles that allow people to experience freedom and confidence in riding a bike. Schwinn Loop Adult Folding Bicycle is one example that offers great convenience for uses because in just a few easy steps the piece can be folded done, with no need for a bike rack.

2

. EuroMini ZiZZO Shimano 7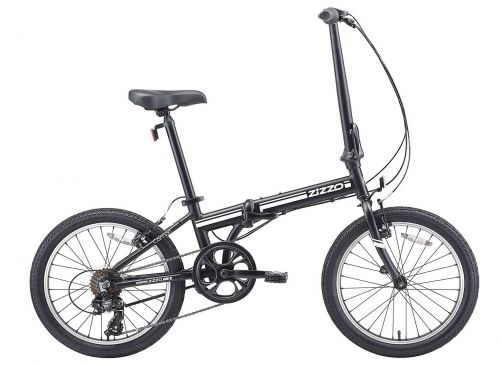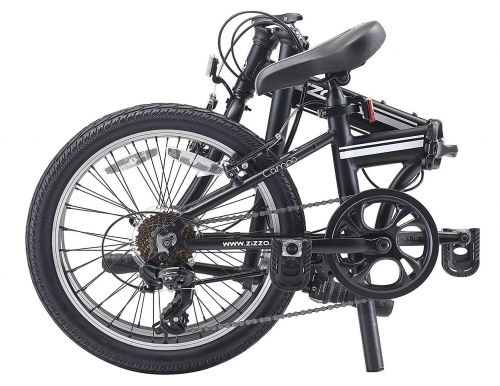 The EuroMini ZiZZO Campo bike is a fantastic option if you are looking for a folding bike. This bike features a wider saddle, creating a more comfortable riding experience. The piece also features resin folding pedals and has adjustable handlebars.
Comfort
The bike is lightweight, weighing approximately 28.5 lb, and is approximately 27-inch-high by 31 inches long by 12.5 inches wide. It has 2-inch-wide tires. 
Versatility
The EuroMini ZiZZO Campo folding bike comes in 3 different colors including matt black, white, and yellow. The piece can easily be folded in seconds so you can store or carry it wherever you go. It comes with 7 gears allowing you to travel at a variety of speeds. It is important to be aware that this folding bike may not be suitable for all users because of its size. 
Durability
The bike is made from a lightweight aluminum frame that has magnet catchers that hold the folded frame securely together. The mini bike has a strong alloy break-level and a Shimano twist shifter. 
Brand 
EuroMini is a USA based company that aims to provide you with the best quality products at a fast pace. They pride themselves in providing excellent customer service. 

3

. Xspec City Folding Compact Bike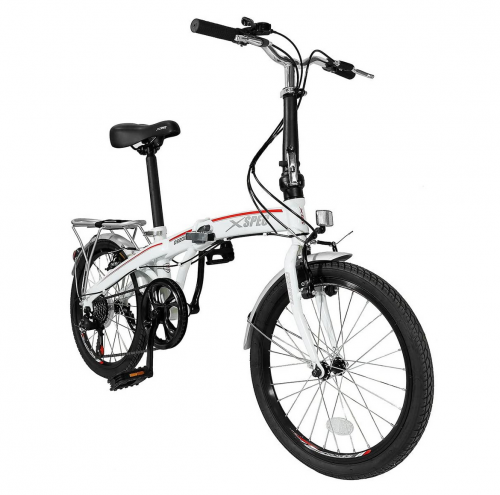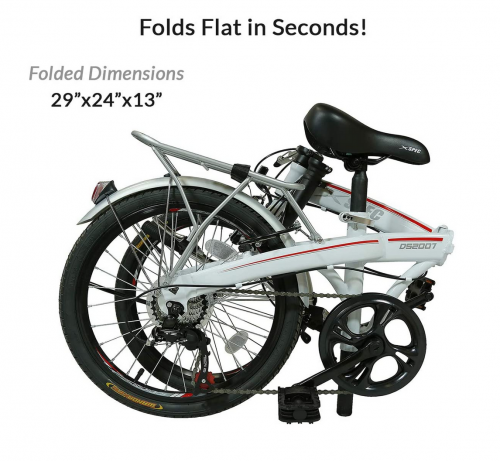 If you want a comfy and versatile bike, look no further than the Xspec 20" 7 Speed City folding compact bike. The piece is lightweight and can easily be transported. The bike is 29 inches long by 24 inches high and 13 inches wide, making it a great size.
Comfort
The Xspec bike includes a set of adjustable handlebars and an adjustable seat so you can set them at the correct height for you. The seat is suitable for most heights ranging from 5ft to 6ft tall with a maximum weight of 220lbs. 
Versatility
The folding bike includes 7 gears allowing you to travel at a range of speeds. The bike is extremely easy to transport as it can be folded in half and put in the back of the car. The folding bike is great if you do not have a bike rack or are worried about leaving your bike outside. Unfortunately, this bike only comes in a black color which is a little limiting. 
Durability
This Xspec folding bike features alloy wheels that have a high grade 20 inches x 1.75 road tie which is extremely durable. The bike comes with a 30-day warranty. 
Brand 
Xspec is one of the leading fitness, sports, and outdoor brands. Established in Los Angeles, their goal is to bring the highest quality products at the most affordable prices without sacrificing functionality or style. They believe that they surpass their goal with each product they bring to the market. 

4

. Dahon Mariner Folding Bike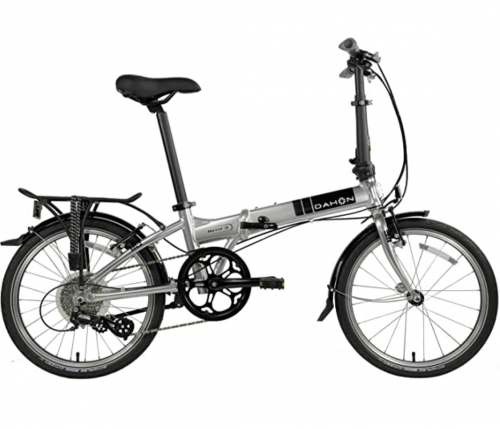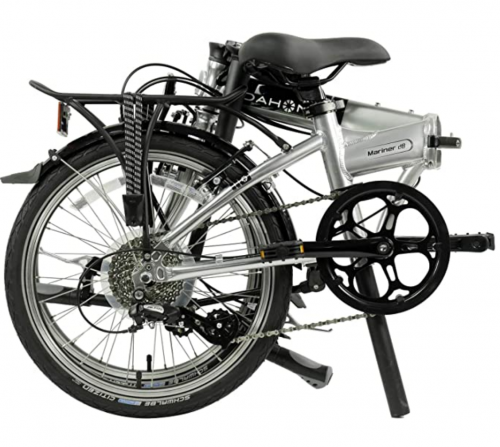 The Dahon Mariner Folding Bike is one of the most popular and well-known folding bikes in our collection.
Comfort
Made from exceptionally durable materials, you are certainly getting a lot for your dollars with this bike. To ensure complete comfort the bike has an adjustable seat and adjustable handle-posts allowing you to place them at the correct height. It also has linear-pull style brakes.  
Versatility
This piece can easily fold into a compact size in a couple of simple steps. This compact and portable bike is easy to put in your car or take on public transport. This bike features 8 gears so you can ride just about anywhere. Unfortunately, when it comes to color, this piece is only available in one color is brushed silver. 

Durability
The Dahon Mariner has been built using a Dalloy Sonus Tubeset and a Lattice Forged Hinge with Visegrip Technology. It features a smooth-riding fork that is built with stable hi-ten steel blades and steerer. The bikes V-brakes are made from an alloy that is approximately 110mm in size. 
Brand 
Dahon is known for mastering the art of designing and producing foldable bicycles. Mariner D8 is one of the most versatile and popular bikes around. 

5

. ANCHEER 26" Folding Electric Mountain Bike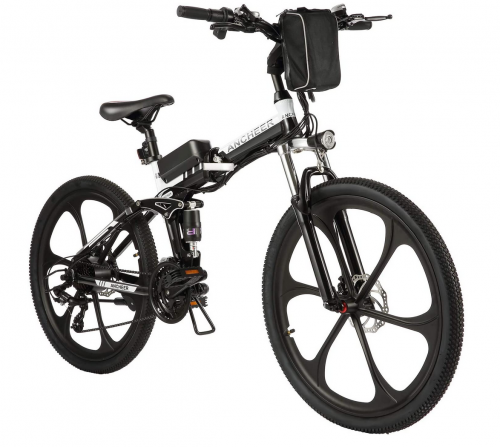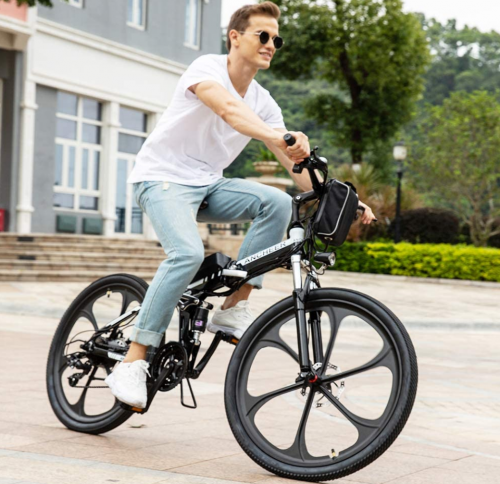 The great benefit of this ANCHEER 26" folding electric mountain bike is that you can sit back and relax while the electric bike does all the work!
Comfort
What is great about this piece is that it is a mountain bike that is powered by electricity. The electric system means that it has a removable 8AH lithium-lon front battery and a 250W stable motor, so you can reach speeds of around 15mph and it can run between15-30 miles. This is a brilliant item to take traveling or on holiday. 
The bike has a mechanical front and rear disc-brake design. It has a 21-speed professional transmission and comes with a pro's bright LED Headlamp so you can navigate yourself in low-light environments. It is lightweight and has double shock absorption. 
The bike comes 85% assembled and comes with a one-year service for the electric motor, battery, and the other parts, excluding the frame. 
Versatility
The electric bike comes with 3 working models that include an Ebike, a Normal bike, and an Assisted bicycle. The piece is available in 2 colors including black and a sporting white. 
Durability
This ANCHEER electric mountain bike is made from a strong aluminum frame that is extremely durable. The 26-inch bead spoke wheels are made from an aluminum alloy. They also include an anti-slip resistant layer on the surface of the tire. This makes them suitable to wear in on the road, in wet weather, and the snow. 
Brand 
ANCHEER is dedicated to innovation, high-quality materials, and cutting-edge technology as well as providing cost-effective e-bikes. They aim to satisfy the rider's transport needs and their desire to explore sport and outdoor life. 

6

. Goplus 7 Speed Shimano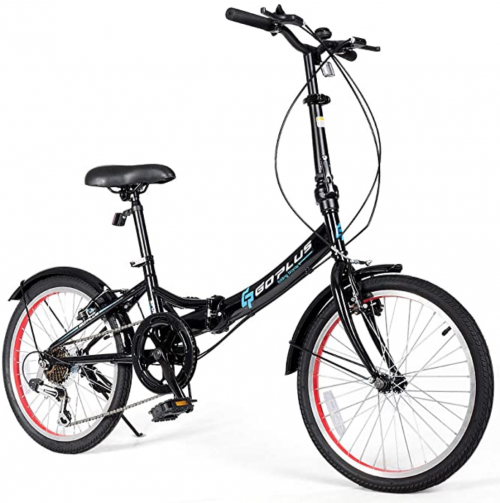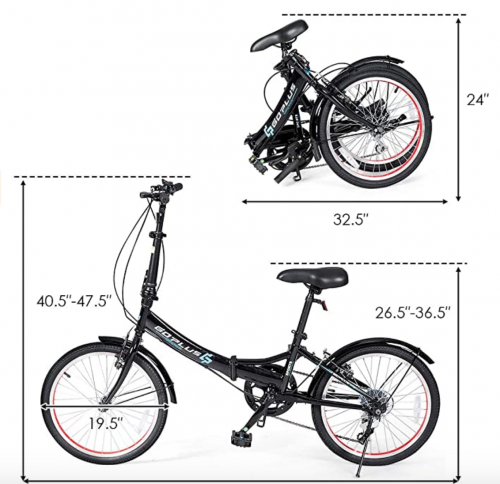 The Goplus 20" Folding Bike 7 Speed Shimano Gears is one of our favorite folding bikes in our collections.
Comfort
The bike features ergonomic anti-slip handles that help relieve any pain or discomfort you may have in your wrists from prolonged riding. The height of the handlebars and the seat can be easily adjusted to provide a comfortable experience for the rider. A cortical style seat also gives you a good level of comfort. 
The bike comes with front and rear V-brakes that make the brakes more efficient and work by shortening the braking distance when riding. The bike comes with wear-resistant wheels that can withstand harsher weather conditions. Anti-skid foot with BS reflectors allows you to ride the bike safely at night. 
This is another of our foldable bikes that can be folded in 3 simple steps, making it an easy process. It is important to be aware that this folding bike comes 98% installed. 
Versatility
The bike comes with 7 different gears allowing you to easily shift from one to the next smoothly. Unfortunately, this bike only comes in a black color however you can purchase it with either a curved crossbar or a U-shape crossbar, depending on your preference. 
Durability
The Goplus 20" folding bike has an iron frame that has a strong load-bearing capacity which means it can be used for a long time. The handlebars are made from a high-quality resistant rubber and aluminum alloy rim. The tyers are non-slip and are extremely difficult to pierce, making them super durable. 
Brand 
Goplus is passionate about creating products with usability and simplicity. They listen and talk to customers and value constructive feedback to improve their products and services.  

7

. EUROBIKE Mountain Bike TSM G4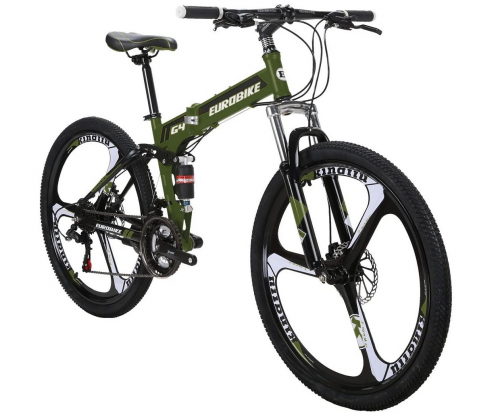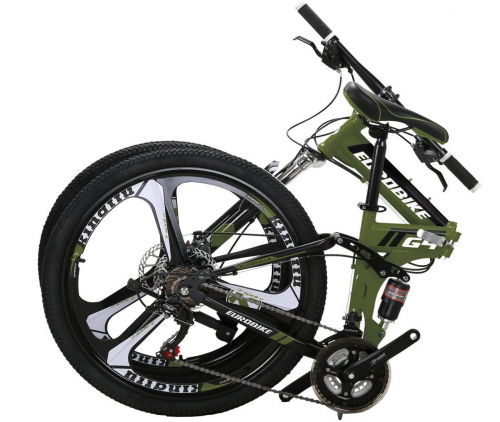 The EUROBIKE Mountain Bike TSM G4 Bicycle is another fantastic folding bike that is also a mountain bike.
Comfort
The bike has a dual suspension that makes the cycling experience comfy. The piece is very stylish and has 26 inch 3-spoke wheels that look great and are easy to control. The piece has a comfortable seat, even after a long bike ride. It also has MTB pedals.  
Offering 21 different gears, this mountain bike can perform at quite a few different speeds. If you are going at a fast speed and need to quickly stop the dual disc brake is a good feature that provides great stopping power. The gears have a shifter, front derailleur, and rear derailleur. 
It is important to be aware that this bike only comes partially assembled so you will need to finish assembling it yourself or take it to a local bike shop. It does however come with a set of bikes assemble instructions. 
Versatility
This EUROBIKE TSM G4 Bicycle comes in 3 colors including Army Green, Red, and Blue, giving you multiple colors to choose from. This bike can easily be folded in just a few simple steps then placed in the back of your car or stored away. 
Durability
This mountain bike from EUROBIKE features a high-quality durable frame that is made from a High-Carbon Steel material. The bike features straight handlebars that have a 4-screw alloy stem. The pedals have an anti-slip resin surface making them more durable and easier to ride.  
Brand 
EUROBIKE makes high-quality mountain bikes that are great for beginners, experts, and anyone in between.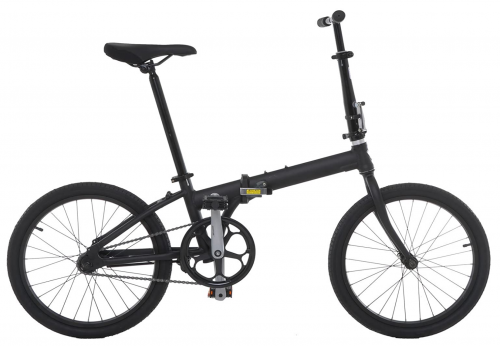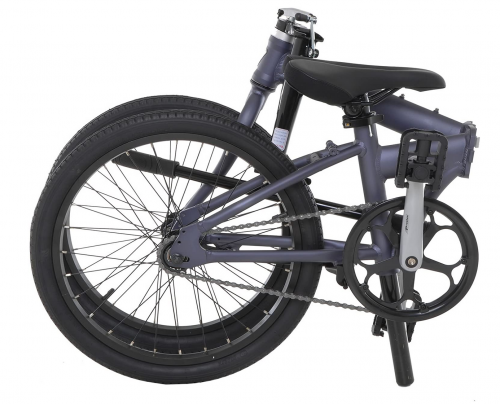 If you have a smaller budget and require a more basic spec, this Vilano Urbana is a great option.
Comfort
The piece is lightweight and easy to fold up and carry if you need to put it in your car or take it on local transport. The piece weighs approximately 21.5 lbs and folds up quickly to approximately 12 inches by 32 inches by 25 inches. 
The bike includes a comfy saddle and a rack for a water bottle so you can stay hydrated when you are on the go. It features wheels that are approximately 20 inches in size. This bike may look a little basis to look at, however, it is a great little run-around if you are short on space. 
It is important to be aware that the bike will require assembling on arrival so you will need to do this yourself or take it to a bike shop. 
Versatility
When it comes to versatility, unfortunately, this bike only comes in 2 colors including Grey and Matte Black. Different to a lot of the other folding bikes in our collection, this bike only has 1 gear which is quite limiting. However, a single-speed bike does require minimal maintenance, making it convenient and low cost for you. 
Durability
The Vilano Urbana Single Speed Folding Bike features a lightweight durable aluminum frame. 
Brand 
Vilano is a new brand in bike manufacturing. The niche brand offers low-priced bikes across different categories. Vilano is specialized in five major bike types including the folding bike, mountain bike, road bike, hybrid bike, and electric bike. Each bike has a sustainable and functional design to serve the purpose of using durable materials. Vilano makes bikes for professionals, beginners, commuters, and enthusiasts.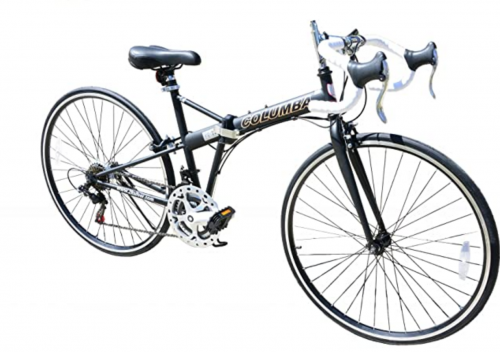 This stylish and comfy Columbia Folding Bike is one not to be missed!
Comfort
The bike comes with a comfy seat and linear-pull style brakes with an alloy front and rear V-brake. The wheel size is approximately 26 inches. The front handlebars can easily be adjusted if required. The bike also has a smart PVC bell, which you can be used to signal your presence to other riders or walkers.
This lightweight bike can easily and quickly be folded down in a few seconds, for transportation or storage. The bike can be folded down into a compact 38 inches by 14 inches by 29 inches when the handlebars, seat post, saddle, and foot pedals have been removed. The bike weighs approximately 35lbs and can carry a maximum weight of 200lbs. 
Versatility
The bike includes 18 different gears, allowing you to travel comfortably in a variety of speeds. Unfortunately, the bike only comes in blue color, however, the shade of blue is very striking which makes up for the lack of choice!
This bike is recommended for riders who have a height ranging from 5.3 ft to 6ft. People who have a height between 5.10ft and 6.2ft may need to buy an alternative bike or could opt for a longer seat post.  
Durability
The latest Columbia bike features a steel frame that is high-quality and exceptionally durable. 
Brand 
The first Columbia bikes were manufactured in Hartford, MA in 1878. Since then they have been bringing comfortable bikes to the masses including the latest Columbia Folding Bike. 

Subscribe to our Newsletter