Best Workout Balls Reviewed
last updated:
Sep 19, 2019
Stability balls, also known as exercise balls or swiss balls, are made of soft elastic ranging from 14 to 34 inches in diameter. Swiss physicians used them to treat infants with neural issues. However, these products have gained prominence over the years, and have many applications, from the local gym to the office.
What makes a stability ball so great is that you won't need to set it up, train, or warm up to experience its benefits. Many manufacturers have caught on with the trend, and sadly, some have taken advantage of the ball's popularity by making substandard products. Fortunately, we have separated the wheat from the chaff, and provide you with a handy buyers guide to help you make the right selection.
In a Hurry? The test winner after 9 hrs of research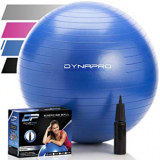 DYNAPRO
Why is it better?
Puncture resistant
24/7 manufacturer support
Vibrant online community
Money-back guarantee
In a
Hurry? Editors choice: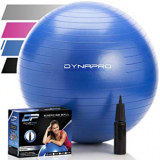 Test Winner: DYNAPRO

5
Researched Sources
11000
Reviews Considered
9
Hours Researching
10
Products Evaluated
Size
Use
Safety Hazards
Accessories
Durability
By Default
Top 10 Picks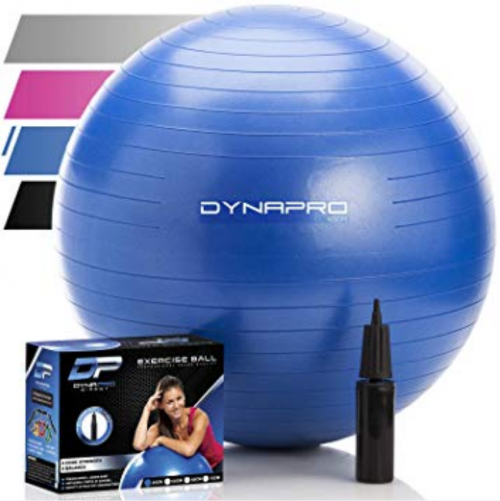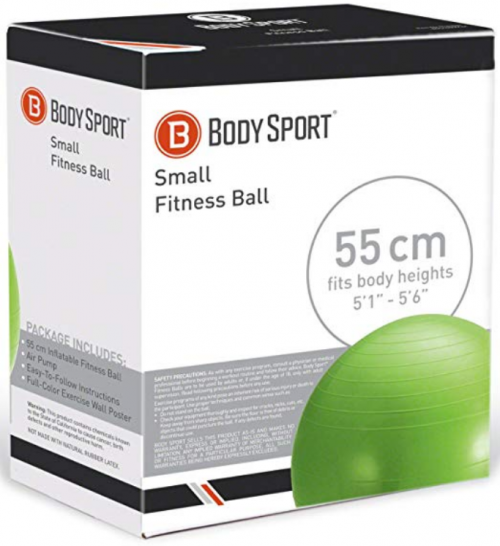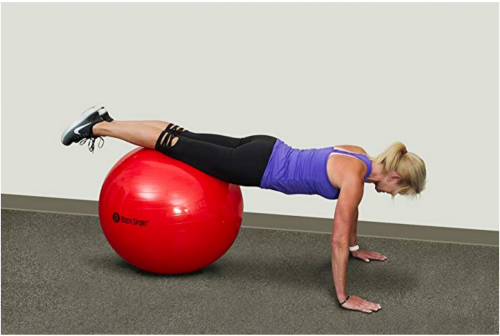 Puncture resistant
24/7 manufacturer support
Vibrant online community
Money-back guarantee
This exercise ball is all you need to kick start your workout routines. It's shipped with a hand pump, so you can deflate and pack it with you whenever you want to travel. Aside from convenience, the manufacturer prioritizes the user's safety above all else.
The DYNAPRO's PVC casing is non-toxic. It is thicker than usual and can withstand loads of up to 2000 Lbs., which is very high for its class. In case you exceed this limit, worry not because it's designed to deflate slowly. You can rest assured that you will be safe because it will not pop.
Moreover, the ample thickness gives this product better resistance to punctures compared to other competing brands. Additionally, the horizontal ribs on the surface enable the user to have a better grip on the workout ball. You can squeeze, toss, or bounce it around with confidence.
The DYNAPRO comes in four different sizes, the smallest one being 17.7" (45 cm) and the largest 29.5" (75 cm). If you don't know which size is right for your needs, you can check out the well-detailed guide in the size criterion for assistance.
After purchasing this product, the manufacturer gives you access to a private community where you can share your experience with other users. You will also get tutorials on how to get your workout going, with the help of certified professional trainers. The exercises range from birthing ball to Pilates, and yoga. Buyers also have four different colors to choose from, which are pink, silver, blue, and black.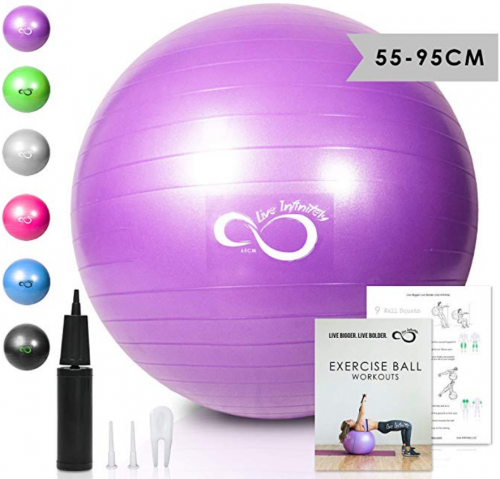 Mobile-friendly app
Multiple color options
1-year warranty
A 1-year unlimited warranty is unheard of in products like exercise balls, which people put so much strain on. Live Infinitely, has a lot of confidence in their product that they offer such a warranty and so much more. With this purchase, you'll find a hand pump, valve remover tool, and two air plugs.
To ensure your safety, a sharp object can puncture this product to a depth of up to ½ inch (2 cm) without damaging it. However, in case it's punctured, it will not burst hazardously. Live Infinitely products can also withstand a force of up to 2200 LBS. Additionally, the materials are free of toxic substances like BPA, phthalate, and heavy metals. Therefore, it's safe for you and your family.
They come in five different sizes, the smallest being 55 cm and the largest being 95 centimeters in diameter. With the smallest size, even the youngest in your household will be able to work on their balance and fitness. People hardly purchase the largest size, but it's still nice to know that you have it as an option in case you'll need it. You can get one in grey, green, blue, pink, purple, or silver.
You'll also get access to professional-grade workout routines from the manufacturer, with mobile-friendly clips on what to do. The drills will help you work on your abs, glutes, chest, or back because the product is designed for versatility. With it, you can get a full-body workout for even those hard to reach areas.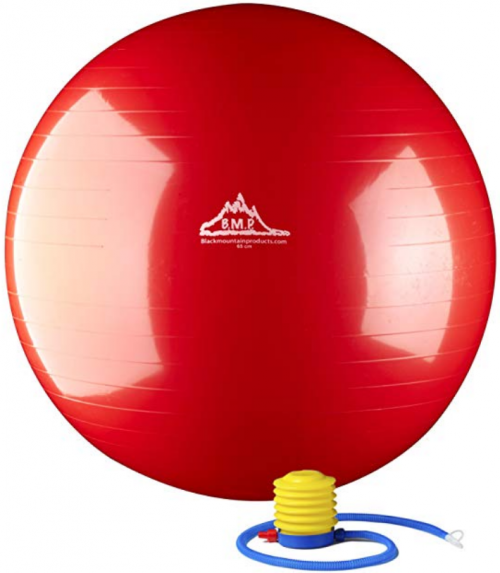 Has warranty
Versatile pump
Professional grade
You will find that this Black Mountain option is uniquely fitted for your needs, regardless of whether you are under five feet or taller than six feet. This convenience is made possible by the fact that the brand offers several sizes for different heights. This product is also available in five different colors.
With this purchase, you will also get a ball pump. The great thing about the pump is that you can use it with your hand or foot to inflate the ball. Pumping it is effortless, such that the inflation process will take you a relatively short time. Additionally, users also get a detailed starter brochure, with guides on what to do.
The manufacturer also provides a lifetime warranty on this product. You'll be glad to know that the stability ball can even withstand up to 2000 lbs. of exerted force comfortably. Therefore, you can use it for intensive workout sessions without any worries.
You can use it in the gym, office, or home. It will undoubtedly help improve your overall agility, balance, and core strength with it. Many buyers have also substituted their chairs with this product, with others gradually following suit.


Ten color options
Delightful packaging
Many accessories
URBNFit offers a heavy-duty product available in a wide range of colors. The manufacturer provides a money-back guarantee, hence you will be making a risk-free purchase. They also include a dual-action inflation pump, which inflates the swiss ball in a matter of minutes.
You can get this one-stop workout solution as a gift for friends and family. It comes in an attractive package, with a workout guide and detailed instructions on how to use it. It comes in a wide range of colors, so you can choose their favorite color option or select one that matches your décor.
One of its most significant selling points is the versatile number of workouts that you can use it for, from the comfort of your own home. You won't have to go to the gym when you can perform more than 20 routines. It's perfect for Pilates, yoga, balance training, and overall strength. To optimize your safety, the rubber is non-slip, burst-resistant, and sturdy. Everyone will find it useful, whether they are a beginner or a pro athlete.
Furthermore, this URBNFit alternative is made of environmentally friendly material. The material is also durable. This characteristic makes it safe for an extended period, where it doesn't lose its functionality. You can make your selection from five different sizes, with the smallest being 45 cm and the largest 85 cm when inflated.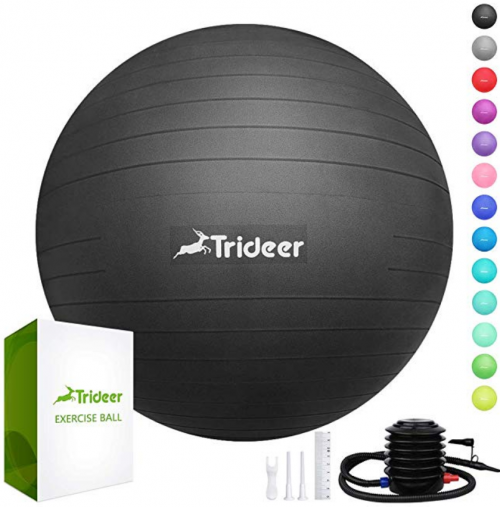 Two extra plugs
Money-back guarantee
Professional grade
Trideer offers a product that is unique in many ways. First, it's available in 18 different colors, which is the highest number of options in the market for such products. It also has an extra-thick surface and anti-burst features, making it highly durable. You only have to look at the 12-months, hassle-free warranty to confirm how good it is.
The high-quality materials used are non-slip and free of toxic substances like PVC, BPA, and heavy metals, making it a safe exercise tool for everyone. You won't have to worry about spending excessive time trying to get it inflated thanks to the included pump. Buyers also have several size options to choose from depending on the kind of routine that they want to try out.
The manufacturer recommends not exceeding 2000 pounds of force, but it's rated for up to 2200 pounds. It also comes in an enchanting package, which makes it an excellent gift idea. You will also find a handy manual, showing you all you need to know to get the most out of the Trideer as a beginner.
With this product, exercise is effective and a lot of fun. With the quality and extra plugs provided, you get an exercise tool that you can use for many years to come.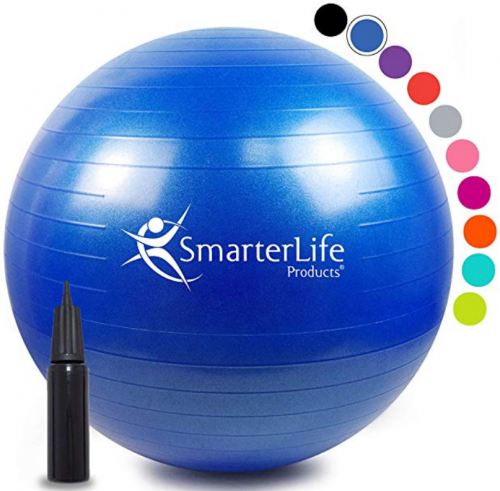 Burst proof
Perfect for traveling
Professional grade
The SmarterLife Products stability ball is built for versatility. Most people find that adding a base or a resistance band also adds to its functionality. It was designed by a Colorado-based family, who had a passion for bettering not only their communities but the environment as well. The materials, designs, and manufacturing process all meet a high threshold to uphold the brand's standards.
This product is rated to carry up to 2000 lbs. of force. In case of excess pressure, it will slowly deflate for safety purposes. This feature guarantees your well-being even when this highly rated swiss ball gets punctured with a sharp object.
The brand designed it to be user-friendly for both young children and pregnant women. To top it off, it's also hypoallergenic making it accessible to everyone. It also has an anti-slip matte surface, which allows for a secure grip, toss, squeeze or bounce. Its slip resistance is part of what makes it versatile.
The whole surface has a 0.2 cm thickness, which gives it better puncture resistance. Additionally, this thickness works great for its shape retention. The exterior has fine embossed lines, is non-stick.
The full package includes a reliable hand pump, measuring tape, ball plugs, ball plugs removal tool, an exercise guide, and a bonus informative e-book is mailed to you after the purchase.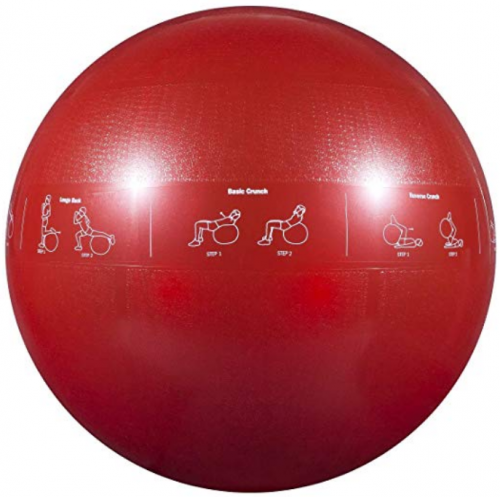 Beginner-friendly
Multiple accessories
Trusted brand
What makes the GoFit product unique are the printed drills around the surface. It comes with a workout DVD that has fun demonstrations on how to stretch, tighten, and tone your body. Beyond that, the manufacturer also provides ball plugs, a ball plug remover, foot pump (with a bicycle pump adapter), measuring tape, and a training manual. Therefore, beginners will have everything they need for their fitness journey.
The only downside to the GoFit is that it only has three sizes, while other brands provide up to six options. The smallest size expands to 55 cm in diameter and is recommended to people in the 5' and 5' 5" range. Even though it has limited size options, this exercise ball has more room for adjustability in terms of inflation. This feature will help increase its flexibility, making it suitable for most workouts.
Even though their products are relatively new in the market, GoFit has captured a core market base. The brand was founded in 1999, so it has amassed valuable experience over the past two decades. That's why it provides all the accessories mentioned earlier, thanks to the feedback provided by consumers, some being pro athletes.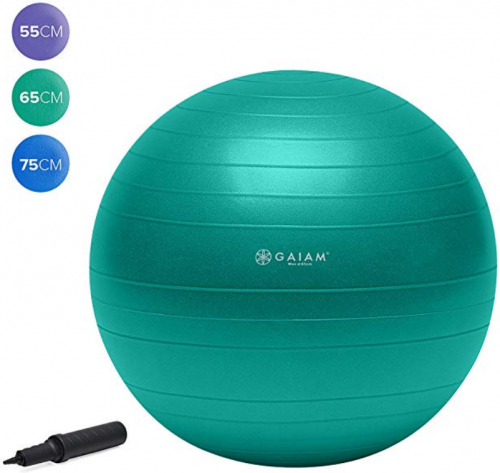 Size/color match
Durable
Detailed tutorial
For over 25 years, Gaiam has maintained its rank, among very competitive brands by aiming to make fitness, yoga, and general well-being accessible to everyone. Their quality products are a testament as to why they are still active in such a volatile market. The brand always makes their products for its loyal fan base.
To make the most of the Gaiam balance ball, buyers get a comprehensive workout DVD by a leading fitness instructor. In the two-hour-long workout sessions, the instructor shows you how to improve your natural balance and core strength, using only the Gaiam Total Body swiss ball. This development is achieved through a series of yoga, Pilates, and strength moves, focusing on major muscle groups.
What makes the balance balls different is how the sizes are sorted in three colors to denote them. Blue inflates to 75 cm, green to 65 cm and finally purple up to 55 cm. The blue type is recommended for users taller than 6 feet. The main downside to this alternative is that they don't have an option for kids.
9

. Epitomie Fitness Active Balance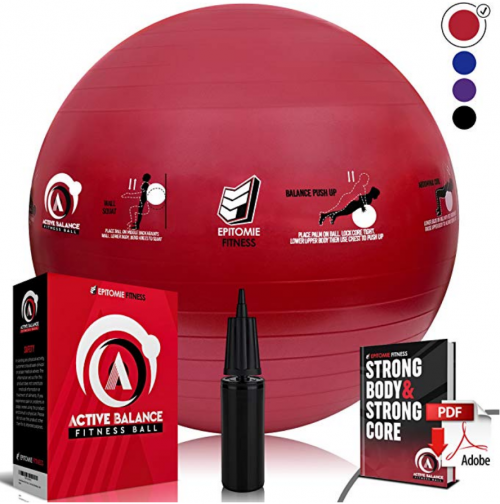 Beginner-friendly
Gift-wrap packaging
Lifetime warranty
Epitomie fitness goes out of their way to ensure that beginners have everything they need to start their fitness journey. On the ball, you will see 13 prints of the most popular exercises that you can use it for. It can help you work on your upper body, core, leg stability, and balance. Additionally, buyers also get a free eBook that contains more than 30 exercises.
The purchase also includes two air plugs, an air plug remover, and a hand pump, for a complete kit. Users like the fact that all these goods come in high-quality packaging. The Epitomie Fitness Active Balance is available in fire red and navy blue colors.
Another unique thing about this product is the lifetime warranty provided. Even though it's rated to hold over 2000 lbs. of pressure, it does exceed that limit. The manufacturer also claims to ride a whole car over it, and its anti-burst feature has excellent performance.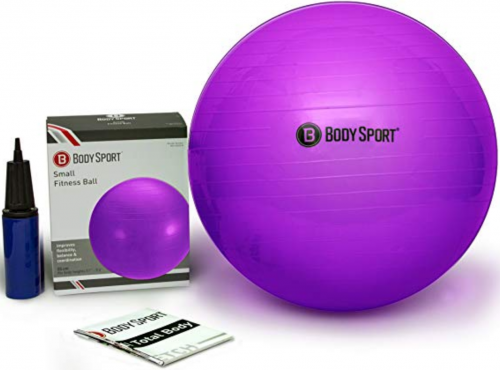 Multiple size options
85 cm diameter available
Latex-free
If you are you ready for a serious workout session, then the Body Sport has you covered. The brand offers latex-free exercise balls, available in five different colors. The smallest one (purple) inflates to 45 cm in diameter, and the largest (teal), expands to 85 cm. This circumference is by far the most substantial variation in the market, but its use is questionable since quite a few people are taller than 6' 9".
Included in the package are an elaborate guide and a hand pump. Whereas other options in this review have a burst rating of 2000 to 2200 lbs., this particular one is limited to 500 lb. You have to be more careful not to exceed this limit.
This product has a gently ridged surface, which is useful when handling and gripping the ball. With so many size options available, everyone can find a suitable one to use as a desk chair, for stretching, strengthening, and even toning major muscle groups.
Criteria Used for Evaluation

Size
Find what is compatible to you.
The size of a stability ball you choose depends on your intended use of the product. For most workouts, what matters most is the user's height in relation to the ball they pick. However, you may want one to sit on, so other factors like desk height come into play.
In a product like the DYNAPRO, their size of 17.7" is suitable for children, whether for sitting or some exercises. The largest from the same brand at 29.5" works well for use in those taller than 6 feet, 3 inches. Understandably, this is well above the average height of people. Therefore, it's critical to get one that meets your needs in terms of sizing.
Again, looking at options, you might want one for working out and sitting on. However, these two conditions may not be applicable in most situations. Therefore, you may end up having to procure two different sized balls for your needs. Some manufacturers denote the various sizes like S, M, L, XL, or XXL.

Use
Whichever product you choose, make sure it's suitable for your needs.
You can use your stability ball for many types of workouts. However, some are limited in where they are applicable. For example, some like to use them to improve their posture and relieve lower back pain. Women use it in labor support, birthing, and improvement of their core strength, where other routines are inapplicable. Most use it for home exercises and yoga.
With an exercise ball, you can work on Pilates, for CrossFit to tone muscles, build strength, improve your cardio endurance, and even help in weight control. You can also work on correcting your posture, therapy, or ab development. These products apply in exercise and fitness or as alternative office desk chair for active sitting.
In recent times, you will find manufacturers offering video tutorials after purchasing their products. Some provide mobile apps for an even better experience. Unlike your home gym machines, these exercise balls help you work on your essential stabilizer muscles. You need more than lifting weights to get an overall decent physical fitness.
Abdominal and core exercises can be achieved with these products. Just make sure you get the correct size, and start with short sit-ups, by resting on your belly. After that, work slowly towards full sit-ups with arms behind your head to get a flat tummy or the elusive six-pack.

Safety Hazards
It's better to be safe than sorry.
Looking for a suitable workout tool is essential. You want something that you will lean on, so it has to be strong enough. You definitely don't want something that will yield under pressure and bail on you. The exercise ball in this review will pull you through thick and thin, unlike many other from lesser-known brands.
What you should look at when it comes to these products is the burst resistance. A good stability ball deflates slowly if pricked by sharp objects like staples, pins, or even a piercing belt buckle. Consider if it will explode violently when it yields. Look at the material thickness. Ask yourself what depth a needle will puncture your exercise ball, rendering it unworkable. Does its surface have an anti-slip surface? Are the materials used hypoallergenic?
These are but some of the questions we asked to make it easier for you. Most of the products featured here tick most of these boxes, to ensure you have a worry-free workout session.

Accessories
You can have so many extras.
An exercise ball has many practical functionalities on its own. However, to take full advantage of this product, accessorize. One standard accessory is a hand, foot or a versatile pump. This tool inflates the ball to the recommended circumference. Since people that like to keep fit tend to travel a lot, it only helps that you have a product you can pack in your bag, and whip out and have it ready in a couple of minutes.
Another thoughtful add-on is a measuring tape, which you can use to make sure you have the correct sizing. Some manufacturers considerately provide extra ball plugs, which are usually the first to misplace. Most people lose plugs, rendering the whole stability ball inoperable.
A ball plug removal tool is standard so that you can readily deflate your swiss ball to take to your travels. Some manufacturers provide tutorials, e-books, and informative guides so that you can take full advantage of their products.
Sure, you could get some tutorials on YouTube, but who really has time to seek out credible information and skip through posts full of ads. Therefore, it's always welcome when the manufacturer considers that you have little time on your hands, and want to get fit as efficiently and soon as possible with their swiss ball.
With these products additional accessories, you can work on your stabilizer muscles, and your core balance improves too. You can find some manufacturers offering instructional DVDs, access to their online community, fitness guides, and valued insight from professional coaches on their platforms.

Durability
Value shows over a long period.
What makes most people skeptical about swiss balls are the horror stories they may have heard from others. Well, some of these stories are true, and blame is solely on inferior quality manufacturers. However, these are only isolated cases and frankly overblown out of proportion.
Many rumors spread, possibly stemming from the fact that these products look like balloons. It's easy to be skeptical since a full-blown balloon can cause some damage. Scaling the risk factor by quite possibly ten to fifty times seems catastrophic. However, these products may look similar to a balloon, but the ones in here are nothing like it.
The swiss balls in this review can withstand high levels of weight without being damaged or leaking. They come from durable materials and are burst-proof, leak-proof, and many skeptics have tried to disprove the features without success. Soon enough, the skeptic morphs into a big fan when getting one of these.
It's imperative to follow the manufacturer's guidelines. As such, using or storing these stability balls in direct sunlight for a prolonged time affects the materials used negatively. It's crucial to stay away from sharp objects, which might potentially puncture the ball. Taking such precautions only adds to the durability of the products; in turn, you will get your money's worth.
If the products in this review couldn't be worth it, then the brands here could not afford to provide their longstanding warranties.
Expert Interviews & Opinions
Most Important Criteria
(According to our experts opinion)
Experts Opinion
Editors Opinion
Users Opinion
By Default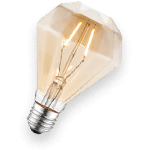 Inflation
To ensure you inflate your stability ball correctly, insert the nozzle and pump using even strokes. Even though you can pump to the desired effect, make sure not to exceed the limits. After that, attach the ball plug, which has to flush with the surface of the ball.
Additionally, inflating a large-sized exercise ball to a small quantity will increase its base surface area, which is not ideal for most workouts. In essence, ensure you get a size that's adequate to what you need. Improper inflation may damage the ball. Due to the nature of materials used, at first, inflate and deflate at intervals so that the exercise ball stretches uniformly.
Maintenance and care
To clean your swiss ball, use warm soapy water and wipe with a soft cloth. Never use abrasive cleaners or chemicals. Ensure to store your pump and replacement plugs in safe places.
Even on the inflated ball, make sure the plug is correctly inserted, so it does not get lost. Use your exercise ball indoors only, where there is little risk of punctures and damage.
Other Factors to Consider

Bottom Line
Stability balls are cost effective and fun tools to use for improving your balance and strengthening your core. By incorporating them into routines like sit-ups, push-ups, and squats, your muscles work harder: therefore, you achieve better results.
Unlike most fitness equipment, these products require little to zero maintenance. Therefore, they provide more value for your buck over a series of time. Additionally, you won't have to worry about injuries like with most gym equipment. By having such high weight-bearing capacity, they won't flare up on you like a regular balloon when they fail. Some have rings and bands for additional safety.
Furthermore, other gym equipment may require you to assemble parts before use. With swiss balls, you only have to inflate them, and you are good to go. It only takes 5 to 10 minutes to fill the swiss balls in this review.
All in all, these products' versatility and use should make them a must-have exercise tool in every home. You are not restricted to your home gym, and you can experience the benefits they have to offer in any location at your home, office, or while you travel.
Since you can incorporate a swiss ball into several routines, you can turn relatively boring drills into fun ones. In the end, you'll be able to achieve your body goals before you know it. All you have to do is make sure you have the right size, to bring out your maximum potential.
You can add other accessories like resistance bands to maximize the effect of different exercises. Sure, you could use various tools to achieve objectives like strengthening your core and balance, but these products are probably the most affordable and practical solution to similar goals. However, swiss balls are not the be-all and end-all of all workouts. Therefore, you should incorporate other practices to your lifestyle to achieve better results for your health.
Frequently Asked Questions
q:

Why is weight-bearing limit emphasized in swiss balls?

a:

You should not exceed the load-bearing capacity in an exercise ball, and that includes other equipment you might have on you like weighted vests. You should add any additional weight on your persona and ensure you don't exceed the limits. Fortunately, it would be hard to go beyond such confines with the products reviewed here, which are all rated above 2000 lbs. of force, except Body Sport, which is 500 lbs.

The weight-bearing limit indicates the overall strength of the material used. In most cases, the thicker the surface, the stronger and more durable your swiss ball is.
q:

What features should you look for in an exercise ball?

a:

The most important criterion to look at in an exercise ball is weight limit and the size of the ball itself. Choose a ball that is in tandem with your needs. For example, if you plan to use yours for exercise, you find that it is not large enough to use as a stability chair.

When choosing a swiss ball to use as a chair, your knees should be at a right angle or slightly less when sitting on it. You should not be in a squatting position per se. The size will depend on your height. In a nutshell, a small size range could be a 55 cm diameter for people in that are 4' 11" to 5' 4", 65 cm for 5' 5" to 5' 11", and 77 cm for 6' and beyond. Notice that these are only three sizes, but the product in this review have even up to 6 different size options, so you can get precisely what you need.
q:

What are the benefits of using a stability ball as a chair?

a:

If in an office, décor may be essential, so a color that matches is beneficial. Nevertheless, your core strength will improve significantly, posture will be better, and lower back pain will reduce considerably. Therapists advocate for their use, and it's now common to find these products in the workplace.

You can bounce up and down slightly, and this will keep your legs moving, helping build your core strength. Your muscles will continuously work on ensuring you do not topple over. You may feel like you are not pushed to the limits, but such small tweaks in your muscle add up the efficacy of your muscles.
q:

Which type of exercises can I do on a stability ball?

a:

A common phrase you will find is the improvement of your core strength and balance when speaking to those in the know of these products. Nevertheless, you can target other muscle groups as well. For example, by incorporating weights or resistance bands, you can perform bench presses or butterfly curls. In doing so, you will strengthen no only your arms, but chest and back muscles. Your core will be working harder to maintain the balance.

While incorporating weights, start with smaller sizes, and scale up as you become stronger in the targeted areas. If looking for such accessories, most brands in this list offer them as well. Most people buy these products because of back pain relief. To do so, walk your feet to where you have room, but not to the extent that you might fall. Lean back and curve your back along the top surface of the ball. After that, flex your arms up and down and twist as you go. This drill is just a rudimentary, and you can find most brands highlighted here providing tutorials to help with back pain.
q:

What are the core muscles?

a:

This phrase is common, and you might have seen a fitness coach mention it when an athlete needs rehabilitation after an injury. Core muscles refer to muscles in your torso, which allow for movement in your abdominal, mid and lower back areas. To a lesser extent, this encompasses muscles on your hips, neck, and shoulders.

Most pro athletes usually don't have an issue with their core. However, those in regular jobs like a teacher who stands for long hours, shifting from side to side, robust hip, and core muscles help them push through. Back pain is reciprocal in those who sit for long hours in an office chair or people who lift heavy objects as part of their job. For such individuals, back, abdomen and shoulders, or the core, can benefit a lot by having a stability ball.
Subscribe to our Newsletter