Best Pilates DVDs Reviewed
In a Hurry? Editors choice: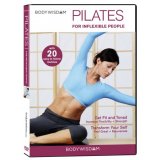 Test Winner: Pilates Complete for Inflexible People

There seems to be a little confusion when it comes to the difference between pilates and yoga. Yoga is a tool helped to relax and improve flexibility, and Pilates helps strengthen and stabilize your core. These movements in all of the Pilates DVDs that we have selected have a myriad of benefits.

First, a stable and strong core is a great way to improve your run times and help clear more ground when it comes to long-distance running. It is also a great way to improve your overall posture which can also alleviate back pain. Some users even use their pilates DVD as a tool to help promote weight loss.

In this guide, we have compiled a list of some of our favorite pilates DVDs. Whether you are a beginner or an expert, there is a program out there on the market suited to your very specific needs!
Standout Picks
Criteria Used for Evaluation
Release Date
The release date of each Pilates DVD was something that we took into consideration.
It may seem pragmatic to only select some of the more recent releases, but there is something to be said about programs that can stand the test of time. However, we made a point not to travel too far back into time to shield you from mall bangs and leotards!
Pilates was invented by Joseph Pilates back in the 1920s, so it isn't something that has changed a whole lot as time has marched on. In recent years, instructors add variations to basic movements to dial up the intensity, but the core movements generally remain the same.
Overall, the content of the workouts remains the same. This means that we selected Pilates DVDs that were released way back in 2002, but we also made sure to select a few current options as well. The differences between a video that was released in 2002 and 2012 are purely aesthetic.
Video quality and compression suffer slightly when selecting older release dates. However, the content and quality of the workouts and routines remain the same. If the aesthetics of the studio and quality of the video are important, we suggest that you select release dates that are more current.
It is important to note once again that the quality of the workouts is unaffected by the time that the Pilates DVD was released. These workouts have gone through very few changes over the years, which means that the quality of the workout will remain the same over the years.
We discovered that some users out there selected a DVD that was converted over to disc format from VHS because they found it was one of the very best routines for their personal needs. Just because it is new and shiny doesn't necessarily mean that the contents are better!
Advanced Features
Of course, we were drawn to Pilates DVDs that deliver just a little something extra.
Learning these complex movements can prove to be a little difficult (especially if you are new) so there were a few things that we considered to help dial up the intensity as well as help you perfect your movements
The use of a reformer is a great tool to make those muscles burn. We found that incorporating a reformer into your basic routine adds a bit more resistance that helps with muscle fatigue. It also helps to really dig into those smaller muscle groups as well. The use of a reformer also keeps you up off of the ground which is a lot easier on your joints because you aren't making direct contact with the ground.
The addition of miscellaneous accessories is another great way to add a higher level of difficulty. We liked Pilates DVDs that added a few extra accessories to help you really dig deep. Tools such as simple dumbells or rings add a layer of resistance. Of course, you can still achieve the same movements without the accessories, they will be just a little easier.
These movements are pretty complex and are difficult to really understand on a 2D scale. That's why we loved when more modern videos incorporated the addition of 3D models so you can really see what a specific pose it meant to look like from the front and the back. Any tools that help you master the form win bring points in our book!
It is worth noting that videos that require additional tools and accessories are not exactly necessary. It is possible that you can achieve the same movements without a ring or even a reformer. It simply means that the movements are far easier, which may even serve to benefit you if you are new to these programs. While a special pilates mat is ideal, simply using your tried and tested yoga mat works well also.
Ease of Use
Fitting a workout into your busy day is difficult, and we wanted to make it a little bit easier.
What we liked about a lot of these Pilates DVDs is that many of them are structured so that you can craft your very own workout depending on how much time you have. It also allows you to target special muscle groups.
We were drawn to the simple 10-minute workouts that are divided into specific categories. For instance, the 10 Minute Solution Pilates DVD offers 10 different 10-minute workouts for specific muscle groups. This set up allows you to fit in a quick 10-minute ab workout. You can also opt to workout the the entire DVD for a full-body workout!
We also wanted to select Pilates DVDs that you can just pop into your DVD player and get to work. There were a lot of designs out there on the market that took too much time talking about the benefits and the history of Pilates. Many users did not care for this particular history lesson when they just want a good workout.
Learning about the use and history of Pilates is important, but many of these intros are built into the front end of the workout, and it is difficult to skip. We preferred that the instructors craft their introductions into a separate chapter of the video so it doesn't have to be watched every time you fire up your TV for a workout.
Effectiveness
Of course, you want these Pilates DVDs to make you feel like you just left the gym!
To test just how sore you would be the next day after watching one of these videos, we consulted with previous users. Those that have used these DVDs in the past are always very open about how well it worked for them!
We made sure to read what many of the users had to say about how well the workout worked for them. For beginning classes, the feedback was generally mild. In tutorial videos, instructors spend a lot of time slowing teaching you all of the complicated movements. This means that you won't get as good of a workout as you would with more advanced classes.
In the advanced classes, we looked at how long the previous user used the Pilates DVD, and read what they had to say. If there were a lot of users that reported back the completion of the DVD made them incredibly sore for days- we knew we had a winner!
Sore muscles simply mean that your muscles are working harder than normal- which is exactly what you want! It also means that they moved in ways that they are not used to, which is another sign of success. When reading through user reviews, we knew that when there were a lot of users complaining about sore muscles that we were looking at a really great workout!
Size
When we talk about size, we are talking about the length of the video.
Longer videos do not necessarily mean that is is better, however. While you want to ensure that you get a lot of bang for your buck, longer videos may not be the solution.
Our ideal video is one that is comprised of many smaller videos that are divided into chapters. By dividing the videos up into smaller sections, this allows you to craft your very own workout based upon your available time as well as your targeted needs.
Generally, the total length of these videos ranged from about 20 minutes and ran all the way up to an impressive 75 minutes. If you are someone that had a tendency to get bored easily, we suggest that you select one of the longer versions that provide a lot of variations.
However, there are some users out there that love the comfort of one long 30-35 minute class that doesn't change. It is comforting to pop in the Pilates DVD and know exactly what is expected from you. If you find that is the case with you, we suggest you select one of the singular 30-35 minutes courses.
The singular courses do not offer up a lot of variation, however. Most singular courses provide a general workout to all muscle groups in your body, and they are not designed to target specific areas. However, a general workout is a perfect tool for weight loss.
Find the Top Pilates Workouts DVD For You
1

. Weight Loss Pilates: Pick Your Level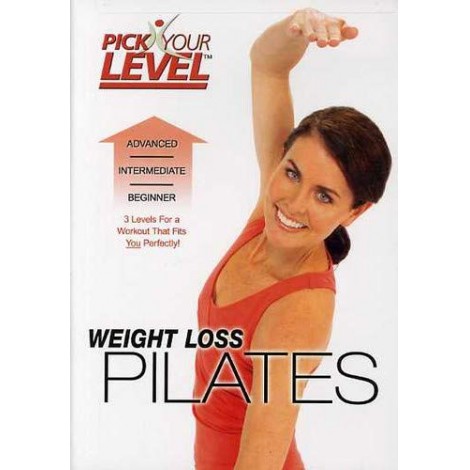 The reason that we placed in our very top pick is that it is incredibility versatile. This Pilates DVD teaches you all of the basic movements to get you started, and offered advanced courses when you master the basics.
Each course is brought to you by Ellen Barrett is a pilates instructor that teaches courses in Pilates as well as Reiki and dance. She has developed some unique movements such as the barefoot fusion method, and she has also written a few books as well. If you are looking for an expert on Pilates, Ellen Barrett is one of your better options!
What is great about this Pilates Workout DVD is that it is offered in three different levels that are easily labeled as 1, 2, and 3. Each level provides the same type of movements. As you work up through the levels, there are slight variations to each of the movements to achieve a deeper burn. This means you won't lose as much time learning whole new routines as you graduate to higher levels.
For those that want something that is pretty basic to start, but gives you the option to up the intensity as you learn the movements, this is a great option. Plus, it was rated to be Natural Health Magazines number 1 workout DVD in 2006 so it is definitely DVD voted as best rated in pilates!

2

. Pilates Complete for Inflexible People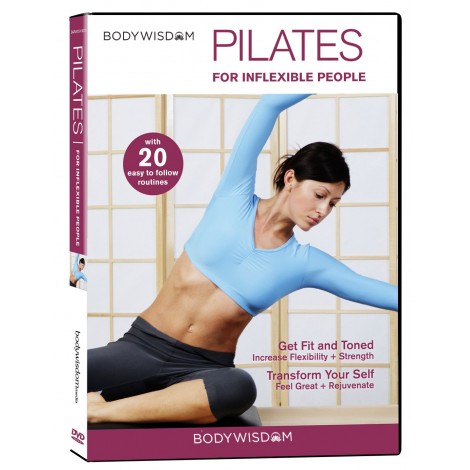 You like the idea of a stronger core, but you just don't have the full range of motion to pull off a lot of the movements. If that's the case, this Pilates DVD is right up your alley! It starts slowly with some of the more basic movements that allow you to dig deep without twisting your body into a pretzel!
The instructor of this video, Maggie Rhoades, is a certified Pilates instructor with many years under her belt. She has her master's degree in education, which means she is the perfect fit for teaching classes, even for those that are new to this type of class.
Instead of offering only one or two specific routines, this Pilates Workout DVD provides users with over 20 routines to select from! It blends in a little bit of yoga into the mix to help improve your flexibility, while Pilates movements help strengthen your core and build muscle. The addition of over 20 routines means that you are less likely to become bored with the same old routines.
If you are a little apprehensive to try a Pilates DVD because you fear you just don't have the level of flexibility that you need to pull off complex movements, this is one of your better options. Plus, is it designed so that you can change up routines so that you won't get bored!

3

. Element: Targeted Toning Pilates for Beginners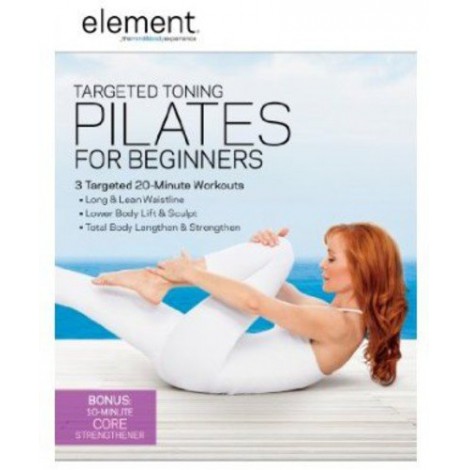 If you are 100 percent new to these types of movements, you need to check out this Pilates Workout DVD. This option is designed for absolute beginners that are working from the group up. It takes all of the movements very slowly so that you have time to really learn and understand them.
It is filmed in a peaceful beach location that overlooks the Pacific ocean. The instructor that teaches the course is one of the more respected private instructors in Los Angeles and still teaches private classes to this day. We found that users really liked how she had a soothing and calming voice and gave easy to follow commands.
This Pilates Workout DVD is broken down into three 20-minutes classes. Each class is designed to target a specific muscle group. The Long Lean Waistline program is designed for weight loss and a stronger core, and The Lower Body Lift and Sculpt targets those big muscles groups in your lower body as well as the small and hard to reach muscles. The Total Body program hits- you guessed it- your whole body!
What users liked most from this Pilates Workout DVD is that the programs are clearly labeled to help indicate what parts of the body they will target. Plus, they are easy to follow which means you won't be left in the dust.

4

. Denise Austin: Shrink Your Fat Zones Pilates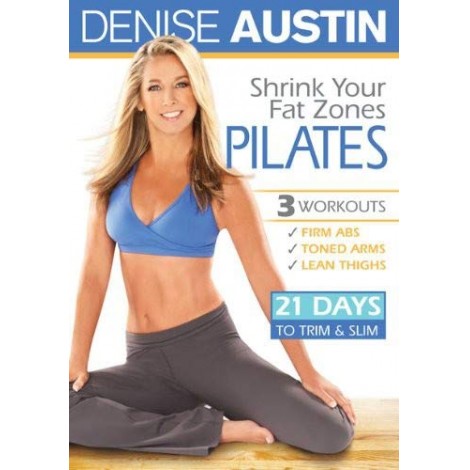 Looking for a program that is designed to help you lose weight? If that's the case, look no farther! This Pilates DVD ups the intensity to really help you shed some extra calories. What we found about this option is that while it ups the intensity quite a bit, it is still a pretty great option for beginners as well.
There are three different programs that are 15 minutes long each. Each program is designed to target problem muscle groups that help you get stronger and shed some pounds as well. Zone 1 targets abs and core muscles, Zone 2 targets your upper body, and Zone 3 is for larger body muscles.
It is important to note that some of the workouts in the program will require you to use additional tools. For instance, Zone 2 suggests that you employ small hand weights. If you don't have small dumbbells on hand, you can always improvise with household objects such as a can of soup.
For beginners to experts that need a DVD for Pilates that is easy to follow, well organized and interesting, this is a great option. We love that Denise Austin goes into a little detail explaining what Pilates is and why it is important. Whether you are 20 years old or 60 years old, we found that this is a perfect option for just about anyone!

5

. Minute Solution: Pilates for Beginners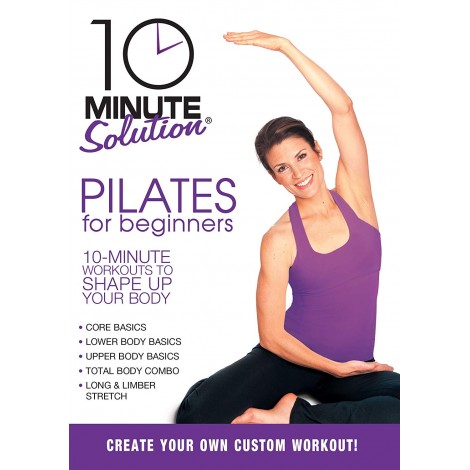 Running short on time? This Pilates DVD is designed to cover all of the basic movements which are perfect for beginners as well as experts. Plus, it breaks all of the sessions down into short 10 minutes programs that can be completed on their own before you head out in the morning. Or they can be grouped together for longer workouts when you have the time.
There are five different programs that target specific muscle groups, and each program has 2 10-minute videos. The five programs include a core workout, upper body workout, lower body workout, a total body workout, and a stretching and elongating program. Each program covers the absolute basic movements in a slow and easy to follow form which is easy to quickly master.
You have the option of selecting just one video from this Pilates DVD to squeeze into your busy day, or you can mix and match. The ability to mix and match really lets you craft a workout that is crafted for your very specific needs. Plus, each muscle group has two different workouts, so it will never feel repetitive or boring!
If you need something that gives you a little be more freedom in adjusting the length of your workout, this Pilates Workout DVD is a perfect fit into your busy life. Complete one 10-minute workout at a time, or string them all together for the ultimate workout!

6

. Pilates Reformer Challenge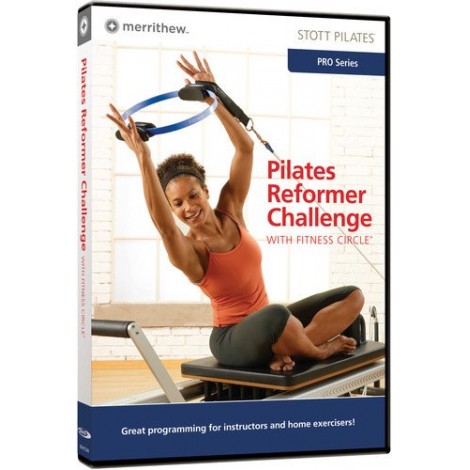 This Pilates DVD is only designed for those that have the proper equipment. To use this video, you must already have in your home gym a Pilates Reformer as well as a Pilates Circle. If you have all of those things, you will love the unique workouts found in this Pilates DVD!
There are about 19 unique workouts found on this Pilates Workout DVD, and most of them incorporate the reformer as well as the Pilates Circle. From start to finish, this program runs about 50 minutes long. It does not break the workout down into smaller sections, so you will need to set about an hour aside to work in this program.
One thing that we noticed that users really liked about this Pilates Workout DVD was the instructor. The instructor in this video is incredibly knowledgeable about the complexity of each movement and is able to really describe the exact muscle groups that each movement works. Plus, users just found that he is an all-around likable person, which makes this course even more fun!
If you are a beginner- this pilates fitness DVD may not be for you. The complex movements, as well as the inclusion of the reformer, make it a great tool for intermediate or experts at this type of exercise. If you are an old pro, this Pilates DVD is definitely worth checking out to add a little intensity to your workouts!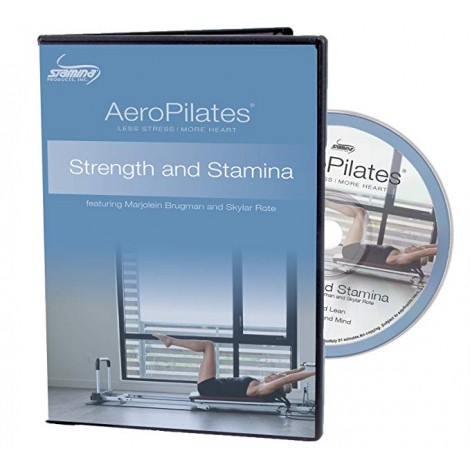 While some workouts may seem a little on the short side, this Pilates DVD gives you two pull length workouts on one DVD. The two workouts are designed for two very different purposes. One is made to build muscles and shed pounds, and the other is designed to help you relax and melt away stress.
There are two workouts on one DVD. The first workout is called Strong and Lean, and it is designed to really work up a sweat. Not only is the Strong and Lean workout made to build muscles, but it also promotes increased stamina and cardiovascular endurance. This workout clocks in at about 43 minutes long.
The second exercise on this Pilates DVD is called Body, Heart, and Mind. It slows things down a bit and focuses more on technique, relaxation, and flexibility. While it is a lot slower than the Strong and Lean workout, it still helps build muscle and shed pounds, but it just doesn't move as quickly. It clocks in at around 38 minutes.
If you want something that gives you two unique classes that are incredibly challenging and will really help you work up a sweat, this Pilates Workout DVD is an excellent option! Users love that it is very different than many of the other courses out there on the market, and it is an incredible challenge.

8

. Classical Pilates Technique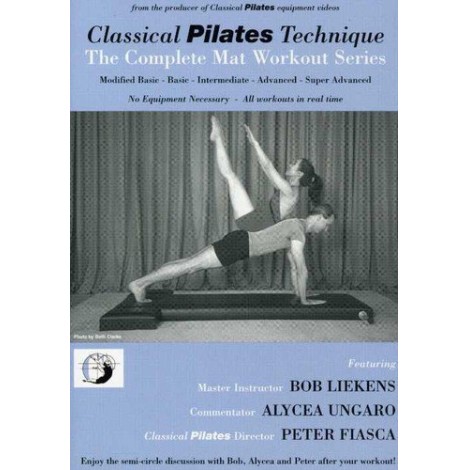 So, you are a purist and you simply want all of the basic moves in one workout. This Pilates DVD includes all of the classics that have been tried and tested to be effective. It walks you through all of the classic movements in real time so you can gauge just how fast you need to work.
To build up a sweat and burn calories, you have to limit your downtime. Many of the Pilates DVDs that we have seen so far work incredibly slowly to help you master the technique, but some offer too much downtime. This Pilates DVD works quickly so you will work up quite a sweat, but it proves to be a little challenging for beginners.
There is one class found on this Pilates Workout DVD, and the good news is that it clocks in at an impressive 75 minutes. Hands down, this is the longest class we have seen so far. The instructors run through all of the very basic movements to teach you the fundamentals, and they don't take too much time to stop and explain.
If you are up for a challenge, this Pilates DVD is an excellent tool to learn all of the original poses and positions that were invented by Joseph Pilates in the 1920s. It is important to note that due to the speed of the instruction, this DVD may not be ideal for beginners.

9

. STOTT PILATES Extreme Pilates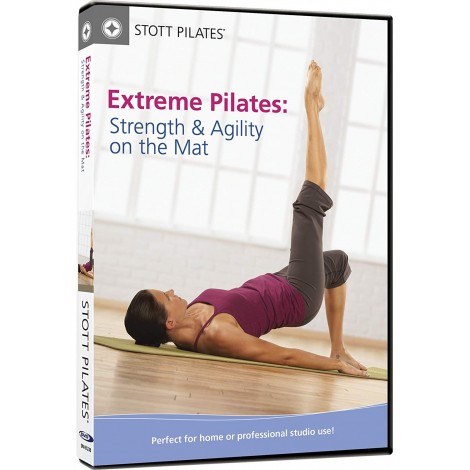 Are you up for a little bit of a challenge? This Pilates DVD is not made for beginners! What users really love about this workout class is that it uses very complex and compound movements that really work up a sweat in a short amount of time. The video also goes into a little bit of detail about all of the benefits of the workout, and the muscle you are working.
The best part about this Pilates Workout DVD is that it is an excellent tool for building strength. If you are an avid runner looking for a supplemental floor workout routine, this is one of your better options. Due to the fact that it is all conducted from the floor, it means that it is incredibly gentle on your joints.
Users are quite fond of the instructor in this pilates exercises DVD, and they find that he explains everything really well. The long introduction is wonderful your first time around, but it is not able to be skipped and difficult to fast forward though upon multiple viewings. Users found the video to be rather short, but incredibly challenging.
If you are looking for something that works your entire body to build muscle (and give your joints a bit of a break), this Pilates Workout DVD is an excellent choice! The only downside to this option is that it does not give users a lot of choices when it comes to changing up their workout, so it may become a little boring over time.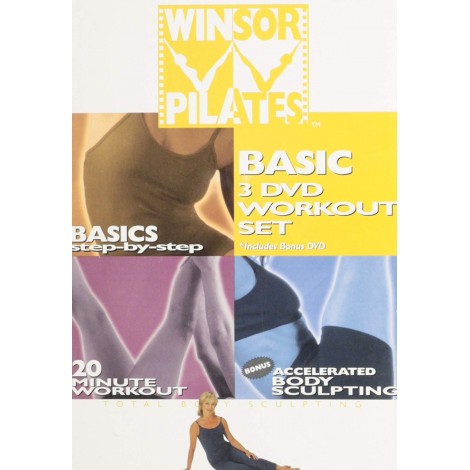 This Pilates DVD comes in a pack of three separate workouts. Each workout routine is designed to target very specific muscle groups. This means that you can train a specific muscle group that you feel needs a little more work than others. If you have the time, you can string them all together for a total body workout!
What we liked most about this set of Pilates DVDs is that they are designed to be used by beginners as well as experts. All of the movements are clearly described by a skilled instructor, and they let you know just what muscle group you are targeting. Users really like the energy of the instructor in all of the videos.
Each video offers about a 30-minute workout, give or take a few minutes. The videos in this collection are designed to grow with you as you conquer the movements. The first video gives you a very detailed 3D models to help you perfect the form. The second Pilates DVD is for sculping muscle and burning fat, and the final video is a more advanced course.
For those that are looking for something that can grow along with them as you master the basics, this is a really great option. Users love that the movements are easy to learn, and take the time to teach you which muscle groups they are triggering.

Subscribe to our Newsletter