Best Coolmax Socks Reviewed & Rated
In a Hurry? Editors choice: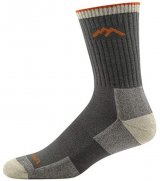 Test Winner: Darn Tough Micro Crew

If you're looking for performance socks of any kind, you must have heard this word before. Coolmax is the name of a specific type of polyester marketed by a brand called Invista. Compared to regular polyester, Coolmax is more moisture-wicking and breathable, ensuring dry and cool wear, which makes it a great option for high-impact activities.

However, that doesn't mean you can't wear Coolmax socks even for regular, everyday use. This material is a great option for any situation where you expect you'll be sweating a lot or experiencing wet conditions, as it will dry quickly and won't let your feet become uncomfortable. So let's take a look at this highly advanced world of best Coolmax socks
Standout Picks
Criteria Used for Evaluation
Materials
Find out what other materials can go into this type of socks, other than polyester.
Since the topic of this guide is a specific material used in the construction of socks, it is only natural that we focus on this aspect first when choosing our top ten designs. We took into account not only the percentage of Coolmax polyester that goes into Coolmax socks but also the type and quality of the materials that accompany it.
In order to help you make the best possible choice for yourself, we have compiled a list of materials found in the items we described here so that you can learn more about them. Find out about their advantages and disadvantages, and what they're best used for.
Polyester: The fabric that started it all. Polyester is a synthetic fiber, amazingly durable and colorfast, meaning able to hold onto color even after repeated wash cycles. It is breathable, though not too much, which is where the Coolmax aspect comes in.
Invista came up with a technology to add better moisture-wicking and breathability to this material, and thus Coolmax polyester was born. It has the ability to pull moisture away from the skin and keep it dry and cool while allowing the moisture to evaporate from the outer layers of the fabric. It has quickly become the go-to fabric for most sports sock designs.
However, polyester is not a friend to the environment. It is not biodegradable and thus is not meant for those who are conscious of the pollutants they leave behind themselves.
Nylon: Another synthetic material, nylon is added to blends because of its amazing resilience and the ability to resist wear and tear. It is also elastic at the same time. There is rarely a design made from 100% nylon, as this is usually added in a relatively smaller percentage to improve the overall characteristics of a sock.
Spandex/Lycra/Elastane: The same way there are no 100% nylon socks, there are also no 100% spandex socks. Rather, these three names - spandex, elastane, and Lycra - all describe the same type of material. This fiber is stretchy and flexible, and it is what allows a design to fit the shape of the foot. It is also what keeps the design securely in place no matter what activity you're engaging in.
Brand-Specific: Aside from the standard materials listed here, there are also those that are brand-specific, such as Endurofil from Bridgedale, Indestructawool from Smartwool, THOR-LON from Thorlos and the like. These are innovative technologies carefully engineered in a lab to ensure superior moisture-wicking, comfort, and/or other performance features.
However, it is important to note that, just because the design doesn't have any brand-specific materials in it, it doesn't mean that it is any lower in quality than those made only from classic material blends.
Comfort
For maximum comfort, choose soft materials, a cushioning level that works for you, and a seamless toe construction.
Whether you're looking for best Coolmax socks for regular wear or for your next workout or run, one of the most important things you should consider is their comfort. Feeling pain or any type of irritation in our feet can affect our performance both when it comes to sports and to more mundane tasks, as it becomes all we feel and all we can focus on during the activity. This is why it is essential that you choose a pair that is comfortable for you.
There are several things you can look out for when it comes to this.
Materials: As we mentioned in our Materials section, there are some materials which are softer and/or more comfortable than others. If you're looking for an ultimate irritation-free experience, then go for a natural material, such as wool, cotton, and bamboo. These are gentle on the skin and even hypoallergenic, enabling you to wear them for as long as you want to.
Synthetic materials are not as soft, but they are not too rough either. Given the fact that Coolmax is a synthetic fiber, it would be good if you could choose a blend that also includes a natural material in the construction.
Cushioning: Whether you're standing for long periods of time, walking or perhaps even running, a layer of cushioning under your foot will serve to increase your comfort levels. This is especially important in high-impact activities, where cushioning also has the effect of shock absorption.
You can choose designs that have cushioning only in certain areas of the sock, such as the ball of the foot or the heel, or those which have full-length cushioning, depending on your preference. There is also a choice between thick, thin and even ultra-thin cushioning so that you can equip yourself with just the level you need.
Seams: Finally, to avoid unnecessary chafing and blisters, take a look at the seams of the sock. They should be flat, invisible or otherwise undetectable, as that will prevent them from digging into your skin and causing discomfort. Seamless toes and seamless constructions are your friends, regardless of where you intend to wear your socks.
Fit
The fit of the sock should be snug but not too tight, with a bit of stretch to it.
Regardless of the type of socks you're looking for, one of the essential things in picking out the right pair for yourself is their fit. Without a good fit, you may end up with pain or blisters or any other type of discomfort, and even if all other features of the socks work perfectly, there's little point to them if the fit isn't right.
The first important aspect is that the fit shouldn't be too tight. Your toes shouldn't feel pinched or cramped and the cuffs shouldn't leave any indentations or markings on your skin. A fit that is too tight might cut off your blood flow which could, in turn, lead to cold feet, numbness and circulation problems later on. While a sock should be snug, it should absolutely not be too constricting.
On the other hand, it should also not be too loose. When a design is loose, it will slip down your leg, causing you frustration over having to pull it up all the time. Moreover, a loose sock will make the material bunch up in your footwear. With constant moving around, especially if you're engaged in a sport, this bunching causes friction and may lead to blisters developing over time.
Look for designs that have a fair amount of spandex or elastane (or Lycra) in them. This type of material is what adds stretch and what helps a sock accommodate your foot shape and fit securely.
If you wish for even more comfort and a better feel, look for ergonomic fits, or those that are specific for the left and right foot. These take into account the shape of each foot and are more likely to protect you from irritations and unpleasantries in the long run.
Durability
Synthetic materials and reinforced areas in the design add to its durability.
Durability is a measure of how long an item we own lasts before it becomes completely unusable. It is particularly important in things or products we use on regular - clothing, footwear, accessories and similar. The more durable a product is, the happier we will feel about our purchase and it will definitely be money well spent.
The same is true for Coolmax socks as well. Any type of socks, for that matter. This is something that we're investing money in, and thus it is normal to ask yourself how long it will last.
The durability of a sock is hinged on many different factors: how often you wear them, for what purpose, how often you wash them, if you air dry or machine dry them, etc. etc. However, there are a couple of features you can keep an eye out for that will help in choosing the most durable option for yourself.
The first one would be the type of materials used in the construction.
Synthetic materials such as polyester, polyamide, nylon, and acrylic are quite durable. They don't lose their shape over time and their colors usually don't fade. Given that in this guide, we are talking about a type of polyester, you can safely assume that most of the options on our list have a longer lifespan.
Durability decreases with the addition of natural materials. Cotton, wool, and bamboo each have their own set of benefits, but durability isn't one of them. These materials tend to wear out, fray or lose shape easily, which is not ideal.
The second feature you should look for is potential reinforcements in the design. Reinforced heel and toe areas reduce the chances of developing holes and thus prolong the life of your socks even if you use them in hard-hitting sports.
Versatility
Versatile designs are those which are neutral in colors and which can be worn both in casual and more dressy situations.
The last criterion we paid attention to was versatility, or in how many different situations you can use the best Coolmax socks from our list. While the material in itself is designed for warm weather and sweaty conditions, it doesn't mean that all of the options laid out are strictly for summer or for sports.
On the contrary, you will find quite a few that are good autumn/winter options as well, and those which can and should be worn all day, every day, regardless of the season.
So what makes a sock versatile?
The answer to this is multifold. First, we'll start with the color, which should be as neutral as possible for you to be able to wear it on different occasions. White and black are standard, as well as gray and tan.
Sports designs tend to come in vibrant color combinations that stand out. If you're conscious of your color coordination even while you work out, you should definitely pick out a combo that works with your athletic gear.
Secondly, versatility is a reflection of the overall aesthetic of the design. Is it sporty, with ribs near the cuff and a casual look to it? Is it thick and cozy, great for cold weather and boots? Or is it thinner and simplistic and won't stand out much even if you pair it with a suit and dress shoes?
These are all little tidbits to consider before you make your purchase. Of course, if you are hunting for a specific design with a specific purpose, then versatility isn't of much importance to you. But if you're just looking at socks in general, you might take this into consideration as well.
Top 10 Coolmax Socks Reviews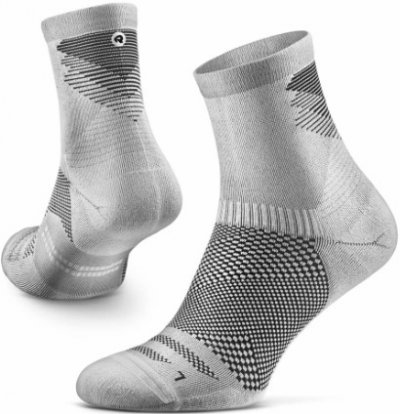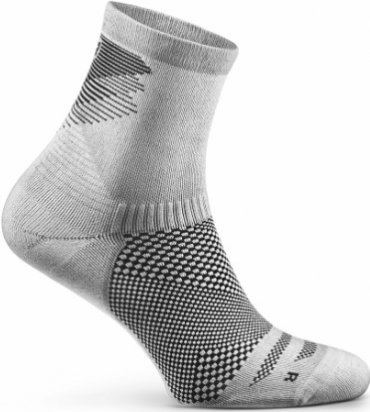 Starting our list off with a bang, here is a design that is geared towards trail running. The Razer Crew from Rockay is a performance option with a number of qualities your feet will be grateful for. These include but are not limited to: performance cushioning, a seamless toe, arch compression, completely recyclable materials, and so much more. The beauty of the Razer Crew is that it is not only constructed with your comfort and safety in mind, but it is also environmentally-friendly!
This option is all about that trail and helping you get through your next run without any problems. It has a seamless toe which guarantees a blister-free ride, while the performance cushioning underfoot softens your steps and provides shock absorption. The Razer Crew also has arch support that reduces foot fatigue and helps you go that extra mile.
In terms of breathability, there are special mesh zones which are strategically placed over the top of the design. Mesh is a thin, porous material, and it promotes proper airflow to keep your feet cool. To round up the design is an ergonomic left and right foot fit which elevates those comfort levels to enviable heights.
When it comes to running-specific designs, it doesn't get any better than the Razer Crew. This option provides all the moisture-wicking and breathability you would expect, but at the same time, it comes with a number of other features that will shave precious seconds off your personal best. Before you embark on your next trail run, make sure to get the Razer Crew.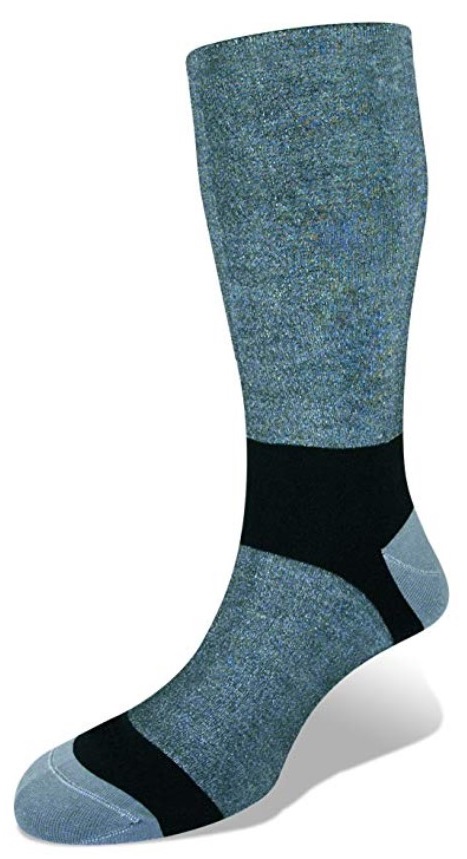 Bridgedale is a brand with products designed for all sorts of outdoor activities like hiking, trekking, mountaineering, skiing, etc. With this Ultralight sock, they have combined Coolmax polyester with Endurofil yarn, a material with exceptional durability and resistance to repeated wash cycles. The Ultralight reaches up over the calf and comes with cushioning, as well as the brand's unique moisture management system. For that ultimate outdoor experience, the Ultralight should be your go-to choice.
This design has Coolmax and Endurofil fibers for moisture-wicking and longevity, respectively. There is also nylon for even more durability and Lycra for elasticity. The Ultralight is knit around a core structure that ensures a perfect fit, and it contains soft and comfortable fibers in specific areas.
Along with Coolmax, Bridgedale's moisture management system transfers droplets of moisture away from your skin and to the outer layers of the sock, where they can evaporate and keep your feet cool and dry. Selected areas of the design are reinforced with abrasion-resistant fibers to protect it from wearing out too soon.
If you're the type of person who spends a lot of time in nature, if you lead an active lifestyle and like to explore, then there is hardly a better option for you than the Bridgedale Ultralight. It is comfortable and will keep you dry, but it is also amazingly durable and able to stand up to any type of environment.

Built to combat heat in all of its forms - from humid to dry to intense to searing - the Micro Crew from Darn Tough will help you take on even the balmiest of days, not least because of its Coolmax construction. This design is made for hiking and/or running in all situations where dampness is expected, as its moisture-wicking properties are fast-acting and its build is naturally antimicrobial.
The Micro Crew is made from nylon for durability, Coolmax polyester for that superior moisture-wicking, acrylic for softness, and Lycra for stretchiness. It has a performance fit, meaning that it guarantees no bunching or slipping so that you don't have to spend your time on the trail constantly pulling your socks up.
Cushioning in this design is mid-level, providing warmth if it is cold outside and gently cradling your foot. There is also a True Seamless toe for a smooth feel that won't cause you any pain. The antimicrobial feature we mentioned repels bacteria and unpleasant odor so that your feet feel fresh even when you take off your hiking boots at the end of the day.
The Darn Tough Micro Crew is a great choice to battle moisture of any kind. It is made by one of the leading brands when it comes to hiking socks and sportswear, and you are surely going to enjoy its many comforts and support features next time you hit the trail.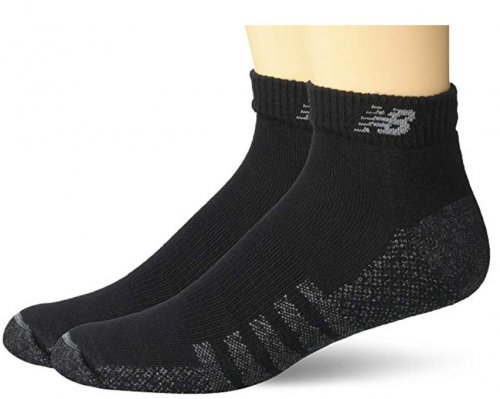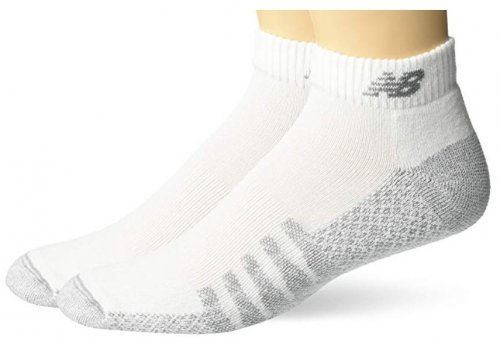 If you're not into any of the sports-specific options on our list, we have one that can be used for pretty much everything, including regular wear. New Balance is a powerhouse in the sportswear industry, and it is no wonder they have a pair of Coolmax socks in their arsenal as well. These are low-cut, neutrally colored, and come with all the necessary qualities so you can wear them to the gym but also pair them with casual outfits on your time off if you so desire.
The Low Cut is made from only two types of materials: 95% Coolmax polyester, and 3% spandex. The former provides moisture-wicking and breathability as well as durability and colorfastness, while the latter ensures the design fits snugly to your foot and that it doesn't slip down.
Since it belongs in the activewear collection, the Low Cut has cushioning strategically placed in important areas, such as the heel and the ball of the foot. This added padding reduces the force of the impact and helps protect your joints. There is also arch support carefully engineered to keep you going for longer, no matter what you're doing.
The New Balance Low Cut is that option that you can reach for day in and day out. Its low-cut silhouette makes it barely visible over your footwear, meaning that it will go great with jeans and shorts and skirts and dresses. Your feet will be dry and comfortable, and your arches will love the added support during the day.

Another design from Darn Tough, the Vertex is a no-show option that you can wear in warm weather, when you want a minimalist feel, or if you want to enjoy the increased mobility that comes from having your ankles free. This is an ultra-light construction that has our featured polyester in its knit, as well as cushioning all along the bottom, all-weather wearability, and naturally antimicrobial performance.
The Vertex is made from Coolmax polyester, nylon, and Lycra or spandex. Much like the other Darn Tough option here, it has a fit that guarantees no slipping or bunching, and definitely no blisters during your activity. It is made using fine gauge knitting for outstanding durability, and its moisture-wicking works fast to ensure your feet are dry in no time.
The Vertex has a natural ability to resist unpleasant odors and inhibit the growth of odor-causing bacteria. Its cushioning is super light and full-length so that you don't feel any of the bulk while you run or hike. The True Seamless construction only adds to the Vertex's comfort levels as you won't feel anything from its seams.
The Vertex is a true no-show, meaning you can easily pair it with any footwear or sports gear and it won't clash with your outfit. It is a performance design, meant for medium- or high-impact sports, and you will have a blast taking it out on the trail.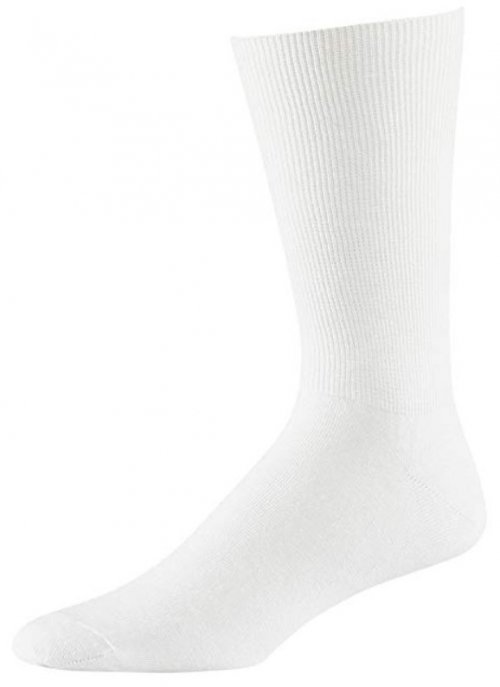 When it comes to simplicity and a design that is all about high-quality materials, the Wigwam Coolmax Liner certainly takes the cake. This option doesn't come with any hi-tech features you see in our other designs, as it is created to be super lightweight and barely noticeable. It is ideal for those situations where you don't want to be weighed down by your socks when you just need a thin layer of protection but none of the added bells and whistles.
The Coolmax Liner is made from Coolmax polyester, from stretch nylon for elasticity and spandex for even more elasticity on top of that. It is crew length, great with pants and trousers of any kind, but what truly makes it stand out in our guide is the fact that it doesn't come with any cushioning.
The Wigwam Coolmax Liner is a study in minimalism, as it is created to be feather-light and to provide a perfect fit. It won't bring any bulkiness to your footwear or drag you down in any way. This makes the Coolmax Liner a great option to wear in boots, in dress footwear, and even in combination with minimalist running footwear, when you need something to reduce friction and prevent blisters, but don't want to cushion on your run.
If minimalism and a barefoot-like feel are what you're after, go for no-cushioning such as the Wigwam Coolmax Liner offers.

Another running-oriented design, the Liner Crew from Injinji is specific in that it has a five-toe structure. This not only reduces friction between your toes and thus lowers the chance of getting blisters, but it also enables natural toe splay, grounding you and giving you more stability as you run. The Liner Crew is thin enough that it works for warm weather hikes and runs when all you want is to keep cool and avoid the unpleasant consequences of sweating too much.
The Liner Crew is made from Coolmax polyester, as well as nylon for added durability, and Lycra for stretchiness and a snug fit. It is made using a 200 needle count, meaning that it is quite dense. The higher the needle count on a design is, the sturdier and more long-lasting it will be. The Injinji Liner Crew is made for both the road and the trail, and it will withstand anything you throw at it.
Thanks to its five-toe design, this option provides enhanced protection against blisters and hot spots, and it also helps you utilize your entire foot in the activity. With your toes separated and correctly aligned, you are not putting pressure on any individual part of your foot, but rather the pressure is evenly distributed so that you don't experience any pain afterward.
The Injinji Liner Crew takes a bit of getting used to if you're not immediately comfortable with the five-toe feel. However, it is a high-quality running design that will keep you well-balanced and irritation-free, and with its superior construction you can be sure that it will last you for quite some time; perhaps even a couple of seasons!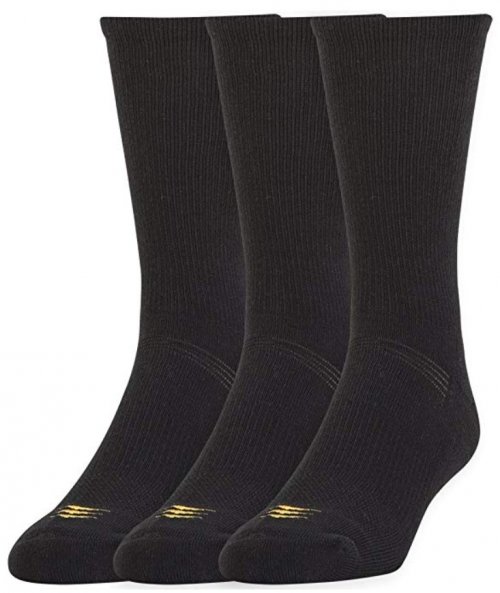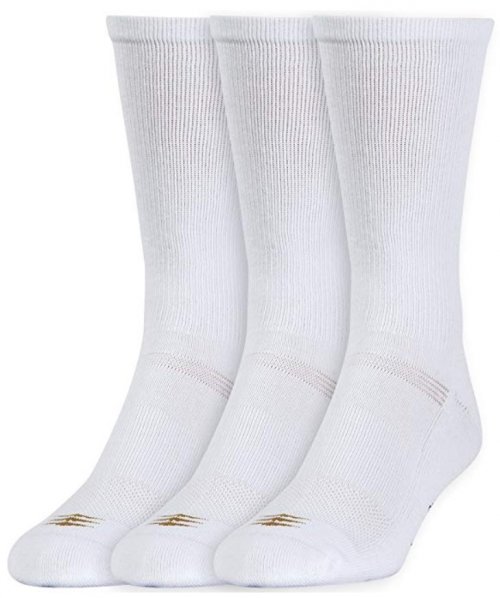 Simple, affordable, with just the right number of performance features - the PowerSox Cushion Crew is a staple workout design that you can throw on at basically any time. It comes in a white and a black version and its casual aesthetic are suitable both for everyday wear and for a more demanding physical activity. The Cushion Crew has a bit of cotton thrown into its material make-up for softness, and you will love its special cushioning and reinforcement zones.
The materials which go into the PowerSox Cushion Crew are Coolmax polyester for that moisture-wicking and durability, cotton that increases breathability and provides a soft, gentle touch, regular polyester, and spandex. We're especially appreciative of the cotton, as it is a natural material that will make you feel light and comfortable.
For the ultimate comfort experience, the PowerSox Cushion Crew has cushioning in the strike zones - meaning at the heel and under the ball of the foot - to absorb shock as you walk or run or jump or dance your heart out on the pavement. It also has a reinforced toe area to prevent holes from developing over time.
The PowerSox Cushion Crew is an easy choice for those who want a versatile design. You can grab it for your next run or before you leave the house for your next class. Thanks to its superior qualities and comfort features, you can be sure that your feet will want for nothing in the Cushion Crew.

9

. Harley Davidson Coolmax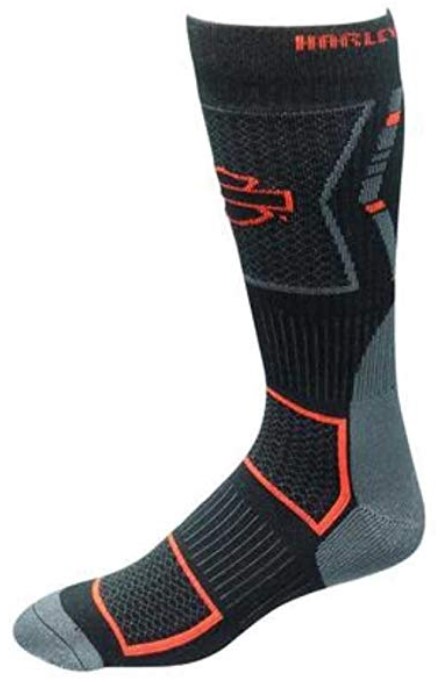 As the first and only design of its kind in this guide, the Harley Davidson pair of Coolmax socks are actually meant for riding. They feature the moisture-wicking polyester along with a special brand-specific technology called NanoGlide which comes with its own set of advantages. This design is knee-high and also has cushioning, arch support, targeted venting, and reinforced areas. Even if you're not much of a rider, this one will serve as great protection against the elements.
The HDC contains polyester, cotton, nylon, spandex, and the technology we mentioned, the NanoGlide. The NanoGlide system increases the lifespan of the sock, adds even more moisture-wicking and reduces friction in key areas that get the most heat during a ride. Targeted vent zones in the design ensure breathability and dry wear.
Support is present in the form of an arch band that reduces foot fatigue while a half-cushion provides comfort. To round this design up, there are reinforced heel and toe areas that ensure maximum protection. A ribbed top means that the cuff of the HDC will stay in place and yet be comfortable at the same time.
No ride will ever feel the same as the one in these high-quality socks outfitted with all the latest innovations!

10

. Timberland Coolmax Sock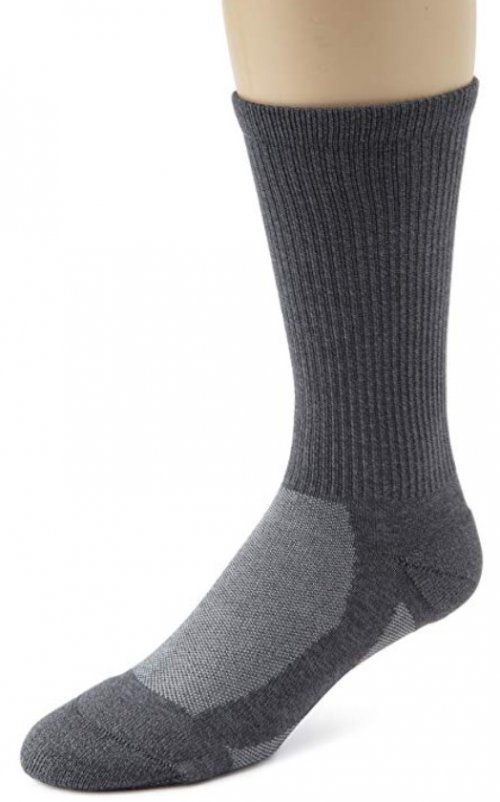 Timberland is a brand famous for its outdoor and work wear, both for the more stylish options and those which are centered around function. Their Coolmax socks are somewhere in between. They serve as a great autumn and winter design for casual wear, but also as a good choice for hiking and some light activity. They will pair well with your iconic Timberland boots or any other rugged, outdoor-style footwear for that ultimate cold-weather look.
These Timberland socks are made from polyester, cotton for added softness and breathability, and a dash of nylon and Lycra. They have special vents on the top side which allow for more air to pass through, making them even more breathable and keeping your feet fresh even after hours of standing or walking.
For comfort, the toe and the heel areas are extra padded. This padding provides you with a cloud-like feeling underfoot and keeps your legs safe from too much impact upon your every heel strike.
This Timberland design is great for anything from a casual walk through the city to more serious work in the yard. It goes well with boots of any kind, and you will definitely appreciate its cozy aesthetic that you can layer and create your own autumn style.

Subscribe to our Newsletter