Best Foldable Water Bottles and Collapsible Water Bottles Reviewed
last updated:
Mar 31, 2020
Collapsible water bottles water offer the best way to travel light while meeting your two liter-a-day requirement. Your body needs water to function well. The cumbersome nature of most flasks makes many people suffer from dehydration more than exposure to the sun. Some canteens are also quite heavy, which translates to heavier luggage. Airport security and travel restrictions also present a potential problem.
Foldable water bottles offer a solution to this problem, especially for travelers and the outdoors crowd. They occupy less space because you can fold to them to fit into your bag or slip them into your back pocket. This article features some of the most practical and safe collapsible water bottles available in the market. As a bonus, there are also some handy tips to help you make the best of your next purchase.
In a Hurry? The test winner after 10 hrs of research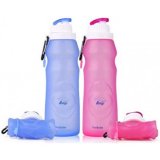 Baiji Bottle
Why is it better?
2 for 1
Carabiner clip included
Roll-able and foldable
Freezer safe
In a
Hurry? Editors choice: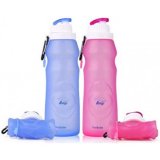 Test Winner: Baiji Bottle

5
Researched Sources
12000
Reviews Considered
10
Hours Researching
10
Products Evaluated
Capacity
Materials
Features
Durability
Insulation
By Default
Top Rated Collapsible Bottles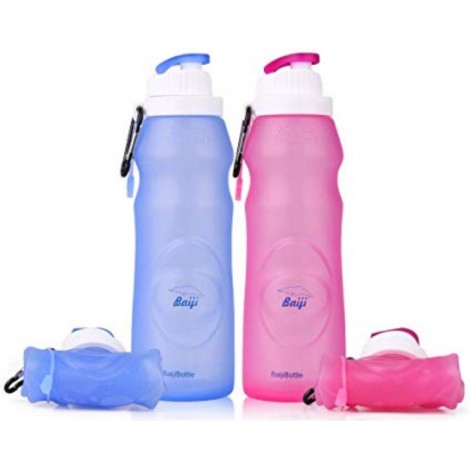 2 for 1
Carabiner clip included
Roll-able and foldable
Freezer safe
If you are in the market for a "his and hers" set, then look no further. This collapsible water bottle is fun, convenient, functional, and unique. This canteen set comes with two, one blue and the other pink, each with a max capacity of 20 ounces. They're made from food grade silicone and meet the necessary conditions for dishwashers and freezing.
Their soft silicone construction makes them taste, odor, and stain resistant. They come individually wrapped; it also makes them a perfect gift item to present to a pal that loves traveling in style. Once you fill them with a liquid, they stand upright, therefore safe to carry in your cup holder. You can easily fold and roll or lay them flat for stowing when not in use.
This foldable water bottle features a carabiner, which clips the flask to your gear or clothing for convenience while on the go. Baiji has also built a retainer strap that securely holds its flask to the rolled up position. You can also use this strap to hang on your arm when you're on the move with a filled container; this leaves the hands free for other tasks. When it's time to clean the container pop it in the top dishwasher rack or hand wash it with mild soap.
To enjoy a cold drink, fill it halfway or 2/3 pop it into the freezer and top up with some more water and enjoy your icy drink for hours. A fun fact about this product is that it's aptly named after the endangered Baiji dolphin. The manufacturer gives a part of your purchase to marine life conservation, which makes purchasing this reusable canteen a step in protecting the environment.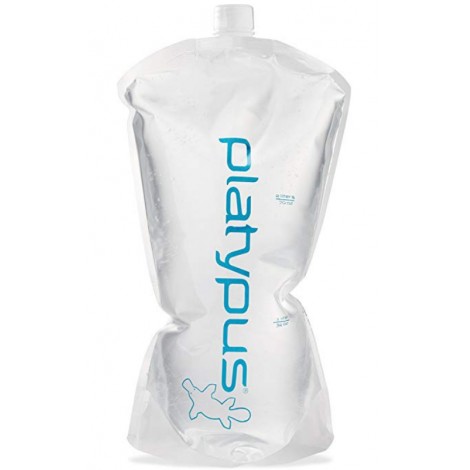 Transparent finish
Taste free
Drinking tube Compatible
The platypus platy 2 liter is an outdoor essential for everyday use. This collapsible water bottle weighs just 1.3 ounces and has a maximum capacity of 2.1litres (70 oz.). Unlike canteens of similar volume, it is lighter and can fold into a fraction of its size unwrapped size when empty. Its slick design also makes it dispensable on a car's cup holder. These features make it great for long trips, especially to remote parts where it's hard to access clean drinking water.
This foldable water bottle is made from BPS-free, BPA-free, and phthalate-free plastic. Its interior has a silver ion coating which acts as a Slimeguard and antimicrobial treatment. This coating helps keep water taste free and fresh for longer. This also means that you can store a beverage like beer or soda today and water on a different day without suffering a difference in taste.
This collapsible water bottle has a slim mouth and a tight and secure screw top. You can also attach a drinking tube, which is handy for cycling and activities like rock climbing. When you are filling this water bottle, the base expands to keep the canteen upright to compensate for gravity. This product is compatible with all Platypus drinking tubes and caps. It also pairs perfectly with the "GravityWorks" water filtration system.
The platy 2 is a United States made product and come backed with a limited lifetime warranty.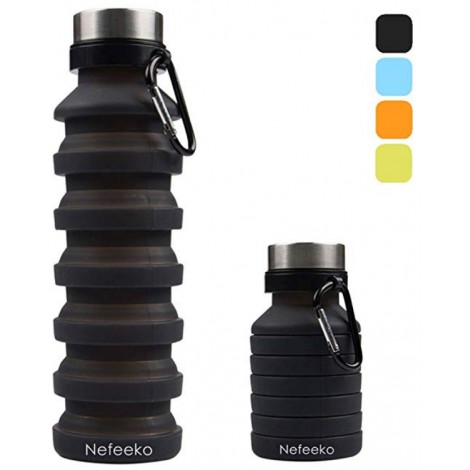 Multiple color choices
Travel clip included
Solid Lid
This collapsible water bottle offers more convenience than roll up models. It's Accordion-like, fold up design saves up on 50% storage space when stowed in a bag. This pop feature also makes the canteen more convenient than those that feature a roll-up design. The Nefeeko makes an excellent hydration solution for journeys and sporting activities.
This collapsible water bottle's construction also features a BPA-free platinum silicone material that meets FDA approval. This certification ensures every sip you take safe and refreshing. It is also free of toxins, plastic tastes, and odors right out of the box. You can pack both boiling hot and frosty drinks since it supports a diverse temperature range of -40°F (-40°C) to 446°F (230°C.
It has a capacity of 550ml and weighs 198g. This collapsible water bottle folds from a height of 9.8 into 5.5 inches. It's also leak-sealed and shatterproof. These features make it great for the whole family, especially clumsy kids. It also comes equipped with a metal carabiner for conveniently strapping it to clothing or luggage. It features a wide mouth, which allows for more convenience in cleaning and you can add fruit slices and ice cubes through this wide opening.
This foldable water bottle comes with a two-year warranty as an after sale guarantee that entitles you to a replacement of your money back in case of any product malfunctions.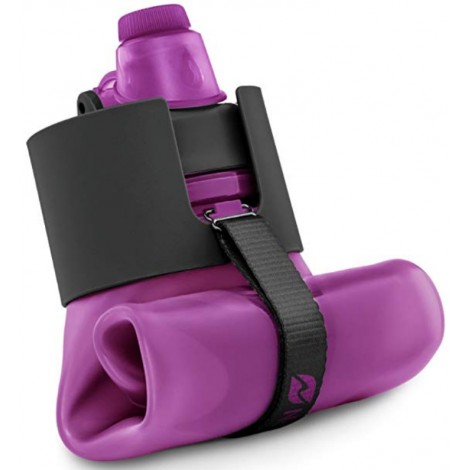 Leak-proof cap
Convenient roll-up design
Carry strap included
Just as the name suggests, the Nomader sports water is essential for travelers and wilderness wanderers. A user reaps many benefits from the capacity, materials, and quality finishing. Nomader also offers a lifetime guarantee on their products. You will never need to buy another canteen once you have got this one.
This collapsible water bottle is made from thick BPA-free silicone, which is flexible yet robust. Giving it a sturdier yet comfortable feel, it also retains its shape as it empties so it won't collapse as you drink. It also features a hand roll up design so you can squeeze it into tight spaces. The neck also features a multifunctional strap to secure it when folded or to make carrying the collapsible water bottle easier.
The Nomader has a 100% secure cap screw that is airtight that offers controlled intake when open. The hinge cap also works as a clean spout cover to prevent dirt from coming into contact with the mouthpiece between drinks. You can also use this opening to throw in some ice cubes whenever you need a cold drink.
This collapsible water bottle is made from 100% non-toxic materials and has undergone rigorous product testing. The results of which are a product that is free of plastic taste and odor. It is also robust enough for freezing and hot conditions. It's also made from shutter proof silicone, which means it will survive many falls. This uniquely designed collapsible water bottle comes in 11 vibrant colors and attractive packaging.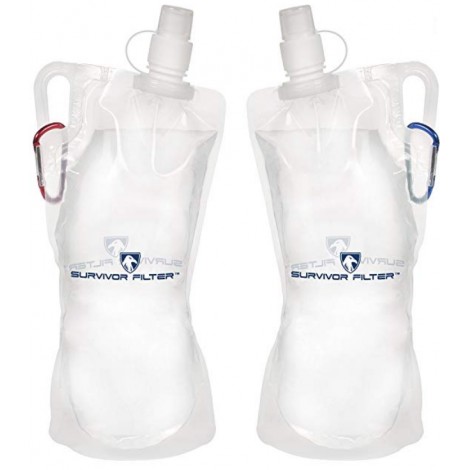 Cleanable filter
Doubles as ice-pack
Super lightweight
If you like roughing it out in the wilderness, then this collapsible water bottle is your ideal hydration solution. This collapsible water bottle is built to act as a reservoir for Survivor filtration systems. You have the option of attaching a variety of filters to the cap. The top screws into a filter meaning you can drink from creeks, dams, reservoir, and many other untreated water sources.
This collapsible water bottle is made from sturdy BPA-free materials making it eco-friendly and reusable. It also has an impressive storage capacity of 1000ml. To stow it after use, you have the option of folding it up or laying it flat since it assumes a very slim profile when empty. It features a pull cap that protects the mouthpiece from dirt and debris while you sip and move.
Despite its slim profile design, this foldable water bottle stands straight when filled. It also comes with a travel attachment clip for added ease when traveling. It comes with a 100% money back guarantee and a lifetime warranty therefore if you are not satisfied or have malfunctions can get your money back.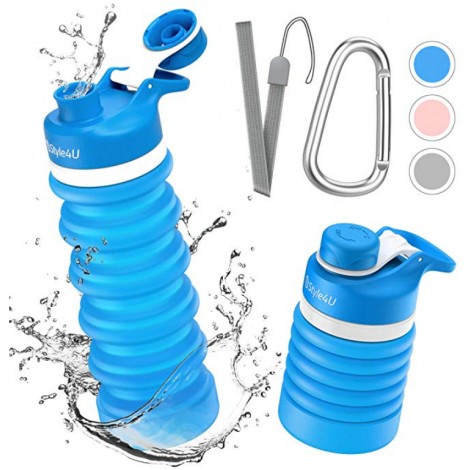 Eco-friendly
Cup holder compatible
BPA-free
Inadequate liquid holding capacity
This sports collapsible water bottle is made from premium silicone material, which assures durability and flexibility. It is an excellent water container to take to the gym or office. You can also use it in your travels since it is shatterproof and features a hook for your travel bag. Unlike many containers in its class, this foldable water bottle comes with a wide mouth that's handy for adding fruit slices, ice cubes or anything else you'd like in your drink. It's also reinforced to handle both hot and cold drinks since it can withstand temperatures of between -40 F and 248 F.
This lightweight, a collapsible water bottle is made from food grade BPA free silicone and meets TSA approval. Therefore, you can empty it and take it onboard a flight as part of your carry-on luggage. This container expands from six inches to nine inches and holds up to 19 oz. (562 ml approx.). It also comes with a leak-sealed cap and lid which effectively prevents any unwanted spills. When the collapsible water bottle gets dirty, you can easily pop it into the dishwasher or hand wash it.
Style4u foldable water bottle have also included a convenient carabiner clip and firm lanyard that hooks to belt loops or bags. This adds flexibility to your traveling, biking, hiking, or camping activities. Once you are done with your drink, you can fold and roll the collapsible water bottle for secure storage. The manufacturers offer excellent customer service, and their promise of quality is backed by a longtime American seller and Amazon presence.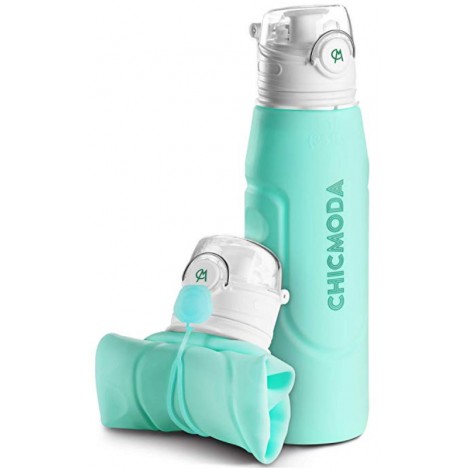 Compatible with cup-holders
Dishwasher safe
BPA free
Requires cleaning before use
Consider this product If you are searching for something a bit more stylish. It comes in an exciting array of block colors that make it very modern and attractive. It folds and rolls with ease making it practical, easy to use, and store. This collapsible water bottle holds a maximum of 1 liter (1000ml), which makes it ideal for extended periods of use.
This is an eco-friendly foldable water bottle made from 100% eco-friendly plastic. It is BPA-free, and FDA approved. This assures you of safe drinking water no matter the season. When not in use it folds to 4.9 inches, which is small enough to store in your back pocket.
Unlike any other product on this list, this collapsible water bottle comes equipped with an automatic push button that releases the fluid in the bottle. This feature, coupled with an anti-leak silicon cap helps keep your drinking water safe from contaminants even as you drink on the go. It also has a metal hook for strapping to your bag or belt.
Chicmoda has also built in an air valve at the top of the bottle to let air inside. This keeps the bottle from collapsing in on itself as you drink. There is a factory default chemical taste when the collapsible water bottle is new that you can get rid of by soaking the container in baking soda for half an hour before your first use.


Leak sealed
Budget price
Easy to clean
Rest assured of a refreshing drink, whether on an urban or outdoor excursion. This collapsible water bottle is big on capacity, light on weight, foldable, resistant to wear-n-tear, and comes equipped with anti-fall features. This collapsible water bottle is an alternative to all the cumbersome options out there in the market. What 's more, it comes with a manufacturer's guarantee against leakages and shatters.
The construction of the collapsible water bottle features medical grade BPA-free silica gel, which is a step ahead of food grade materials. It is also odorless, free of chemical tastes and satisfies FDA regulations. This canteen has a maximum holding capacity of 750ml and weighs a measly 155g. Its high-grade construction and finish give it a temperature range of - 60°F to 220°F. This range allows you to carry both hot and frozen liquids.
Another great feature of this foldable water bottle is its tight seal cap and the overall sealing. These features eliminate contamination from environmental seepage. It also folds to a third of its original size when empty. It also features a handy metal ring that you can attach a carabiner clip and lanyard for conveniently hanging the container on a bag while on the move. This canteen also came with a 100% money back guarantee and warranty for any problems you may encounter. You can also get a replacement or a full refund.


Mouth fits ice cubes
All liquid safe
Lead-free
Kemier does not just give you a collapsible water bottle; they offer you a professional designed fashion-forward product with a quality finishing. It is perfect for both outdoor and urban living. The craft behind this foldable water bottle is inspired and modern. It features a carry on holder and a flip-top that locks the spout. This feature enables the user to quickly open and close the canteen and sip of their drink with relative ease. The spout is also wide enough to allow for a quick refill and an easy time washing the bottle.
It is collapsible with a roll-up design for easy carriage; it also features a sturdy handle, carabiner clip for attaching it to your bag. The overall design is slick enough for the water canteen to be held by a bicycle or car cup holder. It is also made form medical grade BPA-free silica gel that is non-toxic and odorless. A further guarantee of safety is FDA approval.
This collapsible water bottle has a capacity of 750 ml and weighs just 155 g, which makes it very easy to carry. It's sealing design also allows you to hold it upside-down without any liquid spilling. This foldable water bottle is built to withstand temperature ranges of between -400 c and 1000 c. This range allows you to put very hot and very cold drinks in the canteen. You can also use it for a variety of activities like swimming, cycling, hiking, extreme sports and many more.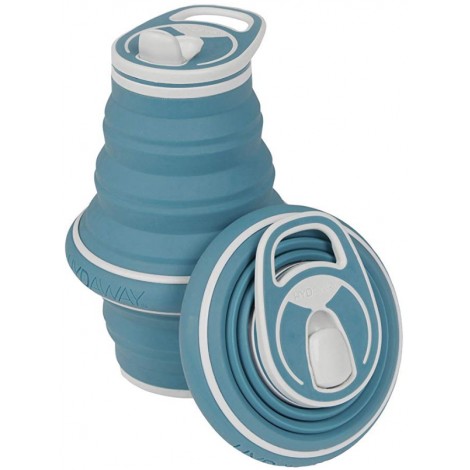 Accommodates carbon filter
Convenient for traveling
Clean silicon finish
Unsuitable for hot liquids
This hybrid collapsible water bottle is flexible yet stable. It holds up to 21 ounces and can squeeze to a height of just 1.25 inches when not in use. This means that you can easily hang it anywhere you please using a carabiner clip or stash it in your pocket when empty. You also have eight beautiful color options from which you can select. This foldable water bottle features a flip-up straw for easy drinking.
This collapsible bottle's construction materials are non-toxic, food grade, BPA-free, and meet with safety certification. It is entirely taste-free and odorless assuring you of a fleshing taste. The container is watertight and has leak-proof seals all through the container's body. It is dishwasher safe, but you can also wash it by hand.
Its ultra-foldable design makes this collapsible water bottle the ideal hydration solution for travel through airports. As you don't have to worry about getting this container confiscated at security screening, empty it, and pass through. This fodlable water bottle's shatterproof design makes it great for your kids as well.
Criteria Used for Evaluation

Capacity
Having a bottle that can help you attain your recommended daily water needs is a matter of vital importance.
The capacity of a collapsible water bottle is one of the essential features to consider before making a purchase. For commuters and campers, a canteen that can hold a lot of water like the survivor, Chicmoda or Platy 2 came in handy. If you are backpacking, hiking or want something for your daily runs then the lightest possible choice like Nefeeko or Hydaway will serve you best.
Choosing a canteen according to size is a subjective matter. Therefore, you need to consider your individual needs. A guiding principle to follow is the daily medical requirement of 8 ounces of water for every half hour of strenuous activity. Therefore, a canteen that can hold at least 250 ml will serve you well if you have a source for refilling it as you go.

Materials
A canteen needs to last, offer hustle free maintenance, and provide a measure of insulation.
Reusable plastics make the lightest and most affordable collapsible water bottles. The Chicmoda and Platypus are prime examples of BPA free bottles that feature on this list. The main drawback with plastic is that it offers zero insulation, so if you spend the whole day in the sun, your water will warm up quite quickly. Plastic materials also make products that need regular cleaning. Plastic products also contain chemical, therefore ensure to check the BPA rating before making a purchase.
Silicone; Travelers and adventurers prefer silicone collapsible water bottles. Silicon-based material is not porous; it is easy to clean, resists coating, and can withstand both high and low temperatures. It can carry your tea for a while before cooling as well as your ice-cold juice before warming. Collapsible water bottles made from silicon are also dishwasher safe as well as hand washable. This makes the most ideal hydration partner for your daily travel needs.

Features
Great features make a basic concept like a water bottle into a great accessory.
Rigid vs. flexible
Collapsible water bottles fall into two main categories. Plastic bottles fold naturally, as you empty the liquid content while rigid containers keep a constant shape unless you squeeze them to a smaller size.
A flexible canteen is more convenient to pack since it fits organically into tight spaces. It also assumes a smaller size than a folded rigid canteen. The platypus and survivor filter collapsible water bottle (excluding their mouthpiece) flatten completely when empty.
A rigid canteen is more convenient to take a sip from since it doesn't implode on itself as you drink. Rigid containers will retain a constant shape, so it is possible to hold it to your mouth with one hand as you drink. It is the best option for long haul road trips and cycling excursions.
There are also hybrid options like Nomader. These variants are soft enough to roll into compact sizes yet are still rigid enough to stand when empty.
Collapsed size
Once a canteen has been collapsed the shape and size it assumes is another crucial consideration to make. Some flasks like the Nefeeko become shorter; this is great if you want something that can you can fold as you empty it. If you need to save space, look into a model like the platypus or an option that fold's into a small disk like the Hydaway. These foldable options fit right into the side pockets of bags and your pant's pockets easily.
Roll up designs offer a slight compromise between the two other options, though their mouthpieces and caps take up some space.
Lid/cap
Caps are essential considerations to make. They offer an additional layer of protection for the mouthpiece. Caps protect the mouthpiece from damage and contamination, as well as keeping it closed securely. This level of security is especially essential if the canteen dangles all day on a carabiner clip or lanyard.
Some Caps flip-up when opened and come attached to the canteen or have a connection cord. This cord prevents you from dropping and losing the cap.
Hot/cold drink
Most collapsible water bottles only handle cold beverages. However, if you are a heavy tea or coffee (even porridge or soup) drinker, you might need a separate flask for your hot drinks. Getting a collapsible canteen made of think silicone is also a viable option. The Nomader, listed in this article is an excellent example of such a model.
Carabiner
If you are into extreme sports and activities that require all hands on deck like zip lining, clipping your bottle to your clothing is vital. A carabiner saves packing space, and it allows you to carry your water without the need for a bag. Most of the collapsible water bottles reviewed feature a carabiner clip or a loop/ring to attach one easily.

Durability
A sturdy collapsible bottle will save you a lot of money and hustle in the long run.
The durability of your collapsible water bottle can have a significant bearing on your daily activities. You are less likely to drop your flask if it sits on your office desk or inside your bag. However, you continuously hold it in your hands or carry out some heavy tasks the likelihood increases. If you are a bit of a klutz, this likelihood doubles.
The materials used in the construction of the flask also has an effect on its durability. Collapsible water bottles usually feature some variant of plastic or silicone. These materials enhance the flask's durability since they seldom crack or shatter into an impact with the ground. This proper use and maintenance of these bottles last even longer.

Insulation
The best defense against leaks and external elements starts with great hull integrity.
When purchasing a collapsible bottle, you need to consider how well it is protected from leaks and environmental elements. Leak protection factors in the seeming of the body of the canteen. The best canteens are usually a single mold of one parent material, and you can tell by a lack of seaming all-round the container's body. If the bottle has a spout or drinking tube, you need to be able to cover it up to prevent the water inside from dripping out as well as dirt from coming into contact. Therefore, the cap also needs to be tight when secured to the mouth of the canteen.
The thicker the material, the more insulated it will be from external temperatures, elements, and contaminants. Some canteens also feature an additional coating to prevent the buildup of impurities that coat the interior and exterior. At times, this results in more weight, but since the canteen can roll or squeeze to save on space, it is a good compromise. Being safe from bacteria and external heat or cold conditions will make your drinking water safer for longer.
General insulation also makes the canteen last longer and safe for dishwashers and refrigerators. This helps you keep up with busy schedules as well as easily maintain the container.
Expert Interviews & Opinions
Most Important Criteria
(According to our experts opinion)
Experts Opinion
Editors Opinion
Users Opinion
By Default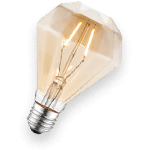 Why you need a collapsible water bottle
The price of bottled water has more than tripled in the last couple of years. In some countries, water costs as much as a cup of coffee. In the UAE, for example, a gallon of purified water costs nearly as much as the same quantity of oil. Sure, you could afford a cup of coffee every time you're thirsty; however, your body will still demand its fair share of pure, unadulterated water to have a healthy, clean life.
You can carry a collapsible water bottle, in your everyday bag, strap it to your side, stash it in your car's cup holder, or many unobtrusive places. Most places like the Movie Theater and airports are lenient towards these products.
Stay hydrated
Our bodies are mostly water, about 60 percent of it. Drinking water can diminish the symptoms of dehydration. Your face becomes red because of excessive heat. Blood vessels expand, and it tells through the skin, trying to decrease the internal body temperature when it's hot.
If you are not drinking the medically mandated amount of water, which is about eight glasses a day, blood vessels find it challenging to expand. Consequently, body temperature increases even more, and you have a harder time cooling down. It's understandable why you would find yourself dehydrated: maybe you're on a hike, and every inch in your backpack counts. For that reason, a collapsible water bottle will come in handy.
Other Factors to Consider

Bottom Line
Whatever your lifestyle there is bound to be a Collapsible water bottle that compliments it. You can take one with you to the office, clip it to your belt as you go hiking and even use it to sneak a cold brew to a music festival or a boring opera. You can also put your coffee or tea in some of this model to help you keep focused while on the go, even if it remains hot just for a short time.
Therefore, there is no reason to waste money on bottled water that will end up at the landfill. All the canteens in this list come with excellent customer ratings and BPA-free certification. With all the information provided here, you are free to make your next purchase not just an educated one but also an environmentally conscious one.
Frequently Asked Questions
q:

How do you maintain a collapsible water bottle?

a:

With regular use most collapsible water bottle develop disagreeable odors and after tastes. This is because of improper storage and cleaning habits. The best way to maintain any canteen is to rinse it after every use and let it air-dry completely. Bad odors and taste develop when you store a canteen with a liquid or traces of moisture inside.

The situation is worse when juices are stored inside since they create an environment that can sustain bacteria. When your canteen develops a discoloring coating inside and outside, it is a sign that you haven't been keeping it as clean as you should. If this coating proves impossible to remove, you should consider buying a new canteen since it is unwise to keep on drinking from a contaminated source. However, by diligently following proper cleaning procedures, you can keep your canteen free from these noxious odors and tastes.
q:

How do you prevent the carabiner clip from unhooking once the canteen folded or squeezed?

a:

Unclipping can occur when you push the hard plastic sheath of your bottle upwards too high and hard before folding or squeezing it for storage. It also happens when you don't fully release air from the canteen. You can prevent this by:

1) Sliding up the canteen sleeve lower inner edge where it meets the seam line on the body, it is located right below the latch of the canteen.
2) Deflate the canteen fully by opening the cap and pushing all the air out.
3) Roll or squeeze the canteen tight than attach the carabiner or plastic latch. Let the canteen take its natural folded shape by puffing up a little to put some tension on the clip and strap.

If this procedure does not work for you, then your canteen is probably defective. Consult your warranty information to see if you are entitled to your money back or a replacement.
q:

Why is the BPA rating a vital consideration when buying a foldable water bottle?

a:

BPA (Bisphenol A) is a chemical compound used in the making of some polycarbonate plastics that features in many consumer products. Various studies show a link between it and several adverse health effects. Exposure to BPA may lead to obesity, a disruption to hormonal activity, breast cancer, miscarriages, and certain types of developmental issues to children. To top it off products made from this compound are lighter and cheap to manufacture, that is why landfills are full of them.

The best way to reduce your ingestion of this chemical is to cut from your daily water supply. Before making a purchase always ensure it is BPA-free. Research shows that bottled water is worse than drinking directly from a tap. So getting a reusable, collapsible water bottle is a no-brainer. The convenience of these canteens has had a thorough elaboration in the length of this article. They save you a lot of space in your packing options as well as go with your lifestyle. What 's more, you do an excellent service to mother earth and future generations.
q:

Is a collapsible water bottle better than a rigid one?

a:

The main advantage a collapsible water bottle has over a rigid container is it requires less space. This convenience is quite significant because we often find ourselves in need of every inch of baggage space. This need for space is very apparent for hikers, backpackers, and other adventurers.

However, it's advisable to have both types of bottles. Collapsible water bottles have some limitations and are bound to disappoint at some point. Thus, having a collapsible and rigid option is a great idea. This way you'll have the best features of both, and it won't set you back a lot financially.
Subscribe to our Newsletter