Best Clear Heel Boots For Sassy Ladies Reviewed
In a
Hurry? Editors choice: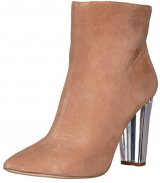 Test Winner: Jessica Simpson Teddi

There is probably no shoe lover on the planet Earth that doesn't love heels. Heels are a simple trick for instantly improving your style, and for simply giving you height. They were first made for men, in order to help give a boost so they can climb their horses with ease. It was only in the 18th century when women started to favor them, and soon enough they became a big hit and were attributed to feminine styles. Today they've stayed the same for a very long time, and aren't we ready for a change?

That's where transparent heels come in! Transparent heels kept the original design but added a little bit of interest and variety. The transparent heels usually match very transparent uppers, so if you love to show off your feet, give them a go. Check out our guide to see the many styles they come in!
Standout Picks
Criteria Used for Evaluation
Comfort
We've all been guilty of buying heels that are too high for our skill or too inhibiting to our comfort level and ended up wobbling and struggling not to fall. So, the logical thing we should do is just simply skip heels all together and wear comfort shoes and enjoy living without pain… right? Wrong! You don't need to sacrifice looking good in order to feel comfort, and there are many ways you can alter your new boots in order to feel much cozier than before. You can change your insoles, break the shoes in before you actually start wearing them, search for stylish yet comfy shoes and so on and so forth. We will brush over some of the most important facts here in order to help you feel more confident.
First things first - the insoles. No set of insoles was created the same, and they all have different properties and surfaces that help you feel good and stay healthy. If you love to wear heels, and you do since you are looking at clear heels, you should know that every quality boot has properly padded or cushioned insoles that help with the pin you will inevitably feel when propped up for a long time. Most of the time, the pads and cushions sit under the ball of your foot and under your heels. They absorb shock as you walk, make it feel like you're not walking on sticks, and eliminate most of that burn you feel after standing around on sticks all day. But, that doesn't mean that the more cushions you have, the better you'll feel. Thick cushions remind us of pillows, and all that toasty and lovely feels we get when we finally lay down on them. In reality, thick cushions can cause more trouble than good - the thicker the cushion, the less room you'll have to squeeze your feet in, meaning your arches and toes will get pushed into the upper, resulting in cramps and pain. Ouch! The proper solution to all of this are lightly padded cushions; they have just the right amount of padding to help alleviate some of the pressure and pain, but not to impact the room inside the boots! They help spread out the weight evenly, absorb shock as you walk, and simply lessen aching and cramping.
Now, let's look at the outsoles. First things first, let's consider the type of heel you will be standing on. Super high stilettos look extravagant and make us feel that way too, but they also make us miserable and cranky only after we've been wearing them for a few hours.
So, we resort to block or chunky heels, because they have better stability and weight distribution, meaning less pain. Platforms lessen the angle at which our feet rest, so the higher the platform the less cramping you'll get. The height of the heel plays a role as well - kitten heels are even better than flats, and stilettos don't play nice with our feet at all. Having said that, we can't really see whether or not the heel is transparent so we do need some height here after all. There are many tricks and tips to helping you feel comfier in a high heeled
boot, ranging from stretching them out to orthotics and even anti-blister sticks, so you should also give those a try. The way the rest of the outsoles are made also plays a role since a properly ribbed or detailed outsole will give you traction and grip, both helpful for balance and stability. In other words, you're going to have a much easier time trying to walk on heels, since even the slickest of weather won't slow you down and cause you injury. If you struggle to keep from falling, your feet and your muscles will ache, and no one likes that! So, a proper heel and outsole will inevitably help you feel more comfortable.
Materials
Transparent heels doo look amazing, but what exactly are they made out of? Can that material withstand our weight, or will it crumble underneath or feet injuring us and ruining our shoe? Clear heels, including transparent uppers here, are usually made out of TPU or PVC. Both of these materials are plastic, and they have their set of drawbacks and benefits.
TPU, or thermoplastic polyurethane, is a super versatile elastomer with a very unique set of properties. Besides being used for clear heels, it's also used for many different things, like adhesives and molding. It's been on the market for 50 years, offering its services for anyone that asks. One of the key things you should know about TPU is that its hardness can be adjusted, in order to be properly stable to support us. It can be as soft as bubble gum is, or almost metal-like.
The look of TPU is also highly adjustable. From smooth surfaces to colored or transparent, it can be anything you want it to be. It's also durable and resistant to abrasion. TPU has both soft and rigid segments in its structure, which is the sole reason why it's so adjustable. The way the hardness is adjusted is by controlling the proportion of the soft and hard segments, where having more hard segments will result in a tougher material, and more soft segments mean a more pliable result.
Surprisingly enough, TPU can also breathe to some degree, so you can even say that you'll have enough air when wearing boots made out of TPU. It's waterproof too, and resistant to bacteria. Everything a good shoe needs to have! But, TPU is pretty expensive, and it is plastic, so it's not that environmentally friendly.
Polyvinyl chloride, or PVC, is probably one of the most commonly used plastic today. Naturally, it's very white, but also brittle, so it needs a few additives in order to work its magic. This is also the type of plastic that has been around the longest, first introduced in the 1870s. PVC has two forms - a rigid plastic or a bendy sheet, and depending on where it sits on your shoes it will feel different.
Rigid PVC is most commonly seen in shoes, and it's most often described as vinyl, so if you ever come upon that term, now you know what it is. PVC, compared to TPU, is cheap, and not biodegradable, meaning its chemical won't leak into nature to disrupt its balance. It's also recyclable, durable and widely available. It's also quite dense, so you don't need to worry about collapsing heels. It does not burn when exposed to flames - instead, it liquefies, and when cooled down remains the same, mind the shape. But, it has a low melting point, and when it does burn (or melt), it emits fumes that can be toxic when inhaled, so be careful not to go near open flames!
Flexibility
We all know how uncomfortable heels can get, especially around the balls of our feet, and we're all quick to blame our heels not being flexible enough. But, our heels really don't need to be that flexible at all! Who would have thought, right? Many of heel lovers worldwide believe the bendier the heel is, the comfier we will be. This is simply not true, and for many reasons at that. The only age group that truly needs super bendy shoes are toddlers.
Their feet are still developing, and by having a closer connection with the ground they develop a better sense of themselves in space, so encourage them to walk barefoot. Adults, on the other hand, do not need to walk barefoot, or run, even though so many trends tell us that barefoot running is great. It is, for a while, but you truly do need all the support a more rigid shoe brings in order to run or walk right.
A lot of heel commercials promote super flexible boots and heels, telling us how comfortable and resilient we will feel. A heel that has more than enough flexibility will not support your toes, which is something that needs to happen. When you're propped up onto heels, the toes need to stay in the same position, having the same angle, all the time. This helps our feet work better and eases the pressure on our joints. Once you wear an overly-bendy shoe, your toes will not have a sturdy surface to support them, resulting in a wobbly stance with pain and aching as a result. Vinyl heels are already soft and pliable, so you really do need all that support a sturdy outsole can give, since you won't be getting it from the upper. Be mindful about this, and only go for flexible, yet supportive shoes!
Versatility
Clear heels might seem like a very versatile option, but try to think about it this way. Would you ever see transparent clothes in a professional, work environment? Of course not, so you probably shouldn't wear clear heels or transparent boots when going to work. Going out is a completely different story, however, and you can mix and match them with anything you desire. Their versatility lies in the lack of color, and the possibility to show off your skin.
This only works with boots that are completely transparent though, because regular boots with clear heels will still have varying uppers, and the same rules that go for any other shoe are applied here. One of the biggest contributors to versatility is the color. Completely clear boots can also be colored, and they usually sport bold colors, and even black clear boots can't be matched up with that many things since they are a focal point of your style anyways. When it comes to regular boots, you probably already know that black is universal, earthy tones go along with pretty much anything, while bold colors deserve to stand alone.
Sometimes, clear boots will have various details and perforations all over them or even open toes. Depending on how subtle or not these details are, their versatility increases or decreases. Sparkling details, crystal studs and so on all downplay their versatility - the more spectacular they look, the calmer your outfit needs to be. Don't go over the top! The leather is super versatile for an example, and that clear heel will give it the boost it needs to transform into an evening shoe. So, they are pretty versatile, but just be careful about where you wear them, as you don't want to look too unprofessional!
Breathability
When talking about breathability, it's pretty easy to deduce that boots with standard uppers, made out of leather or textile for an example, will have enough air to keep you cool and smelling fresh. But what about PVC or TPU boots, what happens there? If you've ever worn them, or have seen someone that does you probably know that they can be quite stuffy and that they fog up in no time. So, what can you do in order to avoid all of that?
One of the first things you can try is putting deodorant on to your feet. They sweat just like our armpits do, there's no difference there. So why wouldn't a deodorant work just the same? Get the antiperspirant variant, since it works better, and if you suffer from sweating too much, get the clinical strength one. The trick here is to apply the deodorant the night before you want to wear the boots, or at least a few hours before. This gives it enough time to works its magic, sealing your pores and preventing sweat from leaking out.
We've all heard about WD-40 and its great abilities, but did you know it could help you here too? Wd-40 is widely used to waterproof shoes, so it's only logical to try using to combat our natural moisture. You should apply it both inside and out, and that won't help you sweat less, but the water particles won't stick to the inner and upper of the boots, leaving you fog free.
The simplest thing you can do though is wearing socks! They do defeat the whole clear boot look, but stay with us - this is your chance to show off cute socks, and to experiment with your style even more! Lacy transparent socks and fish stockings work great here, as they will absorb all the extra moisture and leave you looking even sexier!
You can also buy clear boots that have perforations on the upper, or you can even try puncturing them yourself! This will promote airflow and will cool you off, drying the moisture and clearing the fog. This is probably the most effective way to combat sweat since the holes mean extra cool air and less sweating!
Top 10 Picks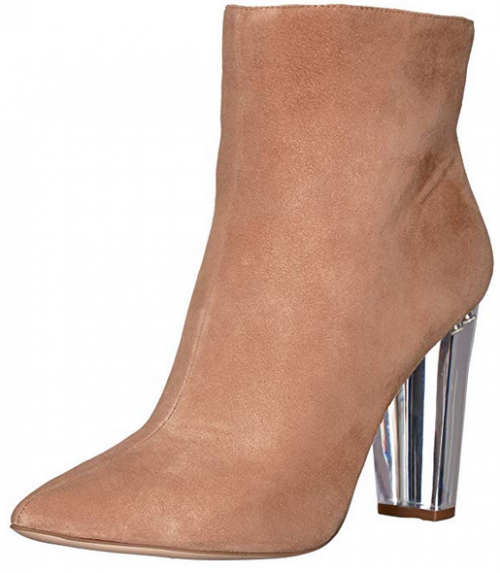 If you're tired of all the completely clear boots, but still want to try out the clear heel crazy, then give the Teddi a try. The upper is made out of suede, fawn or black in color, whatever suits you more. The upper is also completely devoid of any detail, save the side zipper, making the clear blocky heels the sole focus of the shoe, and that's exactly what we want!
The side zipper is super convenient, making it super simple to slide in and out of the bootie. The pointy toes follow the latest trend guidelines and update your look. The midsoles are equipped with memory foam, a lightweight and durable solution to all-day-long comfort. Memory foam also breathes well and keeps the same level of comfort for a long time. The chunky lucite heel is what makes the boot interesting, and offers a polished look.

2

. Maison Margiella Black Leather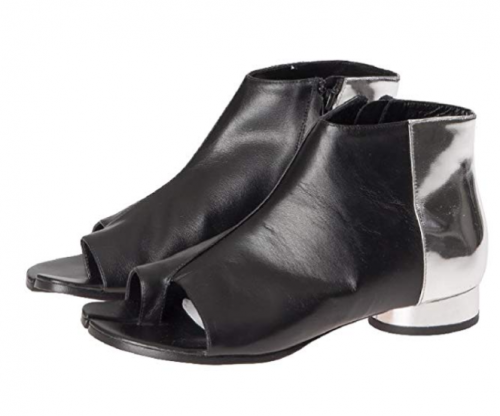 If you love footwear created by world-renowned designers, and wanted to give their clear heel shoes a shot, get your hands on these amazing black leather booties! Their upper is made out of the finest premium leather. This leather will be soft right out of the box, lowering the break-in period to a minimum! The leather upper is also completely clean and sleek, shining softly.
A very visible front stitch acts like the only detail and strengthens the construction. The zipper on the heel counter is hidden from view, not running the sleek look but still making it easy to put these on. The linings inside are leather as well, fighting moisture and bad odors! The heels are clear, of course, but they don't have a high shine - instead, they are opaque, matching the soft glow of the leather upper.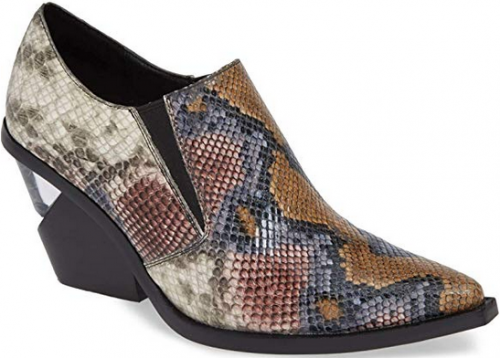 If the whole clear heel trend is confusing to you, and you're afraid to dive in completely, then we've got a perfect solution for you - the Jeffrey Campbell Flux! The Western style inspired bootie has a leather upper, with quite the interesting details. The pattern of the leather is the same as snakeskin, giving the bootie a more polished look.
But the color is not consistent over time and is mixed completely, making it seem like it was made from the blended skin of two different snakes. It also makes it more versatile, since there are more colors to match up with. There is no zipper here, but a slim elastic gore still exist, and it will do the same thing. The bootie is not high enough to demand a zipper, and the gore offers enough stretch to make it easy to handle them. The toes are slightly upturned and super pointy, completing the Western look. The heels are chunky, notched, and sport a clear heel detail, providing the perfect start to your loving relationship with clear heels!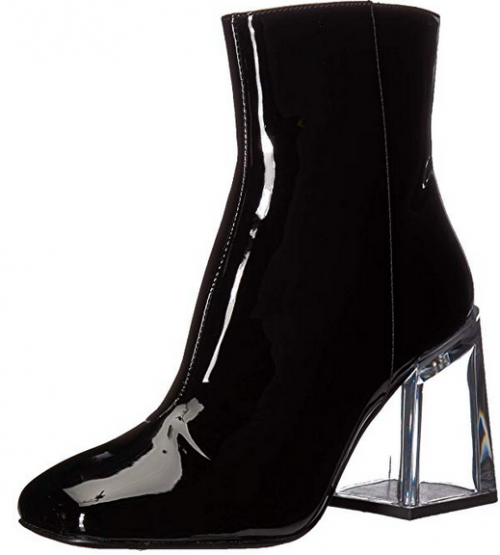 Leave it to the Apphappy to square off your style! The synthetic leather is topped off with a clean surface, made without any details. This doesn't mean it's not exciting though - it has been polished to perfection, giving off an incredibly high gloss, making them appear like they were made out of latex. And there's nothing ordinary about latex!
The toes are squared, meaning you will have plenty of room in the toe box to adjust to the bootie, and to let your toes stretch and wiggle freely. A zipper on the side acts as the fastening system, offering a perfect fit every time. The flared statement heel shimmers as you walk, and is wide enough to give you plenty of support!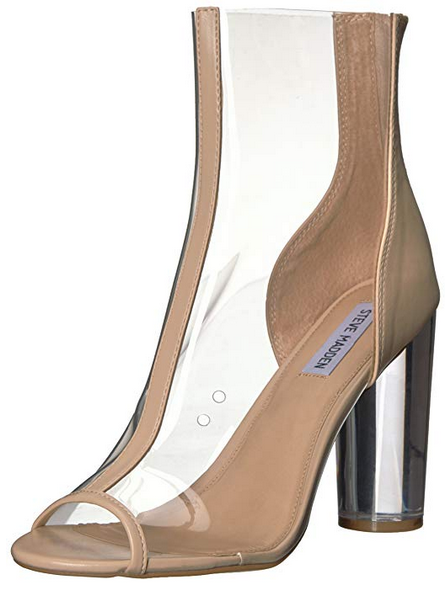 The Steve Madden Portal is a classic clear ankle bootie that we simply can't resist. The very transparent upper is made out of TPU, a type of plastic that is very durable and abrasion-resistant. No scratches will be seen on these boots! Synthetic leather makes up the heel counter, adding some variety to the clean upper, and acting as support, to keep the upper standing tall. It also hides your heels, so if you've got blisters going on you don't need to worry.
They are nude, and combined with the clear heel and upper, they become one of the most versatile pairs out there! A strip of leather acts as a bridge, connecting the opening of the boot to the peep toes, and edging along the opening there as well. This will guard skin from the plastic, preventing blisters and irritation, and also makes the boot construction sturdier. The round, yet chunky transparent heel is 3.5-inches high, and has a bottom that gives enough traction and grip to keep you going.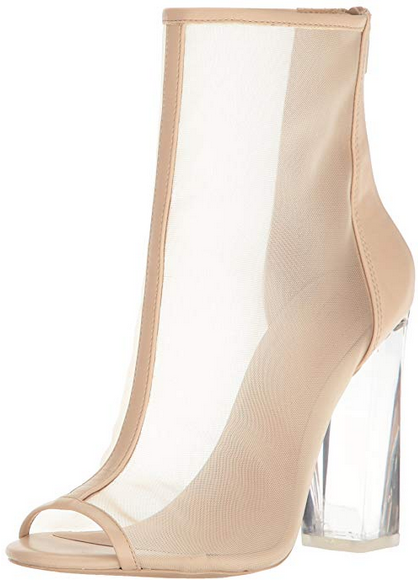 The Yoania does not mess around with the transparent upper and clear heels! The vamp is completely see-through, made out of nude mesh adorned with leather details. If it weren't for the heel, one could even mistake them for regular old nylon socks!
The zipper rests on the leather-clad heel counter, matching the leather bridge on the front. The bridge ends at the peep toes, guarding your toes against the mesh digging into them. The toes are almond shape, pointy enough to update your style but not tight enough to bother your toes. The four-inch block heels are shiny and clear, offering arch support and balance!

7

. Jeffrey Campbell Hurricane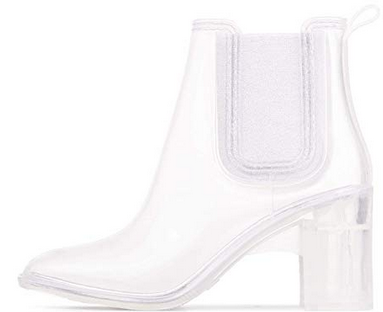 Are you tired of regular Chelsea boots, and can't decide which color you want to try on? Why don't go with something a bit more extravagant, like the completely clear Hurricane! There is not one detail here that sports any color, so you can show off your long slim legs without interruption. They've got everything a standard Chelsea boot has, just no color!
The upper is made out of vinyl, devoid of any shade. A handy pull tab sits at the top, giving you something to grab on while you push your feet in. The gore panels are elastic but thin enough to be see-through, playing in completely to the invisible vibe. The lining is textile, but don't worry, it won't be visible since your feet will be covering it up. The chunky block heel is clear too, offering more than enough height.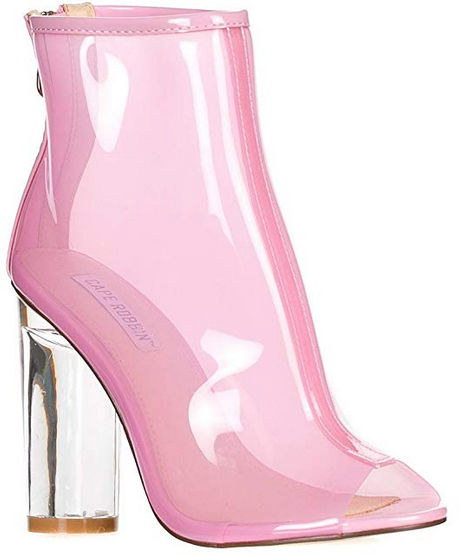 If you perhaps want a colored yet clear boot, don't hesitate to give the Benny a spin. The ankle high booties have a synthetic, vinyl upper - transparent, to show of your legs better, or black to hide your feet a little and give a sense of secrecy. If that's not good enough for you, then go with the hot pink upper, and you'll surely stun the crowd.
They have a zipper on the heel counter, allowing you to easily slide into the bootie, for a quicker transition to frisk! A synthetic leather strip runs along the middle, strengthening the construction, and surrounding the zipper at the same time. The insoles are nude, so as to not take away the attention from the colors! The peep toes shoe off your feet completely while giving you the chance to match your nails with the booties. The heels are perspex, clear and blocky, and rise up to magnificent four inches!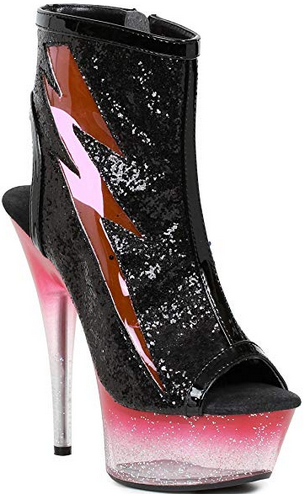 Are you a lover of extreme, out of the world styles? Then come and take a look at the Thunder booties! Once you see their upper, you will realize why they are called Thunder - thanks to the very large thunderbolt detail offering a peek inside! The color of the bolt matches the gradient on the heels and platform, making the bootie completely synchronized.
The upper is made out of textile, decorated with a million shiny scales, giving meaning to the bolt by their side. The heels and toes are both open exposing skin and calming down the shiny exterior. A zipper eases your way in and keeps you tight and secure. Both the platform and the towering stilettos are riddled with glitter locked into place, giving new meaning to sparkle!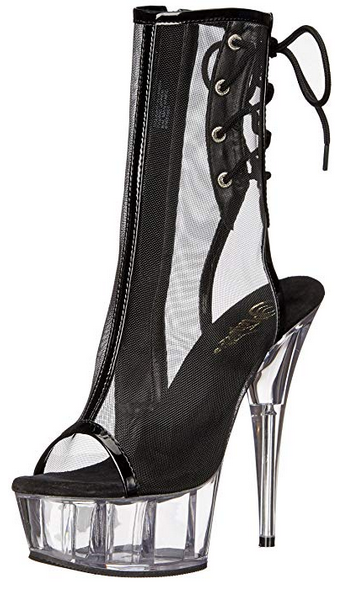 Hot mama! The DEL is certainly not something we see every day, and will bring out the wild side from anyone who dares to wear them! The upper is made out of black mesh, showing off your skin with a little bit o secrecy, flirting with the mind of whoever may be watching. Both the heels and the toes are open, so if you feel like not enough skin is showing, don't worry, there will still be plenty of room for you to show off your feet!
Black glossy synthetic leather edges around the mesh, contrasting it perfectly and supporting the upper. The heel opening is topped off with four eyelets through which laces slither, lacing up your ankles and spicing up things even more. A zipper on the side lets you put them on with ease, while also acting as one more snappy detail. Now, let's talk about that absolutely maddening heels - these stilettos reach 5.5-inches! But, the angle is certainly lowered a bit thanks to the two-inch platform, making them much easier to wear, at least for a little while.

Subscribe to our Newsletter