Best City Walking Shoes For Urban Exploration Reviewed
In a Hurry? Editors choice: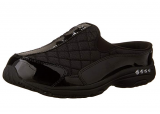 Test Winner: Easy Spirit Traveltime Mule

Walking through the crowded city streets is always fabulously fun! Whether you're window shopping, taking in the sights, or headed out to one of your favorite restaurants for a meal, pounding the pavement can take its toll. Walking on a hard surface for any period of time can cause you all sorts of aches and pains which is exactly why you need a good pair of shoes to protect your feet, hips, and back. This guide highlights the 10 best city walking shoes and will help you to find the perfect pair to suit your individual needs.
Standout Picks
Criteria Used for Evaluation
Comfort
Wearing comfortable footwear is vital if you're walking through the city streets. Uncomfortable shoes can lead to all kinds of problems like blisters, friction, and rubbing. When your shoes rub repeatedly in the same place it causes a friction point. This continuous friction will eventually cause a blister to form and those can take weeks to fully heal.
 
You should always have enough room to comfortably fit one finger between your heel and the material of your shoe. This will prevent overcrowding and lessen the chance of rubbing. It's also important that there is enough room in both the heel and toe areas because cramping your feet will lead to pain and fatigue.
 
In the toe box, there should be enough room to wiggle your toes comfortably without touching the material. The heel area should never feel cramped and there should be no rubbing against your skin.
 
It's also important that the shoes were made properly to help prevent possible issues. The seams should all be smooth and none should be protruding out farther than the others. If a seam or stitching sticks out it increases the risk of rubbing against your skin and causing blisters to form.
Shock Absorption
Shock absorption is an important feature that your footwear needs to provide, especially pairs designed for walking. When you step down onto a hard surface like concrete repeatedly it sends massive amounts of kinetic energy through your body in waves, starting at the feet. These shock waves travel through your body, starting at the heel and working their way up through the rest of your body and through the kinetic chain, eventually reaching your knees, hips, and lower back.
 
A well-cushioned shoe will help to dissipate the waves of shock, effectively lessening the negative effects on your body. When you're buying a pair of walking shoes they should be well-cushioned, but never over-cushioned. Too much padding can have negative implications too because it requires more energy transfer with every step you take. Imagine continuously walking through water, which would get pretty tiring after a while, that's what happens when your shoes have too much foam or other padding material.
 
EVA is an excellent cushioning material because it's very lightweight and a little goes quite a way. That means less is needed for effective shock absorption, canceling out the negative reactions that come from over-cushioned footwear.
 
Without proper shock absorbers, walking on pavement will cause all sorts of problems like shin splints, achy feet, lower limb fatigue, and more. It can also worsen the painful symptoms of plantar fasciitis which will make it difficult to walk. So the next pair of walking shoes you buy should provide just the right level of cushioning to properly absorb shock without weighing you down.
Versatility
When it comes to walking through the city there are all sorts of terrain that you'll encounter. Whether its flat pavement, inclined hills, or even just a flight of stairs, you need a shoe that's ready to take on whatever comes your way. Your shoes should be able to handle the following kinds of issues commonly found in the city;
Weather:
City goers are used to the varied types of weather seen on a day to day basis. One minute it's sunny and warm, the next it's raining cats and dogs. Your shoes need to be comfortable in any type of weather while also offering the kind of protection you need to stay safe in a sea of potential dangers. Slippery sidewalks and flooring pose a big issue which is why you need a pair that has an outsole made from rubber. Rubber is an excellent choice because it's waterproof and provides excellent traction on both wet and slippery surfaces and is equally as comfortable to wear in dryer conditions.
Terrain:
While you might be thinking that a nice paved walkway is an ideal place for walking, pavement presents its own set of issues. Cement has no elasticity so every step you take will pound your joints and muscles, sending waves of shock through your feet and legs. For this reason, an athletic style of footwear is your best bet while cruising through the city streets because these shoes are well padded. You'll also encounter flooring that's slippery so you need to have a grippy sole in order to prevent accidental slips or falls. Stairs and escalators are a common occurrence so ensure that your shoes are flexible enough to move with you rather than against you.
Stylish Appearance:
Let's face it, while functionality is important, so too is appearance! This is especially true in a big city where everyone wants to look their best. So it's all about finding the right combination of both comfort and fashion. Brands like Nike, Adidas, and Puma are a good choice because they're very athletic while also presenting in a stylish way.
Style
Certain styles of footwear are better equipped for walking on the city streets while others won't offer the kind of protection and cushioning you need to prevent foot pain and lower limb fatigue. Athletic style shoes are the best choice for walking on paved surfaces like city streets and shopping malls because they have extra cushioning to help absorb shock. Even though walking is a low impact motion there will still be shock waves felt with every step because cement has no elasticity.
When you're choosing an athletic shoe, try to look for a pair that has enough padding, but not so much so that it will weigh you down. EVA is an excellent choice because it's lightweight and flexible while still providing a solid kind of cushioning.
If you run into an area with cobblestone streets, your best bet will be a trail hiking shoe. This style has an extra plate in the sole that makes it so you can't feel the stones beneath your feet. These shoes are made for walking on surfaces with stones and other debris and will best protect your feet from uneven sidewalks.
During the warmer months opting for an athletic style sandal like the designs from Keen or Teva will help to keep you the most comfortable. Athletic style sandals offer better support, cushioning, and protective qualities than normal options do and are designed to enhance your overall walking experience.
Styles of footwear that are best avoided when you're walking the city streets are those with a poor outsole or limited cushioning. Ballet flats, flip-flops, and other similar styles will leave you with tired and achy feet once the day is done.
Durability
Whether you're traveling, sight-seeing, or simply strolling through the shopping district, walking on pavement is tough on your shoes! That's why it's important that your footwear is made well so that it's able to withstand the tough wear and tear. There are certain design aspects that can help to extend the lifespan of your shoes which include; proper stitching, attention to detail, and careful craftsmanship.
When a shoe is made there are two ways that the sole can be attached: with stitching or glue. Glued soles are much more likely to fall off and are notorious for coming loose with continued stress. Whereas, a pair with the sole sewn to the upper unit will be much more durable and will be able to take the strain of repeatedly walking on a paved surface.
10 Best City Walking Shoes Reviews in 2020
1

. Easy Spirit Traveltime Mule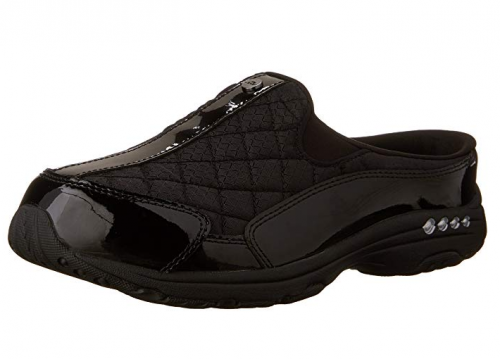 The Traveltime Mule is part of Easy Spirit's Classic Collection and offers a comfortable walking experience. This sneaker clog is as stylish as they come and is an ideal choice for walking and other light kinds of physical activities. A cushioned insole helps to better absorb shock, preventing foot and lower limb fatigue. The great thing about this shoe is that it's as fashion-friendly as it is enjoyable to wear so you won't have any trouble blending them with your city life.
Made with a suede upper and rubber sole, these shoes for city walking are the ideal mixture of functionality and fashion. Rubber is an excellent material for the outsole because it offers a strong grip in any kind of weather even wet and slippery conditions.
Easy Time's cushioned footbed protects your legs and feet from shockwaves that travel through your body with every step. Its flexible design moves with you making for the perfect city lifestyle. You'll be ready for flat pavement, inclined streets, and staircases alike.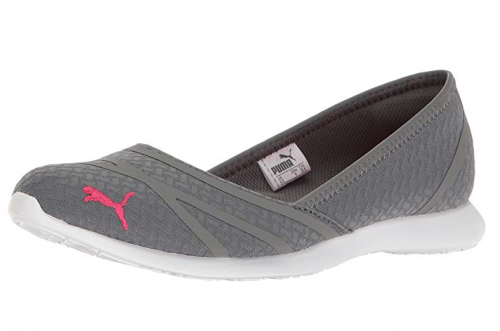 Puma's Vega is the perfect choice for hitting the gym or cruising the city streets in style. A breathable mesh upper and easy-wearing slip-on construction make this an effortless option. Comfort and quality combine perfectly to form the Vega's smooth lines and fashionable looks that match well with practically any style of clothing.
Vega's EVA midsole provides the ideal cushioning for walking on the hard pavement and will help to lessen the waves of shock that travel through your feet and legs with every step. A rubber sole ensures that you'll be steady on your feet no matter the weather thanks to its non-slip traction that is made for wet and slippery conditions.
PUMA Cat logo's featured on the lateral side of the toe help to add to the Vega's fashionable looks and its choice of two colorways lets your personal style shine. This casual athletic pair is a great choice for city life and will benefit both your person and style thanks to its smooth and functional design.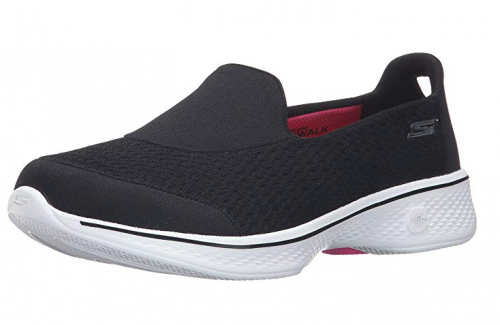 The Go Walk 4 from Skechers is the perfect choice for everyday wear! It offers Skechers' innovative 5GEN midsole technology and a new Goga Max insole for the best walking experience possible. This shoe was made for city living and deliver a smooth ride that's paralleled by its fashionable appearance. Look and feel your best while wearing a pair of these Skechers'.
Skechers' 5Gen midsole is a unique one-piece upper that's made from a breathable and lightweight mesh fabric for the ultimate in comfort. The Go Walk's Goga Max insole offers the most intuitive and advanced walking experience to date and delivers higher energy return with every step. This pairs seamless construction allows the wearer total comfort without having to worry about rubbing or blisters. An interesting bamboo-lined footbed wicks away excess moisture and eliminates odor-causing bacteria for a fresh all-day feel.
 
Cruise the city streets in style thanks to the Go Walk 4's choice of colorways that include everything from charcoal to rose. This pair looks as good as it feels is the perfect choice for shoppers on a budget!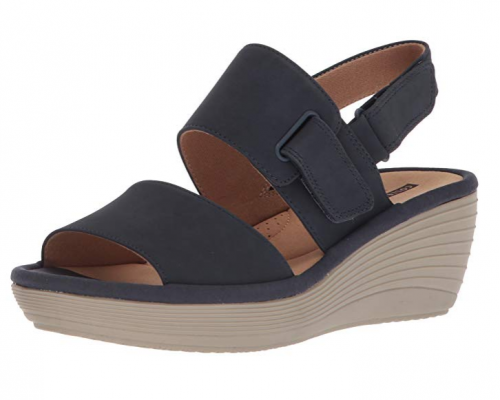 Clarks' Reedly is a great looking pair of walking sandals that are perfect for cruising the city streets in style! They're made from comforting leather materials and offer a slip-resistant rubber outsole so you won't have to worry about accidental slips or falls. This shoe is as enjoyable to wear as it is to look at and comes in three colorways: black, sand, and navy.
A raised 2.36-inch wedge platform makes this shoe super easy to walk in while still adding some extra excitement to its appearance. A handy hook and loop closure system make for effortless on-off wearability which means you can out and go so much faster!
Reedly delivers a smooth ride thanks to its Ortholite footbed and Cushion Soft technologies that combine to form the ideal environment for walking on. This shoe provides excellent shock absorption and is made for walking on harder surfaces like the paved streets of the city.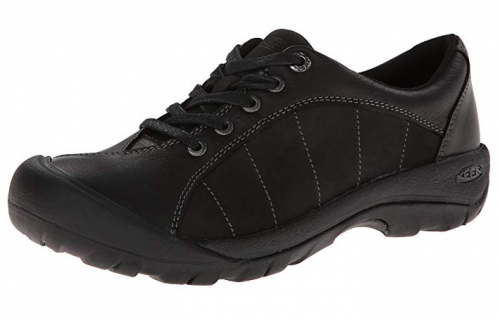 KEEN's Presidio shoe is made from 100% nubuck leather that makes for a comforting and cool walking environment. Its rubber sole offers excellent grip even on wet and slippery surfaces making this an ideal shoe for navigating the city streets. Choose from one of five colorways including black/magnet, blueberry, and red dahlia, which means you'll easily be able to match this pair with your favorite outfits.
A cushioned footbed helps to better absorb shock and provides a supple walking platform for your feet. Presidio's supportive design is ideal for long hours spent on the move and its lace-up design puts you in control of how well they fit.
Cleansport NXT technologies provide natural odor-control by eliminating the bacteria that cause smelly shoes so you can feel fresher all day. These shoes are stylish in a minimalistic way and offer a great choice of footwear for day-to-day activities.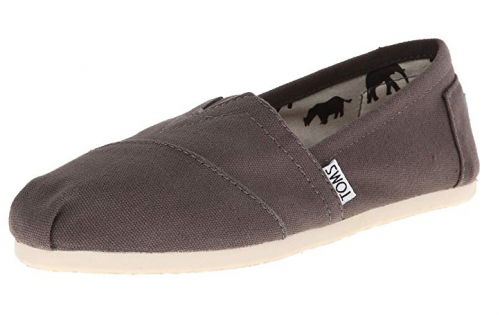 Toms' Classics are a great choice for city life that offers a comfortable and stylish design. Made from 100% textile materials, these city walking shoes are lightweight and breathable so your feet will feel fresh and cool even after hours of walking. Their low-top looks and casual boho-chic vibe make these shoes a must-have for the laid back individual who enjoys challenging the status quo.
Founded in 2006, Toms's shoes are inspired by the traditional rope-soled 'alpargata' footwear of Argentina. The great thing about buying a pair of Toms' is that for every sale Toms donates a pair to a child in need. This means that you can feel even better about buying a pair knowing that your purchase is helping someone else in the world.
The Classics' slip-on frame and elastic gore side panels make for effortless wear which means you can get out and go that much faster. A suede footbed feels incredible against your skin and a breathable canvas upper helps to prevent a build-up of sweat and odor-causing bacteria for an all-around healthier environment for your feet.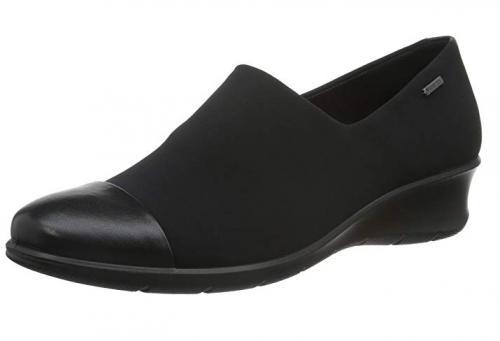 The Felicia by Ecco are well-rounded shoes for city walking that deliver a versatile design and a sleek outwards appearance. This pair is made from a stretchy combination of textile and leather materials that make for breathable and non-restrictive wear. A low 1.5-inch heel is perfect for walking through the crowded city streets and won't slow you down in the slightest. Anyone who's in the market for an all-inclusive pair will love Felicia's incredible structure that offers its wearer numerous benefits.
Rainy days won't worry you because the Felicia offers Gore-Tex lining that's 100% waterproof for those wet and dreary days! A removable leather insole allows for adequate airflow inside of the shoe and around your skin which helps to prevent a build-up of sweat and odor-causing bacteria. This pair provides plenty of support thanks to its built-in comfort shank and cute wedge outsole that helps to better stabilize your foot.
These wedges offer a trend-setting appearance and the kind of lightweight versatility that you need to maneuver through the city with ease. Rain or shine, this pair's got you covered so can rest assured knowing that your feet will stay cool and dry even after hours of wear.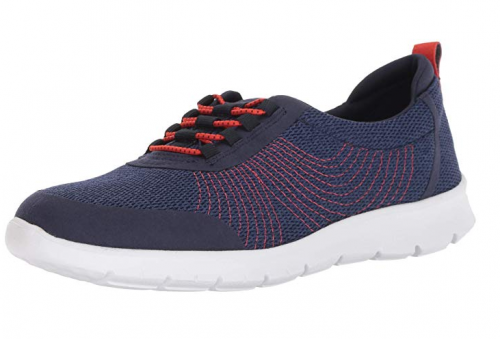 Clarks' Allenabay sneaker is a lightweight and stylish option that is perfect for strolling through the city streets. Its cushioned footbed and lightweight structure make this shoe an ideal choice for walking that will help to keep your feet feeling their best. The Allenabay comes in seven colorways which makes it super-easy to match these with all your favorite outfits for effortless style.
Allenabay's removable Ortholite footbed makes these city walking shoes an excellent choice for anyone suffering from plantar fasciitis or other problems associated with their feet. It helps to prevent foot and leg pain by absorbing the shock waves from every step and delivers a comforting foot feel that wearers can't get enough of.
One thing that's a must-have for city life is a shoe that is both comforting and stylish, which the Allenabay delivers nicely on both of them. This pair is lightweight and practical, making it a solid choice for walkers who spend long periods of time pounding the pavement.

9

. Reebok Classic Renaissance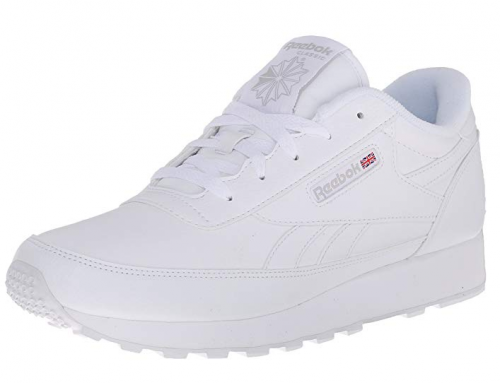 Reebok's Classic Renaissance is a hot looking sneaker that's an ideal choice for wearing on the city streets. This pair is super-stylish and will look amazing with practically any kind of outfit so you can match them with all your favorite outfits. The Renaissance comes in eight color and material variations so you can choose the one that's best for you and it's made from 100% synthetic materials.
This pairs Memory-Tech footbed contours to the shape of your foot making for a customized fit every time you wear them! Foot and leg pain will become a thing of the past while wearing a pair of these thanks to their ultra-comfy and well-cushioned ride that helps to protect your joints from the impact of every step.
The Renaissance offers a low-cut structure that's one of today's most desirable designs. Its branded tongue and sides add to its stand-out appearance and help to make this shoe a must-have for fashionable city-goers in search of something that's as enjoyable to look at as it is to wear.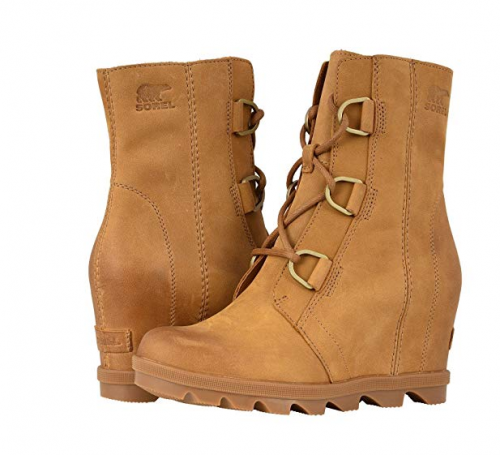 Sorel's Joan Arctic is an ideal choice for winter weather in the city! It offers a hidden wedge heel that makes walking an effortless task and a low half-inch platform. This pair is made from 100% genuine full-grain leather that makes for a comforting wear and helps to eliminate odor-causing bacteria by pulling excess moisture away from the skin. The Joan Arctic is a stylish choice of footwear that offers a solid design for easier walking.
This utilitarian-inspired pair delivers a trending vibe with a chunky lug sole and seven-inch shaft. Go ahead and walk outside when the weather is chilly because these boots have got you covered! Their unique lug sole is designed to provide better traction on the slippery city streets and will help to prevent any accidental slips or falls.
Choose from one of ten colorways including brown/camel, wine, ash, or dark fog. You won't have any trouble matching these with your favorite outfits and will find the Arctic fast becomes your go-to favorite for cruising the streets in style.

Subscribe to our Newsletter