Best Boxing Shoes Reviewed & Rated
last updated
Apr 22, 2019
It's easy to believe that boxing is a sport of just punching, and while it is true that punching makes up a large portion of the sport, there's much more to it than just hitting your opponent. A big part of the technique lies in the footwork because it's just as important to avoid getting punched. Good footwork is a critical point in boxing because a boxer who doesn't move around properly is more likely to get hit but also less likely to land a hit himself.
In a Hurry? The test winner after 7 hrs of research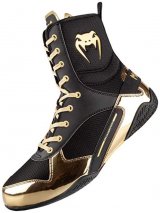 Venum Elite
Why is it better?
Breathable Honeycomb Mesh Upper
Reinforced Heel and Sides
Balance Between Pivot and Grip
Increases Range of Motion
Absorbs Impact
In a
Hurry? Editors choice: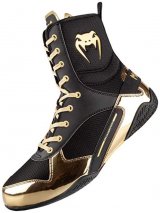 Test Winner: Venum Elite

7
Researched Sources
14,000
Reviews Considered
7
Hours Researching
10
Products Evaluated
Responsiveness
Outsole
Upper
Weight
Flexibility
By Default
Criteria Used for Evaluation


Responsiveness
Pivot and grip are two of the most basics things to look after in a boxing shoe. This will directly affect the quality of your boxing footwear; both pivoting and grip are essential basics of this sport. The thing about pivot and grip is that they're somehow opposites. In simple words, the stronger the grip, the weaker the pivot. We'll briefly explain the concept of pivoting for further understanding.
Basically, pivoting comes down to moving yourself around the same spot. It's usually a rotation movement, and the "spot" you'll move over is determined by the pivot foot (generally the front foot in your stance). It serves multiple purposes; dodging in a manner in which you can counterattack, or simply rotating to create an attack angle.
The movement consists of sliding your non-pivot foot to adjust your posture and angle. As you can guess, this whole concept of sliding and rotating isn't too efficient when the outsole texture and grip don't allow these motions. This means that too much grip isn't convenient in a boxing shoe. Thus, it's important to keep an efficient balance between grip and pivoting ability in a boxing shoe.
Generally, the outsole pattern includes a destinated area for pivoting motions. This area has a different texture or pattern, an area which is not so affected by the grip. Thanks to this design, athletes can increase their grip without hurting their pivoting ability.
This also means a regular shoe won't provide you decent pivoting properties; a running sneaker, for example. However, there's no standard to how much pivot or grip you should have. Some boxers prefer more grip on their shoes, some prefer greater pivot, and some prefer an equal balance. It ultimately comes down to your style, and how your performance gets along with these two factors.
For hybrid designs (a pivoting spot on the outsole), keep in mind that not all manufacturers are the same. The thing about these spots is that you need to learn how to move around them. Given that there's only a specific zone of your shoe that is proficient for pivoting, you need to "memorize" that spot. Switching your shoes, later on, may require you adapting to a different outsole design.
It seems silly at first hand until you find yourself trying to pivot around the spot that you had in your old pair of shoes. This is one of the scenarios you want to avoid during a boxing match.


Outsole
Aspects of the sole, and it's thickness or minimalist approach in design, can be one of the most critical, but overlooked elements in a boxing shoe. People tend to forget how important it is to find the right thickness for you. We'll tell you one thing about performance shoes; everyone has a unique feel they want to attain. This is why you see so many different types when it comes to sole thickness and texture.
Thicker soles put some cushion between your feet and the ring surface, which adds up to better protection. Although, you want to make sure that they aren't too thick, like many running sneakers have for shock absorption. The more distance there is between the ring's surface and your feet, the less stable you can be.
Thin soles, on the other hand, provide a closer barefoot feel, and can grasp the surface better. Barefoot performances by some, are considered the most optimal, but it's a matter of preferences. The facts are though, that the slimmer the sole, the greater the balance. It's the opposite case as a thick sole. The main downside to a thinner sole can have your feet feeling raw and less padded.
Like we previously mentioned, some users prefer thick soles, and others prefer slim ones. We can't tell you which one is right for you. We can, however, help you find the most adequate for your unique style and preferences.
A thin sole provides much more mobility. We mentioned before that some old school boxers preferred to go barefoot (not including competitions). While this isn't necessarily the most efficient method (in terms of endurance and heel stress), we can guarantee one thing; better feet control.
The closer you are to the ground, the better control you'll have over your motor coordination skills, especially your footwork. This greater agility, however, comes at the cost of endurance. This is because of two reasons. The closer you are to barefoot, the better control you have, but this also implies a greater muscle activation, and thus earlier fatigue. The second reason is simple; shock stress on the heels, toes, and calves, which also leads to earlier fatigue.
The texture on the outsole is also a factor to keep in mind. Most people completely ignore the outsole design, not knowing how it can completely affect their sole and performance. These patterns are not decoration; they serve a very functional purpose. The shape, orientation, and thickness of this pattern can increase/decrease your grip, and thus increase/decrease mobility.


Upper
Just like sole height, the shoe height is a delicate subject. We'd like to start off by clarifying that no specific shoe height is the best one; they're simply different approaches to the same target. Don't forget that it all comes down to how each design feels on your feet and how it impacts your performance.
People often forget this one big factor that can mark the difference between good performance and an outstanding one. This factor is called personal preference. Now, functionality is hands down an elemental part of the shoe. No matter how good a pair of shoes sits on you, you shouldn't lack grip, or flexibility, or ankle support. But offering the right features don't necessarily make them the right pair for you.
Unfortunately, this is something you can't always get right off the bat. You'll likely have to try a couple of shoes before you know what's your style. This doesn't mean that you'll never reach your peak if a shoe is not of your preference. However, the preference and comfort factors have a huge impact on performance.
Take as an example any of the greatest elite boxers that existed. Those boxers used by no means a generic retail store boxing shoe (and we say generic as in the base model). The greatest boxers had their shoe especially crafted based on their height preference and other factors. We can guarantee you one thing; it wasn't for the looks. Professional athletes, not just boxers, know the importance of personal preference when it comes to their equipment.
This example is on a bigger scale, we're not telling you to go get your shoes crafted to your perfection. Though, it should give you a hint about the importance of finding the right kind of equipment for you. We'll provide you further insight on each kind of shoe height below.
The low top: The most mobile design. The low top build resembles the size of a normal shoe; average height and uncovered ankles. This design provides more ankle space and mobility for activities like training, which are not necessarily comfortable in high shoes. A low top is a great option while endurance training, weight training, rope jumping, and so on. However, these are not your best buy when going in the ring.
Medium top: The most popular option for actual boxing. You usually don't wear this except you're going to specific boxing action. Medium builds completely cover the ankle and generally go up to 1/3 of the shin. Though, as previously stated, height may fluctuate around both manufacturers and user preferences. If you're going to train strictly with the sack or going in the ring, this is a solid choice. But, medium tops usually suck for aerobic training and anything that isn't direct boxing.
High top: Similar to the medium top when it comes to functionality; it's strictly a combat boot. These are by no mean a good choice for jumping or exercising unless they're exercises that resemble a boxing fight scenario. High top builds generally cover half of the shin and the complete shin in some cases. They may look like they'll restrict your motions, but they're engineered not to.


Weight
During the last decade, there has been a large decrease concerning the weight of shoe constructions. This, of course, had a big impact on athletic shoes. It makes sense to assume that a lighter build is more comfortable and easier to move around than a heavy one. Now, boxing shoes have always been lighter in general, or at least more so than other sports shoes like running sneakers.
There are multiple key points behind the importance of a shoe's weight. In boxing, the most important one is really basic; lighter feet can move much faster. This is another of the reasons why the closer you are to barefoot, the better agility you'll have. Modern boxing shoes try to mimic barefoot performance with ultralight materials with great athletic qualities. These materials are mostly synthetic, and some are specifically synthesized to deliver lightweight features in athletic shoes.
Heavier shoes contribute to muscular fatigue much more than most people think, tiring you out, and making your moves impaired. You may see manufacturers competing over who has the lightest shoe, offering some grams more or some grams less. Although every bit counts, 10 extra grams in a boot usually don't decide a boxing match.
Technology today has allowed manufacturers to develop lightweight fabrics, still sturdy and durable, but that won't slow you down. The main thing to consider is that the shoe's build and fabrics can withstand your fights, practices, and overall use in the ring. Materials consisting of synthetics are lighter, but perhaps not as durable as a full-grain leather build, for example.
Luckily for us, technology has developed access to fabrics and synthetics that are both durable and lighter in weight. The most common materials for athletic shoes include , vulcanized, traditional, and blown rubbers, PU and vinyls.
Each element of the shoe contributes to its weight (midsole, upper, etc). Thus, the boxing shoes should consist of light materials that can deliver appropriate features for their respective element.
For the upper build, you'll need something flexible, durable, breathable, and that holds your feet in place. This is a great job for mesh and synthetic leather. On high-top shoes, it's even more important for the upper to be lighter, as it composes most of the shoe.
The midsole is usually the heaviest element in a shoe. It's often equipped with the thickest or more resistant materials to diminish shock and provide comfort. Although, EVA technology has made this possible at a much lighter perspective than ever before. EVA stands for ethyl vinyl acetate.


Flexibility
This is a factor that can give you the upper hand on your opponent. It can also make you the underdog if you or your footwear lack it. A stable shoe is necessary to provide a solid stance and a strong base, that goes out of the question. However, each motion can be greatly responsive, or inhibited by the level of flexibility of shoe materials.
Flexibility has a much greater impact than most people would normally think. It's the very base of every rotation, every motion, every step forward and backward. It's what allows you to move naturally; the flex of the sole should mimic the shape of your natural foot as they flex and move. Both your speed and impulse need to feel as natural as possible for optimal movement.
You would normally think flexibility is something that is found at the shoe's base, in the sole. The sole is only one element that requires flexibility, as it is the foundation of every one of your movements. However, flexibility is something that should be found throughout the shoe completely. This includes the uppers, midsole, and ankles.
The most important areas that require flexibility are the arch (around the toe box) and the ankle. Think of it as if you were a runner. When you step, your heel peels off the ground and followed by the arch and toes. At this last point of a step, you use flexibility and momentum to propel yourself forward. Try running or walking with rigid feet, and see how that turns out for your form.
Although this is the principle of running, it pretty much applies to every single discipline that involves footwork. No flexibility translates into a huge reduction of impulse and speed. Those are the two things you can't lack in a boxing match.
Keep in mind that while the arch and ankle are critical areas, they're not the only ones. Your shoe should be able to provide flexibility for as high as it extends. This is particularly important in high-top or medium-top boxing boots, where the shin is somewhat concealed by the upper.
The shin may not be the key point to rotation or impulse, but it's also affected by inclination. You can't lean forward properly without bending the shin and knee. You simply can't lean forward for a punch if you can't bend your legs freely. The higher the top, the more important flexibility comes into play.
Expert Interviews & Opinions
Most Important Criteria
(According to our experts opinion)
Experts Opinion
Editors Opinion
Users Opinion
By Default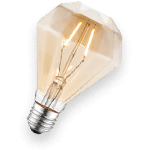 Not Just For Fighters
Although boxing as a sport does have it's roots with fighters, now a days, it's also become a large part of the fitness industry. Classes have been popping up all over specialized gyms, teaching kickboxing, boxing, MMA, and utilizing HIIT to help train their clientele.
Do a search around you for boxing classes nearby if you're looking to mix up your fitness regimen!
Hitting The Heavybag
Most practices for boxers involve speed bags, but sometimes heavy bags are used for power training.
When you're hitting a heavy bag, likely you'll have wrapped up your hands and wrists, and slipped on a pair of gloves with adequate padding. When you strike the bag, try to hit with the first two knuckles straight on, and keep a slightly relaxed fist until impact. This can help avoid wrist injuries.
Other Factors to Consider


Bottom Line
Just like in every other sport, athletes question whether the specific gear is really necessary. Let's get something straight; there is no necessary equipment for sports like boxing. For boxing, you don't need a pair of boxing-specific shoes like you would need a ball for football. If you want to learn proper technique, you'll have to get your hands on some gloves at most.
But, when we start talking about dedicating time to training and to the sport itself, you should consider the investment. Like we previously said, you are free to stick to the sport without spending a single dime out of what's necessary. However, keep this in mind: boxing shoes are good for a reason – they're made specifically for boxing.
The sole purpose of boxing shoes is, well, to enhance your boxing performance. Shoes or gloves alone don't make a boxer, but they make the difference between the boxer who slips and the one who has good shoes. The equipment is not necessary for learning, but rather to develop your skill to the next level.
Frequently Asked Questions
q:

Do wrestling shoes work for boxing and likewise?

a:

Although they're different designs, you might get away with boxing on wrestling shoes efficiently. Additionally, some brands deliver functional performance for both wrestling and boxing in a single pair of shoes.
q:

What's the difference between mid and high top?

a:

Higher designs deliver more support by covering your shin further. But, this may restrict your movements slightly in comparison to mid-tops. It's also a matter of personal comfort and preference.
q:

Where to buy these shoes?

a:

Online sales platforms such as Amazon unquestionably offer the widest variety of products. They usually feature the best prices too. Amazon's return and refund policies make e-shopping very comfortable.
q:

What do boxing shoes do?

a:

The first and most important feature is ring performance. The outsoles are specially designed for close-quarter performance, fast footwork, and stable pivoting.
q:

How do I know what design height suits me the most?

a:

Well, the only accurate way to know is to wear them and try for yourself. However, our shoe height criteria section should give you some insight on what each height consists of.