Best Boot Laces Reviewed
In a Hurry? Editors choice: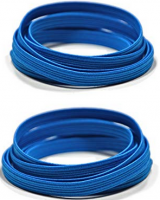 Test Winner: Xpand No Tie

It seems like we needed laces long before our modern world even existed. It is difficult to determine when did the first lacing system saw the light of day, but it's universally thought that the Areni-1, dated to around 3500 BC, is the first shoe ever that sported laces. Even Otzi the Iceman had a pair of boots with laces, made out of lime bark string! All in all, you can easily see just how important they are, since they are the sole reason we can safely wear footwear without losing it as Cinderella did. Whether you're looking for a new set of laces for your boots, or you're just looking for a way to liven up your style, we've got you covered. Scroll down to our detailed list and you can see many choices we've handpicked just for you!
Standout Picks
Criteria Used for Evaluation
Materials
The materials your boot laces are made out of play a big role here. Everything depends on what the laces are made out of, ranging from their durability to the way they fit on your boots. The wrong choice means a weak fit, difficulty to tie the laces properly, or horrible style which is something none of us want! Laces used to be made out of plant matter, and of course, leather. Today they are usually made out of polyester or leather, which has remained popular for ages.
Polyester is one of the most popular material choices today, be it for fashion, furniture or design. But, what exactly is polyester? Many people fear this material and overlook it because it is manmade, subpar to silk, leather and other premium materials. But it's been used so much and so often, so it surely has to have redeeming qualities! Polyester is a generalized term for any fabric that is made out of polyester threads. This material is manmade and is most commonly referred to as polyethylene terephthalate, or PET. We've all heard of PET before, and it is used literally everywhere these days. This versatile material is created by blending ethylene glycol and terephthalic acid. These big words do sound very confusing, but it's just a fancy way to say that polyester is a variety of plastic. It was invented in 1941 and had an interesting advertisement. It was marketed as a material that can be worn for 2 months straight without the need to iron, and still look like the day you first wore it! Its popularity boomed in the 1970s, thanks to the flashing colors and crazy patterns that could be worked into it, but this is also the period when people started to notice the flaws that came with it. Polyester is worked into many clothes we wear today, but it's usually mixed with other materials, such as cotton since it would do a bad job by itself. This material is extremely durable and is resistant to a huge variety of chemicals. The fibers are also very lightweight and can be easily colored, so don't be surprised when you are presented with a million choices. It can be washed easily, without shrinking, and it wicks away moisture, drying very fast. But, polyester is slippery, prone to static, it doesn't breathe well, and it will melt, instead of burning, when exposed to fire, and it is highly flammable. Lucky for you, you will be only wearing them on your boots, so the only thing you have to worry about are flames!
Now we come to leather. This super hardy material is natural, and it comes from the hide of many different animals, most namely cows, and goats. Snakes, crocs and other exotic variants exist as well, but they are pricey and don't go into the creation of laces. Leather is also quite versatile, as it can be seen gracing furniture, shoes, different clothing pieces, bags and so on and so forth. It looks polished, mature and serious, and it can improve your style in a matter of seconds. The leather is also quite stiff and heavy, but this is also something you shouldn't worry about when buying leather laces since it won't affect you directly. Leather laces can be waxed, so they can fit through eyelets with ease, and this way they also look refined and don't tend to get untied that much. These types of laces usually grace the more stylish variants of boots, like oxford boots, chukka boots, and many more. They don't come in a lot of color varieties though since leather doesn't take onto color that well.
You've probably already heard about kevlar, but have you heard about kevlar laces? Kevlar is an extremely tough material that was created by man. Simply said, kevlar is super-tough plastic. But, it's not your regular, everyday plastic. This material is only made by the Du Pont chemical company and can be acquired only through them. They know the secret to its creation and are the only ones who can make it reliably, so it holds up to its name. Kevlar has all the properties plastic has, good and bad, yet the bad parts are almost completely diminished. While regular plastic is highly flammable and melts, kevlar won't melt and burn, as long as you remove the source of the flames it will stop burning. It's resistant to moisture, and very low temperatures won't affect it, so you won't end up with sticks instead of laces. Kevlar is not stylish though, so it's only truly fit for work boots and hiking boots!
Effectiveness
Let's face the truth here - boot laces are a vital part of our lives, something we all rely on to make our lives easier. When a child first learns how to tie their laces, we consider that a major breakthrough and celebrate it like some kind of big event. We even invented helpful rhymes to help kids understand the process better and faster. When a runner sets out to own the tracks, he or she must first tighten their laces and secure the fit, otherwise they risk injuries and a poor performance. When we head out to complete our daily routine, be it school or work, we must tighten our laces to head on for the day. They are such an integrated part of our lives that we barely even stop to think how truly helpful and effective they are.
We can even say that laces have helped push the world towards modern times. Humans have always traveled by foot, and it was the only type of transportation we had before a wheel was invented, or before the first horse was tamed. We quickly realized that our feet are susceptible to the harsh surface of the ground, and that we needed to protect ourselves. As soon as the shoe was invented, laces followed, since they were the most reliable way to secure the shoe onto our feet. And this design has not changed for eons, showing us just how adaptable and amazing this effective invention truly is!
Style
No matter how well defined and trendy your personal style is, you are bound to be bored of it, sooner or later. So, the only logical way out of this is investing in a new pair of shoes, and that can most of the times be quite an investment. But, is this truly the only way to bring a breath of fresh air to our ensemble? If you are on a budget, you can easily reinvent your style by changing your boot laces! Laces are quite cheap, and there are many various shapes and colors you can find. Also, if by any chance you don't like the way they look on your boots, then, by all means, you can simply put back your old ones and be done with it. This wouldn't work if you've bought a whole new pair altogether! The only problem here is that it can take us ages to change our laces, and we must use a proper technique in order to have a good fit.
But how can a simple pair of rope change your whole style? It's simple - contrast. Boot laces that contrast the rest of the upper really bring the attention to the lacing system, standing out like a sore thumb, bringing a whole new dimension to your look. But, if you are not one to experiment with colors and don't feel like wearing wild hues, you can also change their shape. Exchange flat laces for the round, or the other way around, and you can again look completely different. If you change both shape and color, it's easy to go over the top, so be mindful here.
But how do you even select the right type of lace for your outfit? If you are buying laces in a different color, buy ones that will match something else in your outfit. If you like to wear silly socks, match the laces to the socks! Or you can match them up with your tie, your jewelry, maybe even your cufflinks. There is a whole world of options here, and the more boots you have, the more options exist!
Durability
Laces are quite durable, but that doesn't mean they are not prone to damage. How can you make your laces last longer, to bring out their maximum potential? One way you can improve the longevity is by checking whether or not you're guilty of tying your laces with the Granny Knot. But what even is a Granny Knot? This is the simplest knot out there, and we probably all used it at some point in time. Did your knot ever sit on top of your boots all crooked and weird looking? This is the Granny Knot. This knot is the most common reason your laces come undone, and end up getting dragged all around the floor and all torn up. A well-balanced knot is different from the granny knot, but there's only one thing that sets them apart, and that's in what direction the stages of the knots are tied in. You have the starting knot, which is the first stage, and the end stage, which is the granny knot or the well-balanced one. If you tie these stages in the opposite direction, you get a well-balanced knot. But if the direction is the same, you end up with a crooked, upturned knot that's bound to come undone! Besides affecting durability, the granny knot also affects the knot, so you better avoid it!
When you pull on your laces, do you pull outward or upright? If you pull them up, you increase the friction against the eyelets, causing the threads to break, so you should avoid that as well. Don't tug on the laces! Pull them evenly and steadily. If you're doing everything right, but your laces still get frayed, the culprit may be your eyelets. Metal eyelets can be rough on the inside, but that can be solved with sandpaper or a Dremel, or you can coat them with nail polish or epoxy glue. If your pair of boots has cheap eyelets, you can easily replace them and save your laces from getting all torn up!
Fit
If you've got a pair of boots with laces, and the fit is off and troubling you, it's possible you are not lacing them up right. One simple change depending on the shape of your foot can mean a world of difference and can help you feel better instantly.
Sometimes, our heels tend to slip out from our ankle booties, which can be both annoying and dangerous. To keep your heels anchored in, form a lace lock on the top of your boot. This lace lock also called a runner's loop can make it easy to tie the laces on the top without actually narrowing the rest of the fit. You can get the runner's loop by lacing up from the bottom of the next-to-last eyelet. Then, bring the laces over to the top eyelet on the same side to create a bunny ear. Repeat for the other side, and lace through the opposing bunny ears. And that's it! When you tie your shoes the next time, you can secure your feet at the ankles, and keep your heel in place.
Narrow feet? No problem, the laces can help here as well! If you've got two sets of eyelets on each side, just draw the laces through the ones farthest from the tongue, and you will narrow down the boot. If you don't have this option, however, you can use the lace lock again, but this time it's going to sit between the second and third eyelet.
Wide feet and high instep? Laces have got you covered! Again, if you've got two sets of laces, just use the one closer to the tongue. If you need even more room, use the window lacing technique. This makes a difference, and when you tighten you won't constrict your feet. When looking from the bottom, pull the laces through the first set of eyelets. Cross them over, and then go through the second eyelets. Now don't cross them over, and go through the third set. Crossover, and go through the fourth set. You get the gist, just keep doing this until you run out of eyelets!
Narrow heel yet wide forefoot? Let the lovely laces help out! Your solution is to use two sets of laces. Get a shorter and a longer pair, and lace the short one through the first three eyelets on the bottom, and use the longer ones on the rest. The only problem with this solution is that now you've got two knots to worry about coming undone! The other solution is to combine the window lacing technique with the narrow heel lace lock. Just do the crossing and not crossing pattern until you reach the top, and form the bunny ears there and you're good to go!
Top 10 Picks
1

. Mercury + Maia Honey Badger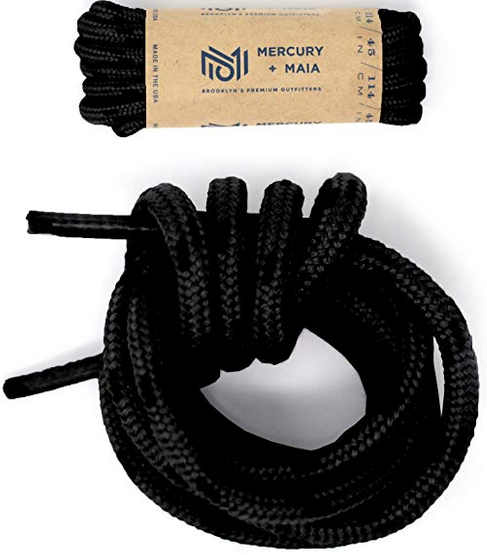 The Honey Badger is nothing short of extraordinary, and only because of one simple reason - they are made out of kevlar, so they're super strong and durable! They got their name from one of nature's toughest creature - the unrelenting honey badger. They do not give in to flames, nor to any chemical either. They can withstand 350 pounds of pressure, and they don't know when to quit!
The rigid, stacked bonds of plastic threads are what make them so resilient, even bulletproof. These are simply made for boots in need of heavyweight support, so if you dislike unraveling laces, go for the Honey Badger and you won't be disappointed!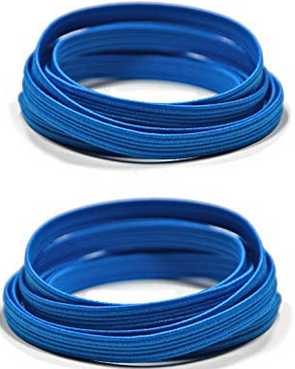 If you're tired of constantly tying and re-tying your laces, worrying about the type of knot you've created, then it's time you've moved on to the wonderful world of no tie laces! These are polyester, but they've got enough elasticity in them so you can adjust them to your liking before you lock them down. These laces are flat and wide, conforming to athletic and sporty styles.
The Xpand Lacing System is what makes these stand out from the crowd. Once you set the laces to your desired length and tightness, simply slip on the locks and you never have to adjust them again. The ideal fit every time you slide your feet in. If you worry about the weather affecting the locks, don't worry - they work in freezing and scalding temperatures all the same!

3

. Brother Brother Heavy Duty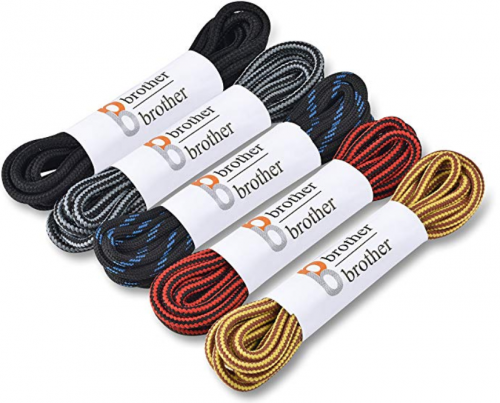 No matter how much you pull and tug and stretch these heavy duty laces, you will find that they won't give in no matter what. Their tear-free durability keeps them safe from fraying, breaking and tearing! Their tensile strength is reinforced, the aglets are extra strong, and the abrasion resistance is enhanced for added resilience.
Once you tie these laces up, the blend of polyester will make sure they stay that way, so you can walk and jump and dance without ever thinking about tying them back up. They come in black, red, blue, gray and yellow, the colors most prominent in the fashion world today, so you won't be left empty handed. They come in a five pack, so even if something does happen to one pair, you can always just replace them with the other!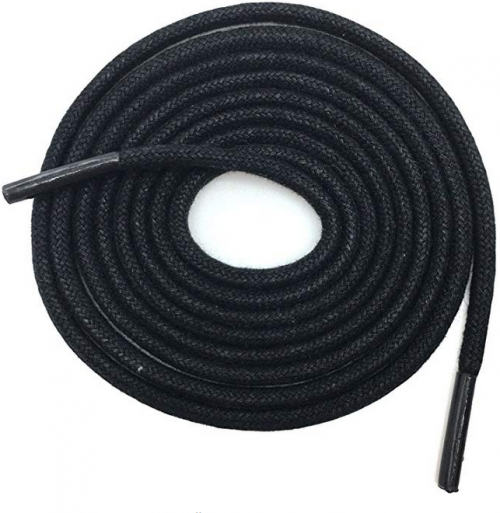 Round laces are always nice, but due to their shape, they tend to slip up no matter how hard you tie them up. This where this great pair comes in, in all its waxed glory! Yes, that's right, this pair is waxed up so it can hold on for extended periods, and it's polyester so it will soak up that wax in no time.
There are many hues you can adapt and integrate into your style, so you're set for many various occasions. They come with one more bonus pair, so if this one meets an untimely end you can replace them without hassle. This pair is environmentally friendly as well.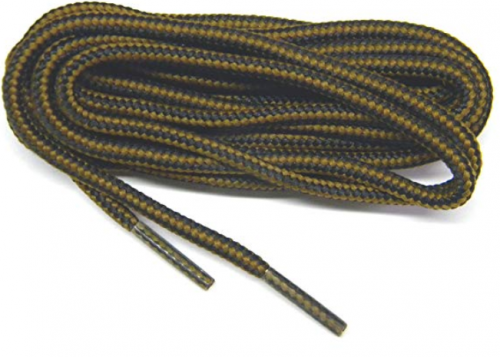 These round polyester laces come in a versatile green-tinged hue, made to be matched with anything you throw their way. They are 100% polyester, so you'll get a very durable pair of laces. Once they get dirty and stained, you can simply throw them into a washing machine and be done with it, since they won't lose their color nor will they shrink!
A braided outer sleeve covers a very strong core. This means you can pull and tug at them as much as you like, without risking tearing them off or unraveling them! The matching plastic aglets keep them safe from fraying, and if they do fall off you can easily replace them. These might look rigid, but they still offer just the right amount of stretch, so you can adjust the fit however you like!




If you never liked it when your color scheme options were limited, and you desired to have more choices, then worry not! The FootGalaxy laces come in every possible color scheme there is, and you will surely find one fit just for your needs. Their round shape ensures they blend in with any style you combine them with, making them a versatile option.
They come in many different lengths, so no matter how many eyelets your boots sport, they will be able to cover them all. These laces have existed for over 80-years, and have been known for their remarkable quality. They are also made on American-ground, so if you feel like a patriot don't skip out on these!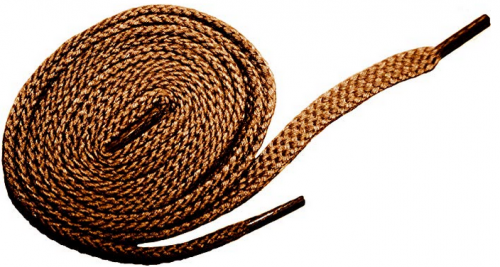 These polyester laces are sturdy and ready to improve your style! They come in many different colors, ranging from calm to very vibrant! Also, there are plenty of size options you can choose from as well, so you're covered for both color and length!
The way the polyester is woven together ensures that they stay together for a long time, and when you once knot them it's unlikely they will unravel! These laces come in an eco-friendly package, the company's way to reduce their impact on the environment. The laces have also been dyed using an environmentally friendly process, so you won't be harming anything once you finally discard them!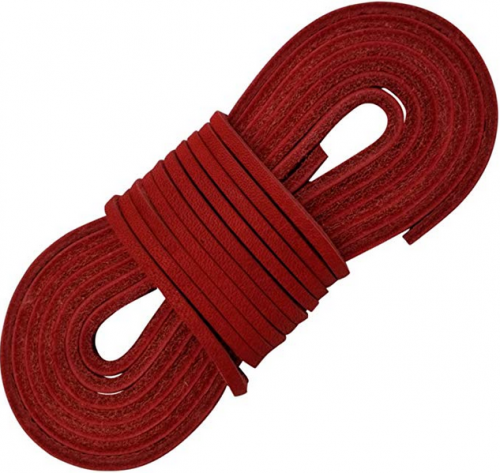 If you fear polyester and want nothing to do with manmade materials, then check out these leather wonders! These laces don't have a predetermined size - instead, they come in a very long string so you can cut them and adjust the length however you like! Surprisingly enough, there are plenty of colors available, which we say is surprising since leather does not take on the color well.
They do look lovely visually, but how well do they hold up? Well, no matter how much heat you apply to them, they simply will not melt! The camping fire is not a danger, nor are any stray welding sparks! You can incorporate them in many different boot styles, wearing them both on your hiking and on your dress boots. They are durable, so they are best when paired with working boots because that is when their strength shines! And in case you are unsure about how to lace your boots, they included a handy instruction.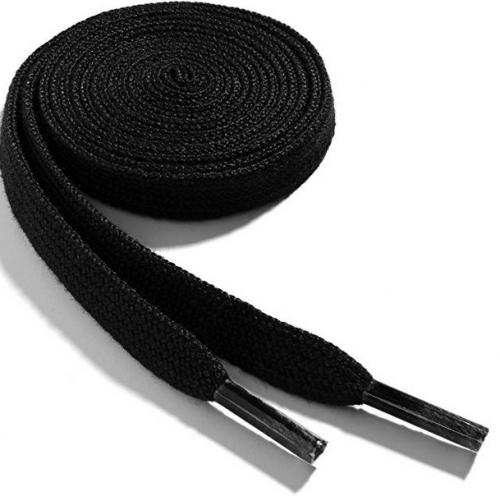 These flat athletic laces are also slim, so if you need to change up your round laces but worry about the width of flat ones, then this is the pair just for you. Their knit makes them quite lithe, and you'll be able to knit them in many different patterns. An added sleeve and the strong braided construction aid their longevity, meaning this pair will outlast many others.
Their flat shape will evenly distribute tension as you walk, so nothing will pinch or rub you the wrong way. Each of these laces are carefully knit and cut in the USA, bringing the best quality to your doorstep. They were attentively tipped, so the aglets stay on for a long time and keep them safe from fraying.



The simple, flat boot laces are something we all probably have somewhere lurking in our closet, and one those get worn down, it's time to replace them. That's where Birch comes in! They offer a huge variety of colors and styles, with improved knits, and extra durable polyester threads, all meant to bring you comfort and a good fit.
No color was left out when these were created, offering you many pastels, calm and vibrant hues. They also have different lengths offered, so no matter how high or short your boot is, the laces will fit in just right.

Subscribe to our Newsletter