Best Ballroom Shoes Reviewed & Rated
last updated:
Nov 28, 2019
Any dancer, from a beginner to the most avid ballroom performer, is going to need a perfect pair of ballroom shoes in order to match their grace on the dance floor with a subtle appearance and a high-quality performance. Perhaps, one of the most important features is the length of time a dancer can wear them in good standing and dancing comfort!
There are three types of ballroom shoes: those that can be used for competition, practice, or social ballroom dancing. The purpose of a ballroom dance design is to allow grace with ease while gliding around the dance floor in ultimate comfort. If you are in the market, let this be a guide to the very best ones you can purchase.
In a Hurry? The test winner after 8 hrs of research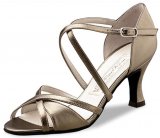 Werner Kern July
Why is it better?
Soft Goatskin Leather
Breathable and Moisture-Wicking Lining
Flexible Latex Midsole
Shock-Absorbing Heel Cushion
Stable Flare Heel
In a
Hurry? Editors choice: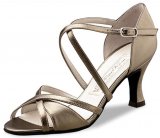 Test Winner: Werner Kern July

16
Researched Sources
11,000
Reviews Considered
8
Hours Researching
10
Products Evaluated
Features
Application
Fit
Support
Heel
By Default
Our Favorites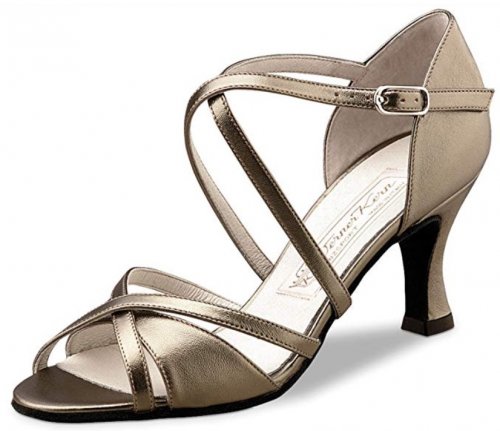 Soft Goatskin Leather
Breathable and Moisture-Wicking Lining
Flexible Latex Midsole
Shock-Absorbing Heel Cushion
Stable Flare Heel
If you are serious about ballroom dancing and are truly looking for the best, creme de la creme of this type of footwear, then you won't find anything better than Werner Kern designs. The July is a timeless classic, an option made from the finest leather materials and carefully crafted to ensure every move you execute is nothing short of stunning. With this option, you will be ready to stun the crowds and receive a standing ovation in your next performance.
The July has an upper made from gentle goatskin leather for a supple fit, with a lining that is breathable and moisture-wicking. It features crisscross straps and open toes, making it perfect for Latin dances. In terms of comfort, there is a flexible midsole made from latex, as well as heel cushioning that absorbs shock. The heel is flare in shape and 2.5 inches high, for exceptional stability and poise.
We are honestly in awe of the July from Werner Kern. The attention to detail in this design is out of this world. This, of course, means that the July comes with quite a steep price, but if you are looking to invest in serious dance footwear, then you won't regret a single penny you spend on these.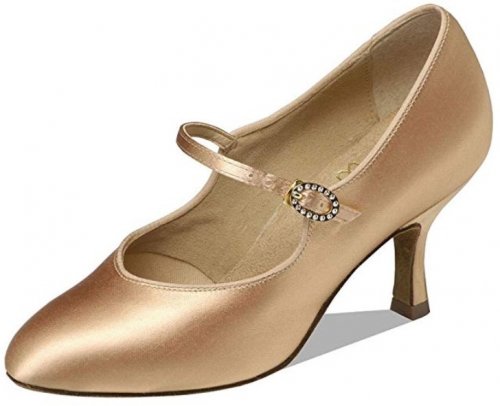 Satin Upper
Nice Range of Colors
Adjustable Instep Strap
2 to 3 Inch Heel
Contour or Flare Heel Shape
Expensive
Strap Tends to Stretch
In regards to the brand, Supadance is one of the well-known and most-respected dance footwear names in the industry. Their footwear is impeccably crafted and designed both for recreational dance and competition. The 1012 is one of their best-sellers, and with good reason. You will hardly find a design this graceful and yet this functional.
The 1012 has a satin upper in a variety of colors, out of which we have singled out this flesh hue that goes well with every type of dress. The toe area is round for plenty of room and adequate toe splay. There is a delicate strap across the instep that is adjustable thanks to the buckle closure adorned with tiny crystals. The heel comes in a range of heights, from 2 to 3 inches and it can be either contour or flare in shape, however you prefer.
The downside to the Supadance 1012 is that, given its famous brand name, it is quite pricey. Not meant for beginners who are not yet sure of what they like and what they dislike in terms of footwear, the 1012 is rather for those already skilled in the sport and knowing exactly what they're looking for.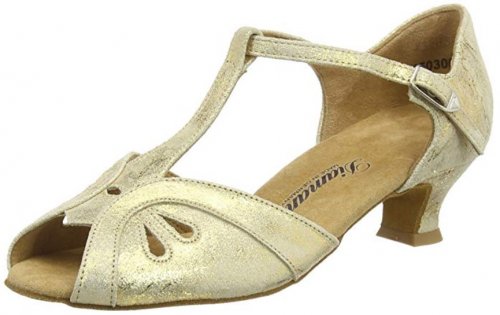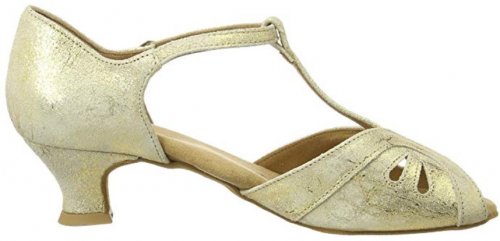 Handcrafted
Genuine Suede Upper
Comfort Footbed
Soft Microfiber Lining
Antimicrobial Properties
Diamant is a dance footwear manufacturer based in Germany, and their designs make a good choice for beginners. They may be more expensive than the usual beginner options, but thanks to the premium materials in their construction and the detailed craftsmanship, they will certainly last for a few years. The 019-011-017 model is a study in gracefulness and gold-shimmering elegance that will let you glide away on the dance floor without any problems.
This design is handmade from genuine suede that has a foil print effect in gold. It has an open toe front, making it great for Latin dances, as well as a T-strap with an adjustable buckle closure. The lining of this model is made from microfiber, a material that is breathable, moisture-wicking and also has antimicrobial properties to repel bad odors. The heel is around 1.6 inches high, flared and stable for any type of movement.
If you're looking for that gold flair, for something that isn't high-end but is still made with quality, then this Diamant option is the perfect solution. A dance veteran may require a bit more from their footwear, but a beginner will be more than pleased with this choice and its soft, malleable materials and comfortable construction.
4

. Ellie Shoes 254 Lucille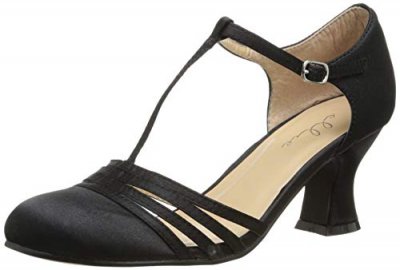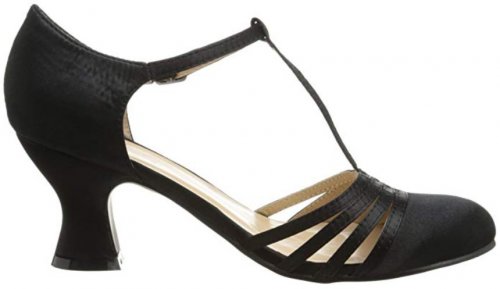 Low Stable Heel
Round Toe for Toe Splay
Strappy Design
1920s Feel
Leather and Rubber Sole
Not for Narrow Feet
Sizing Can Vary
Reminiscent of the 1920s, the Ellie Shoes 254 Lucille brings ballroom back in time, pulling in the more festive styles of swing and jazz that remind us of the Great Gatsby era. The Lucille is a strappy round toe design, with a T-strap silhouette and a low heel. Great for fast-paced footwork, this little number is sure to stay put even when both your feet leave the ground!
At the base of the Lucille is a wider low heel, great for quick steps as it helps support balance as opposed to more narrow heels. Leather and rubber soles give you firm grip on the dance floor for quick hops and jumps, but slides and glides are possible still. As a bonus, the heel is slightly sculpted, adding to the appeal of this pair.
Satin creates the uppers of the Lucille, with a round toe that allows proper toe splay when twirling away on the floor. Strappy styling gives it a boost in personality, and the T-strap design closes around the ankle with a buckle closure. The buckle closure gives some adjustability of fit, making sure this pair won't fall off during any move!
5

. TTdancewear Rhinestone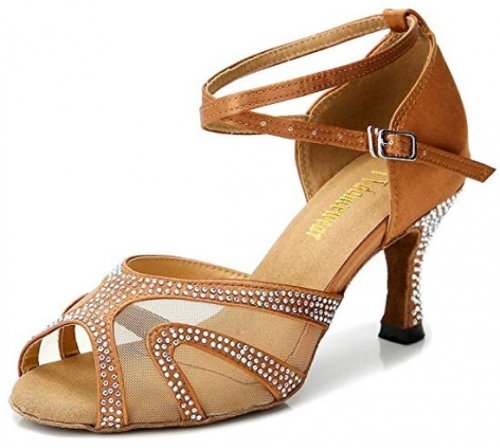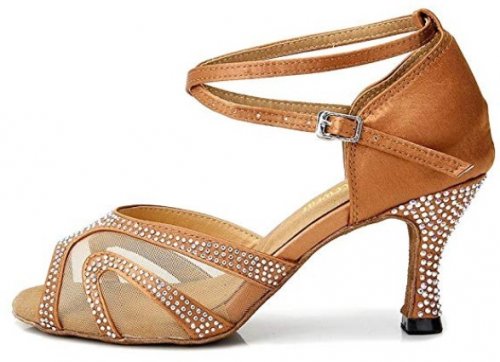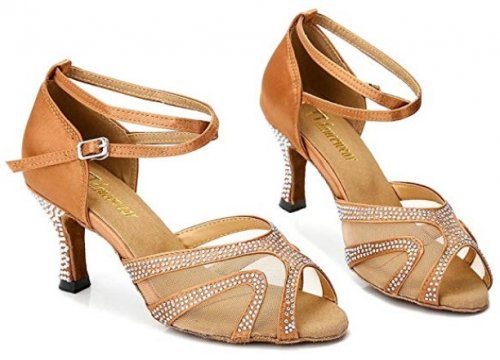 Quick-Release Buckles
2.5-to-3-inch Heels
Suede Outsole
Satin Upper
Open Toe
Rhinestones sparkle, as does this pair of ballroom shoes. With quick-release buckles, you can slip them on and off with ease. In addition, these are made of satin for the upper and suede for the sole; perfect for dancing while keeping your feet nice and cool. Moreover, the Rhinestone from TTdancewear is beyond comfortable.
The best ballroom footwear has a suede outsole, thereby allowing you to effortlessly glide across the floor. With the right amount of grip, you can turn, twirl, and glide to your heart's desire. With this option, you have your choice between 2.5-inch and 3-inch heels. Furthermore, with the rhinestones lining the heel and the toe area, your feet are certain to light up the dance floor.
The cost for this pair is midrange in comparison to other designs on this list. Having your choice between heel heights, the bedazzling sparkle of rhinestones, the suede outsole, satin upper, and quick-release buckles, this pair is worth adding to your footwear collection.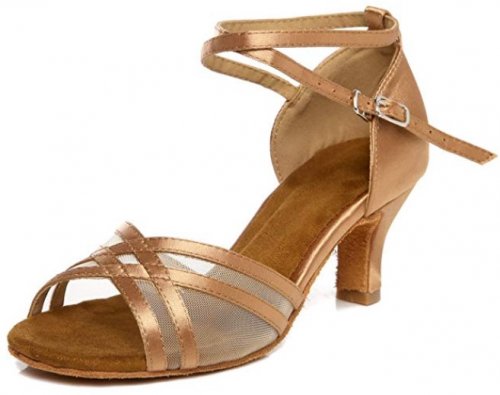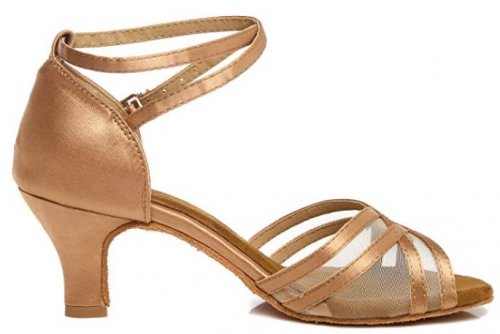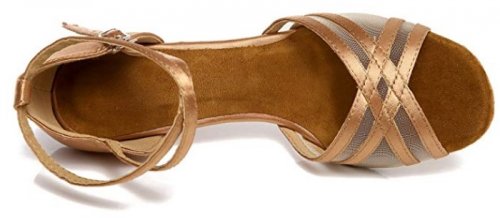 2.3-inch Heel Height
Cross-strap Buckle
Satin Upper
Suede Outsole
Open Toe
With an open toe and side area, this pair from Akanu will adorn your feet beautifully. Made with satin uppers, suede outsoles, crisscross straps at the forefoot area, and a cross-strap buckle system, you are certain to feel secure, comfortable, and at ease as you take over the dance floor.
The satin upper provides strength as well as a gorgeous look while the light sparkles in your dance. In addition, satin means less friction, thereby preventing the irritation of the skin. The magic of an open-toe design is wonderful in that you can feel the air breeze while you spin and glide. This helps you to remain cool and smiling wide as you perform. Moreover, there is a sense of naturalism when you can feel your feet in the open.
The lower midrange is the cost associated with this pair from Akanu. As such, they are worth the purchase price and make an ideal choice in adding to your dancewear collection.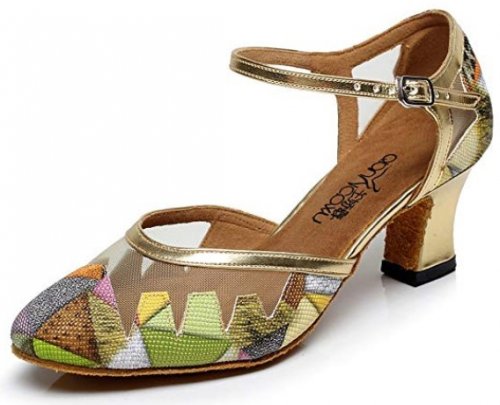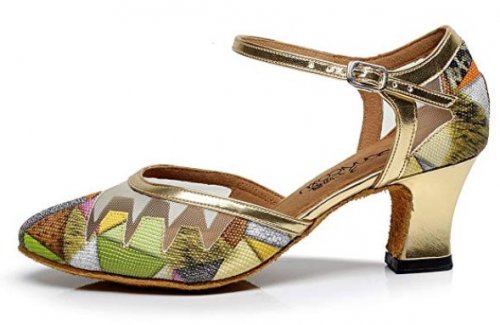 Satin Upper
Suede Outsole
5.5-cm Heel Height
Single-Strap Buckle
Closed Toe
Sophistication through simplification can be hard to achieve. With these Mesh shoes from Baysa, however, gorgeous artistry is apparent in the single-strap buckle system, the closed-toe design, crisscross dual-straps at the forefoot, cushioned insole, and the suede outsole. With this pair, you are certain to feel the benefits of the duality of grip and glide.
To grip the floor is paramount when you're performing your most graceful moves. Additionally, the ability to glide must also be present. With a suede leather outsole in the Mesh, you achieve the best of both worlds. For those preferring a simplistic strap around the ankle, these come equipped with a single-strap buckle system. This allows for ease of on and off, as well as less irritation which might be found in multiple-strap settings.
These shoes from Baysa are budget-friendly and great for those desiring a closed toe and single strap at the ankle. Furthermore, they are comfortable thanks to the cushioned insole. As such, this pair is perfect for the dancer in you.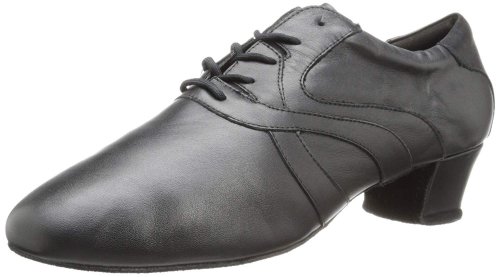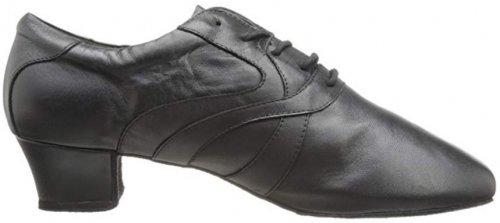 Padded Collar
Suede Outsole
Leather Upper
1.75" Cuban Heel
Capezio is one of the leading manufacturers of dance footwear, and their Tony oxford sports a classic and sophisticated style that is right at home on the dance floor. A lightly padded collar reduces the pressure put on your Achilles tendon, while the 1.75" Cuban-style heel gives them some extra lift. These leather shoes are available in sizes ranging from a US 7-14, including half sizes and some additional width options.
Suede outsoles are an uncommon choice for shoes as a whole, but a common one for dance designs. A suede outsole offers more freedom of movement than its rubber counterpart often can, making it easier to glide across the dance floor with poise. They are also non-marking, reducing the potential damage that can be done to the floor. In fact, most performances and events will call for non-marking outsoles to protect the integrity of the floor.
Dancing is much more difficult than it looks to the layperson, and involves a great deal of control over one's movements. Without the right footwear, even the most experienced dancers can be at risk for fatigue, pain, or even injury. The Capezio Tony is outfitted with a padded collar and notch which are designed to properly cushion and protect your ankles with each movement.
9

. Olivia K Classic Mary Jane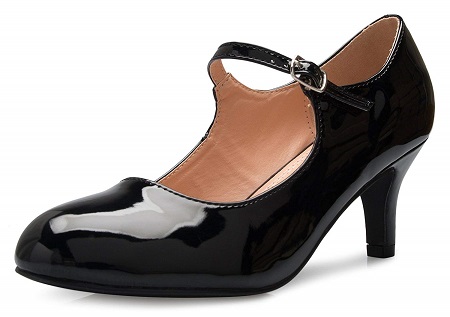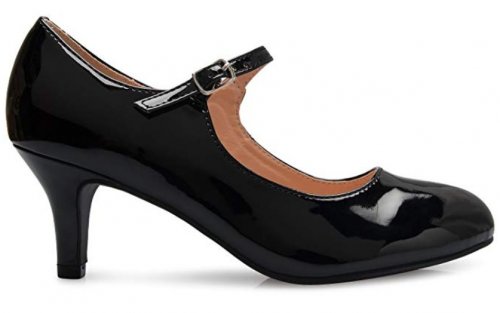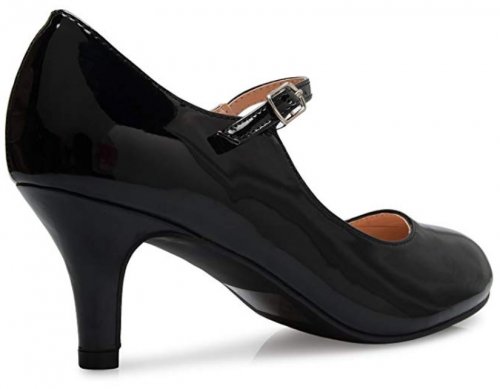 Wide Range Of Colors
Cushioned Footbed
Rounded Toe
2.5" Heel
While not specifically a dance design, these Mary Jane pumps from Olivia K still make for a great ballroom option. The 2.5" heel and rounded toe section give them a stylish and retro look along with a wide range of colors and prints, including glitter for a little extra sparkle. These are available in twelve colorways, and sizes range from US 5.5 - 11, including half sizes.
Comfort is one of the most important things to consider with dance footwear. The comfort level can make or break a purchase, and it's imperative that dance footwear provides the cushioning and support necessary to keep pain and fatigue at bay. These pumps feature a lightly cushioned footbed to promote comfort and keep you in your best form.
While there's no denying the unique style that pointed toes offer, they're certainly not for everyone. A pointed toe section can make the shoe feel incredibly cramped and uncomfortable, especially for those with wider feet. This pump is outfitted with a rounded toe section that not only eliminates this problem but gives them a classic design that fits well with any performance.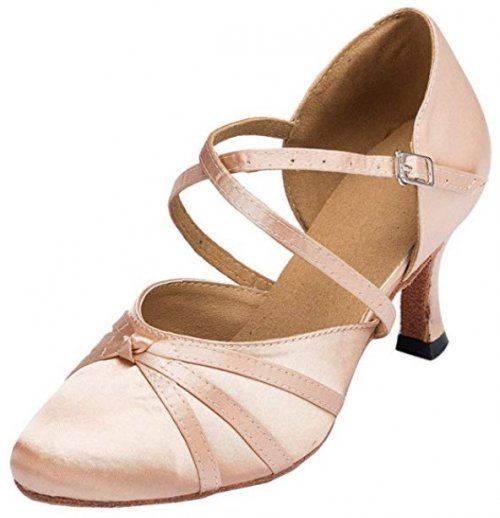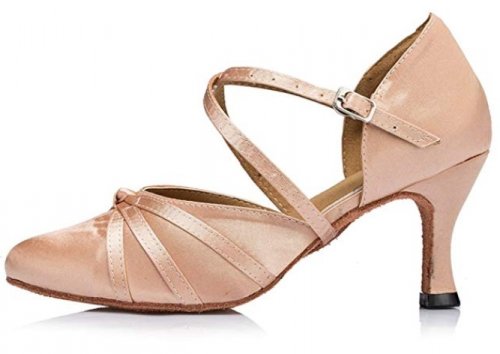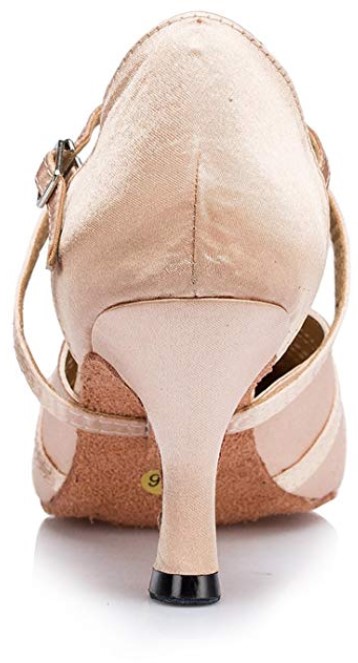 7.5-cm Heel Height
Cross-Strap with Buckle Closure
Leather Outsole
Satin Upper
Round Toe
In these shoes from Minishion, you will understand the power of performing at your best. With a cross-strap buckle closure system, leather outsole, satin upper, and round toe, these are ready for the dance. Furthermore, this pair has a gorgeous 7.5-centimeter heel height; perfect for both elegance and practicality.
Ease of on and off is achievable via the cross-strap buckle closure system. In addition to the mechanics of usability, this design is beautiful aesthetically. A leather outsole is a necessity in allowing you to have the correct amount of grip while, simultaneously, allowing you to glide in angelic glory across the floor. As such, this pair is ready for you to put them to work.
The cost associated with this pair of ballroom shoes is budget-friendly; making them perfect for adding to your shoe collection. Moreover, they are built for dancing and ready for the ballroom floor.
Criteria Used for Evaluation

Features
Learn all the little details that you need to pay attention to when choosing the right dance footwear.
What people may fail to understand is that there are many differences between ballroom shoes and regular heels. Dance footwear for women is, usually, carefully engineered and manufactured. It provides better heel placement so they can improve steadiness and balance. That's why you will find it easier to dance in dance footwear that is high heeled compared to the fashion heels worn on model runways.
Ballroom designs, typically, all have an outsole made of chrome leather or suede. The outsole is crafted so that the dancer can have the perfect amount of slide and grip. The shoes, also, need to be very secure and strong. This means they will have a snug grip on the foot during the whole dance.
No dancer wants to have a broken design or his or her shoe coming off while dancing, as this will not only be humiliating but also could be very dangerous and/or cause a foot-related injury. That's why all dance shoes used in the ballroom need to have quality assurance.
General Features of Ballroom Shoes
Laces – Found in men's styles standard and Latin, laces help secure the footwear with a better fit. Laces are also found in practice footwear, especially sneaker-style practice designs.
Straps – Found in women's style Latin, straps can vary from single-strap to multiple straps. Some straps hook around the ankle while others may hook around the forefoot.
Outsole – The outsoles are made of suede (competition), plastic (practice), rubber (off the ballroom floor), or leather (generally practice, as leather is rougher than suede). Suede is the primary go-to for competition ballroom events, as it allows for the correct amount of glide and grip, simultaneously.
Upper – For men, the upper is leather, with a glossy or a non-glossy finish. For women, the upper is satin (competition).
Toe Area – Men's ballroom shoes are closed toe. Women's standard are closed toe, as well. Women's Latin competition, however, are open toe in design.
Flexibility – For both men and women, standard/smooth shoes are more sturdy, not allowing the pointing of the toe. For Latin/rhythm, however, both men's and women's ballroom designs have flexibility in the arch; thereby, allowing the pointing of the toe.
Heel Height – Heel height is specific to the type of dance (i.e. Standard/Smooth; Latin/Rhythm). Beginners may want to start out with lower heels.
Heel Width – heel width is specific to the type of dance, as well. Different dances require a different width, generally speaking. But at the end of the day, it is all about the feel. You might prefer a narrow width heel flare, whereas someone else may prefer a wider flare.
Color – For men, black is the norm unless specialized in ordering. There is the flat (black matte) and shiny (patent leather) look. For women in competition, nude or bronze-colored shoes are the norm. In social (non-competition), however, the sky is the limit in color variety.

Application
Know which type of dance you will be performing before you decide on the right footwear for yourself.
Just like different types of sneakers are used in different types of running styles, it's important that you understand the type of dancing style you will be performing when in the ballroom. Most of the dance styles that take place in a ballroom fall into two major categories: Latin dances (e.g. Cha-Cha-Cha, Rhumba, Samba, etc.), and the more traditional (Standard) ballroom dances (e.g. Foxtrot, Waltz, etc.).
Dances for Standard/Smooth Ballroom (International Standard):
Foxtrot – This dance originates in the 1910s and is danced to a rhythm of 4/4 timing. Similar to the waltz in appearance, 'big band' music, normally, plays with this dance. The dance itself is flowing with long, continuous movements.
Waltz – This dance originates as early as the sixteenth century. Today, there are multiple variations with multiple metronome timings. Even the International and American versions of the waltz are somewhat different during competitions. Generally, the waltz is performed in a 3/4 time signature with a metronome speed between 60 and 70 beats per minute. The 3-step waltz is the general version of competitions; having variants of the moves changed slightly between American and International standards.
Quickstep – This dance originates in the 1920s and is characteristic of other dancing types such as the Peabody, shag, Charleston, foxtrot, and one-step. With 2/4 timing, this dance is highly energetic and contains a 'fun' appeal to it.
Viennese Waltz – A variation of the original waltz, the Viennese waltz originates in Vienna and is more upbeat in tempo.
Tango – Between Argentina's and Uruguay's border, a dance called the tango was born in the 1880s. There are two basic styles of open and close embrace. This is danced with time signatures of both 2/4 and 4/4.
Dances for Latin/Rhythm Ballroom (International Latin):
Cha-cha-cha – The cha-cha (American naming convention) originated in Cuba in the 1950s. The music is usually Cuban when dancing the cha-cha-cha; however, ballroom dancing sometimes implements Latin pop or Latin rock for music choices.
Samba – This dance has African roots and is considered a Brazilian dance with its modernization. This modernization is founded in the 20th century and the dance is performed with a 2/4 time signature.
Rhumba – This dance originates in the 1930s and utilizes Afro-Cuban and 'big band' music types. With a 4/4 time signature, the steps are synchronous to 1, 3, and 4 beats of the measure.
Pasodoble – Mimicking the steps of bullfighting, this dance originated in the 1930s and is characteristic of double-steps with fast-paced metronome timings of 120-130 beats per minute.
Jive – Originating in the 1940s, this 'happy' dance clocks in at 176 beats per minute; a very, fast-paced timing. The characteristic of this dance is that it has a lot of knee work.
The previous dances are international competition standards. There are, however, moves or dance sequences which are normally included when doing dance performances that are less formal. They may include the saunter, lindy hip-hop, and some variations of the swing. There are, also, some dance moves that incorporate freestyle routines such as the merengue, bossa nova, and salsa.
At the end of the day, it's important to know the type of dancing style you will be doing before buying your brand new pair of ballroom shoes. This is because different dance styles need a different type of footwear.

Fit
Find a good balance with a design that is the right amount of snug and that is not too tight.
Everyone wants a good fit when shopping for new footwear, regardless of the type they are buying. The fit is one metric that is considered in all types of footwear; whether it is athletic sneakers or just simple leisure designs.
When you have an ill-fitting shoe, then you are susceptible to many foot injuries (simple ones like blisters to more severe ones like foot fractures). When fitting your new dance shoes, you will have to use a different method from the one that is normally used to fit regular footwear.
Generally, ballroom shoes need to have a fit that is snug and which allows free movement of the foot when dancing. The dancer's toes must be able to reach the very end of the design for closed toes.
For dance footwear with open toes, however, the toes must slightly hang just over the shoe's edge; allowing you to 'hold the floor,' as it were. Strictly in use for Latin-style dancing, a 1/4-inch hangover is recommended in order to 'use the floor.'
You will notice that the toe guide is very counterintuitive to the common belief many people have when shopping for regular footwear.
Another thing is to make sure the snug fit is not too tight. The design needs to be able to move along with your foot, and you need to be able to execute all the movements without restriction. If there is a piece of the design digging into your skin or, worse, cutting off your blood flow, it is a clear sign that your footwear is too tight.

Support
Flexibility and good arch support are key in achieving comfort while dancing.
Ballroom shoes need to offer maximum flexibility. The importance of flexibility is that it enables effective execution and coordination of the dance moves, in addition to offering protection and safety for your feet.
When you wear footwear that is inflexible, then you stand a risk of suffering from ankle or foot injuries; not to mention the fact that you will be making sloppy dancing moves on the stage. Also, it is important to remember that standard ballroom designs will be less flexible than Latin ballroom shoes.
For men, a split-sole design allows for tremendous flexibility for Latin ballroom dancing. Although women's Latin designs are flexible in nature, there are those available with thinner and shorter shanks in place; thereby, providing even more flexibility. Keep this in mind while you shop.
Having arch support that is strong is important, especially for dancers who tend to wear higher dancing heels. This also means that the footwear needs to have strong arch support.
What is the importance of arch support?
During dancing, most arches are under too much pressure, and that means a dancer needs to get the correct amount of arch support from their footwear. Having the incorrect type of arch will lead to incorrect pronation of your foot. Pronation will not only affect your dancing but will, also, put the dancer at risk of getting serious injuries.
The simple rule is that the higher the heel, the more arch support the dancer needs. Standard ballroom shoes are more supportive than Latin dancewear, simply because of flexibility factors.
For footwear with little arch support, there is an alternative which will allow you to use your dance shoes in practice. Foot undies (or lingerie) are made in a variety of ways and can add to arch stability and/or provide cushioning. They are mainly used in jazz/ballet settings but can be equally helpful in transitioning from practice to competition footwear with little to no arch support.

Heel
Heel height and shape is imperative in maintaining comfort and stability while still looking elegant.
The heel height will definitely vary depending on whether you are looking for male or female footwear. Also, the varying types of ballroom shoes have different heel heights.
Men don't have to worry about the height, but women have to give it very serious consideration when shopping for new dance footwear. Literally, every design used in the ballroom has some height. For the men, it starts from 0.5 inches while the ladies' footwear starts from 2 inches, generally speaking.
Most women beginners should wear heels that are 2.5 inches or lower. This is because higher heels require the dancer to have plenty of ankle strength and support. More skilled dancers, on the other hand, can opt for higher heels.
Generally speaking, female dancers never go beyond 3 inches in heel height. It's important to note if a dancer experiences pain when they are dancing with higher heels, then they should look for dancing footwear that offers them an additional amount of arch support.
The width and style of the heel also matter. The wider the heel, the more stable your environment, as a general rule of thumb. Practice footwear will have a wider heel, whereas, competition designs will be thinner.
Expert Interviews & Opinions
Most Important Criteria
(According to our experts opinion)
Experts Opinion
Editors Opinion
Users Opinion
By Default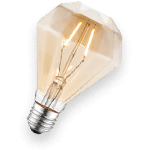 Dance For Fitness
Dancing can burn a ton of calories, and can be a fun way to stay in shape. If you're looking for something new to try in your fitness regimen, sign up for a couple classes! Typical lessons or classes can run anywhere from 60-90 minutes, and burn 300-600 calories depending on the type of dance involved.
Dance Competitions
If you've never seen a formal dance competition, you're in for an inspiring treat! All levels from beginner to advanced can partake, and the overall feel of the competition is a lively event to witness.
If you're newer to dance, check with your studio about competitions, rules, and which one you may be best suited to try out. Get inspired, go beyond your comfort zone, and fall in love with dance!
Other Factors to Consider

Bottom Line
The best kind of ballroom shoes should be comfortable, durable, and made out of high-quality materials. There is a grand variety in types and styles, yet one aspect remains true in all creations: the perfect suede outsole. A suede outsole allows for graceful and controlled movement while on the dance floor. It needs to be perfect enough to provide smooth flow and good traction, simultaneously.
Inevitably, while looking for the best pair of ballroom shoes (whether it be for competition as an eager beginner, or as a passionate lover of the sport), you will need to find a pair to take you near and far on your journeys. Price for quality, alongside good standing comfort, is going to be one of the most important features. Let this list become a super guide to finding the best footwear for your dance life!
Frequently Asked Questions
q:

Why is it not possible for me to dance in my regular footwear?

a:

First of all, it's not forbidden or illegal for you to dance while wearing street footwear. The only disadvantage is that these will limit how much you feel your feet as you dance. This, in turn, places you in a more disadvantaged position.

Street footwear is not as soft as normal ballroom shoes are and that limits the range of motion of your feet when dancing. Ballroom footwear, particularly, has suede outsoles and offers an ample quantity of anti-slip and glide. You will find some studios have expensive dance rugs installed and will not allow dancers to step on the rugs if they are not wearing their dance footwear.
q:

What's the correct size for me — smaller or bigger than my regular footwear?

a:

It's best to order the normal size of your street footwear. As a rule of thumb, however, it's good to consult, because some companies do not adhere to this rule.

British companies manufacture their footwear by using British sizing, while the European ones use European shoe sizing. We, also, have the Japanese and the American companies that have their own respective sizing systems. All of these, however, can be easily translated into the correct size using the conversion charts provided by the shoe manufacturers.
q:

I have a male partner who is very tall, is it advisable for me to go for higher heels?

a:

It's highly discouraged for female dancers to go for higher heels if they cannot comfortably dance in them. The general rule is that higher heels mean more difficulty in dancing (hence the dancer must have ankles that are very strong and very flexible).

The flexibility and strength of the ankle can only be achieved with a long duration of practice. Unless you're very comfortable in high heels, do not wear them. In case you decide to go for a higher heel, however, just add half an inch to the heel height.
q:

How do I measure the height of my shoe's heel?

a:

Many shoemaking companies measure the height of the heel from the center part of the heel, excluding the tip of the heel. When measuring the heel, avoid measuring it from the back, as this will give you a much higher reading (remember that a higher heel makes a big difference in your dancing).
q:

Between the leather outsoles and the suede outsoles, which one is the best for me?

a:

Dancers who dance ballroom and Latin always use the suede outsoles. The suede footwear is very flexible; hence, allowing the dancer's foot shape to be shaped to the extreme.

Those who are Argentine Tango dancers can consider buying footwear with leather outsoles; since the leather outsoles tend to be a little harder than the suede outsoles. They also do not bend that much. They offer more support, preventing the feet from getting tired when dancing (especially if you will be dancing for a long period of time).

The leather outsoles also work better when worn on rough floors. Outdoor dancing deserves dancing footwear that is made of leather or rubber outsoles. For floors that are smooth and slippery, suede outsoles would be the best choice.
Subscribe to our Newsletter