Best Salsa Shoes Reviewed & Rated
last updated:
Apr 03, 2020
Any athlete in their field knows that they must have the right shoes to make their performance perfect. High-quality sneakers and athletic shoes can make or break a runner's record, can make the difference between gold medals and three weeks of blisters. Athletes aren't only relegated to sneakers, however, and anyone who's just finished a salsa routine will tell you ballroom can be as high intensity as any other competitive sport.
So when choosing the best salsa dance shoes you have to be as discerning as any sports coach or competitor. Whether you're looking for a suede-soled competition-grade shoe, a comfortable pair of dance sneakers your instructor will allow on a sprung floor, or a simple pair of practice heels you can wear to any respectable competition without breaking the bank, you have to make sure to buy high-quality shoes that will treat you right.
In a Hurry? The test winner after 105 hrs of research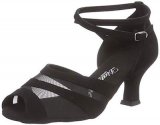 Diamant 102-064-040
Why is it better?
Synthetic Nubuck and Mesh Upper
Push-button Closure
Fully Adjustable
Suede Outsole
Latin Heel
In a
Hurry? Editors choice: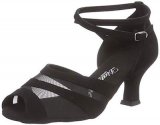 Test Winner: Diamant 102-064-040

21
Researched Sources
10,510
Reviews Considered
105
Hours Researching
20
Products Evaluated
Outsole
Materials
Flexibility
Heel
Durability
By Default
10 Best Salsa Dance Shoes Reviews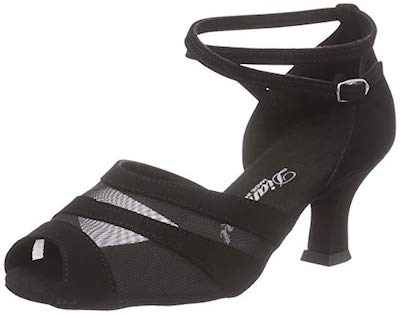 Synthetic Nubuck and Mesh Upper
Push-button Closure
Fully Adjustable
Suede Outsole
Latin Heel
Expensive
Limited Color Options
Handcrafted in Germany, this model by Diamant provides exceptional quality, comfort and durability, and is the perfect combination of classic and flashy. It uses an incredibly efficient push-button closure that allows the perfectly snug fit, plus easy on and off that won't take up time before your next class or performance. The upper uses quality synthetic nubuck from Italy, combining it with a mesh that is breathable and conforms to the shape of the foot without requiring too much breaking in.
The sole of this Diamant shoe uses suede, which is one of the best materials for ballroom dancers, seeing that it provides the right amount of traction on highly polished surfaces, but won't stick to the floor. This means that the likelihood of getting injured is considerably lower than with rubber outsoles, plus you will enjoy the benefit of greater flexibility.
The lining is antimicrobial and moisture-wicking, taking into consideration the amount of physical effort that dancers put into their training, while the 2" flared heel provides just the right amount of elevation, with great stability. The price is higher than the average Latin ballroom shoe, but if you're after something you'll be using for years, this model is definitely highly recommended.


Satin Upper
PU Cushioning
Suede Outsole
Dual Density Heel
Antimicrobial and Antifungal Lining
Capezio is a manufacturer specialized in dance footwear and equipment, so the fact that one of the highest rated ballroom dance shoes is made by this brand comes as no surprise. The Stella is the perfect choice for those who want a chic sandal with all the benefits of a design made specifically for dancers, including plentiful cushioning, a dual density heel, as well as an outsole that allows foot articulation for more beautiful line.
The upper of the Stella is made with luxurious satin that is breathable and easily adapts to the foot for the best possible fit. The many straps ensure great support, and an adjustable buckle closure allows you to find the best fit (as well as to increase stability in the ankle area). The inner is lined with moisture-wicking, antimicrobial and antifungal recycled materials, while the outsole is made with suede for the best performance on most dance floors.
This model of dancing heels for salsa is cushioned for performance, with the insole having memory properties for a fit that will become fully customized with wear. The heel is made with dual density materials, a stronger upper that provides stability and traction, and the bottom layer being more shock-absorbing, keeping your knees and muscles protected. You will also receive a set of clear heel covers, as well as a storage bag with this model. The price is higher than other models listed, but the looks, performance and Swarovski crystal embellishments definitely justify it.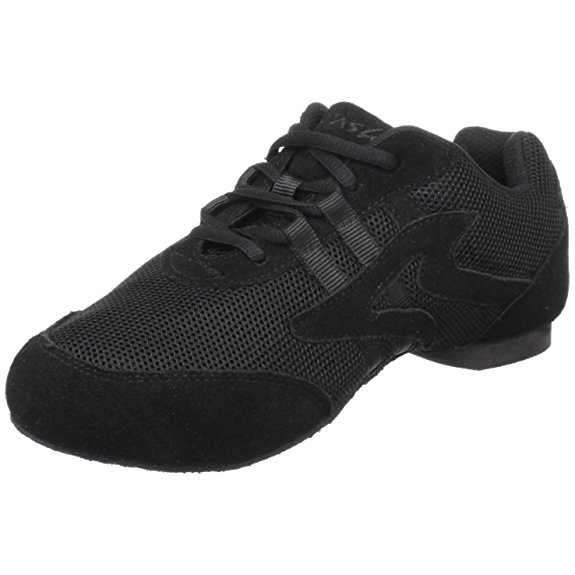 Men and Women
Dance Floor Heel
Long Hours Comfort
Great Affordable Price
Suede Soles and Body
Closed Mesh Construction
The Jazz sneaker is the first official dance shoe on our list, and it ticks all the boxes. With a half-inch heel, suede in the sole and body of the shoe, and a high-quality arch support that will carry you through each practice, its a strong all-round training shoe for any latin dancer.
There's no replacing a high-quality suede sole for Latin dancing if you're willing to shell out for a formal dance shoe. Even though this sneaker will be relegated to the training floor, the suede shoe will completely free the dancer from knee and hip strain after hours in the studio.
The strong support and form-fitting style of these comfortable salsa shoes will completely spoil you for the transfer into the more glamorous competition shoes on dance nights. With a short heel, the arch support will create an incredibly comfortable shoe that facilitates jumps and footwork across the dance floor. These shoes ring in as a little more expensive than some of the cheaper shoes on our list, in return for being specially designed for ballroom dance and the kind of movement that salsa will demand from you. High-quality material and design both come together to raise the price point, though, of the dance sneakers on our list, these are by far the cheapest and best value for money.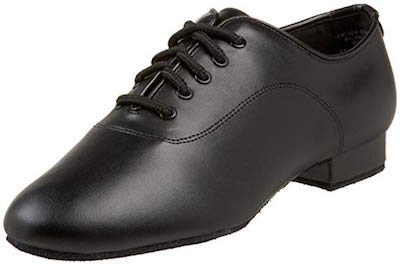 Soft Upper
Wrapped 1" EVA Heel
Shock Absorbing Insole
Moisture Wicking Lining
Lace Up Closure
Lacks Breathability
Runs Small
This entry level men's model is perfect for those just starting out with ballroom dancing. Lightweight and soft, it's a great pair of footwear for the studio or stage, and has a classic look with a 1" heel that's a good start before moving on to more specialized Latin heels (which are often 2" high even for men). The upper is made with soft synthetic leather that will allow for a comfortable fit which is easily adjusted through the classic lacing system.
This model is lined with moisture-wicking textile which will prevent odors inside these best Latin dance shoes, and an Achilles notch protects the back of your heel from rubbing and blistering. In terms of shock absorption, you get a padded insole that won't allow for fatigue and joint pain.
Both the forefoot and heel have a suede outsole that provides excellent traction, and the ¾ shank allows for the perfect amount of stability and flexibility. The heel is made with EVA foam, which is soft yet stable, while the price of this model is slightly lower than average, making it a great overall choice (especially for beginners).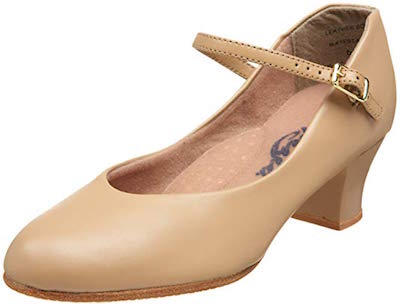 PU Upper
Leather Outsole
Moisture Wicking Lining
Padded Collar
Shock Absorbing Footbed
1.5" Heel
Adjustable Ankle Strap
Strap Durability
Difficult Sizing
This model is definitely worth checking out for all dance parents looking for a quality, comfortable character, ballroom or even tap shoes. The Jr. Footlight by Capezio has thousands of satisfied customers, comes in two simple colors (black and nude) and is cut and designed to allow maximum comfort for still growing feet. The 1.5" heel is just the right height for children, and it even comes in three widths to accommodate all foot shapes.
The upper of the Footlight is made with PU leather, but on the inside, it's lined with moisture-wicking microfiber that won't allow for bacterial and fungal overgrowth. The entire footbed is padded with foam, including the arch area, so you can expect a good amount of shock absorption, as well as comfort during long classes and rehearsals.
As for fit, the adjustable ankle strap ensures a secure fit, while an Achilles notch protects the back of the heel, and prevents slipping inside the shoe itself. These salsa dancing shoes for women are made with a leather outsole that will work well on all types of surfaces and is quite durable, so you can rest assured you'll get plenty of use out of it. As for the price point, it's average compared to other models listed.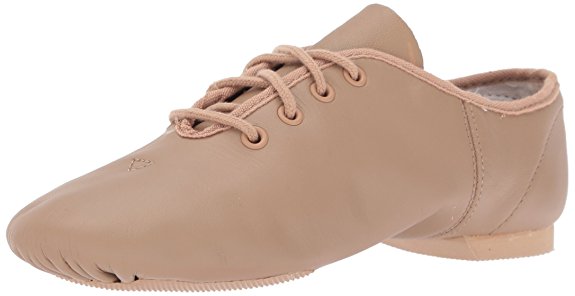 Functional
Arch Support
Unisex Style
Competition Ready
Simplified Shoe Style
Supple and Long-lasting
These plain leather jazz shoes bridge the gap between the overt stylish competition shoes and high-function dance sneakers we've already looked at. These shoes can be used for training or for some competition nights, if you're comfortable owning the low heel and less traditionally latin style. These shoes have strong function, with the leather soles you need to hit the best spins and twirls, and comfortable heel and arch support.
Someone looking to avoid the discomfort of high strappy heels during a salsa routine will find great comfort here. Despite looking like simple leather slip on, these jazz shoes have a stable heel cup and a good amount of arch support so you can still pull off the footwork demands of your routine.
It can't be said enough that the ability to slip on your shoes is important to salsa dance. Although this shoe throws off the trappings of a lot of other demanding or potentially uncomfortable ballroom shoe styles, it keeps the most important requirement; the slippy sole. Although this shoe varies it's the price so much by size it's hard to compare it to other best shoes for salsa dancing on this list, it seems to lie as pretty average in comparison. This makes sense when considering its value - the lack of accessories or exciting additions means you're paying well for a few very high-quality aspects; good quality leather, dance-centered design, and strong foot support where you need it.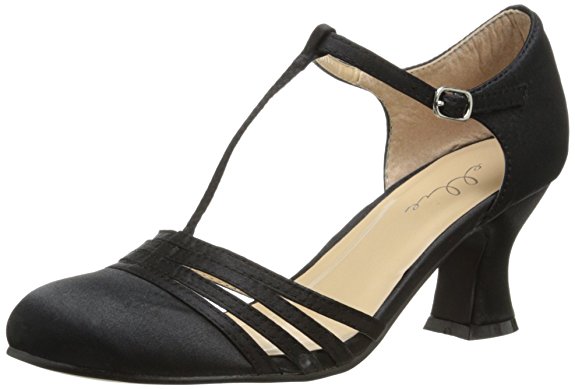 True to Size
Leather and Satin
Stabilized Block Heel
Casual Wear Possible
Comfortable Quality Materials
The flared block heel on this dress pump will give a level of comfort and control even to new dancers, and the smooth synthetic sole will award a strong level of slip to the wearer. The closed-toe, black satin style is a little understated for a lot of Latin styles but the comfort and quality balance out, especially for a dancer getting a start in salsa and looking for a secure, well-received shoe.
With a slightly padded leather insole, and a short 2" flared block heel, the Lucille pump boasts a very high comfort level, even for those reporting dancing repeatedly through an evening. The satin t-strap holding the shoe in place just tops off an already comfortable and secure shoe.
The Lucille Dress pump, with its high comfort levels, has been said to have excellent for use on the competitive scene and for home use, at weddings and other social events. Opting for the synthetic sole instead of a suede or leather version greatly increases the versatility of the shoe. These Ellie shoe pumps are highest rated for comfort and one of the cheapest on our list. The low cost puts it below some of the formal dance shoes compared here, so the value is weighed against the subdued style and the lack of proper suede soles.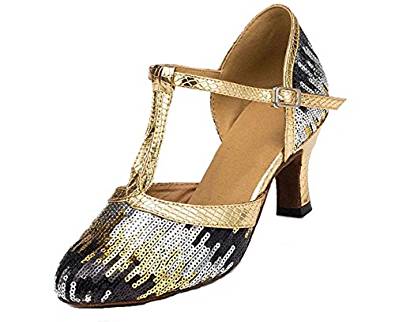 Suede Soles
Color, Style Variety
Perfect Heel Height
Supportive Block Heel
Closed Toe and T-strap
High Stabilizing Control
Degrades Quickly
Non-traditional Latin Shoe
Coming in right in the middle, these shoes are some of the most balanced on our list of dancing heels for salsa. These shoes have suitable 2.5" heels, a secure T-strap and most of all high-quality suede soles, but lack the traditional strappy style and glamour of most Latin shoes. Nevertheless, Mary Jane shoes come in a variety of styles and are the first properly soled heeled shoes on our list and could be an excellent choice for a competition night.
Not only are the heels the right height for salsa, the subtle flare, and relatively blocky bottom will provide greater stability without sacrificing the style. The first heeled sandals here with the suitable slippy sole that will provide the amount of slip versus grip a competition salsa dancer will need.
The balance between style and function in these shoes raises the price point a little, among the top three most expensive shoes on the list, especially once you only consider the shoes you could wear in competition. These shoes have also been reported to degrade quickly, so you may not get as many uses out of them as a more robust pair not designed specifically for dancing.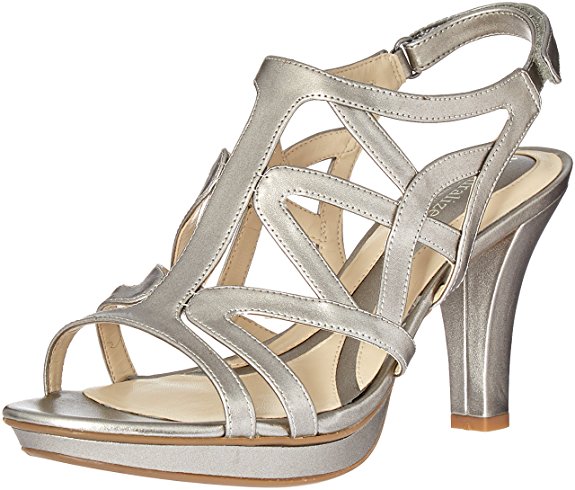 Laser Cut Straps
Eye-catching Style
Strong, Tight Stability
Adjustable Back Strap
Comfortable Cushioned Insole
Not for Salsa
Heavy
Non-smooth Soles
Bringing a level of glamour and style to the list, the Danya dress sandal is a popular day-to-day sandal that could very well suit a salsa dance floor. The strappy front and blocky heel provide stability, and its available in a collection of different colors to suit that glamorous salsa dress.
Naturalizer specialize in good looking, flashy shoes that will definitely draw an appreciative eye on the dance floor. The style is backed up with a comfortable leather insole and a slight platform to make the heel more manageable, so the flashiness doesn't outweigh the function of these salsa dancing shoes for women.
Designed for all-night comfort in this heeled sandal, the cushioned insole will also provide the support and bounce needed for you in a busy salsa routine. It also allows for breaking in, molding the shoe around your foot and dance needs the more you practice in them. Naturalizer brand name comes with a slightly higher price than the other heeled sandals featured here, but that name brings a comforting promise and a large customer base to lay your trust on.


First Time Dancers
Stabilized Low Heel
Long Cear Comfort
Multiple Secured Straps
Affordable
Non-slip Sole
Limits Movement
Average Quality Construction
A simple and low sandal that is popular with customers looking for both day to day and dancewear shoes. These heeled sandals have a secure ankle strap, comfortable insole padding, and an understated but relatively thick heel. These shoes could be strong contenders for someone who doesn't want to pay for a pair of shoes that disappear into the closet for 90% of the week, but who still need comfort and support on salsa nights.
Traditional strappy shoes will always look in-place on a salsa dance floor, and these shoes show a suitable amount of foot without sacrificing support, a buckled ankle strap and x-straps from the arch securing the shoe comfortably.
These are shoes designed to support not just dancers, but people wearing these shoes for hours on end without pause. The insoles are clearly well made and the cushioned style will give a dancer the support they need for a full night of competition dances. These shoes aren't charging for dance-oriented design, putting them as among the cheaper members of the list. This is good on many fronts - the strap and heel style, and the heel height, are still well suited to Latin despite not being designed for it. However, the shoe does have a synthetic non-slip sole that is going to be less comfortable for someone looking for serious salsa spin routines.
Criteria Used for Evaluation

Outsole
One of the most important aspects of your best salsa shoes is the soles. Sliding, gliding, and stopping are different on a dance floor and your shoes need to support that. Salsa dancing also involves stomping and kicking. If your shoes have the wrong outsole you will find your dance will greatly suffer.
Don't misunderstand us here, you can wear any type of shoe to dance in. However, if you want to look like the pros and dancing is not just something you do for fun but something you work hard to improve at, the right shoes will make a huge impact. Sneakers, dress shoes, loafers, and gym shoes tend to have a rubber or polyurethane outsoles. These are great for traction, grip, and durability but on a dance floor sticking feet can lead to injury when the rest of your body is moving. These are features that you aren't going to find in quality Salsa or Latin dance shoes. Let's take a minute and look at the pros and cons of the most common sole materials.
Leather Benefits
-Good Surface Traction
-Can Score for Extra Traction
-Durable
-Low Maintenance
-Can Wear Outside
Nubuck Benefits
-Good Surface Traction
-Higher Grip
-Superior Slide
-Excellent on Highly Polished Floors

Materials
The most common materials used for salsa shoes are leather and suede leather. There is also a variety of other soft materials like lambskin and felt, that you may find in your search for superior salsa shoes. The problem with a soft sole is the fact that they are not made to be worn outside, requiring a change of shoes when you get to your dance studio or performance venue. Most people don't mind changing their shoes, but if this is a problem for you, you may want to opt for a thicker leather sole.
Overall, either Leather or Nubuck Suede Leather will help make your performance flawless. It is important to note, any shoe can be turned into a dance shoe. There are many good articles out there to describe how to switch the soles of your shoes. Making your favorite sneaker into a dance shoe is not common but it is possible.
Not completely sold that dancing will be your new thing? That's OK too, you can also buy stick on soft material outsoles for the shoes you already own. This may save you money and give you a bit more time to decide if an investment in dance shoes is a good choice.

Flexibility
Dance enthusiasts everywhere will tell you that the flexibility of your dance shoe will make or break your dance. One of the most common critiques about dancers is their feet. Toes that aren't pointed or a kick that ends with a clubfoot is sure to lose points with the judges. Stiff shoes don't move with your feet and can inhibit your ability to point your toes and fully flex your ankle.
The difficulty in finding the perfect flexibility is the fact that you can't sacrifice all of the support of your shoe or you are certain to have pain in your joints and muscles and you could even injure yourself. Salsa shoes are structured to offer top levels of flexibility and provide enough support to keep you moving and feeling great.
The other pieces of your salsa shoes play their part in overall flexibility as well. Taking the time to look at the upper material and knowing that soft bends much easier than stiff, will help keep your shoes moving with you. It is also essential to note, if you have problems with your feet, talk about it with your instructor or doctor before spending a lot of money on salsa shoes. You want to make sure to get the support and structure you need to avoid injury.

Heel
Women's dance shoes that have a heel have a shank that runs from the heel through the arch of the shoe. This stability and support are crucial. There are different materials used such as metal, vinyl, polyurethane, and plastic. Supporting your arch is needed to keep your feet feeling good and maintaining joint health. All women's salsa shoes with a heel will have some sort of shank in them. How stiff you buy your shoes is up to you, keep in mind that flexibility leads to excellent kicks and flicks and less time hearing about your toes not being pointed enough.
Men's dance shoes can be found with or without a shank. No shank means you will be able to point your toes easier and better than before but your shoe will not hold its shape nearly as well or as long. The lack of shank in men's salsa shoes also leads to cracking leather. Typically seen in the toe and heel, a loss of structure weakens the shoe overall. When you are beginning this is a decision best left for later. More experienced dancers or people with foot problems will want to think about it sooner and discuss it with your instructor.
A higher score on this metric means that the heel will better support your dance, whether you are a man or a woman.

Durability
To assess each of the products on our list for durability, we not only read through thousands of customer reviews on our recommended products, but we also looked for some of the hallmarks of quality construction. From brand name reputation to their initial smell out of the box, there are a few ways of identifying a well-built, made-to-last product.
The Details
A zipper that doesn't zip or snaps? Poor threading technique? A smelly, chemical residue on the shoe when you open the box? All these details were looked for and evaluated when assigning a score for durability.
Materials
Certain materials last longer than others, even if that comes at the expense of a higher score in the "comfort" criterion. Materials that are synthetic, thicker and firmer tend to score higher on durability.
Product Purpose
A shoe made for running and high-impact sports will not likely last as long as a good pair of general activity shoes and that's okay. Being aware of the shoe's purpose is critical for you as a reader and for us as a reviewer. Although shoes that will last longer score higher on this criterion, you might also see high scores to shoes with more limited durability, if that product was specifically designed for certain purposes that involve high-impact and high-stress motions. We take into account the type of shoes you are trying to purchase when assigning scores to shoes in this criterion.
Brand Name
A product is a promise made, but a brand is a promise kept. A brand name is often a signal of quality and consistency in construction and durability from product to product. Although there are always exceptions to this rule, quite often brands that perform continue to perform. Brand names on our list tend to score higher in the durability score.
Expert Interviews & Opinions
Most Important Criteria
(According to our experts opinion)
Experts Opinion
Editors Opinion
Users Opinion
By Default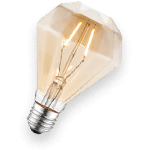 Salsa Origins
Cuba lays the claim to fame for the origins of salsa dance and music. And, if you're ever interested in a trip to visit Cuba and it's culture, make sure to swing by Havana. Havana Cuba boasts of not just rich history in the capital region (Old Havana). but also loads of cultures surrounding the museums.
Take a day to walk around from Old Havana, through Havana, and towards Vedado, for an experience, you won't forget!
Salsa Dance Tips
Salsa is one of the more sensual, yet flirty and fun dance styles of Latin dance. It uses both expression of the body, but also fancy steps and partner movements to tell a story.
If you're newer to Salsa, make sure to get the basics down by taking a few lessons at your local dance studio. Then head out to the clubs for a real feel of what it's like to pick up and dance with a partner!
Other Factors to Consider

Bottom Line
Choosing specific shoes for Salsa involves a lot of inspection as to what you need out of your own salsa work. There are some central rules for choosing a salsa shoe, however, that are constant no matter the type of shoe you're getting. One of the main reasons you can't dance salsa in your regular heeled sandals is the soles. When buying for salsa's footwork and spins, you must be careful to buy shoes with smooth soles. These soles give the right balance of slip versus grip and limit strain on knees and hips.
On the foundation of the smooth soles, you should look for something lightweight, foot fitting, and with a heel height between 1 and 3 inches for women, and 1 and 2 inches for men, based on your comfort level and experience. Best salsa dance shoes will also have heavily cushioned insoles, to allow for the bouncing and footwork demands – not to mention tiring competitions where dancers may complete multiple routines in a night.
Dance shoes can be incredibly finicky items to buy, the movement of each different dance style being as varied and specific as it is. Salsa demands shoes that you can spin in, with smooth soles and comfortable, snug fits, and it demands shoes that will allow for extended step work, with good support and lots of insole padding. No matter what you do, remember that dance wear needs to be as strongly considered as athletic shoes and treated with the same consternation when you decide to buy.
Frequently Asked Questions
q:

What should the heel height of my salsa shoes be?

a:

There really isn't a set height for your salsa shoes. You should go with what you are most comfortable in. There are advantages and disadvantages to wearing either low or high heeled dance shoes. Commonly for Salsa and other Latin dance shoes have a one to three-inch heel.

When you look at the shoes you wear frequently, do they have a heel? Finding a no to be your answer may lead you in the direction of a smaller heel when starting dance and this would be a smart decision. Wearing a heel that is too high for your comfort level can lead to twisted ankles, sore arches, and general pain in your feet, ankles, and calves. Starting low is fine and you can work up to higher heels as your skill level progresses. Taller heels make your legs look great and help draw attention to pointed toes, kicks, and flicks, just are careful because unsteadiness in your heels can have you sitting out for quite some time.

On the other hand, if heels are part of your everyday footwear, you may be fine to start dancing in three-inch heels. Wearing high heels is not only a matter of balance but also being used to how your body moves in your shoes. Adjusting can take time if you're expert wear whatever heel looks best with your outfit but also keeps you comfortable and supported.
q:

What is the difference between Ballroom and Latin dance shoes?

a:

For women, a Latin dance shoe will typically have an open toe and they are strappy. The heel height is usually between one and three inches, with two and a half inches being the standard for Latin shoes. The heel of a Latin dance shoe is not as sturdy as a ballroom shoe's heel because most of the steps are performed on the ball of the foot. Latin shoes can be worn for ballroom but not the other way around. Ballroom shoes are typically closed-toed and offer a sturdy heel. Often, they do not have straps. Due to the increased stability, Ballroom shoes are not nearly as flexible and do not transition well into Latin dances.

For men, a Latin shoe usually has a one and a half-inch to two-inch heel. They are made for walking forward on the ball of the foot rather than the heel. They also offer a very flexible sole, making it easy to flex and bend the foot. The lack of shank allows you to point your toes with ease. For the ballroom, the heel height is typically one inch. They are also usually black with a matte finish. They are not as easy to point as a Latin shoe. These shoes are built for walking in a heel to toe motion. Beginners can wear standard ballroom shoes for most types of dance, however, as you move up in ability you will want standard and Latin shoes for competitions.
q:

How do I clean the suede sole of my salsa shoes?

a:

This is a great question. Over time, as you wear your suede-soled dance shoes, the Knapp will flatten and matt together. This decreases grip and can cause accidents or falls because of the slickness of the bottom of the shoe. There are a couple of ways to clean the bottom of your salsa shoes to ensure you stay on your feet and you are able to continue wearing your favorite dance shoes.

You can clean the soles of your suede salsa shoes with a brush and vitamin E oil. Lightly brush the soles of your shoes, this will help remove wax and debris from the dance floor. Next, you will want to rub one to two drops of vitamin E oil into the bottom of one shoe by rubbing the bottom of the other against it. Do this until the oil is distributed across the entire bottom of your shoe.

Another way to clean your suede soles, if you find yourself on the dance floor with little or no traction, is to lay a damp paper towel off to the side of the dance floor. The moisture when you touch your soles to it will help you stick to the floor better, for a short period of time. This will get you through an evening but you will want to brush and oil your soles when you get done for the evening.

Finding you don't have time to keep your shoes clean or you simply don't want to, we have a solution for you, too. You can take your favorite salsa shoes, drop them off at a professional cleaner, and pick them up on your way to practice. This can save a lot of time and effort for those who find they are always on the go. It will cost more than cleaning them yourself but you are sure to have well cleaned ready for dancing salsa shoes.
q:

So many strapping options, which is best?

a:

This is a very individualized answer based on your particular feet. Rather than try to answer which is the best, let's look at the strapping styles and the benefits of each. You can then take a few minutes and think about your feet and past problems you may have encountered to decide which style will be the best.

Fixed Loop – A single circle around the ankle is a common look in women's dress shoes. It helps to keep the shoe from flying off your foot during kicks or flips but does not provide much support. It also does not do as well as others at locking the heel into place.

X Ankle Strap – This strap wraps around the ankle and forms an X across the front. It provides a more locked-in feel while keeping your shoe firmly on your foot. These may be seen with or without a loop.

X Arch Strap – Wrapping around the ankle and crossing and then around the arch and crossing, the X Arch Strap is great for beginning dancers. The extra support to the arch of your foot helps to keep your feet feeling great when you aren't used to such a flexible, unstructured shoe. Important to note, this type of strapping gives you the ultimate security, keeping your shoe firmly attached to your foot.

T Strap – Less stress and pressure on the ankle is part of why people love to wear a T Strap dance shoe. The connection is at the base of the shoe which helps to distribute pressure evenly. Many find this the most comfortable closure.

There are many other varieties in straps, we have found these to be the most common and comfortable. Try different options to find what feels best and can keep you dancing for days to come.
Subscribe to our Newsletter