Best Winter Running Gear Reviewed
In a
Hurry? Editors choice: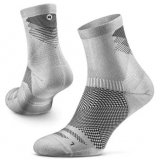 Test Winner: Rockay Razer Trail

Just because the temperatures drop and the days turn dark and gloomy doesn't mean that you should give up on your regular runs. In order to keep your fitness levels up and be ready for your next race, you can't simply stop running during the entire winter.

This is why we felt it was important to put together a guide for the best winter running gear. Layering is key, as you want to avoid the cold, but you also don't want to overheat and start sweating on the run. Scroll on down and find out what the essential elements of cold weather running gear are and how you can better equip yourself today.
Standout Picks
Criteria Used for Evaluation
Insulation
Insulation is what keeps you warm during a winter run.
The most important aspect of best winter running gear is that it should be insulating. This means that it should provide warmth and not let heat escape as you exercise, preventing you from getting cold.
There are a couple of important aspects to consider here.
Firstly, when you're running in cold weather, it is important that you don't overheat. Many go overboard with their clothing, bundling up and sweating profusely, risking a heat stroke and dehydration. Not to mention that this sweat, once it cools down, may cause you to feel even colder than you were at the start of the run.
This is why we talked so much about layering. Having multiple thinner layers allows you to adjust the level of warmth for yourself. If you feel like you're overheating, you can easily take off your jacket or gloves or perhaps headband and simply continue on with your run feeling much more comfortable.
All of that being said, it is obvious why there are no thickly padded garments in our list and no bulky scarves or fuzzy socks. All of the items we talked about will provide just enough warmth when layered correctly and there is no need for you to go for extreme, fur-lined designs.
Start with a base layer of a long-sleeved shirt and a pair of tights and go from there, depending on the temperature and the weather conditions you'll be running in.
Weather Resistance
Your gear should also be resistant to rain, snow, and wind.
The cold is not the only thing you will be fighting against during the winter. While keeping warm is essential in staying healthy when exercising outdoors, other aspects include being protected from the rain, snow, and winds that are standard conditions in most regions.
An item is weather-resistant if it doesn't let moisture (rain or snow) pass through to your skin, and it doesn't get wet or even damp. It is also a good feature that it is resistant to wind, meaning that your body doesn't feel the harsh turbulence of air as you run.
There is no other way to assess the item's resistance to these weather conditions other than looking out for the words 'waterproof' or 'water-resistant' or 'windproof' on the labels. Different materials have different characteristics and behave differently in these conditions, and the only sure-fire way of knowing that what you're looking at is weather resistant is to have it marked as such.
In terms of weather resistance, moisture-wicking is an important characteristic. This is the ability of a material to transfer moisture away from the surface of your skin to the outer layers of the fabric, where it can evaporate and thus keep both you and your clothes dry.
Moisture-wicking is also a good thing to have when it's raining outside, as this feature will prevent the rain from coming in contact with your skin or base layers.
Of course, you shouldn't neglect the importance of a good hood over your head, either. Keep your hair and head dry by wearing a jacket with a hood that you can slip on or off at your convenience. Look for hoods that have elastic bands or drawstring closures, as these will prevent it from flying off your head as you run.
Take a moment to assess the weather conditions you're most frequently running in, and choose the type of resistance of your gear accordingly.
Comfort
Comfort is essential when you're going on a run, regardless of what time of the year it is.
Insulation and weather resistance is specific to winter running gear, but comfort is a general aspect that all running gear should have. You can be warm and dry, light on your feet and energized, but nothing will bring you down faster than a seam that causes chafing or a headband or a pair of socks that you constantly need to adjust.
Comfort is one of the most important features when it comes to running, and here we will take a closer look at what makes every item more comfortable.
Clothing should be made from soft materials. They shouldn't feel itchy or cause any irritations on your skin. Similarly, it is a good idea to look for flat seams, invisible seams, seamless constructions, etc, as these will make sure that you don't experience any chafing or blisters.
In the same vein, clothing should also fit you properly. It shouldn't be too snug, as this might increase friction, and it also shouldn't be too loose since loose garments slow you down and strain your muscles. A form-fitting design is a good choice when it comes to this type of exercise.
Footwear has a couple of more things to amp up its comfort levels. These include cushioning for shock absorption, arch support for staving off foot fatigue, and comfy, flexible uppers, such as those made from woven materials or genuine leather.
Since footwear may cause blisters, it is important that you try it on before you embark on your first run in your new shoes. If there is anything that feels even slightly off, try breaking them in first. If you still feel the same discomfort even after a few days or a week of breaking them in, it is likely that this discomfort will persist and perhaps even get worse during your run.
Finally, we have the accessories, such as gloves, headbands, traction devices. These should also fit you well, but even more than that - you should feel relaxed in them. Your fingers should move freely with the gloves on and your hat or headband should not, by any means, squeeze your head too tight (or slip down so that you constantly have to pull it up).
The best way to make sure that you will be 100% comfortable during your run is to put on your gear and try it for a bit. If you feel any kind of unpleasantness, it is best to change that particular item, as you don't want to run the risk of not completing your run, or worse, injuring yourself along the way.
Weight
Aim for easy, lightweight equipment.
Running with weights, either on purpose or by wearing inappropriate gear, is a difficult task. Your muscles work harder, you spend more energy and you are bound to run slower and cover a shorter distance than you would without the added weight.
While on some days running with a weighted backpack, for example, is a good workout, on most runs you just want to be as light as possible, so that you can work on your speed and mileage.
When it's winter time, the need to bundle up is natural. We want to be as warm as possible, and thus we put on as much clothing as possible. But this is not sustainable in the long run (pun intended) when it comes to exercising outdoors.
Again, we return to the concept of layering. In order to wear many layers - the base layer complete with a layer on top and accessories - each piece you choose must be light in weight. This will allow you to be warm and comfy but not dragged down by the winter running gear you piled on.
When you receive your garment or footwear or accessory, definitely try it on and judge its weight compared to what you're comfortable with carrying. If it seems like it'll be too much, perhaps it's best to return it, because you want to increase your performance, not hold it back with unnecessary weight.
We have ranked the items on our list according to their weight. The lightest ones are the top, while those which are somewhat heavier can be found at the bottom. Choose the ones that you feel are best suitable for your style of running!
Durability
Learn what makes these items durable so you can choose the most long-lasting one for yourself.
Lastly, it would be nice to know that you're buying winter running gear that will last you a while. Perhaps even a couple of seasons.
However, running is a high-impact sport so you can't exactly expect miracles from your gear. But you can expect to get your money's worth, and the same is true for the clothing and accessories you wear in the wintertime as well.
Clothing items in our guide are made mostly made out of polyester or polyamide, which are synthetic materials. These are incredibly durable and won't lose their shape or color no matter how many times you wash them.
Less durable are natural materials, such as wool and cotton, and this is why garments with a certain percentage of wool in them, for example, may not last as long as other options. (But wool is a high-quality material, and you shouldn't shy away from it if you have an opportunity to buy it.)
Footwear takes the most beating during a run. Leather, synthetic and genuine, is more durable than woven materials like mesh or knits. However, chances are that sooner or later your running shoes will fall apart, no matter what they are made from. This is especially true since you wear them all-year-round, not only in winter. There is simply no way around that.
Accessories such as headbands or hats or gloves are mostly long-lasting, in the sense that they can be useful even through several seasons. The main reason for this is that they are worn less frequently (limited only to the coldest of days).
If you want to make sure that you're choosing the most durable gear, sort the items in our list according to this criterion and see what comes out at the top! Good luck!
10 Best Cold Weather Running Gear Reviews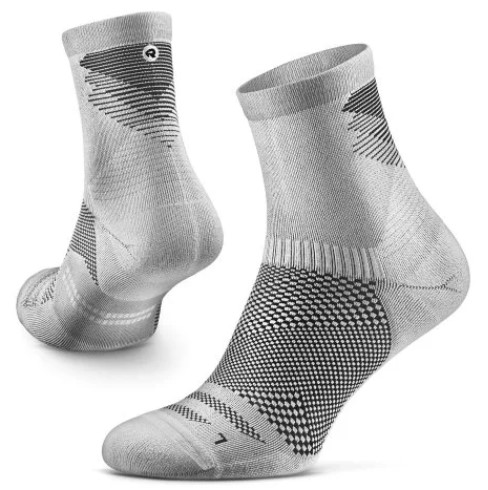 Let's start with socks. The Rockay Razer Trail is a crew-height pair of socks that will keep you warm and cozy and yet won't compromise your mobility. They are made from completely recycled materials, which means they are not only comfortable and cushioned and supportive, but they are also friendly for the environment. The Razer is perfect for trails and challenging terrain in less than favorable conditions.
This sock is made from Econyl which is regenerated nylon for durability, recycled environmental polyamide for colorfastness, and recycled user-friendly elastane for stretch and a fit that forms to the shape of your foot. On top of that, the Razer Trail has mesh zones that provide breathability but don't let warmth escape as you run.
In terms of comfort, the Razer Trail comes with performance cushioning that will absorb shock, as well as arch support that will stave off foot fatigue. It has an ergonomic left and right foot fit for maximum comfort, and there is also a seamless toe so that you don't experience any chafing or blisters.
The Razer Trail from Rockay is an ultimate winter-weather sock. It is made from 'green' materials that offer you a smooth, carefree feeling and that will keep you both warm and odor-free as you pound the trail. If you're after something simple but still cold-friendly, then you can't go wrong with the Razer Trail.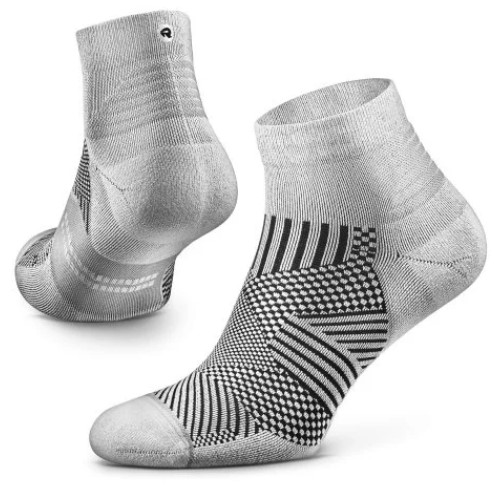 Continuing the theme of eco-friendly, performance-oriented socks, the Rockay Flare is a quarter design that is great to match with any pair of running pants or tights or even compression sleeves (see below) that you have in your arsenal. They have much the same features as the Razer Trail, except that they focus on balance and the freedom of movement thanks to their practical quarter height.
The Flare is also made from Econyl regenerated nylon, recycled polyamide, and recycled elastane, with an emphasis on keeping our planet as clean as possible. A seamless toe makes sure that you don't experience any unpleasant rubbing or abrasions, while ample cushioning keeps you warm and provides comfort.
Arch support in the Flare is strong, keeping your feet energized and ready for that extra mile. As is the case with the Razer Trail, the Flare also comes with mesh zones that allow the air to freely pass in and out of the design for a dry ride that isn't too hot or too cold. There is a reflective logo in the back which improves visibility in low-light situations.
The Rockay Flare is an easy choice to make. It feels like a simple design, easy to pull on and easy to forget about, and yet your performance will greatly improve thanks to its many innovative features. Once cold days roll around, you will appreciate the flexible comfort of the Flare.

3

. Rockay Blaze Compression Sleeve
Combining your short(er) socks with a pair of leg sleeves is a smart way to add another layer of warmth to your winter running gear. And if you're going to be wearing sleeves, why not make them compression sleeves at the same time? The Rockay Blaze will keep you warm but it will also improve blood circulation through your muscles and ease their recovery after a workout. Compression will help you run faster for longer, and you will be amazed at its results.
This compression is of the graduated type (meaning that it is the tightest around the ankle, and then it slowly eases up the further up the leg you go) and its pressure is 16 - 23 mm Hg. This will improve oxygen flow through your leg, and it will reduce pain and inflammation that you may experience post-run. Compression is a great way to help your legs train harder.
The Blaze is made from synthetic materials and is built using a seamless construction so that you don't feel any chafing. It has mesh zones for breathability and is equipped with Polygiene, which is an anti-odor technology. This tech helps you feel fresh all throughout the run.
The Rockay Blaze is a supportive element that you won't have any problems incorporating into your regular workouts. The beauty of it is that you can combine it with shorts for warm-weather runs, but also wear it underneath your tights or pants when cold weather sets in. Try its wonderful compression effects and your legs will be grateful for it.
4

. Under Armour ColdGear Run
Another base layer that you pull on whenever the temperature drops, the ColdGear Run tights from Under Armour are perfect to wear under a pair of running shorts or even pants. They are incredibly lightweight - 'the weight of a T-shirt', as the band declares - moisture-wicking and providing warmth when you need it. For cold runs or any other type of exercising in the cold, the ColdGear Run is a must-have piece.
These tights are made from polyester and elastane, and they come with a certain level of compression. Your muscles will feel locked-in and it will fit you like a second skin for a faster, more agile performance. The ColdGear Run is made from two layers - the outer one is smooth and quick to dry, while the inner layer is soft to the touch and insulating.
These wick sweat away for a dry ride, and they also have anti-odor technology which inhibits the development of odor-causing microbes. You will be able to freely move in any direction thanks to the 4-way stretch construction. On top of it all, there is also a pocket for your phone with a zipper on the side.
The Under Armour ColdGear Run will quickly become your winter favorite. These tights are stretchy and amazingly easy to move around in while being comfortable and warm at the same time. You can wear them by themselves or you can combine them with additional layers for an even warmer look!
5

. Smartwool Merino 150 Base Layer
As we mentioned before, the key to best winter running gear is layering. Start off with a base layer, one that can include the Merino 150 Base Layer from Smartwool, from example, and layer on additional garments if you feel like they're necessary. The Merino 150 is a long-sleeve top that has temperature-regulating properties and flatlock seams and is designed to meet all of your cold-weather running needs.
The Merino 150 Base Layer is made on a nylon core which provides durability and wears and tear resistance. On top of this nylon core is a Merino fabric that wicks moisture away so you don't feel damp or sweaty and that regulates temperature so you can easily wear it during winter but also during slightly colder summer days.
There are no shoulder seams to rub you the wrong way, and all the other seams are flat and barely visible. The Merino 150 is super light and super easy to combine with a jacket for a cold-proof outfit that you can remove layers from in case you start getting overheated.
The Merino 150 Base Layer has a slim fit so it doesn't slow you down during the run. You can use it for spring skiing, summer camping, for winter running, and you will be odor-free and amazingly comfortable during all of these. Start putting together your layered running outfit, and start with the Smartwool Merino 150 now.
6

. Gore Wear Windstopper Headband
One of the most important things when it comes to any type of physical activity in the cold is to protect your head. You can choose whether you'd prefer a hat or a headband, but here we have the Windstopper Headband from Gore Wear which is outfitted with all the latest technologies to aid your run. It is windproof, water-resistant, and yet incredibly breathable at the same time. Keep your ears warm and your head safe from aches thanks to this colorful headband!
The Windstopper comes in three color options: black, yellow and red so that you can easily match it with your outfit. It is elastic and windproof in the front, meaning you won't suffer from cold-induced headaches after your workout, nor will it squeeze your head too tight. The inside of the headband is lined with moisture-wicking fabric to keep your head dry.
The Windstopper features GORE WINDSTOPPER technology which ensures a healthy microclimate on the surface of your skin. At the same time, this headband also has reflective features, meaning that it keeps you safe when you're running in poor visibility.
If you're not entirely comfortable wearing a hat, or if you have a high ponytail that won't be comfortable with one, a headband is a perfect alternative! The Windstopper from Gore Wear is the ultimate protection from wind and cold that you need when you step onto the track during cold months.
7

. Salomon RS Softshell Jacket
A garment that will serve as the outer layer to your winter running gear, the Salomon RS Softshell Jacket is all about lightweight heat-retention. It is an active layer that has windproof features in the front but allows for breathability in the back so that you don't overheat. The Softshell's two pockets are handy for small things you need to bring with you, and there are reflective accents to increase your safety if you're going for a night run.
The RS Softshell is made from synthetic materials. In the front, there are three layers of fabric to protect you from the wind and light rain, while in the back there is a stretch of jersey fabric that allows air to flow through and reduce your sweating. Integrated motion points in the back help amp up your mobility.
No matter what your style of running is or how much of a distance you want to cover, the RS Softshell will ensure your utmost comfort. It is built to support your every motion and to be nearly-undetectable during exercise, which will help you focus on your run and not on the clothes you're wearing.
The Salomon RS Softshell Jacket is a great option to complete your winter gear. It is lightweight and breathable, yet protective against wind and rain and cold at the same time. You can even try it on for skiing and other cold-weather sports, so it is incredibly versatile as well! There is hardly a thing that Salomon RS Softshell can't do.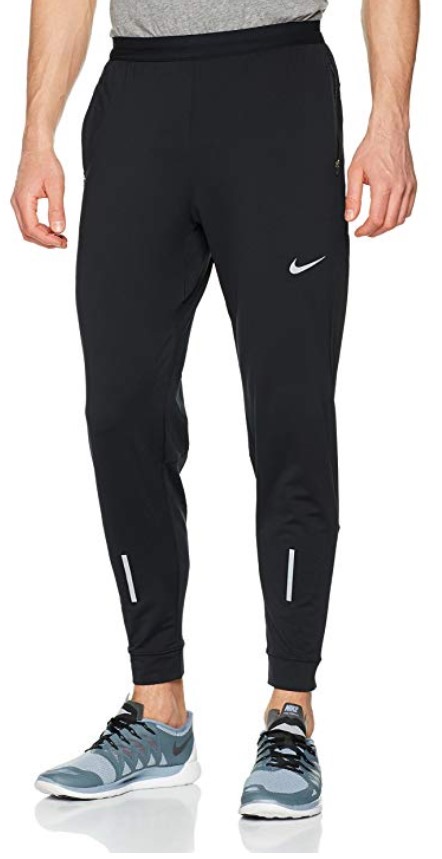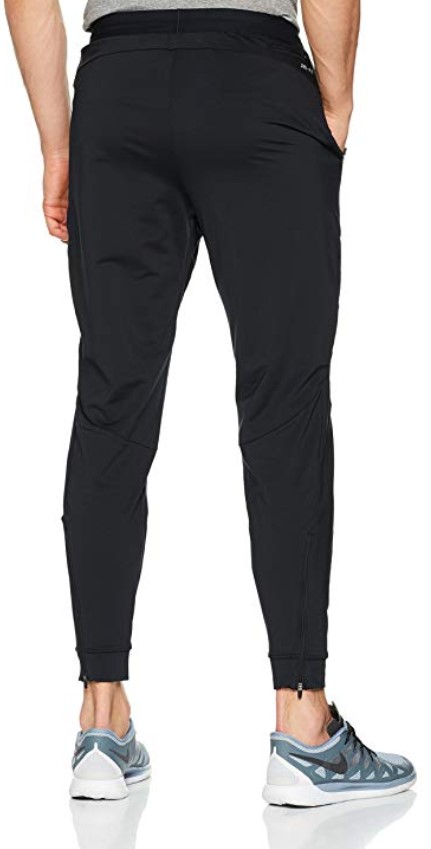 The Nike Phenom running pants is an ideal choice for the entire year because they can be layered over shorts and/or tights, or they can be simply worn on their own. They are built to be comfortable and soft on your skin, and their tapered silhouette is perfect for pretty much any type of activity. The Dri-FIT Technology included in their material and their ankle zips only enhance their performance and serve to improve your running experience.
The Phenom is made from a combination of polyester and elastane, which makes it durable and stretchy enough that you can move without restrictions. The Dri-FIT is a moisture-wicking technology that pulls sweat away from your skin and towards the outer layers of the fabric where it can evaporate.
Thanks to the zippers at the ankles, you can take off the Phenom without taking off your footwear beforehand. And if you leave them unzipped, a mesh layer underneath will keep you cool and breezy. These pants are loose in the thigh so that you don't feel squeezed, but their tapered cuff makes sure they don't flap during the run.
The Nike Phenom is a great choice both for running and for everyday wear. Its moisture-wicking technology keeps you dry and comfy, while its loose yet fitted design helps you move any way you want to. The ankle zippers are a great convenience, and the Phenom will seamlessly find its place in your running wardrobe.

9

. The North Face Etip Glove
In extreme cold, you can't forget about your hands. Gloves are a great feature to keep your fingers from freezing, and with the Etip from The North Face, you will get much more than just a standard model. These are touch-screen compatible, meaning you don't have to take them off to set up your music or answer a message, and they have a special gripper palm that won't allow you to drop what you're holding and risk damaging it.
The Etip is made from a type of fleece that stretches in four directions. This allows you to move your fingers and hands however you want without feeling restricted. Radiametric Articulation is a technology which makes sure that your hands are in a natural relaxed position as you run, and that they are not overstraining in any way.
In terms of convenience, the Etip is equipped with the Etip system that means you can work on your phone - and any other touchscreen device - without the need to take the gloves off. When it comes to fit, the 5-Dimensional Fit system ensures consistent sizing and a comfortable feel.
Speaking of gloves, there is no better option than the Etip from The North Face. Regardless of how low the temperatures get, with these, you can be sure that your fingers will be toasty and that you will be able to use them as much as you would if you weren't wearing winter running gloves. The touch-screen compatibility is really what separates these from the rest of the pack and makes us want to get them right now, immediately.
Sometimes you're not just running on even ground and neat roads; sometimes you will take on a trail powdered with snow, terrain that is tricky and challenging and that may require more traction and grip than your running sneakers can provide. The MICROspikes from Kahtoola are a special traction device that you fasten on your shoes to increase their traction and make your way down a trail that much easier. Take a look at what this award-winning design has to offer.
The MICROspikes consist of 12 spikes made from stainless steel that have no problems digging into packed snow or even ice. You can slide them onto your shoes thanks to a TPE elastomer band which doesn't lose its elasticity even when the temperatures drop to -30 F.
This band has TPU eyelets that reinforce connection points and prevent tearing in this area, and the band as a whole is light and strong. A TPU toe bail stops the front of the shoe from going beyond the elastomer harness. MICROspikes are convenient as well since you can easily carry them in a tote sack that is included with their purchase.
This is definitely not a product that you will be using all the time. If you live in a place that has mild winters and not a lot of snow - or if you prefer taking on a track or a road - then you may not have any use of it at all. However, if snow-covered trails are your jam, invest in extra traction for a safe outdoor experience!
Subscribe to our Newsletter