Best Track Pants Reviewed
In a Hurry? Editors choice: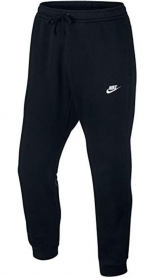 Test Winner: Nike Jogger Sweatpants

Track pants have been around for a long time. They were first invented for track athletes but have evolved into exceptional casual wear. There are a few things to consider before you decide on the type of pants that suits your needs. You can check the material used to make the pants and the comfort level it offers.

What you want to use these slacks for and durability are some of the things we are going to look at, giving you a clear understanding of how and when to use it. Different brands have come up to manufacture track pants. Hence, the different qualities found in today's market. We have made things easier for you by selecting the best out of the many brands to help in your decision-making. The first five slacks are men's and the rest are women's.
Standout Picks
Criteria Used for Evaluation
Materials
Fabrics are the soul of your clothes.
Choosing the right type of material is crucial because it may work to your disadvantage if not well considered. The kind of climate you want to use your sweatpants on will be a significant factor to consider. What and how you want to use it will also guide you to the right type of material.
Below are some of the materials used in manufacturing sweatpants;
Polyester is one of the commonly used materials in sweatpants. It is durable and can withstand extreme pressures without tearing during warm-ups or workout sessions. It doesn't shrink after washing; thus, your fit won't also be affected: it does not wrinkle too much. Additionally, it dries fast, and you won't have to work out or do your errands while it is damp.
Track pants made from polyester are affordable with excellent wicking abilities. Additionally, it is lightweight compared to cotton. Sadly, it does not have anti-bacterial qualities.
Cotton is widely used in making sportswear. What makes cotton the best material for sweatpants is its breathability. It keeps your body cool in workouts or hot weather, and the downside is it takes too long too dry. It is heavier than most of the other materials and a bit expensive.
Cotton is a natural fiber that wears down fast. You have to be careful and choose a cleaning method that won't cause it to shrink. People with allergies are recommended to use cotton sportswear. It doesn't cause allergic reactions when in contact with the skin.
Silk is also becoming a popular fabric in the track pant manufacturing business. It gives the finished product a shiny and stylish look making it perfect for casual wear. It is very lightweight and breathable. In most track pants, silk is fused with polyester to improve the quality of the trousers.
Professionals advise hand washing silk even if the label allows you to machine wash. It is a bit expensive, but you get value for your money. With time, it wears out, so it is better to have more than one pair.
Nylon is very breathable. It wicks sweat as you work out, exposing it to the surface to dry out. You can use it for all kinds of exercises, as it does not restrict movement. It can stretch without losing its shape or tearing.
Versatility is also one of its strongholds. It is excellent for casual wear and gym work too. Nylon is water-resistant and weather-resistant. In mild rain, it will keep you dry, and on evening workout sessions, it will protect you from the elements like the wind.
Nylon pants should be washed on their own, and not mixed with other fabrics. If your washing machine has a cold-water setting, then you can machine-wash the trousers. Dry it using the lowest possible temperature setting allowed on the washing machine.
Wool pants are perfect for regulating heat as you engage in your workout session or running errands. When it is synthesized with polyester, it provides excellent insulation for your body. It also has excellent breathability and absorption.
In some cases, wool is mixed with spandex to give it a fitted shape. It is easy to clean, and it is machine wash friendly. Consult on whether to wash with hot or cold water and how to dry. Some people find it scratchy and uncomfortable to the skin.
Spandex is a very flexible material. Athletes and women who do yoga choose these type of pants because it moves freely with your body. It is very durable, elastic and doesn't lose shape after extreme stretching. Another added advantage of spandex made pants is they are incredibly lightweight.
If you decide to go for spandex track pants, it is essential to read the instructions on how to clean it. Do not put them in bleach or expose them to extreme heat: hand-wash the trouser instead of using a washing machine.
As you can see, there are different types of materials to choose from. Before deciding on which brand to go for, make sure the pants will be compatible with your needs. Polyester remains the best option to choose because of its versatility.
It is to your advantage to have a pair of track pants made from polyester. While it is not waterproof, it dries quickly. It is also durable and acts as a flexible armor thanks to the technique used to thread the fibers together. Because it is wrinkle-resistant, it saves you time by not having to iron it every time you want to go out.
Fit
Your body shape must suit the outfits cut.
Finding the right fit goes hand in hand with the activity you want to use in your track pants. Buy in regards to your endeavors to enjoy your slacks. With these pants, there are two types of fitting, loose-fitting, and slim-fitting trousers.
Loose fit is preferably for athletes. The reason being they allow free and easy movement. With this fit, motion is not restricted, and it will enable your calf and legs to get warm. Additionally, the warmth allows your muscles to be flexible after you've gone through a warm-up session.
The downside of having a loose fit trouser is that they are not the best to exercise in. The chances of tripping or falling over increase with this type of pants. The best use of this type of fit is for comfort purposes only. As you lounge around the house or want to run simple errands in comfort, then a loose fit is definitely, what you need.
Slim fit track pants are mostly for people who want to be fast or go out on a casual look. This fit is perfect for exercises like cardio and outdoor runs or jogs. They are tighter around the legs and designed to taper against your legs. They stretch to handle the strides or squats you will be doing.
Importantly, they are drag resistant and give your body a streamlined feel. Be careful not to wear excessively tight pants. They may cut off your circulation, especially if you are wearing the wrong size. A slim fit look is perfect for pants that are for casual wear.
Choose the type of fit that works for you. Keep in mind how comfortable you want to be in the pants. You can consult and get assistance at the store before purchase if you are not sure. Remember to pick the right size.
Advanced Features
You're fashionable as long as you're comfortable.
Before picking a pair of pants off the shelf, you might want to check if there are features that can come in handy as you put them to use. Some of the features include zippers, pockets, ribbed cuffs, pockets with zippers, and an adjusting cord.
Zippers can be located at the bottom of the leg to make the pants easy to put on or remove. Some pants have pocket zippers to ensure your valuables are safely stored. , prevents items from falling off as you do your workout or errands.
Pockets are not always included in sweatpants. You may consider checking for pockets if you want to use your pair of pants for casual use. The pocket-size is also a factor to consider before you make your final decision. Back pockets can also come in handy if need be. Some yoga pants have pockets at the back of the waistline, small enough to hold business cards.
Adjusting cords give you a chance to fit your pants tightly. If the size you ordered feels loose, you can use the string to hold the pants firmly. You might consider choosing a pair that comes with an adjustment string just to be safe.
Durability
Sometimes, endurance is better than appearances.
High quality sweatpants will offer the best service in terms of longevity. While cheaper ones might work for a while, they may not last depending on how often you use them. Consider the type and brand you want to buy and compare them to others. The materials used in the pants found in this list are very durable.
As mentioned earlier, polyester material should be your first priority. Depending on how you intend to use slacks, make sure whichever brand you go for has been tried and tested. Whether it is for indoor or outdoor use, the best quality will last longer.
The trousers mentioned in this list can withstand pressure from exercises and warm-ups. They also consist of durable threaded fibers that will serve you for a long time. As always, it is important to follow instructions that come with the product.
Use
Find what works best for you.
These pants are designed to blend perfectly when used for casual wear purposes. They are stylish and well-fitting. If you want to use the pants for casual events, then the silky track pants are the best option.
Some people use these trousers for exercise purposes. They stretch and fit seamlessly giving you maximum comfort. Others want to use them for their breathability and wicking capabilities. Choose the type of pants that will help you to achieve your goals.
If you want to use your pair of pants for comfort in the house, then the loose fit will suit you perfectly. We have chosen the best track pants that will give you maximum comfort and durability. The best pair of pants you will need is the one that will cover your needs adequately.
Top 10 Picks
1

. Adidas Men's and womens Tiro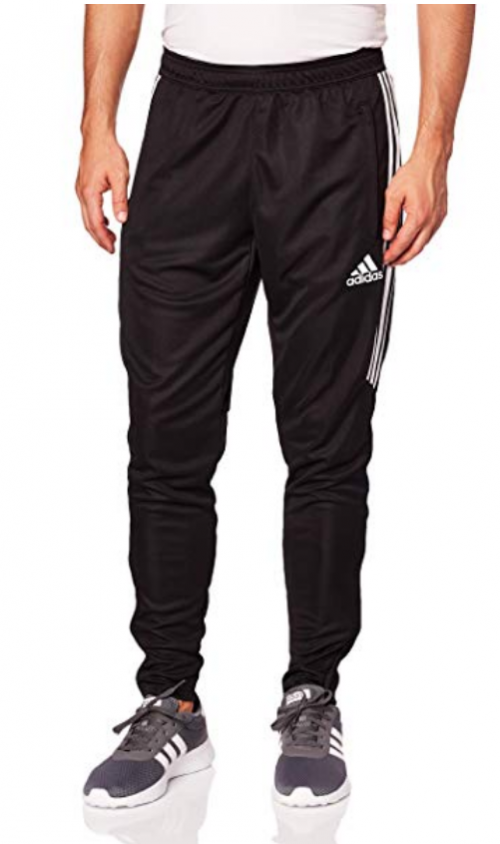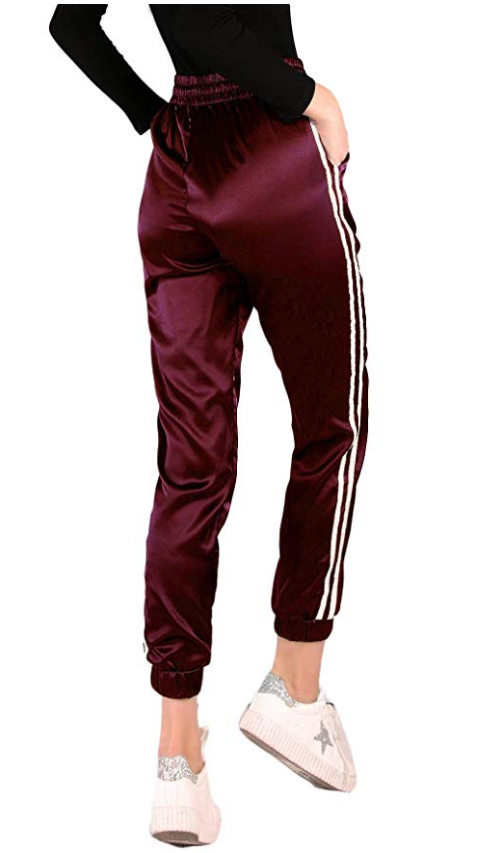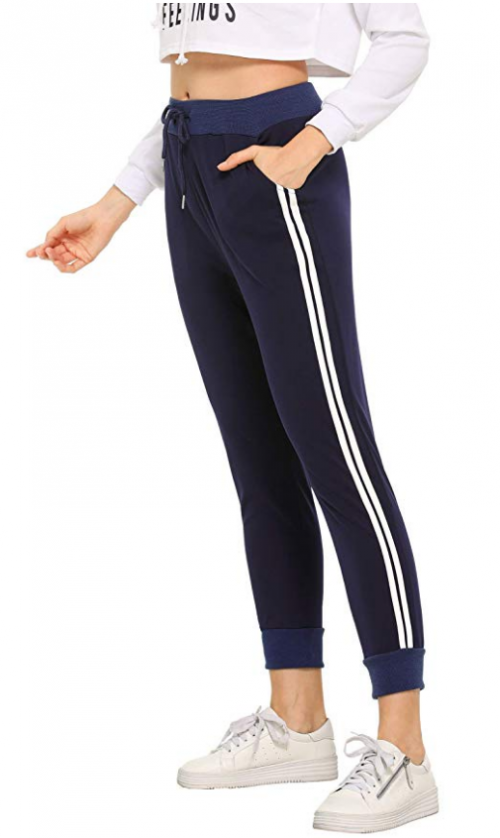 Adidas has really outdone themselves with this great product. It comes in different colors, giving you a wide range of options to choose from. The climacool technology used is impressive. You get to warm up without overheating with its superior breathability. Moreover, it`s zippered pockets ensure that your valuables don't get lost.
The elastic waist gives you a perfect fit from a size of 29 inches to 34-inch waist size. The tie string on the waist liner also enables you to adjust the size to your comfort. The bottom part of the legs have zippers to give you a tight fit around the calf. The zippers loosen to allow high top shoes to have a comfortable feel.
The material used in making these pants is polyester, which offers zero shrinkage after washing. Adidas have made the trousers very versatile and stylish. You can use them for running errands around town, playing sports and even light hikes. Another bonus is that they can work as sleep pants if you don't have pajamas. Additionally, they have ribbing on the lower legs, which also helps.
Adidas is a popular brand when it comes to sportswear. These pants are among the top sellers in their clothing section. They have made sure that the pants can withstand the various workout sessions. You can also do multiple household chores without them tearing.

2

. Under Armour Training Pants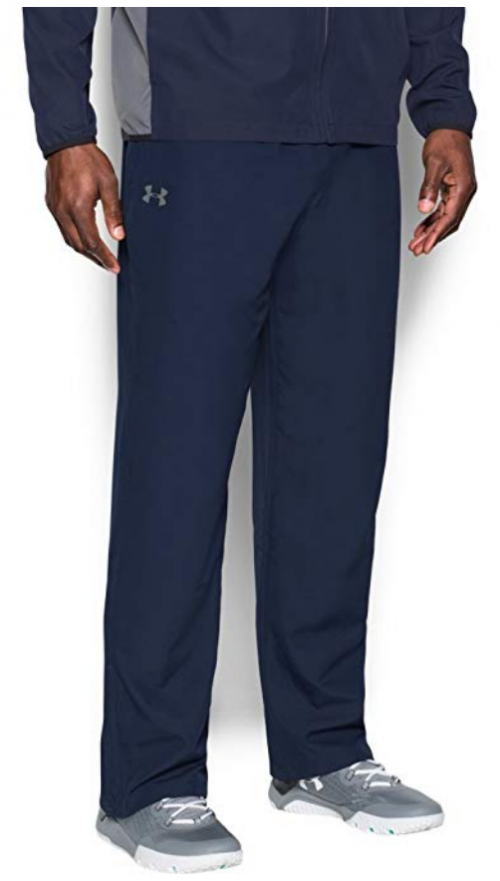 Under Armour has been making sportswear for a very long time. With this product, quality is guaranteed. These woven training pants offer comfort and durability. Additionally, they are wind resistant and suitable for evening workouts or chilly weather conditions.
The material used is lightweight hence less drag. You can use it without feeling weighed down or burdened. The pants are breathable, making it suitable for warm or even dry weather runs. You can machine-wash the pants without fear of them shrinking in size or stretching.
Polyester is the primary material used in manufacture. It gives the pants its durability and wicking abilities. In addition, they can work as a casual outfit as you get to run errands on weekends or when you are free. The waist is adjustable to suit different sizes with a drawcord in between for that perfect fit.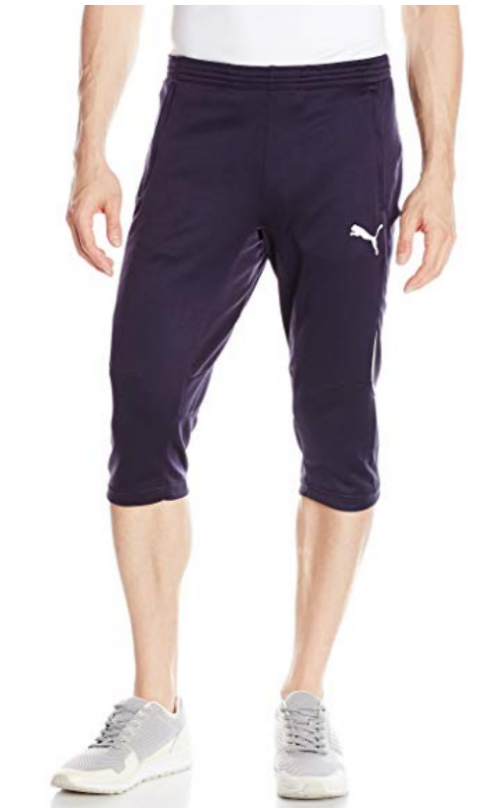 These Capri length puma trousers are made from polyester. They can stretch, with an elastic waistband and secure drawstring. The pockets are zippered to protect your stuff from falling off. Additionally, the pockets are adequately ventilated. With these pants, movement is not restricted. They are versatile and are suitable for various sporting activities.
These training pants are breathable, offering exceptional wicking abilities. Compared to most brands, they are thicker and affordable. It provides a perfect fit, making it versatile for almost every outdoor activity. You can hike, run, bike, rock climb even do warm-ups in these with no distractions whatsoever.
Puma has been around for such a long time with great products. Some of their products are shoes and durable clothing so you can trust that this product is of high quality. Additionally, these pants are machine washable, giving you an easy time cleaning them. They are shrink resistant, meaning they can stand the temperatures inside a washing machine without shrinking.
You get value for your money with these pants. They are very versatile and will last for a long time, but it won't hurt having more than one pair. They are available in different colors. You can have separate pairs for various activities,

4

. Nike Jogger Sweatpants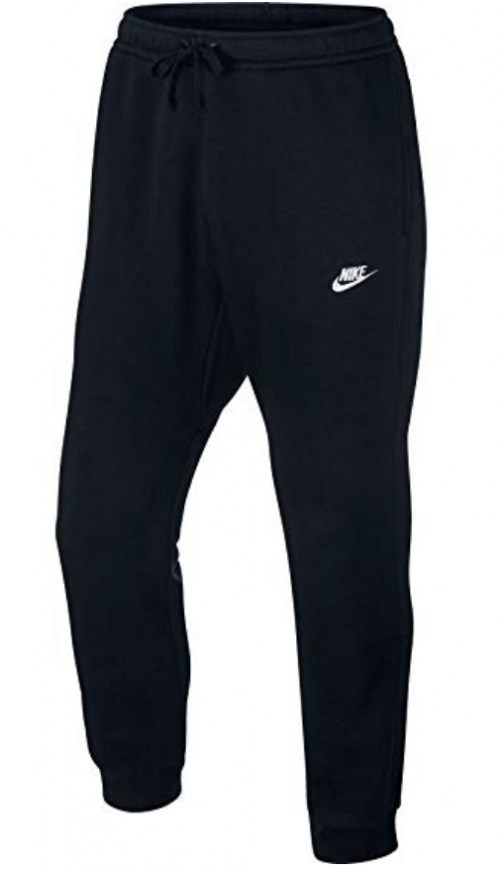 The materials used in these fine sweatpants are cotton and polyester. It has excellent wicking abilities and has a warm and soft feel against the skin. The sweatpants give you maximum comfort. It also features an elastic waist to cater for different sizes. The drawstring allows you to adjust the pants to your desired level of comfort.
It is suitable for chilly weather or even as a casual outfit. Additionally, Nike has made it stylish to suit different age groups. The ankle cuffs give it an exceptional finish with its unique design. Other great features include the side pockets and a back pocket that has a snap-lock button. Nike`s jogger sweatpants are machine wash friendly and not shrinkable.
The ankle cuffs allow your shoes to be seen, giving your outfit a complete look. You can even use the sweatpants for evening hikes. Additionally, the pants are wind-resistant thanks to its inner fabric, which is a mixture of cotton and polyester. The outer layer is pure cotton.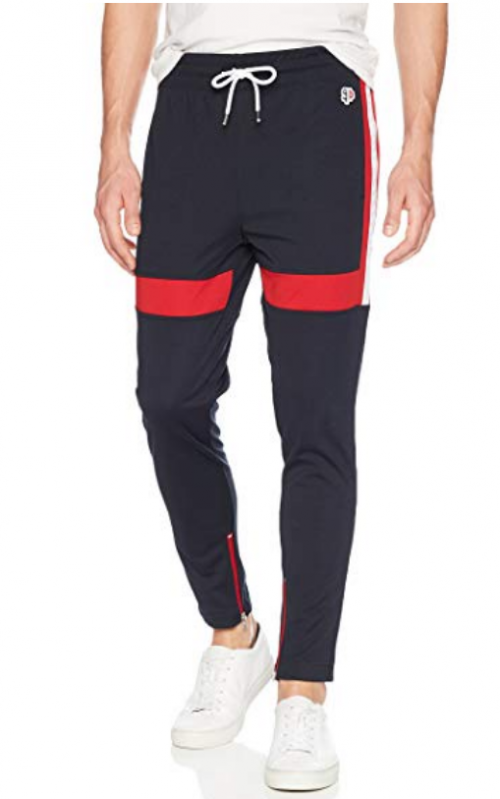 These are the perfect fit for people who love skinny trousers. Southpole have made them stylish with an open bottom to make it easier to wear or remove. They come in a variety of colors allowing you to order different pairs.
These trousers have an elastic waistband that fits nicely and a drawcord in the middle for a firm fit. The pants are easy to clean and can be machine-washed. The contrasting side color panel gives a chance to match it with fashionable sneakers or a nice jacket. Don't use bleach when cleaning; it will ruin the color.
For people with thick thighs, it is advisable to order a size or two higher than your standard size. It could be too tight and uncomfortable around the thigh and crotch area. Depending on what you want to use it for, these are the perfect lounging and outdoor pants.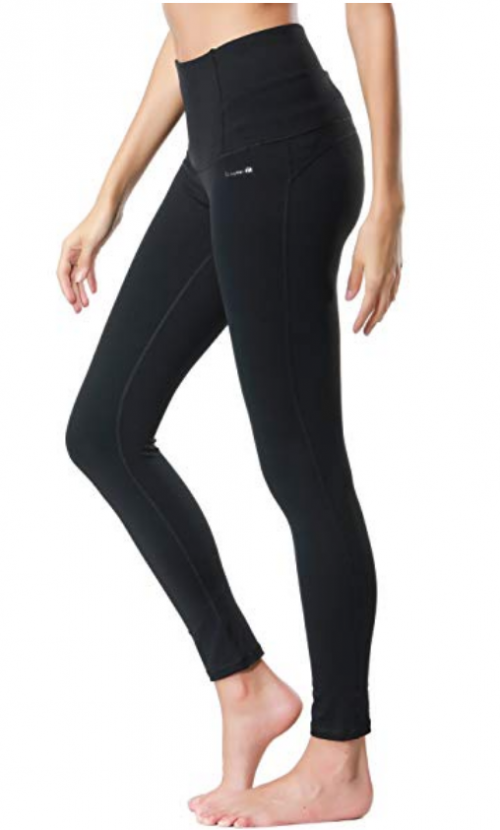 The dragon fit high waist yoga pants are made from a four-way stretch fabric. It has excellent absorption during work out, keeping you dry and comfortable. The technology used in these pants compresses, shapes, and lifts the body. It thus enables the wearer to perform excellently.
With these yoga pants, your muscles are kept warm as it contours with your body streamlining it. The stylish look comes from contrasting thread colors giving it a unique appearance. They are multi-purpose; use it in the yoga studio or for doing errands like shopping. Additionally, they are not see-through. Despite being light, the material keeps you covered up.
There are simple factors to consider before washing them. Do not use bleach and always machine wash cold. Do not iron the yoga pants, and wash them with same color clothing. In addition, tumble dry at low temperatures and don't dry clean.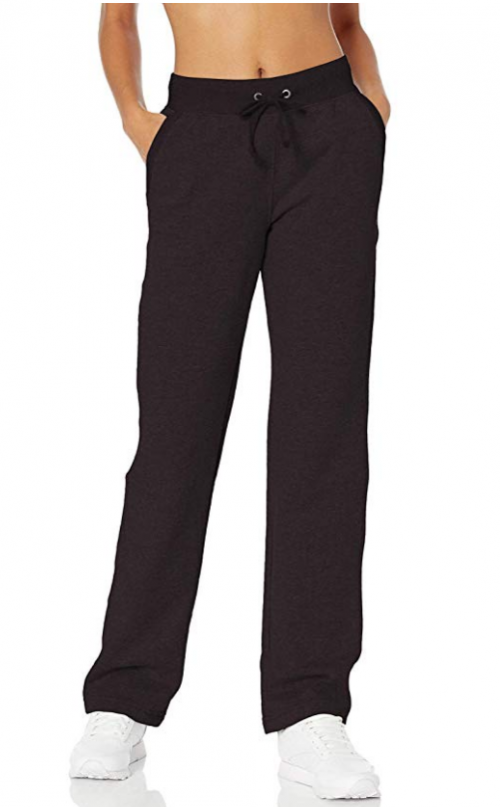 The champion women's fleece open bottom sweatpants are perfect for women who want to lounge in the house. Open bottom sweatpants have been difficult to get, with the advent of jogger fit sweatpants. This product allows women to be comfortable in it without it being tight around the ankles.
The pants are a relaxed fit, not too baggy or too tight, and not fitted either. The length is long enough as it covers most women. In most cases, it ends up being a perfect fit. Additionally, it has a straight leg design for that feminine look.
These fleece pants are made from a mixture of polyester and cotton. They are very warm and suitable for cold weathers. In a scorching climate, it offers high absorption keeping you dry and comfortable as you work out.
The side pockets and waistband are ribbed. An adjustable cord is included for the desired fit. It also doesn't shrink after washing, and it is machine wash friendly. They are easy to clean: not much is required in the process.
The Champion sportswear manufacturers have been around for a long time. They only used to make clothing for basketball athletes. However, with time, they ventured into other sporting activities. This pair of trousers come in a variety of colors and is perfect for indoor and outdoor activities. In addition, it comes in a wide range of sizes.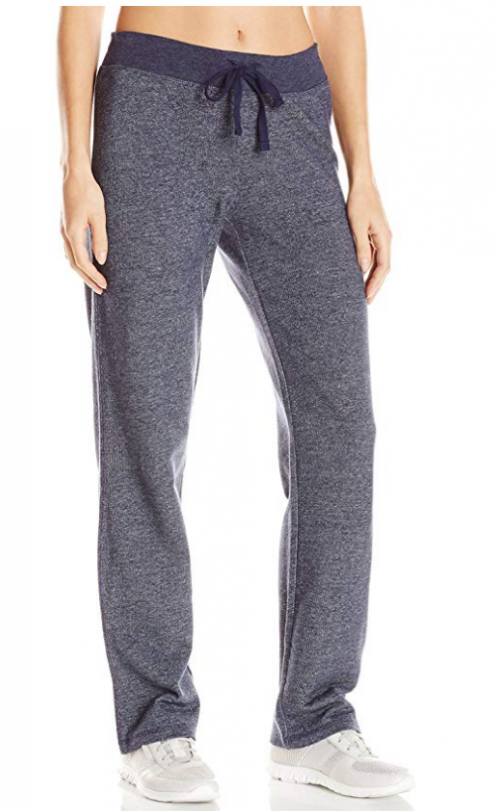 The Hanes women`s French Terry pants are thin compared to other sweatpants found in the market. They are comfortable and lose fitting but not suitable for cold or chilly climates. An adjustable drawcord is fitted to the wide ribbed waistband. The cord prevents the pants from falling off.
These pants are made from a mixture of polyester, terry, and cotton fabric. It has a straight leg design with a soft-brushed inner side. The manufacturers did not include pockets in this design. Nevertheless, it can be machine washed with little or no shrinkage on the size.
Because they are too thin, they are not a good substitute for sweatpants. You can choose to wear them as an underlining for extra warmth with different pants. They have an extraordinary length, suitable for tall people. It should be taken into account that though they are thin, the material is not see-through.
What makes these pants unique is the fabric used in manufacturing them. The terry cloth is soft and almost all cotton. It has excellent breathability, making it suitable for exercise clothing. As your body cools down, the heat retained in the fabric is reflected back to your body, which comes in handy in cold climates.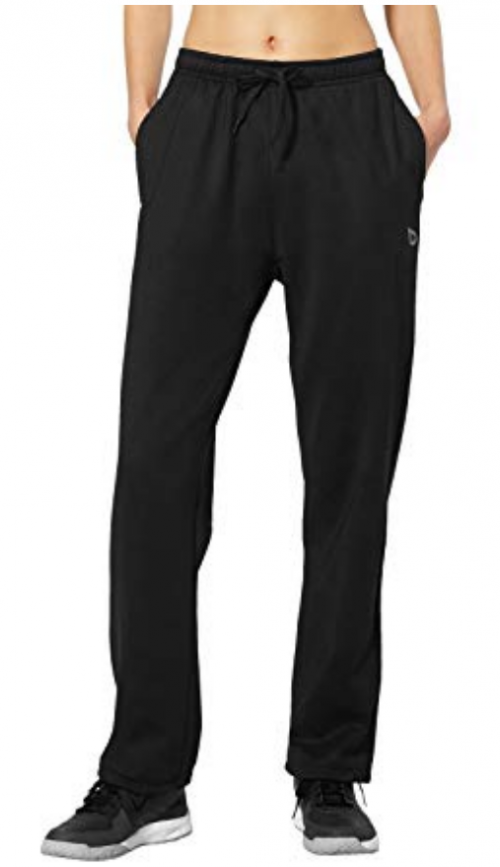 The Baleaf Women's Running Thermal Fleece sweatpants are the perfect pants for an active woman. You can go for a run or jog in them. Additionally, you can do warm-ups or go hiking in them. You can also do simple activities like walking the dog or running errands in them.
These pants are durable and stretchy because they are made from a combination of polyester and spandex. They have a fleece lining, making them suitable for cold climates. You can use them for evening activities too. Additionally, they are wind resistant.
In warm or hot climates, these pants have exceptional wicking abilities. They keep you dry and at the same time comfortable. The waist is elastic with a drawcord for a tight fit. The pants have reflective material to make you visible in the dark or low light.
The pockets have a zipper to safe-keep your valuables. They are also deep enough and can hold valuable stuff like keys or a five-inch phone. The bottom hem is lockable and elasticized for easy adjustment.
This product is affordable compared to most of the track pants in the market. You get a quality product at an affordable price. It allows you to concentrate on your workout without distractions caused by being uncomfortable.

10

. Sweatyrocks Sweatpants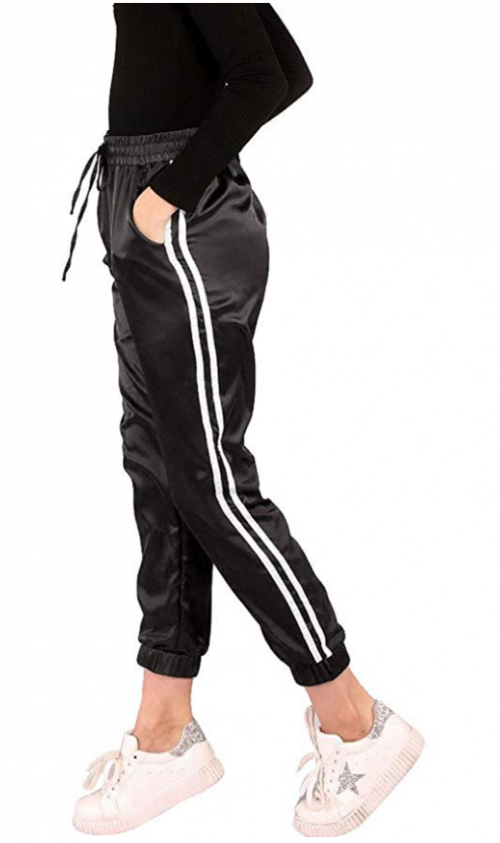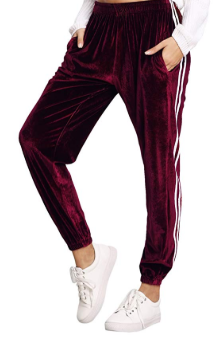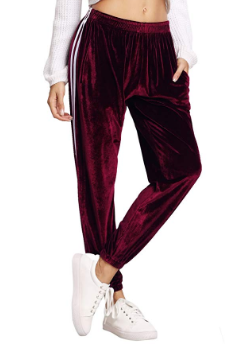 The Sweatyrocks Women's Side Striped Jogger Sweatpants is perfect for outdoor activities because they are lightweight and dry quickly. They are much thinner than regular sweatpants and stretchier too. You can enjoy warm or hot climate activities while wearing these pants. During cold weathers, leggings can be used as an inner layer for warmth.
The materials used are polyester, silk, and quick-drying fabrics. The side stripe gives it a stylish look for casual use. It has a high elastic waist and a drawstring for adjustability. Another feature it has is two side pockets for carrying small items and a cropped length.
These pants are suitable for jogging, hiking, running, and many other outdoor activities. You can wear the trousers with a tee or a crop top for an elegantly casual look. Additionally, they do not shrink after washing.
With these affordable pants, you get the advantage of looking stylish at a budget. It works well for teens who regularly go out. It may be too short for tall people because it's cropped to be above the ankles.

Subscribe to our Newsletter