Best Shoes for Bursitis Reviewed & Rated
In a Hurry? Editors choice: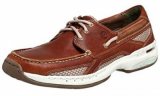 Test Winner: Dunham Captain

Resting alongside most joints in the body are small, fluid-filled sacs known as bursae. Bursae cushion and lubricate the bones, muscles, and tendons of your joints to reduce friction and inflammation. In essence, bursae are the body's natural shock absorption pads and, as such, they're pretty integral to functioning mobility.
But what happens when these sacs, the very thing keeping joint inflammation away, becomes inflamed itself? Bursitis happens.
Bursitis is a painful condition
that happens over time with repetitive motion but also can happen as a result of acute trauma and injury. Proper shoes and cushioning, plus other home treatment remedies, are often enough to help bursitis subside. To help you on your journey to painless feet, we have reviewed the best shoes for relieving the pain and irritation of bursitis.
Standout Picks
Criteria Used for Evaluation
Shock Absorption
Thickly cushioned insoles are the best for relieving bursitis pain as they will take the pressure off of inflamed bursae. Because density is important, insoles made of memory foam are naturally ideal. Even in this guide, you will find that shoes with the densest cushioning feature footbeds made of foam.
Though gel, cork, and leather insoles all have their place, there are a few reasons why memory foam reigns supreme in the land of deep cushioning. Mainly, memory foam resists compression, molds to your foot as you walk, and redistributes your weight and pressure evenly. (As a bonus, memory foam also increases stability.)
Compression: Compression is what happens when you bear weight. Essentially, the weight of your body flattens anything beneath your foot. The more an insole compresses, the less supportive cushion there is. The thickest memory foams take longer to contract during use, providing the necessary comfort for longer.
Conformity: The ability for memory foam to conform to your foot is called 'wear moldability.' Unlike heat moldability, that requires shoes to be 'baked' (heated), wear moldability happens over time. Through wear moldability, memory foam allows you to take immediate comfort in its soft bulk, and have long-term comfort by way of a custom fit.
Pressure Redistribution: One of the reasons bursitis of the foot can occur is because of abnormal pressure being placed on the foot during use. Though they are by far not the only causes of abnormal foot pressure, ill-fitting shoes, unsupportive shoes, and hard surfaces are still primary causes.
The malleability of memory foam is what relieves pressure hot spots that encourage bursitis development. This is because memory foam yields to weight and does not force your foot to contour unnaturally.
Fit
A crucial aspect with any pair of footwear is the way it fits your foot. While we may often be ready to sacrifice comfort in order to look good, this is actually a really bad idea - especially if you have any preexisting foot health condition.
The thing with inflammation is that it often comes with swelling and causes the skin around the area to be sensitive to the touch. Imagine having to put on a pair of ill-fitted shoes when you're already suffering from significant pain. It's simply not an option.
That's why, when shopping for footwear, you should take into consideration a number of factors:
First and foremost, always shop for footwear in the evening when your feet are more likely to be swollen from the activities of the day.
Don't sacrifice in width - choose the correct size.
Look for materials that are either stretchy, soft, or easy to break in. Stiff footwear is best avoided if you suffer from any type of pain.
Look for sufficient padding in the upper. Nowadays, shoes come with not just padded collars and tongues, but can even have a soft lining over the entire upper, making your feet more comfortable.
Heel
Heel bursitis, which often manifests as a pain in the fleshy bottom of the heel, is known as infracalcaneal bursitis. Sometimes the condition may also be called plantar bursitis and, because of the location of the pain, can sometimes be confused with plantar fasciitis.
For relief, insoles with deep heel cups are often advised. Deep heel cups provide the additional shock absorption and pressure relief needed.
Bursitis pain that is located near the Achilles tendon is called retrocalcaneal bursitis. The retrocalcaneal bursa is the single naturally occurring bursa in the foot. This makes it the source of the most common type of bursitis.
For relief and prevention, it is recommended to avoid narrow heeled shoes, mainly. The narrowness of the heel will increase pressure along the retrocalcaneal bursa.
When worn regularly, stiffly heeled shoes can also contribute to the irritation of the bursa. Try to wear shoes with these types of builds infrequently.
Comfort
Although the type of cushioning a shoe has is important, the shape and construction of a shoe is also a factor in alleviating bursitis symptoms. Where your bursitis pain is situated will determine whether a pair of shoes will hamper or aid in recovery.
Bursitis in the forefront of your foot, around the toes, is called metatarsal bursitis. The culprits of metatarsal bursitis are too-tight shoes in general, shoes that taper to a point, repetitive motion, and direct injury.
A direct injury isn't avoidable, but ill-fitting shoes are. Particularly, a spacious toe box is helpful for soothing bursitis pain — especially when the pain is localized to the ball of your foot.
Square and rounded toe shoes tend to have wider toe boxes, regardless of overall shoe width, so these are recommended foremost. Ultimately, a roomy toe box allows feet to stay in their natural position which reduces stress and pressure and, subsequently, reduces the likelihood of a bursitis flare-up.
Style
The biggest downside of footwear that's good for you is that it often looks bulky and even ugly. While comfort should definitely come first, it's still important to look presentable, especially in a work environment and on formal occasions. That's why this list features a wide variety of models that can be worn in all types of situations.
Overall, finding a good pair of footwear for Bursitis shouldn't be too difficult, as long as the model you've chosen has an adequate shock absorbing system, and the upper is not too restrictive. So, you can easily choose from one of the following styles of footwear:
Sandals: Excellent for hot weather wear, sandals allow your foot to breathe, while still providing a good level of support, shock absorption, as well as some protection. However, make sure you keep away from flat, flimsy models, and choose either a hiking model, or one that's been made with plentiful cushioning.
Athletic: The best way to ensure your feet are sufficiently protected from impact, is to wear sneakers made for walking, running and even certain sports. These can be a great way to keep comfortable and prevent your pain from getting worse. Look for maximalist shoes, as well as those that include a good midsole made out of foam materials.
Flats: A great number of flats, both for casual and formal wear actually include great shock absorption systems. Go with a pair of slip ons, or opt for an Oxford that uses a cushioning sole (Most notably the Cole Haan Zerogrand).
Boots: An important thing to keep in mind is that sometimes, you will need more protection than that offered by the simple sneaker. Whether it's at work or in winter, choosing a good pair of boots can be crucial. Nowadays, work boots, hiking boots, and even dress styles come with cushioning, or can be made more comfortable with a pair of insoles - there's no excuse for spending your day walking around in stiff footwear.
Top 10 Shoes for Bursitis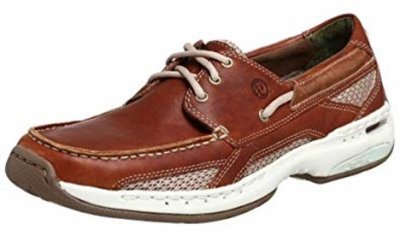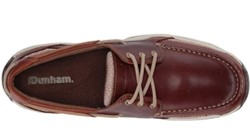 Cushioned, lightweight, breathable, and stylish, the Dunham Captain is a boat shoe that is versatile enough for casual days and evenings, as well as for pairing with business attire. Leather uppers give it a polished look for the office, while rubber sole is thicker, giving great soft footsteps, perfect for helping with bursitis symptoms and pain. Plenty of cushion and softer memory foam footbed construction make it a great option while dealing with bursitis, and its versatile design help make it an all-around style of footwear.
One of the most important aspects to keep in mind when dealing with pain from bursitis is shoe cushioning. Thicker padding and cushion in your footwear help keep inflammation and irritation of bursae down, and the Dunham Captain does this with a thick, plush memory foam footbed. Each step will be padded and soft, helping to alleviate symptoms of bursitis so you can heal.
Versatile in its style, rich looking leather uppers give it a polished finish, but boat shoe styling helps to keep it a bit casual as well. With plenty of options of colors and color combinations, you can find one to pair with many pieces in your wardrobe, and the Dunham Captain is also available in different widths. Lightweight construction keeps foot fatigue down, and an EVA midsole provides support. Another slightly more expensive option on our top ten list, the Dunham Captain boat shoe is best for those who need something cushioned, but versatile for both work and casual everyday life. Thick rubber soles and memory foam footbed help cushion and pad each step, providing some comfort for bursitis pain, while leather uppers give it a more polished look, suited for office attire. If you need versatile comfort while recovering from bursitis, it's a great option to consider!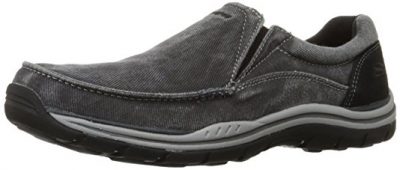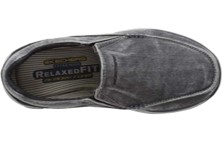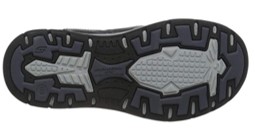 When treating bursitis, the cushion is paramount. The proper amount of cushion takes the pressure off of the bursae to perform. The Skechers Avillo is a fantastically cushy slip-on loafer with a relaxed, roomy fit that is perfect for relieving the symptoms of bursitis. Available in five neutral colors the Avillo has a casual, understated style with stitching details, an embossed logo, and 1" heel.
The Skechers Avillo loafer has so much padding, it's almost a surprise the shoe isn't actually named 'Skechers Cushion.' The Avillo features light cushioning across the collar, a shock-absorbing memory foam footbed, and a soft fabric lining. The memory foam footbed alone is like walking on a cloud, plus it is durable and does not immediately flatten under pressure.
The Skechers Avillo has all the makings of a modern slip-on loafer: woven canvas with a distressed finish, a rounded and roomy 'moc-toe' toe box, dual elastic panels, suede heel paneling, and a flexible rubber sole. These loafers impart a laid-back look and can be worn anywhere. Priced averagely, the Skechers Avillo loafer is an affordable option for comfort. Not only can you expect to get at least a year out of the Avillo with regular wear, but these loafers are machine washable and easy to care for.

3

. Cobb Hill Rockport Aubrey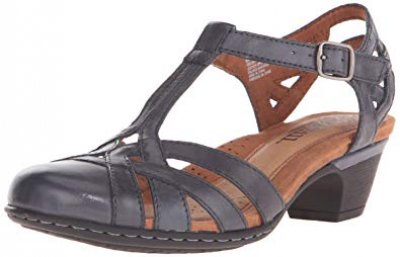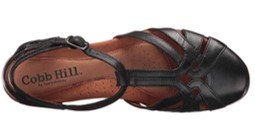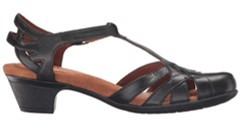 Having something that is thickly cushioned to help your bursitis heal is key, but you may also need something suitable for business attire, and not just casual footwear. The Cobb Hill Rockport Aubrey is a stylish little number with ample cushioning, a short chunky heel, and strappy design elements that makes it great for work. With leather uppers giving it a polished note, they are great to pair with slacks, dresses, and still provide cushioning needed when dealing with symptoms of bursitis.
The Cobb Hill Rockport Aubrey is incredibly soft to the foot, with a textile and pigskin footbed, and supportive with its EVA construction. A chunky, short heel gives it some height but will prevent further bursae irritation. This soft footbed helps to pad the heel, cushioning the affected area of bursitis, and strappy leather uppers make it great for the office environment.
Burnished leather uppers help give durability to the life of the Aubrey, and strobel construction allows for strength and flexibility in the craftsmanship of the shoe. Steel shank provides great stability and support, and rubber sole is patterned for traction and grip on any kind of surface. T-strap design allows for an adjustable fit as well as adding to style, giving it a vintage appeal. For a pair of business shoes that can still be cushioned enough to help with painful bursitis, the Cobb Hill Rockport Aubrey is a great investment. Although slightly more expensive than some on our list, it's great vintage styling combined with cushioning make it well suited to consider as an option for the working professional. A smart buy if you're looking for something for the office and are affected with bursitis.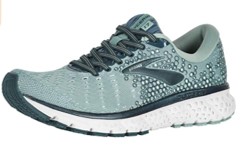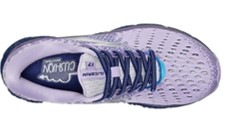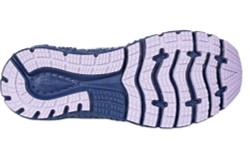 If you're a fan of the Brooks brand, the updated model of the Glycerin will have you falling in love all over again. The Glycerin 17 keeps all the amazing technology and comfort aspects of its predecessor, with an update in the model style and fashion appeal. Uppers have a new design style with attractive pattern and colors, while still keeping a lightweight, and roomy fit. With a neutral foot support level, it's got plenty of responsive cushioning to help keep your feet going longer.
The 3D overlay print is functionally flexibly but still provides structure when wearing the Glycerin 17. The interior bootie provides additional cushioning and comfort, and is made for longer distance runs on the road or treadmill. While this option is considered a training shoe, it's ideal for those suffering from bursitis due to the added cushion it's been designed to provide. A 10mm differential helps to keep the feet cushioned with DNA loft technology, which pads each step you take from absorbing unneeded shock.
Uppers on the Glycerin 17 are constructed from a 3D printed overlay and mesh, which makes them quite breathable, but also gives the shoe added structure and support. This helps with not just the shoe's integrity, but also helps to keep you foot stable, and helps you to keep a neutral gait and proper foot alignment. With a padded tongue and collar that finishes off a long lace up vamp, this pair is adjustable for whatever fit you desire, and packed full of comfort to help keep your feet pain-free.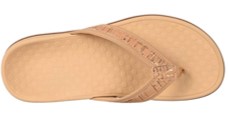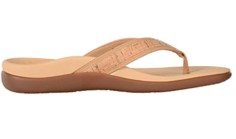 Although flip flops may not be the first thing to come to mind when you think about footwear that was developed by podiatrists with the intention of promoting foot health, the Vionic Tide II is sure to change your opinion. Not only a great summer sandal, but overall one of the best pairs of footwear you can choose for any number of problems, this model is sure to keep your feet protected, and you feeling comfy and supported.
The Tide II features Vionic technology developed by doctors that works to support your arch, cradle your heel and to properly align your foot throughout the day. Combined with a medium density EVA midsole, you'll feel adequately cushioned, making this a great choice for long hours of wear.
One of the worst things about sandals is that the straps can often cut into your foot, making them uncomfortable to wear in heat when your feet become sweaty and swollen. The Tide II features foam lining that soothes your skin, preventing any rubbing or blistering. Averagely priced, this is a great investment for anyone looking for a summer sandal that looks stylish but offers all the cushioning and supportive features you would only find in sneakers and hiking footwear. Great for at home, as well as casual wear, you'll find that this is a shoe you can wear almost anywhere, and you won't ever want to take it off.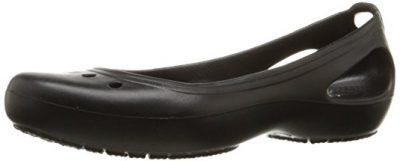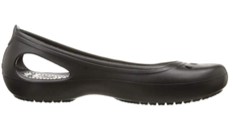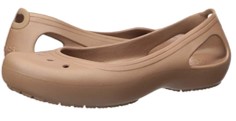 These days, Crocs and comfort are terms that go hand-in-hand. In the shoe world, it's hard to talk about one without mentioning the other. This guide is no exception. The Kadee from Crocs is a lightweight, relaxed fit ballet flat. Superior on both style and comfort, the Kadee flat features holes across the top of the toe box for breathability and distinct, windowpane-like detailing on the heels.
The Crocs Kadee ballet flat is one of Crocs' 'molded' fit styles, designed to fit securely to your foot without feeling too snug. Although the Kadee doesn't exactly conform to your feet over time, a little heat can help customize the fit further.
Kadee is a ballet flat that is designed to go with you, wherever the winds may take you. With a footbed full of massaging nubs and a low cut vamp, the Crocs Kadee can carry you comfortably through a day of sightseeing. (Or work, but sightseeing is more fun!) While the Kadee flat has the iconic Croslite foam construction that Crocs are known for, they also feature a secondary layer of shock-absorbing material for a deeper level of cushioning. Crocs brand shoes have always been affordable and the Kadee flat is, again, no exception. Priced slightly lower than the Skechers Avillo loafer, the Crocs Kadee is a good option for fun and freedom from pain.

KEEN has made a sporty, yet stylish looking pair of shoes with the Presidio II, with quality nubuck and full-grain leathers. A thick, rubber sole gives great cushioning when trekking outside or walking downtown, helping to comfort bursitis pain as you are on the mend. Cushioned collar and footbed add to this soft feel, helping to make it a great crossover pair of footwear between casual wear and outdoor adventures. If you're in search of something with more outdoor durability than a sneaker, but with sneaker comfort, then the Presidio II is for you.
KEEN's Presidio II crosses over sneaker comfort with more rugged construction and design needed for outdoor trekking or adventures. Durability can be found in the nubuck and full grain leather uppers, helping protect the foot from trail hazards. A grippy lugged rubber sole helps provide great traction while giving a wonderful cushioned feel for lighter footfalls. Waterproof, the Presidio can be worn in any kind of weather, making it great for hiking, but also for everyday activities. Within the Presidio, a metatomical footbed cradles the foot as well as supports it, helping to eliminate pressure points. This footbed is also removable should you trade it out for thicker cushioned insoles or orthotics. A breakable moisture-wicking lining combined with Cleansport NXT helps prevent odors or bacterial build up, and EVA midsole adds to the cushioned support you need dealing with bursitis pain.
Similarly priced to other KEEN styles and models, it's averagely priced compared to similar styles of shoes from other brands. The wider toe box, metatomical footbed, and cushioned construction all help make the Presidio a great option for those with bursitis, and it's versatile for both casual or outdoor wear. A smart investment for outdoor lovers who need a little extra comfort from their footwear.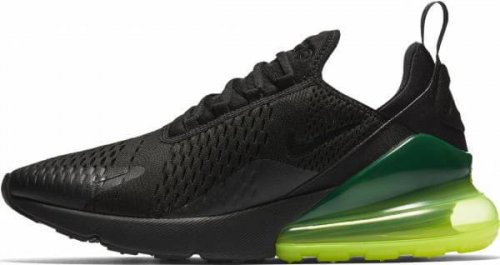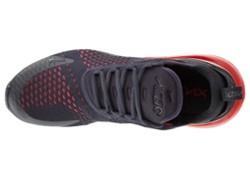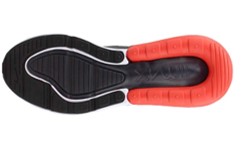 The Nike AIR Max 270 is a versatile and stylish sneaker. Part of AIRM Max collection is made to provide continuous lightweight cushioning. The 270 has a pillowy tennis shoe-like feel inside and is designed to feel comfortable and broken-in right out of the box. All while retaining an easygoing, casually dressy style.
The relieving properties of the AIR Max 270 begin with a lightly padded heel collar. Dual gores allow the Greenpoint to stretch and fit easily on your foot, while the padded sockliner bumps up the cushion. The synthetic outsole increases shock absorption, durability, and stability.
The Nike AIR Max 270 features a synthetic upper for a classic appearance and a suede sole. The upper is breathable and comfortable while remaining stylish so you could wear these sneakers to more than just the gym.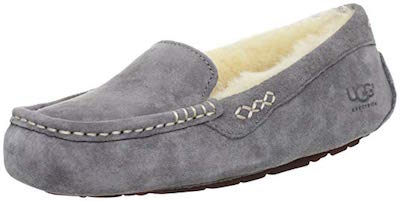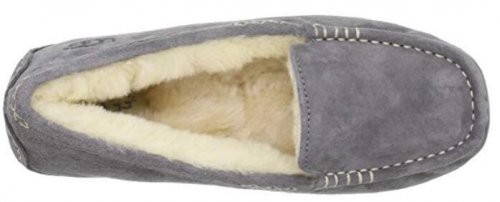 A suede moccasin made with some of the softest materials available, the Ansley by UGG is not a high-tech model that'll disperse shock or offer you a memory foam insole, however, it does provide a great wearing experience, both for indoor and outdoor use. It comes in a variety of color options, allowing you to show off your personal style, and the natural wool insulation makes it a great choice for chilly autumn or winter days.
The upper of the Ansley is made with genuine suede that's water-resistant and won't be a drag to keep clean. On the inside, you'll find a genuine wool lining that keeps heat in while allowing a good level of breathability, as well as a wool insole that keeps the bottoms of your feet protected. The insole can even be removed, if you prefer something more supportive, or want to use a gel or memory foam insole.
The rubber outsole on this moccasin is made to provide excellent traction and durability both on pavement as well as on indoor surfaces. It is what makes this shoe so great - it's not too bulky, but still allows you to wear it outside while running errands. Averagely priced (and a steal if you happen to find it on sale), the UGG Ansley is highly recommended for anyone looking for an indoor shoe that will work well outdoors too. It's perfect for wearing around the house, and will look good with your more dressed up outfits, so you can even wear it to the office!
10

. Rockport Essential Details Waterproof Chukka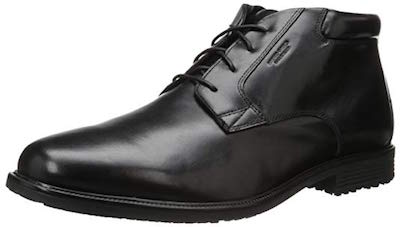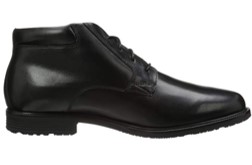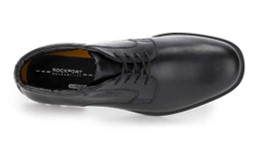 Sandals and sneakers are great, but what happens when you need a pair of footwear that's not only suitable for the more formal office, but also waterproof and warm enough to get you to and from work, even in rain or snow? This model by Rockport was designed with just this in mind, giving you a comfortable pair of chukka boots with all the benefits of athletic footwear.
Not only does the upper on this model look polished and fancy, it's made with full grain leather to give you a durable pair of shoes you will have an easy time keeping looking fresh and new. An antimicrobial lining prevents bad odors, and wicks moisture away from the foot, preventing you from overheating indoors.
Located in the heel of this chukka boot, the shock absorption system prevents your foot from suffering from the impact that happens with every step. It can even alleviate fatigue if you happen to stand a lot, and it's additionally aided by a non-slip rubber outsole. Higher in cost than the average shoe listed here, this model by Rockport is best invested in by those looking for something that will easily take them from the office to a casual weekend outing. The hydroshield water protection and seam sealed construction make it a great choice for the rainy season, something you don't find too often with similar shoes.

Subscribe to our Newsletter