Best Headlamps for Running Reviewed
In a Hurry? Editors choice: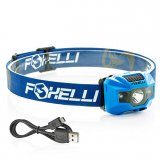 Test Winner: Foxelli MX20

With a busy and hectic schedule, you might not be able to fit in a good run until after the sun has already gone down. Equipping yourself with the right reflective gear is crucial in ensuring your safety, allowing other travellers to see you. Running headlamps are also a great way to ensure you have enough visibility to see any obstacles ahead and adjust your pace and movement accordingly.

Most of these products are lightweight and comfortable and can hold a charge for quite some time, offering varying levels of lighting and advanced functions such as night-vision modes. We have compiled a list of the top ten running headlamps that will do a great job of lighting your path, allowing you to get out there after sundown!
Standout Picks
Criteria Used for Evaluation
Battery Life
Whether you are running into the woods hoping never to return or just going for a quick jaunt around the block, you want something that has decent battery life.
We already have a myriad of devices that we need to charge before we go to bed every night. So we didn't want to add one more to the pile. Running headlamps generally fall into two categories: rechargeable and battery powered. While you may instinctively gravitate to rechargeable (because no one likes running to the drugstore to restock on batteries), there are a few reasons why you may want to opt for simple disposable batteries. We have broken down the advantages and disadvantages of both designs so you can select which is going to be easier for you.
Rechargeable Batteries: Products that use rechargeable batteries typically get their charge from a USB cable that is almost always included with purchase. When your gear is running low on juice, simply plug it into a power outlet or computer and let it charge up overnight. Most designs take between 6-8 hours to recharge, so your best bet is to pop it on the charger when you go to bed. This feature is going to spare you the inconvenience and additional cost of heading out to buy more batteries while reducing waste, but this convenience often comes at a cost.
Rechargeable options don't have quite the same battery life as their disposable counterparts. Often, these designs can only hold a charge for 2.5 hours on the low end and about 30 hours on the high end. Plus, as the battery power begins to wain, so will the brightness of your light.
Disposable Batteries: Most products that use disposable batteries opt for AAAs with only a few models opting for AAs (which can add quite a bit more weight to the front of the light). What we noticed about designs that elected to use disposable batteries was that the battery life was double, or sometimes triple, that of rechargeable options. On the low end of the power spectrum, they can last up to 50 hours. And on the higher end, they provide users with up to 200 hours of light! Batteries dying in the middle of a dark trail is something that you want to avoid and disposable batteries are going to be your best line of defense from getting stranded in the dark.
Visibility
When we talk about visibility, we are talking about lumens.
Logically, the higher the lumens, the brighter the light is going to be. From what we discovered through our research, running headlamps can deliver a variety of lumen levels.
A good way to imagine lumens is to imagine a candle on a birthday cake. One lumen is going to be as bright as a candle that is situated about 12 inches away from your face. On the lower end of things, they measure to offer users about 100 lumens. The highest lumen count that we discovered was about 12,000 lumens! So, what's the real-world difference? We have divided the different power levels into a few categories so that you can determine which lumen level best fits your needs.
100-300 Lumens: These are on the lower end of the scale and offer light that is pretty dim. You'll have just enough light to see the terrain in front of you so that you don't trip on any branches or cracks in the sidewalk. Users often select these devices when walking the dog in the middle of the night or if they want to run on the trail at night without bringing that much attention to themselves. While the brightness level may be a little underwhelming, the battery life on these dim models is sure to impress!
300-700 Lumens: Your average 60-watt light bulb in your lamps at home offer about 750 lumens. The 300-700 power level is going to be just slightly dimmer than your bulbs at home. Considering that you use this level of light to read after the sun goes down, this power level is great for illuminating the terrain in front of you. From what we found, this range was by far the most popular among trail joggers and hikers. As you could imagine, the battery life for these runs about average.
1000+ Lumens: If you want to be able to spot quarters on the sidewalk in the middle of the night, this is your best option! To put it into perspective, the average headlight on your car measures to be about 6,000 lumens. Just keep in mind that these powerful running headlamps are often incredibly heavy and they typically have a battery life that is under 5 hours.
Comfort
Keeping comfortable is the key for a great evening jog.
Running headlamps typically attach to your head like a headband and cinch in place with a pair of buckles along the side or in the rear. Ensuring that they stay comfortable and in place as you start to sweat is going to be the key for a happy ride. There were a few things that we took into consideration when selecting styles that are going to feel great when equipped to your head.
Strap materials: This is a big component to comfort. We wanted to select materials that were going to be great at wicking away moisture as you start to sweat or when it starts to rain so that is doesn't slip around on your forehead. You would think that rubber materials or some types of plastic would serve you well, but from what we discovered is that these materials can be terribly uncomfortable and sometimes even pull at your hair (ouch!). What you want in a design is a softer fabric such as nylon or canvas. These materials are going to be able to hold their shape when worn for long periods of time, and they are also going to wick moisture away from your head.
User reviews: If a product is uncomfortable, previous users are going to be quick to let you know! When researching these products, we made a point of combing through the good and the bad users reviews looking for claims that the product didn't fit right or was too tight. In some cases, we chalk a single poor review on the comfort up to the user not wearing it correctly. However, if there were an overwhelming number of users that were making the exact same claims about the material digging into their skull, we would simply move on to another product.
Water Resistance
Whether the water is coming from your sweaty brow or a sudden rain cloud, maintaining function in soggy conditions is incredibly important.
The weather can sometimes be a little unpredictable. And we didn't want to select running headlamps that were going to short out on you in the middle of the woods in the event of a summer shower. Through the research that we conducted, we found that these products fell into one of two camps: waterproof or water resistant. It is important to note that these two terms are not interchangeable and it is incredibly important that know the difference based on the conditions that you like to train in.
Waterproof: Waterproof typically means that you can accidentally drop this unit into a lake, and be able to find it in the water based on the light that is still shining! While we don't suggest that you test this theory by dropping it in a lake, it is going to help you if you find yourself in the middle of a summer shower. If you like to get out in the wilderness in some pretty harsh conditions (like if you are training for a marathon in the evenings), waterproof models are going to work best for your needs.
Water-Resistant: Water-resistant headlamps can only withstand a little bit of water. If you find yourself in a torrential downpour, you are going to run the risk of water getting into the mechanical components and potentially shorting out the unit for good. This classification is ideal for those that get a little bit sweaty, but it isn't going to be great for super soggy conditions where you are wringing your clothes out at the end of your run!
Features
The addition of a few smart features can help you keep your eyes on the road as well as keep you safe.
We were pleasantly surprised by some of the additional features offered on these headlamps. Including those that you may not even realize you need or want. We have broken down some of our favorite additional features and give a few reasons why they are incredibly helpful!
Red Light: It may seem a little spooky to get out there in the middle of the night with a red light illuminating your surroundings. But this feature is actually pretty helpful. Some users like the idea of being able to see where they are going to avoid tripping on tree roots and cracks in the sidewalk, but they don't want to draw attention to themselves. This red light is a great way to keep a low profile when you are out and about while still having the ability to see where you are going.
Motion Sensor Controls: Motion sensor controls are something that you might not even know you need! When you get out there on the trails you may find that you want to adjust the intensity of your light or switch it to a dimmer red hue. With some designs, this means that you have to fumble your way along the top of the light to find the right button. With motion sensor controls you simply wave your hand in front of the light to make adjustments, which means you can do so without ever slowing down.
Adjustability: Some runners prefer to light up the ground directly in front of them while others prefer to illuminate the terrain farther ahead. Models that can pivot between 45 and 90-degree angles allow users to adjust exactly where the light shines on their path. Plus, designs that pivot to a 90-degree angle allow you to look directly down at your hands as well.
Top 10 Night and Trail Running Headlamps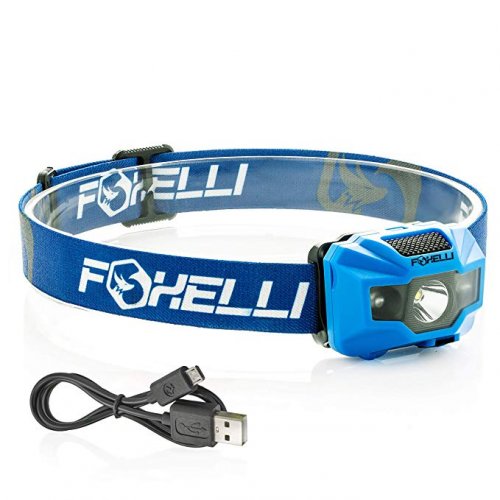 Anyone that loves to camp or spends a lot of time outdoors may already be familiar with Foxelli. The reason this design landed at the top of our list was that it is made from incredibly durable materials that can power right on through a rainstorm while still going strong so that you can train in just about any weather or conditions that you can imagine.
The front-mounted light is rechargeable via USB cable, so you won't need to keep buying batteries for this unit. Once it is fully charged, it can run continuously for about 40 hours, which isn't much compared to other items listed, but sufficient enough. So, if you run a 10-minute mile, this running headlamp will be able to light up your path for an impressive 240 miles before you need to pop it on the charging cable that is included with purchase.
Users also really liked the comfort of this design as well as the adjustability. This headlamp mounts to your head like a simple headband and locks securely into place with a buckle. You can adjust the light up to a 45-degree angle so your path is illuminated whether you find that you prefer seeing up close or at a distance.
If you are looking at buying an item from a trusted company that knows a thing or two about outdoor gear, this design from Foxelli is going to be one of your best choices because it is comfortable, easy to use, and made to withstand the elements! Compared to other models, it is also quite affordable, which is a great plus for those who don't want to spend a fortune all at once.




The Black Diamond Spot is another heavy hitter when it comes to running headlamps. Users love this brand because their products are designed for use in all types of weather and terrain conditions, and they are always made from high-quality materials. What we loved so much about Black Diamond's Spot is that it has a simple frame and design that can offer an impressive amount of power to light your path.
The bulb in the Spot delivers an impressive 300 lumens, which is going to be slightly dimmer than a 40-watt bulb you would use in your home. Instead of using a rechargeable battery, this unit runs off of 3 AAA batteries. That means it will run a little bit longer than other models and stay brighter than rechargeable units. But it also means that you will have to replace the batteries at some point.
The strap that attached to your head is a simple headband that cinches securely to your head with a pair of buckles on either side for a secure fit. It also gives you the option of adjusting the light to send light closer to your feet or further down the trail.
When you buy a product from Black Diamond, you know that you are going to be receiving something that is made from high-quality materials. Users love the ease of use and comfort of their running headlamps and feel comfortable taking them with them on a dark trail run.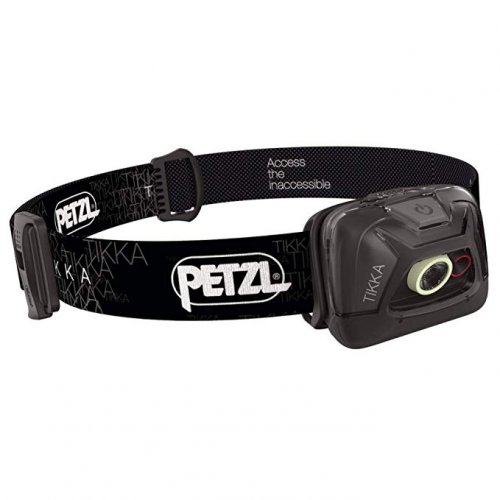 PETZL is a brand that actually got their start manufacturing adventure gear for those that like so explore dark places. Since the release of the ZOOM in 1981, they have spent their time tweaking and perfecting their designs. This eventually led them to the TIKKA. This option is comfortable to wear for long periods of time and it delivers some serious light!
While this unit only offers about 200 lumens of light (which is about 100 less when you compare it to higher performing models such as the Black Diamond Spot), the benefit of this unit lies in the style of light, Instead of a rounded beam, the TIKKA creates a wide angle of light perfectly lights up the entire trail ahead of you instead of only a rounded circle. It runs off of a set of AAA batteries, the first of which is included with purchase. This will give runners about 60 hours of use before they replace the batteries.
Users really loved the fit of this running headlamp and about 99 percent of previous users felt that this design fit them exactly as expected. The headband is made of a thinner material that we have seen in previous items and cinches in place with a series of buckles.
If you are in the market for something that is going to fit comfortably and work great at lighting up the entire trail in front of you, this is an ideal choice. It might not be the brightest of all the items that we have seen, but it is certainly going to get the job done!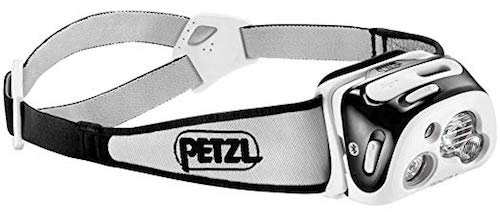 If regular, battery operated running headlights aren't what you're looking for, you may want to check out this amazing piece of technology from PETZL. The REACTIK+ is a multi-beam light source for all your nighttime activities. It has one of the more comfortable headbands available. Not only is it fully adjustable, but the back features two bands to ensure the lamp stays in the correct position even during strenuous activity. It can also be purchased in two color options, so you can easily match it with the rest of your running gear.
The technology used in the REACTIK+ differs most headlamps in that it automatically adjusts to the conditions in which you are running. You can easily program and reprogram it through the included MyPetzl Light mobile app, and you can even check battery life and optimal conditions through your phone.
In terms of efficiency, the REACTIK+ has several advantages over traditional models. Because it uses a USB rechargeable 1800mAh Lithium-Ion battery, it doesn't require you to carry around spares, all while being better for the environment considering the lowered amount of toxic waste. As for price, it is considerably more expensive than other items listed, so it may not fit everyone's budget. Nonetheless, if you're after a product that offers an innovative approach to nighttime running and hiking, it's definitely worth checking out.




Running lights aren't always made for extreme conditions, so if the product you're after has a robust build, provides bright light and is compact and comfortable enough for a variety of activities, then the Black Diamond Storm is the perfect choice. This item is quite simple in its design - it features an adjustable elastic headband and an attached case which houses the lights. You can choose to purchase it in one of four colors, but the main advantages it offers over similar designs are its brightness and advanced functions.
The Black Diamond Storm has 8 different light settings, which means that you will easily find the right for your conditions. One of its notable features is the addition of three-color RGB night vision, as well as improved peripheral lighting over past versions. This model will provide you with 350 lumens, which is average compared to other lamps listed, and which will provide a range of up to 80m.
Another notable thing about the Black Diamond Storm is that it is IP67 rated, which means that it is housed in a dust and waterproof case, and that it can be immersed in water over 1m for up to 30 minutes. Like most similar items, this one uses four AAA batteries, and offers a solid 120h of light. It's also equipped with functions such as Memory mode and PowerTap Technology. Compared to other headlamps for running listed, this one is a bit more expensive, but if you need something robust with an IP67 rating, the Black Diamond Storm is definitely a good choice.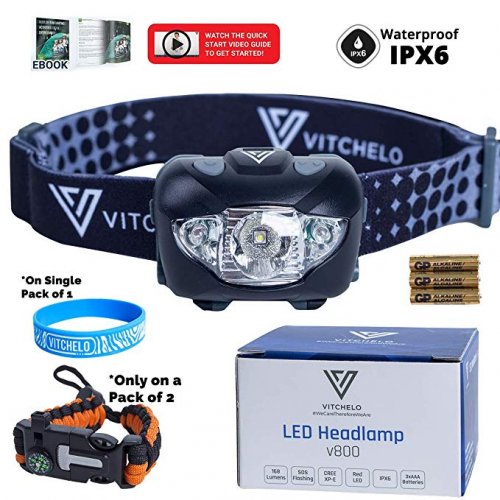 Comfort is the name of the game when it comes to the V800 from VITCHELO. This brand makes products for some serious campers that need their running headlamps to help them thrive out in the wilderness. So you know the V800 going to do a fantastic job lighting your path on your next training session after the sun goes down. Users love the comfort of this design, as well as the adjustability.
The very first thing that we noticed about the V800 is that the back of the light is coated in a soft layer of EVA foam. This will make it feel more comfortable against your head. Often with products like these, one of the biggest complaints is that while the headband may feel comfortable, the light can sometimes dig into your forehead. VITCHELO's V800 stands to try and solve that particular problem.
This headlamp for night running runs off of a series of AAA batteries that are included with purchase. One thing that we really liked is that the lamp is adjustable up to a full 90 degrees, which means it can light the path ahead of you and can tilt all the way down if you need to look at something close up.
When running on a low setting, this design offers users an impressive 120 hours off a single pack of batteries! If you want something that is going to be comfortable for all your long distance runs, this option is one of your better choices when it comes to ensuring visibility.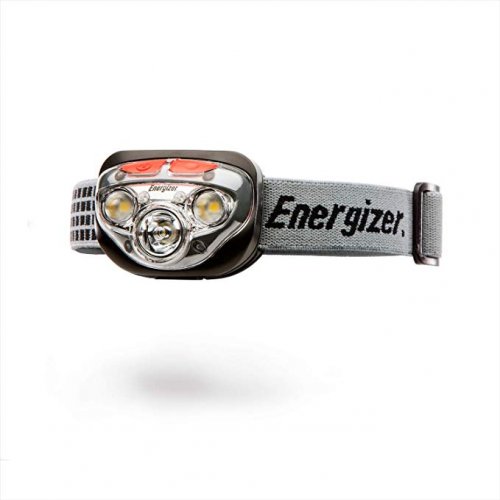 From the makers of most of your battery-powered devices comes the simple but versatile Vision HD+. The Vision HD+ hits all of the marks of what runners want from products such as thees. It is lightweight, provides just enough brightness to light up the road ahead of you, and has a few settings that prove to be quite handy.
The Vision HD+ runs on 3 AAA batteries that are included with purchase. It provides about 250 lumens of light on the highest setting and can run for up to 50 hours before you will need to change the batteries. It also has a red light setting so you can light up your terrain without drawing too much attention to yourself.
The strap affixes to your head like a standard headband, and cinches in place with a pair of dual buckles at either side. It is considered to be water-resistant if you get caught in a light drizzle, but it is not completely waterproof like other models that we have seen. It does, however, sport a shatterproof lens if you happen to drop it.
If you are looking for a simple headlamp design that is going to feel lightweight to the point that you may even forget you are wearing it, Energizer's Vision HD+ is worth checking out. We love that it is simple and lightweight with quite a few features that will help you get the most out of your nocturnal adventures. As for price point, it's one of the items headlamps listed.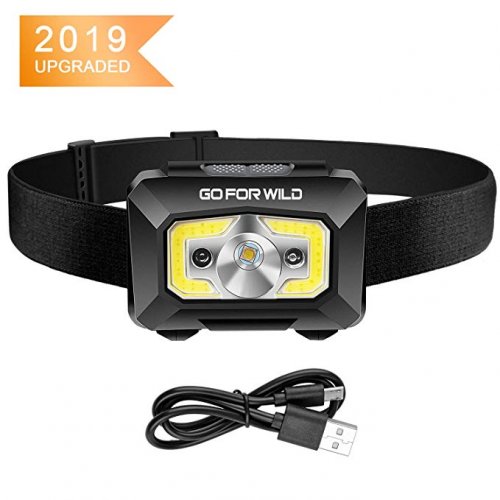 This model from GOFORWILD is an excellent marriage of portability and power. It offers a simple and comfortable design as many of the lightweight headlamps, but it has a light on the front that is able to get just a little brighter than many of the other basic models that we have already seen so far.
The very first thing that we noticed about this design is that it has a light that offers users about 500 lumens. This makes it one of the brighter headlamps for running that still sports the simple headband design. What is really neat about this headlamp for running is that there are no buttons that you have to fumble around in the dark to adjust the brightness and settings. To change it up from a high beam to a red light, simply wave your hand in front of the unit to make your adjustments.
It also uses a set of rechargeable batteries that can be charged via the included USB cable. The downside to this super bright option is that even with a full charge, this is only going to be able to provide you with about 2.5 hours of continuous light. So, better make your lap times fast!
If you are looking for a model that has a simple and lightweight design but offers you quite a bit more brightness than other models that we have seen, GOFORWILD is going to be a really great choice if you like your runs to be short and sweet!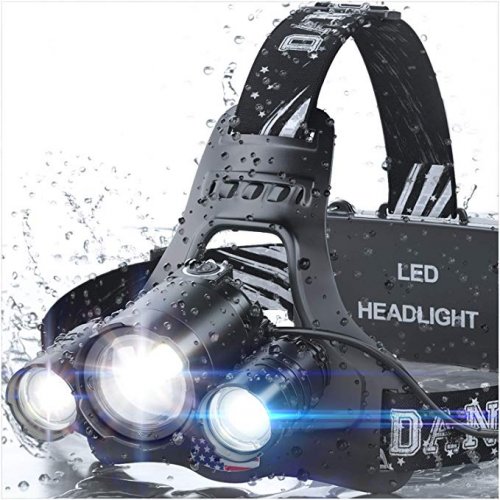 DanForce is a company that specializes in outdoor gear, so you know that this product is made to withstand the elements. What we liked most about this design is that it is insanely bright, and will hold up to some pretty rough weather conditions without skipping a beat! If your adventures take you to some pretty crazy locations, the Bold-S will make life just a little easier.
The lamp on the Bold-S provides users with an impressive 1,080 lumens of light. Its heavy duty frame is made to not only stand up to wet weather conditions but extreme cold as well. Sometimes when batteries get cold in cooler climates, your light may dim a bit. But not with the Bold-S. This headlamp is designed to stay strong and bright, no matter how cold it gets outside.
There is a downside, however. The Bold-S running headlamp may be built tough and bright but it is going to be a lot heavier than many of the simple designs that we have seen. It affixes to your head like a standard headband, but there is also a line of fabric that runs up and over your head to distribute the weight evenly and keep it in place as you move.
If you are looking for the best headlamp for running built to withstand whatever extreme conditions you like to exercise in, the Bold-S from DanForce will light up your way without skipping a beat. Just keep in mind that it is going to feel a lot heavier than many of the other designs that we have already seen so far.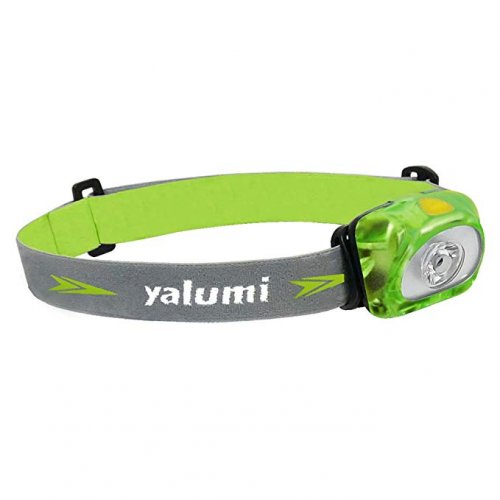 Perhaps you like to engage in a little bit of nighttime urban jogging and you don't need something that will light up the moon. If that's the case, you may be interested in this simple and easy headlamp for night running from Yalumi. The Spark has an incredibly narrow and simple design that will provide just enough light to be able to make out the road ahead of you.
The Spark runs off of AAA batteries (that are included with purchase) and will provide you with just over 100 lumens of light. This means it isn't going to be the brightest design out of all the running headlamps available on the market. But most users don't need something that is going to rival the headlight on their car! Plus, the lower output means that it is going to run for longer periods of time before you need to replace the batteries. It can provide you with just shy of 200 hours of continuous light, which is one of the longest running designs on the market!
Users love the narrow headband design of this unit and it is so lightweight you may even forget that you are wearing anything at all! Plus, it comes in many fun and bright colors such as neon green, yellow, gray, and black.
For those that are looking for designs that are simple and easy and will be able to run for long periods of time before the batteries need to be replaced, the Yalumi Spark may be one of your better choices.

Subscribe to our Newsletter