Best Weight Gainer Supplements Reviewed
In a Hurry? Editors choice: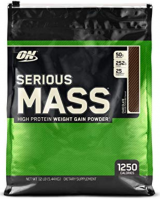 Test Winner: Optimum Nutrition

The invention of mass gainers has helped bodybuilders and ordinary people looking to bulk up. They have provided a quick way of giving the body calories to burn during workouts. If you are trying to build your muscles, here are the best and healthy mass gainers to help your cause.

Before purchasing supplements, read the instructions carefully. If you are under any medication, seek professional advice before mixing gainers. Once you have decided on the type of supplement you need, stick to the serving plan. You should also check the ingredients to understand the composition of the product.

Results may vary with each individual due to different body types. Read and understand how protein fat and carbohydrates are broken down to make calories. These gainers are mostly meant for bodybuilders who are not getting enough nutrients in their diet to build muscle.
Standout Picks
Criteria Used for Evaluation
Product Purity
Prioritize safety and nutrition.
When looking at the supplement's features, you are supposed to analyze its composition. You shouldn't settle for a particular product without checking out its ingredient list. Some brands may use ingredients that are not considered to be safe for consumption. Other products might have ingredients that may cause you allergic reactions.
Always check if the ingredient list has Carrageenan written on it. Some brands use it to make their products creamier. That is why you can easily find it in some yogurts and creams. Carrageenan is not safe because it can cause ulcers, tumors, and intestinal lesions, to mention a few.
For the best results, you need to ensure that you check the supplement's level of nutrition as well. The best supplements contain the following ingredients;
BCAA
BCAA are branched amino acids. These amino acids are what makeup longer and complex proteins in the body. They are what make it possible for your muscles to recover. That is why the supplements will benefit you after tough training sessions and strenuous workouts.
Glycine
Glycine is a form of amino acid that has several benefits. When you ingest it, the body produces extra growth hormones as a result. By doing so, it helps protect your muscles and is also responsible for their growth. In the end, it helps you recover quickly post-workout. Other Glycine benefits include anti-aging effects.
Creatine
The human body converts creatine into raw energy. That is why supplements that contain it, will always give you an energy boost. Creatine also contributes to muscle growth and mass. It helps them retain more water and therefore increases their size.
Glutamine
During intensive training, the body's glutamine levels drop drastically. Supplements with glutamine help replenish the protein levels in the body. It strengthens your muscles and also helps them recover from stress. When you fail to replenish the glutamine in your body, you will lack stamina and experience fatigue. Taking supplements will help you get back to your training because you won't have to wait for a week for your body to naturally replenish the protein.
Features
Get to know the kind of supplement that you are purchasing.
There are different types of mass gainers in the market. One of the things that differentiate them is their source materials. Let's look at the types of supplements in the market and how they differ from each other:
Isolates
These types of supplements undergo thorough processing to ensure that there's only protein left in the contents. That means that they don't contain any traces of sugar or fats. These kinds of products are an excellent fit for people who only want protein in their supplements, without other components. Their main benefit is that you can avoid other things like sugar if you prefer not to include them in your diet.
Casein
Casein supplements are made from milk. One of the benefits of using such products is that Casein is sustainable when it comes to delivering amino acids to the muscles. It's a very good source of BCAA, but it also has its downfalls. Casein is not easy to digest. It takes much longer compared to products like whey. In fact, it can take hours just to get absorbed by the body.
You are advised to take such supplements before you sleep to make the digestion process easier. Some also find that the results it produces are slightly significant. That's why you'll find users mixing it with other supplements to get the best results.
Whey
Like Casein, whey is also from milk. If you have used various weight inducing supplements, then you must have noticed that most of them use whey as their preferred source. Unlike Casein, Whey is easier on the digestive system. It also has more BCAAs (branched amino acids), making its supplements more effective than those with Casein. You can trust that you are going to get positive results when using Whey.
Hydrolysates
These are proteins that are more refined than isolates. When making them, the isolates are further broken down to get hydrolysates. This involves more exposure to enzymes to get the desired results. Hydrolysates are also easier to digest and make it quicker for your body to take in nutrients. However, because of the complexity of its process, these kinds of supplements tend to be more expensive.
Concentrates
Compared to the other forms of supplements, concentrates are not very refined. You are likely to find such supplements with sugar and fat contents from the sources. Some people avoid them because some of them still contain gluten and lactose as well. Since they are unprocessed, supplements with concentrates cost much less than their counterparts.
Effectiveness
Quality supplements have a lot of benefits
Once you know what the supplement has to offer and what to expect from it, you will be able to make better purchasing decisions. Effective supplements result in certain benefits.
For one, you will know if a mass gainer is working if it helps you build muscle. People who add these supplements to their routine achieve their body goals faster compared to those who exclusively work out. That is why they come highly recommended for people who are starting a new bodybuilding regimen.
Good supplements will also give you the energy you need to carry on with an intense workout. Reason being, they are rich in carbohydrates. So you won't get worn out quickly during your training sessions. You will also acquire a lean physique after some time. The supplements have dietary fat that supplements your bodybuilding efforts, especially those that have whey protein.
When you pick out supplements which are rich in fiber, you will notice an overall improvement in your health. Such supplements will improve your digestion as well as help you with bloating issues. Another way in which they contribute to your health is by providing you with vitamins and minerals.
Effective supplements eliminate the need for products such as protein powders because they can deliver all the nutrients you need. You will get sufficient creatine and quick-acting carbs. That is why some people find them more complete and more useful for bodybuilding.
If the supplement you buy is effective, you will notice that your recovery will be much faster. People who purchase quality products tend to have enhanced recovery rates after some time. The glutamine in these products also help support one's immune system.
Size
Select the quantity that fits your needs.
These supplements are available in several quantities. You can get them in both small and large sizes, depending on the brand you select. Some brands even offer up to five different size variations. There are several things that should help you determine the quantity you need.
If you are looking to save some cash, you are better off purchasing the largest quantities. Most of them have discounts, and the volume is justifiable in relation to the price. There are still some brands that charge a little too much for the smaller containers. When you consider how much you are paying for a few servings, you'll find that it's not worth the purchase. Avoid smaller quantities in such scenarios, to be on the safe side.
However, there are scenarios where buying a smaller container will work in your favor. If you are working with a budget and it's the only size you can afford, then you should make the purchase. There's no need to consider the larger-sized containers if you have limited funds.
Another good reason for purchasing a smaller sized container is when you are testing out a new product. You don't want to get stuck with a product that you won't use, in case you end up disliking it. Always start small and work your way up.
Side Effects
Make your purchasing decisions when you have all the relevant information.
Just like with other types of supplements, there are also a few side effects that come with ingesting mass gainers. Granted, it's not a guarantee that you are going to exhibit any of them. But, that does not mean that you should turn a blind eye to their existence. You should gather as much information as you can about such supplements so that you can know what to expect.
The following are some of the side effects associated with weight gainers:
1. Liver issues
Overloading your body with these supplements can lead to liver damage. You should always ensure that you take the recommended dosage so that you do not put your liver at risk. Users are also advised to avoid taking supplements with alcohol.
2. Your muscles might cramp up
When taking the supplements, avoid pushing yourself too much. When you train too hard without monitoring your water/fluid intake, you will start getting muscle cramps, and muscle pulls. Always make sure that you stay hydrated to avoid these effects.
3. Diabetes development
People develop insulin resistance when they take high glycemic foods for a long time. The insulin resistance can eventually lead to type 2 diabetes. People who take a lot of weight gainers are at risk because most of the supplements have high glycemic carbs.
4. Constipation and other stomach issues
People get constipated when their fiber intake is low. Constipation can occur when taking the supplements because most of them are low in fiber but high in calories.
When you fail to manage your dosage, you will end up dealing with gastrointestinal distress. Some people tend to feel nauseated while others get diarrhea. Other causes of these two symptoms include when you digest supplements that have not been properly mixed.
5. Unwarranted weight gain
When taking these supplements, people tend to consume a lot of calories. That is why you have to make sure that you burn calories as well. If you burn fewer calories than what you consume, you are certainly going to gain weight.
Before you decide to add excess calories to your diet, you need to make sure that you have adjusted your workout regimen. That way you can match up the two so that you do not gain fat from the unutilized calories.
6. Kidney issues
Some people believe that excessive intake of the supplements can damage one's kidney. However, this theory has been identified as a misconception by some experts. If you are planning to start taking the mass supplements, you should be cautious because there is a connection between the powders and issues like kidney stones. All in all, make sure that you get a go-ahead from your physician before you start your dosage.
7. Respiratory issues
Some users experience breathing problems as side effects. Such issues mostly come about when people take excessive doses of supplements. The respiratory issues include; wheezing, sneezing, coughing, and asthma. People who have breathing problems are advised to tread lightly when it comes to adding weight supplements to their diets.
Top 10 Supplements for Muscle Mass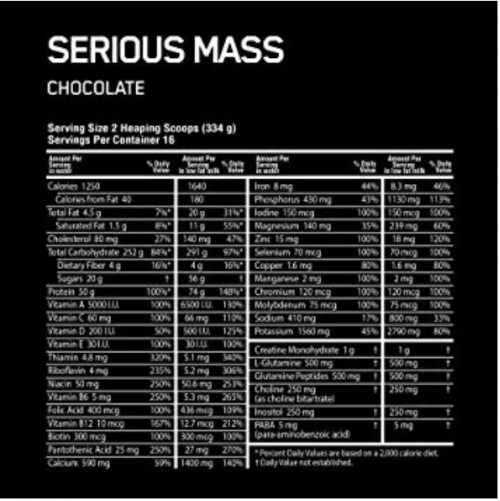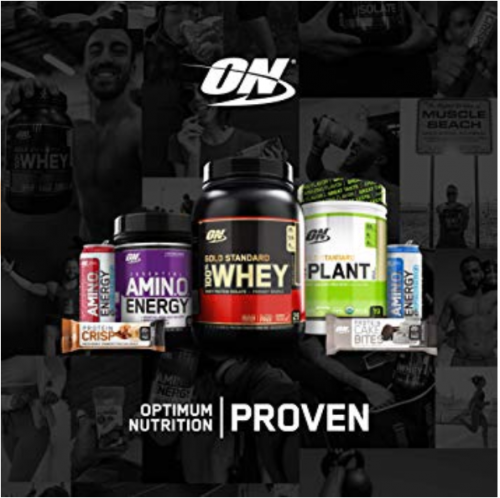 This fantastic product provides extra calories for those having difficulties consuming the required amount. This product gives you a chance to gain mass healthily. Optimum nutrition contains a lot of nutrients, and if you have allergic reactions to dairy products, eggs, and glutamine don't use this product.
It comes in five tasty flavors, chocolate, banana, chocolate peanut butter, vanilla, and strawberry. This product should be taken with high amounts of water because it contains creatin. Nursing women should not take this supplement. Additionally, pregnant women are also prohibited from using this product.
The added minerals and vitamins make it a great source of protein calories resulting in weight gain. It is made from a world-leading company so you can rest assured it is safe and approved. It can be bought in three sizeable bottles of 12lbs 6lbs and 3lbs. If you are a first-time user of weight gainers, it is essential to consult a specialist before using it.
Professionals advise to use this product and engage in exercise. It is known to make people grow fat if not appropriately managed. The minerals have been synthesized to their purest form for easy digestion. You can take it before meals or with meals.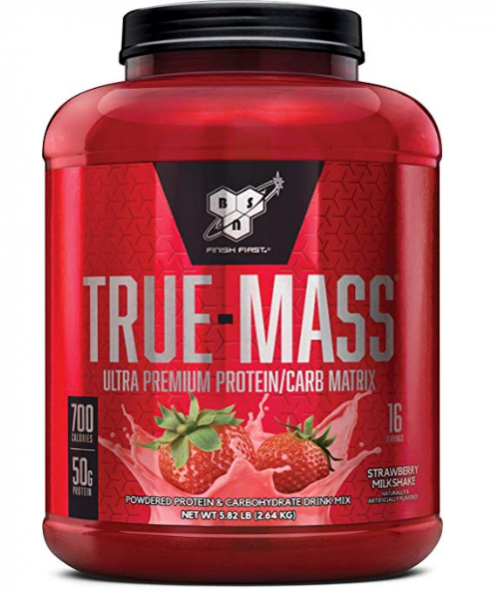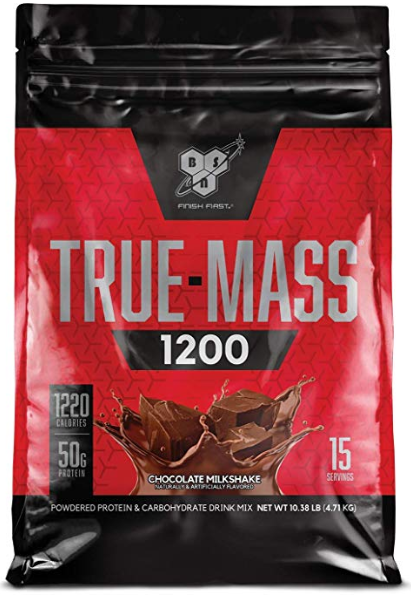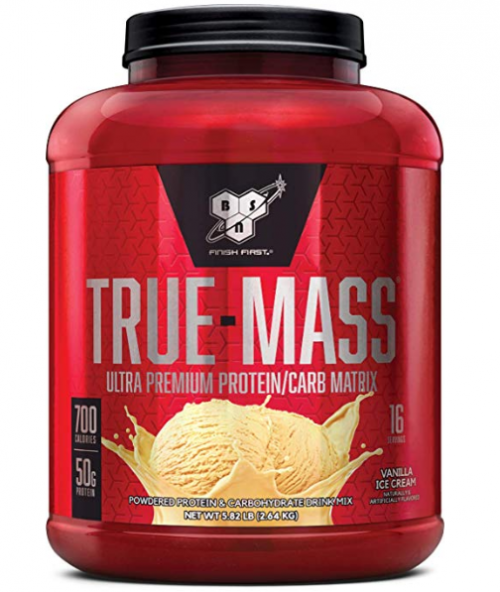 True to its name, the TRUE-MASS weight gainer packs many nutrients that ensure you bulk up. It is potent and effective, making sure you get your daily dosage of calories and nutrients. It keeps your muscles nourished, and your blood amino acid levels boosted.
The slower-digesting nutrients and fats benefit your body longer as it does not quickly like other mass gainers. The five different levels of proteins work uniquely as they digest in various portions and absorption rates. It is easy to serve, by following the simple directions provided on the cover you will be on your way to a healthier path.
It comes in five tasty flavors to choose from. Although it is not a substitute for solid meals, in one serving, you get hundreds and hundreds of calories. This supplement is the perfect product for someone looking to gain weight fast and hit the gym.
What makes this mass gainer unique is it's one of a kind protein matrix that combines more than one protein. Additionally, it puts them together and blends them. The synthesized minerals like milk protein and peptides are quickly put into use in the body.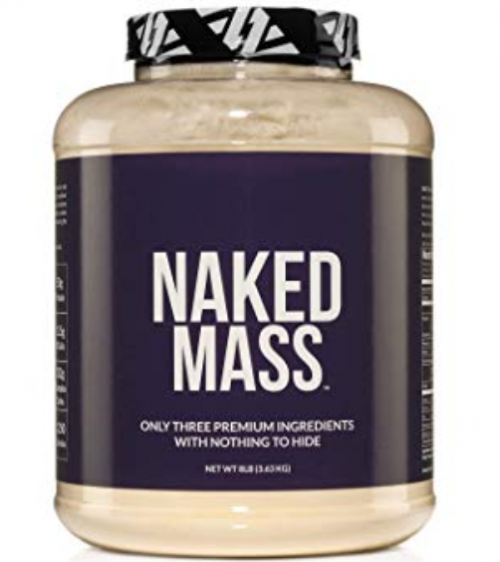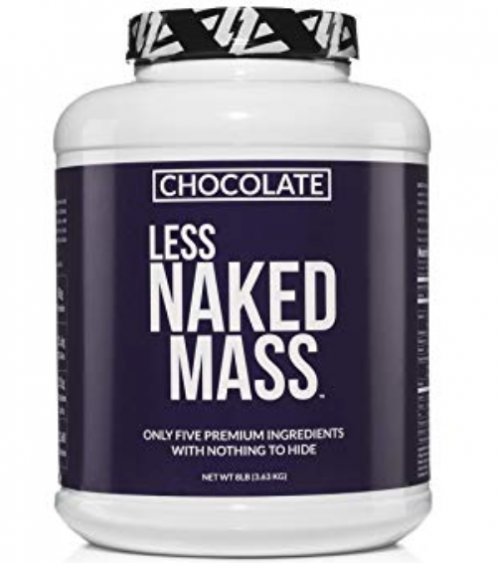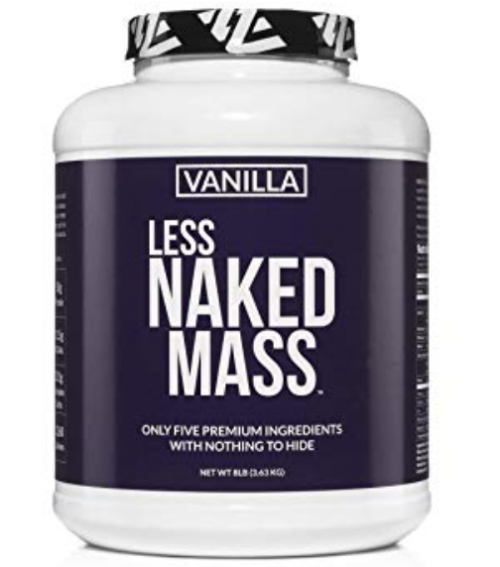 Going by its name, this product does not have any flavors, sugar additives, or fillers. This gainer is an all-organic product, and it is GMO-free. The manufacturer's main target was that the consumers enjoy the product full of maximum nutrition. It turns you into a pro gainer from a hard gainer.
With this product, you get gluten-free carbohydrates, unlike other market products. The clean carbs are form tapioca that doesn't have wheat-based maltodextrins. It is versatile because it can be used in different smoothie recipes. Your body gets nourishment through fast-acting whey and casein that digests slowly.
After a robust workout, your muscles are fed through the powerful surge of amino acids. With NAKED MASS, you get 50 gms. of protein, unlike other supplements that have 10-20 grams of sugar per serve. Additionally, your muscles get to repair themselves overnight with the slow release of amino acids. Since it's all organic, you don't have to worry about allergies with this dietary supplement.
With no health issues reported, this is the healthy choice for bulking up. It tastes good and goes down really well despite having no sweeteners. You can add fruits to give it flavor without fear of ruining its composition.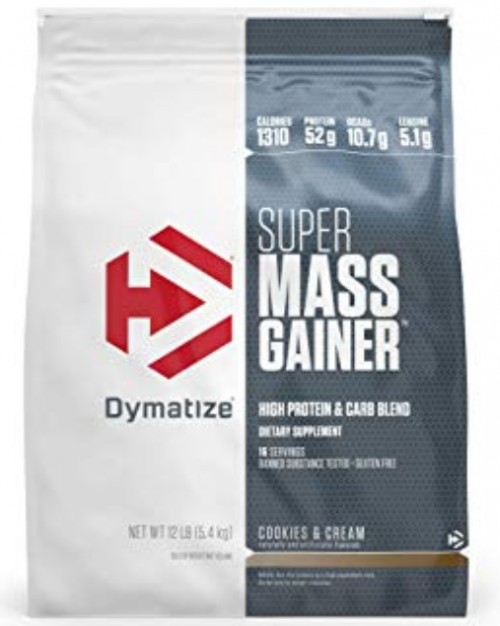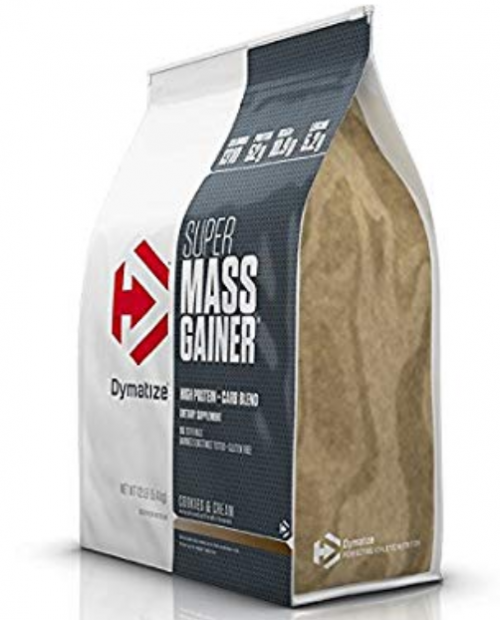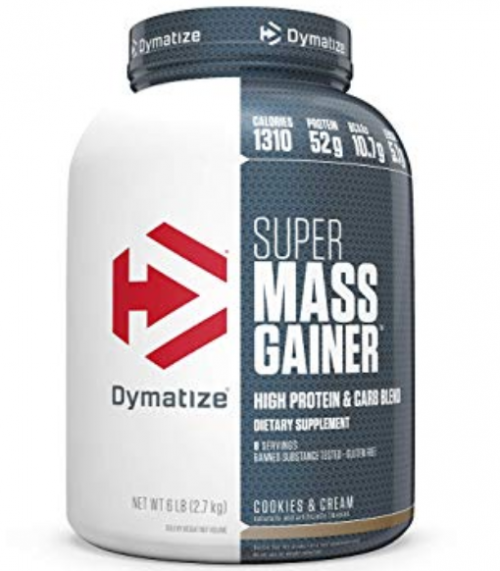 If you have a speedy metabolism, then this is the perfect product to use. Dymatize Super mass gainer is designed to give you enough calories that are needed as you hit the gym. The majority of the calories come from the 251 gm of carbohydrates that come with each serving.
This supplement uses Zytrix Advanced Digestive Enzyme Blend to counter its dense composition. Therefore, you don't have to worry about gastrointestinal issues like having gas or bloating. Your body will find it easy to process fat, lactose, and protein, thanks to the combination of lactase, protease, and lipase.
First-time users are advised to start with minimal doses to avoid gastrointestinal side effects. This paste has creatine monohydrate that helps increase intracellular levels of ATP or adenosine triphosphate, which is essential in bodybuilding. Creatine is vital for an increase in strength and endurance.
The availability of creatine in this mass gainer gives it an advantage over most products. Additionally, it helps your muscles absorb fluid, giving them a fuller look. You even get the benefit of substantial pups while hitting the gym.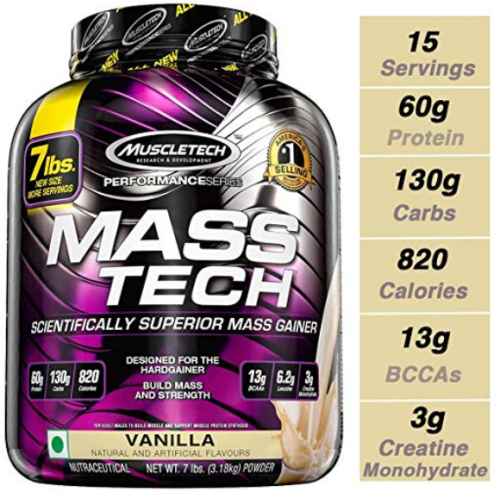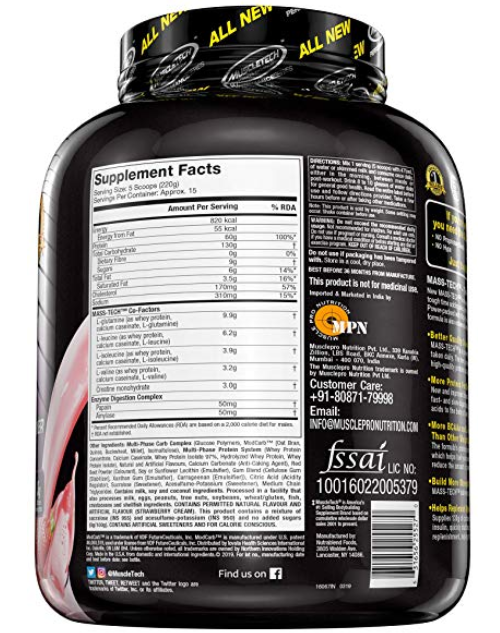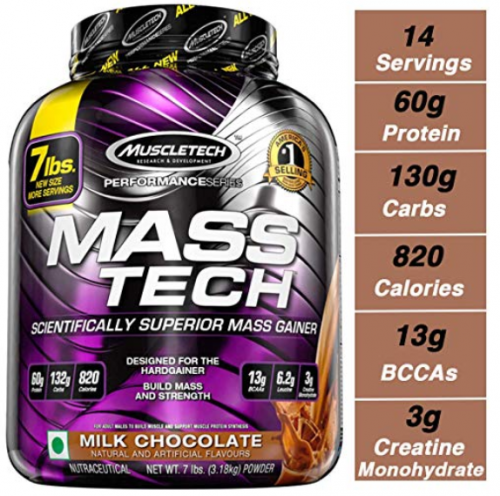 MassTech allows you to build your strength and muscles faster and healthier. Hard gainers can benefit a lot from this unique award-winning product. It is scientifically tested and proven that it increases the chest and arm size. Additionally, it activates the rapid growth of mass as you work out.
Muscle recovery is guaranteed with each serving thanks to the amino acids as well as muscle growth. With a sufficient amount of creatine, you are well on your way to building your strength faster. It comes in different flavors to choose from.
It is easy to serve, and you can take it with milk or water. Additionally, it is safe to take in-between meals or after a workout session. The multi-phase protein system enables it to function adequately in your body system.
With each serving, you get 840 calories into your body and 63g of proteins. It is safe with little chance of side effects. Additionally, its cost-per-serving beats most products in the market. Remember to follow the instructions provided with the product or consult a specialist.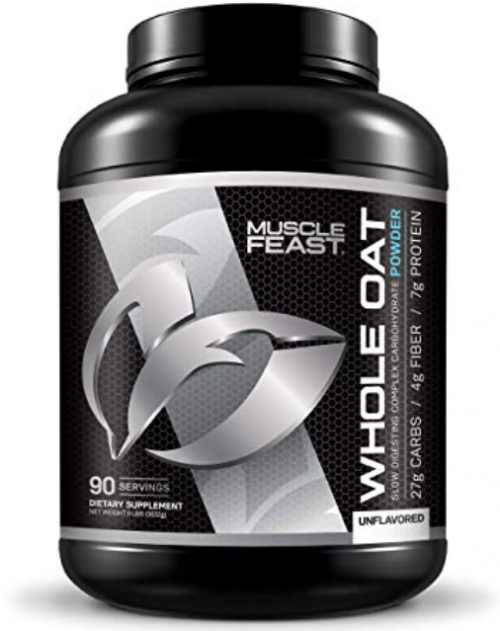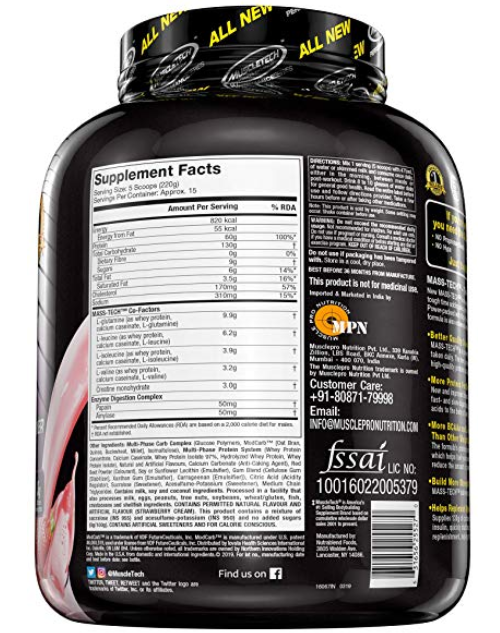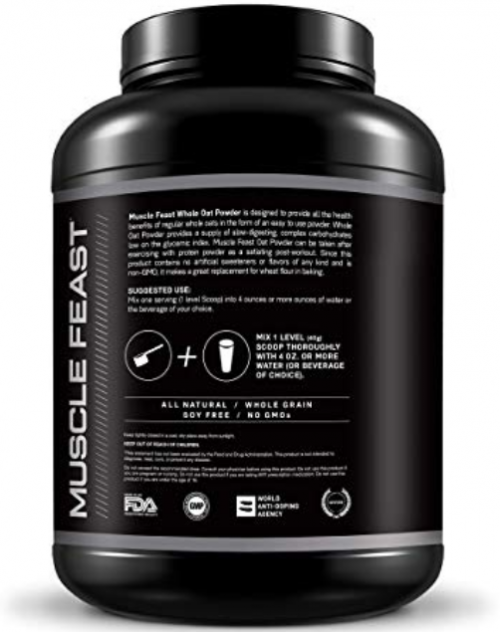 Bodybuilders looking for a natural mass gainer should put this product on top of their list. It consists of ground non-GMO oats with zero additives or sweeteners. It has a low GI to provide long-term energy. Additionally, it is so effective that a serving of 1/3 cup of this powder is equivalent to a bowl of oatmeal.
Additionally, it is so effective that a serving of 1/3 cup of this powder is equivalent to a bowl of oatmeal. The finely ground Whole Oat powder mixes well with water for a straightforward serving process. In addition, it has a great taste compared to other natural supplements.
It is among the purest and freshest form of dietary supplement in the market with no reported side effects. It is FDA standard, and the raw ingredients have undergone a thorough analysis to ensure no impurities get through.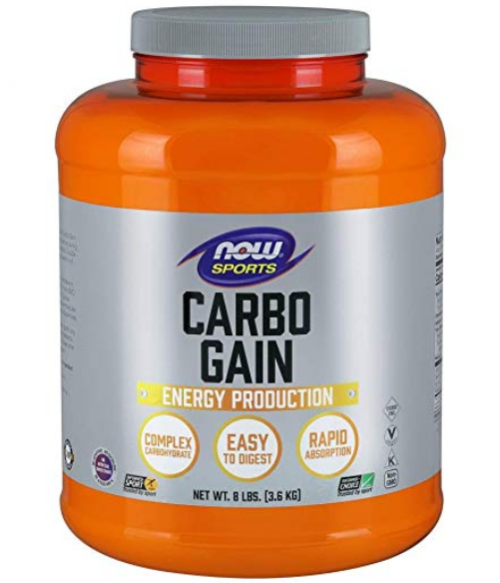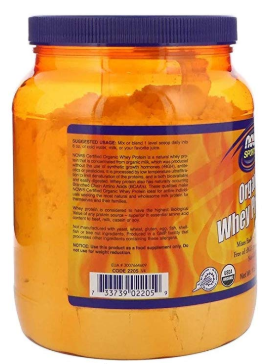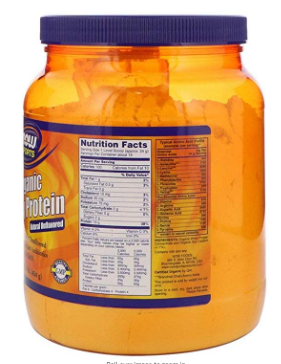 Bodybuilders have now been given a solution to having a post-workout shake that is effective in strength recovery. The product is protein-based, with additional calories from fats and carbs. You can work out knowing, as you hit the gym, it adds extra calories for muscle mass gain and weight increase.
Now Sports nutrition has specialized this product to give you muscle endurance and better recovery rate. It also assists in cutting body fat an increasing testosterone levels. It is important to remember that it will increase your insulin level, which might be dangerous to some people.
This supplement is 100% maltodextrin purely made from non-GMO corn. Maltodextrin should be handled carefully because of its impact on insulin levels in our bodies. This is because of its rate of absorption and digestion. It is recommended that you take it during your training session.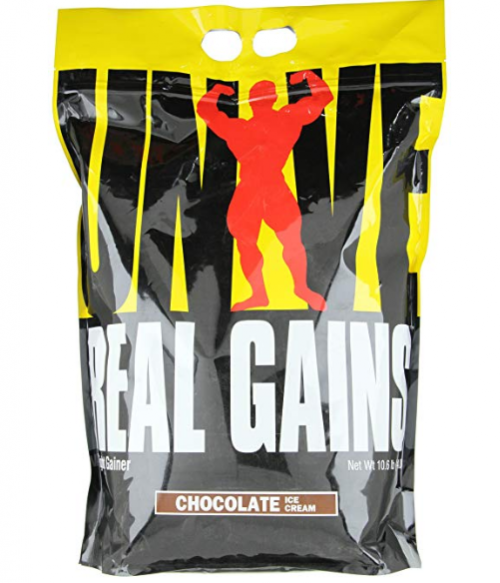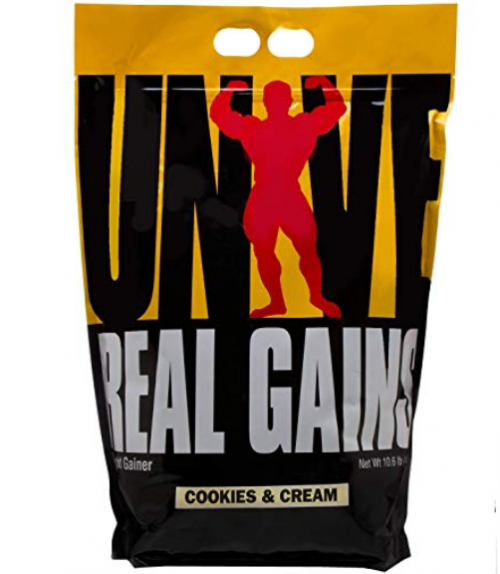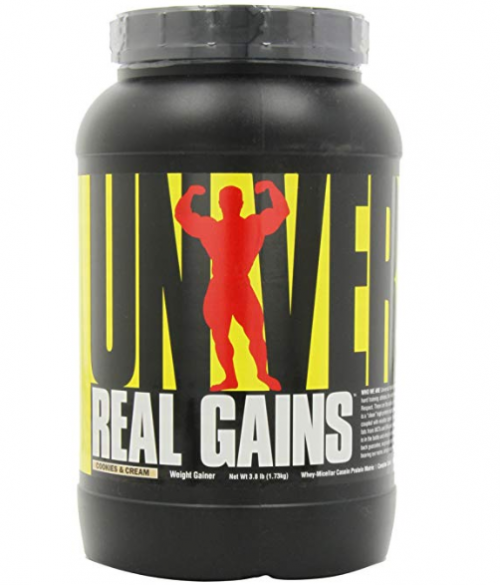 Bodybuilders struggling to take in enough calories can rely on Universal Nutrition to give them that boost they need. It contains proteins but also has a significant caloric input on your diet. Additionally, this product uses excellently divided quality ingredients.
Flaxseed powder has been added to the ingredient to help in the digestion process. This addition has reduced the chances of digestive side effects occurring. It comes in different flavors, which you can choose from. The powder seems dense but mixes well with water or any drink of your choice.
It is efficient and convenient with proven results. Always remember that supplements are not a substitute for food. Additionally, they should be taken as prescribed by the manufacturers.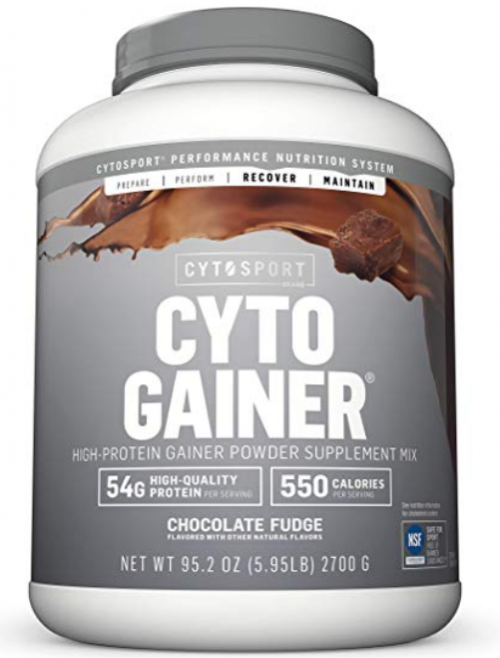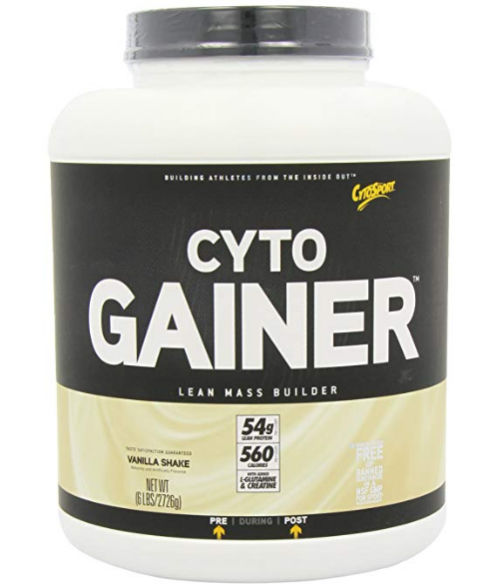 Ctyo gainer is balanced to give bodybuilders and anyone who wants to bulk up the perfect blend of nutrients. They have increased proteins and carbs by doing away with sugars and fats. It is designed to speed up the metabolism in your body in a unique way.
Lack of sugars is one of the main reasons metabolism happens quickly. The protein is wholly synthesized to make digestion faster. Whey protein is the key ingredient, and it contains amino acids. The amino acids are responsible for muscle gain, fat loss, and muscle strength.
What Cyto gainer does is to balance your amino acids and make your strength and muscle gain. This intern leads to increments in the right proportions. The whey protein is used in its purest form, which keeps peptides in place. Peptides are a chain of amino acids form; they are kept in line to help in the absorption of the extra proteins.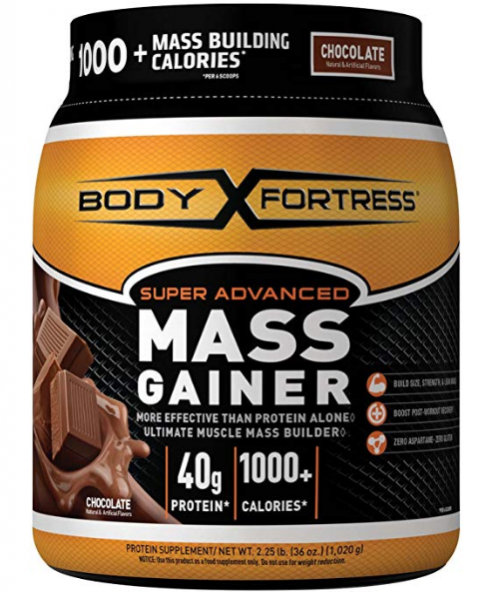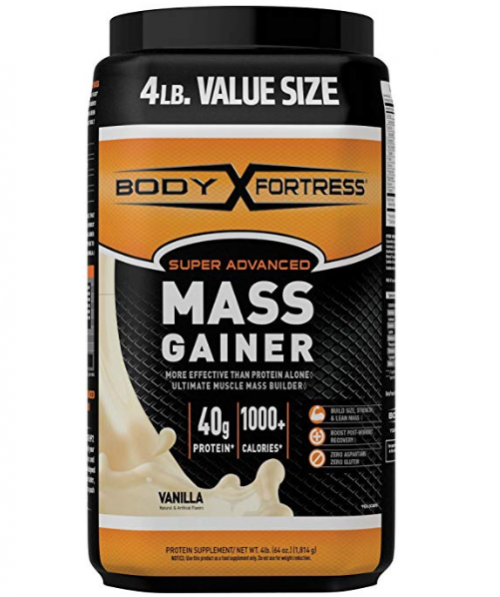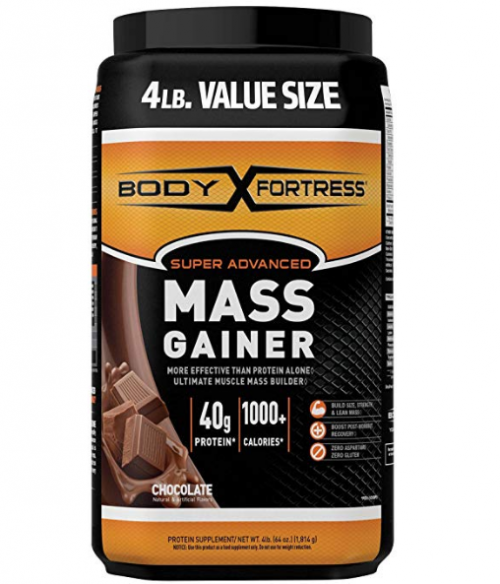 Body fortress was designed to be the definitive muscle mass builder. With over 1000 calories to pump into your body along with vital nutrients, this product is truly what you need to stimulate your muscle growth. Betapower Betain has also been included to give you lean mass.
It is also designed to help your body recover after a workout. It is rich in flavor and easy to serve without any digestive complications. It mixes well with water. Additionally, it has a high concentration of BCAAs that naturally occurs from protein.
The best thing about using this product is that it gives excess calories to sustain intensified muscle glycogen storage. Additionally, to also flood your body with amino acids. This supplement is to be used if you have an intensive workout program and a balanced diet. In addition, you might find it easy to mix with warm water.

Subscribe to our Newsletter