Best Skinny Joggers for Women Reviewed
In a Hurry? Editors choice: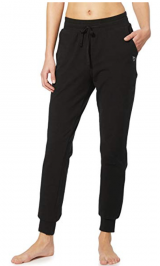 Test Winner: BALEAF Active Sweatpants

Ever tried going for a run or walk and couldn't find the right pants for it? Or, want to have a lazy day in the most comfortable pair of pants that fit just right? Well, we know how difficult it can be, and after hours of research, we found skinny joggers to be the best attire for such activities.

They are trendy right now, easy to wear and go with just about anything. In the pants featured here, you will look great, feel unrestrained, and, most importantly, comfortable. These joggers for women will be an excellent outdoor companion for your activities. Here are versatile skinny joggers for women of high quality to serve you purposefully.
Standout Picks
Criteria Used for Evaluation
Materials
When choosing sportswear, having the right clothing is vital.
By having the perfect material composition, you will be able to be productive on the track. The right fabrics will allow your body to be comfortable and enable you to stay focused on your fitness targets. You will reduce the risk of injuries caused by friction.
We chose this list after carefully considering the products and materials used. While some are made from entirely natural materials, others are fused with synthetic fibers. These products are durable and are sturdy enough to withstand the wear and tear of exercise activities.
For a comfortable experience, most athletes go for synthetic materials. However, using synthetic fibers on humid conditions can have adverse effects on your activity. They don't dry quickly enough, leaving you damp and prone to bacterial and fungal infections. Additionally, as they get wet, they get heavier and start to weigh you down.
Most of the brands we chose have quick-drying capabilities to allow you to stay dry and comfortable. Additionally, the fabrics have sweat-wicking abilities, which will leave your skin dry and fresh. Always check the fabric composition of the pants you want to purchase. Before settling on a brand, consider how you want to use it and where.
Breathability
The attire you pick must be useful in the type of environment you're in.
Workout clothes must be breathable. They must allow your body to get adequate airflow and prevent sweat from building up inside. Our list comprises of breathable products from quality materials.
We know how irritating it can be having to deal with sweat as you try to exercise. Therefore, our list will provide you with some of the best pants with perfect breathability. When sweat dries on the surface of your skin, it leads to your clothing rubbing against it, increasing the chances you getting painful blisters.
Furthermore, we chose these brands because of their fabric composition. Polyester blends, synthetic fabrics, cotton, and fleece are breathable materials. As you go through our list, you will notice that we tried to stick to those mentioned fabrics. Our list ensures that in whatever activity you engage in, your body remains cool and comfortable.
Having sportswear that isn't breathable can lead to uncomfortable situations. You can trust our list to give you pants that are well ventilated. In a chilly climate, pants like the Icyzone Activewear Joggers will keep you warm thanks to the brushed interior and heavy build.
Comfort
Comfort is the key to performance.
Every athlete knows that being comfortable is a critical factor to having success on the track, inside a gym, or outdoors. As we compiled this list, we carefully considered the comfort levels of each product. Similarly, we examined the composition of the fabrics and how it will affect you as you use them.
The products we settled for rank highly in terms of comfort in the market. It's dreadful to invest money on a product that will be of no use. These pants will help you stay in the right mindset to achieve your select targets. Also, the fabrics these pants consist of are not irritable in any way.
Also, these skinny joggers for women fit well and are not loose-fitting to sidetrack you on the road. The materials of some of the sweatpants like Always joggers have 4-way stretch fabrics that will allow you to move unrestrained. They are not too tight to restrict movement or too loose to make it challenging to maneuver the terrain.
Staying dry is also a critical factor in being comfortable. With the right material, sweat won't settle on the fabric, making your pants uncomfortably cold. For these quick-drying capabilities, we recommend going for spandex and polyester materials. They won't lose their shape, and their excellent moisture wicking ability will keep you comfortably dry.
Durability
Athletes put their gear through a lot of wear and tear situations.
Sportspersons need to have sports gear that is durable and will withstand the intensity. We want you to make the best investment in sportswear, so we made sure our list had sustainable products. With proper care, these products will last for a very long time.
Material and durability go hand in hand. To buy the perfect product, you need to be keen on the quality of the material used. If the fabric is of good quality, then be assured of having a durable pair of pants. Having a durable product will result in you saving money in the long run.
No one wants to spend money replacing the same gear every time. It can be demoralizing and too expensive that you may end up quitting the sport altogether. Always go for value over price. Some items might seem expensive but will serve you well for an extended period. As always, follow the maintenance guidelines that may have come with the product from the manufacturers.
Fit
Loose clothing can lead to injuries.
For safety purposes, it is vital to have sportswear that fit appropriately. Besides, tight-fitting clothing can mess with blood circulation and ruin your workout experience. Having gear that doesn't fit right will cut your productivity. This list has skinny joggers for women t that fit true to size, while some fit better than others, and order some a size up for lounging purposes.
Some brands have a sizing chart available to guide you. Always go for snug-fitting sweatpants for better functionality. That is why we chose products that have ribbed cuffs, drawcords, and an elastic waistband to give you a comfortable fit.
Joggers are not fitted like regular running pants and tights. They are a bit loose, but we have tight-fitting options on our list. Choose a fit that will work with the type of activity you want to engage in. We made sure to give you the best products that have no fitting issues, and you`ll fit right in on the first try.
Top 10 Picks
1

. BALEAF Active Sweatpants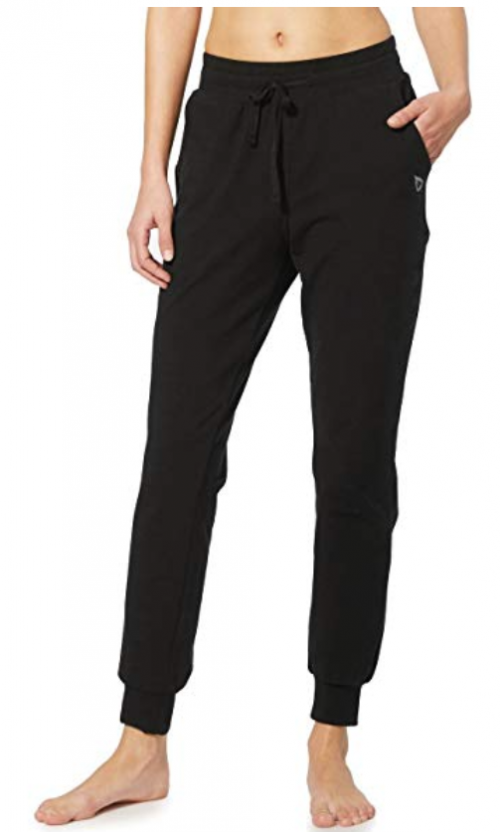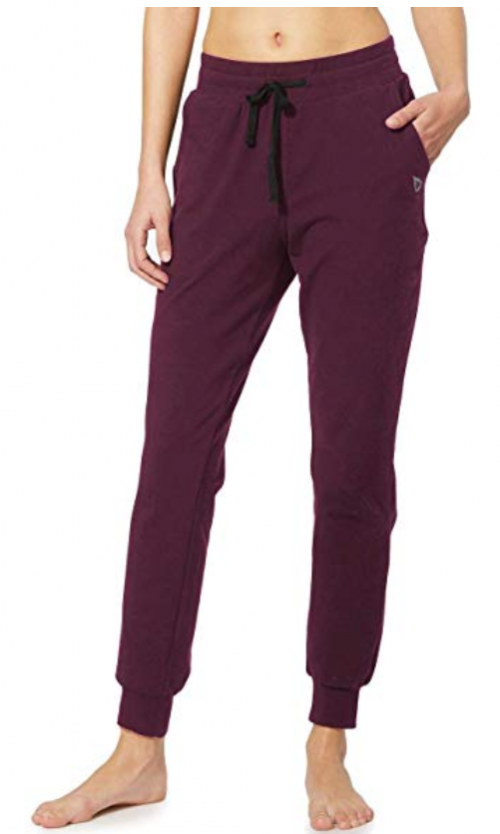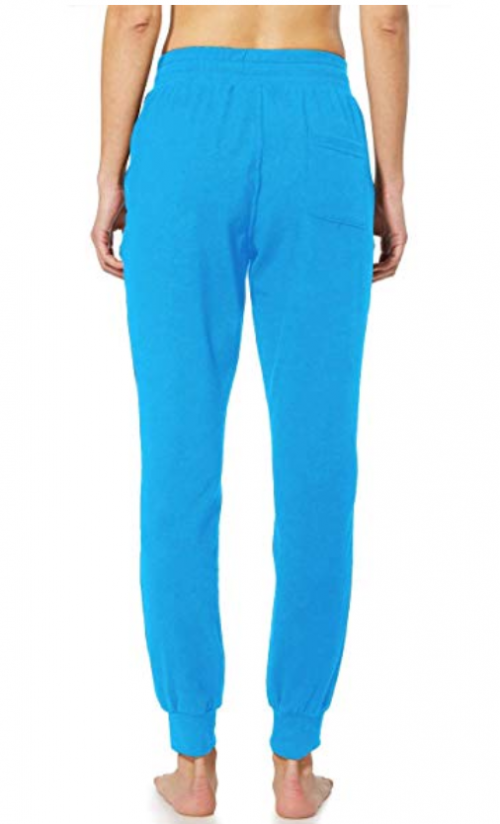 As the name of the product suggests, BALEAF designed these pants to help you in any workout activity. From Pilates to yoga or even lounging, you can do all that while being comfortable in these sweatpants. Also, these pants are excellent for casual wear.
BALEAF uses a combination of materials for a soft fabric that is comfortable to the skin of the wearer. The fabric composition consists of 88% cotton and 12% percent spandex for elasticity. The light grey version of the pants has 54% cotton 36% polyester and 10% spandex material. The material is highly breathable and has excellent sweat-wicking abilities. It makes the sweatpants suitable for workouts and even outdoor events.
These pants allow you to look fashionable as you engage in your favorite activities. These joggers come in a variety of colors and sizes to choose from. You can have your favorite colors matching your sports gear. This product also features deep side pockets to store your valuables like your keys and phone securely.
The waistline has a drawcord that allows you to have a snug fit. Additionally, the waistline is adjustable and elastic to permit different sized fittings. These skinny joggers for women are lightweight, and the ankle areas are tapered for a tight but comfortable fit. The tapered ankles can be pushed up for a short look or worn long.

2

. Champion French Terry Jogger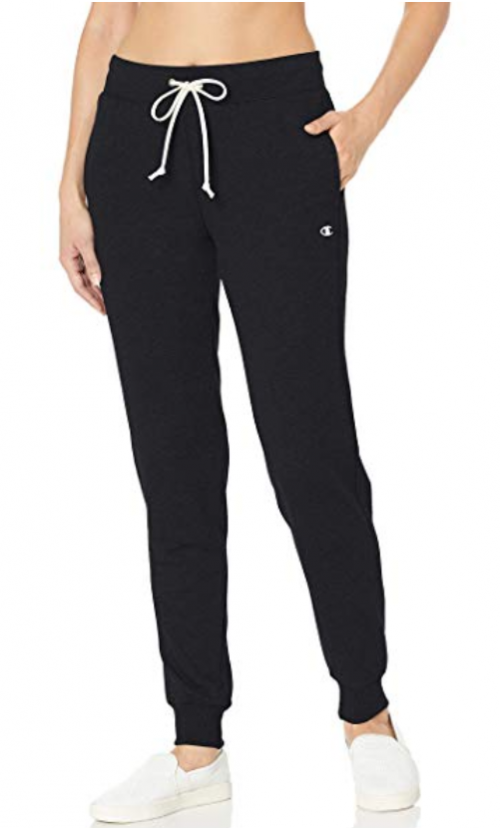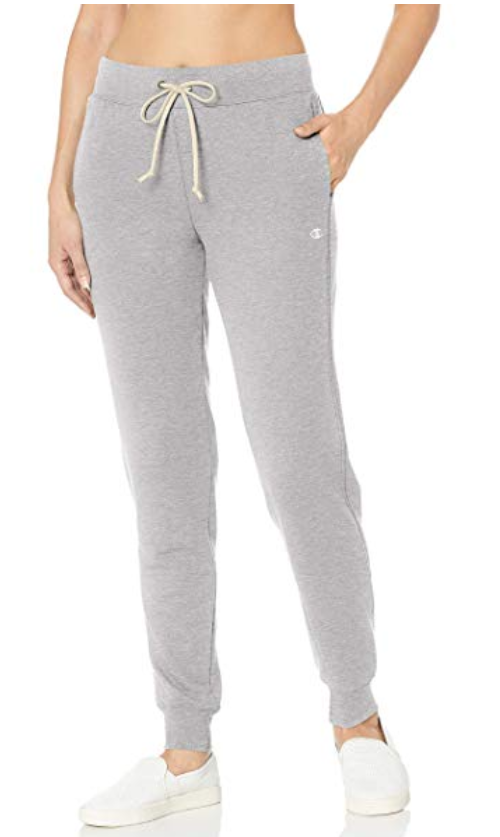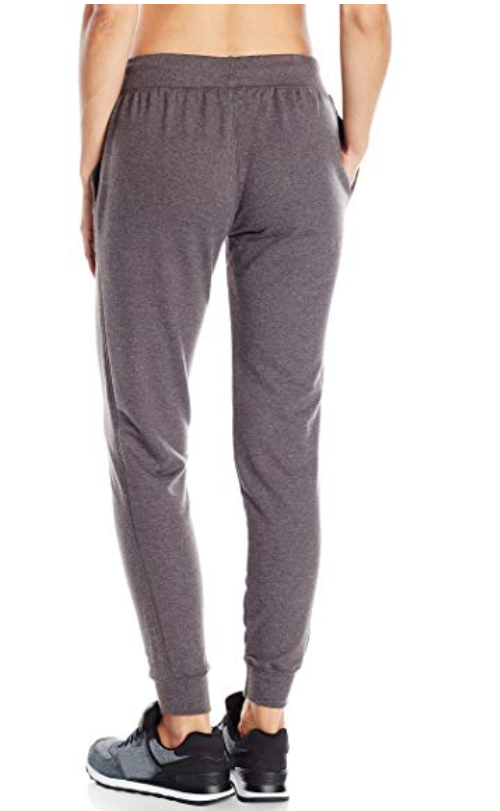 Champion is synonymous with making high quality products for athletes. The brand is still putting the athlete`s best interests first, leading to useful and functional merchandise. After years of research and iterations, they have come up with the French Terry joggers that fly off the shelf and bring ease to any workout activity.
If you are looking for a lightweight pair of joggers that can withstand any workout session, then this is perfect for you. It comprises of a light but durable fabric that will serve you for a good number of years with proper care. The material consists of cotton, rayon, polyester, and spandex for elasticity. Additionally, you can machine wash the pants without fear of ruining them.
You can choose a pair from granite heather, black or Oxford gray, for a variety of occasions. These pants are stylish with ribbed cuffs and tapered leg. This design gives the joggers a modern look that is excellent for going into town or running errands around the city. As a casual outfit, it goes well with sneakers, and the striking Champion logo gives it an assured look.
These skinny joggers for women fit true to size. Terry cloth makes these pants unique, and it is super comfy due to the piles of yarn that gives it a cozy feel. Furthermore, the fabric is flexible and breathable, making the pants excellent for layering.

3

. SweatyRocks Active Pant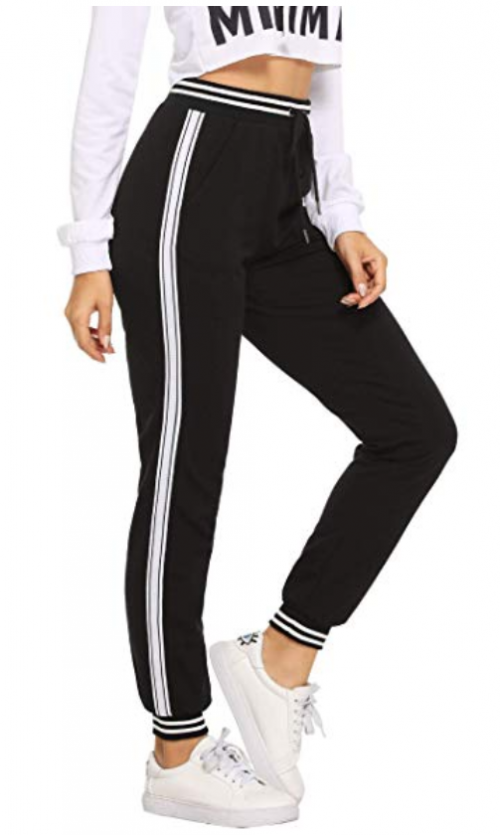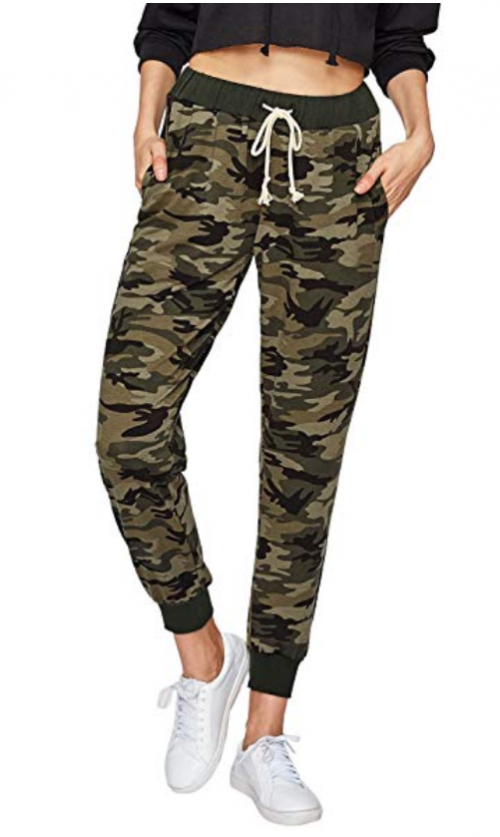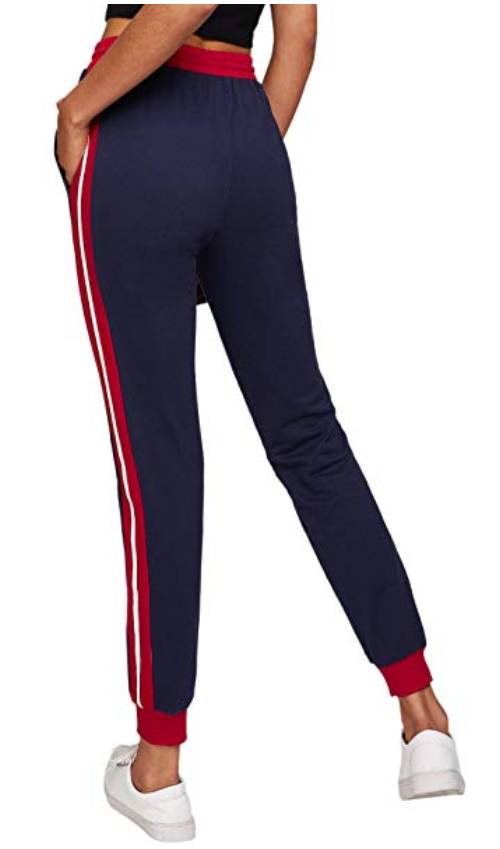 The SweatyRocks joggers are what most athletes dream of owning because of the rave reviews, according to those who have them already. These skinny joggers for women come in a wide range of designs for you to get the perfect pair for any occasion.
This brand is perfect for casual outings with the fashionable prints they have. Moreover, you can match them with your favorite top and sneakers, and you are good to go. For athletes who like to have a unique look, this brand allows you to make a customized outfit. Enjoy your workout, knowing that there is no chance of bumping into someone with the same sportswear.
Cotton is the main fabric that makes up the material structure. Breathability is one of its main positive attributes, and it is also lightweight. Also, it is suitable for use in chilly weather because it will keep you warm. With these pants, you can move freely, and the adjustable waistline holds these skinny joggers in place. SweatyRocks also provide a detailed size chart to help you make the right order.
Furthermore, the front side pockets are available with this product. We know that some athletes like to carry their phones with them. Similarly, other athletes prefer bringing gadgets like music players to entertain them as they exercise. For that, you will find front side pockets to carry your valuables securely.

4

. Adidas Athletics Essential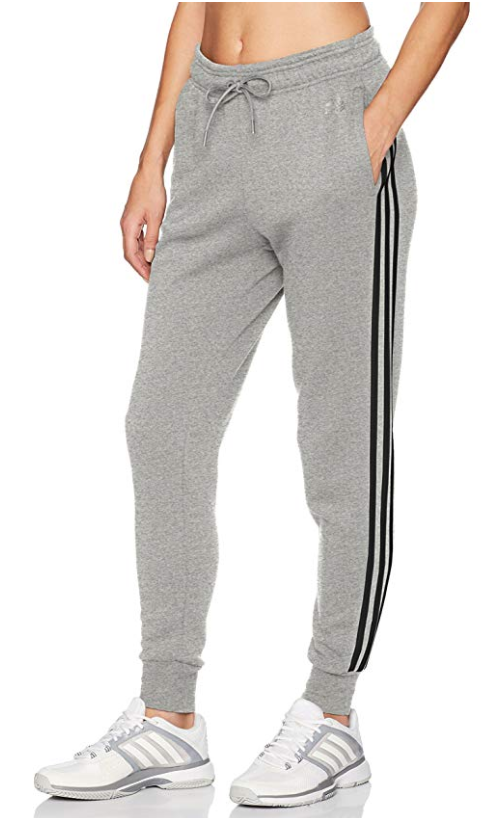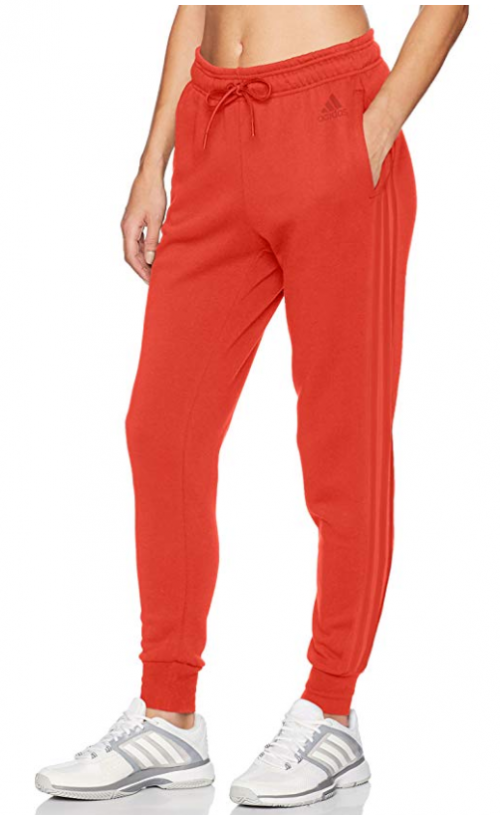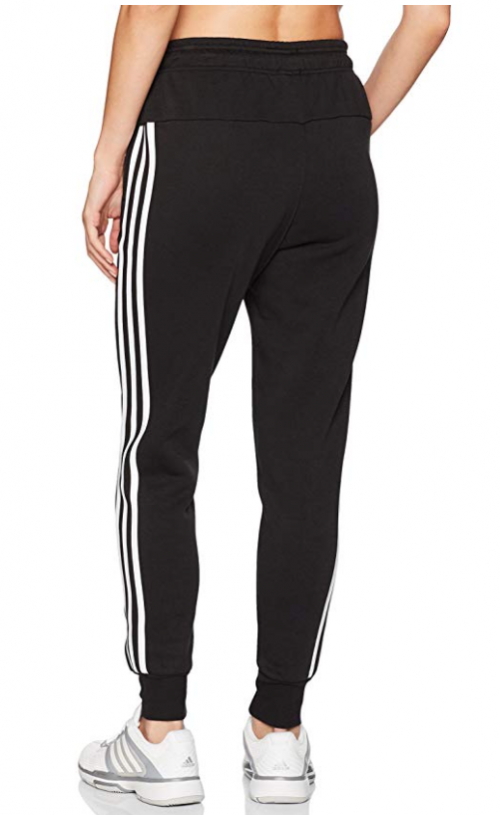 Adidas is a giant in the sportswear and gear manufacturing market. They produce unsurpassed products thanks to years of research and technological advancement. That said, these cotton fleece pants are an excellent investment for any female athlete.
Thanks to its sporty and casual look, you can use it on multiple sporting activities or in everyday activities. With the classic Adidas stripes running on the sides, you are going to look stylish anytime you step out wearing the pants. Additionally, they keep you warm in chilly conditions, and in hot climates, breathability is guaranteed.
Adjustable cords on the elastic waistline help to have a customized fit. The drawcords will help in positioning the waist to your desired comfort level and fit. The side pockets provide functional and convenient storage for small valuables.
70 % Cotton and 30 % polyester are the materials that make up the structure of these joggers. These pants can be machine washed. Though the price might be on the higher side, think of the long-term investment you are about to make.

5

. ALWAYS Drawstrings jogger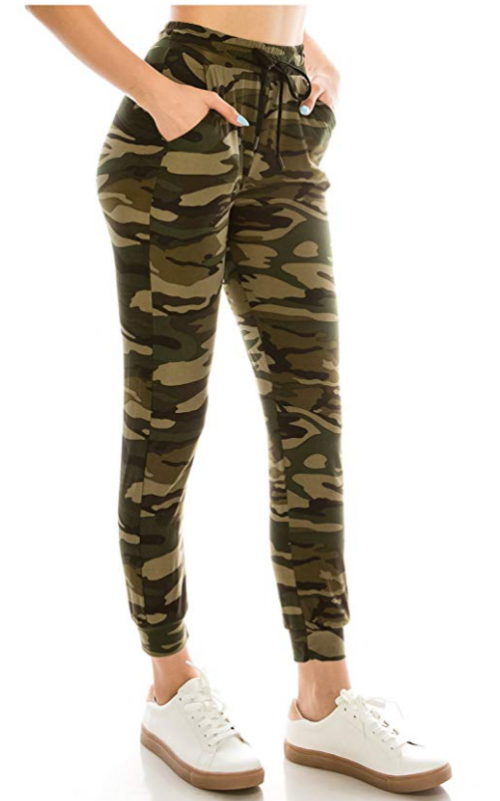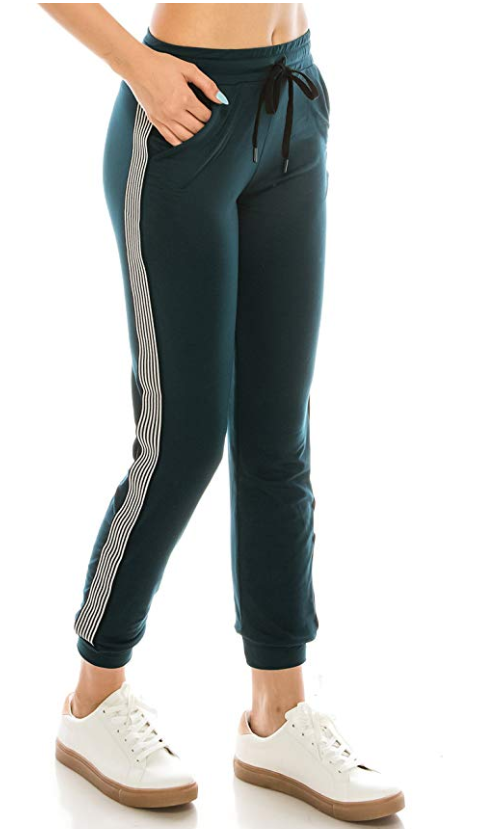 Always is among the first companies to use the Peach skin or buttery soft fabric that is also described as heavenly soft. With this unique fabric, Always has produced these extremely light pair of skinny joggers for women that do not restrict natural movement. It comes in a variety of camo like prints, but there are other colors and prints available.
Keep in mind to order a size higher as you go through the size chart when making an order. These pants tend to run small for many. Polyester is the main fabric in this product mixed with a dash of spandex. The pants are durable, and with the 4-way stretch technology used, it can withstand a lot of pressure.
These pants can stretch in a multi-directional way, making it easy to warm up and climb over obstacles on the track. Also, the waistline is adjustable to allow different size fits with a cord to hold it in place securely. If you have a sense of fashion, then you can use the tapered ankles to pull off an urban style to show off your sneakers. The front pockets are not too deep, but they will help store some of your valuables.
The product can be machine washed. The manufacturers recommend turning it inside out when you are about to clean it and hang dry to retain the color vibrancy. In conclusion, it is comfortable and soft to the skin, plus it is brushed on both sides.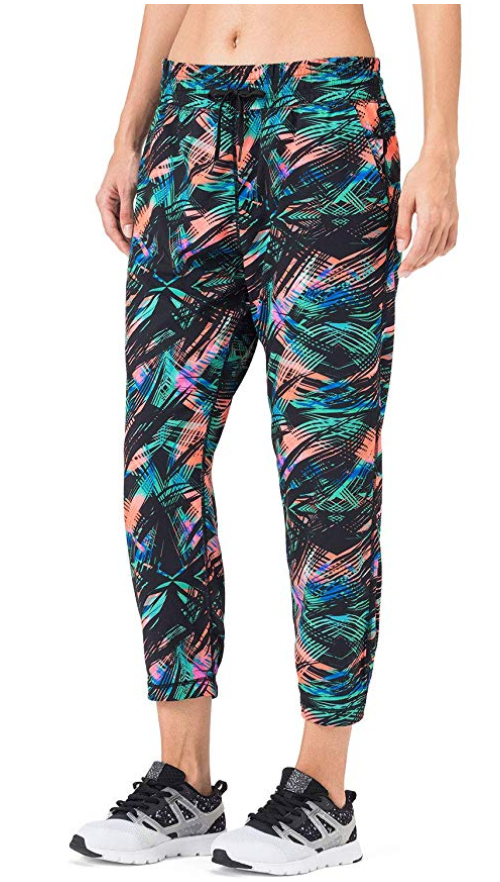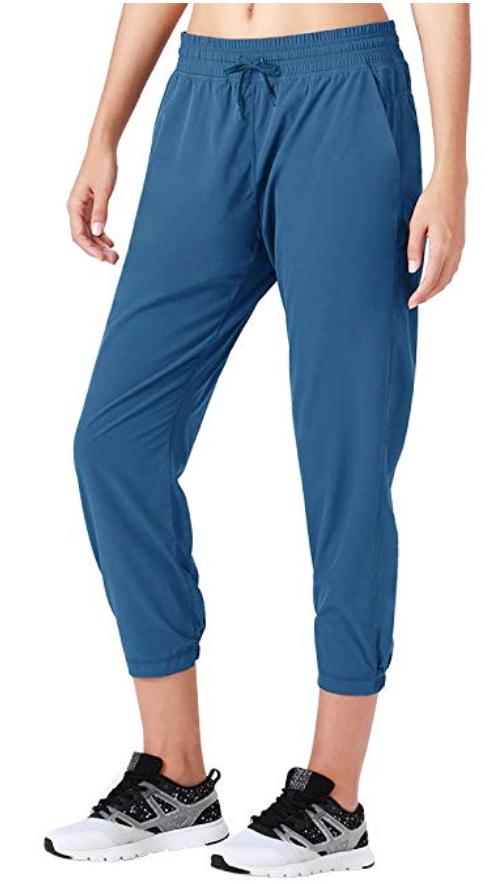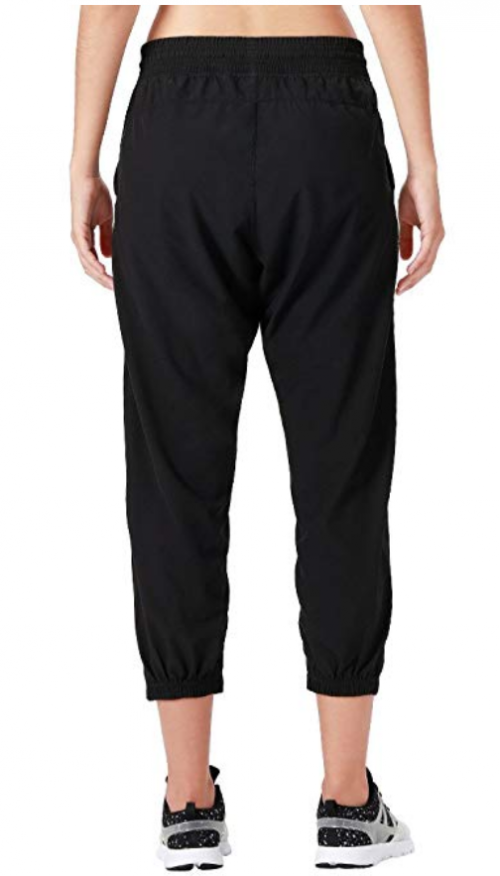 As an athlete, we know you spend a lot of time outdoors and mostly under the harmful sun rays. Naviskin has come up with an excellent product that will let you enjoy working out while being protected. Thanks to their UPF 50+ fabrication, your skin will be safe from the detrimental ultraviolet rays.
Athletes with sensitive skin can use these pants without any fear of side effects. The pants are stylish and comfortable. Its unique design gives you a chance to enjoy extreme sporting activities as well as simple ones. You can attend public functions in the pants thanks to its casual and laid-back design.
Its ability to keep you dry and fresh with its super breathability makes this an excellent choice of pants in arid conditions. The fabric dries faster to let you enjoy your workout comfortably. Friction and chafing will be a thing of the past with these skinny joggers for women.
Also, the fabric is ultra-lightweight and soft to the skin. Tapered leg areas give you the option of wearing it long or short. Other features include two pockets for convenient storage of small valuables, and a drawstring along the waistline will help you adjust the pants to where you feel it is most comfortable.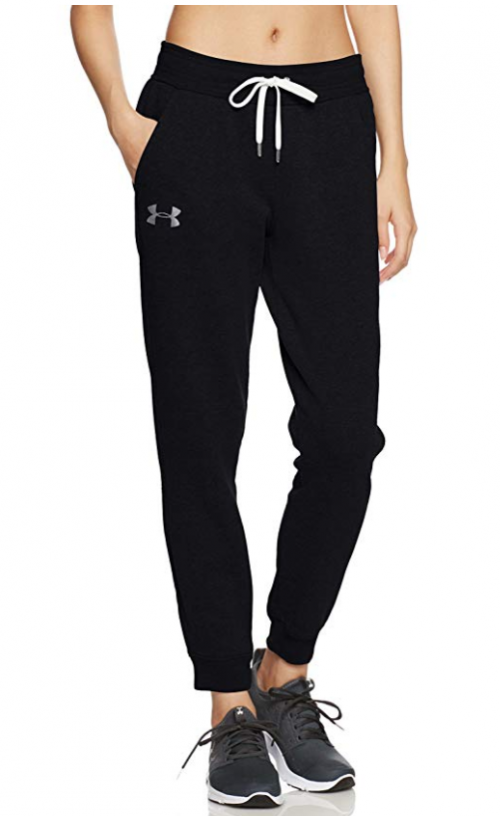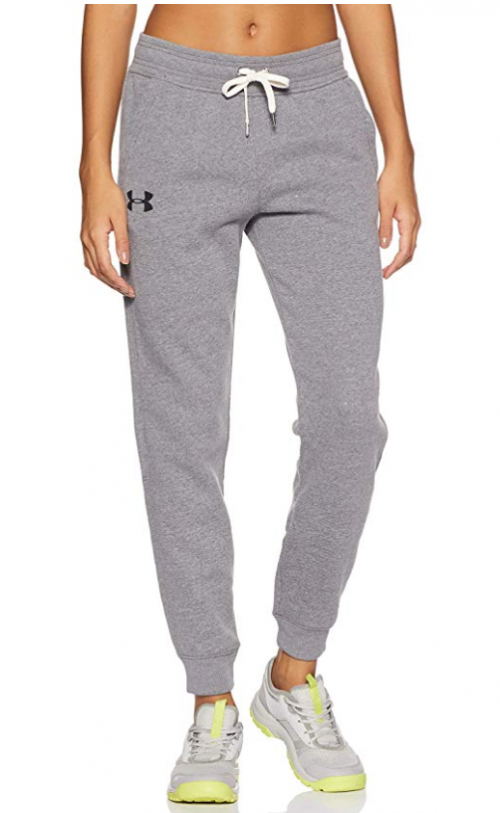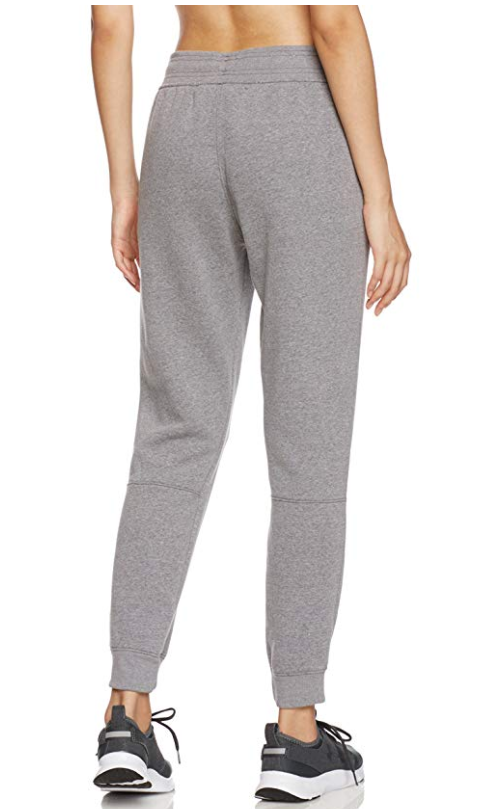 Theses skinny joggers for women are perfect for athletes who must endure a cold or chilly climate thanks to the brushed interior for warmth. This layer will surely keep you warm as you exercise or warm-up. Ranking highly among Under Armour`s bestselling products, these joggers are useful and worth investing in.
Don't worry about sweating in these pants since the fabric is quick-drying and highly absorbent. These skinny joggers wick sweat away from your body, leaving you cool and dry. However, this is possible through the Moisture Transport System Technology Under Armour uses on their gear. Also, it is ultra-soft and comfortable, providing you with a soft feel to the skin.
The mid-weight cotton-blend fleece gives these pants its superiority above other brands. In light rain or humid weather conditions, these pants dry faster than regular cotton due to the cotton-blend fleece lining. Cotton and polyester are the two main fabrics used on these joggers. These pants permit a full range of motion thanks to the lightweight strength construction. The ankle cuffs and waistband are ribbed, leading to the snug fit experienced in the pants.
Additional features include an ankle crop back seam and side pockets. Moreover, the stylish and famed Under Armour logo is embedded on the left side pockets for an elegant finish. The fit is as expected; however, consult the detailed sizing chart to get the perfect fit.

8

. Icyzone Activewear Joggers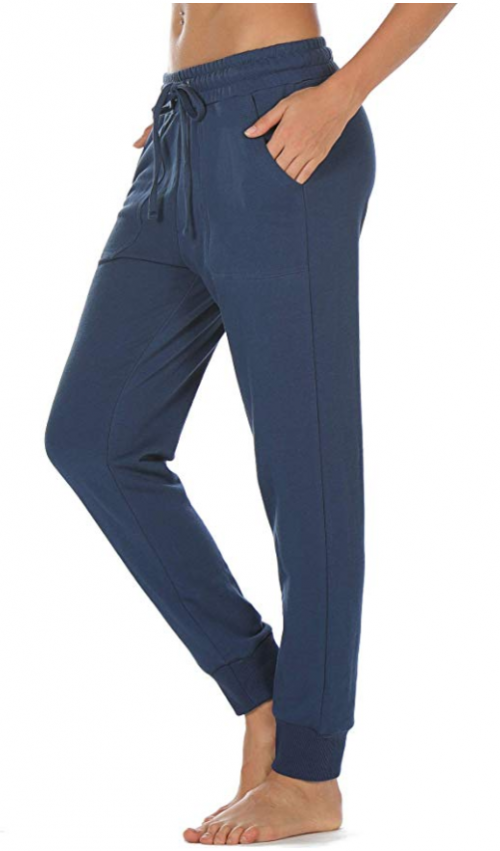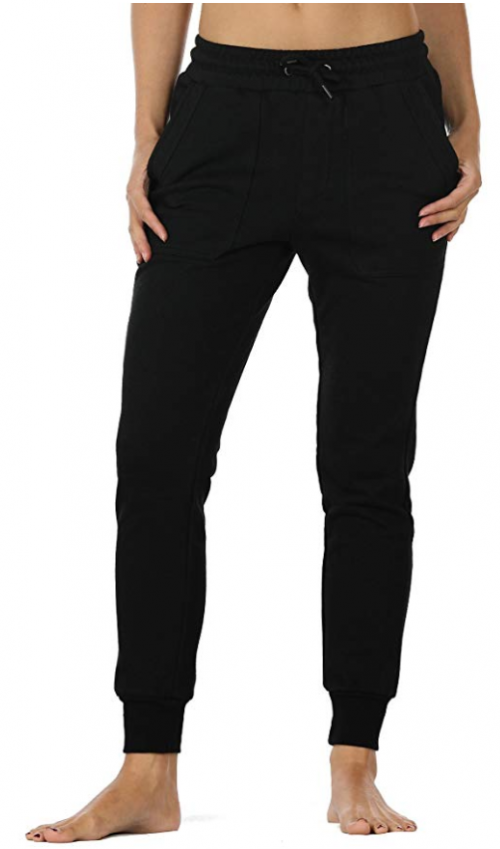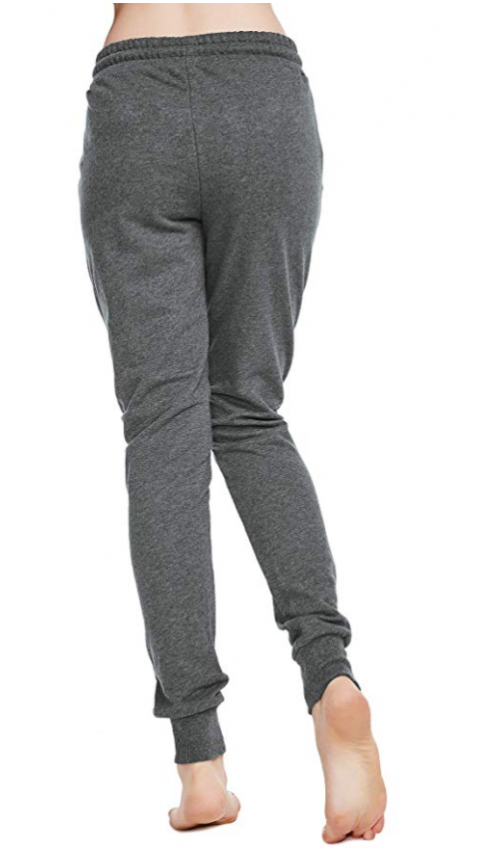 These beautiful pair of pants are designed for the cold atmosphere. This product is excellent for those chilly evening runs or early morning runs. It is not limited to running only, because they are also perfect for winding down anywhere.
For a complete fashionable look, Icyzone has matching tops for these pants in case you need one. The pants by themselves are still stylish and can be worn as a casual outfit. These pants are durable and breathable, having being made of cotton primarily.
The elasticized waist and cuffs provide a snug fit that is also comfortable and not too tight to the point of being uncomfortable. Icyzone has more than 50 styles to choose from. With this brand, you won't be short of options. Also, the pants are abrasion-resistant and moisture-wicking, pooling the sweat from your body.
The deep pockets are secure compared to most brands. Furthermore, you can machine wash these skinny joggers like regular clothing. We recommend these pants because they can handle every activity in cold weather conditions.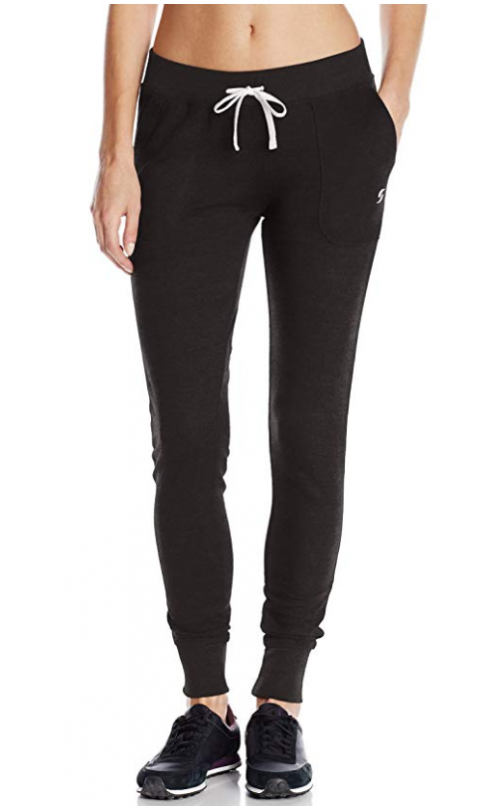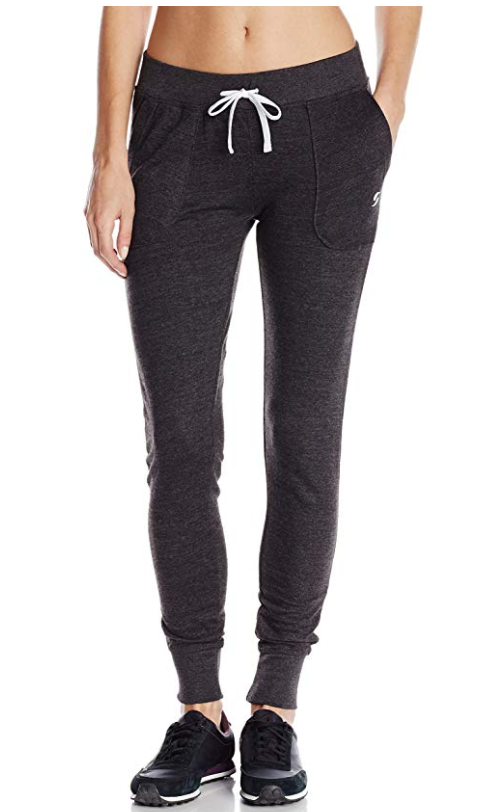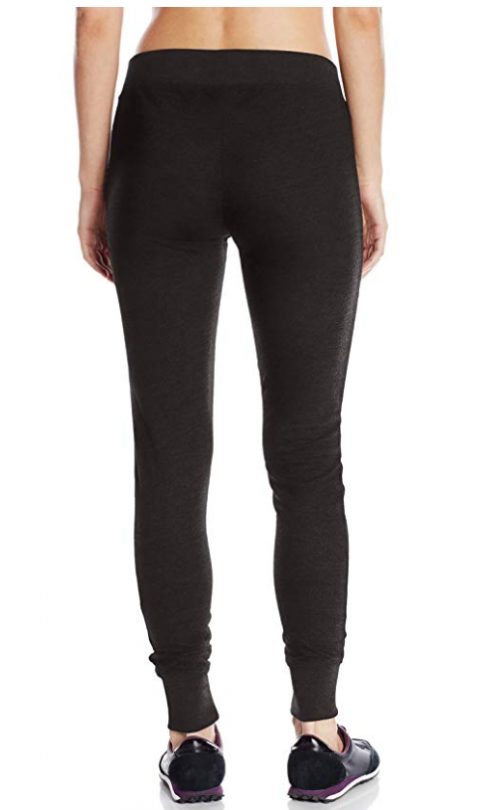 Soffe Company has been around for many years producing great sportswear. Years of excellent research from customer feedback has led them to make these French terry joggers for women. The pants are tailored to offer comfort and functionality. Plus, you can use the pants on numerous activities with ease and confidence.
The pockets are styled from the front with a curvy design to make it alluring. It might fit a bit tight on a thick-bodied person. Like most joggers, the waistline is elastic, and a sturdy drawstring is available.
The length and inseam of these skinny joggers are excellent. Ribbed around the ankle area, and the fit is somewhere between a legging and a jogger. Breathability is down to the cotton terry fabric and the durability from polyester. With proper care, these pants will provide you with great functionality through many cycles of use.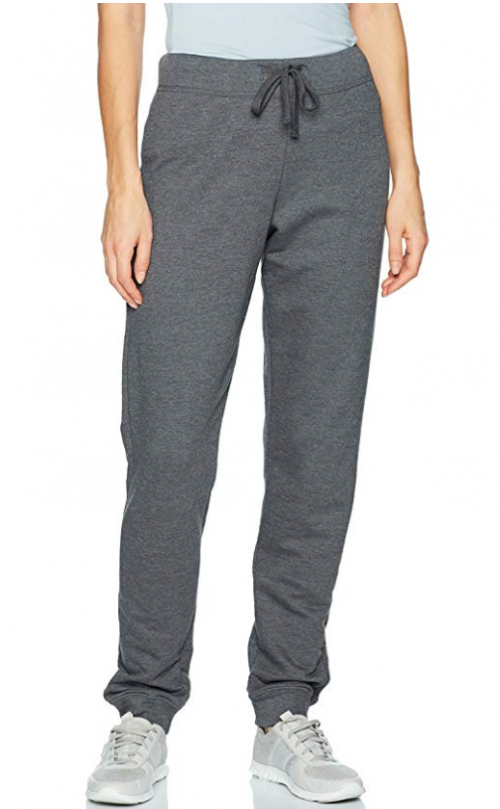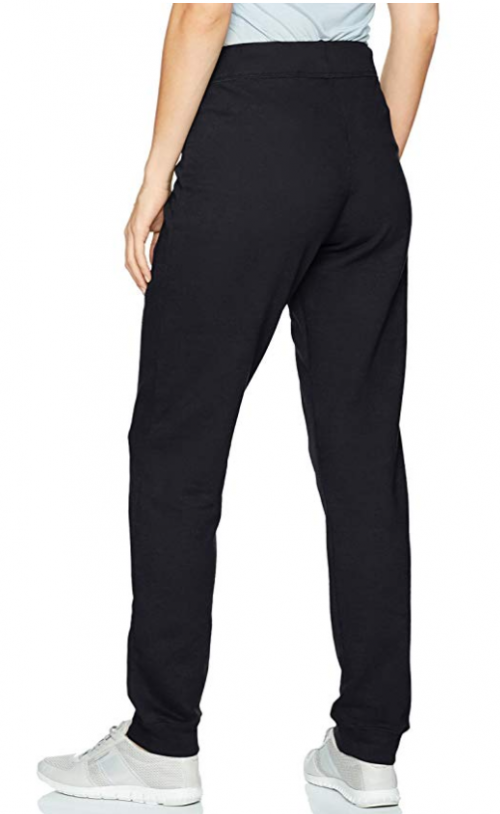 The Fruit of the Loom around town jogger is a product every woman should have. You can use it in any environment without feeling out of place. The design and structure of the pants make them suitable for women of all ages, in temperate weather conditions, and partaking in different activities.
If you want to dress up for an occasion or have a lazy day around town, these are the perfect pants to use. They are so versatile that you can wear them to work on casual Fridays. And, if you love jogging in city parks or around town, they will still serve you well.
It is important to note that these stylish pants don't have pockets. You will have to carry a handbag or clutch bag if you must take valuables with you. Thanks to the fabric used, they are cozy and will allow adequate airflow.
It fits as intended, but you can order up if you desire a loose fit. Additionally, the bottom is cuffed, and you can use the drawstrings on the waistline for a perfect fit. The Around Town Joggers come at a reasonable price too.

Subscribe to our Newsletter