Best Foam Rollers Reviewed & Rated | 2022 Edition
In a Hurry? Editors choice: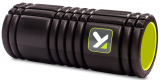 Test Winner: TriggerPoint GRID

Foam rollers are a great exercise device that can be incorporated within your fitness routine or simply used as a massage tool. Whether you are a newbie to foam rollers or an experienced athlete who uses them all the time, you must invest in some good foam rollers. 

When it comes to picking the best foam rollers, there are so many to choose from. So, to make like easier, we have researched and reviewed the best options currently available and have put together reviews of our top ten picks. We have rated each on comfort, versatility, durability, and value. 

Check out our 10 best foam rollers reviewed today! 
Standout Picks
Criteria Used for Evaluation
Comfort
Comfort is an important part of the exercise equipment.
When choosing the foam rollers, we needed to choose rollers that were suitable for beginners and more experienced athletes. This involved picking rollers that ranged in firmness and texture, to ensure they helped ease pain rather than cause pain. This was our number one priority.
When selecting the electric foam rollers, we chose devices that had a variety of different settings that allowed us to change and differ the intensity of the device. For manual foam rollers, we tried to choose brands that gave us a choice in firmness and texture. Foam rollers have heaps of benefits like improving circulation, offering pain relief, and flexibility so we needed to select a range of foam rollers that would suit different needs. 
Versatility
When it comes to versatility, we selected foam rollers that brought an element of versatility to our collection.
We chose a mixture of manual and electric foam rollers. We selected foam rollers that came in a variety of sizes and colors as we felt it was important to give customers the choice when choosing their equipment. We also chose rollers that were suitable to use pre-workout and that were suitable for workout recovery. Some of the items also came with free access to online instructions on how to best use the equipment. 
Durability
If you want a foam roller that you will not have to replace after a few months, it is important to look at how durable it is.
When collating our selection of foam rollers, we paid close attention to the type of material used to create the roller. This was incredibly important when it came to durability because the item needed to withstand daily use without resulting in wear and tear or losing the shape of the cylinder. 
Most of the foam rollers we chose were made using a high-density EVA foam. This choice of material made the roller firm enough so it could support different body types and not lose its shape when used repeatedly. Some of the rollers were waterproof and others were made from a non-toxic polypropylene material that made them extremely easy to clean. Some of the rollers were made from a high-quality EEP and ABS material whilst others had a coating that rebelled liquid. 
Value
When it comes to value it is important to get the most for your money.
However, as we all know products do vary in price quite a bit. An item's brand, quality, and additional features can all impact the product's piece. The price of an item can also be affected by how much someone is willing to pay for it. This can be influenced by how much a person wants the product and how much money they must spend on it. 
When it comes to this collection of foam rollers, we wanted to have a selection that varied in price, ranging from low, medium to high. By doing this it made the item accessible to everyone. It also showed what type of foam roller you could get for your budget. 
Top 10 Picks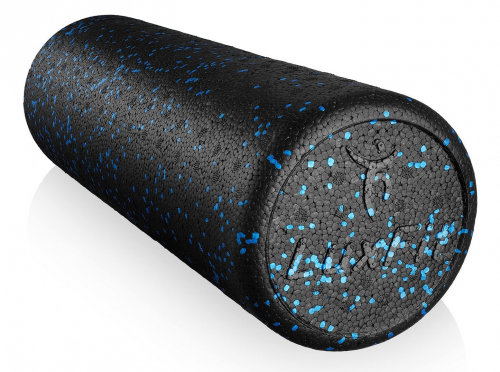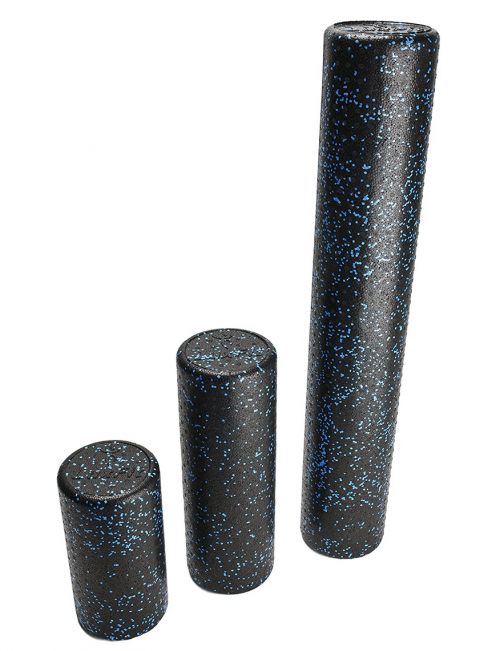 These LuxFit Foam Rollers are the latest must-have trend. This high-density foam roller is a fantastic device that will provide physical therapy before and after exercise.
Comfort
The foam roller will help relieve muscle tension, increase muscle reflexology, and prevent muscle injury. It will help with muscle re-education, balance, positioning, and postural. As well as spinal stabilization, coordination, body awareness, and strengthening.
Versatility
The LuxFit roller comes in 4 different lengths including 36 inches, 24 inches, 18 inches, and 12 inches. The foam roller is 6 inches wide and features blue speckles. Unfortunately, some users found the blue speckles not smooth or compressed so snagged their clothing and hair.

Durability
This foam roller consists of a molded polypropylene foam technology that has a 21bs per cubic foot density. It has been designed so the roller does not lose its shape after a heavy workout at the gym. The foam has also been made so it rebels liquid. This piece comes with a full 10-year limited warranty and a free online instruction video on how to use the item properly.

Value
This is an affordable piece of equipment that is great if you need help relieving muscle tension and you want to increase muscle reflexology.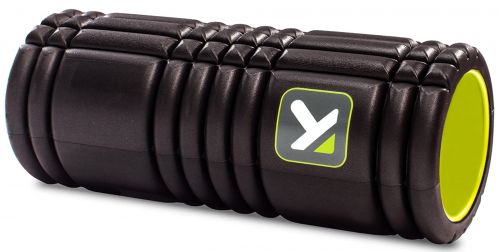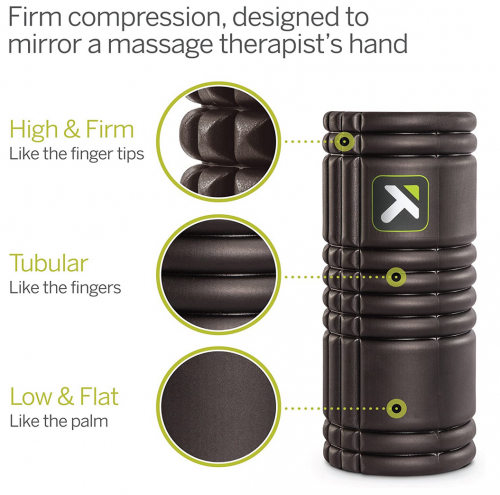 The TriggerPoint GRID is one of the more superior designed rollers. If you want style and substance you have come to the right place with this foam roller.
Comfort
Featuring a patented design that has a superior, multi-density exterior, this roller is proven to be durable. 
This foam roller will improve your balance, mobility, and flexibility. Using it will help prepare your body for peak performance. The GRID works by rolling through knots, kinks, and tight muscles. It reduces soreness and improves mobility. The benefit of the GRID is that it replicates the feeling of a massage therapist's hands. It is flat and wide like the palm and has long and tubular like fingers.
It is also small and firm like a person's fingertips. The GRIDs textured surface maximizes the flow of blood and oxygen through the body, helping to heat tissue and repair muscles. 
Versatility
This foam roller is available in a variety of colors including pink, orange, lime, camo, and black. The roller comes in a range of sizes including the original 13-inch GRID, 26-inches GRID 2.0, and the 4-inches. The smaller 4-inches mini option is ideal for taking on holiday. 
This is the perfect tool for beginners and more experienced athletes. The piece of equipment is also used by physical and massage therapists, trainers, professional athletes, and coaches. 
The item also comes with free online access to an instruction video library whereby the experts at TriggerPoint demonstrate how to use the foam roller. 
Durability
This TriggerPoint GRID consists of a durable, multi-density EVA foam exterior that covers a rigid hollow tube. The benefit of this design is that the hollow core can withstand repeated use. The EVA foam can also maintain its shape and integrity while being used repeatedly. The foam roller has been constructed using quality materials that will not break. 
Value 
This mid-priced TriggerPoint GRID may be a little more expensive however you are getting a lot in return for this item. Offering more superior design, the GRID multi-density exterior not only offers style and durability but will leave you feeling younger, looser, and more flexible than ever before!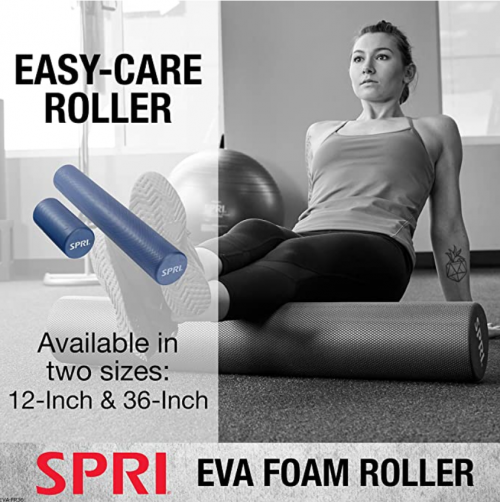 Designed for repeated use, this foam roller from SPRI will certainly keep its shape!
Comfort
This quality product has been designed to help improve your flexibility, balance, and mobility while providing myofascial relief. The increased density of EVA foam is perfect for muscle re-education and dynamic strength application. This roller also helps with myofascial release therapy that relieves muscular pain through strength conditioning and gentle stretching.
The tool can also help with core and spinal stabilization and lower body balance. The foam roller will also help build your strength, increase your stamina, and define your abdominal muscles.
Versatility
This SPRI roller comes in 2 different options being a full and half round roller that is 36 inches long by 6 inches wide. They can also be purchased in different lengths including 12 inches or 36 inches long. 
Durability
This option has been constructed using a heat-sealed EVA foam. This foam roller will maintain its shape after repeated use and will still look like brand new. The piece of equipment has a closed-cell EVA which works by preventing moisture and bacteria from penetrating the foam. This foam roller has also been designed for commercial use as well as domestic use. 
 
 Value 
Available at a mid-price, this foam roller is slightly more expensive than some of the other items in our collection so if you have a slighter bigger budget this would make a great buy.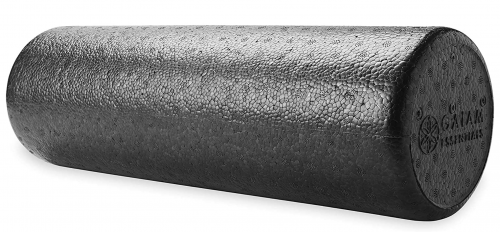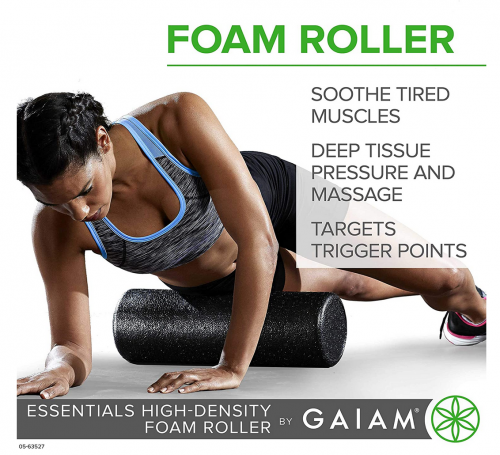 This Gaiam Essentials option is the perfect solution if you suffer from back pain. Designed as a high-density muscle roller, this tool will certainly help with pain relief.
Comfort
It will also alleviate and isolate trigger points on your body by providing deep pressure and massage to painful areas. 
This foam roller is a great way to work out any knots, kinks, back pain, tight knots, and overall soreness from exercise like running, weightlifting, and physical therapy. This is also a good piece of gear to use before workouts because it will help loosen your muscles. It is also good to use post-workout to help relieve troubled spots. 
 
Versatility
It's available to purchase at 18 inches and 36 inches long. If you want a roller that can be used on isolated areas of your body the 18 inches one is a perfect size. The 36 inches roller is best used when doing total body workouts because it provides more support while in motion.  
Durability
Gaiam has produced a high-density firm foam roller that can withstand maximum pressure and weight without the roller losing its shape.
 
Value 
If you are on a budget this foam roller is one of our more affordable options. Sold for a low price, this is a great buy that you will not want to miss out on.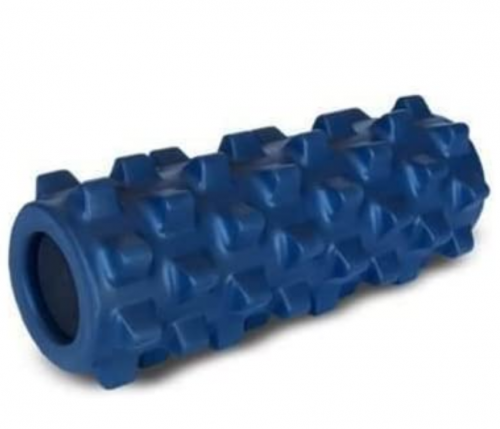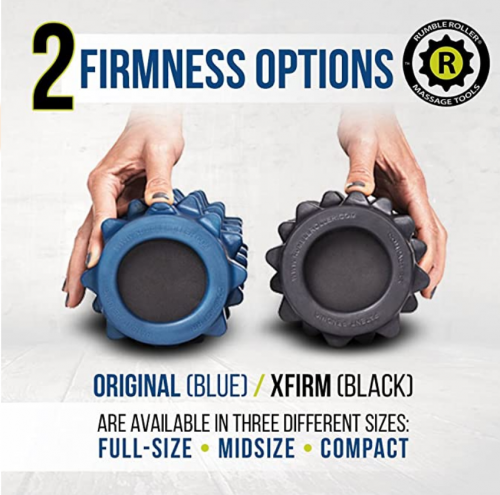 This RumbleRoller foam roller will help you improve your mobility, flexibility, and strength. It features a sturdy, textured pattern of bumps that are designed to be firm but also flexible.
Comfort
This piece of equipment is a great stress release because it provides deep tissue massage and is a great form of pain therapy. The advantage of this roller is that you can control the level of pressure you apply. After a while, using one of these rollers, you will feel physically stronger and healthier as well as feeling more relaxed and stress-free. 
Versatility
This RumbleRoller is a great piece of equipment to use before a workout or competition because it works by loosening muscles, improves mobility, and prevents injury. Suitable to use after workouts, it reduces muscle soreness, giving you a speedier recovery. 
This tool is ideal for both athletes and trainers. The RumbleRoller is available in varying lengths including a full length 31 inches roller that is great to use for your calves, hamstrings, and quads. There is also a mid-size roller that is approximately 22 inches long. The size is great for using on the lower back, shoulders, arms, and glutes. There is also a compact size available which is approximately 12 inches long.
The size is more suited to athletes on the go. The foam roller can easily fit in your bag, making it extremely convenient. 
The foam roller is also available in different firmness and densities. If you are new to foam rolling, the blue original density roller is a great option. It is a softer roller that has flexible bumps that actively grip and manipulate soft tissues.
Whereas the black roller is a firm option that is perfect for use on thicker muscles like hamstrings and glutes, where you are trying to dig deeper into the body. This roller is a lot stiffer and spikier so is great for more experienced users. 
Durability
The RumbleRoller has been designed to outlast any other foam roller, making it extremely durable. You can rely on this roller to keep its shape, whilst being used repeatedly. 
It is waterproof and non-absorbent as well as being latex-free. The roller is free from phthalates, lead, and other chemicals. It has also been molded with natural-synthetic additives that help prevent the growth of uninvited things. The tool comes with a three-year warranty. 
 
 Value 
This muscle foam roller from RumbleRoller is one of the more expensive options in our collection. Exceptionally durable and offering plenty of benefits to your body, we think this foam roller is worth the extra dollars for what you are getting in return.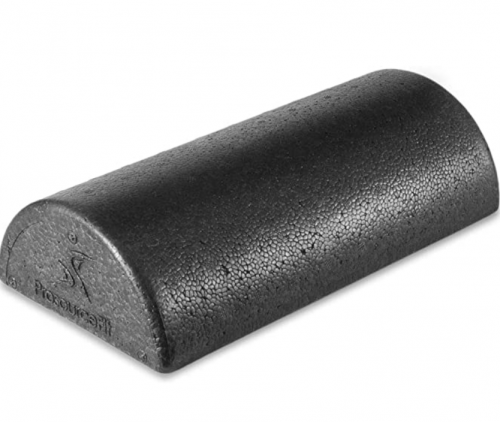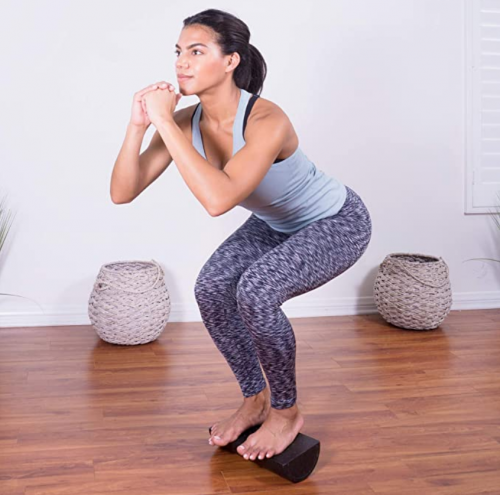 This foam roller from ProSource Store is one not to miss. Featuring a patterned surface, this helps by providing a gentle non-slip grip and extra traction when doing exercises like lunges, planks, and push-ups.
Comfort
 
The advantage of this foam roller is that it can be used to help stretch tight muscles after a workout. It can also be used as a muscle-strengthening tool. This great piece of equipment will improve your flexibility, core strength, balance, and rehabilitation. The sturdy design and quality pressure will also help in getting rid of any firm knots embedded within your back. 
Versatility
This is a very versatile piece of equipment that is suitable to use when doing Pilates, rehab exercises, spine stabilization, and building body awareness. When it comes to size, this foam roller is available in a variety of lengths including 12 inches, 18 inches, and 36 inches. It is available in varying diameters including 3 inches and 6 inches, giving you the option of a half-round foam roller or a full one. Unfortunately, this foam roller is only available in black color. 
Durability
The latest ProSource roller has been made from a high-density foam structure that provides the perfect deep massage. The roller has been designed so it is firm enough to support all body types but will not lose its shape after repeatedly being used. The roller has been made from a non-toxic polypropylene that is extremely easy to clean.
Value 
This ProsourceFit foam roller may not look like one of our fanciest foam rollers, but it certainly does the job. Sold for an affordable price, this is a great option if you are on a budget.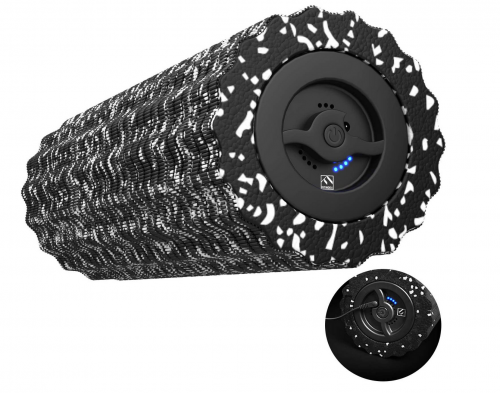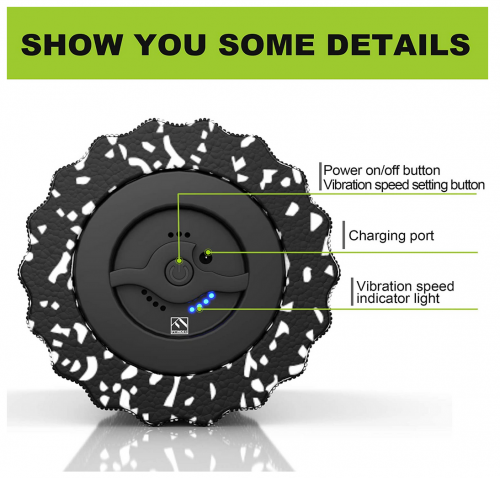 If you are looking for a quality, High-Tec electric foam roller, FITINDEX has designed and produced a fantastic piece of equipment!
Comfort
This new generation deep tissue foam roller is a great option for people wanting to recover after yoga, cycling, running, climbing, boxing, weightlifting, and martial arts because it massages deep into the tissue, focusing on the sensitive areas. 
The benefit of the high-intensity therapeutic vibration is that it works by helping to promote blood circulation and pain relief from muscle soreness. All you need to do is simply press the right button to apply the correct amount of pressure. 
Versatility
This electric foam roller from FITINDEX features a 4-speed vibration setting including light, medium, auto, and high, depending on your workout and the intensity you require. The great thing about this design is that it is lightweight, weighing approximately 2.1lbs and its design makes it portable so you can use it wherever you go. 
This is a great piece of equipment for warming up your body before exercise and when doing your workout recovery as it promotes pain relief. It can also be used across your body, on your back, arms, neck, elbows, and legs, increasing the level of circulation and flexibility. 
Durability
The FITINDEX roller 4 is like no other that you have seen before! Made from high-quality EEP and ABS materials, this foam roller is extremely durable so it will not lose its shape. This electric roller is also rechargeable and comes with a full battery that allows 4 hours of use. 
Value 
This option is one of the highest-priced options in our collection. With this choice, you are certainly getting a lot more tech for the price however this foam roller is dependant on being charged so may not be suitable to take everywhere with you. Plus, if you do not have access to electric you cannot use it.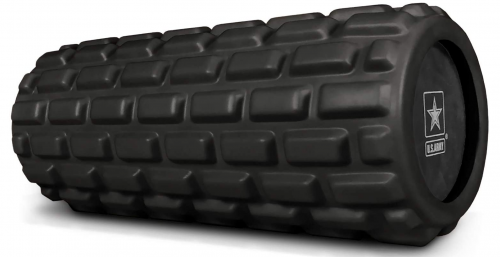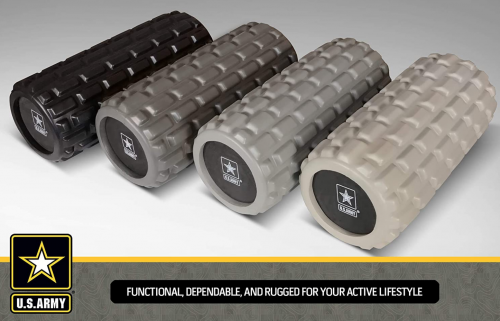 After a hard session at the gym or after the long run what better way to help your muscles than this U.S. Army foam roller. The roller will help by stretching your muscles, so they are flexible and pain-free.
Comfort
The foam roller has been custom designed to feature a spiked tread that is firm enough so it works your back by penetrating the soft tissue but comfortable enough so you can roll it along your spine and neck. It features a diagonal grid pattern and includes small bumps that help by rolling away lactic acid, knots, and cellulite throughout your body. 
The benefit of using one of these foam rollers is that it increases circulation and blood flow. It also helps to avoid injuries and speeds up recovery. If you suffer from a build-up of lactic acid, this tool helps by moving it away from your muscle tissue after workouts. The roller works by soothing overworked and tired muscles but at the same time helps to lengthen them. For serious athletes, this foam roller will increase your performance by shortening your recovery window. 
Versatility
This foam roller comes in four different colors including black, dark green, light green, and medium green, giving you a selection to choose from. When it comes to size, unfortunately, this foam roller only comes in one size which is 13 inches long by 5.5 inches in diameter. This tool is suitable for both beginners and serious athletes, making it extremely versatile. 
Durability
This U.S. Army roller has been made from high-density EVA foam that covers a heavy-duty solid foam cylinder core which is extremely tough. This foam roller is comfortable to use and is extremely effective, making a great piece of gear for beginners and more experienced athletes. 
Value 
One of our more affordable options is this U.S. Army Foam roller that is a great buy that you will not want to miss out on. 

9

. STRONG 5 in 1 Foam Roller Set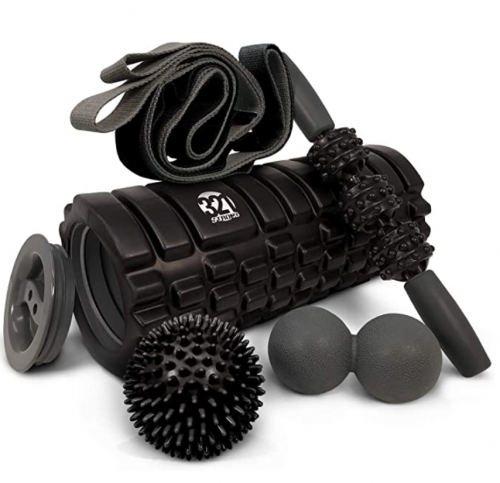 This STRONG 5 in 1 Foam Roller Set is a great set for any serious athlete. Whether you need a massage, stretch, or need to recover from your latest workout session, this 5 in 1 kit will have everything you need.
Comfort
The foam roller is made from a medium-density roller that has patented technology which helps to deliver a therapeutic self-massage that you will not be able to live without. 
The benefit is that it will increase circulation to problem areas and improve blood flow. Using this piece of equipment will also help decrease recovery time and increase your level of flexibility, mobility, and range of motion. Featuring a hollow core, the foam roller has plenty of room to store the 5 additional pieces of equipment including a stretching strap, massage stick, peanut style lacrosse massage ball, and a spike massage ball. This brilliant kit will help you focus on your entire body. 
Versatility
This is a 5 in 1 foam roller set has a hollow core massage roller that holds a muscle roller stick, double lacrosse peanut, spikey plantar fasciitis ball, and stretching strap. The 5 in 1 kit is available to purchase in four different colors including Bright Lime, Bold Black, Vibrant Pink, and Soft Teal. The gear also comes with access to a free eBook that can be downloaded via the manufacturer's website. Unfortunately, the foam roller only comes in one size option. 
Durability
This is an exceptionally durable 5 in 1 foam roller set that provides everything you need. Designed and built to last, this hollow-core is made from an EVA material. You can use this piece of equipment repeatedly and you will not need to worry about it losing its shape. It is very lightweight and compact allowing you to take the gear anywhere. The kit also comes with a lifetime manufacturer's warranty. 
Value 
This STRONG 5 IN 1 set is being sold for a medium price but as you will see you are getting plenty in return for the price. You will not want to miss out on this brilliant buy!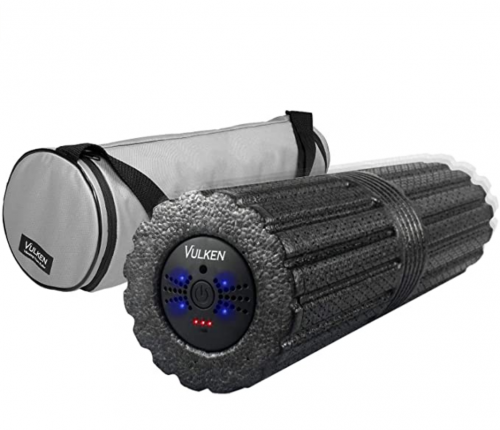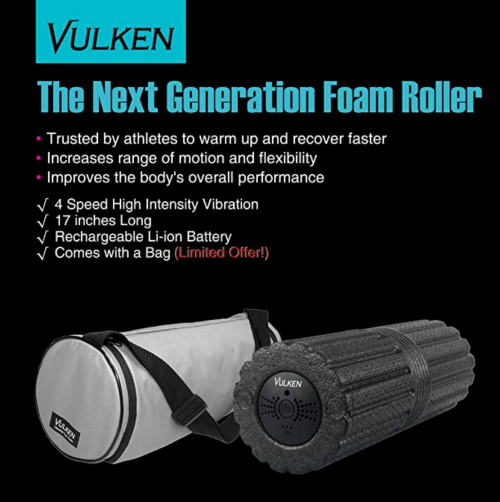 If you want a high-intensity vibration roller, this Vulken foam roller is a brilliant option. Build with a powerful motor, this helps deliver high-penetration relief as well as rolling out any tightness.
Comfort
Much better than a basic foam roller, the vibrations work by enhancing the effectiveness of the roller on your muscles. 
The Vulken roller is 17 inches in length which means it can be used on both your back and legs. This piece of equipment is also lighter and portable so you can take it anywhere. 
The benefit of this Vulken foam roller is that it increases your flexibility, circulation, and the range of motion you can do. The roller is also great for warming up the body before physical activity and using for workout recovery. 
Versatility
The Vulken foam roller has been designed with 4 speeds allowing the intensity to vary depending on your personal preference. The 4-speed settings include low, medium, and high. It also comes with an auto pulsating option which is a level of effortless muscle relaxation. The auto option is also great for warming up and improving circulation as well as recovery. 
 
Durability
This roller has been made from air injected plastic shell that transfers maximum vibrations. The quality material is also exceptionally durable and eco-friendly. Electric powered, these rechargeable lithium-ion batteries give over 2 hours of use per charge. The foam roller also comes with a bag that will protect and keep the foam roller safe from any damage. The piece of equipment is lightweight and odorless. 
 Value 
This option is the most expensive option in our collection. Sold for a high price if you have the extra money, this is a great option. Plus, if you require a move intensive massage this foam roller may be exactly what you need. 

Subscribe to our Newsletter