10 Best Energy Gels for Runners Reviewed  – 2022 Edition
In a Hurry? Editors choice: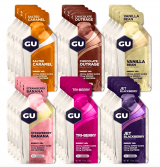 Test Winner: GU Energy Original Sports Nutrition

Running is great for your fitness and mental state of mind. If you are an athlete who often takes part in high endurance activity, you will understand the importance of taking energy gels. When competing in a marathon or long-distance race, you will need to replenish your body with fast-absorbing carbohydrates so it can perform to its best. 

To make it easier for you, we have researched and reviewed the best energy gels available and have put together reviews for our top 10 picks. We have rated each on effectiveness, versatility, brand, and value.
Standout Picks
Criteria Used for Evaluation
Effectiveness
How effective an energy gel is, is one of the most important factors to consider when choosing your selection of energy gels.
When it came to effectiveness, we looked at how energy gels help runners achieve their activity. We paid close attention to how the gels get absorb by the body. We also paid close attention to the gel's nutritional value and how everything impacts their performance. 
Other factors we looked closely at were when and how often the gels have to be taken. All these factors helped us to evaluate each gel and decide how effective they aew and whether we wanted to feature them in our collection. 
Versatility
How versatile an energy gel is, is a crucial factor to consider for athletes.
The type of flavors available, the taste and texture of the gel were all things we looked at closely. The ingredients used, how many carbohydrates, sodium, and amino acids were other factors we looked at.
We also evaluated the gels on whether they were suitable for vegetarians or vegans and if they were gluten-free, soya free. We also paid close attention to how much caffeine they contained. 
Brand
The brand of a product is an important factor to consider.
The type of brand you choose can affect the quality of a product, its price, features, and expectations. When selecting the best energy gels for our collection, we felt it was important to learn about the history of the brand, the company, and what makes them different. This was useful as it gave us an insight into the brand's values, their story, and how they stood out from other energy gel brands. 
Value
The price of energy gels is extremely important because you want to get the most for your money. However, you also want to buy a gel that is of great quality.
We selected energy gels in multi-packs as we found this was the most cost-effective way of purchasing them. It was important for us to include energy gels that varied in price, to make them accessible for customers with different budgets. 
10 Best Energy Gels for Runners
1

. GU Energy Original Sports Nutrition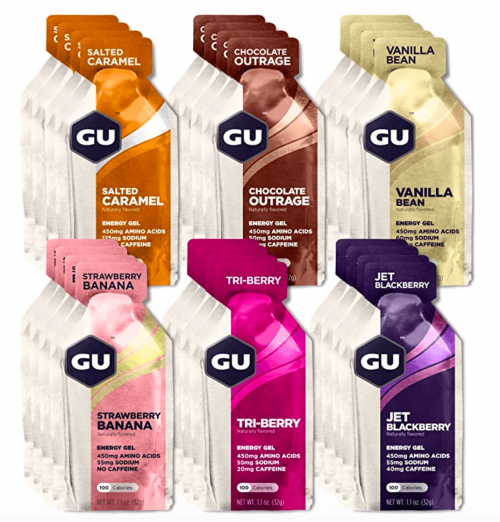 The GU Energy Original Sports Nutrition Energy Gels have been designed to help athletes perform their best by providing fast-absorbing energy, using simple and complex carbohydrates.
Effectiveness
Branched Chain Amino Acids are a group of three amino acids that improve muscle growth. Included in the gel pouches, these not only help runners recover faster but they also decrease muscle damage. They also reduce mental fatigue which is extremely important when completing a marathon or long-distance race.
When it comes to usage, it is best to take one gel 5 minutes before activity and then every 45 minutes during activity. 24 individual gels come in one box. 
Versatility 
These energy gels from GU are a great supplement designed to help athletes train better and race faster. 
Consisting of a 24-variety pack, these gels come in 7 different flavors including Salted Caramel, Chocolate Outrage, Vanilla Bean, Strawberry Banana, Tri-berry, and Jet Blackberry. 
They are gluten-free, vegan friendly, and are suitable for a kosher diet. The amount of caffeine in the gels varies depending on the flavor. The outer sachets can also be recycled with Terracycle. 
Brand 
The first GU energy gel was created over 20 years ago when a gentleman called Dr. Vaughan, wanted to help his daughter reach her best speed in completing marathons. At the time, her daughter only had the choice of an energy bar that tasted like sawdust. This was not only difficult to digest but caused her to bloat and diverted oxygen away from her muscles, causing her to not reach her full potential. That is when her father, Dr. Vaughan decided to create the GU Energy Gel. 
The GU Energy Gel is now one of the best tasting, widest variety and most nutrient-rich hydration, energy, and recovery products on the market. 
Value
If you are looking for an affordable option, this GU Energy Gel is a fantastic buy that will not disappoint. 

2

. Huma Chia Variety Pack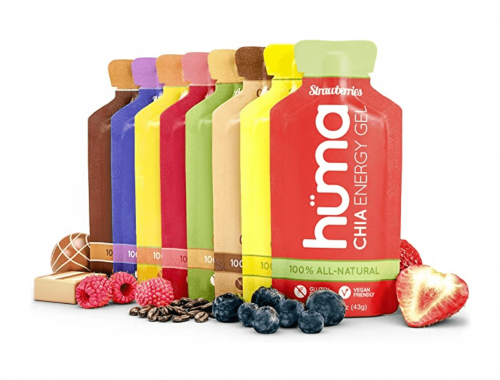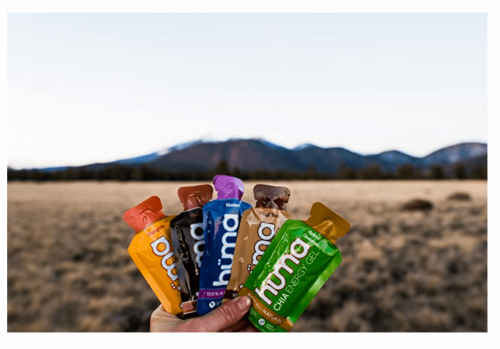 These Huma Chia Energy Gels are extremely effective when it comes to achieving your best race.
Effectiveness 
To produce these gels, Chia Seeds are finely milled to regulate an even energy output. The seeds also have a 2:1 ratio of short and long-chain Glucose to Fructose that increases the intake of carbohydrates. 
The great thing about these gel supplements is that they are 100% natural. All the ingredients are recognizable, which may not be the case with other gel supplements. These gels contain lots of nutritional value so your body will be consuming real food. This will make them easier to process, allowing all the goodness to transfer to the parts of your body that need them the most.
Made with actual fruit, these supplements taste good and contain natural carbohydrates and proteins including all 9 essential amino acids. 
Versatility
The energy gel supplements are best-taken pre-race and during activity, because they provide a good amount of carbohydrates, required for high endurance athletes like runners, triathletes, and cyclists. 
These Huma Chia Energy Gels are available in a pack of 12 or if you simply cannot get enough of them, they can be purchased in a pack of 24. The variety pack contains 9 different flavors including lemonade, chocolate, and mango. The gels are suitable for vegans however they are not gluten-free. Some of the flavors featured do not include caffeine.
Brand 
Huma is a veteran-owned company that was founded in January 2012 by Ian McCollum and Kevin Sherbourne (two grad-school students), who were tired of awful energy gels. The brand was inspired by the Tarahumara, a tribe of Mexican Indians that had been known to run 100 miles + powered by Chia Seeds. 
Today Huma brings together Tarahumara tradition, healthy ingredients, sports nutrition research, and brilliant tastes. Huma gels were officially introduced in November 2012 and have since become the best-selling all-natural energy gels in the world. 
Value
These Huma Chia Energy Gels are being sold for an affordable price which makes them a great buy. We like that they are 100% natural and super tasty. What is there not to like? 

3

. Muir Energy Real Food Pack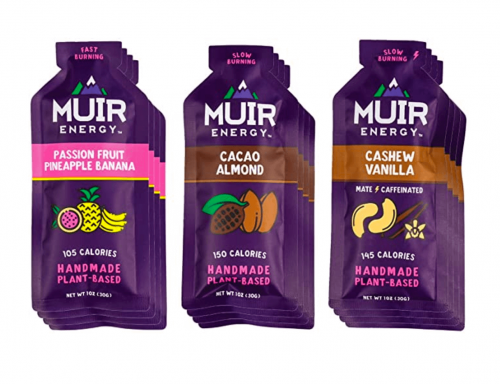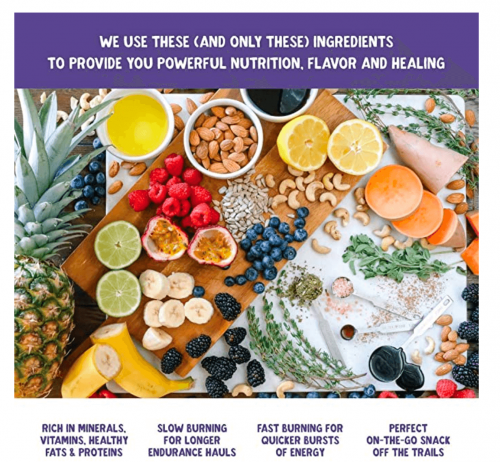 The Muir Energy Gels are a great source of food that will fuel high endurance athletes. The gels have been made using 4 – 6 real ingredients so you know exactly what they are and will get lots of goodness from the gels.
Effectiveness
Muir describes their energy gels as 'Clean Real Food Energy Gels' and that is exactly what they are! The pouches are rich in minerals, including 145 calories, and provide more nutritional value when comparing to other energy gels.
 
What we like about these Muir Energy Gels is that they are made from real food. They contain plant-based ingredients so have plenty of nutritional value. They are also rich in minerals and low glycemic. Each sachet contains 4- 6 organic ingredients, making them a great energy supplement.  
Versatility
These gels are a fantastic supplement for high endurance athletes like roadrunners, cyclists, trail runners, and hikers. If you require something to help you power through an upcoming cycling event, marathon, or even an ultramarathon, these gels are a great solution. 
Packaged in a variety pack of 12, these gels come in 3 delicious flavors including Cashew Vanilla, Cacao Almond, and Passion Fruit Pineapple Banana. 
Handmade in San Diego, these gels have been made from plant-based ingredients. They are organic, suitable for vegans, and people who follow a paleo diet. They are gluten-free and non-GMO. 
Brand 
The Muir Energy brand was founded by a gentleman called Ian Muir McNally.
When hiking along the John Muir Trail, he would struggle to find the right nutrition to keep him going when pushing his limits. At the time he felt most energy gels contained poor nutrition, making them unsuitable for endurance activities. They also tended to be too sweet, have a synthetic taste, and contain unrecognizable ingredients.
He wanted simple, flavourful food that was nutritionally, and calorically dense and made with real ingredients. That is when he established Muir Energy, a handmade and plant-based, endurance food for athletes. 
Value 
This variety pack of 12 Muir Energy Gels are being sold for a great price. Affordable, you can be reassured that these gels are made from real food and are very tasty. 

4

. GU Energy Roctane Ultra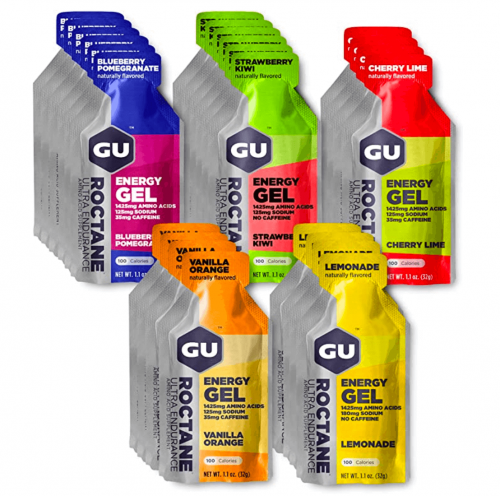 The GU Energy Roctane Energy Gels are different from the GU Energy Original Gels as they designed for when you are pushing your limits and are going harder and longer than ever before!
Effectiveness
The gel contains 100 calories from complex and simple carbohydrates. By providing two sources of carbohydrates, this enables the gels to be absorbed quicker, in comparison to just one carbohydrate.  
Another reason why these gels are so effective is that they protect your muscles from breakdown. They help prevent mental fatigue, particularly if you are taking part in a marathon. They also help contribute to energy production. The gels kick starts the recovery process by replenishing your muscles with the right carbohydrates. This is vital when competing in endurance events and post-activity. 
The gels include essential amino acids like Beta-Alanine and Taurine that decrease the risk of muscle damage and mental fatigue. They also include electrolytes.  
Versatility
If you are a chocoholic, you simply won't be able to resist the GU Roctane Ultra Endurance Energy Gel. They come in a pack of 24 so you have lots to enjoy. 
These gels are more suited to high endurance athletes that want to push themselves harder and go further than they have ever done before. Whether it is running, cycling, or a triathlon, these gels will be your best friend when you are up against it. 
The GU Roctane Gels are vegan friendly, gluten-free, and kosher certified. They also contain 100 calories and 1425mg of amino acids. The gels have been created for high-intensity exercises like marathons, races, and competitions and can be easily recycled with Terracycle.  
Brand 
GU created their first energy gels over 20 years ago. This was done by Dr. Vaughan, who wanted to help his daughter reach her peak performance when completing marathons. At the time, all there was, were energy bars. They were difficult for her stomach to process, the ingredients caused her to bloat, they diverted oxygen from her muscles and limited her performance. That is when Dr. Vaughan stepped in and created an alternative energy gel. 
Value 
GU Energy Roctane Gel offers sweet flavors and is very affordable. 

5

. PNG Sports Refuel Pack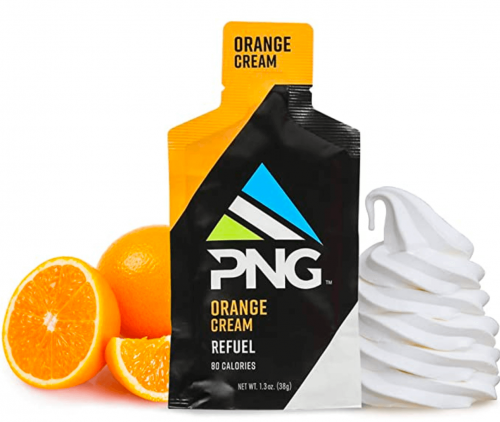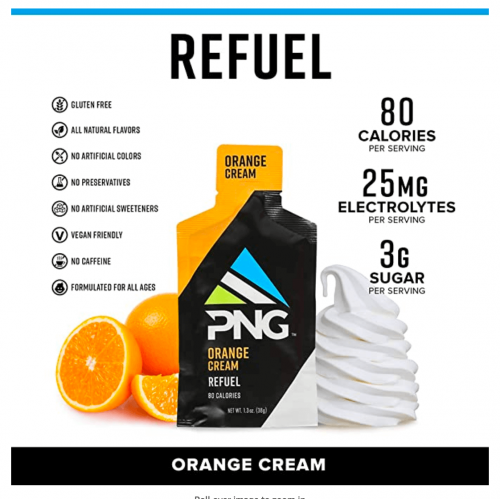 If you love high endurance activity, this special energy gel formulation from PNG Sports will help you with your endurance training and racing.
Effectiveness
Suitable to take pre, during, and post-activity these gels are full of carbohydrates and electrolytes that have been concealed in a lovely sweet tasty syrup. 
The all-natural citrus energy gels have been proven to increase your chances of success by providing 25mg of essential electrolytes for endurance activity. When it comes to usage, it is suggested that you take one gel 15 minutes before activity and then every 30- 45 minutes during exercise. 24 gels come in a pack. 
Versatility
These PNG Sports Refuel Energy Gel are suitable for practically any outdoor activity that you may require a performance boost. Whether it is biking, basketball, running, rowing, walking, hiking, baseball, or soccer, these gels are perfect for any sport or activity. 
Available in an orange cream flavor, these gels have a creamy and smooth texture that is combined with a fruity flavor. If you do not like orange cream, PNG Sports also sell a lemon meringue flavor. 
The gels have no caffeine and contain a low amount of sugar. They are vegan-friendly, gluten-free, and are non-GMO. These are also suitable for all ages. 
Brand 
Pinnacle Nutrition Group (PNG) was formed by a group of ambitious individuals who shared a passion for sport, active living, and lifestyle. They longed for nutritional products that supported their passion and provided the right nutrition to help people's performance. Making them, simple, convenient, and beneficial for athletes the group created PNG Sports Refuel Energy Gels. 
Value 
These Energy Gels are being sold for a mid-price. Even though they are slightly higher than some of the other gels in our collection, they are a good option and very tasty. 

6

. Honey Stinger Organic Energy Gels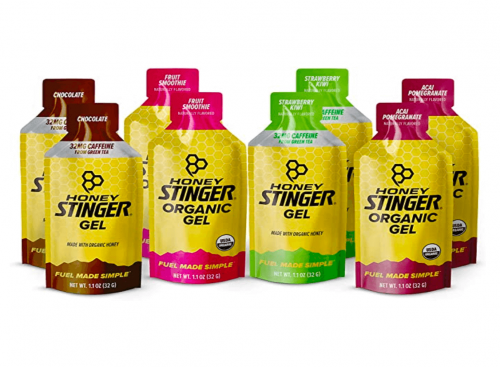 These Honey Stinger Organic Energy Gels are a fantastic honey-focused fuel that will help by pushing you harder and further than you have ever achieved before!
Effectiveness
The honey-focused nutrition can quickly be absorbed into the system. The gels consist of natural carbohydrates that can be better tolerated. They have a low glycemic index that provides a sustained level of energy. 
These gels are best taken before and during activity, that way they can be absorbed into the body's system at a steady rate. Energy can also be prolonged to help delay muscle fatigue. 

Versatility
The Honey Stinger Gels come in a variety pack of 8 sachets with 2 of each flavor including Strawberry Kiwi, Acai & Pomegranate, and Chocolate & Fruit Smoothie. It is important to be aware that both the Chocolate and Strawberry Kiwi flavors contain 32mg of caffeine from green tea.
The gels are all dairy, soy, gluten, and nut-free. They are USDA organic and non-GMO. These gels can be stirred into tea, spread on toast, and mixed into water. 
Brand 
In 1954 Ralph and Luella Gamer wanted to develop an alternative to the sugary candy bars that were available at the time. They wanted to make a product that included wholesome ingredients and tasted great. As Ralph was a beekeeper of honey, he decided he wanted to make new honey-focused fuel for athletes. 
 
Honey Stinger was established in 2001, to provide great tasting, honey focused energy food with wholesome ingredients. 
Value 
These Honey Stinger Organic Energy Gels are a tasty and affordable option that you will want to get your hands on. 

7

. Wasatch Nectar Honey to Go Packets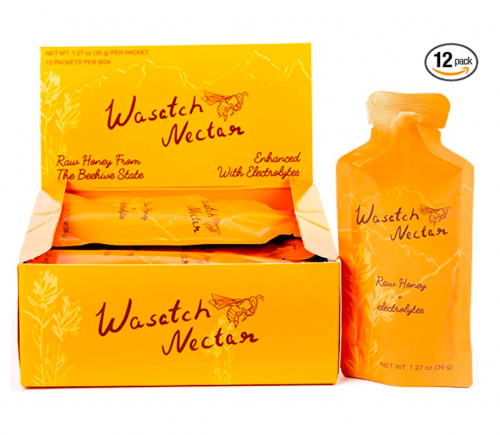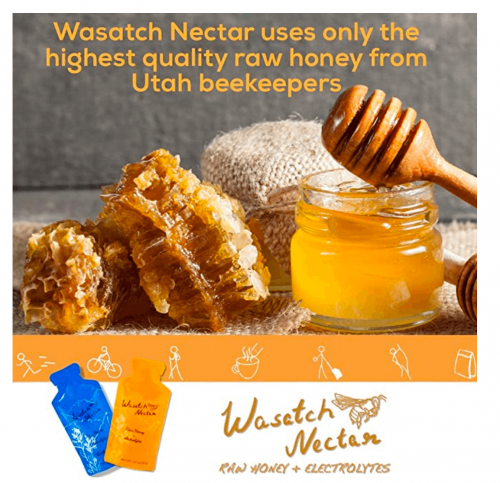 The Wasatch Nectar Honey Energy Gels are delicious and extremely good for you. The raw, all-natural honey contents are slow releasing and extremely effective when it comes to athletes who carry out high endurance activities like marathons and triathlons.
Effectiveness
The ingredients have a low glycaemic index that works by releasing fuel into the body efficiently and more evenly into the bloodstream. 
The Honey Energy Gels generate more power in the homeward stretch and are great for post-activity because they help reduce oxidative damage and muscle inflammation. 
Versatility
These Wasatch Nectar Honey Energy Gels come in a pack of 12 packets. The gels consist of the high-quality raw honey taken from Utah beekeepers. These sachets come in a buttery-smooth golden delicious flavor. However, the brand does sell a Blueberry Raw Honey flavor if you fancy something a little different. 
The gels are suitable for high endurance athletes like runners and cyclists, who require a quick supply of energy for sustained performance. The gels are compact and portable which makes them easy to put in an athlete's pocket or bag. 
The Honey Energy Gels are antioxidant-rich and have a perfect balance of glucose, electrolytes, and fructose. The gels contain no artificial ingredients, added sugar, or preservatives. They are also unfiltered, and each gel contains 1.5 oz of raw honey. The gels are also child- friendly. 
Brand 
These Honey To Go Energy Gels were created by Kristen Moffatt, a Registered Dietitian and Board-Certified specialist in sports dietetics. Her passion for healthy eating, beekeeping, and athletics inspired her to create the ideal sports nutrition energy product. 
She made wanted to make an energy gel that blended natural raw honey with the perfect mix of antioxidants and electrolytes, to help athletes reach success in their high endurance pursuits. 
Value 
Made from all-natural honey content, these energy gels are an affordable option if you are looking for a slow-releasing and extremely effective energy gel. 

8

. SCIENCE IN SPORT GO-GEL Isotonic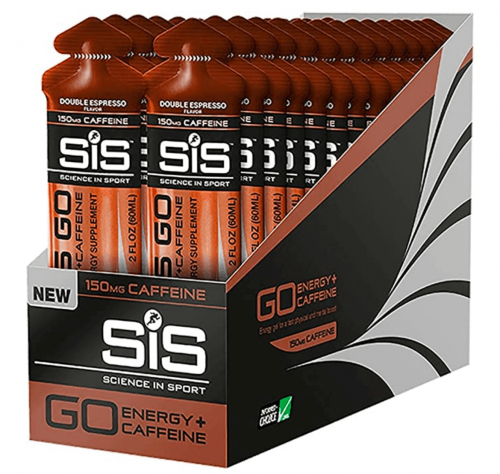 The Science in Sport Go Isotonic Energy Gels allows athletics to train harder and race faster than ever before! What makes these gels so effective is that they are easily digestible and provide a quick supply of carbohydrates.
Effectiveness
Best taken before and during exercise, the gels are known to improve the athlete's performance, race time and will delay the onset of fatigue. 
Versatility
The Science in Sport Go Isotonic Energy Gels come in a pack of 30, 60 ml sachets. All in an one flavor, these gels have been created with added sweeteners to give them a fresh and super sweet flavor, making you want more. Unfortunately, there are no other flavors available to choose from.
 
The gels are easily digestible and can be consumed on their own without water. It is important to be aware that you can only consume up to 3 sachets per 60 minutes of exercise. The gels are small and compact so can be easily stored safely in an athlete's pocket when they are on the move. 
The gels are gluten, wheat, nut, lactose, and soy-free. They are also suitable for vegans and vegetarians. 
Brand 
Science in Sport plc is a leading sports nutrition company that develops, manufactures, and markets sport nutrition products for professional athletes and sports enthusiasts. 
They are dedicated to pushing the boundaries of science and nutrition so athletes can push the boundaries of their performance. Science in Sport is the world's number one endurance nutrition brand. Everything they do is fuelled by Science. Through relentless product development, testing, and re-testing, they break new grounds and create new products. 
Value 
These energy gels from Science in Sport are being sold for a medium price. If you like the brand and have a slightly bigger budget, this pack of 30 gels is worth every dollar.

9

. High 5 Energy Gel Mixed Box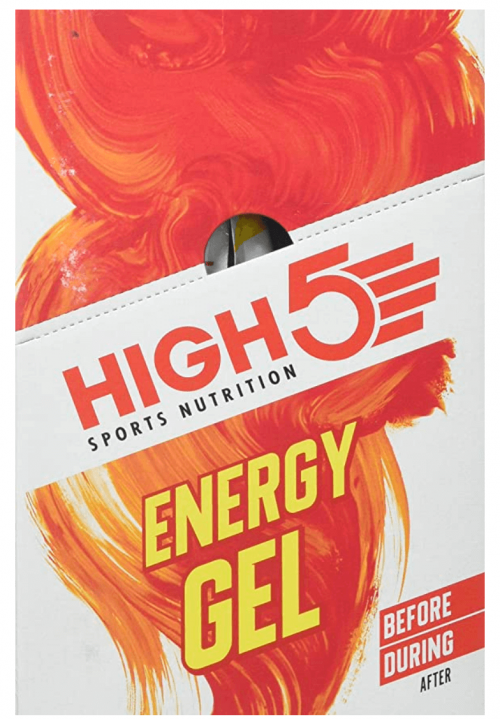 The High 5 Energy Gel is an award-winning energy gel. Made to a smoother and lighter consistency, this refreshing energy gel contains real juice, making it taste delicious.
Effectiveness
The great thing about these gels is that they are not too sweet and thick, making them easy to digest. 
When doing high endurance activity, these energy gels provide a convenient instate boost during exercise. Each gel delivers 23g of carbohydrates straight to your muscles, delivering lots of goodness. 
For best effectiveness, the gels should be taken before, during, and after exercise for quick energy release. The supplier suggests taking up to 3 sachets per hour, less if you are using a sports drink as well.
Versatility
The HIGH5 Energy Gels come in a variety pack of 20 40g sachets. The flavors include 3 varieties of Apple, Banana, Citrus, Berry, and Orange. 2 varieties of Raspberry and Orange are also included; however, both these flavors include caffeine. The gels are free from colorings and artificial sweeteners. They are also vegan friendly.
Brand 
With over 25 years of experience in providing sports nutrition products, this company has a wealth of knowledge when it comes to creating HIGH5 Energy Gels. 
All their products have been scientifically engineered so athletes can reach their peak performance. They only use natural flavors that give athletes the boost they need. When designing products, each product goes through a rigorous testing process. The company works closely with a German professional cycling team BORA, who tests HIGH5 on the road, during high-intensity training sessions.
 
The brand is committed to creating nutritious products that have amazing flavors. They are also passionate about helping athletes achieve their goals, however big or small. 
Value 
A pack of 20 HIGH5 Energy Gels is extremely good value for money. Tasting great and providing a good boost when working out, these are a super buy. 

10

. CLIF SHOT Mocha Flavor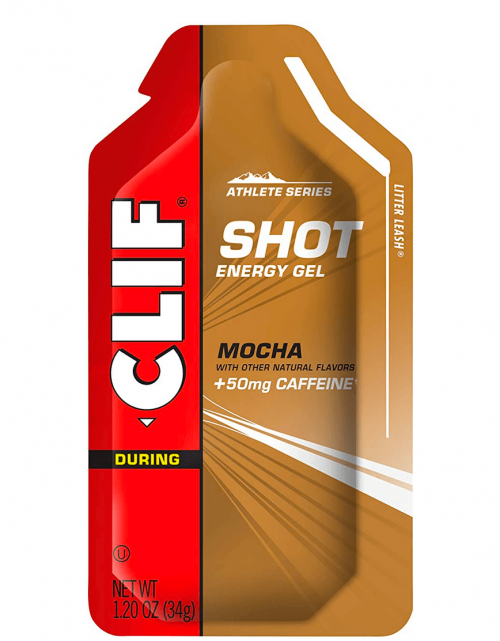 The CLIF SHOT Energy Gels are designed for athletes who require a quick amount of energy for training and racing.
Effectiveness
For those who love a morning mocha fix, these energy gels come in a tempting chocolate and coffee flavor. The gel consists of 50mgs of caffeine, giving your body a boost of energy. The chocolatey coffee flavor offers a thin consistency making the absorption of the carbohydrates a lot quicker. 
When it comes to high endurance activity these gels are best taken during activity, every 15-30 minutes, and always followed with water. 
Versatility
The CLIF SHOT Energy Gels come in a variety pack of 24 1.2-ounce sachets. These gels only come in one other flavor that is Razz, which is a little disappointing. 
These gels are available in 4 different caffeine levels from 0 to 100mg, allowing you to customize the amount of caffeine in the gels. The energy gels are not suitable for people who are sensitive to caffeine, under 18 years old, pregnant women, or nursing women. 
Brand 
THE CLIF SHOT Energy Gels are produced by a company called CLIF BAR & COMPANY. The company idea was born on a bike and created with athletes in mind. 
CLIF BAR & COMPANY continue to make organic, plant-based energy food, that is made with the latest nutrition science and performance in mind. They aim to produce food that energizes any moment, big or small. 
Value 
If you love your mocha's these affordable energy gels from CLIF SHOT are a great option. 

Subscribe to our Newsletter