Best Cheer Shoes Reviewed & Rated
last updated
Jul 08, 2019
No matter your cheer standard, whether you are a professional athlete attending multiple competitions annually or just take part as a bit of fun with friends, everyone needs the right footwear. Wearing the right cheer footwear can take those lifts, jumps, and flips to the next level. There are dozens of brands and styles on the market and when it appears there is so much to consider, choosing a pair can seem a confusing task. However, this comprehensive breakdown of our top ten best cheer shoes will help you decide which is the right fit for you.
In a Hurry? The test winner after 18 hrs of research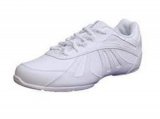 Kaepa TouchUp
Why is it better?
Torsional Outsole Bridge
Arch Support
APX Heel Pad
Grippy Traction
In a
Hurry? Editors choice: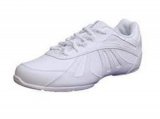 Test Winner: Kaepa TouchUp

20
Researched Sources
1367
Reviews Considered
18
Hours Researching
20
Products Evaluated
Weight
Flexibility
Fit
Durability
Traction
By Default
Criteria Used for Evaluation


Weight
We have mentioned keeping it light throughout this guide and there is a very real reason why. The weight of your cheer shoes impacts every part of your performance. From tumbling to tricks and stunts your overall height, sharpness, and landing will all be impacted by the weight of your shoes. Different shoes are good for different things in the world of sports, some are universal and can cross into many categories. Lightweight can mean a variety of things depending on the use of the shoe and for cheerleading you want something supremely light. Let's take a look at what you want and what to avoid to keep your cheer shoes truly light:
Look For
--Low Profile
--Many Mesh Panels
--Streamline Construction
--Blown Rubber Outsole
--Synthetic or EVA Outsole
--Lightly Padded Tongue
Careful With
--All Leather Upper
--Square Shape to Heel or Toe
--Minimalist Shoes (Can Lead to Injury)
Avoid
--Standard Athletic Shoes
--Bulky Build
--Over Cushioning
--Thick Rubber Soles
In the category of watch out for these features, we have added an all leather upper. The reason for this is because they can be difficult to clean and do not breathe as well as other materials. This can lead to hot sweaty feet and problems with blisters or bacterial/fungal growth. For younger wearers, an all leather upper will be just fine but as you get older you may want to avoid them. You may also want to avoid square shapes. Rounded toes and heels help you do tricks and tumble without getting caught up on the edge of your shoe. It is also easier, if you are a flyer, for your base to grip your foot while in a hold. Beware of minimalist shoes, there are cheer shoes that are little more than straps of material with little rubber grips on the bottom. While it might feel best to not wear shoes, you can cause your muscles and joints a lot of pain and unneeded pressure from hard landings by wearing a quality pair of cheer shoes.
Avoiding, bulky athletic shoes for a more streamlined cheer shoe will reduce the weight and add to your overall performance. The same goes for too much cushioning and thick rubber soles. These types of materials weigh a lot and they will weigh you down when it matters most. Keep it light and avoid these types of materials in your cheer shoes.


Flexibility
Preparing for a jump or a tumbling pass, as well as landing, requires a flexible pair of shoes to ensure your foot moves correctly to deal with that type of movement. Rigid shoes have their place in the world but it is not for cheerleading. The more flexible your cheer shoes are the easier it will be to point your toes and make every movement with your feet look sharp and clean.
EVA midsoles give great flexibility as does a shallow outsole at the front of the shoe. Position movement from flat to on your toes will be seamless when you find shoes that move and flex with you. A more rigid midsole or front of your cheer shoes can lead to unbalanced movement and possible falls that will lose points and cause embarrassment.
Heavy rubber outsoles should also be avoided for this purpose. While rubber is flexible, it is not nearly as flexible as other materials. Rubber will give you great traction and grip but it will add unneeded weight and lessen the flexibility overall in the shoe.
Cheerleaders feet do a lot of the work and need the right system behind them to ensure those movements are crisp, clean, and competition ready. Bulky shoes will make it difficult to point your toes. Stiff leather can also make it difficult to bend and flex your foot. Soft materials paired with flexible outsoles will give you what you need to keep your performance a 10 while keeping your feet feeling like a 10.


Fit
Finding a perfectly-fitting pair of shoes can be like finding the holy grail; there are so many brands, styles, models and makes of shoes that it seems like it's next to impossible, especially when you are shopping online! Fear not, as we've ranked each product on our list for their fit and trueness-to-size to help guide you in finding the perfect match for you.
To come up with a score for fit of a shoe, we considered several factors, like the ones mentioned above, in addition to real customer reviews, to help boil down everything into one simple score. For example, Nike tends to make shoes that are true-to-size, meaning that you can buy a pair of 11s one year, and another pair of 11s next year in a different model, and they will usually still fit (unless your feet grown or shrank). A brand like Nike will most likely have a high score when it comes to fit, but the other variables in play, such as make, model and purpose, will also affect the overall score.
Consider that a running shoe, with its thicker midsole and synthetic sole, might fit differently than a flat shoe, with its thinner midsole and hypothetical leather sole. Each of these shoes, even if they are both from Nike, may have similar scores for trueness-to-size, but a size 11 in one might not be the same as an 11 in the other. What's a reader to do in this case? You must also consider the purpose and type of shoe it is. Knowing what kind of shoe you are buying, and for what purpose, will help you make a better decision. A running shoe might run smaller than a flat because it has thicker materials, so read customer reviews as well to arrive at the best decision for fit, in addition to just our overall score.
At the end of the day, however, a higher score for the "fit" criterion will tend to mean that the shoe experiences a better trueness-to-size than a competing product; just don't forget all the underlying factors that are baked into arriving at that single score!


Durability
To assess each of the products on our list for durability, we not only read through thousands of customer reviews on our recommended products, but we also looked for some of the hallmarks of quality construction. From brand name reputation to their initial smell out of the box, there are a few ways of identifying a well-built, made-to-last product.
The Details
A zipper that doesn't zip or snaps? Poor threading technique? A smelly, chemical residue on the shoe when you open the box? All these details were looked for an evaluated when assigning a score for durability.
Materials
Certain materials last longer than others, even if that comes at the expense of a higher score in the "comfort" criterion. Materials that are synthetic, thicker and firmer tend to score higher on durability.
Product Purpose
A shoe made for running and high-impact sports will not likely last as long as a good pair of general activity shoes and that's okay. Being aware of the shoe's purpose is critical for you as a reader and for us as a reviewer. Although shoes that will last longer score higher on this criterion, you might also see high scores to shoes with a more limited durability, if that product was specifically designed for certain purposes that involve high-impact and high-stress motions. We take into account the type of shoes you are trying to purchase when assigning scores to shoes in this criterion.
Brand Name
A product is a promise made, but a brand is a promise kept. A brand name is often a signal of quality and consistency in construction and durability from product to product. Although there are always exceptions to this rule, quite often brands that perform continue to perform. Brand names on our list tend to score higher in the durability score.
The final word on durability is that a higher score on this metric means the product will last longer than its competitors, given similar shoe purpose, type, age and usage. Again, it never hurts to read some customer reviews before hitting the "buy" button.


Traction
The grip of your cheer shoes does not only have to do with you but also with your base if you are a flyer. We will take a moment and look at each piece of that statement individually. This will ensure you see the importance of grip not only for your overall performance but also your teammates.
Individual Performance
Gripping the ground gives you many benefits during practice, competition, and sideline cheerleading. Grip increases your control and helps make sure you will stick your landing. The surface you find yourself cheering on can vary from fake grass to spring-loaded floors; a lack of grip could send you flying onto the field or stepping out of bounds for a point reduction. Either of these outcomes can be devastating. Finding cheer shoes with solid grip and traction can really lead you to new levels. Tread depth and pattern both play their role. Keep in mind that it needs to stay light and the super deep tread is not only heavier but also unnecessary to get a good grip; you aren't hiking a trail after all.
Team Performance
For all the flyers out there, please take the time to look at your tread pattern and find out what will work best. The person throwing you into the air and catching you will appreciate it. Cheer shoes are not all created equal and some, like the Kaepa Stellarlyte, stand out in a class of their own. Kaepa has built the bottom of their cheer shoe with hands in mind, providing great places to grip and a notched heel for added stability. Keeping a firm, stable grip on a flyer's ankle and shoe helps maintain safety going into, during, and coming out of the stunt. Falls can lead to pain, sprains, and possible breaks that could leave both base and flyer out for the foreseeable future.
As you can see, the grip of your cheer shoes plays a big role in performance. Not only for you, if you're a flyer, but also to your teammates. Double check that the tread patterns rounded and won't cause places that dig into your teammate's hands while supporting you. Also, make sure they offer enough tread and grip to stick that landing, after every tumbling pass.
Expert Interviews & Opinions
Most Important Criteria
(According to our experts opinion)
Experts Opinion
Editors Opinion
Users Opinion
By Default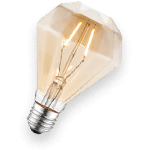 Your Foundation Is Key
Whether you compete in cheerleading, or just play around with it as a hobby, your footwear is the critical foundation for movements, tricks, stability, and support. Shoes which have the right combination of flexibility for movements and dynamic tricks, and stability for basing and sticking dismounts, are what will help you perform your best.
Find something with a supportive flat base for the sole, yet maintains the right flexibility in the upper to help you move, shake, flip and stick it!
Can Colorful Shoes Be Appropriate?
While most uniforms in cheer use white, or some version of the color, there are teams and other appropriate times for more colorful footwear. It's up to your squad how you want to present yourselves for competitions!
Other Factors to Consider


Bottom Line
Cheer shoes generally follow a few basic rules. The color should be all white, the fabric should be easy to clean, keeping them show perfect, and lastly, it is important to find the right balance between durability and lightweight feel. Additional features such as cushioning and the integrity of the sole will provide additional support and comfort.
Choosing the perfect cheer shoe is similar to choosing the perfect stunt partner. Yes, some are better than others, but ultimately they need to match your needs and your ability. Deciding which shoe is right for you should be placed against your demands as the shoes durable rubber pads. Do you need increased arch support? Are you a flyer and need extra side grips without the additional weight? Do you need enhanced grip through tough rubber soles?
The more expensive cheer shoes are designed for cheer athletes with additional features that can make all the difference at regional and national competitions. However, these differences would be negligible if cheering for fun for your local football team or in the park with friends and you could save yourself a pretty penny going for the more basic, all-rounder. Whichever you decide, it ultimately always comes down to safety and support, a solid foundation on which you can build; exactly like the base of the pyramid.
Frequently Asked Questions
q:

What is the difference between my daughter's athletic sneakers and cheer shoes?

a:

The answer to this question could end up being quite lengthy, so we will do our best to keep it to the keynotes. First, the overall construction of a cheer shoe is made with things like tumbling, stunting, jumping, and dancing in mind. Standard athletic shoes tend to be heavier and bulkier for durability. Cheer shoes must be light.

Next, cheer shoes should have a low profile to increase flexibility and movement with your feet. An athletic shoe can be seen in a variety of profile heights. A high top sneaker would really restrict movement and make pointing your toes difficult. Low profile shoes also tend to have a sleeker design which is typically sought after in cheer shoes.

Cheer shoes also have specific impact protection areas. The heel of the shoe is typically built up and offers extra cushioning where it is needed to keep heel striking from causing pain. Heel striking, which is seen in many athletic avenues, can lead to pain and inflammation in the athlete's feet and joints. Keeping the impact moving and dispersing through the shoe can cut down on the shock taken by the wearer and keep their feet feeling great.

These are just a few of the differences in cheer shoes, there are also advanced features like hand-hold systems and light as a feather flyer shoes. All in all every sport has a specialized type of shoe that can aid in the player giving a top performance. Take some time, figure out if cheerleading is going to be a continuous thing or just this season thing. If in it for the long haul, the investment in high-quality cheer shoes will be needed. Not sure what it will be? That's OK too, we have offered a variety of options to fit every budget and every level of cheer enthusiast.
q:

Is there a difference between the shoes a flyer wears as compared to a base?

a:

The answer to this question is a little bit yes and a little bit no. Typically, you will see a team wearing all the same shoe. This makes the uniform complete and helps the team look, indeed, like a team. The shoes a flyer and base wear should be the same but they should be well thought out. Some teams put their flyers in one type of shoe and their bases in another due to the different needs of each position.

The base needs to be just that, a strong base. Their shoe may have a wider sole and greater traction and gripping strength. Their shoes may also be a bit bulkier because of these features. They need to be able to move with precision and sticking that foot when it's needed requires a great grip. For a base to do their job, they also need to have a flyer wearing a shoe they can really get a handle on. Supporting the flyer's ankle and foot by gripping the shoe is best done with a shoe that is sleek and streamlined. One that is lacking bumps and painful grooves.

The flyer will need a shoe that offers good grip not only for their base but also for themselves. Frequently, you see cheerleaders holding their own feed for single leg tricks and this requires the cheerleader to grab and hold their own foot. The flyer's shoe must not slip and the addition of well thought out notches can add to the performance going perfectly. While these positions typically wear the same type of shoe, it really depends on what your coach decides is best. Reach out and talk with the coach and find out what they suggest you buy to make sure you are purchasing the correct footwear for that team.
q:

Is there an easy way to clean the mesh on my cheer shoes?

a:

Before cleaning any shoe you want to determine what type of material it is made of. An all leather upper will need a completely different cleaning method as compared to other types of shoe materials. Most cheer shoes are made of vinyl or synthetic uppers that are much easier to clean. The mesh panels those can be difficult no matter the makeup of the rest of your shoe.

If the rest of your shoe is OK to handle soap and water, our suggestion is a soft-bristled toothbrush and good old-fashioned soap and water. Yellowing may be more difficult and you may need whitening agents and stain removers if your feet sweat a lot. The soft bristles will be able to get into the small weave of the mesh, which is especially important near the edges where it is difficult to clean. Scrub the mesh in a circular pattern first with soap and water and then follow several times with just water. You may need to wipe away excess soap and water in between rinses. A few rounds of this and the mesh on your cheer shoes should be looking brand new. It is important to note, you want to give your shoes plenty of time to dry before your next wearing otherwise, you may end up with rubbing, increased odor, and other common wet foot problems.
q:

Should I wear my competition shoes to practice?

a:

There are arguments on both sides of this question. Ultimately, you may not have a choice, as many cheer coaches tell you what to put on your feet for practice and for competition. If you are the one deciding, ideally you will own two pairs of the same cheer shoes, one for practice and one for events.

Wearing the same shoe for practice as for competition ensures you will know how the shoes feel to perform in. This can help in sticking tricky moves and making sure your tumbling pass is flawless. However, the practice can lead to a lot of scuff marks and decrease the durability of your shoes because of the constant pounding they are taking. They may feel more broken in and comfortable but lose some of that crisp clean quality that newer shoes have.

Wearing a different pair of shoes in practice can lead to an unsteady performance. If one pair has a significantly different build you will need to adjust to different feel and flexibility which can be difficult when transitioning quickly from practice to competition. If it is not a difficult transition and you prefer a more padded shoe while practicing then different pairs by different manufacturers may work out fine.

As previously stated, ideally you will have two pairs of cheer shoes. One for practice, where you get the real feel of your competition shoes and the same performance. It won't matter as much how they look because they are simply for practice. The second pair, of course, would be your competition shoes. You will know just what they feel like during high flying stunts and difficult tricks and tumbling passes but they will be sharp and new looking. The look is important in cheerleading and dingy shoes can really bring everyone's look down. Finding a high-quality pair of cheer shoes that you can afford two pairs of may lead to the best season you or your cheerleader sees yet.
q:

How do I care for my new shoes?

a:

Check with the manufacturer and ask for their care guide. Often, you can access it on the company's website. By following the guide, you can maximize the length of service of your favorite pair of cheer shoes.