Best Cheer Shoes Reviewed & Rated
In a Hurry? Editors choice: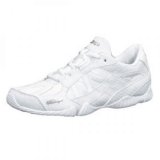 Test Winner: Kaepa Stellarlyte

No matter your cheer standard, whether you are a professional athlete attending multiple competitions annually or just take part as a bit of fun with friends, everyone needs the right footwear. Wearing the right cheer footwear can take those lifts, jumps, and flips to the next level. There are dozens of brands and styles on the market and when it appears there is so much to consider, choosing a pair can seem a confusing task. However, this comprehensive breakdown of our top ten best cheer shoes will help you decide which is the right fit for you.
Standout Picks
Criteria Used for Evaluation
Weight
We have mentioned keeping it light throughout this guide and there is a very real reason why. The weight of your cheer shoes impacts every part of your performance. From tumbling to tricks and stunts your overall height, sharpness, and landing will all be impacted by the weight of your shoes. Different shoes are good for different things in the world of sports, some are universal and can cross into many categories. Lightweight can mean a variety of things depending on the use of the shoe and for cheerleading you want something supremely light. Let's take a look at what you want and what to avoid to keep your cheer shoes truly light:
Look For
--Low Profile
--Many Mesh Panels
--Streamline Construction
--Blown Rubber Outsole
--Synthetic or EVA Outsole
--Lightly Padded Tongue
Careful With
--All Leather Upper
--Square Shape to Heel or Toe
--Minimalist Shoes (Can Lead to Injury)
Avoid
--Standard Athletic Shoes
--Bulky Build
--Over Cushioning
--Thick Rubber Soles
In the category of watch out for these features, we have added an all leather upper. The reason for this is because they can be difficult to clean and do not breathe as well as other materials. This can lead to hot sweaty feet and problems with blisters or bacterial/fungal growth. For younger wearers, an all leather upper will be just fine but as you get older you may want to avoid them. You may also want to avoid square shapes. Rounded toes and heels help you do tricks and tumble without getting caught up on the edge of your shoe. It is also easier, if you are a flyer, for your base to grip your foot while in a hold. Beware of minimalist shoes, there are cheer shoes that are little more than straps of material with little rubber grips on the bottom. While it might feel best to not wear shoes, you can cause your muscles and joints a lot of pain and unneeded pressure from hard landings by wearing a quality pair of cheer shoes.
Avoiding, bulky athletic shoes for a more streamlined cheer shoe will reduce the weight and add to your overall performance. The same goes for too much cushioning and thick rubber soles. These types of materials weigh a lot and they will weigh you down when it matters most. Keep it light and avoid these types of materials in your cheer shoes.
Flexibility
Preparing for a jump or a tumbling pass, as well as landing, requires a flexible pair of shoes to ensure your foot moves correctly to deal with that type of movement. Rigid shoes have their place in the world but it is not for cheerleading. The more flexible your cheer shoes are the easier it will be to point your toes and make every movement with your feet look sharp and clean.
EVA midsoles give great flexibility as does a shallow outsole at the front of the shoe. Position movement from flat to on your toes will be seamless when you find shoes that move and flex with you. A more rigid midsole or front of your cheer shoes can lead to unbalanced movement and possible falls that will lose points and cause embarrassment.
Heavy rubber outsoles should also be avoided for this purpose. While rubber is flexible, it is not nearly as flexible as other materials. Rubber will give you great traction and grip but it will add unneeded weight and lessen the flexibility overall in the shoe.
Cheerleaders feet do a lot of the work and need the right system behind them to ensure those movements are crisp, clean, and competition ready. Bulky shoes will make it difficult to point your toes. Stiff leather can also make it difficult to bend and flex your foot. Soft materials paired with flexible outsoles will give you what you need to keep your performance a 10 while keeping your feet feeling like a 10.
Fit
Finding a perfectly-fitting pair of shoes can be like finding the holy grail; there are so many brands, styles, models and makes of shoes that it seems like it's next to impossible, especially when you are shopping online! Fear not, as we've ranked each product on our list for their fit and trueness-to-size to help guide you in finding the perfect match for you.
To come up with a score for fit of a shoe, we considered several factors, like the ones mentioned above, in addition to real customer reviews, to help boil down everything into one simple score. For example, Nike tends to make shoes that are true-to-size, meaning that you can buy a pair of 11s one year, and another pair of 11s next year in a different model, and they will usually still fit (unless your feet grown or shrank). A brand like Nike will most likely have a high score when it comes to fit, but the other variables in play, such as make, model and purpose, will also affect the overall score.
Consider that a running shoe, with its thicker midsole and synthetic sole, might fit differently than a flat shoe, with its thinner midsole and hypothetical leather sole. Each of these shoes, even if they are both from Nike, may have similar scores for trueness-to-size, but a size 11 in one might not be the same as an 11 in the other. What's a reader to do in this case? You must also consider the purpose and type of shoe it is. Knowing what kind of shoe you are buying, and for what purpose, will help you make a better decision. A running shoe might run smaller than a flat because it has thicker materials, so read customer reviews as well to arrive at the best decision for fit, in addition to just our overall score.
At the end of the day, however, a higher score for the "fit" criterion will tend to mean that the shoe experiences a better trueness-to-size than a competing product; just don't forget all the underlying factors that are baked into arriving at that single score!
Durability
To assess each of the products on our list for durability, we not only read through thousands of customer reviews on our recommended products, but we also looked for some of the hallmarks of quality construction. From brand name reputation to their initial smell out of the box, there are a few ways of identifying a well-built, made-to-last product.
The Details
A zipper that doesn't zip or snaps? Poor threading technique? A smelly, chemical residue on the shoe when you open the box? All these details were looked for an evaluated when assigning a score for durability.
Materials
Certain materials last longer than others, even if that comes at the expense of a higher score in the "comfort" criterion. Materials that are synthetic, thicker and firmer tend to score higher on durability.
Product Purpose
A shoe made for running and high-impact sports will not likely last as long as a good pair of general activity shoes and that's okay. Being aware of the shoe's purpose is critical for you as a reader and for us as a reviewer. Although shoes that will last longer score higher on this criterion, you might also see high scores to shoes with a more limited durability, if that product was specifically designed for certain purposes that involve high-impact and high-stress motions. We take into account the type of shoes you are trying to purchase when assigning scores to shoes in this criterion.
Brand Name
A product is a promise made, but a brand is a promise kept. A brand name is often a signal of quality and consistency in construction and durability from product to product. Although there are always exceptions to this rule, quite often brands that perform continue to perform. Brand names on our list tend to score higher in the durability score.
The final word on durability is that a higher score on this metric means the product will last longer than its competitors, given similar shoe purpose, type, age and usage. Again, it never hurts to read some customer reviews before hitting the "buy" button.
Traction
The grip of your cheer shoes does not only have to do with you but also with your base if you are a flyer. We will take a moment and look at each piece of that statement individually. This will ensure you see the importance of grip not only for your overall performance but also your teammates.
Individual Performance
Gripping the ground gives you many benefits during practice, competition, and sideline cheerleading. Grip increases your control and helps make sure you will stick your landing. The surface you find yourself cheering on can vary from fake grass to spring-loaded floors; a lack of grip could send you flying onto the field or stepping out of bounds for a point reduction. Either of these outcomes can be devastating. Finding cheer shoes with solid grip and traction can really lead you to new levels. Tread depth and pattern both play their role. Keep in mind that it needs to stay light and the super deep tread is not only heavier but also unnecessary to get a good grip; you aren't hiking a trail after all.
Team Performance
For all the flyers out there, please take the time to look at your tread pattern and find out what will work best. The person throwing you into the air and catching you will appreciate it. Cheer shoes are not all created equal and some, like the Kaepa Stellarlyte, stand out in a class of their own. Kaepa has built the bottom of their cheer shoe with hands in mind, providing great places to grip and a notched heel for added stability. Keeping a firm, stable grip on a flyer's ankle and shoe helps maintain safety going into, during, and coming out of the stunt. Falls can lead to pain, sprains, and possible breaks that could leave both base and flyer out for the foreseeable future.
As you can see, the grip of your cheer shoes plays a big role in performance. Not only for you, if you're a flyer, but also to your teammates. Double check that the tread patterns rounded and won't cause places that dig into your teammate's hands while supporting you. Also, make sure they offer enough tread and grip to stick that landing, after every tumbling pass.
10 Best Cheerleading Shoes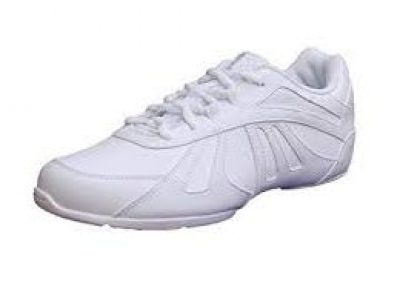 Kaepa is a leader in cheer apparel and footwear, and the Touch Up will surely give you confidence unlike any other with its design, style, and stability. Packed full of premium technology for stability and comfort, it's versatile for all the required elements of cheer, including tumbling and stunting. Grippy traction in the sole performs on all surfaces to deliver the best performance possible, all while allowing adjustable comfort to your unique needs.
Secure-Fit Kaepa system allows an enhanced fit through adjusting arch height, giving a unique fit to your foot's shape. It provides stability and comfort, even for longer durations of wear. A torsional outsole bridge amplifies arch support, and allows forefoot flexibility, so you can jump, pivot, and tumble to your heart's content. Along with its sleek look, lateral support can be found in the uppers for side to side movements or quick turns.
Along with many of the stability features mentioned above, the Kaepa TouchUp has a removable insole, so should you need to wear custom orthotics instead, simply remove and replace with your own. An APX heel pad and PU foam provide impact and shock absorption, giving you maximum comfort on landings and tumbles.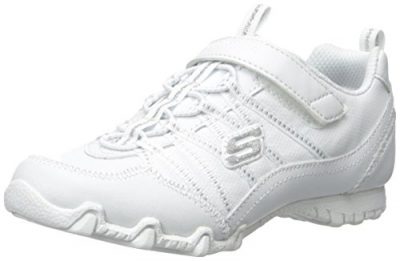 Practicality meets style. Known for their high quality and diversity, Skechers have provided a beautifully fashioned shoe through Biker, without compromising all the flexibility and durability cheer demands. The smooth leather finish with glitter logo will ensure you stand out from the crowd.
The flexible rubber traction outsole makes bending, pointing and flexing your feet in all directions an easy task. From pointed toes during a pike to preparing for a lift, this minor detail can go a long way.
Biker shoes make those landings a little easier and a little softer through a shock absorbing midsole. Meaning you can push higher and land lighter.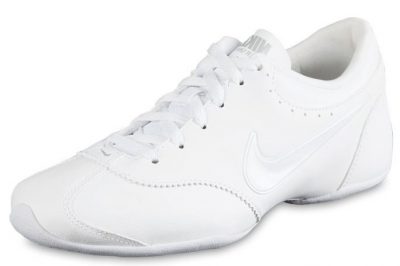 Looking for flexibility with a lightweight cushion? Look no further, the Nike Unite's combination of internal flex grooves and Nike's signature medial pivot points make this shoe ideal for dynamic durability and enhanced performance on any surface. A full white surface of synthetic leather makes these cheer shoes fantastically durable.
Point those toes is a term you will hear all too often in cheer, but the Unite's make this an easy task with internal flex grooves to naturally follow and enhance the flexibility of your arches.
A double lasted Phylon midsole provides ample cushion against their carefully balanced lightweight feel. Being not only comfortable but completely versatile may give them an advantage over cheaper brands.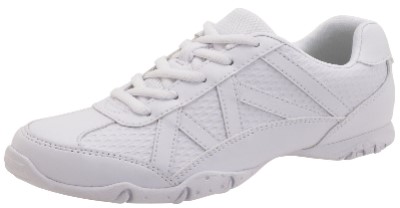 SmartFit has stuck to its tested and trusted roots throughout their time as a company. What does this mean for us? It means we will get a high-quality shoe developed with growing feet in mind that offer support, comfort, durability, and flexibility. Easy for your young cheerleader to take on and off she will love these cheer shoes on and off the court.
Whether it's your first time at practice or you are learning advanced tumbling and lifting patterns, making sure your feet stay under you is important. Gym and practice floors can vary and you may find yourself running through carpeted hallways, down concrete or steel steps and the last thing you want is for your foot to lose traction and cause a fall that could lead to serious injury. The skid-resistant outsole of the SmartFit Sizzle will help give you great traction and control for perfect tumbling passes with a well-stuck landing.
Sometimes, when looking for a toe box that allows room for developing fee, what you get is a lot of added weight. Keeping your cheer shoes ultra lightweight is imperative to performance. Heavy shoes affect take off and overall jump height as well as how fatigued your muscles feel after long tumbling sessions or even just through a long cheer practice. Keeping your shoes super light while still giving your feet the comfort, support, and room for growth required of young cheerleaders can be found. The SmartFit Sizzle will look great and meet all the requirements of a stellar cheer shoe.



The Kaepa Stellarlyte cheer shoes will help support and cushion high impact activities, all while buffered by a traction, yet flat sole. Lace-up closure helps keep you inside the shoe, and comfort is found in several aspects of the shoe to keep you going for long practices. Long known in the cheerleading world, Kaepa brings another solid option with the Stellarlyte shoes.
Kaepa has crafted some of the industry's top performing footwear. The Stellarlyte consists of a synthetic upper and sole, for lateral support as well as grippy traction. The sole is also flat, ribbed with rivets for a pattern to give traction, but suitable for basing as well as flyers to execute moves with stability.
A textile lining helps to keep your feet dry and comfortable and cuts down on any rubbing or irritations during use. Padded collar helps prevent blistering, and a low top design allows for ample movement and ankle flexibility. Lace-up style closure allows you to fit as snuggly as you prefer, and a webbing back pull loop helps them become easy to take on and off.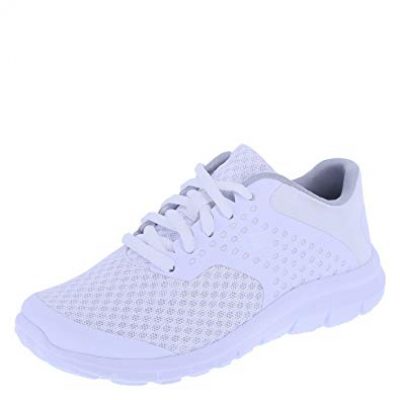 Champion has been in the market of making quality athletic gear and footwear for decades, and it's no exception that when it comes to cheerleading, they've got a solid pair you can depend on. The Champion Gusto keep comfortable lightweight at the forefront of the shoes design, with a solid non-marking base, and soft comfort characteristics to keep you going into overtime. Low top design keep it agile, and a cushioning helps with impact on landings or tumbles.
Made from a lightweight mesh fabric material, The Champion Gusto may surprise you with its performance. Breathable uppers combined with this lightweight make it great for tournament competition, where long bouts of activity are usually performed. Non-marking outsoles make it great for courtside or gym practice as well. Lace-up design keeps you snug and firmly planted in the shoe during activity.
Within the Gusto is a soft cushioned lining, and memory foam insole, absorbing shock from landings, tumbles, and other jarring moves. A padded collar helps alleviate any ankle irritation or rubbing, helping to prevent blistering. And, as a cross-trainer styled shoe, you can be sure this will handle the moves you throw at it!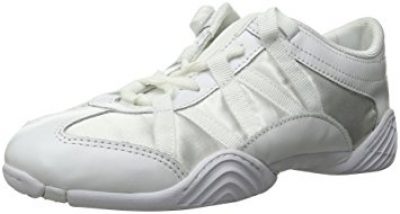 Watch your cheer performance evolve with NFinitys Evolution Cheer shoe. A "slipper-esque" fit, these shoes are not designed to fit like a normal shoe. Lightweight at just 6.5 oz these ultra flexible, high-performance competition shoes are designed for those serious athletes. Strategically placed rubber outsole pods ensure durability with compromising your cheer goals.
Designed to fit like a slipper, the Evolutions provide enhanced cushioning through ergonomically designed insoles that will have you light on your toes with superior flexibility and comfort.
AnkleLoc Technology enhancing the heel fit around the ankle and NFiniFit in the forefoot, combined with the interlocking bubble lace system means this super light shoe packs a punch in ankle stability.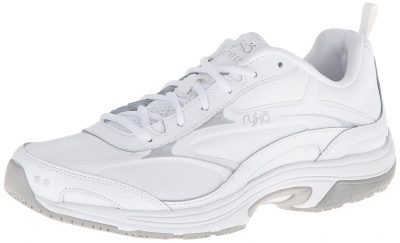 Specifically designed for women (sorry chaps you're out of this one), the Intent XT 2 combines a more narrom heel, foot area that's wider, and a more well fitted footbed to perfectly complement the shape of your foot. The result? A high-performance shoe with not only comfort but control.
Providing slip-resistant rubber coverage for extra grip during those challenging stunts and perfectly balanced kicks the Intent XT 2 can be relied upon.
The latest technology and research have formulated the perfect fit for the female foot. The Intent XT 2 provides support without losing durability.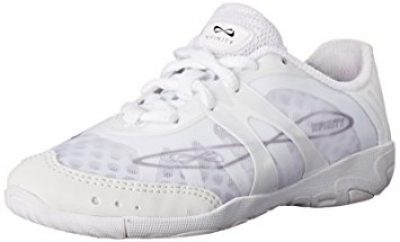 Durability meets lighter than light. NFinity has used the latest technology to create a cheer shoe that ticks all the right boxes. This feather-light shoe effortlessly provides comfort through a sculpted interior and exterior structure whilst still providing a light, barefoot feel. Bubble laces that stay tied coupled with a natural rubber outer sole guarantee support where it counts, meaning so can you.
Nfinity's most lightweight cheer shoe to date. Weighing in at an astonishing 3.9 oz, these shoes are guaranteed not to weigh you down, helping you take those jumps and kicks a notch higher.
Specifically designed to fit tight to the foot, an interior and exterior skeleton provide essential support without sacrificing weight, limiting any risk of injury through unwanted ankle movement.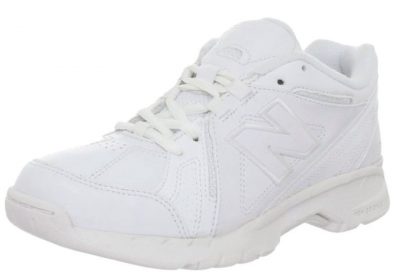 Improved breathability, durability, and comfort with this new model; the WX623v3 is the new and revised. Created with the latest technology, the WX623v3 provides the utmost shock absorption and support through its EVA footbed, ABZORB crash pad and AMEVA midsole. A shoe you can rely on to support you!
New and improved ABZORB crash pad heel to improve cushioning and force absorption make the WX623v3 the perfect jumping shoe. You'll even feel a little spring in your step as you strut your stuff as they are super bouncy.
The combination of the AMEVA midsole, EVA footbed, and strong arch make the WX623v3 easy on the ankles, knees and back, washing away any aches and pains from previous injuries and actively reducing the risk of new ones!

Subscribe to our Newsletter