10 Best Bedazzling Kits for Shoes Reviewed & Rated
In a Hurry? Editors choice: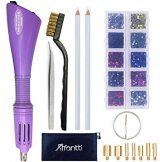 Test Winner: Afantti Bedazzler Kit

Nowadays, shoes aren't just worn for practicality. They have become an accessory, a fashion piece, something that's a finishing touch to your outfit and makes your style truly shine. There are countless style and color options when it comes to footwear, but take it a step further by customizing your own pair. Instead of buying very pricey bedazzled shoes, take one of your ordinary pairs and make them sparkle with your own craftiness and design. It's not hard if you've got all the necessary materials!

We've compiled a list of ten of the best bedazzling kits for shoes, including entire toolkits as well as simple packets of gems and sequins. Using this list as guidance, find what you need to experiment and become your own footwear designer!
Standout Picks
Criteria Used for Evaluation
Color
Look for bedazzling kits for shoes which have multiple color choices in their gems, for maximum versatility.
The purpose of bedazzling kits for shoes is to make them look better. Your goal may be to look more glamorous, more stylish, more unique, but to achieve that it all comes down to style. Color is one of the most important aspects of determining whether something is stylish or not, so you really want to make sure you have the color right before any other factors come in.
With bedazzling kits for shoes, it's best to have rhinestones/sequins/glitter in a variety of different colors. It would give you the most choices and you could ensure you pick the combinations that best suit the color of your shoe. What's more, you could use other colors with other footwear and make sure they don't all end up looking the same.
On our list, this criterion is rated based on color options: the higher the rating, the more different colors are offered in the kit.
Some rhinestones take it a step further. Instead of being just one color, they may be holographic or iridescent. As a result, their color changes depending on the angle at which the light is hitting it. These kinds of rhinestones have a more glamorous appearance than uniform-colored ones and appear more luxurious than they may be in reality.
Size
Opt for kits which have a large range of stone and sequin sizes.
The size of the rhinestones affects the way they look on the shoe. Stones that are too large can appear tacky and immature, while those that are too small can be a pain to apply one by one. Additionally, the design you want to create might not work out if the size of the stones isn't just right.
Thankfully, a whole range of sizes is available.
Rhinestones sizes are usually marked with SS followed by a number. SS6 and SS15 are some examples. SS stands for "stone size", and the number can be converted to a specific measurement. These conversion charts can easily be found online if you search for them. Some common cases are SS6 (2mm), SS8 (2.5mm), and SS12 (3mm).
Sequins are more straightforward. Usually, they are simply marked with their diameter. Glitter, on the other hand, is labeled as "extra fine," "very fine," and "fine." Other options like medium, large, and micro-fine are also possible but are rarely found in DIY kits. The finer the glitter, the more even it looks under a light. However, fine glitter is also harder to get rid of if it sheds, and can be harder to apply.
Whether you're looking for those large striking stones or just a handful of little sequins, we've got you covered. The highest-ranked bedazzling kits for shoes in our guide come with many different sizes of stones, sequins, and glitter so that you can easily pick and choose what you like the best. It all comes down to personal preference and your own artistic expression!
Ease of Use
Hotfix rhinestones are the easiest to apply, while sequins and glitter take a certain level of both patience and craft skills.
It's not just about looks. When you're the one doing the bedazzling, you've also got to consider how easy the application is. If you're super crafty, you might be prepared to handle anything. However, if you're just the average shoe-wearer, you'll want to get your hands on a bedazzling kit for shoes that's as easy and convenient to use as possible.
When it comes to rhinestones, these can be really tricky to apply because they are small and hard to place exactly where you want them. Just a nudge could make them slip out of place and ruin the whole design. Tweezers and wax pencils are tools that make it easier to pick up small rhinestones and apply them to your shoe.
Application kits that include either one of these tools (or both!) make the job easier for you. However, with larger rhinestones, sometimes just using your hand is the easiest way. After all, there's no tool you can control better than your own two hands.
Rhinestones can also be separated into two categories: hotfix and flatback. The former has a backside with glue already added, and are applied using just heat from hotfix setters. It is simple, straightforward, and mess-free. The latter are rhinestones with a flat back (no surprise there) where glue must be added manually before application. As a result, hotfix is easier to use than flatback and are more suitable for those who aren't very crafty.
Sequins and glitter are harder to apply. Sequins must be sewed on one by one through the hole in their center, which can take ages if your design requires many of them. Glitter is applied with glue and can get messy, especially if the glitter gets on your clothes and your skin. Fine glitter is hard to get rid of and could linger on you for days.
To conclude: don't choose sequins or glitter unless you're up for the challenge.
Effectiveness
Don't underestimate the importance of high-quality glue when it comes to DIY footwear.
Only one part of the DIY shoe-bedazzling is the application. The other part is whether the embellishments you've just added will actually stay in their place. A bedazzling kit for shoes might be super easy to use, but what if the rhinestones/sequins/glitter are also super easy to come off? Then all your effort would have been a waste. On top of that, you might be left with ugly spots of glue on your shoe uppers.
Unsurprisingly, glue quality means everything. If the glue that comes with the kit doesn't do its job properly, gems will be falling off left and right. Obviously, no manufacturer will admit their glue is ineffective, so make sure to take a look at customer reviews to see if other customers had any problems with the glue.
If they are hotfix rhinestones and not flatback, then it comes back to the quality of the stones themselves. If not enough glue has been already added to the backing, then no matter how much heat is applied, it cannot stick properly.
In fact, hotfix stones are more or less permanent and will stay on much better than flatback ones, but to do that, they need enough glue on the back. Again, take a peek at customer reviews to get an idea of what to expect.
Features
Some kits offer tools, tweezers and even a cleaning brush alongside the stones. Go for these if you're just starting out in the world of footwear bedazzling.
A bedazzling kit for shoes is supposed to include all the necessary materials to accomplish the task. This criterion determines how many different features, or tools, are offered in that single kit.
Generally, a bedazzling kit for shoes should include rhinestones, a hotfix or glue applicator, tweezers for setting, and a cleaning brush for removing excess glue. These are the basic materials.
It's also good to have wand tip replacements that suit differently-sized gems and can be used as a backup in case of breakage. Another bonus is a case. After all, you need something in which to store all the materials and keep them protected, as well as make sure tools don't go astray.
Some of the products on our list are not "kits," per se, and so have received a low rating on this criterion. However, that doesn't mean they aren't good products. Packs of rhinestones and sequins are excellent additions to a kit, or for putting together your own homemade kit.
However, they are not the most basic supplies and do not provide everything needed to bedazzle your shoes. For beginners and for those who don't have any supplies to begin with, skim over these products and instead opt for a kit that provides more features.
Our Favorites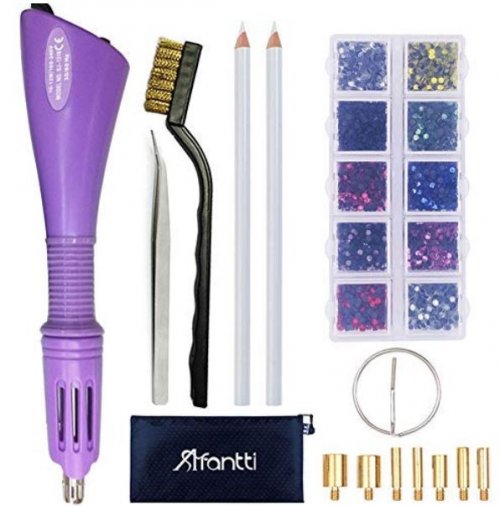 A full set of necessary tools is provided by the Afantii Bedazzler Kit. It includes a hotfix applicator, a whopping 2500 pieces of rhinestones, two rhinestone pencils, one pair of tweezers, one cleaning brush, a support stand and a neat bag to carry everything in. We are in awe of this set that will provide you with all the supplies needed to turn your plain footwear into something stylish and eye-catching.
The 2500 pieces of rhinestones come in in nine different colors, from white to yellow to black to purple. Thanks to the two rhinestone pencils and the jewel tweezers, you can place the gems exactly where you want them and create intricate patterns. Afterward, use the cleaning brush to get rid of the glue on the tips.
The hotfix applicator comes with an extra-long electric cord, measuring 4.6ft for practicality. What's more, the wand tips come in different sizes to allow multiple gems to be set at once. The only downside is that the wand takes a long time to heat up.
If you're a beginner, just venturing out into the world of bedazzling kits for shoes - the Afantti set is just what you need! It has all the tools to get you started and to help you create that awesome first pair of bejeweled shoes!

2

. Creabow Crafts Extra Fine Glitter Deluxe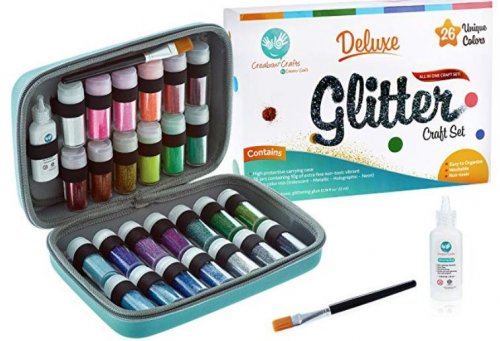 If rhinestones and sequins aren't really your thing, then don't worry: you can still opt for glitter. This set from Creabow comes packaged in a cute EVA hardshell case and contains a whole of 26 different glitter colors and powder grain levels. Depending on usage, glitter can have a more mature and polished appearance than other embellishments, and may better fit your style, so this set is perfect to experiment a little!
This glitter kit includes all the essentials. The 26 different colors of glitter come in convenient shaker jars (10g each), including holographic, neon, and pastel colors. Apart from that, there is glitter glue and a brush with which to apply the glitter. The case is made of solid EVA with a zipper closure and is protective and convenient.
Inside, the case has straps that hold down the jars to keep them all in their place. On top of that, the glitter and the materials are 100% non-toxic for skin, complying with the strictest US Safety Standards. There is one flaw, however: though the glue does its job quite well, the glitter may shed. This is the case with nearly all glitter products, but keep that in mind when deciding whether or not to purchase this item.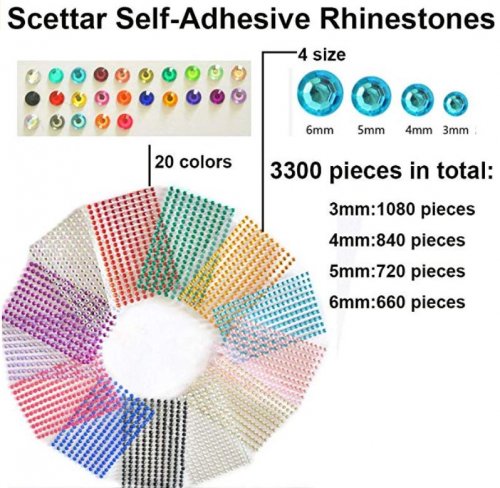 Unlike flatback and hotfix gems, the rhinestones of the Scettar Bulk Pack don't need any additional tools at all to be applied. They are self-adhesive, meaning that you simply stick them on wherever you want them, and voila! If you get tired of seeing the same old rhinestones on your footwear and want a bit of a change, you can easily peel them off after a while. They are also multi-use and can be used in all sorts of arts and crafts projects.
Twenty different colors of rhinestones are offered in this bedazzling kit for shoes, including silver, gold, and pearl. The pack includes four different sizes: 1080 pieces of 3mm, 840 pieces of 4mm, 720 pieces of 5mm and 660 pieces of 6mm. There are 3300 pieces in total, which allows you to experiment with them all you want. Apart from embellishing shoes, this pack can also be used to decorate phone cases, art projects, handmade cards, and more.
If you don't feel like playing around with glue and would like the option of changing up your DIY bedazzling once in a while, then these easy-to-peel self-adhesive rhinestones are the way to go!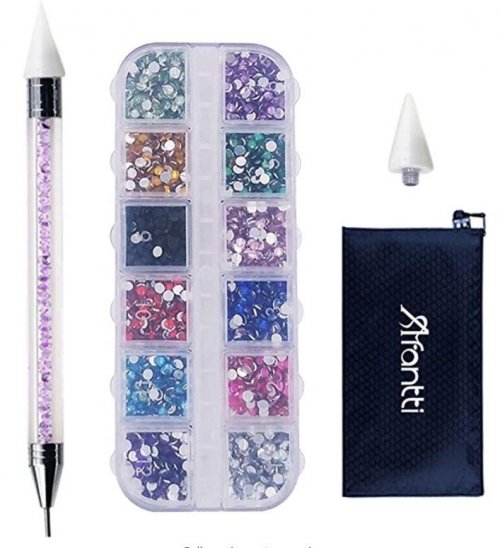 Another product from Afantti, this one comes with fewer features and tools but is no less useful in the art of decorating footwear. It features flatback rhinestones paired with an easy-to-use wax pencil for convenient application. There is a replacement wax tip in case you need it, and a cute little case and carry bag to pack everything in! This Afantti kit has everything you need to glam up your footwear in a blink of an eye!
The plastic case includes 2400 pieces of flatback rhinestones in 12 different colors. They are all 3mm in size, but the wax pencil makes picking them up and setting them very easy. The double-ended wax pencil features a wax end for picking them up and a pointed end for positioning. Though the wax head isn't very durable and may chip or break easily, an additional wax head is provided for replacement.
Overall, this is a very convenient and multi-use kit for footwear bedazzling, arts and crafts, and just about anything else.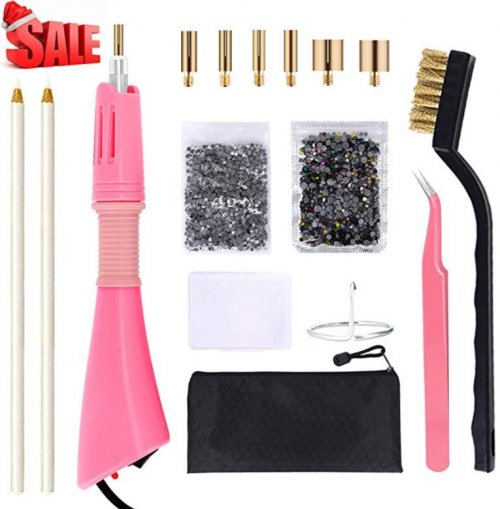 The tools in the GLTECK pack are suitable for all kinds of materials like leather, denim, silk, synthetics, and even wool! No matter what your uppers are made of, you can bedazzle them with no problem with the help of this kit. The GLTECK Pack comes with a hotfix applicator, jewel tweezers, and a cleaning brush. It also has two packs of hotfix rhinestones, as well as a support stand for ease of use. In terms of all the necessary tools, the GLTECK has you covered!
The hotfix applicator works with an on/off switch and has a comfort grip handle. Its 4.6-foot electrical cord makes it convenient, and it heats up quickly. A safety stand is also included, as well as seven different applicator tips of different sizes. The jewel tweezers allow you to set small gems while the cleaning brush is used to clean the glue off the tips.
As for the hotfix rhinestones, there are two packs of 1400 pieces: one with 4mm white crystals and one with multi-color and multi-size gems. The whole kit can be sorted and kept in a plastic box and nylon carry sleeve that come with it.
Despite the fact that they don't offer many rhinestone options, a full set of basic tools is provided, and thanks to the GLTECK pack you can get started on that bedazzling in no time!

6

. Multiple Hot Fix Rhinestone Kit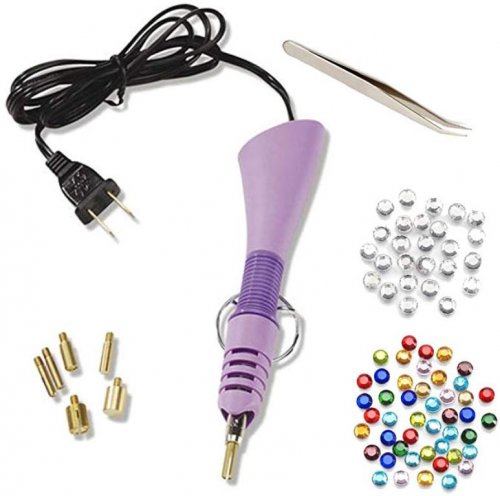 Unfortunately, this isn't a kit that features multiple kits - Multiple is simply the name of the brand that sells the product. However, this kit is so efficient and convenient that it might as well do the job of several. The items included in this kit are a heat applicator wand, a safety stand, seven different applicator tips, tweezers, and 750 pieces of rhinestones. It may not have the huge number of rhinestones most other kits in our list do, but it is a great way to add dimension to your footwear without getting lost in too many choices.
The different applicator tips in this set are made to suit different sized gems, and the 5-inch stainless steel tweezers are for creating intricate details with small-sized sequins and gems. The rhinestones are 4mm and offered in assorted colors - there is both a pack of clear rhinestones and one of the multicolored ones. What's more, the electrical cord on the applicator is extra-long and allows for easier usage.
The downside to the Multiple set is that it is slightly more expensive than the other kits. However, it still offers everything needed to decorate your footwear. If you're not looking for an overwhelming number of rhinestones, then this may well be the kit for you.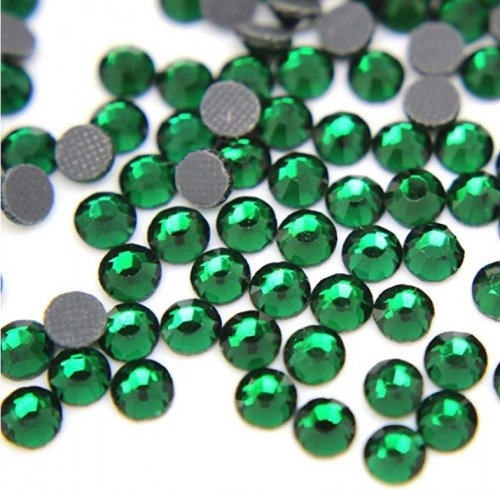 We're stepping away from fully equipped kits and venturing into the world of rhinestone packs. The Zbella brand offers hotfix gems in a variety of colors. Their size options also range from SS6 to SS20. Though they do not include hotfix wands or any other supplies, they are a great addition if you're putting together your own kit.
The colors offered include topaz, emerald, sapphire, rose, and black diamond. Many of these hues are made to resemble real gems, and so have a luxurious sparkle to them. All colors are available in SS10 and SS16, though only a select few are available in SS6 and SS20. On top of that, each package comes with a lot of gems for a moderate price. They are cut with a diamond drill machine, to make sure that all 12 facets of the stones are evenly distributed - no imperfect stones in this one!
The clear downside to the Zbella pack is obviously that it is not a kit which includes tools, tweezers or even pencils. If you already have your own, then this is a great addition! However, if you're just starting out, perhaps it's better to go for one of the better-outfitted options in our guide.

8

. Crystal Gems Mixed Rhinestones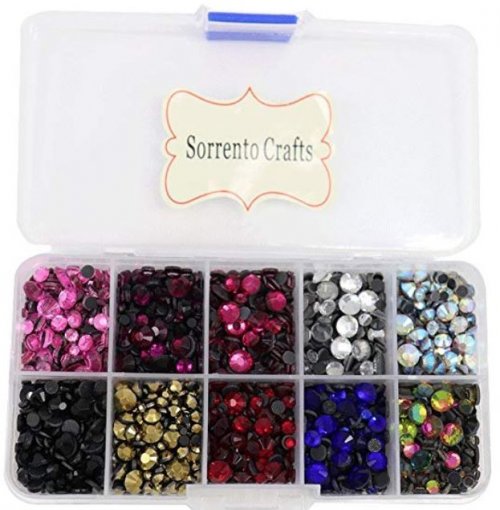 This kit by the brand Crystal Gems features ten different colors of rhinestones. They are of the hotfix type, meaning you don't need additional glue to fix them on, but rather just heat to warm up the glue that's already on them. As such, they are incredibly easy to apply, and you won't have to worry about making a mess while you work. These rhinestones are also separated into different compartments in a plastic case for easy sorting and usage.
There are 5000 rhinestones in total, meaning 500 for each color. The colors include silver, blue, shades of pink and even iridescent, meaning the luminous colors will change a bit when looked at from different angles. Within each color, there are variations in size to fulfill all your needs. The rhinestone set comes in a very convenient box that can be snapped shut and carried around. That way you can work on your bedazzling wherever you want!
The Mixed Rhinestones set from Crystal Gems stands out mainly because of its case and the great way all the different rhinestones are organized within it. They are great to apply to bags, clothes, nails, footwear and pretty much anywhere you want for a full-on bejeweled effect!

9

. Zealer Crystal Rhinestones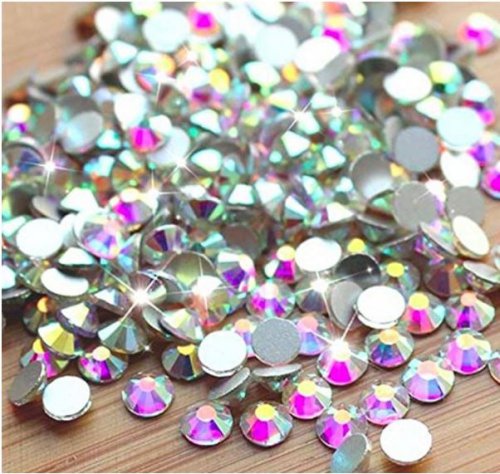 Flatback rhinestones are one of the most basic supplies for decorating a pair of shoes. They do require glue to be applied, but thanks to that, you can be sure they won't be falling off any time soon. These flatback rhinestones by Zealer keep things simple and are perfect for experimenting or as additions to your kit. They're not made from acrylic materials but rather from resin, meaning they're higher in quality and a lot more gem-like.
There are tons of different size options with this kit, including 2mm, 4mm, 6mm, and even 8mm. The downside is that they don't come with a case and so are more easy to lose unless you transfer them to your own case. They have an iridescent quality that makes them look super elegant and luxurious, as they will sparkle and change hues in the light. Made with resin, they are more sparkly and brighter than rhinestones made with acrylic.
The weight of these rhinestones is well-balanced - they are heavy enough to be fixed to the surface of your shoes, but not so heavy to weigh them down. To use the stones, you need to purchase glue and tweezers separately. However, if you already own all the tools, then these rhinestones are a perfect addition to your set!

10

. Kiikool Loose Sequins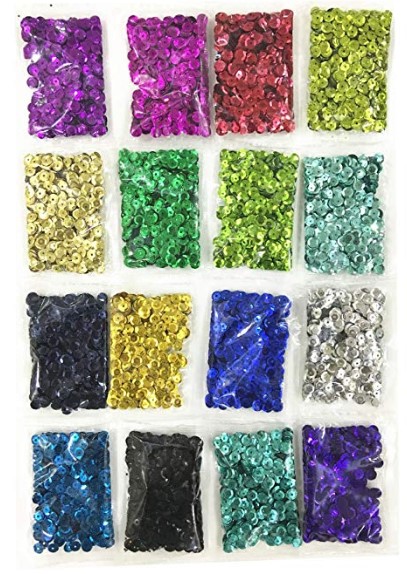 Sequins are disk-shaped beads sewed on for decorative purposes. Though they were traditionally made with metals, now they are made with plastics. They have a classier and more modest look compared to rhinestones and glitter. The Kiikool Loose Sequins set is perfect if you want to step up your bedazzling game. You can sew these onto your footwear, stick them with glue, or even make pins out of them. There is nothing you can't do with the Kiikool set!
This kit includes 16 different colors of sequins which include blue, green, pink, silver, gold and others. The sequins measure 6mm in diameter and are round in shape. For other options, the same brand also offers sequins kits with more colors, smaller sizes, and cool shapes like stars and hearts, though these are harder to apply. Being sequins, these can only be sewed onto footwear with a fabric upper. Some synthetics may also work, but materials like canvas are more suitable.
You may be a little apprehensive about applying sequins to your footwear, as that requires work with an actual thread and needle. However! We are here to encourage you to try anyway because sequins are a great way to add some sparkle to your designs without overdoing it. Embroidery is very on-trend at the moment, and these are bound to spice up your personal style.

Subscribe to our Newsletter