Best Yoga Socks Reviewed & Rated
last updated:
Nov 13, 2019
Socks with grips are now common in the yoga studio. The weather might be warm too, so it's not just because of the season. Rather than focusing on their breath, connecting with self, or feeling the stretch, the yogi worries about sliding, and they end up being agitated thinking about it. Yoga socks can help alleviate such problems.
These socks are not exclusively for use in yoga alone but are also great for other workouts like Zumba, barre, dance, martial arts, and other gym workouts. With them, your stability, balance, and performance can improve. By regulation, some classes have made it mandatory to wear such socks to protect your feet. Here, we've rounded off some of the best yoga socks in the market to make sure you stick every single pose and stay grounded.
In a Hurry? The test winner after 9 hrs of research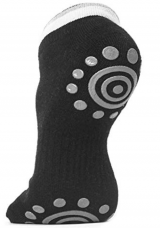 DubeeBaby
Why is it better?
Versatile use
Super soft fabric
Affordable
Machine washable
In a
Hurry? Editors choice: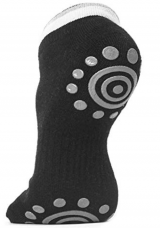 Test Winner: DubeeBaby

5
Researched Sources
11000
Reviews Considered
9
Hours Researching
10
Products Evaluated
Use
Style
Comfort
Traction
Features
By Default
10 Top Rated Yoga Socks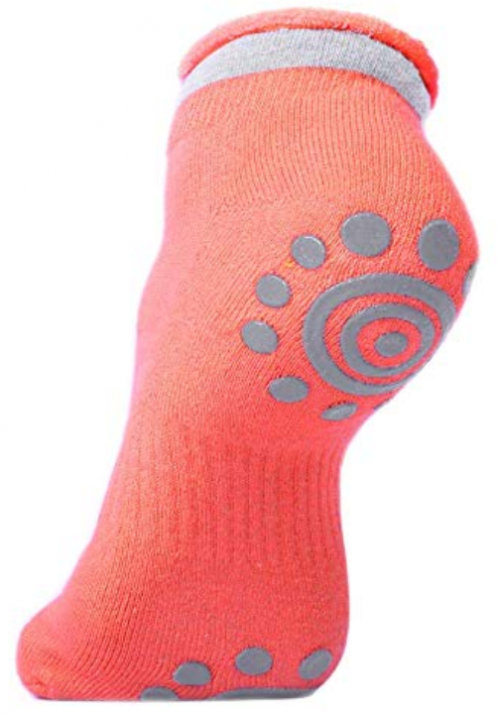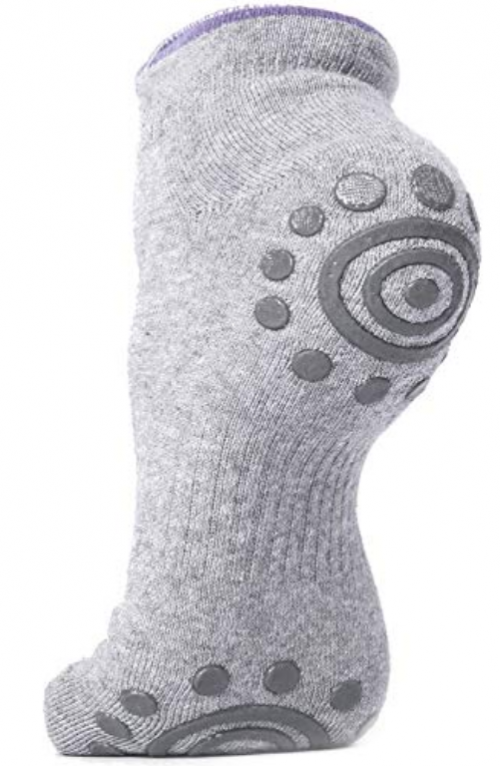 Versatile use
Super soft fabric
Affordable
Machine washable
These are comfortable, thick, covered toe yoga socks coming in fun designs at an unbeatable price. The anti-slip grips made of silicone that's flexible and soft improve your balance regardless of the workout. They fit snug and are tighter around the arch for enhanced support. They are cut at the ankle, but have a wide opening, making it easy to wear them.
The primary materials used are 95% cotton and 5% spandex. This combo makes them ultra-soft and close-fitting. Additionally, the cloth used is nontoxic and readily absorbs sweat to keep your foot fungal-free. The silicone grips don't crack easily, and their structured pattern gives the optimum amount of traction. The
The fabric is thin enough to promote breathability for sweaty workout sessions and just warm enough to also lounge with them on. Besides, they can pass off like any typical socks because of their simple design, but with the added advantage of a tactile surface. The grips patterns are also one to show off.
They are available in many colors of white, black, pink, and grey, and you can get them in four-packs of a single color or all of them. The pack option is also cheaper than buying individually, of what is already affordable, but high-quality socks. You can take advantage of the 30-day return policy if you're still skeptical.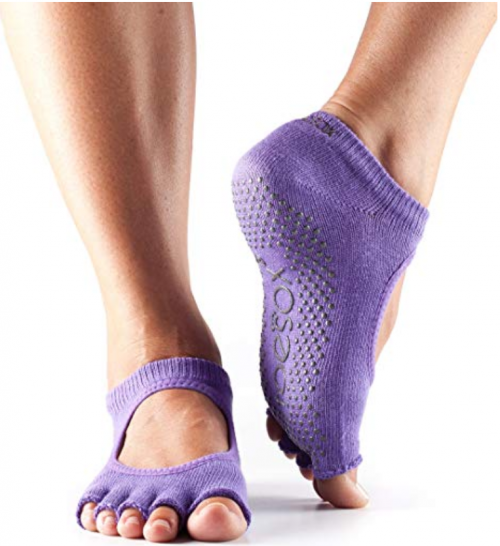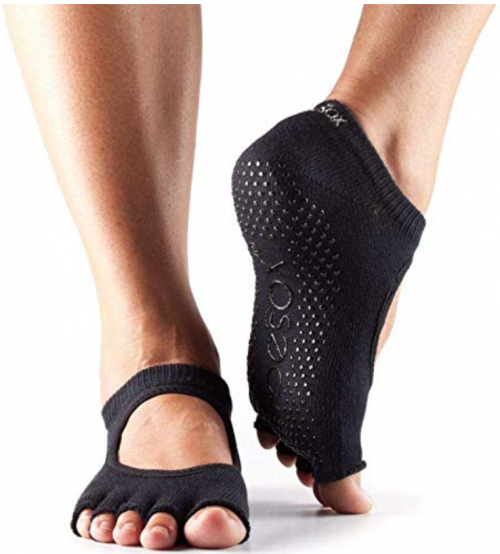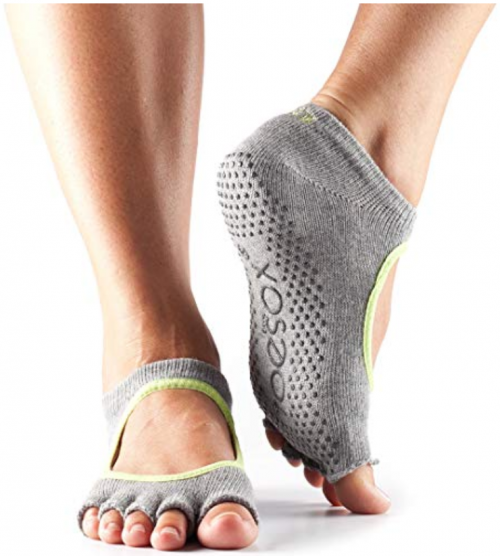 Multiple color options
Patented design
Lightweight and soft
The exposed toe and open foot design on the ToeSox give the user an unbridled feeling, even though it might take some getting used to. The arch has a band to support, and the grips are sturdy. The heel is comfortable and fitted to ensure it doesn't move an inch. Such characteristics make the ToeSox are ideal for many workouts like barre and dance too.
The socks are a combination of 90% organic cotton, making them soft and elastane to ensure it's durable and close-fitting. They are light in weight and feel like you're barefoot with them on. You wear them like any other socks, but the conspicuous cut out on the top allows for enhanced air circulation around your foot: sweaty feet will hardly be your concern with these on.
The tab right behind the Achilles area makes it even easier to pull them up your foot. Additionally, this arch support adds another layer of support. The half toe enables for more traction as each toe end also has a grip, and gives the yogi a more traditional experience of everything. This design bridges the gap of feeling the surface and having a stable footing.
With the ToeSox on, your feet will have the natural space afforded, and you can be in touch with every element of your body as you spread your toes wide. With their unique and patented design, you won't have to worry about them bunching. The whole bottom is laced with grips to ensure your footing is right all the time. The ToeSox are genuinely on a league of their own by virtue of design and dependability.
There are many color options available, including but not limited to fuchsia, Havana, peacock, and the faultless black. There are different color variations and designs that are sure to match your style. As a side note, the prices vary depending on the color, though it doesn't deviate too much from the mean.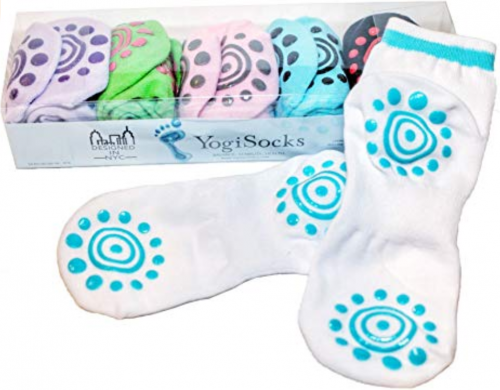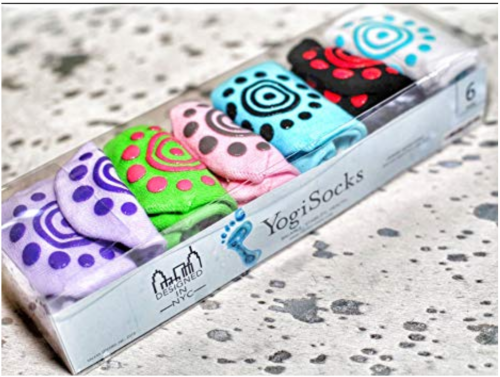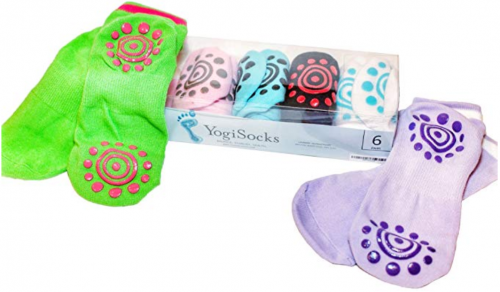 Value pack
Strong grip
Snug fit
These are cute, simple closed-toe designed socks with plush and comfortable fabric. They offer a decent level of traction to the surface thanks to the durable grippers on the heel and toe areas. They come in an affordable pack of 6 differently colored pairs of socks.
The cotton fabric is thin and stretches to fit tight and stay put no matter the vigorousness of the workout. The compression fitting design is not too close-fitting to cause any form of discomfort. The grip pads are well designed to show them off in the studio or around your home. Their simple design makes them ideal for everyday use.
The value pack they come in give you a bang for the buck. These socks are even cheaper than many others sold as a single pair. With a closed toe design, they look just like your everyday socks but offer so many benefits having them, and you won't feel a pinch procuring them. They are of high quality and hold up well through many cycles of washes.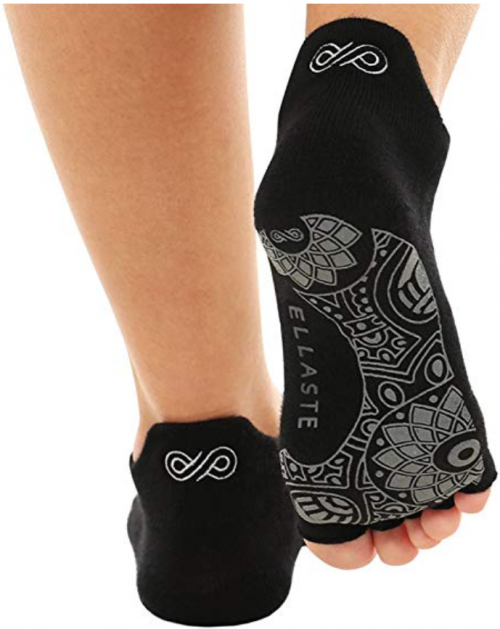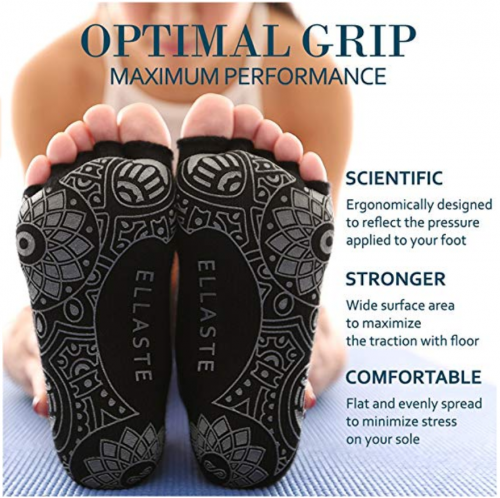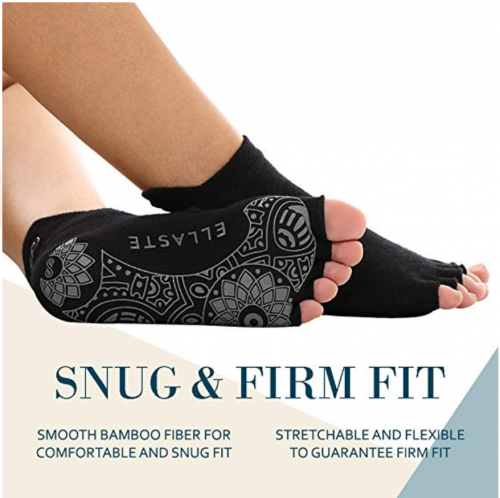 Naturally antimicrobial
Multiple size options
Durable
Uncomfortable gripping dots
The Ellaste gripper socks are made from breathable bamboo, which keeps your feet fresh and odor-free for longer They have unique anti-skid gripping dots that ensure you keep your footing. However, these same dots cause tiny pressure points, making them unideal for other workouts except yoga, where you're still in most routines.
Overlooking the dots, they have a flat ergonomic design, which contours well to the natural shape of your foot. For that reason, good luck slipping with these socks on. They fit your foot comfortably and snug. They come in a wide range of sizes rather than one size fits all model.
The bamboo fabric used keeps your feet dry and is long-lasting. Therefore, don't shy away from them because of their initial cost, because they are quite durable. They maintain the right amount of fit and flexibility through many washing cycles.
Regardless of what reservations you might have about the gripping dots, they are quite decorative. You also have to get used to the toe holes if you're a first-timer. If you're not yet convinced, you can take advantage of the money-back guarantee within the first 90 days of purchase.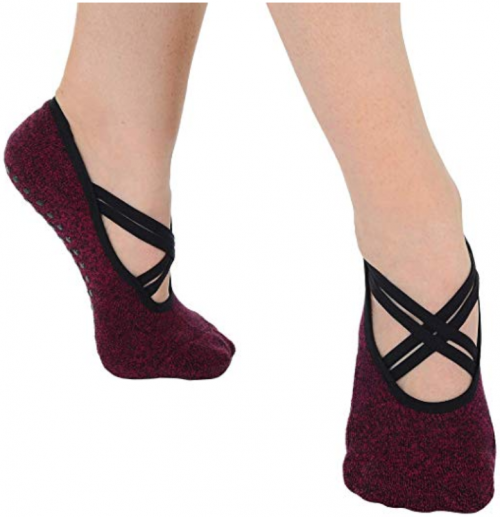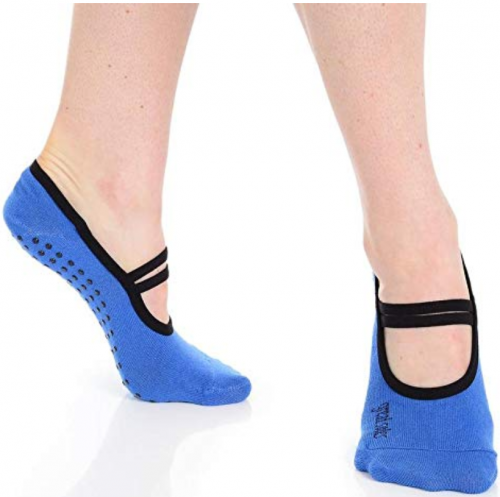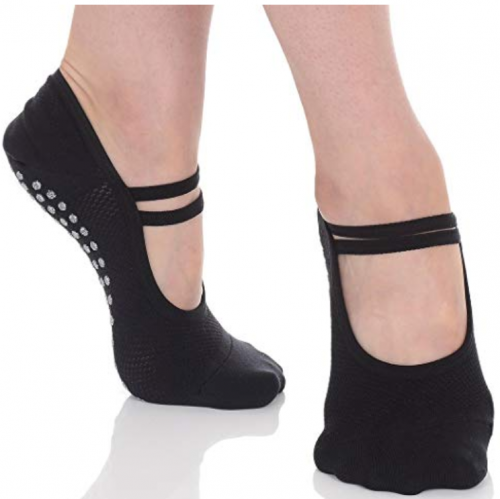 Never-slip strip
Stylish design
Long-lasting
These socks offer great non-slip functionality for athleisure activities such as yoga, barre, Pilates or even leisurely around your home on tiles or hardwood floors. They are fashionable as well, taking a cue from ballet shoe designs. The combination of great design and materials gives you a comfortable and stable footing throughout.
In addition to providing a non-slip characteristic, they also have a never-slip strip inside of the heel, which guarantees they don't fall off your foot. Moreover, you can custom fit the elastic bands on the arch, preventing the socks from bunching up. Socks falling off is a common occurrence when partaking in vigorous exercises, but that does not occur with the Great Soles on.
They come in many color options and different designs for men or women. Great soles offer excellent traction and stay put when exercising. They are also machine washable, but more follow the manufacturer's instructions doing so religiously. The guideline is to set the washing machine on gentle cycles in cold water and to air-dry them after. The machine-washable fact is only a testament to how damage resistant they are.
It would be good if the manufacturer also sold them in value packs since people keep adding more of this product to their drawer. Even though they cost a little bit more, you will hardly find others in the same price range offering the same aesthetics and functionality.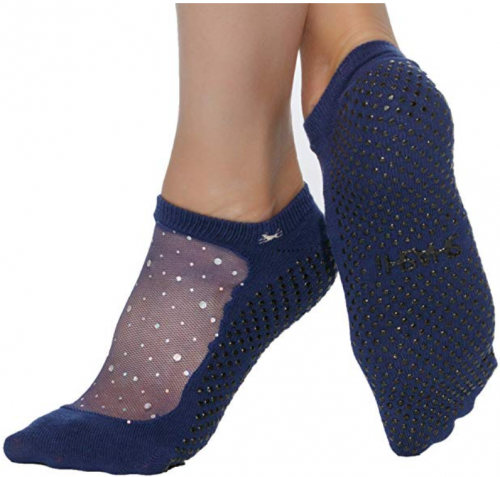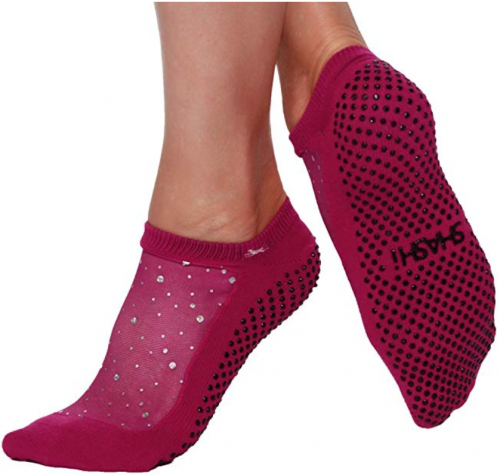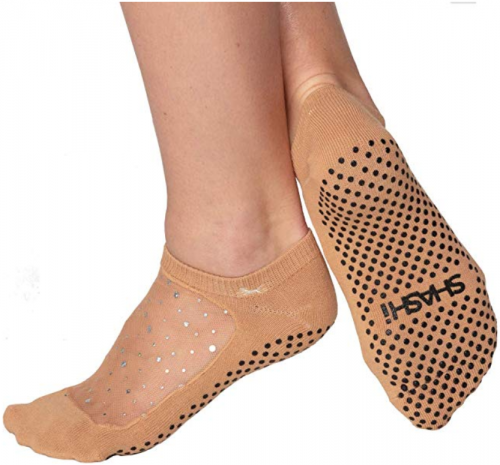 Extensive grip coverage
Multiple designs
Glittery mesh
Mesh leggings are delightful to anyone who sweats a lot, and that's what you get with Shashi Star. These non-slip socks are made of a patented CoolMax moisture-wicking fabric, ensuring your feet stay cotton dry and free of bacteria or fungus. Additionally, the glitter design makes them stand out. The high-performance materials justify their prices.
They have an ergonomic design, which you can custom fit to your foot. They also have ample cushioning for comfort. Features such as the extensive full sole grip coverage make these socks ideal for yoga, dance, barre, Pilates, and rehabilitation. You can get a full, regular, split, or open-toe design to suit your needs. They are light in weight and still offer ample traction.
The manufacturer also found it incisive to add a mesh pouch to store these comfortable socks. There is a wide range of color options to choose from, and the glitter only highlights their vibrancy. You only must make sure to hand wash them and air dry. Don't put them in a washing machine, which will almost certainly remove the glitter, among other issues.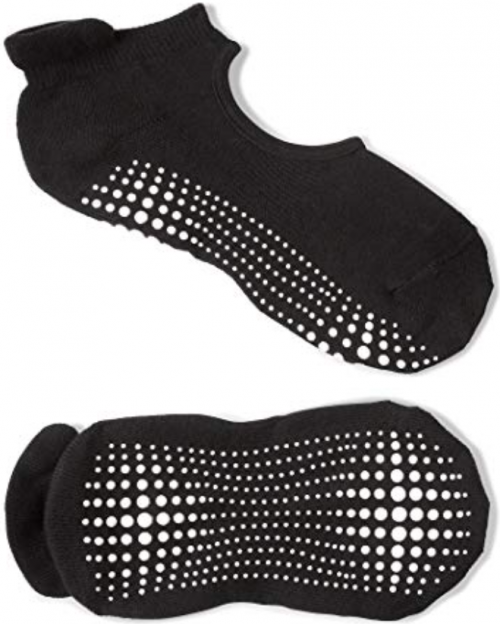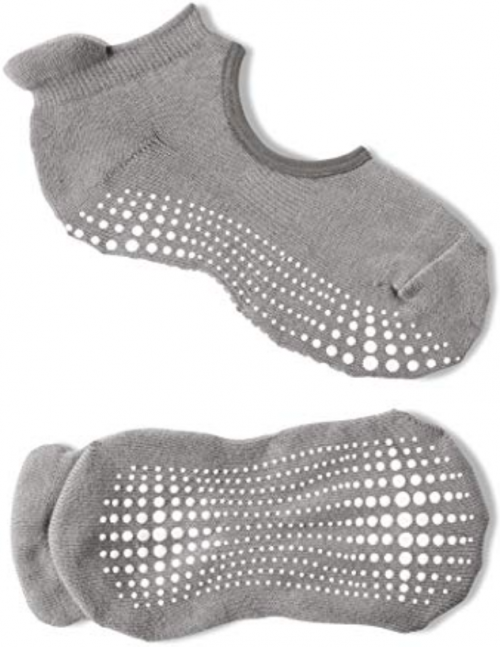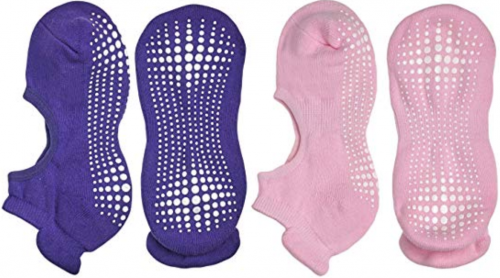 Machine washable
Unisex design
Very light
These socks are so comfortable; you even forget you have them on: this is ideally what you want for yoga. The cutout on top makes your feet feel free and keep them from sweating. The grips are strong enough to help you pull off the most strenuous routines.
The slim profile grip patterns are functional to ensure you don't slip. Consequently, you can focus on your technique. The grips don't add pressure point to the bottom of your feet, so you can find the perfect amount of cushioning for Pilates, barre, yoga, and even ballet. The grips are more concentrated on the heel, where you need traction the most.
The fully covered design guarantees to keep your feet clean. The premium cotton blends, high-quality weaving, and extra-thick sole make them easily endure rigorous workouts sessions. They are even machine washable, making it easier to maintain them.
There is a padded tab around the cuff to make them easy to wear. The socks are comfortable and minimalist. With the simple design, all genders don't have to scratch their heads, wondering if they should get a pair because they are unisex in design. The only downside is that their grip can be too much, almost unnatural.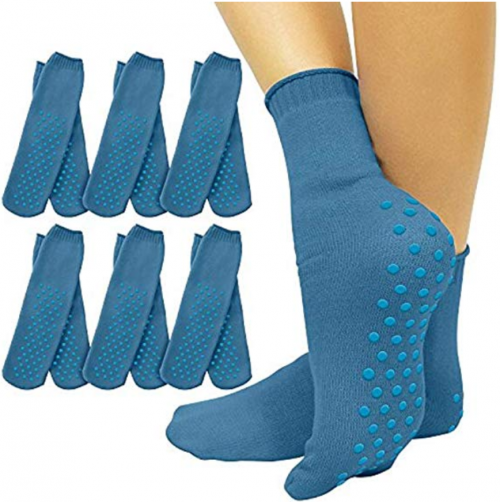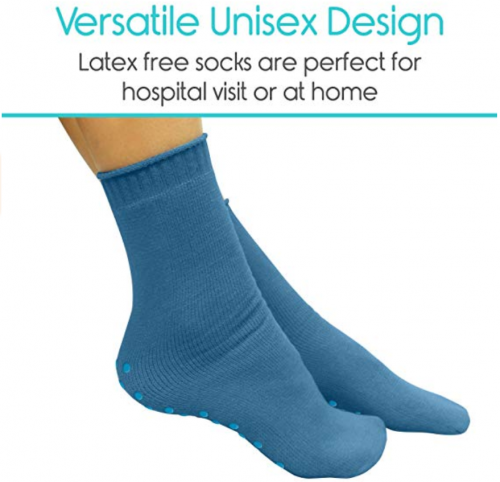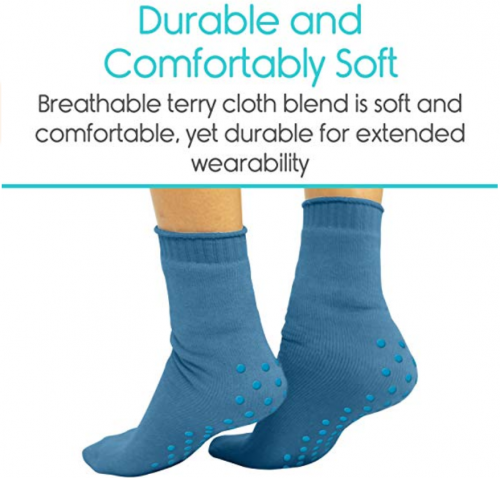 Machine washable
Breathable inner lining
Sold in value packs
Only blue color available
These gripper socks are marketed for hospital use. This advertising means they are geared toward helping you avoid slip and falls where you want your feet to be safe and protected. The surface gripping tread dots covering the whole foot provide excellent traction and stability on surfaces such as vinyl, tile, or hardwood.
They are comfortable because the soft terry cloth inner lining is moisture-wicking, lightweight and has a cooling effect. The ribbed cuffs ensure that they stay in place without rolling or slipping off your foot. The fabrics used to make the Vive socks are of the finest quality, and you can even machine wash them on gentle cycles.
They have a closed toe unisex design and fit most adults comfortably. They come in 6 pairs of the same color. The manufacturer gives you a 60-day moneyback guarantee, basically showing their level of confidence in the product.
Many people have a liking to these socks because of their price and quality. They function well to keep you grounded, without having to spend an arm and a leg. Even though primarily marketed for hospital environments, many still use them happily in their homes, studio, or gym.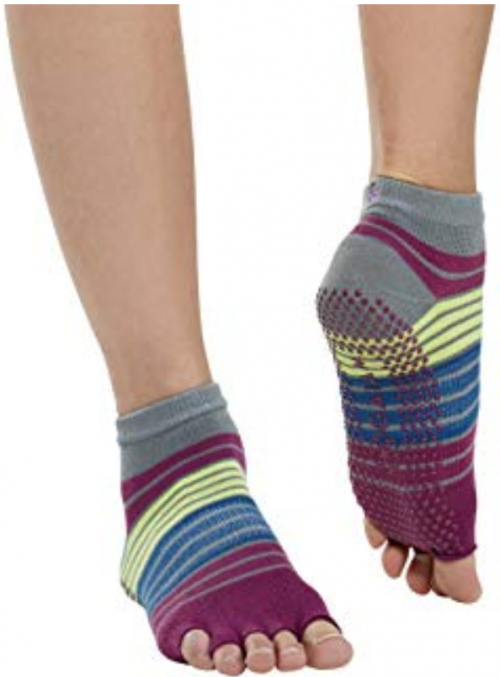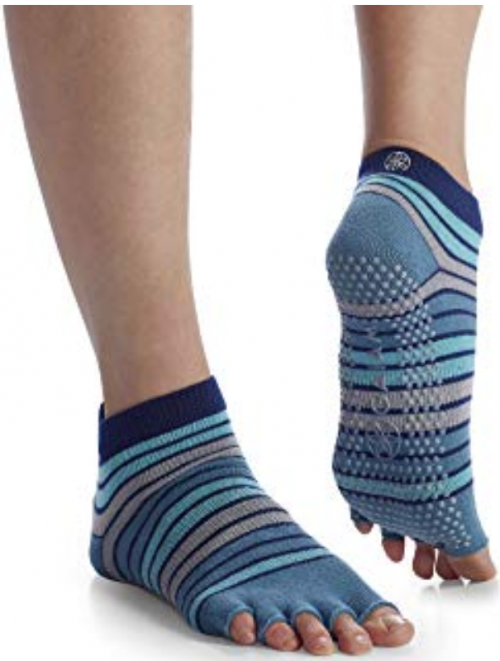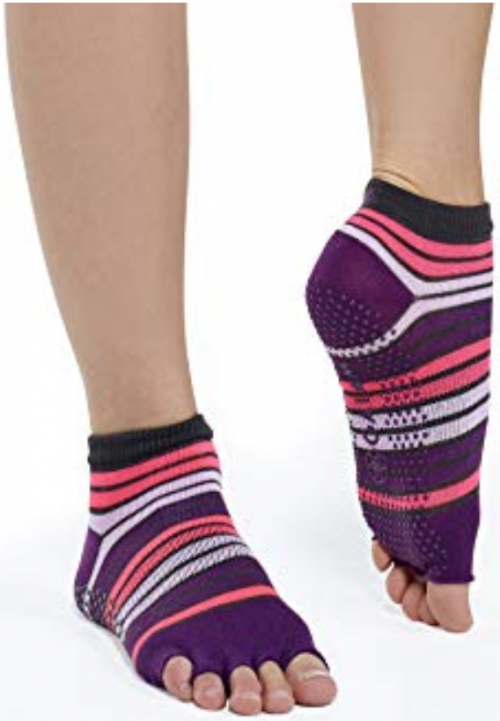 Reputable brand
Targeted traction zones
One size fits all
Gaiam are yoga apparel experts. For that reason, it's hard to fault any of their products on that front, since they are the ones who set the standards. Their yoga socks are not an exception to the high bar and prestige in the name they carry.
These socks protect your feet so that you can get into Zen mode comfortably. The open toe design lets you have a more tactile feeling while reaping the benefits of wearing socks at the same time. Your toes are not restricted, but your feet won't be sliding easily or feeling the cold, hard, or dirty ground.
The targeted traction zones on the heel and ball of your foot offer a high level of grip regardless of the pose you're in. The sticky grip dots cover the whole sole surface and will keep you balanced when transitioning from one position to another, on any conceivable surface. The price is just right from a brand that has experience in making products for their eager and loyal yogis.
The primary fabric used is cotton with an arched heel band on the arches, and non-slip silicone grips on the contact surface. Because of their high coverage, they fit most adults' feet well. They look just as good as they feel to touch.
10

. Crescent Moon ExerSocks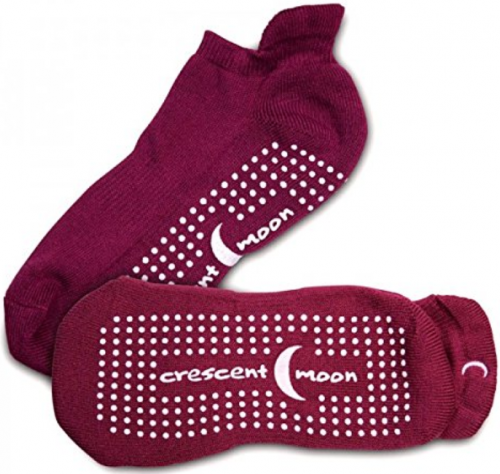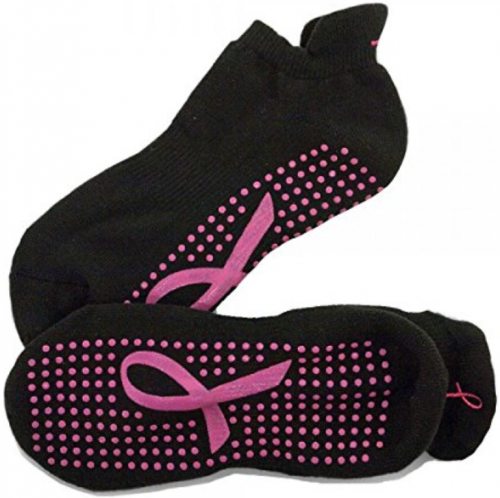 Versatile use
Value packs available
Lightweight and breathable
The ExerSocks are a combination of great design and features. The fabric comprises of 7% nylon, 3 % spandex, and 90% cotton. This combination gives it excellent breathability, flexibility, and comfort, making them a must-have for yoga.
In addition to the grippy silicone dots on the sole, the detailed logo is also non slip. The company's emblem is also embroidered on the tab, which makes it easy to wear them. This labeling just goes to show a brand that takes pride in its name and is not afraid to be associated with its high-quality products. However, the design is only limited to yoga and other low impact exercises like Pilates.
Their pleasing aesthetics also makes them ideal for wearing around the house as an alternative to slippers to keep you warm and stable. They are engineered to stay on your feet, making them great for everyday use. The high thread knit makes them thicker than others, but they still maintain proper levels of breathability.
The sole is reinforced, ensuring a snug fit. Even though the brand is relatively new to the market, a recent upsurge in demand has seen them now selling the ExerSocks in packs. The pack options also see you reducing the overall cost of these great, cushy socks.
Criteria Used for Evaluation

Use
Times are changing for the better.
For many years, people have practiced yoga barefoot. The main reason for this is that with bare feet, one can find more stability with different positions on the floor and stretch the muscles of the foot better.
Now, with the latest yoga socks found in this list, you can still spread your toes as you wish. Additionally, they have silicone dots on the bottom, which prevent your feet from sliding. You can find experienced and novice yogis using them today. Below are some more reasons why you would also want a pair.
Cold feet: Gym and studios floors can be chilly. Fortunately, you won't have to reschedule your routine as these socks keep you warm.
Slipping: Not everyone is inclined to having a non-slip yoga mat. If that's the case, then the products featured here work great for yoga on slippery surfaces in the studio, tile floor, and even carpets.
Protection: There are good reasons as to why most studios have a strict no-shoe policy when practicing yoga. If you dread being barefoot on any floor, these socks will protect you from the grime, dirt, and germs.
Fashion: The socks featured in this review have elegant designs. As a result, you can make a bold fashion statement with some of the options provided.
While most of these socks featured here are not limited to yoga, it's probably not a good idea to wear them under your shoes. They are a little bit more expensive than your regular socks and need more care to lessen wear and tear. Nonetheless, you can use them in other workouts such as Pilates, Kickboxing, and Barre.

Style
Show what you're all about.
Typically, socks are worn under shoes, away from roaming eyes. However, gripper socks are in full glare of everyone seeing you practice your yoga. This aspect gives you the chance to show your panache.
Even though the products featured here perform similar functions, you can find a pair that compliments your workout gear. There are many colors and print designs to choose from. Who said you must wear boring attire when working out? In fact, many citations show that when you look good, you perform better because of the feel-good factor.
The main functional designs are covered toe, five toes, and toeless. Each option has its merits and demerits. The covered toe design like the Dubeebaby looks just like your conventional socks and is preferred by many who like to take a walk around the studio and not feel gross doing so.
On the other hand, toeless socks offer a more tactile feeling, unlike covered designs, which some find twisting around, thus affecting the grip. With toeless construction, each toe has its very own hole, so little chance of it moving around.
With the five-toe design, you get the best of both worlds. Each toe is covered with its own slot, and some have grip dots on the ends for added traction. However, it will take time before you get used to them.
The prerogative of choice mainly depends on whether you are buying a pair for better traction or hygienic purposes. The toeless and design gives you better traction, while the other two are more hygienic - the latter two act as a sound barrier between your feet and bacteria lurking in sweaty workout environs.
Whichever type you choose, make sure you're always in the moment. What this means is that you stop being worried about slipping or thinking about how cold your feet are when in Zen mode. Many of the grip socks are made of cotton, bamboo, synthetic fibers, or a blend of said materials. With the different designs, styles, and lengths, you are guaranteed to get what you need.

Comfort
Naturally, you want your apparel to be comfortable; otherwise, you will not appreciate them as much. Fabrics used to play a significant role in that aspect. There are many types of materials used to make good yoga socks. The choice can vary from person to person, or depending on what you will use them for. But it mostly boils down to personal preference.
Some people like warm fuzzy socks, and others prefer a thinner and snug fit for workout sessions. If you tend to get cold feet, then the first option with covered toe design is practical to your needs. Thinner socks tend to be more breathable, making them ideal for feet prone to sweat. Sweaty feet even reduce the grip level and are very uncomfortable.
Some materials need special care. You can only hand wash some fabrics and not toss them in your washing machine with the rest of your clothes. These gripper socks might seem simple, but need a proper amount of care to have an impact on your sessions. Therefore, your performance in determinant on finding the right pair that will have a positive bearing on your workout for an extended period.
The right pair of gripper socks must help in keeping you footed during yoga set and other varied workouts. Look at the different features highlighted in this list, to see what makes one pair better than the other, according to your needs.

Traction
The products featured here would be obsolete without traction. Unlike your regular socks, the ones in this review will help you avoid sliding and slipping on hard surfaces. With the grips laced on the underside, you get traction to prevent falling and hurting yourself. In other words, they keep you grounded.
Even though all yoga socks offer some traction, the level varies from one pair to another. Ask yourself if you need lots of grips or just enough to keep you from slipping. You can find differences not only in the amount of grip but the tactile surface designs as well. Some have grips on critical areas such as the heel and toe areas. Others have a grip surface on the entire sole. You can find some with fancy yet practical grip designs on the bottom part.
With the different grip types, one cannot be equal to another. Therefore, consider the level of activity you will need your grip socks to handle and the surface you will use them on. Do you want something basic, or a pair with fancy-looking designs?

Features
Look at the standout features.
From the onset, choose yoga socks that work for you. Some have individual toes, and others don't. Many people cannot stand the feeling of something between their toes: therefore, for them, that's not an option. Luckily, there are many good options with toeless designs available for them on this list.
There are also open and closed designs. With open layouts, you will be more grounded and feel every part of your foot more. What makes open designs advantageous is that many yoga routines call for the practitioner to spread out their toes as much as they can. With closed designs, your toes will feel more restricted inside the socks. Moving each toe around naturally gives the yogi a more natural feel.
Open toe designs also give the yogi a sense of how yoga should be done in the first place, which is barefoot. All the different models come in functional designs that also makes them look appealing to the eye.
Expert Interviews & Opinions
Most Important Criteria
(According to our experts opinion)
Experts Opinion
Editors Opinion
Users Opinion
By Default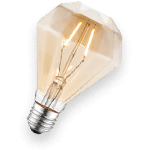 Toeless Designs
The toeless design is relatively new in the market but has picked up the pace quite fast in recent times. With such a model, you experience more flexibility on your toes and enhanced grip on the surface. You can spread your toes wider, making it easier for some yoga sessions that need more stability. Additionally, your feet will hardly sweat because they are exposed to the cooler ambient air.
Safety
Prevention is better than cure and yoga socks will significantly reduce the chances of falling. You can find the elderly, weak, young and those under rehabilitation as well, trying to maintain their balance as they walk. With gripper socks, you can walk around slippery floors safer than without.
Other Factors to Consider

Bottom Line
It's good to separate your workout apparel from those you wear ordinarily. In this case, socks. They are not versatile in terms of wearing them under your feet, but you can use them in other workout activities. They have grips on the bottom, and some have toeless, five-toed, or closed-toe designs. Many manufacturers recommend not to use a drier on the socks because of the grips. The grippy surface is usually rubber, and its stickiness will dissipate faster with heat application.
There are many designs out there, and one also wonders if they are worthy. The main work of gripper socks is to ensure you are stable and balanced to get the most out of your workout. If yours fails this basic test, then they are not worth tinkering on about. Actually, they may even cause more harm than good. Here, we separate the weeds from the chaff, ensuring you get value for your hard-earned cash.
Procuring gripper socks is more complicated than getting regular socks. The one you choose needs to be of high quality because you don't want the grip dots to fail on you when you're in a precarious situation. No one appreciates planting their faces to the floor. With good quality, they won't rip and tear easily.
With suitable yoga socks, you can hold poses for much longer and faster, without focusing too much of falling over. Your feet are safe from bacteria, fungi and other germs in studios and gyms you don't trust that much. And if you like to travel, you don't have to necessarily carry your space-consuming yoga mat all the time if you have gripper socks.
Frequently Asked Questions
q:

Is it okay to wear yoga socks on tiles and carpet?

a:

Yes, it's okay to wear these socks on any surface. However, that does not mean they will be of any added benefit on surfaces such as carpets. Practicing your yoga moves with them on might even be disadvantageous because the mat might grasp the socks. The focal function of these socks is to keep you from sliding on slippery surfaces such as hardwood floors and tiles.
q:

Can I wear gripper socks with shoes?

a:

Regardless of what you might have heard, wearing these socks inside shoes is not okay. Besides, regular socks are cheaper and more comfortable. It's not a matter of size or breathability level that sets them apart, but the grips. The gripping surface can cause discomfort inside shoes because of their purposely irregular patterns. Some designs have open toes, and nobody wants exposed feet inside their shoes. If you prefer shoes then consider getting yoga shoes.
q:

How do you wash these socks?

a:

As is with most apparel, cleaning them depends on the type of fabric, and gripper socks are not an exception to the rule. Many can still be washed using cold water in a washing machine. However, refrain from placing them in a drier instead let them air dry. Many prefer to wash them by hand to avoid the socks stretching or shrinking. Overall, look at the manufacturer's tag, where they advise on the best way to go about it.
q:

Why do gripper socks rubber grips leave marks on the floor- is it a common problem?

a:

No, it's not common and is quite unfortunate when this happens. This issue occurs with low-quality variants. Over time, the rubber (mostly some form of PVC or silicone) used on the grips start to break down, and they begin to discolor, crumble, and even melt. If you don't take proper care, you might end up accelerating the lifespan of the product, thus more cases of dirty floors. Always buy quality and take care of the product so that they can last for long.
q:

Will these socks fit snugly?

a:

By design, gripper socks are supposed to fit snug. They are not only appropriate for yoga, but Pilates, dance, barre, and kickboxing as well. All these workouts need you to have a stable footing, and loose socks can deter you from that. These products come in various size options, to fit narrow and wide feet, regardless of the gender.
q:

Is it okay to wear socks during yoga?

a:

This uniquely-designed footwear helps the yogi have a better grip on the floor or yoga mat. Ultimately, they can improve their posture and balance. However, traditionalists and purists are opposed to gripper socks. According to them, these apparels are not part of the gear of the cultural and religious yoga art. If you're in for the workout, wearing these socks is fine.
Subscribe to our Newsletter