Best Night Splints & Boots Reviewed & Rated
In a Hurry? Editors choice: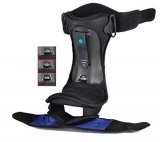 Test Winner: Ovation Hybrid

Used to treat pain caused by
plantar fasciitis
and Achilles tendinopathy, night splints can prove to be a great, non-invasive way to treat the pain that you're experiencing either at the bottom or the back of your foot.
Usually fully adjustable and with limited side effects, these products can even be used for a couple of months at a time, and combined with
physical therapy
and medication, they can give great results. The list below features the ten best night splints and boots currently available for purchase, with detailed descriptions of all their features.
Standout Picks
Criteria Used for Evaluation
Flexibility
The whole point of wearing night splints is to put your foot in a certain position and keep it there. This is why, when rating the products on this list, we chose the ones that did best at keeping your feet locked in position. The more movement a model allowed, the lower rating it got in terms of possibility.
If you're recovering from Plantar Fasciitis or Achilles Tendonitis, it is crucial that your foot is in the correct position in this type of treatment. This will always include a flexing of the tendons and fascia by putting your foot at an angle that is a maximum of 90 degrees from your shin. Some users may need even more, which is where adjustable wedges come in really handy. It is actually through this gentle flexion that pressure is taken off the parts of your foot that cause pain, and the areas are allowed to heal and relax, which should result in a lessening of the levels of pain you will feel in the morning.
It's important to note that this type of product is almost always used overnight (with a few exceptions) which will typically mean that a big, bulky aid will be messing with your sleep. The highest rated models on this list take this into consideration as well, and allow a better range of movement to the leg, while still keeping the heel completely locked in place, and the toes pointing towards the shin.
Lastly, it's important to consider whether you need a huge boot at all, or if you could get away with a smaller, bootie type of product. If you're only suffering from mild symptoms that you want to keep from getting worse, then one of the smaller products on this list may work for you. Although they won't bend your foot at a 90-degree angle, they may provide you with just enough relief to stop you from experiencing pain in the morning. A huge upside of these is that they're generally more comfortable, and will allow at least some amount of natural movement.
Adjustability
Being usually made in just a single size, or with limited sizing availability, the level of adjustability you get from your night boot is crucial, not just in terms of comfort, but also in terms of effectiveness.
There are two adjustability factors you need to consider before making a purchase:
Flexion Angle: some users will need their foot to be at a rigid 90 degree angle in relation to their shin. Some, with more severe conditions, will need even more. Others, however, may be more comfortable with a smaller amount of flexion. The best products on this list will take this into consideration, and will allow you to adjust the level at which your foot is bent. This may include straps, but can also be done by removable wedges that help get the best possible fit.
Straps: Because everyone has differently sized feet and calves, a product that you just slip on would simply not do. That's why the straps on all boots listed above feature either buckles or hook and loop closures that allow you to find the perfect fit. Although a night splint should hold your foot in place with a firm grip, it should never be tied up so strongly as to cause discomfort. Similarly, you will not get the benefits of wearing such a product if the fit is floppy. Good straps allow users to find the best possible grip so as to reap all the benefits of wearing this type of product.
One more thing to consider in terms of adjustability is that you will probably need to redo the closures on your night splints a few times, at least for the first few nights you wear them. This is completely normal, as your body will just be getting used to being put in this new position, and there are natural fluctuations in the amount of swelling your feet experience throughout the day and night. Some users may even have to adjust the boot during the night, which is a tedious task, but may be a crucial one on the road to recovery.
Compression
The amount of compression you get from your night boot is the trickiest part of the entire selection and fitting process. Although you will want to completely avoid products that squeeze the life out of your legs and feet, a little bit of compression may be beneficial.
As injuries often reduce blood flow to the problematic region, a slight amount of compression may help with drawing it to the feet. This type of approach can be very effective in terms of treatment, as the muscles, tendons and even cartilage will be receiving the necessary nutrients and oxygen they need to start regenerating and getting stronger, which will speed up the amount of time you spent in recovery.
However, it is crucial that it is not overdone, as restricting blood flow to the region will do the same. Not only will it cause you severe discomfort that'll be heightened by the fact that you'll be trying to sleep, but can prolong the time you spend in recovery and reduce the effects of all other treatments you've been doing.
When putting on your night splints, you need to ensure you don't cinch down on the straps too hard, and that it's comfortably snug against your foot. You will probably find that the fit itself will vary day to day, and the more you get used to it, the less you will be bothered by it.
Comfort
Finally, you need to be aware of the fact that a night boot or splint will never be truly comfortable. Nonetheless, there are several products on this list that take care to ensure you get as much as possible.
First and foremost, you will want to choose a style that has some amount of padding. Whether it's foam, sponge or latex is completely up to you and your personal preferences, but almost all models on this list will include at least a little bit of soft lining. Seeing that most splints are made with hard plastic parts, this can make a huge difference in terms of preventing them from cutting into your foot and giving you a hard time falling asleep.
Another aspect you need to consider is the type of material the splint is made of. Usually, these products are quite bulky and may cause excessive sweating during the night. What you'll want is a moisture-wicking material that won't allow your feet to be sitting in a pool of your own sweat as this will certainly lead to bad odors, and may even cause side effects such as fungal infections.
Last but not least, seeing that everyone's sensitivity is at a different level, you will want to choose a boot with straps that work for you. Some may prefer thin straps that aren't too restrictive, but others will find thicker straps to be less likely to cut into the foot, making it a bit easier to get a good night's sleep.
Before making a final purchase, it is advisable that you consider all of these aspects, as they can make a difference between a torture device and a product that will help you heal faster and experience less pain in the morning.
Side Effects
As already mentioned, night splints are restrictive types of foot coverings which will change the way your foot is positioned for prolonged periods. Before deciding to buy one and wear it to fix your problems, it is highly advisable that you consult with your physician, as they may slow down your healing process, and can even lead to side effects that will require surgery.
Note that there are certain conditions that may feel similar to plantar fasciitis but that need movement to be properly healed. Sports injuries, in particular, often need to be treated with physical therapy instead of immobilization, so diagnosing yourself and prescribing your own healing methods is strongly advised against.
Top 10 Night Splints and Boots
1

. Restorative Medical Night Splint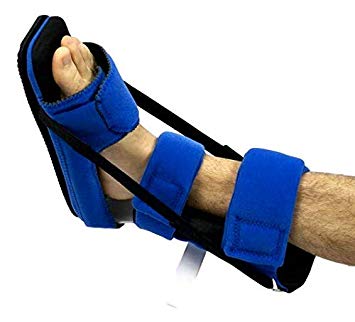 Sometimes you just need a night where instead of a brace or hard as a rock boot you want something you can sink into and heave a sigh of relief. Or you're just ridiculously picky and want something with an insane amount of padding.
You'll be happy with the Restorative Medical boot because it is the exact definition of that. Just look at the picture! It looks so soft and comfy, perfect to give you a long night's sleep without interruption. It would especially be perfect in the winter when you just want to snuggle up in bed and be surrounded by all things plush.
There are plenty of styles out there that have way too much flexibility in their shell and can compromise the angle needed for your relief. That really defeats the whole point of wearing a night boot! So with Restorative Medical, you get a constant, all-night position that keeps your foot where you need it to be. Otherwise, you would end up with even more pain from having it positioned improperly and there is no way you could sleep with that. Go ahead and get this so you can stay comfortable every single night for the rest of your life.
Have you tried several different splints and boots only to find that they really bother your skin? Whether it's because of the materials used or the way the straps rub against you, it is most definitely not an ideal sleeping situation. How can you be expected to sleep when your skin is all hot and itchy? It's basically impossible. If you go with the Restorative Medical boot you have a guarantee to be irritant-free so you can sleep peacefully (unless you have an allergy to certain materials). Take a load off, put your boot on, and snuggle up so you can fall asleep watching M.A.S.H for the hundredth time.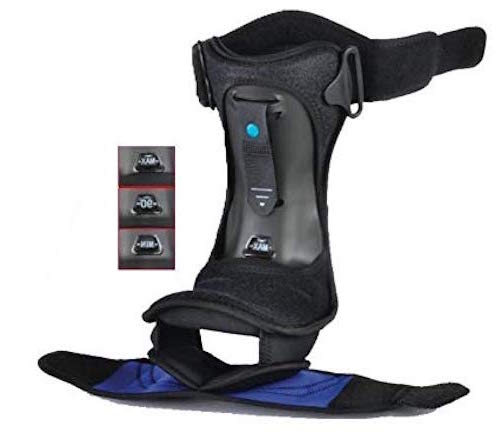 This night splint by Ovation is a unique model on this list, seeing that it combines the benefits offered by two different types of boots. It's adjustable and soft, making it a great choice for nighttime wear. The Ovation Hybrid comes in two sizes, a Small-Medium and Large-XLarge, allowing most people to find the perfect fit. It's fairly simple to use and put on and eliminates hard plastic sections that are usually the source of discomfort for users.
The Ovation Hybrid works for most cases of Plantar Fasciitis, flexing the foot and ensuring that the fascia is properly treated during the night. It allows you to adjust the amount of flexion you want - either going with an angle that's larger but still beneficial or choosing 90 degrees or less for a greater amount of recovery.
Both the upper and the toe section feature hook and loop closures for easy on and off, as well as for on-the-go adjustments that are especially important to those recovering from more serious injury. The bottom of the Ovation Hybrid has a non-skid outsole, so you won't have to worry about slipping and causing further damage to your feet. The entire upper is generously cushioned, which means comfort while sleeping, and a lower likelihood of rubbing or irritation.
The cost association of this model is above average, but if you're looking for a model that combines the pros of a Dorsal and Posterior night splint, it's a great choice.

3

. Mars Wellness Posterior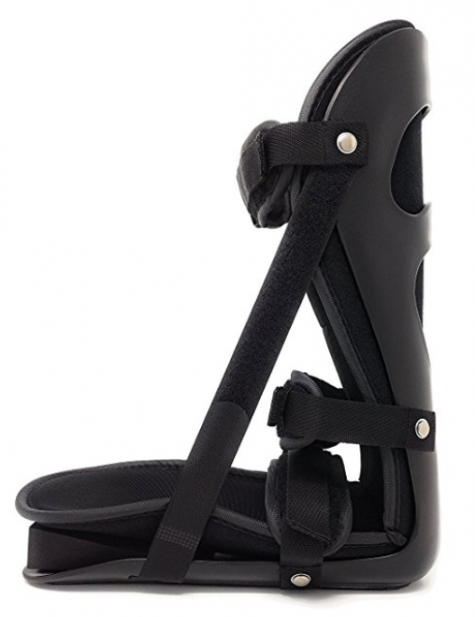 Less is more. What a very true statement that is, and not everyone wants something that's going to be overly complicated to use. If you want a splint that you can just put on (and only need to adjust slightly) because you're always so tired at bedtime you can get this splint made by Mars. It's the most popular because you can get it set to the degree and tightness you need, then it's smooth sailing from there. Easy peasy lemon squeezy.
There are days when you get up, and the pain you usually can ignore is flaring up, maybe because of the weather, or you just didn't sleep well. This means you're going to need some support when out doing your running or at work, but you don't want to draw attention to your leg with a big, bulky boot. You won't need to worry with this Mars support boot, it easily transitions to daytime wear and is "low profile" so you won't have a bunch of eyes on you all day long.
Hot and sweaty legs make for a long, itchy night and no rest for you (meaning you'll be a troll in the morning). When you wear this boot though, the open face design promotes air flow and keeps your leg cool and dry! You don't always need something hefty and complicated, because it would be useless if you wanted to take it off. So, you can get the support you're looking for and stay comfortable until the sun comes up.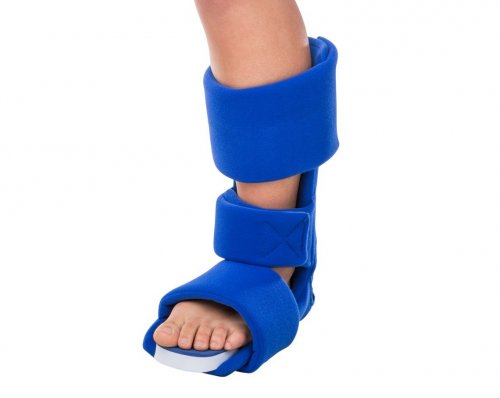 Here we have another boot-type style, although it isn't nearly as bulky as others similar to it. ProCare ProWedge came out with their adjustable boot specially designed to relieve pain caused by tendonitis and plantar fasciitis. It provides just the right amount of tension so you'll feel not only instant relief but have long-lasting results.
That way when you get up and ready for the day you can face whatever challenges that come your way without feeling like you could just keel over. It's also been designed for optimum comfort to ensure it doesn't affect your sleep in any way.
Sometimes your tendons have become just so stretched out that a regular degree of flex is not enough and you need a little extra oomph of tension. Many styles of this product don't provide the option to adjust more than the straps so it's good to get something that will. Flexibrace has included a wedge that you can stick under your foot inside the brace to give the added height you have been wanting and needing because of how extreme your tendonitis (or whatever else) has become.
There are a few others in the guide that have them included as well, but it seems that those tend to be a little more on the thicker side whereas this specific one isn't nearly as extreme with only an addition of five degrees. Imagine how uncomfortable it would be to just wear a plastic shell that pokes and prods at you with every movement. Although, there are people out there who prefer that because it's considered vintage and hipsters dig it.
Don't worry though if that isn't "your scene" because ProCare has a padded insert in their product that is removable and washable. It has just enough padding to keep you comfortable without suffocating and overheating your leg and foot. It's always best to read care instructions for any kind of apparel, especially medical, but if you just want a quick summary then here you go; machine-wash cold (preferably on a hand-wash cycle) then tumble dry on low (or let air dry). If you're a worrywart though you can always hand wash and dry it yourself too so you'll have peace of mind that your washer or dryer won't destroy it.

5

. United Ortho 360 Air Walker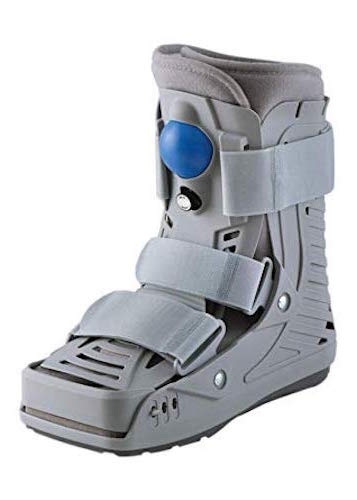 If what you're after is a protective orthopedic boot you can use to ensure stability and protection after a more serious injury, you may be interested in trying out the United Ortho 360 Air Walker. This is a walking boot that will allow you to go about your daily activities, but which will offer all the features you need to feel comfortable and supported. It's an excellent choice for anyone considering the two available shaft heights - with the taller providing a greater level of mobilization and protection.
This product by United Ortho was developed for individuals with more severe issues and injuries. The 360 Air Walker is recommended for acute ankle sprains, soft tissue injuries, stable lower leg, ankle and foot fractures, as well as post-operative wear after Achilles repairs. You'll find that it's considerably bulkier than the other models listed, which means it will limit your range of motion more. Nonetheless, the semi-rigid shell and ample cushioning allow for a comfortable wearing experience, made even better through the addition of special features.
The feature which makes this pair of boots fit and feel so well is the air bladder in the shaft that serves a dual purpose. For one, it cushions and provides a soft feeling so you won't have to worry about irritation. Secondly, it is adjustable, so you can get the right amount of stabilization, as well as add a bit of compression to prevent edema. As for the other great feature on the 360 Air Walker, it utilizes a rocker outsole that encourages a natural walking gait, allowing you to go about your activities without having to adjust to uncomfortable and bulky walking aides.
The price of this model isn't exactly low, but it's not the most expensive pair of splints listed either. It's a great investment for those who are looking for lightweight stabilization, or those recovering from surgery.

6

. Advanced Orthopaedics Night Splint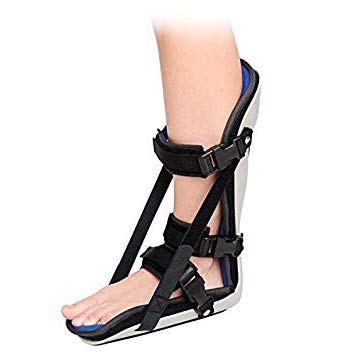 Advanced Orthopaedics is very loved among the community of those that suffer from tendonitis and plantar fasciitis because of its extreme adjustability and lightweight comfort for all night wear. You won't have to worry about waking up every fifteen minutes to adjust because it's so uncomfortable, nor will you wake up with an imprint all around your leg and foot. This product has been built so that it can treat several conditions or injuries at once so you can always have relief and no longer need to choose between treatment for your conditions. Not only that but it can be used for daytime wear as well so if you are in need (say the weather is getting cold and makes you hurt) you can keep wearing it to ease the pain.
If you have hardwood or linoleum floors and worry that when you get up in the night to go to the bathroom or get a drink, you'll end up slipping and hurting yourself more, no need. On the bottom of this night boot, there's a non-slip design to keep you upright and give you traction on all surfaces. Also a handy feature for if you're going to wear it during the daytime so you won't be slipping all over the place in Walmart (thanks to their concrete floors) or wherever you may be. It's a great boot for day and night but will be uncomfortable at first until your body gets used to the way it stretches your foot and leg.
Whether you have Achilles tendonitis, plantar fasciitis or have a pulled calf muscle/tendon you will always get relief with Advanced Orthopaedics' spin on this style of relief. It's all-around support and adjustability gives the right amount of stretch to each area for constant comfort and instant pain relief. Dorsiflexion is when you have your toes pointed up towards your shin and this stretches your muscles/tendons to keep them tight instead of loose.
Remember as a little kid you would walk around on your heels and it always stretched your calf and foot so that when you went back to walking flat-footed it felt weird and relaxed? This was actually a good way to build up strength and ensure tightness well into your adult life so that you will have less chance of injury later. The night boot keeps your foot at the proper angle of dorsiflexion so that you exercise and work those muscles.

7

. Fibee P.F. Night Splint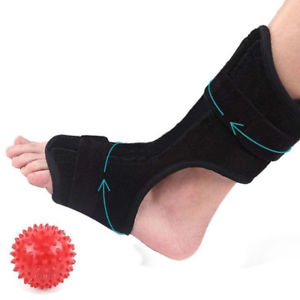 This is a super comfy product that's not overly padded, which may work for those who prefer this type of fit. The entire boot is lined with breathable foam so that you can stay cool and dry all night even on a hot summer night. Avoid the disgusting sweat puddle on your sheets and keep your boot from becoming musty and nasty, so that you won't end up throwing it in the garbage because it smells so bad.
Very thin straps can cause discomfort because when tightened they dig into the skin. The Fibee P.F. Night Splint designed this specific design to have much wider straps so that you get total coverage and maximum comfort without compromising the air flow (thanks to the foam lining). It also makes it much easier to adjust for those that may suffer from arthritis or some other ailment that can cause difficulty doing something that is "simple" because to them it isn't always something they can do. This way, being able to loosen and tighten as needed is much easier to accomplish.
You may have noticed there are a lot of styles and boots that you can't wear with a sock on because of various reasons (mainly it gets too hot or compromises the flex). Fibee knows that there are people who need to wear socks for certain ailments, such as compression socks for blood flow. Which is exactly why you can wear, socks with their adjustable angle brace so that makes it an all-inclusive product for anyone and everyone to use.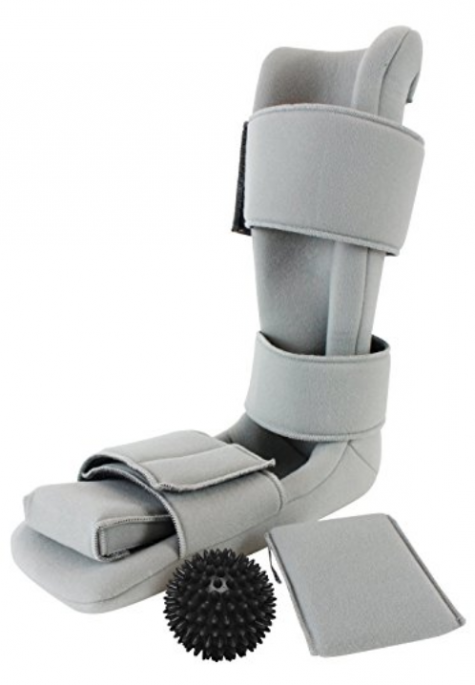 If having a sturdy boot isn't for you (maybe you're a side sleeper!) and need something super plush and soft then grab yourself this VIVE boot. It's like they took a daytime boot and wrapped it in cozy foam so you keep all the awesome benefits of your regular boot but can sleep comfortably thanks to the layer of comfy plush that covers the boot from top to bottom. Even the straps are padded!
A massage ball is good for many things including plantar fasciitis, tendonitis and so forth. When you purchase the Vive you receive a studded massage ball, it's sort of like a tennis ball but with little nodules sticking out from all around. The nodules not only release tension built up in the muscles of your feet but also pinpoint nerves that may be causing you pain. For example, if you massage a nerve in the heel of your foot, it will more than likely help reduce discomfort from sciatica. Meaning that not only will you have a comfortable splint to sleep in, but you'll have an easier time going to sleep after relaxing the bottoms of your feet.
Have you ever noticed after a long day your leg(s) look swollen and when you touch it(them) the pain is scorching? Not only does it hurt, but it also can be extremely itchy and make it practically impossible for you to go to bed. So if you put on this splint a little time before bed, it's inflammation reducing properties (thanks to the compression) will bring your uncomfortable level down a considerable amount. Therefore, making it much easier to get to sleep and stay asleep.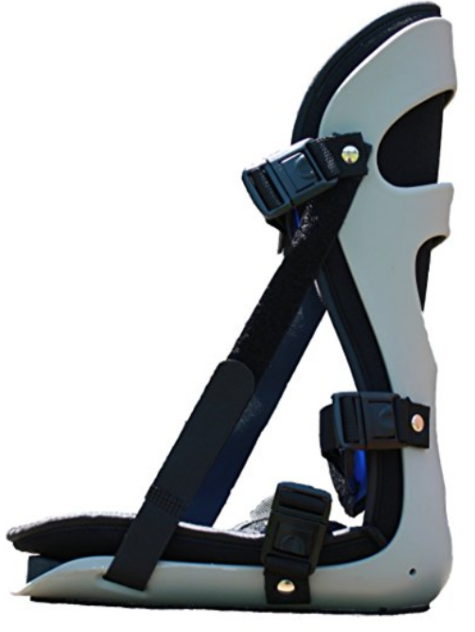 Anyone else feels like velcro can be annoying? Especially when you're trying to sleep and can hear it make that awful crackle noise every time you move. Hence why the Alpha Medical boot is popular since it doesn't have velcro straps, instead it is equipped with buckles that can be loosened and tightened as needed (or preferred).
Reminder; have your physician help you figure the correct amount of tightness right for you. It may seem annoying, but it will be what's best for you down the road after you've gotten yourself acclimated to wearing the boot and having your tendons flexed while in use.
The whole point of wearing any of these products is to keep your leg and foot in place so that you don't overstretch and loosen your tendons/muscles even more than they already are. Alpha Medical kept this in mind when designing the placement of their straps so that you stay at the proper flex position while you sleep and won't let you stretch out the injury/condition.
Although it says it's specific for plantar fasciitis and Achilles tendonitis it would work well for other foot-related injuries as well (like a sprained ankle or freshly out of the cast leg). Why would it be good for that? Well, imagine how sore and stiff your leg feels after being in a cast for weeks, and suddenly you have the freedom to move around. It can feel good at first, but you might end up a little sore, using all those muscles after so long. A brace can help ease the soreness until you've built up strength again!
You may be familiar with lycra or you may not, either way, we can break it down for you. Lycra is a material that is often used in athletic apparel because of its durability and aversion to sweat or water. This fiber is classified as an elastic polyurethane (PU) and is similar to spandex in many ways that they often get confused. Although elastic is stretchy, it's not necessarily ideal to use in whole pieces of clothing or equipment because it can fray and break with enough excessive force (like when you take your underwear out of the wash, and you have the elastic frillies sticking out everywhere).
Lycra can withstand a lot of abuse and handle being washed excessively, which is why this boot has a cover over the inner foam made of lycra to prevent your sweat from soaking into the padding. Meaning it protects your equipment, making it long-lasting and washable (hand wash/spot wash though because you can't throw the whole boot in the machine).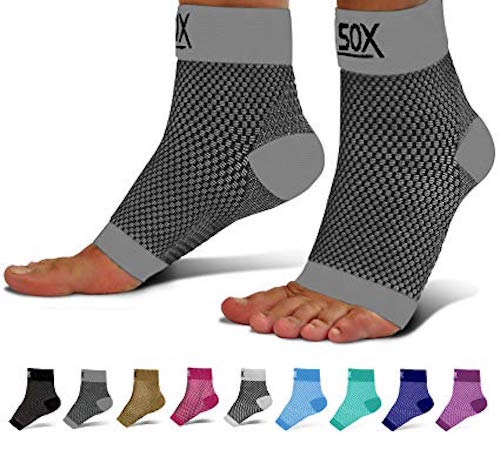 This product isn't exactly a splint or a boot. The SB SOX is ideal for those who are looking for a lightweight product they can use with their regular footwear. These compression socks were developed to help individuals who suffer from Plantar Fasciitis, and can also be used as an added level of support if you have flat feet, or to treat heel and foot pain. They're ideal for physical activity and are one of the most comfortable products on this list for nighttime wear.
These special socks come in a huge variety of color options. This means you can wear them as your regular hosiery, and nobody will have the slightest clue that you're actually wearing orthotic supports. They can be purchased in 4 different sizes, which means that everyone will easily find the perfect fit.
This product is made from lightweight and durable fabrics which are breathable and non-irritating. They're resistant to static and bacterial, which means you won't have to worry about bad odors. Additionally, they're machine washable, so you can always have a fresh pair on hand.
The SB SOX has an open toe area that allows for improved air circulation and offers medical-grade arch compression ideal for athletes. It will also increase blood flow and oxygen delivery to your feet, so they can be used for marathon training, and they also encourage lymph drainage.
As for cost association, the SB SOX is affordable, but you should be aware that you're going to need more than a single pair if you plan on using it on a daily basis. This means it's a good investment, but keep in mind it has more of a preventative than therapeutic function.

Subscribe to our Newsletter