Best Dune Shoes by Dune London Reviewed & Rated
In a Hurry? Editors choice: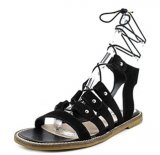 Test Winner: Lorelli

Based in the fashion capital of the world, the Dune London Group is one of the most highly rated names in fashion footwear. Over the past 20-years, their shoes have grown from a single product stand inside of a retail store to become a massive fashion mogul with stores in 10 countries around the world and an online storefront which distributes to over 130 countries.

The brand offers an impressive variety of styles and prides themselves on having the ability to appeal to everyone. These shoes are both professional and stylish while shifting a heavy focus on the quality of craftsmanship and overall comfort for the wearer.
Standout Picks
Criteria Used for Evaluation
Versatility
There are four primary collections under this brand, including Dune Black, Dune London, Head Over Heels, and the Wedding Collection. Each offers their own unique styles and designs while each one holds the same standards for quality and manufacturing. The shoes are unanimously well-made and offer the kind of integral wear that dreams are made of. You will never have to worry about foot pain or discomfort while walking because comfort is never far from mind during their making. The following descriptions break down the four collections for a better understanding of what they offer;
Dune Black
This line of footwear is made using the highest-quality leathers, stunning details, and gorgeous trim, all adding up to a luxurious wear. The footwear is sourced in Europe exclusively and offers boots, sneakers, and sandals.
Dune London
This is a large collection of styles ranging from sky-high heels to svelt ballet flats: there is something for everyone in this line. Their footwear is crafted with quality materials and offers gorgeous designs you won't find anywhere else.
Head Over Heels
This brand is based on colorful and playful designs that are affordable and trendy. It offers a youthful and fun-spirited approach to the modern day footwear assemblage with everything from classic sling-backs to espadrilles inspired slip-on shoes.
Wedding Collection
It features shoes that are made to dazzle on your wedding day and offers selections for both men and women. Their ladies bridal shoes come in a range of heel heights and feature things like pearl broach detailing and bespoke embellishments. For men, it offers smart and sophisticated wedding-appropriate options like the Pires, a double buckled monk shoe.
Application
The application and functionality of a shoe is a paramount aspect of its overall design. Things like weather-resistance, moisture and odor control, cushioning, and airflow, are all crucial factors to be considered when choosing a pair of footwear and were all factored into the research for this page and in choosing which pair is the best.
Moisture/Odors
No one wants to have sweaty smelly feet but unfortunately, there are tons of shoes out there which are made in a way that promotes these things. The materials used to construct a shoe play a big part in whether or not your feet are going to sweat while you wear it. When your feet sweat it causes bacteria to grow and bacteria causes unpleasant odors which can be near impossible to get rid off once the shoe has been affected. Upper and lining materials like leather and fabrics are the best choices to prevent sweat and odor because these materials allow for proper air flow around the foot keeping you cool and dry, while leather actually pulls moisture away from the foot in a process called wicking.
Weather Resistance
In the fall and winter months, it's important for your shoes to provide protection from the harsh cold and raining weather conditions in order for your feet to stay warm and comfortable. The best materials for water-resistance are leather and rubber, with rubber also providing an anti-slip security that's ideal for slippery conditions.
Style
As their shoes are available for both men and women, they also offer a wide variety of styles to choose from. Both men's and women's shoes are made with impeccable care and attention to the slightest details which add up to impressive shoes that are built to last. Let's dig a little deeper into the two styles:
Women
The brand's shoes for women are available in a wide variety of styles including sandals, boots, and shoes. Their sandals are beautifully crafted and include decorative embellishments and finishes mirrored after the coveted espadrille look, while their boots range from must-have ankle boots to traditional classics. They are a recent addition to their product line and include everything from slingbacks to kitten heels and for everyday activities, they have embellished sneakers along with flatforms for easy wearing comfort.
Men
The brand makes men's shoes in three categories: sandals, boots, and shoes. They have two options of sandals available which are casual or flip-flops and their boots include everything from winter-ready options to versatile workwear. They are available in a ton of different styles like formal, slip-on, loafers, and work shoes.
Comfort
Comfort is one aspect where how a shoe feels can make the difference to whether or not it sits in your closet, or becomes your new go-to pair. Comfortable shoes usually have certain built in aspects like padded footbeds, fabric liners, even perforations inside to help with breathability. It's also important to consider the kind of heel you're looking for. Chunky heels are more stable and easy to walk around in than stilettos, and can add to how comfortable your shoes are for daily wear.
Cushioning
A lightly padded footbed provides additional comfort while also reducing the strain placed on the arch and midfoot. Inadequate padding can lead to foot and leg pain as well as achy fatigued feet at the end of the day. If a shoe has even a thin layer of padding it can greatly reduce these negative effects and make for a far more enjoyable wearing experience.
Heel
The style and height of the heel can mean the difference between being able to comfortably walk with ease to not being able to walk steadily in a pair of shoes. Wedge heels are great because despite often having a higher heel-height overall, they're much easier to walk in because of the wider platform they provide as opposed to thin heel.
Fit
Lastly, the fit of a shoe can be the last thing to make or break the purchase of your new pair. No one appreciates a tight shoe, or one that doesn't have enough cushion around the heel to prevent blisters. While some shoes do require breaking in such as those made with leather, they should still have a bit of padding while you do so to make them comfortable.
Toe Box
The shape of the toe is one critical aspect to consider for fit. Those with narrow toe boxes of feet may want to avoid shoes with rounded toes, as they can feel loose. However, individuals with wider feet will want to opt for a rounded, or almond shaped toe box to avoid any restriction. Pointed toed shoes are still an option for wider feet, but you should consider sizing up if that's the case.
Adjustability
While this could be considered it's own criteria, it's important when it comes to fit. Shoes that have a pointed heel will always feel less stable, and it's good to consider heels with straps for adjustable fit so your foot doesn't pop out. Strappy lace up designs also allow for adjustable fits, letting you decide how snug or loose you prefer on any given day. With boots, the option to have an inside zip can help with adjustability in a small way, but could make or break if you decide to purchase them. The opening of the boot should also be considered for those who prefer a larger circumference for space and room.
Top 10 Picks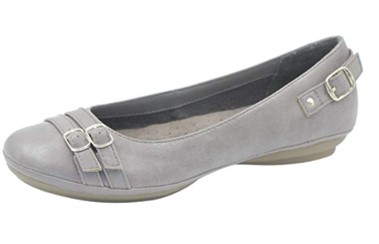 This adorable little ballet flat from Dune is suitable for any kind of occasion, from casual, to work, to a evening out in style. With a few strappy embellishments that give it a sophisticated style, it's still a comfortable flat that can go the distance. Synthetic uppers are similar in texture to a finished leather, and the inside is lined with a comfortable breathable fabric which will help keep feet cooler during wear. This pair is perfect for whatever life throws at you!
The rounded toe of the Lena allows for proper toe splay when walking, or when the weather gets a bit hotter and feet can start to swell. Its breathable, perforated liner adds a comfort aspect to the flat, allowing for a more breathable shoe when wearing. At the base of the Lena is a cushioned synthetic sole, adding some padding, shock absorption and cushion to your steps. Lightly patterned tread helps with traction on any kind of surface you may encounter.
The design of this Dune shoe is simple, sophisticated, and versatile. It has a dual buckle strap design along the forefoot, with an additional strap and buckle along the heel. Not only does this provide some structural elements to the flat, but a little bit of bling from the buckles. It can easily be paired with business attire, but with a quick change, you can step into the evening in sundresses, skirts, or shorts and still have a bit of flair to your footwear.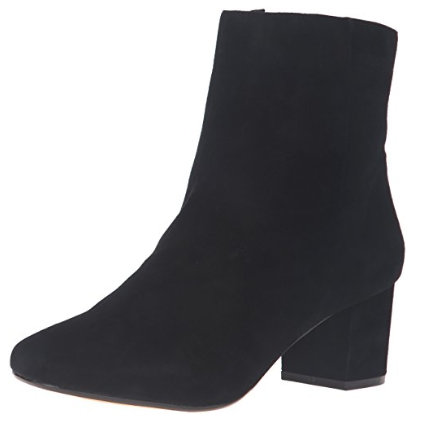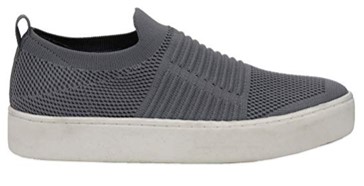 The Pebbles is a multi-functional pair of ankle boots that are available in four colors: black, grey, navy, and leopard. These professional and sleek shoes are perfect for work-wear or for casual days off and provide a stable foot feel thanks to their chunky heel and low-rise platform.
The Pebbles has a suede upper unit and man-made resin outsole that's non-slip and abrasion resistant. Their rounded toe design gives the illusion of smaller feet, while a block heel allows for a controlled stride. The Pebbles is lined with leather that wicks moisture away from the foot preventing sweat and odors from occurring.
An inner side zipper closure system and sleek suede finish make for a streamlined silhouette, while their solid color pattern makes these the perfect go-to boot for both works and play. Walk with grace thanks to the Pebbles' chunky heel and low-platform that keep things manageable so can be quick on your feet while looking your best.
These shoes are a reasonably priced option that delivers lasting comfort and a trendy yet professional appearance. You will find yourself wanting to wear these boots more and more thanks to their enjoyable wearability.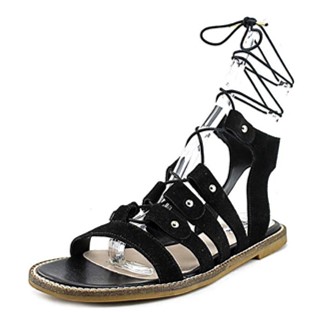 Talk about a wow factor! The Lorelli is a sandal with strappy lace up design and flat base, giving it not just a comfortable fit for standing and walking, but a gladiator sandal style. A lightly padded footbed helps provide comfort for wear, and a bit of texture on the sole helps with traction on slippery surfaces. This pair of Dune shoes can be versatile for summertime casual outfits with short and skirts, but could also be used to dress up a boho style formal outfit for fancier events.
Synthetic uppers consist of a toe strap, and four additional straps which end to hug the back of the ankle for closure. The heel is open, so you won't find yourself getting any blisters or irritations from straps cutting into your Achilles tendon area along the heel and ankle. Each of the straps has a looped closure, where synthetic leather laces intertwine the uppers together. This helps give the sandal adjustability for fit, so you can lace up just how you prefer.
The laces also can continue up the leg, close to the calf. This can help lengthen the look of the leg a bit, and does well when paired with asymmetrical skirts or flowy open pants or dresses. The base of the sole is a grippy rubber, with some pattern to it for a bit of grip. It's great for boho style, or summertime outfits and evenings, since its strappy design allows for a maximal breathable aspect.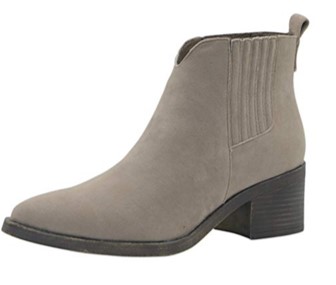 This casual pair of Dune shoes is another ankle boot style but is more similar to a Chelsea boot. It keeps a simplistic design about the uppers, with gored side panels for a little comfort in the boots fit. Available in few neutral tones, you can certainly find one to work with your wardrobe, and it's shorter 2.25 inch heel creates a comfortable and stable walking environment.
A rubber sole bases the bottom of the Olivia, giving it a bit of traction during wear. With its heel giving just over two inches in height, and having a chunky base, you'll have stability and support when wearing this pair of Dune shoes as well. A pointed toe gives this pair a little bit more sophistication than it's rounded or almond toe counterparts the brand has, and if you have wider feet you may want to consider sizing up.
Faux soft leather gives the Olivia a sophisticated look, with a slight cut out around the ankle for comfort. Heel tab helps pull these on easily, while the Chelsea style side gore panels create a business appropriate look. With a couple colors to pair with bright or darker attire, you'll likely find one that can suit your fashion sense. Insides have padded insoles for additional cushioned comfort, so you won't need to worry about sore feet at the end of your busy day.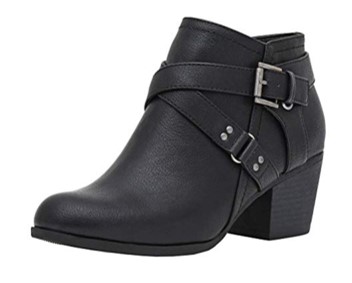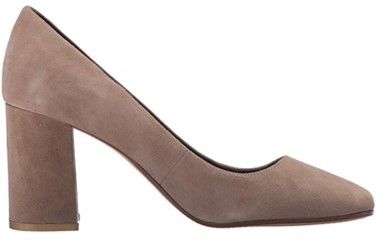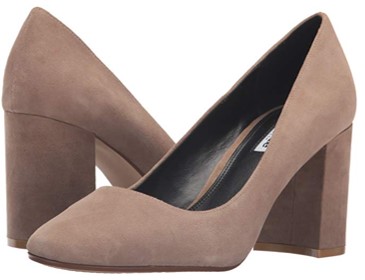 This pair of Dune shoes is a shorter ankle boot with an edgier look that utilizes buckles and faux leather. This makes them quite animal friendly as well! A shorter heel creates a comfortable ride for all day wear, and they have a versatile look great for both work and play. Dual buckles cross the top of the foot, and around the back of the heel and ankle. It's a great boot for fall, and for those rocker style ensembles where you want some comfortable flair to complement your style.
At the base of the Patty is a heel that raises just over 2 inches above the ground, giving a modest height without being uncomfortable. It's also a chunkier style heel, wider at the base than some other models, which creates stability and support when walking or standing for longer periods of time. Padded insoles provide some cushion, while a rubber sole helps provide traction on different surfaces.
The uppers on the Patty are created using a faux leather, available in a couple basic colors to pair with several styles and colors in anyone's wardrobe. An inside zip helps make them easy for wear and to fit. And for that stylish accent, this pair of Dune shoes flaunts a dual strap across the foot, with buckle accents, which wrap around the back of the heel and ankle. It creates a biker like or rocker fashion feel, and an almond shaped toe allows for a bit more room during wear in the toes.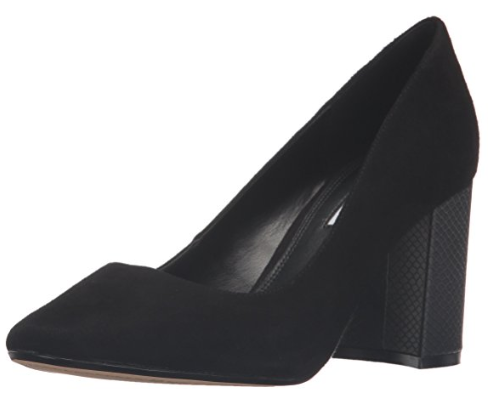 The Abelle boasts a sultry black suede upper and chunky heel for added control while you move. Perfect for the working lady who likes to play and versatile enough to go from the office straight to happy hour, this casual slip-on is made for adventure.
The Abelle has a solid black silhouette that's both tantalizing and sleek. It's made from soft suede and has a comfy 3-inch heel that allows for natural range of motion. These heels will pair well with almost any outfit but will look particularly sharp with a pair of business slacks.
The Abelle has a chunky heel that makes for easy walking while its non-slip resin outsole prevents accidental slips or falls. A square toe structure gives the appearance of having smaller feet, while its synthetic lining material allows for good air flow around the foot preventing sweat and odors from occurring. The Abelle is a mid-range heel that offers great value for its price-point. Comfortable, sleek, and stylish, the Abelle is the perfect pair of shoes for an effortless transition from work to play and will look good with almost any outfit.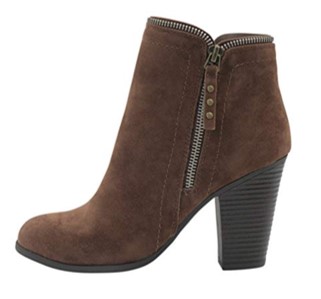 This fancy little pair of ankle boots has a clean, simplistic style about it, until you note the unique collar of the boot! An inside zipper extends up along the rim of the collar, creating a fashionable pair of booties you can pair with skinny jeans, or short skirts and dresses. With it's softer look and feel of the uppers that utilizes a faux suede material, it's a perfect fall pair of boots to add to your collection. Stacked heel helps add some height without being uncomfortable, and makes them suitable for both work and casual attires.
A stacked heel raises about 3.5 inches above the ground, giving ample height. However, the chunkier style of the heel helps make these more stable than a stiletto style, and more comfortable for all day wear. Rubber sole allows for proper traction on varying surfaces, while padded insoles that line the inside provide cushion and comfort during wear.
Uppers on the Zippy are a soft faux suede material, giving it a posh, comfortable appeal. Inside zipper extends around the collar rim, creating a unique look to the bootie. We'd recommend wearing this pair over a pair of skinny jeans, or with socks that extend above the collar, just to prevent any rubbing the zipper could possibly do when walking. A rounded, slightly almond shape toe also helps add to the comfort by giving toes a bit more room when wearing.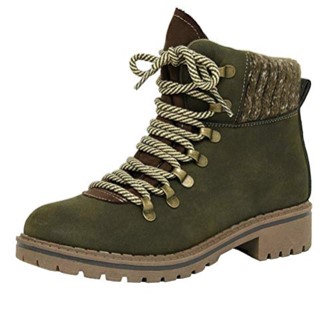 Looking to get outside on the trails in your Dune shoes? The Tucker Hiker boot is more rugged in its style, with lugged patterned sole to hit the outdoors in comfort and style. With a slight heel of just over one inch, it's also comfortable for those easier gravel trail hikes along the creek, or when out on the town it can add some urban flair to your ensemble. The Tucker is also created from animal-friendly materials, so you can feel good about wearing this pair for bird watching or just simply enjoying nature!
Uppers on the Tucker Hiker are faux suede and textile, giving it some durability for wear and tear. A rugged lace up vamp utilizes metal hardware for a firm fit which won't break down over time from lacing. Thicker laces also give it not just a bit of fashion with a striped look, but also contributes to the durability of the boot. An extended tongue also helps protect the front of the ankle, while inside is a comfortable memory foam insole to provide cushion for your steps.
Around the collar you'll find a textile, soft knit that wraps the ankle and gives cushion and protection against abrasions from walking, as well as warmth. Pull tab at the back helps make them easier to pull on and lace up. At the bottom of the Tucker is a rubber sole, with rugged traction pattern treat. This makes it great for easy, shorter hikes to enjoy the outdoors, while the modest one inch heel allows for stability with its chunkier design.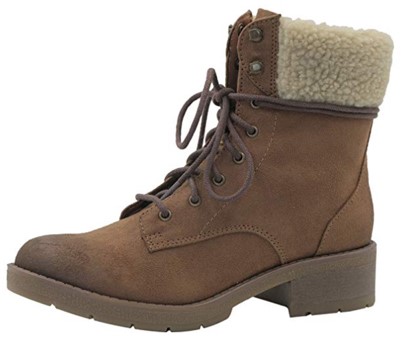 The Trekka Boot from Dune is another hiker style of boot, with a padded collar and cushioned textile collar for comfort during wear. Uppers are made from a faux suede, similar to other models from the brand, that make them animal friendly. It's chunkier 1.5 inch heel and patterned tread help make it stable and outdoor friendly for wear. It's another solid option from Dune to consider for a fashionable outdoor style of boot.
The style of the Trekka boot really is more suited to urban style than hiking rugged mountains, but you can certainly head out on the gravel or dirt flatter trails around for a bit of outdoor fun. Faux suede uppers give it a bit of a country look, with long lace up vamp and faux leather laces. Around the collar you'll find a cushioned padded textile, soft to the touch, and helps prevent unwanted chaffing.
At the base, a rubber sole helps add some cushion and grip to your steps, while the grooved lug pattern provides traction upon wet surfaces or uneven terrain. Comfy insoles are padded for your cushioned comfort, helping to make them good for a full day of wear and walking. The toe is more rounded than other models from the brand, creating room in the toe box for any swelling or for wider feet. It's a great option for urban style, or lighter outdoor adventures.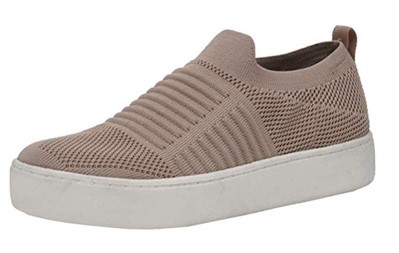 With fly knit becoming more popular in many models and brands of sneakers, Dune created the Casper to add this kind of texture and breathability to their line of shoes. It has a slip on style, so you won't need to worry about laces with this pair. It has a great texture to the uppers, with perforations for breathability, and a bit of structure with a linear knit pattern along the top and sides. It makes for a great summertime pair of sneakers when the heat starts to hit a high.
The base of the Casper is a sticky synthetic, but thicker in the outsole, which gives some cushion to your footfalls, and added shock absorption. A bit of grip can be found with a pattern tread at the base, allowing for better traction along uneven ground or slippery surfaces. Rounded toe provides ample room for wider feet as well.
Uppers are a comfortable fly knit, which allows for optimal breathability which is ideal for summertime months when temperatures soar. Along with the knit material, it also has a texture look and appeal to it with perforations, as well as linear stripes across the forefoot. Easy slip on styling with a heel tab make them easy to get on and off, and the softer knit collar provides cushion around the ankle during wear.

Subscribe to our Newsletter