Best Dune Shoes by Dune London Reviewed & Rated
Based in the fashion capital of the world, the Dune London Group is one of the most highly rated names in fashion footwear. Over the past 20-years, their shoes have grown from a single product stand inside of a retail store to become a massive fashion mogul with stores in 10 countries around the world and an online storefront which distributes to over 130 countries.
The brand offers an impressive variety of styles and prides themselves on having the ability to appeal to everyone. These shoes are both professional and stylish while shifting a heavy focus on the quality of craftsmanship and overall comfort for the wearer.

Featured Recommendations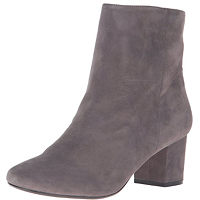 Pebbles

Our rating
Suede Upper
Non-slip Outsole
Price:

See Here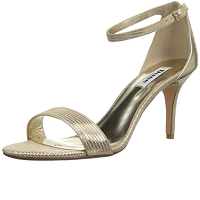 Mariee

Our rating
Ankle Strap
Buckle Closure
Price:

See Here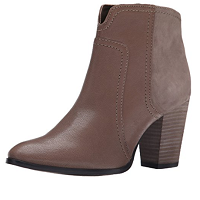 Pollo

Our rating
Chunky Heel
Western Style
Price:

See Here


When it comes to choosing a pair of footwear it's always advisable to take the time to research and compare several options against each other in order to asses which will be the best suited to your needs. This brand makes shoes for every lifestyle from casual to professional and everything in between which is why it can be difficult knowing what pair is right for you. This is exactly why we've carefully researched the many aspects of their footwear including style, brand, collection, and overall comfort, in order to bring you a comprehensive list of 10 of the best models available today, so that you can be better informed of the most vital benefits of each style to make an informed purchase.
10 Best Dune Shoes
1. Pebbles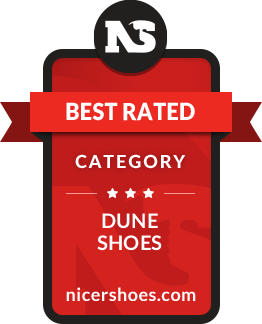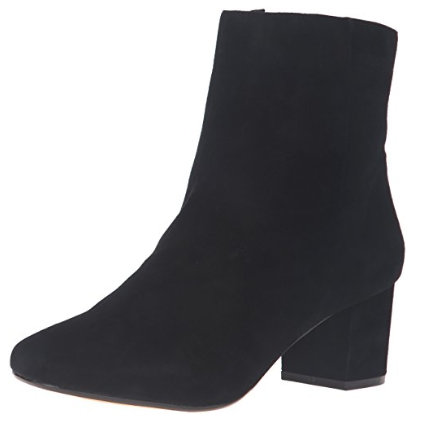 The Pebbles is a multi-functional pair of ankle boots that are available in four colors: black, grey, navy, and leopard. These professional and sleek shoes are perfect for work-wear or for casual days off and provide a stable foot feel thanks to their chunky heel and low-rise platform.
Expand to see more
Design Features
The Pebbles has a suede upper unit and man-made resin outsole that's non-slip and abrasion resistant. Their rounded toe design gives the illusion of smaller feet, while a block heel allows for a controlled stride. The Pebbles is lined with leather that wicks moisture away from the foot preventing sweat and odors from occurring.

Style
An inner side zipper closure system and sleek suede finish make for a streamlined silhouette, while their solid color pattern makes these the perfect go-to boot for both works and play. Walk with grace thanks to the Pebbles' chunky heel and low-platform that keep things manageable so can be quick on your feet while looking your best.

Cost and Value
These shoes are a reasonably priced option that delivers lasting comfort and a trendy yet professional appearance. You will find yourself wanting to wear these boots more and more thanks to their enjoyable wearability.
Chunky Heel
Suede Upper
Side Zipper
Non-Slip Resin Outsole
2. Mariee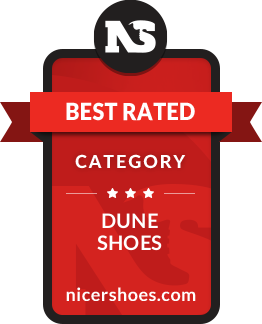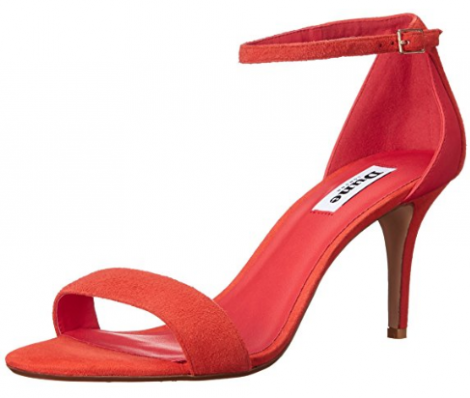 The Mariee is a gorgeous two-part sandal that delivers effortless style for any occasion. These super feminine heels are sure to turn heads when you enter the room thanks to their contrasting trim and elegant design. The Mariee is professional enough to wear while working and stunning enough for a night out on the town, so go ahead and go straight from the office to your most favorite happening hotspot.
Expand to see more
Style
The Mariee has a sleek upper unit and synthetic lining that allows for adequate air flow around the foot preventing sweat and odors from occurring. They feature a 3-inch stiletto heel and a petite wrap-around ankle strap.

Design features
The Mariee has a buckle closure system that ensures your shoe stays securely in place and offers a closed-back design that supports and cradles the heel. Their lightly padded footbed keeps you walking comfortably while its soft suede material feels great against bare skin.

Cost and value
The Mariee is a reasonably priced pair of shoes that offer great value. A shoe that's as comfortable as it is stylish and made with quality craftsmanship and impeccable materials, the Mariee won't let you down.
3-inch Heel
Ankle Strap
Toe Strap
Buckle Closure
3. Pollo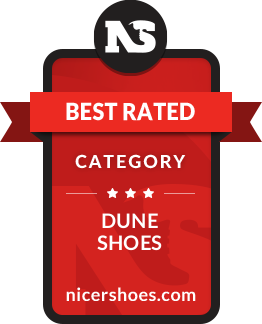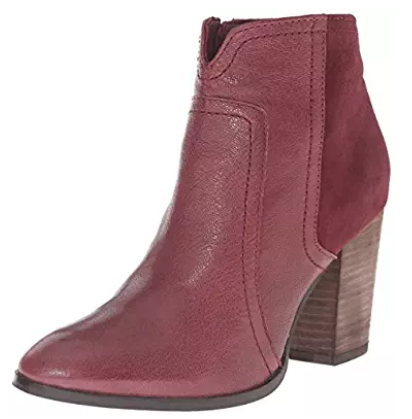 The Pollo is a leather ankle boot that's inspired by Western designs. Connect with your inner cowgirl in a pair of these outback-approved riding boots. The Pollo is as comfortable as it is versatile and it's built tough so it will outlast the competition and keep you walking with ease for ages to come.
Expand to see more
Style
These Western-inspired ankle boots are made with a pebbled-leather front and feature a suede back panel for an elegant contrast. Their low-rise silhouette is perfect for matching with your favorite pair of blue jeans or to wear under a pair of slacks for a professional demur.

Design Features
It has a chunky 3-inch heel that makes for a natural stride without any restriction in movement. A low 1/4-inch platform and non-slip synthetic outsole make for an even easier walking experience, while it's 5.75-inch shaft won't constrict your calf.

Cost and Value
The Pollo is surprisingly cheap considering its quality craftsmanship and superior design. These boots are a versatile pair of footwear that's equally equipped for wear while at the office or at play even in harsh conditions.
Leather Front
Suede Back 
Chunky Heel
Non-slip Outsole
4. Abelle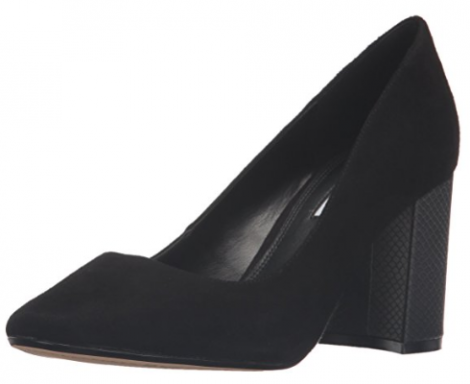 The Abelle boasts a sultry black suede upper and chunky heel for added control while you move. Perfect for the working lady who likes to play and versatile enough to go from the office straight to happy hour, this casual slip-on is made for adventure.
Expand to see more
Style
The Abelle has a solid black silhouette that's both tantalizing and sleek. It's made from soft suede and has a comfy 3-inch heel that allows for natural range of motion. These heels will pair well with almost any outfit but will look particularly sharp with a pair of business slacks.

Design Features
The Abelle has a chunky heel that makes for easy walking while its non-slip resin outsole prevents accidental slips or falls. A square toe structure gives the appearance of having smaller feet, while its synthetic lining material allows for good air flow around the foot preventing sweat and odors from occurring.

Cost and Value
The Abelle is a mid-range heel that offers great value for its price-point. Comfortable, sleek, and stylish, the Abelle is the perfect pair of shoes for an effortless transition from work to play and will look good with almost any outfit.
Chunky Heel
Non-slip Resin Sole
Synthetic Lining
Square Toe
5. Conker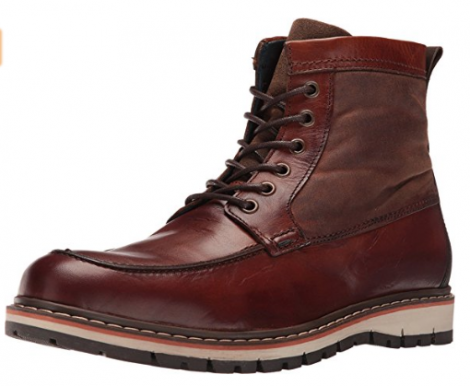 The Conker is the perfect boot for the outdoor adventurist at heart and features a sturdy structure that will withstand tough wear and tear. The Conkers has a robust shape and streamlined silhouette that makes it the ideal pair of boots for transitioning from the city streets to natures doorstep.
Expand to see more
Style
The Conkers rounded toe and low 2-inch heel height make this a sharp looking boot that will have you looking your best whether you're cruising on the pavement or off the trail. Its lace-up closure system keeps your shoes firmly in place while also adding character to their overall appearance.

Design Features
A wedge heel and non-slip rubber outsole allow for unrestricted movements even on slippery or uneven terrain, while a leather upper keeps feet dry in wetter weather. Leather lining pulls moisture away from the skin keeping feet dry and comfortable while also preventing sweat and odors from occurring.

Cost and Value
The Conker may cost more than some of the shoes on this list but it's certainly worth every cent. These boots provide superior protection, comfort, and enjoyability, making them a solid investment in the overall wellbeing of your feet.
Traditional Lace Closure
Rubber Outsole
Anti-slip
Ankle Boot
6. Pardew D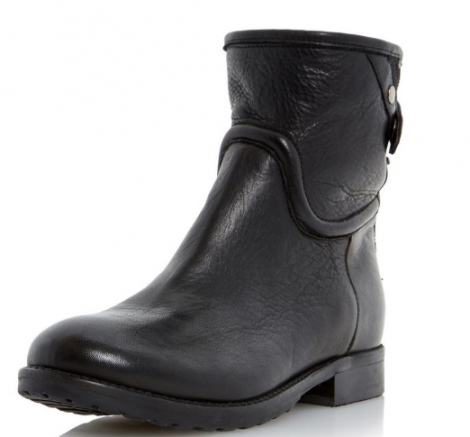 The Pardew D is a nicely lined biker boot that will keep you warm in chilly weather. These boots are rugged by nature and flawless by design and are well-suited to anyone searching for a casual ankle boot that's ready to ride. Perforated detailing sets the finishing touches on these impeccably molded boots that will deliver time after time.
Expand to see more
Style
A biker-inspired ankle boot, the Pardew D is essential for any rider from casual to professional. Its Romanian origin and leather material make this an edgy twist on the traditional riding apparel and add a welcomed splash of originality.

Design Features
A non-slip resin outsole prevents any accidental tumbles while water-resistant leather keeps your feet dry and comfortable even in harsher weather conditions. The Pardew D has a low heel-height and sturdy structure for sure footing on any terrain.

Cost and Value
While one of the more costly options on the list, the Pardew is a worthy investment in a solid pair of footwear. Expertly crafted and designed with care these boots will ride out the roughest of wear and come out better than before.
Leather Upper
Rubber Outsole
Anti-slip
Warm Lining
7. Nesha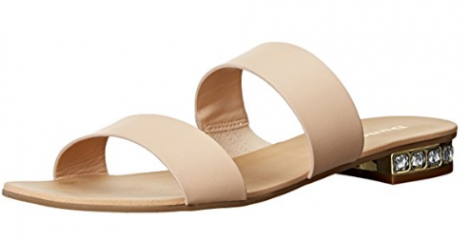 The Nesha is a slip-on sandal that boasts a gorgeous jewel heel. This stunning and ever-stylish shoe has an almost flat heel for easy walking and is made to impress thanks to its extravagant design. The Nesha will look incredible when worn with a shorter denim skirt but will match perfectly with nearly anything.
Expand to see more
Style
The Nesha is available in four colors: gold, silver, navy, and nude, so you'll have no trouble finding an option you like. A jewel adorned chunky heel offsets these stunning strappy sandals and makes for a magical sparkle.

Design Features
A low-rise chunky heel and slip-on design make the Nesha an easy-wearing pair of summer footwear, while a leather upper wicks moisture away from the skin. The Nesha boasts a sharp sandal toe structure and two cross-foot straps to keep your feet in place and prevent any sliding.

Cost and Value
The Nesha is fairly inexpensive and offers exceptional value for its price point. This sandal delivers a unique and beautiful design complete with an adorned jewel heel and double cross foot straps.
Jewel Heel
Double Cross Foot Straps
Low Heel Height
Slip-on
8. Penelope

The Penelope is a casual ankle boot that packs a ton of spunky style. These are a great choice of boots to pair with skinnies and a t-shirt or with a casual loose fitting dress. A chunky heel and mixed leather and suede upper make for a super-cute pair of booties that you'll want to wear all the time.
Expand to see more
Style
A mixed suede and leather upper unit provide a sleek and professionally cool vibe while Penelope's fabric lining keeps feet cool and dry. An almond toe minimizes the appearance of the foot while a block heel keeps you looking sharp on your feet.

Design Features
The Penelope has a low-height of 1.75-inches and a chunky heel that allows for an easy stride. Complete with a zipper closure system that provides a stable fit and a non-slip synthetic outsole for additional reassurance on slippery terrain, these boots are made for wearing.

Cost and Value
The Penelope is a good bargain for the associated cost and delivers a solid structure and steady support. These booties are easy to walk in and promote natural unrestricted movement.
Low Heel Height
Chunky Heel
Zipper Closure
Low-price
9. Irana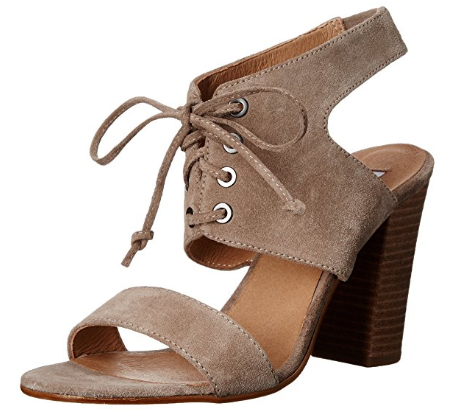 The Irana is a girl's best friend thanks to its super-cute two-part design and lace-up silhouette. It's available in two colors: black and grey which are both neutral and go well with most outfits. These sandals are fun and flirty and feature a stylish chunky heel which makes walking easier.
Expand to see more
Style
The Irana has a 4-inch stacked and chunky heel that makes walking easier despite their towering height, along with a suede upper that's chic and summertime-approved. The Iranas' wraparound ankle strap and cross toe strap keep your feet secure while looking oh-so-cute.

Design Features
These sandals boast an adjustable strap for a custom fit every time and a non-slip resin outsole that keeps you safer while you stride. Its leather lining pulls moisture away from the foot preventing a build-up of odor-causing bacteria caused by sweaty feet.

Cost and Value
The Irana is available for a good price that is budget-friendly and accessible. These gorgeous summer shoes are perfect for ladies who enjoy life in the fast lane and will fast become your favorite go-to summer sandal.
Two Part Upper
Lace-up
Chunky Heel
Resign Outsole
10. Karmen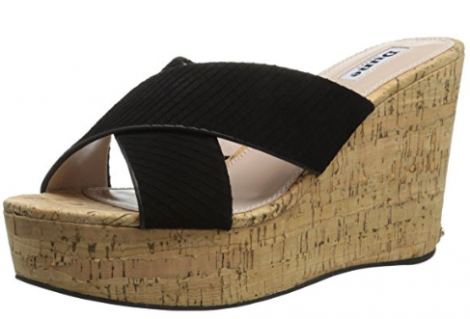 Chanel your inner love-child with a pair of Karmen wedge sandals. These attractive mule wedges are the foolproof companion to a summer dress for that relaxed boho distinction you crave and will have you lounging in luxury all summer long.
Expand to see more
Style
The Karmen is available in a light and airy nude color and is made from reptile-effect leather. Their 4-inch wedge heel gives you that added lift you're looking for while maintaining an easy-to-walk-in feel. Criss-cross midfoot straps add a vibrant flare that pulls attention to your toes so you can show off that sparkling new pedicure.

Design Features
The Karmen has a synthetic lining that prevents sweaty feet and stops the occurrence of odors. Their non-slip resin outsole keeps you steady on your feet while their easy-wearing slip-on design allows for effortless on and off functionality.

Cost and Value
The Karmen is in-line with the brand's typical price point and is definitely an affordable summertime sandal. These laid-back and adaptive wedges are made for summer living and embody the boho lifestyle.
Wedge Heel
Reptile-effect Leather
Resin Outsole
4-inch Heel
Having read this page you are now that much closer to making an informed decision and can be comfortable in your ability to select the perfect pair of shoes to suit your individual needs. There are certain factors to keep in mind while deciding which pair to purchase including style, comfort, materials, functionality, and overall appearance. Though it's vital to remember that appearance is purely an aesthetic perception and should not be weighed too heavily in your overall decision.
The most important part of any shoe is the comfort and enjoyability which it gives to you, so don't concentrate too much on the external qualities but rather, pay special attention to how well the shoe is made and what comfort-enhancing benefits it has to offer. By understanding the features of a shoe entirely you will save yourself discomfort down the road and prevent unnecessary exposure to possible leg and foot pain, among other discomforts.
Criteria Used For Evaluation

Style/Collection
Collection:
There are four primary collections under this brand, including Dune Black, Dune London, Head Over Heels, and the Wedding Collection. Each offers their own unique styles and designs while each one holds the same standards for quality and manufacturing. The shoes are unanimously well-made and offer the kind of integral wear that dreams are made of. You will never have to worry about foot pain or discomfort while walking because comfort is never far from mind during their making. The following descriptions break down the four collections for a better understanding of what they offer;
Dune Black
This line of footwear is made using the highest-quality leathers, stunning details, and gorgeous trim, all adding up to a luxurious wear. The footwear is sourced in Europe exclusively and offers boots, sneakers, and sandals.
Dune London
This is a large collection of styles ranging from sky-high heels to svelt ballet flats: there is something for everyone in this line. Their footwear is crafted with quality materials and offers gorgeous designs you won't find anywhere else.
Head Over Heels
This brand is based on colorful and playful designs that are affordable and trendy. It offers a youthful and fun-spirited approach to the modern day footwear assemblage with everything from classic sling-backs to espadrilles inspired slip-on shoes.
Wedding Collection
It features shoes that are made to dazzle on your wedding day and offers selections for both men and women. Their ladies bridal shoes come in a range of heel heights and feature things like pearl broach detailing and bespoke embellishments. For men, it offers smart and sophisticated wedding-appropriate options like the Pires, a double buckled monk shoe.
Styles: As their shoes are available for both men and women, they also offer a wide variety of styles to choose from. Both men's and women's shoes are made with impeccable care and attention to the slightest details which add up to impressive shoes that are built to last. Let's dig a little deeper into the two styles:
Women
The brand's shoes for women are available in a wide variety of styles including sandals, boots, and shoes. Their sandals are beautifully crafted and include decorative embellishments and finishes mirrored after the coveted espadrille look, while their boots range from must-have ankle boots to traditional classics. They are a recent addition to their product line and include everything from slingbacks to kitten heels and for everyday activities, they have embellished sneakers along with flatforms for easy wearing comfort.
Men
The brand makes men's shoes in three categories: sandals, boots, and shoes. They have two options of sandals available which are casual or flip-flops and their boots include everything from winter-ready options to versatile workwear. They are available in a ton of different styles like formal, slip-on, loafers, and work shoes.

Comfort/Functionality
The functionality of a shoe is a paramount aspect of its overall design. Things like weather-resistance, moisture and odor control, cushioning, and airflow, are all crucial factors to be considered when choosing a pair of footwear and were all factored into the research for this page and in choosing which pair is the best.
Moisture/Odors
No one wants to have sweaty smelly feet but unfortunately, there are tons of shoes out there which are made in a way that promotes these things. The materials used to construct a shoe play a big part in whether or not your feet are going to sweat while you wear it. When your feet sweat it causes bacteria to grow and bacteria causes unpleasant odors which can be near impossible to get rid off once the shoe has been affected. Upper and lining materials like leather and fabrics are the best choices to prevent sweat and odor because these materials allow for proper air flow around the foot keeping you cool and dry, while leather actually pulls moisture away from the foot in a process called wicking.
Weather Resistance-
In the fall and winter months, it's important for your shoes to provide protection from the harsh cold and raining weather conditions in order for your feet to stay warm and comfortable. The best materials for water-resistance are leather and rubber, with rubber also providing an anti-slip security that's ideal for slippery conditions.
Cushioning-
A lightly padded footbed provides additional comfort while also reducing the strain placed on the arch and midfoot. Inadequate padding can lead to foot and leg pain as well as achy fatigued feet at the end of the day. If a shoe has even a thin layer of padding it can greatly reduce these negative effects and make for a far more enjoyable wearing experience.
Heel-
The style and height of the heel can mean the difference between being able to comfortably walk with ease to not being able to walk steadily in a pair of shoes. Wedge heels are great because despite often having a higher heel-height overall, they're much easier to walk in because of the wider platform they provide as opposed to thin heel.

Frequently Asked Questions
Q: Do these shoes fit true to size?
A: This largely depends on the particular model of shoe you're interested in, although generally, they fit relatively close to size. It's best to read wearer reviews to get a better sense of the way a shoe of interest fits this way you can get honest feedback from consumers who have worn the shoes. Just be sure to check reviews that were written by 'verified buyers' because then you can be sure that the reviewer has actually purchased and worn the shoe they're reviewing.
Q: Does the brand release new styles every season?
A: Yes, new styles are released every season and carry-over styles from their most popular designs are offered as well. If you have fallen in love with a pair of last season shoes don't panic because styles are still widely available from previous seasons as well as from the newest looks.
Q: Are these shoes expensive?
A: They aren't particularly expensive, although they do have a few models which are priced higher than the rest. Usually, most models are priced similarly as one another and sit around the mid-level price point.
Q: How do I care for my leather shoes?
A: To care for leather try using a horsehair brush or a damp brush to remove any dirt or debris from the exterior. For a deeper clean you can rub the leather with a paper towel soaked in soapy water using a circular scrubbing motion. For laces soak them in laundry soap and warm water, scrubbing as needed and then allow to air dry.
Q: How is heel height determined?
A: The height of the heel is measured by putting the heel down onto a flat surface area and then measuring from that surface to the top of the heel.
Q: How is the height of the shaft determined?
A: The height of a boots shaft is determined when the area from the top of the heel up to the outermost tip of the boot is measured.
Q: Are they available in half sizes?
A: No, they are only available in regular and extra-width sizes but there are no half size options available.
Q: Does the brand make models for children as well?
A: Yes, there are some options of footwear for children which match with adult styles of shoes they manufacture. There are some very cute children's shoes available like the Jolana Slingback and Avarca Sandal.