Best Neck Gaiters Reviews
last updated:
Nov 26, 2019
Despite its strange name, a neck gaiter, also known as a buff, is probably one of the most versatile pieces of running gear you can add to your wardrobe. Something as simple as this can be worn in many different ways, but that's what makes owning one so valuable. Their main purpose is to provide both warmth, which is why they're usually referred to as "neck" gaiters, but they can also be used as headwear and around and part of the body they'll fit.
A gaiter is a tube-like piece of flexible material that, when stretched, can be used to outfit your body in a variety of ways. Since there are so many options and it often costs less than your typical hat, that's reason enough to add one to your gear.
In a Hurry? The test winner after 4 hrs of research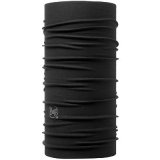 Buff New Original
Why is it better?
Very flexible
Can be used nearly anywhere
Easily washed and dried in between uses
In a
Hurry? Editors choice: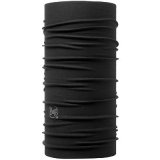 Test Winner: Buff New Original

Versatility
Comfort
Insulation
Style
Materials
By Default
Top 10 Picks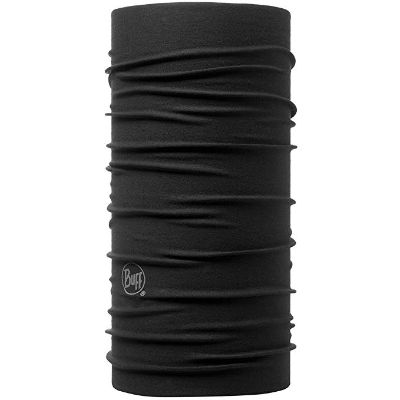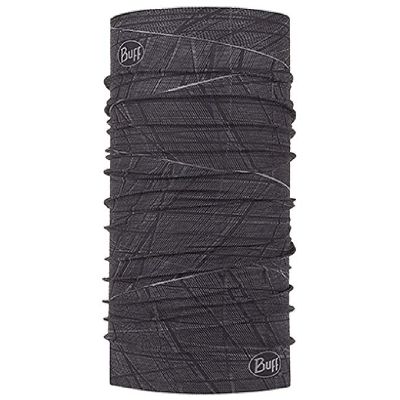 Very flexible
Can be used nearly anywhere
Easily washed and dried in between uses
Can slide around due to smooth material
Of course, it's not surprising that the first on our list is from the Buff brand. Their original neck warmer has it all as far as the qualities we look for in a versatile neck gaiter. From stretch to flexibility and insulation, Buff New Original was designed specifically for a variety of uses, not just for warming necks. It's also available in black, a neutral color, and for a price that's far less than most scarves or athletic hats out there. All around, this is the number one choice for beginning athletes, casual runners, and professionals alike.
The New Original checks off all our boxes from a comfortable fit to just enough flexibility to be worn around other parts of the body. With a polyester and elastane blend, you can be sure that this neck gaiter will flex with the best of them and won't feel tight or restrictive. This allows for a complete four-way stretch that contours to every curve and crevice, and will sit comfortably around your neck or over your head as a lightweight covering.
It can also be easily hand-washed, which is something we look for in any type of fabric-to-skin contact athletic gear. It is thinner than some other options, which means it will air dry quite quickly and won't be prone to stretching, shrinking, or being pulled out of shape. It measures two inches high and eight inches wide, which is an average sizing. Overall, it scores high on all of our criteria.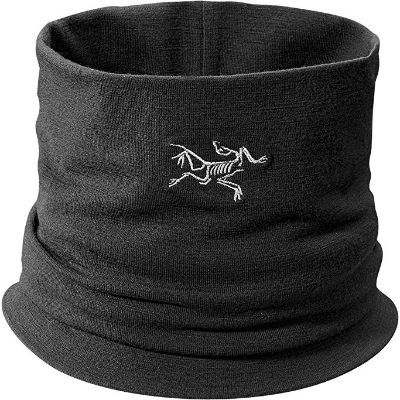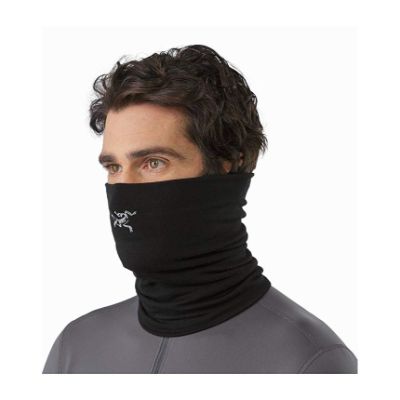 Great for hiking and cold-weather trips
Blended wool makes for a flexible yet warm fit
Pulls double duty as a hat or face covering
Can be heavy in the summer
The Arc'Teryx RHO comes prepared to do its job and then some, with a similar appearance as the Original Buff, but with some notable differences. For starters, it comes in several different colors, allowing a bit of customization where others don't offer any. With these options comes the promise of warmth, moisture control, and a great fit.
Let's start with the level of insulation it offers. Rather than being crafted with a blend of materials, it's been designed with lightweight wool. This allows a bit of breathability while also acting as a great insulator when temperatures drop below freezing. While not a full blend, five percent of this merino wool has been woven with spandex to provide just enough flex for use elsewhere on the body. If you're worried about how the wool will feel on such a sensitive area like your neck, especially while sweating, don't be. Due to the use of natural fibers and some serious moisture control, it is designed for maximum athletic use during the colder months.
Additionally, the Arc'Teryx RHO LTW offers anti-odor properties which can be helpful when going from a run to work or school. This is especially helpful when going in between washings because, let's be realistic, not all of us have the time to wash something like a neck warmer every day that we use it. The addition of RHO in this neck gaiter, as the name implies, helps to provide a solid thermal base layer. It's been designed to stand up to the average cold, but with Alpine environment cold protection in mind.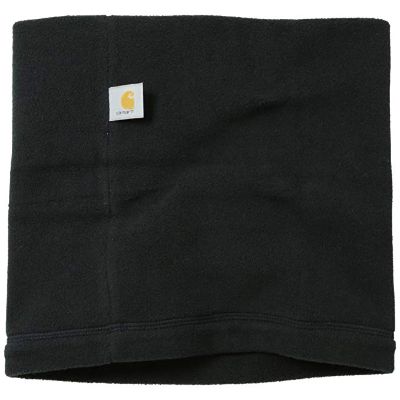 Fleece lined for maximum warmth
Good for smaller necks
Flexible to prevent movement
Fits tighter and shorter than most
Carhartt is known for making great winter gear, and their neck gaiter does not disappoint. While its uses are a bit limited due to its slightly smaller size when compared to other brands. Similar to the Original, it blends polyester and spandex in order to create a neck warmer with a decent amount of stretch.
The fleece-lined exterior and interior provide plenty of warmth during the colder months, making this very much a cold-weather buff. That does limit its versatility, but where it lacks in versatility, it makes up for in protection and warmth. It's thicker than a traditional one and great for use when skiing, snowboarding, or simply hiking in Alpine environments. It's also great for those who have jobs that involve working outside, as they're shielded from the cold with a neck gaiter that will cover and protect the most sensitive areas of their necks.
It's easy to see that this neck warmer was geared for outside use, which is really where it excels in material choice as well as fit. It does provide a tighter fit which isn't for everyone but is for those who like to layer their shirts and coats, as it won't provide too much of a bulky feel underneath.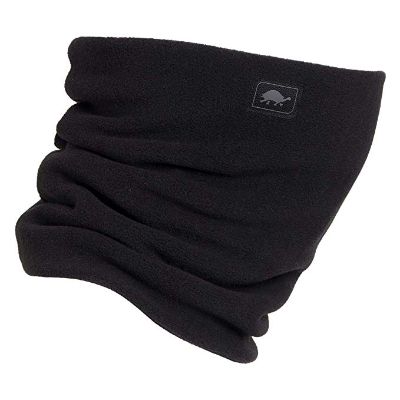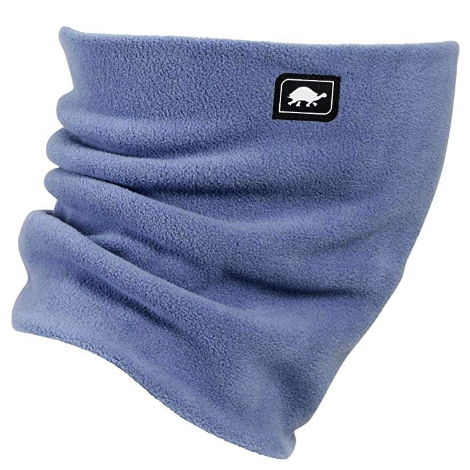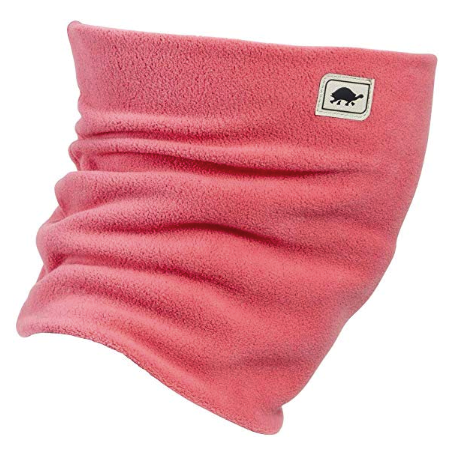 Locks in warmth with dual layers
Completely stretchable
Versatile sizing
The Turtle Fur Chelonia excels in nearly every area of our criteria section, with the exception of the fact that it truly is a cold-weather neck warmer. However, it's a brand that's well-known for its ability to keep up with frigid temperatures and all winter weather conditions, ranking it pretty high on our top ten list.
We first want to point out the fact that this comes in 12 different colors, so if you were looking for some vibrancy in your winter life up to this point, this might be the perfect fit for you. Superb color selection aside, we want to know what this neck warmer is really good at. As it turns out, that's nearly everything when it comes to shielding you from the cold.
This neck gaiter comes straight from the Green Mountains of Vermont, which is proof positive that it has been tested in some fairly rough weather conditions. From high elevations to cleaning the car off after a snowstorm, the Chelonia is one size fits all, making it a great unisex option. It's also created with 100% polyester, with the addition of fleece lining. Even more so, the Chelonia features a double lining that helps to keep in warmth while also keeping cold and moisture out.
This neck warmer also has the added benefit of being much softer than most as well as a bit longer than others, coming in at just over nine inches. This leaves plenty of room for wear elsewhere, adding a bit of versatility to your soon-to-be favorite neck gaiter. One extra feature of the Chelonia that we love is the fact that it is machine-washable. Simply wash it in a cold water cycle, then tumble-dry with no heat to have a fresh, not-shrunken buff again.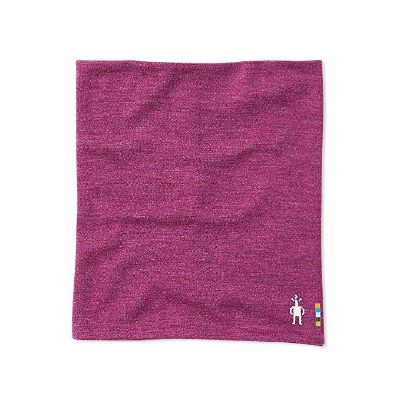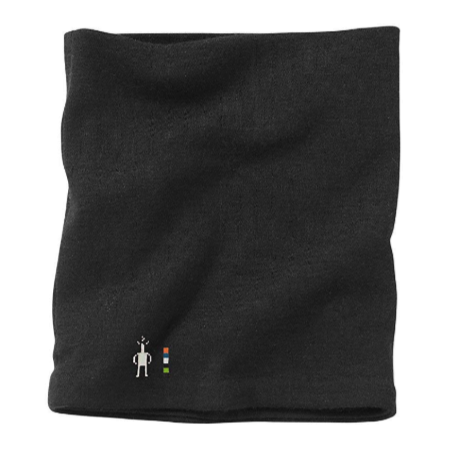 Perfectly balanced breathability and warmth
Can be worn more often than just the winter
Soft on sensitive skin
The Smartwool 250 has been designed using merino wool, something we see much of in many other neck warmers. With a knit design rather than fleece, this neck gaiter does offer some flexibility (both literally and figuratively) as far as when and how it's used. While its main function is to provide warmth, it's also a great athletic option for walking, running, or jogging, since it's not as heavy as most.
The Smartwool 250 lands somewhere between a lightweight and a heavy option for winter protection, which means you wouldn't want to wear it on a 70-degree day, but you could really use it during both the fall, winter, and early spring months. With an NTS midweight fabric, it's comfortable and cozy without feeling heavy like fleece sometimes can. Its knit pattern helps to contain heat without turning your neck into a furnace since it does allow some breathability.
This neck warmer can also be used as a hat so there is some versatility in where it's worn, however it does make the best use as a neck warmer. With that being said, it's likely one of the easiest to wash and clean on this list. All you need to do is wash it on the cold water setting and lay flat to air dry. While it can't be thrown in the dried, it can be ironed to reduce wrinkles or dry-cleaned.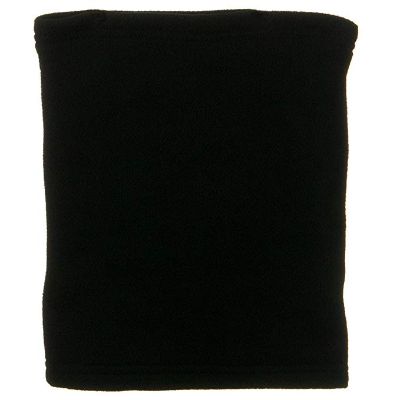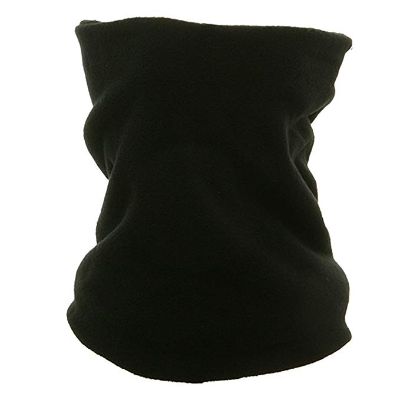 Utmost in winter protection
Polar fleece makes it the perfect winter sport gear
Longer for more versatility
Not as snug a fit for those with average to small necks
If you're looking for a neck warmer that will do justice in terms of frigid temps, then look no further than the Army Universe Neck Warmer. This particular design is intended for the coldest of the cold, no and's, ifs, or buts about it. While there's little flexibility in year-round use, it's great for those of us who live in general chilly areas or participate in high-elevation sports.
This is also by far the largest and longest neck warmer on the list, measuring 11 inches wide and 15 inches long, which makes it a great choice for those who have long or wide necks. This also allows this warmer to be used in different places and not just around the neck. With its price point, it simply can't be beaten as far as heavy-duty winter protection and versatility -- it's where this buff simply excels.
The length of this neck warmer allows it to cover the lower half of the face when worn as well, including the mouth and ears. With properly-fitting goggles, this would be a great addition to any winter sports apparel. It's been designed with 100% polar fleece, making it one of the warmest neck warmers in our countdown. It's also unisex, making it a one size fits all situation. Not only does this warmer protect against low temps and inclement weather, but it also provides adequate wind resistance, making it a valuable asset on hikes and camping trips.
7

. Chaos CTR Chinook Micro Fleece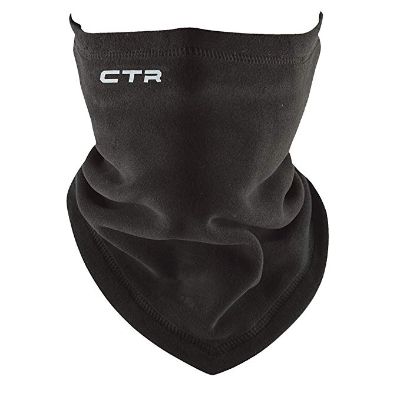 Lightweight yet warm
Good for sensitive skin
Can be stretched quite a bit
Not as much wearable versatility
From the name, you may have guessed already that this neck warmer is also designed to provide the most when it comes to freezing temperatures. With winter just around the corner (or has already arrived, for some of us!) we often find ourselves looking for neck protection against harsh winds and snow. The Chaos CTR Chinook Micro Fleece combines protection with warmth to provide a tough barrier against all that winter has to throw at us.
This neck warmer is a polyester and spandex blend, allowing it to be stretchable yet comfortable all at the same time. It is designed to cover the chin and mouth which does limit its versatility as far as uses elsewhere, but it's worth it for nearly full-face protection. Its smaller size helps to keep it in place when worn and prevents it from feeling bulky like some other fleece neck and face warmers. With micro-flex fleece fabric, it can also be stretched quite a bit, which means no matter the size of your neck or face, this warmer will likely fit everyone.
Another interesting feature of the Chaos CTR is the fact that the base of this warmer is shaped quite differently than others. Its triangular shape helps to camouflage secure the bottom into any shirt or coat. This extra bit of layering is helped by the fact that this warmer is just a bit thinner than the other heavy winter warmers, making it great for winter sports as well. With a soft feel on the skin and lightweight design, this is great for both activewear and general cold-weather wear.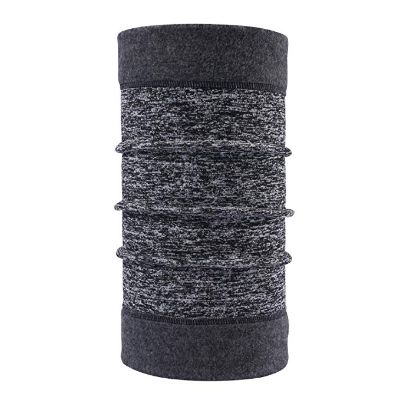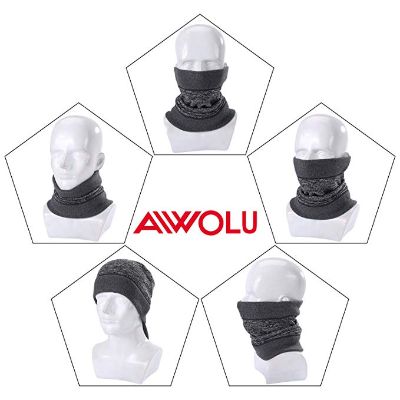 Highly versatile
Remains in place in any position
Highly affordable
Can be a tight fit for those with wider necks
The AIWOLU has an interesting look to it, but also offers the most versatility of any on this list. With its tubular design and a bit of extra length, it can be worn in many different ways, not restricting the wearer to any season or option. It's also the most affordable buff on this list, making it pretty unbeatable as far as budgeting goes. We'd recommend investing in a second one since you'll be paying as much for two as you would normally for the price of one.
For starters, this warmer can be worn in five main ways just on the head and neck. It takes the place of a scarf as well as a hat, making it valuable to winter sports enthusiasts and those who just hate the cold. The warmer itself is made with thermal fleece which helps to keep warmth in while deflecting moisture and cold air, meaning it's perfect for snowy conditions as well as heavy wind days. The double-lined top and bottom help to keep the warmer in place while acting as a nearly airtight seal, truly blocking out those cold-weather temps that threaten to give us chills in the winter months.
The size of this warmer is also something worth noting, as it's one of the longest on this list at 15 inches. There's plenty of extra slack to stretch it however you want, providing the flexibility that many other warmers don't offer. The stitching is also worth noting, as AIWOLU has taken the extra time to ensure that there will be no loose threads or shedding from any of their warmers. This means that the buff's durability is on par with its warmth.
9

. Outdoor Research Echo Undertube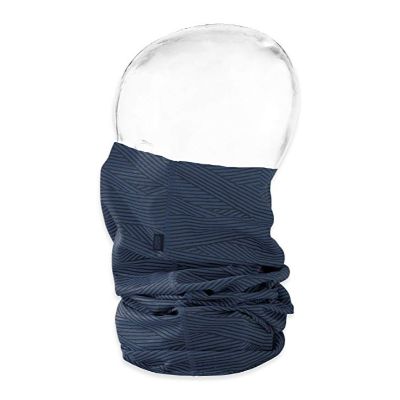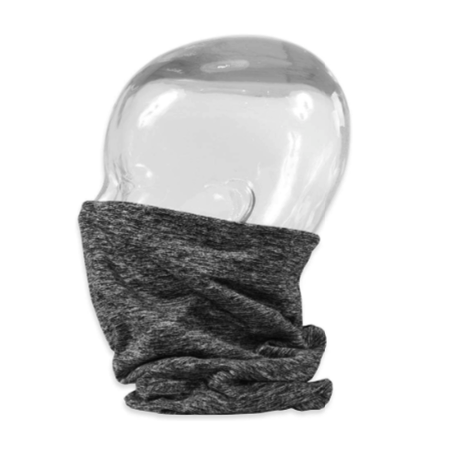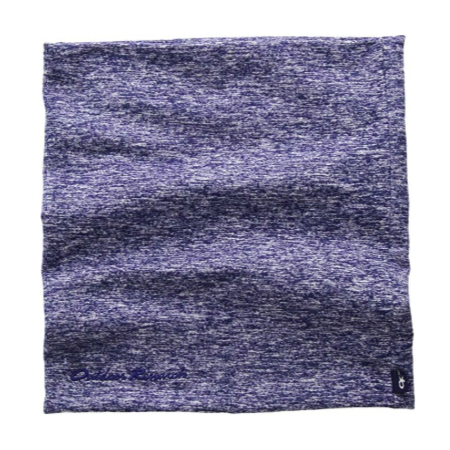 Good for year-round use
Flexible and designed for comfort
Full versatility
Won't stand up to Alpine hiking conditions
The Outdoor Research Echo Undertube was designed to suit a couple of different purposes. The first is obviously its use as a neck warmer, followed closely by the use of a beanie or a balaclava. A beanie is simply a close-knit hat that sits securely on your head to protect from the cold, while a balaclava is a neck warmer that can be pulled up, effectively protecting the chin and mouth as well. This triple usage makes it highly useful in colder areas as well as peak winter months.
While it's not lined with fleece, like the others nor does it offer polar support, it is functional as a properly-fitted neck warmer and a great option for outdoor sports. Made with 100% polyester, you can be sure that it will provide adequate stretch while also being very low-maintenance as far as care and cleaning.
Furthermore, its multifunction allows it to be worn in both warm and cold months. Outdoor Research has designed this buff with the goal of being used for sweat absorption in the summer as well as providing wind and moisture protection in the winter. This dual-use is why it made our top ten list, as it can be worn year-round in a variety of different conditions. You can rest assured that it won't add heat to your wardrobe in the summer, nor will it provide nothing in terms of comfort and protection in the winter.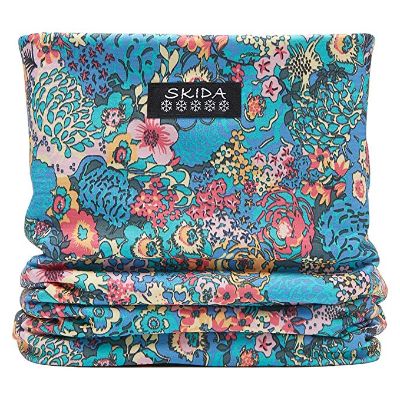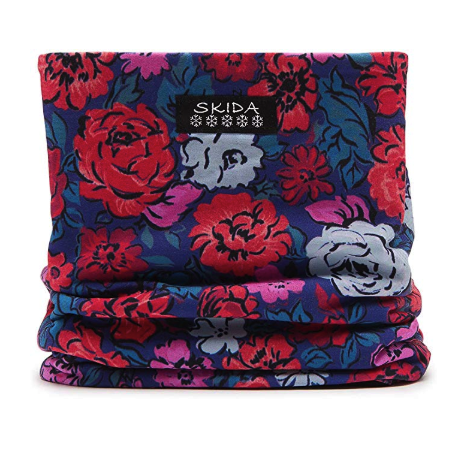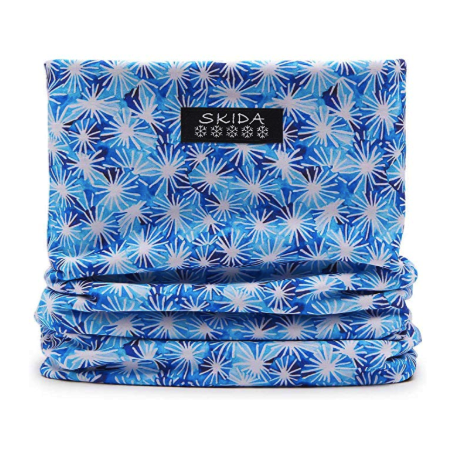 Micro fleece retains warth
Water resistant
Tested in Alpine conditions
Not made for year-round use
We've saved the most colorful for last, and that would undoubtedly be the Skida Alpine Neckwarmer. This vibrant warmer has been designed for full winter wear, as it provides protection in the coldest of Alpine climates. This buff has a number of interesting features, but we're honing in on a few that we simply couldn't part with when it comes to the top-rated neck warmers out there.
While this can't really be worn year-round unless you live in a constantly chilly climate, it does offer winter protection in spades. For starters, it is made with a polyester and spandex mix but has also incorporated poly-spandex jersey. This means that it's highly stretchable, something that's desirable for a unisex warmer, as well as one that's one-size-fits-all. Speaking of materials, the inside of this warmer has also been lined with a polar-tech microfleece, something only one other product on this list offers.
Not surprisingly, this warmer has also been made in Vermont, meaning it has been tested tried and true to see if it can really stand up to Alpine conditions. With its poly-blend fabric, this warmer also does a great job of eliminating extra moisture and ensuring that you stay dry no matter what the weather might be outside.
Criteria Used for Evaluation


Versatility
The more ways you can use one product, the less gear you need to invest in total.
The most versatile on this top ten list are the gaiters which are designed to stretch and morph, which helps them to contour to different parts of the body they can be used on.
Most commonly, they're used on the head and neck. For a head covering, they work well in the summer to keep hair out of your face as well as absorb any excess perspiration that might be happening while you're working out. In the winter, most of them can cover your neck while still be stretched enough to cover the bottom part of your face, preventing the windburn that we all know and hate.
However, they can also be worn on the arms and legs to encourage blood circulation and add warmth on those less-than-sunny days. Worn around the calves, forearms or biceps will turn them into instant muscle warmers, which enhances performance for many.
Furthermore, they can be used in poor weather to rain or snow from soaking through and effectively ruining a jog or run. If they're waterproof, they're a great asset to have year-round as their purpose goes beyond your typical seasonal wear. With all of that being said, we had to consider the fact that gaiters will be much more efficient if they're being used for more than one purpose. This led us to seek out only those which provided solid benefits in more than one area, rather than just simply being worn around the neck.


Comfort
You'll only use the gear if it feels comfortable.
No one wants to wear something that's uncomfortable and itchy, especially when it comes to sweating and being active. We'll get to materials used a little further down but for this criterion, we simply wanted to measure gaiters based on how comfortable they were to wear. This is a simple evaluation, something that doesn't need anything like high-tech designs or additional features. If it can be worn comfortably in several different ways, then it's a solid option. If not, then it was off the list.
You would be surprised to know that many people hate the feeling of something around their necks, even something as light or cozy as a scarf (which is the most comparable thing to wearing a gaiter). We had to consider this as we were evaluating different products, sure to note that some were much lighter whereas others felt much heavier in comparison. Weight, texture, and overall feel were all things that go into determining what is "comfortable".


Insulation
Keep yourself cozy and warm.
Insulation was something we considered for gaiters that were intended to be used mostly in cold-climate conditions, including those that are made with fleece material. Since one of the purposes of a gaiter is to act as a warmer, its ability to insulate and protect an area, specifically the neck and head, was fairly high on our list of criteria to check. With little insulation, there was really no point in having one that is winterized, which means any low-quality products were rendered obsolete.
Insulation is not restricted to just warmth, however; we also paid close attention to gaiters which offered waterproof materials, which most of them did. Since it's already assumed that working out outdoors is entirely possible, many of the gaiters made nowadays are designed to either be quick-drying or completely waterproof, two things which are very different but both great features. Depending on the time of year and the weather in your area, you may notice that you need one but not the other.


Style
Look for a pattern that matches your vibe.
Basing a product's rating on style varies in one of two ways: We take into account both the actual appearance of the product, as well as the physical design of it. Gaiters can come in two different styles: One which covers the neck only and can be used anywhere, and one which is intended to cover the neck and face, and occasionally even the head. For this list, we did choose to add both to create more options.
As far as the general look and appearance of a gaiter, we chose those which covered the neck proportionately while still having some slack, but not too heavily so. We also chose color and style options that were ultimately unisex or provided both masculine and feminine options, so as to appeal to everyone.
The more inclusive the better, and you'll notice that the gaiters we chose either have a myriad of options or come in one or two neutral colors. Style isn't a huge factor in basing top-rated products but hey, sometimes you just want to look good while looking fit!


Materials
The material of the neck gaiter is going to determine which one you want.
Ah, the big factor! Your neck is a sensitive area, so, of course, the type of material a gaiter is made with came into play big time for this list. Some people might even notice that their skin gets irritated when they sweat which can actually be made worse by a piece of fabric that's not comfortable, to begin with. Therefore, we evaluated each material carefully, discerning which would be comfortable for all types of activity and which would only lead to texture chaos later on.
While the fabric blends and spandex are often the most flexible in the athletic world, it's the fleece and interior-lined garments that provide the most warmth and insulation. It was in knowing this that we decided to have two separate classifications: Gaiters which provided warmth and were intended for winter-weather wear, and gaiters that could be worn year-round while providing ample breathability and flex.
Since fleece is not a flexible material, that limited its purposes greatly — that's why there are so few fleece options on this list. However, we did ultimately decided to include this as a top choice because many people don't wear athletic neckwear year-round. However, some people do enjoy continuing their workouts through the winter, so it proved to be a solid option.
Additionally, they don't need to be worn strictly for working out — these can be worn in place of scarves or even under layers to provide warmth during outdoor events or on extra chilly days. It was this versatility that allowed us to feel confident including all material types.
For those options which were stretchy and flexible, we paid close attention to how they would rate on a hypoallergenic scale. We posed questions such as, "Would it causing itchiness? Is there a potential for loose threads and unraveling? Are the stitches large or small, and how visible are they on the product?"
Things such as this were all telling criteria and allowed us to cycle through various products while deciding which would be the most comfortable for long-term wear as well as through various exercise activities that would inevitably produce sweat.
Expert Interviews & Opinions
Most Important Criteria
(According to our experts opinion)
Experts Opinion
Editors Opinion
Users Opinion
By Default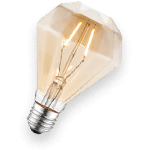 The Origin of the Neck Buff
While doing all this research, it's not uncommon for us to discover the origin of something or learn something new and interesting about it. While not necessarily an expert tip, it might surprise you to know that buffs have only been around since the early 80s. They were thought to be created around 1982 by a person by the name of Millie Merrill, from Stowe, Vermont. What's not surprising is to know that they originated in a place known for its frigid temperatures! So while the buff was originally intended for purposes of warmth only, it has evolved due to new materials and innovative creativity.
Some Popular Ways to Wear a Warmer
Most obviously, around your neck. However, a warmer can be worn in other places, too! Each one should have enough slack to be stretched over your head, turning it into an instant beanie.
You can also pull it up to cover the bottom half of your face, especially if you already have a hood or a hat. These warmers can be worn around the wrist and forearms for added warmth, or to be used as a sweat-cloth when it comes to hardcore workout sessions. On the lower extremities, these can be slid around the ankles or calves for increased support and compression. There's no end to the ways you can style one of these, which is why their versatility makes them fun and useful.
Other Factors to Consider


Compression
Compression is something that we actually did not want to see in our top ten results. The purpose of a buff, or neck warmer, is to do just that — warm necks. While additional features may include things as weather protection or hat versatility, the last place you want compression is around your neck. Fit and comfort were major factors when it came to determining the compression level of each product since a tight buff does not lead to a comfortable buff.
Compression can be good in places such as the ankles, wrists, hands, and feet, but the list doesn't go much further than that. While working out, the last thing you want to do is restrict blood flow, especially to your head via your neck. Therefore, many of the products on this list have been evaluated based on how much room they leave while being worn.
If you do have a muscular or wide neck, you might notice that some of these products are a bit too tight on you. We'd recommend finding a large size in that case or going with an option that leaves a bit of room for stretch.
Frequently Asked Questions
q:

What's the average length of these when stretch out?

a:

The average length for a buff is roughly nine inches, give or take an inch. Some of them are designed with even more stretch in mind, so while they seem fairly short, there's plenty of "give" to most of them.
q:

Would any of these be comfortable for someone with a skin issue such as psoriasis?

a:

We wouldn't recommend anything that you're not already comfortable wearing — by this, we mean that if something like a scarf is uncomfortable with a skin condition, a neck buff might not be much help. However, a lightweight material might be tolerable depending on which fabrics you know to be suitable for you.
q:

What would you suggest for a thicker neck?

a:

Definitely a stretchy material such as a blend or polyester! While these are designed to be a one size fits all situation, that's not the case with all of them. We'd recommend measuring your neck to know your sizing for sure, and then compare that to the buff you're interested in.
q:

How would you go about washing these?

a:

Just like any other garment! There should be washing instructions on the tag as with any item of clothing, however, we'd recommend taking care to pay close attention to the material. There is a chance the fabric could shrink if placed in a dryer, so hand-wash and air-dry is always the safest option with anything you're unsure of.
q:

How efficient are they when blocking the wind?

a:

For runners especially, we would always recommend a neck buff. Even if it doesn't happen to be particularly windy, passing air can sometimes irritate exposed skin, especially sensitive areas like the neck. Luckily, buffs are designed to do just this — protecting the neck and retaining warmth are the two main purposes of such a garment.
Subscribe to our Newsletter