7 Best Neck Gaiters Reviews
Despite its strange name, a neck gaiter, also known as a buff, is probably one of the most versatile pieces of running gear you can add to your wardrobe. Something as simple as this can be worn in many different ways, but that's what makes owning one so valuable.

Their main purpose is to provide warmth, which is why they're usually referred to as "neck" gaiters, but they can also be used as headwear and around and part of the body they'll fit.

A gaiter is a tube-like piece of flexible material that, when stretched, can be used to outfit your body in a variety of ways.

Since there are so many options and it often costs less than your typical hat, that's reason enough to add one to your gear.
Standout Picks
Criteria Used for Evaluation
Versatility
The more ways you can use one product, the less gear you need to invest in total.
The most versatile are the gaiters which are designed to stretch and morph, which helps them to contour to different parts of the body they can be used on.
Most commonly, they're used on the head and neck. For a head covering, they work well in the summer to keep hair out of your face as well as absorb any excess perspiration that might be happening while you're working out.
In the winter, most of them can cover your neck while still be stretched enough to cover the bottom part of your face, preventing the windburn that we all know and hate.
However, they can also be worn on the arms and legs to encourage blood circulation and add warmth on those less-than-sunny days. Worn around the calves, forearms or biceps, will turn them into instant muscle warmers, which enhances performance for many.
Insulation
Keep yourself cozy and warm.
Insulation was something we considered for gaiters that were intended to be used mostly in cold-climate conditions, including those that are made with fleece material.
Since one of the purposes of a gaiter is to act as a warmer, its ability to insulate and protect an area, specifically the neck and head, was fairly high on our list of criteria to check.
Insulation is not restricted to just warmth, however; we also paid close attention to gaiters that offered waterproof materials, which most of them did.
Style
Look for a pattern that matches your vibe.
We take into account both the actual appearance of the product, as well as the physical design.
As far as the general look and appearance of a gaiter, we chose those which covered the neck proportionately while still having some slack, but not too heavily so. We also chose color and style options that were ultimately unisex or provided both masculine and feminine options, so as to appeal to everyone.
The more inclusive the better, and you'll notice that the gaiters we chose either have a myriad of options or come in one or two neutral colors. Style isn't a huge factor in basing top-rated products but hey, sometimes you just want to look good while looking fit!
Materials
The material of the neck gaiter is going to determine which one you want.
Ah, the big factor! Your neck is a sensitive area, so, of course, the type of material a gaiter is made with came into play big time for this list.
While the fabric blends and spandex are often the most flexible in the athletic world, it's the fleece and interior-lined garments that provide the most warmth and insulation. Since fleece is not a flexible material, there are few fleece options on this list.
For those options which were stretchy and flexible, we paid close attention to how they would rate on a hypoallergenic scale. We posed questions such as, "Would it causing itchiness? Is there a potential for loose threads and unraveling? Are the stitches large or small, and how visible are they on the product?"
Top 7 Picks
It's not surprising that the first on our list is from the Buff brand. Their original neck warmer has it all as far as the qualities we look for in a versatile neck gaiter.
From stretch to flexibility and insulation, Buff New Original was designed specifically for a variety of uses, not just for warming necks. It's also available in a number of colors and for a price that's far less than most scarves or athletic hats out there. All around, this is the number one choice for beginning athletes, casual runners, and professionals alike.
The New Original checks off all our boxes from a comfortable fit to just enough flexibility to be worn around other parts of the body. With a polyester and elastane blend, you can be sure that this neck gaiter will flex with the best of them and won't feel tight or restrictive.
It can also be easily hand-washed, which is something we look for in any type of fabric-to-skin contact athletic gear. It is thinner than some other options, which means it will air dry quite quickly and won't be prone to stretching, shrinking, or being pulled out of shape.
2

. Columbia Freezer Zero II
This vibrant warmer has been designed for full winter wear, as it provides protection in the coldest of Alpine climates.
While this can't really be worn year-round unless you live in a constantly chilly climate, it does offer winter protection in spades.
For starters, it is made with a polyester and spandex mix but has also incorporated poly-spandex jersey. This means that it's highly stretchable, something that's desirable for a unisex warmer, as well as one that's one-size-fits-all.
Speaking of materials, the inside of this warmer has also been lined with a polar-tech microfleece, something only one other product on this list offers.
With its poly-blend fabric, this warmer also does a great job of eliminating extra moisture and ensuring that you stay dry no matter what the weather might be outside.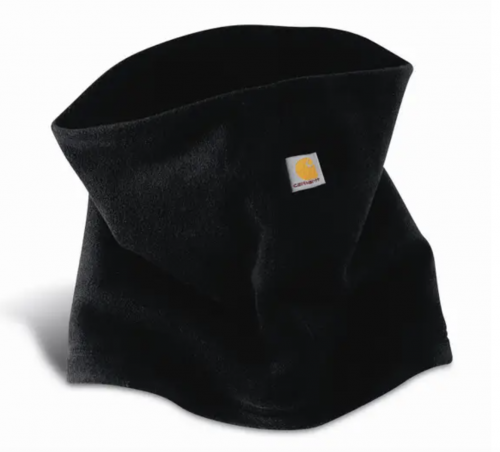 Carhartt is known for making great winter gear, and its neck gaiter does not disappoint. Its uses are a bit limited due to its slightly smaller size.
Similar to the Original, it blends polyester and spandex in order to create a neck warmer with a decent amount of stretch.
The fleece-lined exterior and interior provide plenty of warmth during the colder months, making this very much a cold-weather buff. That does limit its versatility, but where it lacks in versatility, it makes up for protection and warmth.
It's thicker than a traditional one and great for use when skiing, snowboarding, or simply hiking in Alpine environments. It's also great for those who have jobs that involve working outside, as they're shielded from the cold with a neck gaiter that will cover and protect the most sensitive areas of their necks.
It does provide a tighter fit which isn't for everyone but is for those who like to layer their shirts and coats, as it won't provide too much of a bulky feel underneath.
The Turtle Fur Chelonia excels in nearly every area of our criteria section, with the exception of the fact that it truly is a cold-weather neck warmer.
This neck gaiter comes straight from the Green Mountains of Vermont, which is proof positive that it has been tested in some fairly rough weather conditions. From high elevations to cleaning the car off after a snowstorm, the Chelonia is one size fits all, making it a great unisex option.
It's also created with 100% polyester, with the addition of fleece lining. Even more so, the Chelonia features a double lining that helps to keep in warmth while also keeping cold and moisture out.
This neck warmer also has the added benefit of being much softer than most as well as a bit longer than others, coming in at just over nine inches. This leaves plenty of room for wear elsewhere, adding a bit of versatility to your soon-to-be favorite neck gaiter.
One extra feature of the Chelonia that we love is the fact that it is machine-washable.
The Smartwool 250 has been designed using merino wool, something we see much of in many other neck warmers.
With a knit design rather than fleece, this neck gaiter does offer some flexibility as far as when and how it's used. While its main function is to provide warmth, it's also a great athletic option for walking, running, or jogging, since it's not as heavy as most.
The Smartwool 250 lands somewhere between a lightweight and a heavy option for winter protection, which means you wouldn't want to wear it on a 70-degree day, but you could really use it during both the fall, winter, and early spring months.
With an NTS midweight fabric, it's comfortable and cozy without feeling heavy like fleece sometimes can. Its knit pattern helps to contain heat without turning your neck into a furnace since it does allow some breathability.
6

. Outdoor Research Echo Ubertube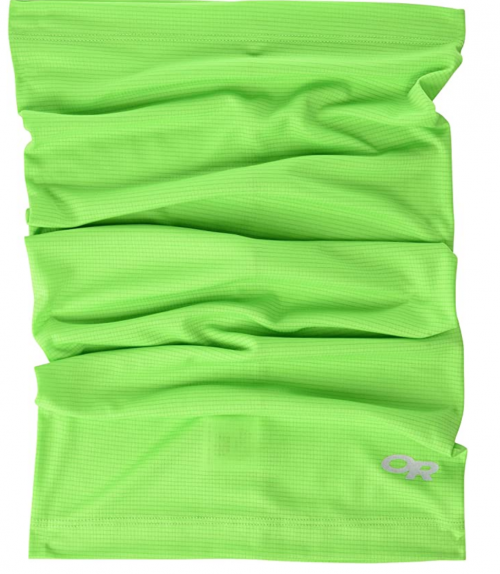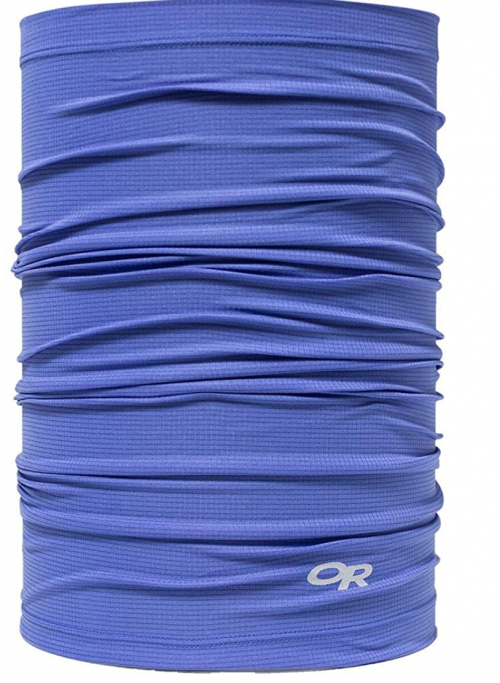 The Outdoor Research Echo Ubertube was designed to suit a couple of different purposes. The first is obviously its use as a neck warmer, followed closely by the use of a beanie or a balaclava.
While it's not lined with fleece, it is functional as a properly-fitted neck warmer and a great option for outdoor sports. Made with 100% polyester, you can be sure that it will provide adequate stretch while also being very low-maintenance as far as care and cleaning.
Its multifunction allows it to be worn in both warm and cold months. Outdoor Research has designed this buff with the goal of being used for sweat absorption in the summer as well as providing wind and moisture protection in the winter.
This dual-use is why it made it onto our list, as it can be worn year-round in a variety of different conditions.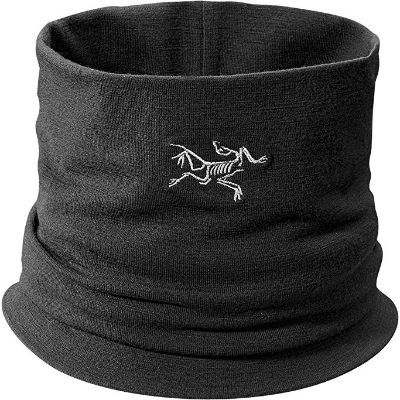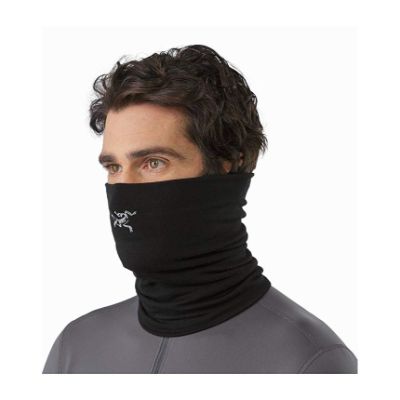 The Arc'Teryx RHO comes prepared to do its job and then some, with a similar appearance as the Original Buff, but with some notable differences.
Let's start with the level of insulation it offers. Rather than being crafted with a blend of materials, it's been designed with lightweight wool. This allows a bit of breathability while also acting as a great insulator when temperatures drop below freezing.
While not a full blend, five percent of this merino wool has been woven with spandex to provide just enough flex for use elsewhere on the body. If you're worried about how the wool will feel on such a sensitive area like your neck, especially while sweating, don't be. Due to the use of natural fibers and some serious moisture control, it is designed for maximum athletic use during the colder months.
Additionally, the Arc'Teryx RHO LTW offers anti-odor properties which can be helpful when going from a run to work or school.
The addition of RHO in this neck gaiter, as the name implies, helps to provide a solid thermal base layer. It's been designed to stand up to the average cold, but with Alpine environment cold protection in mind.
Subscribe to our Newsletter