The Ten Best Shoes to Wear While Protesting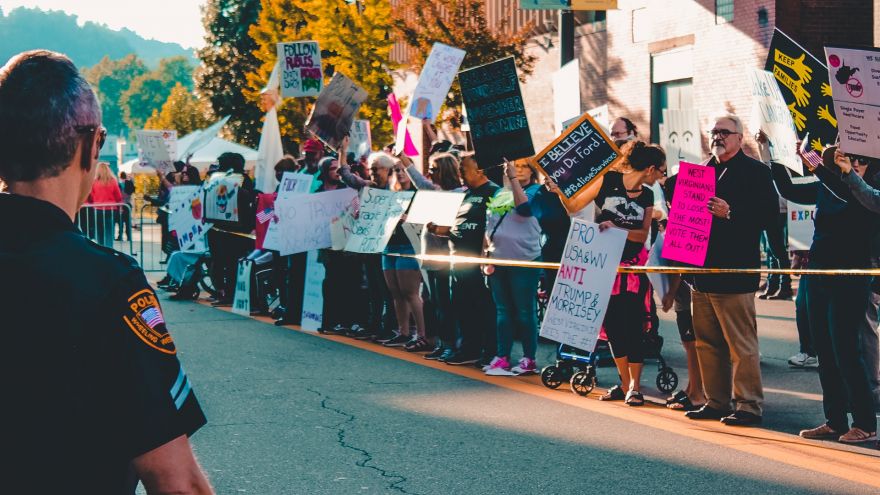 The Ten Best Shoes to Wear While Protesting
www.walkjogrun.net
If you're protesting the Military-Industrial Complex, you're going to need a shoe that says you're a peaceful, laid back kind of person.  The Crocs Swiftwaters are perfect for that and water sports or beach running.  Just be careful when the cops finally arrest you, everyone in the jail cell is going to be looking at those great shoes.
When protesting Globalism, you need a shoe that will help you battle the entire world.  When the stakes are that high and the weight of the world is on your shoulders get yourself a pair of VS Athletics II weightlifting shoes.  Their dual loop closure and power transfer will keep you steady as you move against the tide.

Religion protests tend to really make people mad whether they're religious or not.  Try an lighten the mood with a pair of Zmart 3D Animals socks that are thick, cozy and come with fun animal characters!  If you bring a smile to just one protester before they punch you in the face, it'll all be worth it!
When rallying against Capitalism, you and your Commie buddies wouldn't be able to afford shoes if you actually ran things.  You might as well be wearing a pair of Easy Spirit Romy's with durable rubber outsole and removable insole.  And with your comfortable footwear, maybe you could walk over to a library and find a book that will teach you economics.
Protesting Your College is usually a gimme for college students that are too lazy to actually find a real authority figure.  Why not get your parents to buy you a pair of Clarks Leisa Lacole slip on sandals with great cushion and foot feel?  You'll be able to play hacky-sack in comfort while you waste your parents' money on a Gender Studies degree.
And speaking of gender, protesting the Patriarchy is all the rage today.  That calls for a pair of boots to kick men out of your way.  VOCOSI Pointed Toe Leather Boots are made of soft leather and have a simple, sexy style.  But don't call anyone "sexy" who wears them if you're guy or you might feel that supportive heel someplace unpleasant!
You have to protest Police Brutality because how can the cops find you and beat you up if you don't?  You're gonna need a fast shoe (and probably something to cover your face), so why not get a pair of Nike Wildhorse 4's that are rubber and blister free?  Now all you have to do is make your sign and hope you can outrun a bunch of overweight cops.
Abortion gets protested on both sides and it can get pretty nasty.  Either way, you might need a pair of Clarks Breeze Sea with adjustable straps and hook-and-loop closures for pregnant people.  Whether you're protesting or walking in as a customer, your feet are probably going to need a good shoe.
Organizing a march For the Environment can get a good crowd of people.  Whether you're saving the Earth or just saving the whales, you need a pair of shoes that are eco-friendly.  Nothing says that like a pair of Adidas Tubular X hemp shoes with grippy soles and lightweight design.  And you can always smoke them if things get boring at the protest!
Political Protests have become very ugly, but your shoes don't have to be!  Get yourself a pair of CrossFit Nano 8.0's with forefoot cushioning midsoles and wide toe box.  Then, no matter what side of the divide you're on, you'll have some good running shoes to run away when the protest gets out of hand.
Most Read