The Downside of Your Favorite Summer Shoes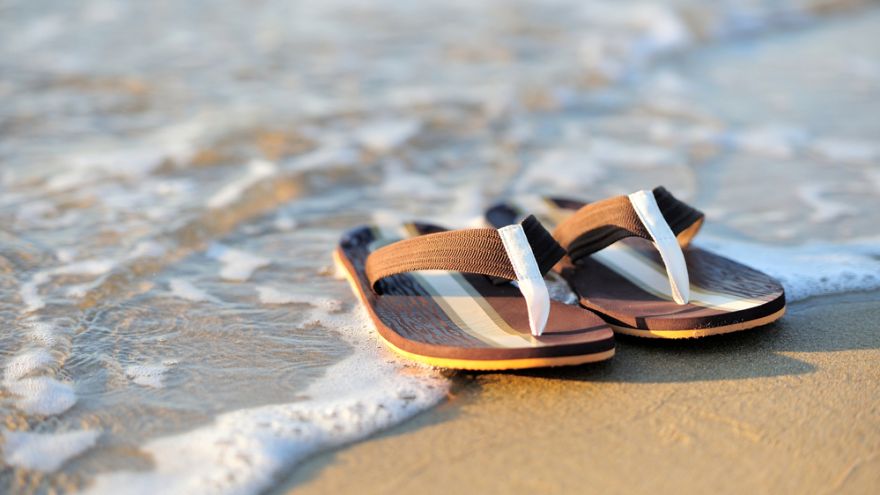 The Downside of Your Favorite Summer Shoes
www.walkjogrun.net
Once summer rolls around the first thing most people do is toss aside their heavy leather shoes or boots and throw on some flips flops or sandals. However, there are a number of perils that go with summer footwear and many people are not aware of this. It's hard to resist a cute or comfortable pair of beach shoes but the truth is many of these are unsupportive and leave your feet exposed to plantar fasciitis, heel spurs, or other painful issues.
In the following, we'll deconstruct some of the most common types of footwear from the perspective of safety and foot health. For tips, advice and guidelines read on!
Flip Flops
Let's start with the most common type of summer footwear, flip flops. Everyone loves flip flops right? Well, there are some unseen consequences to wearing them consistently. Here are some pros and cons to their use:

Pros:
They require no effort to wear

. No laces or strap to secure, just slip them on and get after it!

They come in every color and design you could imagine.

Want classic Havaianas or leopard print sprinkles? You're covered on both fronts. You can find many different designs in any shade you want and by virtually any designer.

They can be ridiculously cheap.

We've seen flip flops at Walmart as cheap as $2 — but for that price set your expectations to match. But, the cheaper they are, the more pairs you can buy!

You can show off your pedicure or your fancy nails

This one can quickly turn into a con if you're got an ingrown toenail or some other problem.

They can be super casual or a bit fancy

Not everyone shares this opinion, but you can look dressy in flip flops if you try hard enough. They might not be good for a formal business meeting but they are good for dinners, parties or dates all summer long.
Cons:
The straps can rub and irritate

Flip flops definitely do not agree with everyone's feet, this especially true if you don't get the sizing just right. The middle strap can really dig into space between your toes and cause some serious pain. Maybe this is just me, but I have dealt with a lot of trial and error in finding the right pair, and even then, they can still let me down.

Their cheap quality often leads to quick replacement

Most pairs are relatively cheap and this means that the odds of them falling apart or pretty good.

They will not protect your feet from getting dirty

Especially if you like to wear flip flops around the city prepare to have your feet get a bit grimy. Extra time spent washing your feet can be the cost to wearing flip flops day in day out.

Sometimes they are thought of as too casual

Perhaps a day at the park turns into a night at a fancy bar if your friends decide to migrate this direction. Suddenly you'll wish you weren't wearing your flip flops.

Good airflow, bad support

Flip flops are not designed for heavy walking or high mileage. I once spent an entire afternoon walking in my flip flops, with sweaty feet grinding against straps, by the end of it my feet were none too happy.
Ballet flats
Flats may offer up a little bit more support than flip flops but, as the name implies, flats are flat along the ground offering a little cushion for your feet. There is something called "ground reaction force" that occurs when your foot hits the ground during walking or running. Without a sufficient amount of support or cushioning, this force may cause tightness and pain in the bottom of the foot ultimately spilling over into the fascia and causing real problems there. If you're going to wear ballet slippers keep your walking to short distances. For longer distance go with some rubber soled shoes or trainers, your feet will thank you.

Summer Sandal
The style and format that summer sandals can take vary a lot. They range from super flat to high heels, which may lead to other foot issues. Like their cousin the flip flop, sandal straps can also cause pain, this is particularly true if the strap is infringing on some party of the foot. The best sandal is made from durable yet soft materials, has a cushy sole, full heel cup, plentiful arch support, and in some cases, a small wedge heel. Without some of these features, you can be setting your feet up pain and discomfort.

Sneakers
Although not strictly summer shoes per say, sneakers are commonly worn in the summertime. What's the downside of sneakers you might be thinking? Well, they offer far more support than sandals or flip flops but they aren't without issue. Patients already diagnosed with plantar fasciitis, may need sneakers with a lot of arch support or custom orthotics. This allows you a person to walk in a more normal stride and keep the foot in a more neutral position (healthier generally).

So, there you have it — a brief rundown of unforeseen issues with summertime footwear.
Problems such as plantar fasciitis, heel spurs, and bunions can all be made worse (or caused by) with certain summer footwear. With so many cool and sexy options available on the market it can be easy to forget about some of the health implications. On the other hand with a bit of awareness, you can make foot-friendly decisions and in the long run achieve both stylishness and good foot health.
Most Read