Ten Things They'll Make You Do in Hell and the Footwear You Need to Cope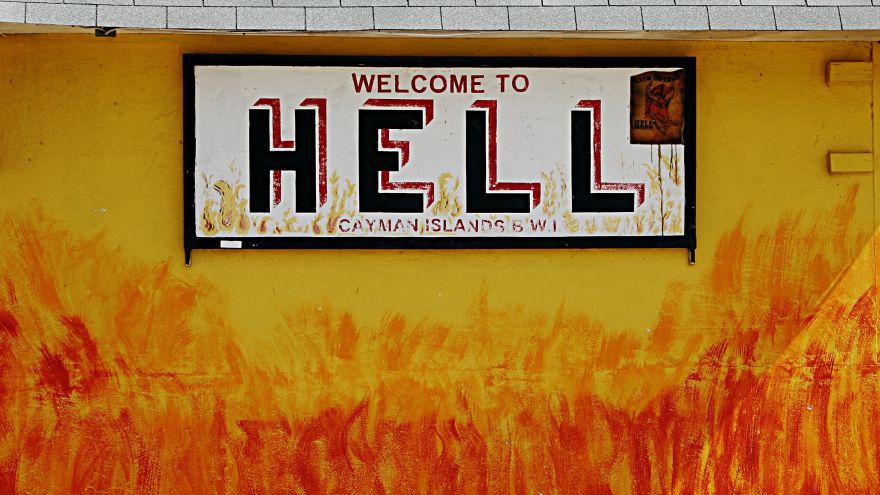 Ten Things They'll Make You Do in Hell and the Footwear You Need to Cope
www.walkjogrun.net

Stand in a Lake of Fire: Danner Acadia Firemen Boots are the answer. These boots have stitch down construction and a wet/dry surface traction. Hopefully, that traction will be enough to get you out of the lake of fire, assuming some jerk with a pitchfork doesn't push you back in.
Push a Boulder Up a Hill for Eternity: For this, you're gonna need a shoe with great traction. The Saucony Kinvara 9 is perfect with a woven heel for stability and a neutral running design. Even though you may never get that rock to the top, you'll spend your eternity with comfortable feet.
Get Bullied By Yourself: This will take "Why are you hitting yourself?" to a whole new level. Just like Vans Slip-Ons will take your feet to a whole new level. They have a cotton lining and a durable structure. You and your evil double will enjoy the sweet cushioning, even as you torture each other.
Eat Your Favorite Food Until You Explode: In all likelihood, you're gonna get diabetes doing this, so it's best to have the greatest diabetic shoe. Skechers Go Walk 4's have rear heel pull and flex comfort outsole. So even when your belly bursts wide open, your feet will still be okay.
Live Your Worst Nightmare: Whether it's being dropped into a giant pile of rats or have your eyes eaten out by ants, your worst nightmare is probably going to make you run and scream. And since the distance is going to be endless, better have a pair of Salomon Speedcross 4's with anti-debris mesh and dual-density EVA midsoles. With those shoes, you might put some distance between you and that giant pair of floating vampire teeth that keep chasing you.
Have People Cut in Line in Front of You For Eternity: Will you be in line for a movie? An amusement park ride? The DMV? It's not going to matter because you're never going to reach the front of the line. A pair of Nike Air Zoom Structure 21's will keep you comfortable with Flymesh uppers and Dynamic Fit technology. And don't worry, they'll let you have your smartphone, but you'll get no bars in Hell.
Satan Punches You in the Genitals Constantly: This is pretty old school torture, but it works and Satan just loves it. If you're lucky,

they might let you have an Inomata Bucket so you can soak your feet. It's compatible with salts and oils and fits most feet and ankles. Hopefully, Satan won't get mad and fill it with lava.
You Can Have a Computer, But Every Password You Type in is Wrong: Truly a torture for the modern age. You'll be sitting a computer forever, so you're going to need Merrell Jungle Moc's. With their proper alignment support and 100% comfortability rating, you'll be able to stomp your foot in frustration in comfort.
You Get to Relive All Your Past Mistakes Over and Over: It'll be like living your entire life again, right? Well, at least the only thing you could do is buy the right shoe. Like the Forever Buckle Strap with three buckles and roomy toes. Your mistakes may haunt you, but your choice of shoe sure won't.
Watch Nothing But The Big Bang Theory Forever: Probably the most insidious torture ever devised and one that will surely make you beg for death. With a pair of Skechers Synergy Ekron's with excellent grip and traction, you might hold off on that wish for at least a few thousand years.