Shoe-Fu: The Footwear Suited to Get You Out of a Jam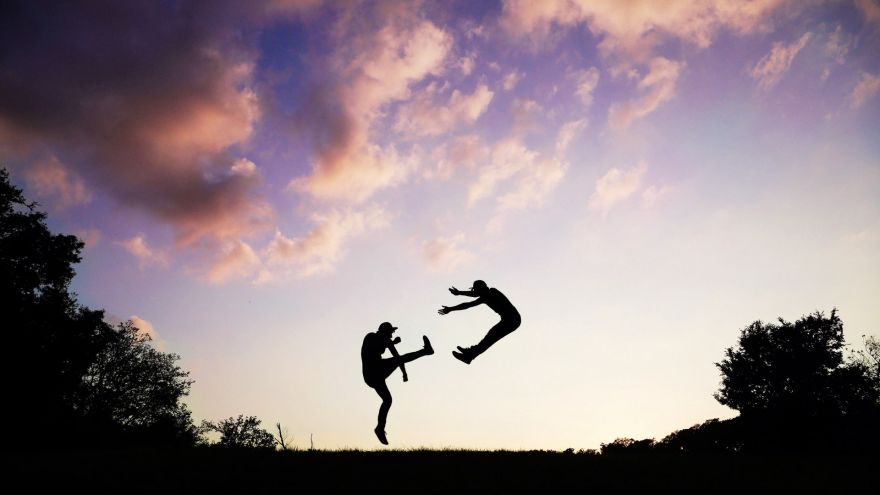 Shoe-Fu: The Footwear Suited to Get You Out of a Jam
www.walkjogrun.net
People don't stop to think just how incredibly important their shoes are, especially when crime is happening. If you're going to be a victim of a crime, having the right shoe might allow you to avoid it altogether. Here now are the best shoes to get out of a jam.
Mugging: If you're being mugged, the best shoe is pair of Adidas OG Swifts. With their lightweight design and EVA midsole, you can either kick your mugger or run away in comfort. And while the mugger may get your money, he'll never get your sense of style! (Unless he takes your shoes too.)
Attempted Murder: You're in the hospital. You think you're safe, but there's an Angel of Death at the nurse's station fixing to "save" you. She's already stopped the heart of the guy in the next bed, so it's time to run. You can get your appendix out somewhere else. Put on your pair of Crocs Classic Clogs with arch support and slip resistant bottoms and sneak to the elevators before she realizes you're gone.
Arson: Trapped in a fire by some pyromaniac? Then you need the shoes the fireman wear. Get yourself a pair of Danner Wildland Tactical's with Vibram S587 Fire & Ice Outsole and steel shank. Just make sure you feel all the doors before you open them on your way out.
White Collar Crime: Moving millions of dollars out of pension funds can get pretty exhausting and annoying. If you're going to save your retirement and sneak into the bank to catch the finance guys cooking the books, make sure you're dressed like them with a pair of genuine leather Bruno Marc Dress Oxford's. With their Latex cushioned footbed, you'll be comfortable as you beat the passcodes for the Swiss Bank accounts from the perps.

Patricide: You never trusted your kids and now that they stand to inherit millions, your feeble body is all that's standing in the way. Get yourself a pair of Asics Gel Kayano 21's with forefoot and heel infusion. They won't be able to push you down the stairs in these! And you might live long enough to change that will.
Hostage Taking: In any hostage situation, it's important to maintain an advantage over you hostage takers. That's why you need a pair of Kaitlyn Pan Lowland's Thigh High Boots. With their low heel and rubber sole, these's babies are tall enough to hide your cellphone and a few weapons. You'll turn the table on these terrorists jerks soon enough!
Cattle Rustling: Sure, a nice pair of cowboy boots can help, but if those rustlers take your cattle into the woods, then what? Get yourself a pair of Thorogood American Heritage Safety-Toe's for lumberjacks. With non-marking soles and comfortable long wear, you'll be able to track those rustlers and hang them before the weekend's over, partner!
Political Assassination: You never know when one of these is going to happen. If you're going to be in some historic footage that's going to be seen over and over for the next five decades, make sure you look good. A paire of Kate Spade Izzie's with leather lining and buckle closure will let future historians know you had style!
Espionage: If you happen to be a spy or just mistaken for one, it never hurts to wear a pair of heels that can double as a weapon. A pair of Stuart Weitzman Anny's have a unique cut from Spain and their 2.75 inch heel will keep you looking sexy once the bullets stop flying.
Most Read