Designer Profile: Christian Louboutin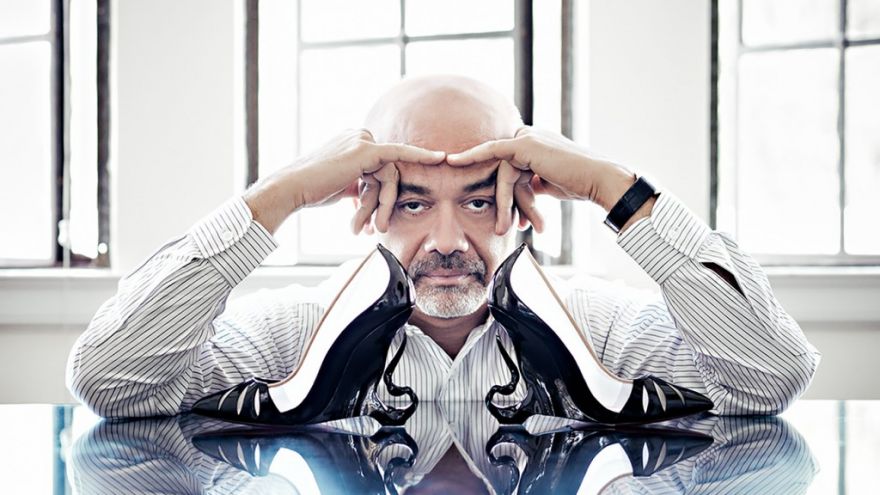 Designer Profile: Christian Louboutin
www.walkjogrun.net
They say that diamonds are a girl's best friend, but they obviously have never owned a pair of red bottom shoes. When you think of the color red, what is the first thing that pops into your head? For some, it's a crisp apple, a rose, or a bright red lipstick. For me, it's a classic pair of sleek black stilettos, the bottom of them adorned in a smooth, bright cherry red, just waiting to be slipped on for a night out.
As an eight year old, I would twirl around in my mum's full-length mirror, wearing one of her dresses that would hang off of me, and a pair of her stilettos, thinking I looked like a princess. Even at the age of eight, I knew a pair of heels made an outfit. As I got older and began actually wearing heels of my own, I started to learn that quality really is everything when it comes to a killer pair. If there is one thing I've learned over the years it is that everyone should have staple pieces in their wardrobe. From your go-to pair of jeans, to a classic, such as a pair of stilettos, longterm, your wallet will thank you for investing in pieces that will last a lifetime.
You may be asking, of all the luxury shoe brands out there, why should I save up to splurge on a pair of Louboutins? The answer is very simple – The sleek, bright red sole of a pair of Louboutins doesn't just symbolize the brand, they symbolize quality, luxury, and what it means to be a badass, empowered woman.
So what are these shoes, and what makes them so special? It all comes down to the man himself, Mr. Christian Louboutin, and the passion he puts into making his brand one of the most sought after in the fashion industry.

Christian Louboutin Black Pumps
Who is Christian Louboutin
Born in France in 1963, Christian Louboutin is a French fashion designer who's luxury high heels, with a signature red bottom have time and time again made him one of the stand-out designers in the industry. Originally a freelance designer working amongst top brands, he opened his own store in 1991, and it was then that he quickly started getting worldwide recognition for his work. From red carpets to date nights and everything in between, there are few celebrities who don't frequently wear Mr. Louboutins shoes.
Early Life
The youngest of four, Christian Louboutin grew up in Paris with his cabinet-maker father, stay at home mother and three sisters. As a self-proclaimed rebellious teen, young Christian never thought of himself as much of an academic, and ended up being expelled from school at the age of sixteen.
His first job was at the Folies-Bergères, a local cabaret, where he worked with the performers backstage. The costumes, specifically the shoes the performers wore amazed Christian, and he went on to continue growing more and more of an interest in the world of shoes.
In the 1970's he visited a museum of African art that had a sign forbidding women from wearing high heels, in fear of damaging the floors. He remembers being fascinated with that sign and wanting to break the rules, and create something empowering for women. Intrigued by world culture, Louboutin spent some time in Egypt and India, when he returned to Paris in 1981, he had a portfolio of drawings in hand and was ready to work. Having had little to no prior training when it came to drawing, designers were taken aback by his work. His gorgeous, elaborate designs of high heels landed him a job working with Charles Jourdan, and then Roger Vivier.
Christian Louboutin Velvet Matte Lip Color
Career
From being an apprentice in Roger Vivier's store to spending a few years doing freelance work for some of the top designers such as; Chanel and Yves Saint Laurent, it wasn't long before Christian had begun creating a name for himself. However, in the late 1980s, unsure if this was truly his calling, he decided to take a small break and began doing landscape gardening. He quickly missed his first love; shoes, and therefore decided it was time to get back to work, and set up a store of his own.
In 1991 his small shoe shop in Paris was born, and his stylish, sexy heels started to attract customers from all around, with Princess Caroline of Monaco being one of his firsts. After a Journalist overheard her words of admiration for the store, word spread, and it was only uphill from there. He now has a long list of celebrity clientele, and it doesn't seem to be slowing down any time soon. From the Kardashians, to Kerry Washington, Selena Gomez and many more, they seem to have become everybody's go-to heel. You don't need to be a celebrity to rock a pair of Louboutins though, it just helps, considering the price tag.
Louboutin has regularly been credited with not only bringing stilettos back into fashion in the 90s-2000s but also making them sexy. With most of his heels starting at 4 inches and only getting higher, he prides himself on making shoes that not only make a woman look sexy, but feel it as well, and he feels that the higher the heel the better. Although smaller heel heights are available, Louboutin wants women's legs to look as long as can be, so when purchasing a pair of red bottoms, go high or go home.
In more recent years, Louboutin has introduced wedding collections, handbags, men's shoes and has even branched out into the world of beauty, making him a much more versatile designer and brand. His introduction of men's shoes is more recent, having only begun in 2011, however it is fast growing, so much so that New York now has one of the first men's only storefronts in North America. It is a one-stop shop for fashion-forward men in need of classic dress shoes, loafers, and even your everyday sneaker.
How did he get started in men's shoes you may be wondering? It all comes down to one name: Maika. The young pop star asked Mr. Louboutin if he would design a few pairs of shoes for him for his upcoming tour at the time, and he agreed. He ended up designing an entire collection around his tour, and being on stage, but Maika was only in need of a few pairs, so Louboutin put the rest of the unneeded shoes in a few of his stores, and when they flew off the shelves, he knew he was on to something. Christian Louboutin now proudly has over 50 self-branded boutiques, and he has no plans on slowing down anytime soon.

Fashion
Whether you are in need of a classic pair of black stilettos, or sparkly, bejeweled 6-inch heeled pumps, Christian Louboutin has you covered, and it is that versatility that has customers flocking to him for every event in their life. Of course, we can't all have a collection of $800+ shoes in our closet, but if you ever have the chance to treat yourself, listen to me and invest in a pair of classic heels. If kept properly, and treated with care and respect, they will be able to be passed down for generations.
There is nothing more frustrating than being all dressed up and then having no clue what shoes to wear because nothing seems to match your outfit. You could wear those old H&M booties you've had for ages with the scuffs around the toe, or the cheap pumps that don't fit quite right and are a pain in the ass to walk in. Or you could invest in some go-to classic pumps that fit like an absolute glove and take your basic jeans and tee from casual to straight up chic. The subtle pop of red that shows with each step you take, is going to have people turning heads everywhere you go.
With a handbag, it can be very easy to tell the brand almost instantly – by the classic double C's that Chanel has, or the double G's of Gucci. With shoes, however, they never seem to be something plastered with brand logos, and if they are, they tend to look a little tacky. Louboutin has nailed the "this is my brand" without shoving a logo in your face. It's subtle, it's classy, and it's sexy.
His designs have changed over the years, and more recently he has found he has gone from designing for a woman that likes to be dressed to designing for a woman that likes to be undressed. The styles, while still fancy, have been toned down and most of his iconic shoes, like the Pigalle pump, for instance, are just a simple, classic staple item.

Walk On Red Bottom Coat Paint for Christian Louboutin Heels
The Red Bottom
It isn't often that you think to look at the sole of a shoe, but with a pair of Louboutins, the iconic sole is one of the first things you will notice, other than the immaculate quality and design, of course. The classic red bottom is recognizable worldwide, but how did it come to be?
In 1993, a couple years after he had started his business, Louboutin wanted to create a shoe inspired by Andy Warhol's "Flowers." However, when Louboutin first saw the shoe, although he was happy with the design, he felt something was missing. At the time, his assistant was in the process of painting her nails red, when he looked over and saw the bottle of polish, it instantly clicked, and he began painting the black sole of the heel, a bright beautiful red.
The infamous red-bottoms have since been featured in numerous chart-topping songs, such as Cardi B's Bodak Yellow where she raps "These is Red-Bottoms, these is bloody-shoes." For Cardi, owning a pair of red bottoms was equivalent to making it, in the Bronx, where she grew up. Now owning over 90 pairs, Cardi reps her Louboutins whenever she can. Also seen constantly in music videos such as Taylor Swift's Delicate. It's funny that even in a music video with gorgeous Taylor Swift singing and strutting on your screen, your eyes find themselves zeroing in on her shoes, and for good reason. Those stunning blue suede, jeweled heels also known as the Keopump pumps will set you back a casual $1300.
Having that red bottom, and keeping it his hasn't been easy for Christian Louboutin, who over the years has had to fight for the right to trademark his iconic sole. Dating back to 2012, Christian has fought to own the rights to his classic red sole, and although protected in many countries, there are a still a few that have challenged him. Most recently the issue being with the EU, who for the longest time sided with Dutch brand, Van Haren, when it came to them selling red-soled pumps. In 2018, the court ruled that trademarking the color of a sole was valid, and therefore Louboutin claimed victory.
Now that you know the history of the red bottom, I'm not expecting you to run out and buy a pair (unless of course, you can, then you should) but always remember the words of Mr. Christian Louboutin as you put on your shoes before leaving the house. "A woman can carry a bag, but it is the shoe that carries the woman."
Most Read