Buying Silver Toe Shoes to Make a Statement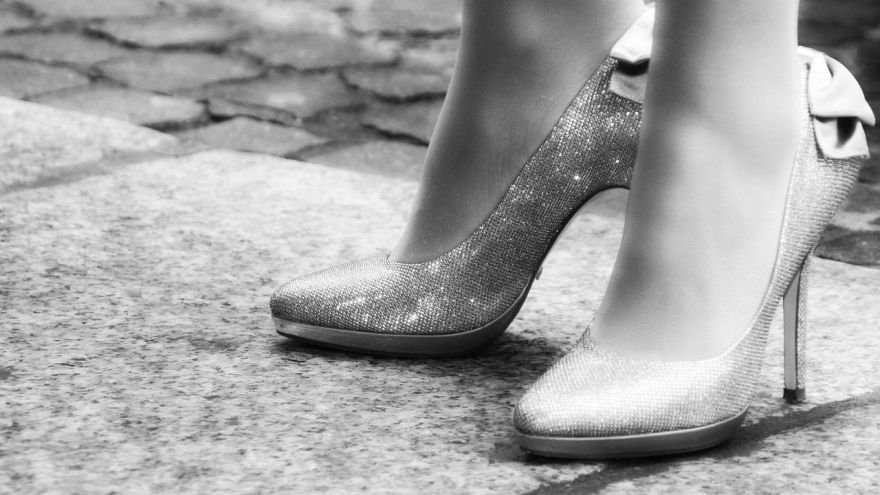 Buying Silver Toe Shoes to Make a Statement
www.walkjogrun.net

Give a woman the right shoes, and she can conquer the world. – Marilyn Monroe
Although the quote above is from another era where things were much different, it does hold a little bit of relevance today. It's fair to say that everyone should have a least one pair of shoes with a little bit of flair or pizzazz. Maybe these shoes won't be your everyday shoes, but they can be busted out for special occasions, just for fun or if you're feeling a bit frisky.
Silver shoes or shoes with silver tips are a great solution to this problem. Silver shoes are perfect for almost any occasion (particularly fancy ones) and should be a staple item on any woman's shoe rack. Silver shoes can be found in a wide range of styles, pretty much anything you can imagine. From stilettos and pumps to wedges, on down the list to sandals and boots. Browse ebay and you'll see some truly unconventional styles.
Silver shoes tend to conjure up images of Neiman Marcus, cocktail parties and prom. If you're looking to make a bit of a statement with your shoes, this could be your ticket. Below we'll provide a few more detail on this shoe category and also offer advice on how to match them appropriately with clothing & accessories.
Benefits Of Wearing Silver Shoes

There are many ways to wear silver toed or silver shoes. You can go with a pair of heels with a formal black dress to a dinner or party and look glamorous. You can also recycle the look with the same strappy heels plus a pantsuit at work the following day. Eye-catching and professional all rolled into one. If you really want to catch the eye go for a pair of silver glitter pumps, the wow factor will be unmistakable. What about some really shiny silver ankle boots for those events when you want to grab the lion's share of the attention?
Depending on your personal taste you could also wear a red, blue, green or even a printed dress and pair them with silver shoes. The result is a look that's hard to miss. But proceed with caution — it's not impossible to clash loudly in this way, and have your outfit fall flat on its face. Another idea: What about a gown with ample length combined with glittering studs or dangling earrings and paired with silver stilettos? The end result (when done right) is polished, sophisticated sexy and alluring — and underpinning it all is the flash of silver from your feet.
For an most understated (intentionally so) look during the day, wear silver peep-toe shoes or sandals to complement your outfit. This will give you the desired effect but it will stay remain muted enough to be considered elegant and not overly flashy. Silver sandals with a low heel are a great match with a pair of jeans for any casual outing. Throw in a handy slouch bag or tote and you're all set! When done appropriately this can look equally (if not better) good, not to mention more comfortable, when paired with a pair of shorts or Capri pants for a garden party or Barbeque.
Silver shoes are also one of our favorite options for the bridal shoe department. We're aware that this is sensitive ground, so if it's not for you, leave it as such as move on. But silver shoes can look absolutely gorgeous when worn with the right wedding dress. Ideally you want to have one that has silver embroidery or beads sewn onto them, for a nice subtle match. Silver heeled or peep-toe court shoes add that might sound insignificant in the grand scheme of things but they can add a touch of magical that makes something look fairy tail-ish. You can also easily find silver bridal sandals for those who don't trust their balance or wish to have an outdoor wedding. You needn't limit your silver footwear to bridal uses either, if they're good enough for a wedding they're good enough for anything! Particularly silver sandals have a wide range of utility beyond that special day.
Of course you needn't go all in on silver shoes with sparkles if it's not really you. There are many types of shoes that are more "normal" in all senses except for a silver toe-cap. Here is where you can remain completely understated and just have a touch of bling thrown in for good measure. The toe caps catch the eye as oftentimes the cap itself is reflective, they exude a feeling of strength and quality.
For the sportier types who are into silver, you can find sneakers and regular shoes in silver with ease. You of course can always punt to and go for whatever Nike's sleekest silver offering of the day is. More often than not Nike gets it right in the design department.
Silver, or silver toed shoes need not remain in the realm of fancy event only. Wear a more casual silver shoe to run errands or just around the house — that's the fun part, there are no rules!
Silver Shoes Brands

Some common brands that produce silver or silver toed shoes are:
Steven madden
Toms
Sarah Jessica Parker
Sketchers
Sergio Rossi
Nina
Nine west
This is just to name a few, the list could easily stretch well into the hundreds.
Conclusion
At the end of the day everyone's intuition will say different things to them — but if you're looking to make a bit of a statement with your shoes going with a silver toe or all silver look can be a great place to start. Just remember to pair them appropriately with your clothes and you'll look fresh, sleek and stylish.
Most Read