Best Trainer Socks Reviewed
last updated:
Jan 08, 2020
Training footwear is important - the type of sneaker we're wearing, its performance features and benefits that it offers us - so are the trainer socks that we wear while working out. The type of sock you put on before heading to the gym or your next training session can mean the difference between surpassing your personal best and falling just short from maximizing your potential.
This is why we're here with our brand new list of best trainer socks. We've included those that are fit for multiple different sports, from walking, hiking, running all the way to basketball and other high-impact activities. We hope that you will enjoy this guide and that you will find something that helps you achieve greatness in record time!
In a Hurry? The test winner after 8 hrs of research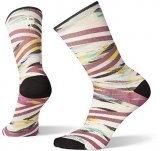 Smartwool PhD Run Ultra Light
Why is it better?
Indestructawool Technology
4-Degree Elite Fit
Shred Shield Wear-Resistance
Mesh Zones for Breathability
Seamless Toe
In a
Hurry? Editors choice: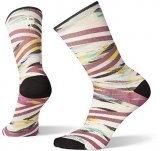 Test Winner: Smartwool PhD Run Ultra Light

4
Researched Sources
8.9k
Reviews Considered
8
Hours Researching
10
Products Evaluated
Breathability
Materials
Support
Fit
Durability
By Default
10 Top Rated Trainer Socks Reviews
1

. Smartwool PhD Run Ultra Light
Indestructawool Technology
4-Degree Elite Fit
Shred Shield Wear-Resistance
Mesh Zones for Breathability
Seamless Toe
We're taking a break from the same old' monochrome and frankly boring sports designs to bring you a pair of training socks that are every bit as cute and colorful as fashion socks are. The PhD Run Ultra Light from Smartwool features a fun design that brings a little spark to your training, though that does not make it any less impressive in terms of performance. Smartwool is known for its careful craftsmanship and advanced features that make its products one of the best there is on the market.
This design comes with the Indestructawool system that puts an emphasis on durability and makes sure it doesn't fall apart in record time. There is a 4-Degree Elite Fit technology which ensures the fit is perfect to the shape of your foot and that it doesn't compromise your performance. The Shred Shield in the toe area provides wear and tear resistance, while there are special body-mapped zones of mesh that allow for air to flow freely in and out of the design.
What this all means is that the Smartwool PhD Run Ultra Light is a breathable, supportive and durable option that also delivers exceptional comfort thanks to its seamless toe design. Bring a little funkiness and a little color into your training session and you will see how this improves your overall mood and energy levels!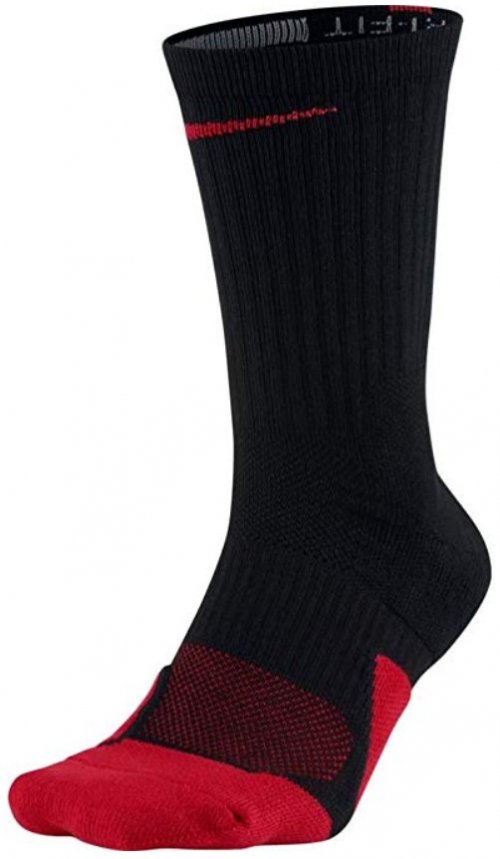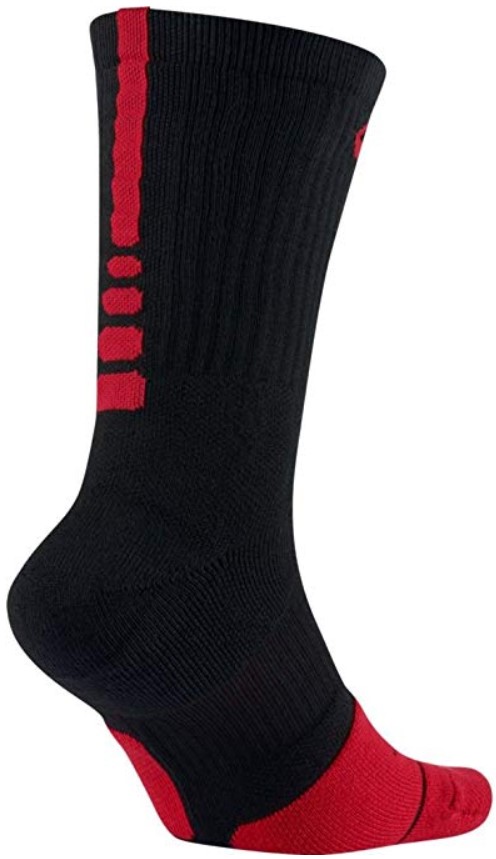 Dri-FIT Technology
Y-Heel Stitching
Cuff Doesn't Slip Down
Arch Support
Anatomical Fit
Difficult Sizing
Questionable Durability
The Dry Elite 1.5 from Nike is a design made specifically for basketball. However, this doesn't mean you can't use it for other high-impact sports such as volleyball, football and similar. It is made using the brand's signature Dri-FIT technology for moisture-wicking, special stitching that keeps it snug against the heel, and support in the arch area. The Dry Elite 1.5 is a sock that will fit you like a second skin and help you move better on the court or field.
This option is made from polyester and nylon for durability and colorfastness, cotton for a bit of softness and comfort, and finally spandex for elasticity. Its cuff is ribbed so that it doesn't slip down, and there is Y-heel stitching which makes sure that the sock fits securely without bunching up anywhere. Arch compression reduces foot fatigue and keeps you going for longer.
The Dry Elite 1.5 has left and right foot specific anatomical shapes and thanks to its color blocking it should be easy to tell which is which. If you're looking for something that won't lose its shape, that will not slip down or bunch up or otherwise cause a distraction from your game, then this option from Nike is definitely it.
Drynamix Moisture Management
Encapsulated Silver Ions
Seam-Free Construction
Arch Support & Dynamic Tension
Mimics Running Shoe Design
This no-show design may look silly at first glance with its vibrant color combinations, but the truth is that it is one of the best options on our list. The Silver from Balega is constructed to mimic the design of running footwear, thus making it a perfect option for this and other similar sports. It has numerous special features, such as a ribbed top, a moisture management system, arch support, and even silver ions from which it got its name, which provides antimicrobial properties.
The Silver is truly a design out of this world, made from a combination of polyester, nylon, and elastane. It offers a compression fit with patterns of dynamic tension to provide support in all the right places while not limiting natural movement. The Drynamix moisture management technology keeps your feet cool and dry, while the silver ions encapsulated in the sock help fight off bacteria and fungi.
This design comes with a deep heel pocket that prevents slippage, a ribbed top that ensures it stays where it should around your ankle, as well as a seamless toe that is hand-linked and provides comfort that won't cause any blisters.
Does this all sound too good to be true? Perhaps. It is true, and if your training session involves a lot of running time, we can't recommend the Silver from Balega enough.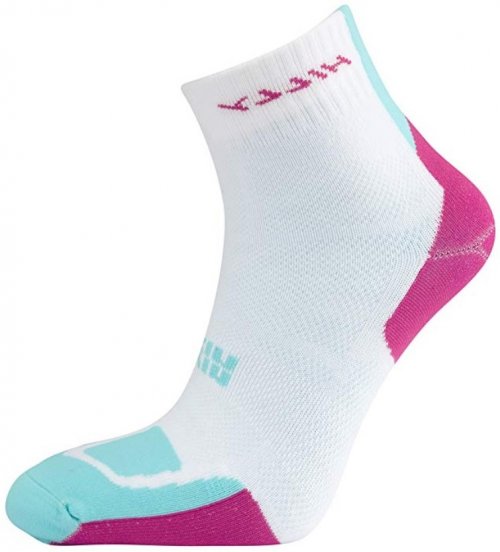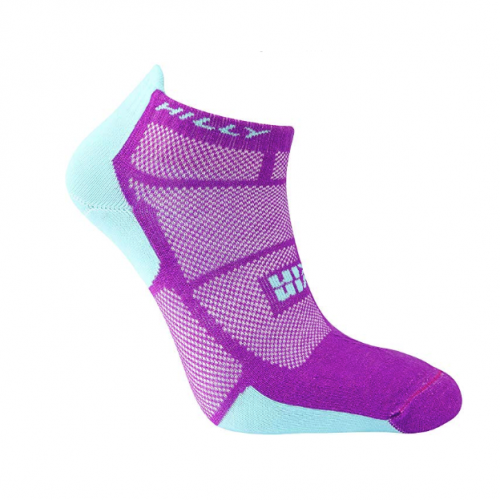 Drirelease Moisture-Wicking Technology
Meryl Sport Antimicrobial Fibers
Lycra for a Good Fit
Blister-Free
Soft and Natural Feel
The proprietary technology of Hilly is called dri-release - a type of fabric that provides moisture-wicking, a soft and natural feel, quick drying time and long-lasting performance, and that is a key feature of the Twin Skin design. Along with that, there is also an antimicrobial type of fiber for better health and Lycra for elasticity. All of this is packed together in a cute, vividly colored design that will make sure you give it your all next time you step out onto the track, field, court or gym floor.
The dri-release fabric works thanks to its different types of fibers; there are those that repel water and those that absorb it. Together, they work to move moisture away from the skin and towards the outer layers of the design so that it can evaporate. This leads to a cool, dry training session that is blister-free. In addition to this, the Twin Skin also comes with Mery Sport fibers that inhibit the development of bacteria and fungi, preventing bad odors and nasty infections.
The Lycra fibers we mentioned in the first paragraph are there to ensure a good fit, and to help the Twin Skin preserve its shape after washing. Thanks to the addition of nylon and polyester, you can be sure that this design will last for quite a long time even with regular use. The fact that none of its features can be washed out means it allows for long-term support.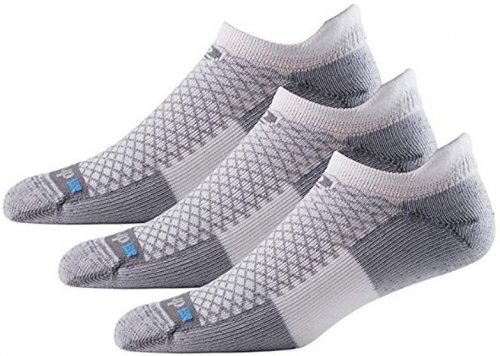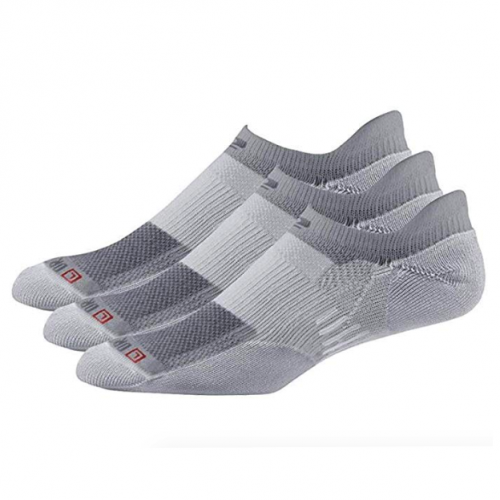 DRYMAX Moisture-Wicking System
1000 Mile Blister-Free Promise
Double Cushioning
Arch Compression
Antimicrobial Technology
Poor Ventilation
Too Thick
The main feature of the Drymax No Show design is that these are super breathable. And we mean, Super Breathable. This is largely thanks to the DRYMAX technology incorporated into these trainer socks. They also not only promise a blister-free ride but the brand has a 1000 mile blister-free warranty on the pair, which means that if you get blisters, you get your money back! We can't think of a better way to promote a superior construction than that.
These are made from drymax-olefin, which is a special knit fabric that is dual in layers. This duality allows it to move moisture away from the inner layer (close to your foot) to the outer layer where it evaporates. This DRYMAX design guarantees that your feet will be 25x drier than when wearing regular socks. Other materials included here are polyester, nylon, and elastane.
In terms of comfort-features, there is a Y-heel for a secure fit, a flat-seamed toe area, and double cushioning under the foot that absorbs shock. Arch compression and MicroZap Antimicrobial technology complete this option for a training experience that will leave you feeling energized and confident, all thanks to your socks keeping your feet happy!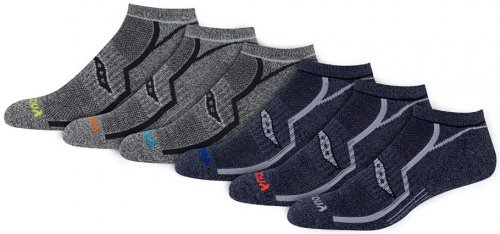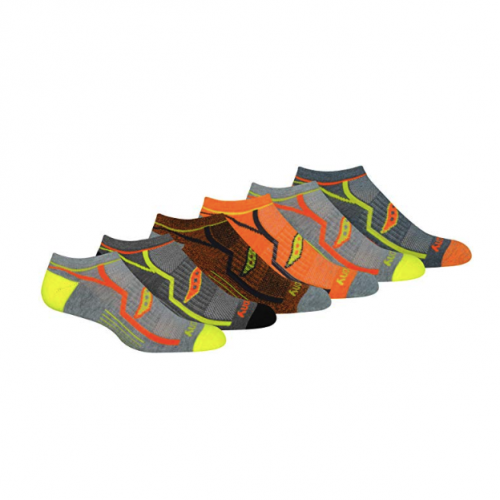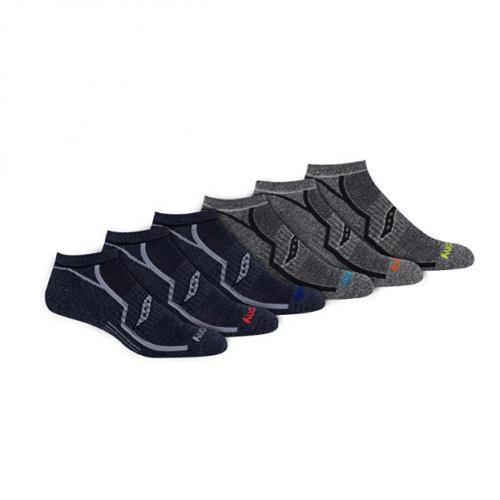 Run Dry Moisture Management
Air Mesh Ventilation
Arch Compression
Lightly Cushioned Sole
No Bunching or Slipping
Thick Toe Area
Not Too Durable
Who better to produce outstanding trainer socks than the brand which specializes in all types of athletic, mainly running footwear? The Bolt design from Saucony is here to provide you with everything you need during a high-impact training session. It has a moisture management feature, vents that allow for air to pass in and out of the design, as well as arch compression that you need to keep going exercise after exercise. To top it all off, there is also a cushioned sole that supports you throughout.
Thanks to Run Dry super wicking fibers, your feet won't feel sweaty no matter how hard you train in the Bolt. Regardless of whether it's on the road, track or in the gym, you can forget about unpleasant odors and potential infections. The mesh ventilation panels in the design increase breathability and keep your feet cool and dry in all conditions.
Support is there in the form of a carefully engineered arch which prevents bunching and slipping of the sock as well. You will feel stable and secure in the Saucony Bolt, as well as protected from impact due to its light cushioning. This cushioning is enough to absorb shock, but won't take too much space in your footwear.
If you want reliability, support, security, and insane moisture-wicking, don't skip out on the Saucony Bolt. It is an unassuming design, but one that will effortlessly keep up with you and your training regimen, and that you will love putting on because you know your feet will be comfortable throughout your workout.
Natural Mohair Fibers
Enhanced Arch Support
Reinforced Breathable Panels
Seamless Toe Design
Moisture-Wicking DRYNAMIX Technology
Excess Fabric
Too Thick for Some
If you have sensitive, blister-prone skin, then Balega has a solution for you! It's called the Blister Resist, and it is a pair of trainer socks that combine natural mohair fibers with the DRYNAMIX technology for outstanding performance and help against blisters. Along with a seamless toe box and thick cushioning, this design will help you get through even the toughest of workouts and come out feeling invincible at the end.
The Blister Resist is made from mohair which is soft and durable. These fibers are hollow inside which allows them to regulate temperature; they keep you warm in the winter and cool in the summer. They're combined with DRYNAMIX fibers that have moisture-wicking properties, as well as with mesh panels that are reinforced and designed to keep your feet sweat-free.
Friction is a thing of the past thanks to the seamless toe construction, and a deep heel pocket with a heel tab in the back will keep the Blister Resist from slipping as you exercise. The cushioning is race-tested and high in volume, which should give you just enough shock absorption to get through your game or gym time without any lasting damage to your muscles or joints. What amazing combination of technologies!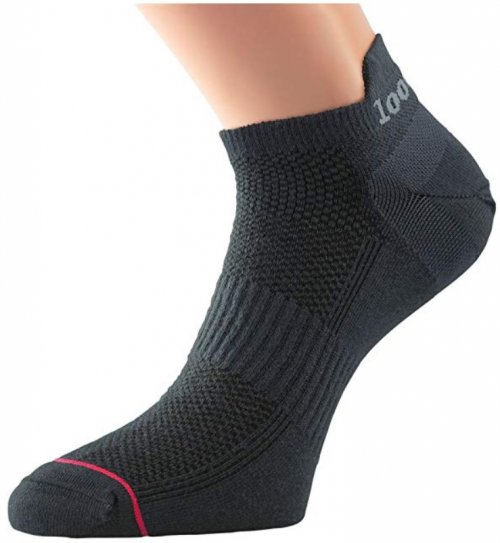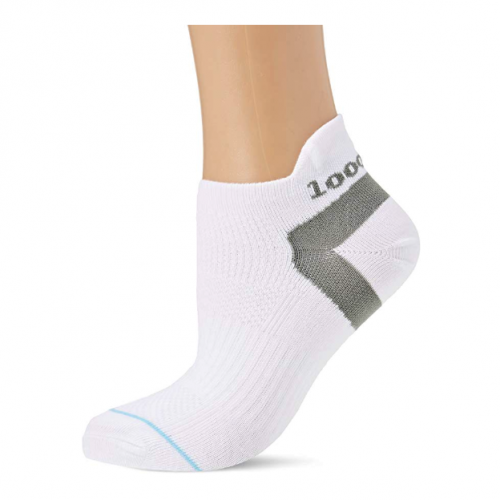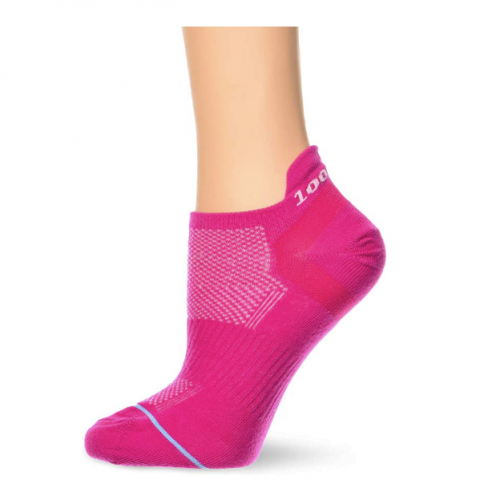 Moisture-Wicking Tactel Fibers
Top Vents for Breathability
Arch Bracing
Regulates Temperature
No Friction
The 1548 model from 1000 Mile is a design with dual layers in its construction. There is an outer layer made from cotton, nylon, and Lycra, as well as an inner layer made from Tactel, a special fabric this brand uses. 1548 also features ribbing around the arch for extra support, a heel pocket for a secure fit, as well as vents in the top for enhanced breathability.
The Tactel layer we mentioned serves to pull moisture away from your feet and helps keep them dry. We understand that cotton makes you hesitant about these trainer socks - after all, it is not a recommended type of material for athletic activities - however, the cotton doesn't come in contact with your skin and thus doesn't get to cause any problems.
These Tactel fibers along with the vents all over the top part of the design allow for temperature regulation and the special arch bracing provides support in key areas.
The 1000 Mile 1548 may not come from a leading sports brand or with carefully engineered technologies to maximize performance, but it is a design that ticks off all of our requirements for this type of sock, and for a low price it will be a great addition to your training gear.
Coolmax Xtralife Construction
Five-Toe Design
Mesh Top for Ventilation
Moisture-Wicking
Enhances Stability
Not Enough Cushioning
Too Thin
Injinji is a name well-known in the world of performance socks, and Run 2.0 is their best seller, and with good reason. This five-toe option is packed with innovative technologies that work together to improve your performance and make you feel comfortable as you exercise. There is a special Coolmax Xtralife construction, a mesh top, and of course the five-toe design that allows for maximum stability.
The Run 2.0 is made from 55% polyester, 40% nylon and 5% Lycra for a bit of stretch. The polyester and nylon ensure maximum durability and good form of the sock. The Coolmax Xtralife technology we mentioned above is a type of fiber that wicks away moisture to keep your feet dry and cool throughout the training session. Not only that, but the mesh top dramatically increases that ventilation process.
The benefits of an ultra-thin five-toe design such as this one are that you can move your toes in any way you want, allowing you to splay them naturally and arm yourself with better grip. Whether you're running, walking, playing a team sport or simply working up a sweat in the gym, the Run 2.0 from Injinji will make sure you are cool, stable and comfortable as you do it.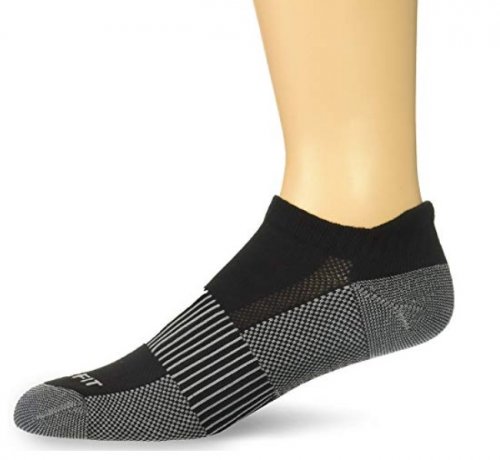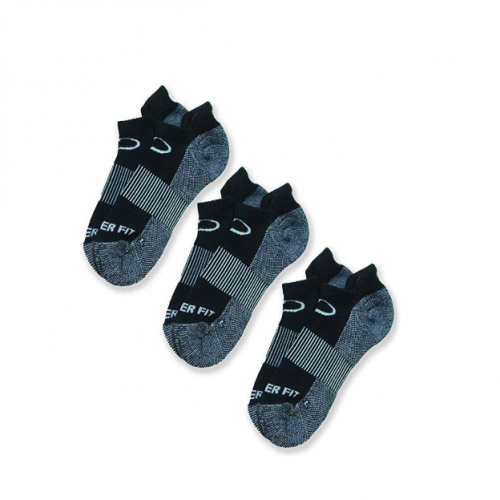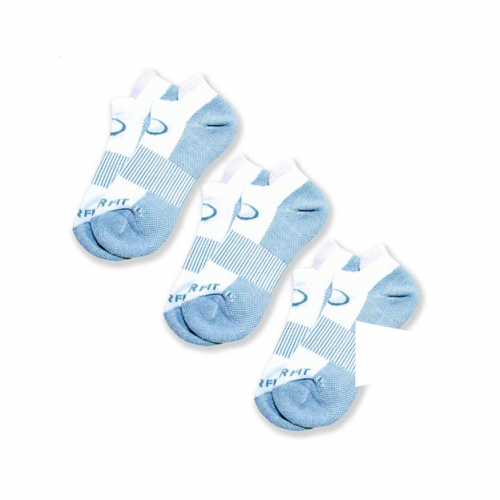 Copper Infused
Naturally Odor Resistant
Breathable Mesh Vents
Reinforced Heel and Toe
Arch Compression
Copper Washes Off
Tight Toe Area
Now here's a first for this list - and other lists of this type, let's be real - a design that has activated copper woven directly into its fabric! The Copper Fit No Show socks are copper-infused, as their very name says, which makes them naturally odor-resistant. Not only that, but this increases their durability and wear and tear resistance. The Copper Fit No Shows are great if you're looking for a design that will last you a long time and keep you sweat-free and comfortable throughout.
Other than having copper included in the construction, these are made from 100% polyester. This makes them wonderfully durable and colorfast, but it also means they're not very stretchy, unfortunately. In terms of support, there is arch compression, as well as extra cushioning in the sole area to make sure your joints don't suffer from the impact on your every heel strike.
Breathable mesh vents on the top keep your feet cool and dry, while a heel tab stops the design from slipping down. Durability is enhanced even more thanks to the reinforced heel and toe areas.
The Copper Fit No Show is certainly unique in its material - and mineral - selection. These are not your run-of-the-mill athletic choice, but this is exactly why you should try them out. For a relatively low price, we hope that you will enjoy all the benefits of copper in this amazing construction.
Criteria Used for Evaluation


Breathability
Breathable designs have mesh incorporated into their construction, as well as moisture-wicking technologies to reduce sweating.
In this section, we will cover two important features trainer socks must have: breathability and moisture-wicking. The former represents the amount of air the design lets in, consequently keeping your feet cool and allowing heat to escape. The latter is about pulling sweat and other excess moisture away from your skin and to the exterior so it can evaporate, keeping your feet dry.
Both of these are essential when it comes to socks for athletic use.
Breathability is mainly achieved through the use of breathable materials. Mesh, for example, is one common feature that almost all designs in our list have. However, the mesh is lightweight and not quite supportive, and this is why there is no entire sock made from mesh.
Instead, the mesh is incorporated in the form of strategically placed panels which allow air to easily pass in and out and to cool down your feet while you exercise.
Moisture-wicking, on the other hand, is achieved through the use of various moisture management systems and fibers. Almost every brand that's worth it will have a system of this kind that will help maintain a dry environment in your gym trainers.
While looking into every one might be useful, we're here to tell you that ultimately the details of each brand's technology are not so important. What is important is that you find what works for you, whether it's a special system or a type of fabric or something else entirely.
Sweaty, overheated feet lead to several issues both short term and long term, and getting a good, breathable and moisture-wicking design of this kind should not be overlooked.


Materials
Look for polyester, nylon, and Lycra in this type of socks.
Since a sock is made entirely out of fabric, it is understandable that the type of material it's made from determines a lot of its features. Some of the features include the design's durability, breathability and moisture-wicking, compression levels, comfort levels, colorfastness and so on and so forth.
You absolutely do not have to be well-versed in the world of materials before you commit to a purchase. However, we will offer you a short run-through of the most common ones, while we outline the pros and cons of each and try to explain why exactly they're a good or a bad choice for trainer socks.
Polyester: This is an entirely synthetic material which, right off the bat, means it is not quite environmentally friendly. However, polyester is amazingly durable and colorfast. The colorfastness means it retains color well and that it won't fade even after multiple washings. Polyester may not be as breathable as cotton, but it also doesn't absorb moisture, making it the number one choice of material for most designs of this type.
Nylon: You will rarely, if at all, see a sock made entirely out of nylon. This is also a synthetic material, not unlike polyester, with the added benefit that it is extremely durable. And we are talking about wear and tear resistance that you wouldn't believe. This is why high-quality designs feature a small (or a larger) percentage of nylon in their build, to keep them from falling apart in a short amount of time.
Spandex/Lycra/Elastane: The same way that there isn't an entire sock made from nylon applies to spandex as well. There is no 100% (rarely even 10%) spandex sock.
So what is this Lycra/spandex/elastane, exactly? This is a highly elastic material that stretches if pulled apart and then quickly goes back to its original shape when let go of. It's what helps your socks stay close to your feet without bunching up or slipping down, and what helps them retain their shape wear after wear. Designs that feature a percentage of spandex in them allow for a better fit and higher levels of mobility.
Cotton: Finally, we have a material that should be avoided if you're looking for a design to wear to the gym. Cotton is a natural material that is soft and comfortable, as well as breathable.
However, it has an unpleasant tendency to retain moisture. Consequently, the material becomes damp or wet and your feet also become damp or wet. Even worse, this leads to your feet feeling cold, which is something that absolutely can't happen, especially if you're exercising outside in unfavorable weather.
Thus, try to stay away from cotton if possible, and choose a design featuring one or more of the three materials listed above instead.


Support
Arch compression provides much-needed support during exercising.
How can a sock offer support? Isn't that reserved for footwear with contoured footbeds and special midsoles and stability features? Well, yes and no. The support a sock can provide is nowhere near close to the type of support a shoe may offer, however, that doesn't mean it can't play an important role in the process.
The support of a sock usually comes in the form of arch compression, as you may have gleaned from our list. This is an especially tightened area around the arch and instep of the foot which, through this compression, enables your feet to feel more supported and more stable.
Arch support is essential in staving off foot fatigue and allowing you to use the most out of your training session. Your feet will feel less tired and you will be able to perform better.
Other than the arch compression, support can also be found in other features, such as a five-toe design which allows for an evener distribution of weight, or a full-length sole cushioning that absorbs shock and keeps your joints and muscles happy.
While it is true that footwear provides much higher levels of support, you shouldn't underestimate the benefits of a good sock, either. Try out a design or two with arch compression and see just how much better your feet feel when you take off your trainers at the end of a satisfying workout.


Fit
A good fit is one that isn't too tight or too loose.
The fit of a sock is just as, if not more, important than the fit of your footwear. The reason for this is that, if the sock doesn't fit well - even if your footwear does - you will experience quite a lot of discomfort or even injuries because of it.
Your trainer socks should fit you snugly, but shouldn't be too tight. If they're digging into your skin in any way, leaving dents or even lacerations, it means they're too tight and you shouldn't wear them. A tight fit can lead to even more issues, such as a cut-off blood flow that leaves your feet feeling cold or numb as a result.
In the same vein, the design shouldn't be too loose, either. A loose fit opens the door for your sock to slip down and bunch up, which can cause blisters if you keep exercising with excess material in your footwear. You also might have to keep pulling your socks up, which is just frustrating.
To make sure that the design you're getting fits right, consult the brand's size charts carefully if the brand has them.
Moreover, opt for those which have some percentage of spandex or Lycra or elastane in them. We talked about this in our Materials section, but socks with some stretch to them fit much better than those without. They will be able to conform to the shape of your foot and accommodate it without limiting your range of motion.


Durability
Most durable options are those made from polyester and nylon, as well as those which have reinforced areas.
If you're exercising regularly, say at least three times a week, you will want to know if the new pair of trainer socks you're getting can withstand this. After all, this is a fairly frequent use and it can get hard even on your footwear, let alone on something made of far less and far thinner materials.
The durability of a design mainly comes from the type of material it is made from.
As we touched on in our Materials section, polyester and nylon are absolute champions in durability. These can withstand regular use, regular washing, and still look as good as new even months later. If you're after a long-lasting design, then look for these.
There are other features that can enhance the durability of the design as well, such as reinforced areas. We've seen this in a couple of our items: reinforced heel and toe, for example, which means that the socks are particularly durable in these areas.
Of course, even this type of durability has its limits. If you happen to snag your socks on something, chances are you will pull a thread or make a hole in them.
If you happen to receive a flawed product, this also may affect its durability. Which is why it is important that you check the socks over as soon as you get them, to make sure no threads are sticking out and that all of the seams are in the right place.
Fortunately, most of the options on our list are not expensive, or they come in packs of several pairs. This means that, even if your new socks happen to fall apart in some way, you will have plenty of opportunities to replace them.
Expert Interviews & Opinions
Most Important Criteria
(According to our experts opinion)
Experts Opinion
Editors Opinion
Users Opinion
By Default
Other Factors to Consider


Bottom Line
If you're new to the world of trainer socks, we understand how all of this might seem a little overwhelming. So many different brands, sock heights, shapes, designs, colors, technologies! Enough to give anyone a headache.
In our Criteria section, we tried to explain our reasoning behind choosing these exact 10 best trainer socks for our guide, and what you should be looking for when you're shopping. You don't have to learn all of this by heart or worry about it too much, but a little extra information never hurt anybody.
The most important thing is that you get a design that works for you. Consider the type of sport you're engaging in and whether or not you're training indoors or outdoors. Opt for something light, breathable and supportive and you will have no problems.
If you have any more questions on the topic, feel free to check out our FAQ section below. We hope that you will quickly choose a design that you love and that will help you improve your performance in no time!
Frequently Asked Questions
q:

Why is cotton not good for exercising?

a:

As we talked about in our Materials section, cotton has many benefits but also one fatal flaw: it absorbs moisture. Cotton which absorbs moisture becomes damp and cold, thus making your feet damp and cold as well. This is not a favorable situation when you're exercising, as it throws your body temperature out of balance and increases your discomfort.

Not only that, but damp cotton like this increases friction and may cause blisters.
q:

What about wool socks?

a:

Wool socks are an amazing choice overall. Wool is not a common material for trainer socks, but it is temperature regulating, comfortable and moisture-wicking. Some sports, such as hiking and climbing, welcome wool since it has the wonderful ability to keep you warm in winter and cool in the summer.
q:

How do I take care of my trainer socks?

a:

All of the options on our list can be machine washed. Some of them are more durable than others, and you would do well to check out the manufacturer's instructions on the item you purchase, to make sure that your socks won't shrink, lose shape, develop holes or otherwise lose some of their advanced features in the wash.
q:

Can I train without socks?

a:

This entirely depends on what your sport is! If you're going barefoot overall, such as running on the beach, playing football in the grass or something similar, if you're confident that you won't hurt yourself by going barefoot, then by all means!

However, if you intend on using footwear, especially a trainer type shoe, we advise you to reconsider. Exercising in sneakers without socks means there is no protective barrier between your skin and the somewhat hard materials of the shoe.

Additionally, there are no benefits you would have from a sock, such as moisture-wicking or antimicrobial properties, which might lead to the development of unpleasant odors and perhaps even foot infections.
q:

Are these products expensive?

a:

The cost of a design depends on its brand name, the quality of its materials, and the features it offers. It goes without saying that those from a big-name brand will have a much higher price than those from lesser-known labels.

So, to directly answer the question: it depends. In our list, we've included many different options, those which are a bit higher in cost, but also those which are affordable for any budget. We're sure you will be able to find at least one that works for you.