Best Striped Tights & Stockings Both Chic And Kooky Reviewed
last updated
Feb 18, 2019
With the Autumn months creeping up it's time to think about investing in some warmer clothing. But just because the weather's cooling off doesn't mean your sense of fashion has to! Tights and stockings are the perfect way to accessorize your favorite skirts and dresses while also adding some much-needed warmth. They come in all sorts of colors, patterns, and designs which makes them perfect for showing off your individuality.
This is the best product on our list that is currently in stock:

Zando Tube Dresses
Why is it better?
Triple Stripe Design
Multiple Colorways
Versatile
90% Cotton
In a
Hurry? Editors choice:

Test Winner: Zando Tube Dresses

2,700,
Reviews Considered
Comfort
Durability
Features
Materials
Style
By Default
Top 10 Picks
1

. Carnival Full-Length Microfiber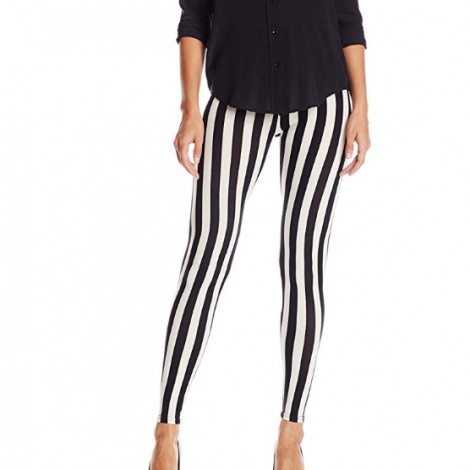 FUll-Length
Thicker
Multiple Color Variations
Easy Care
These full-length stockings offer a buttery soft next-to-skin feel that's stretchy enough to wear comfortably for hours on end. They fit perfectly and are available in sizes small through extra-large so there's an option available for ladies of all silhouettes. They're thicker than most stockings so you won't have to feel overexposed while wearing them.
Soft material
This pair is made from 95% polyester and 5% spandex for an ultra deluxe and cushiony feel. The 5% spandex provides just the right level of hold to prevent any slipping or falling down. This allows for a free range of motion without having to worry about your tights falling down. They're hand washable for easy care and can be hung to dry making them a fuss-free pair.
Variations
These Carnival stockings are available in over 10 color and pattern variations. You'll have no trouble matching them to your favorite outfits thanks to their many choices. The great thing about these is that they're form fitting for an ultra sleek appearance that you'll feel comfortable wearing for any occasion.
Cost and Value
These stockings are very reasonably priced and offer a super cute style and high-quality design. Their full-length silhouette and thicker material keep you well covered so you won't have to feel Overexposed while you're wearing them. They're the perfect addition to any outfit and look super cute with just a long shirt over top of them.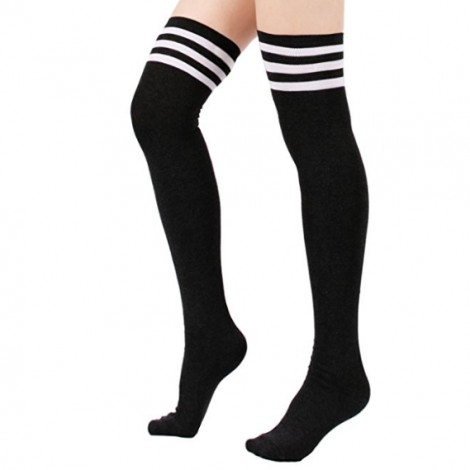 Triple Stripe Design
Multiple Colorways
Versatile
90% Cotton
These Zando stockings are made from 90% cotton and are very fashionable making them perfect for everyday wear. Zando is notorious for their high-quality products that are thick and durable for a long-lasting wear. These super cute tights are perfect to wear with a mini skirt and will keep you comfortable for hours on end. They feature a cute three stripe top that matches almost any outfit.
Comfort
These tights are ultra comfortable and provide a highly elastic design. They're made from 90% cotton and are super stretchy so you won't have to worry about them being too tight against your skin. The upper elastic bands keep them securely in place so there's no slipping or falling down throughout the day.
One Size
These Zando's are a one-size-fits-all pair. This makes for easy purchasing so you won't have to worry about getting the wrong size. They are very stretchy and conform to the shape of your leg with ease. Once they've adjusted to your size they hold true to form and stay put without slipping down no matter if you're running, skipping, or walking.
Cost and Value
These are another reasonably priced option that offers great style and incredible value. They're available in more than five color variations so you can choose the ones that are best matched to almost any outfit in your closet.
3

. Tipsyelves Neon Rainbow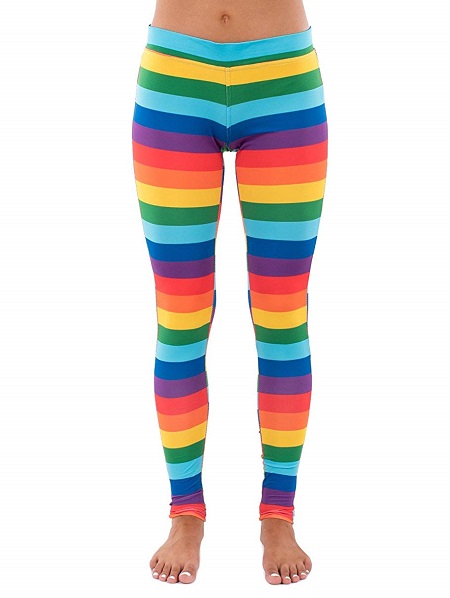 Wide Range Of Sizes
Polyester Material
Machine Washable
Opaque
Whether you plan on wearing them for a Pride event Or just want to add lots of color to an outfit, these tights from Tipsyelves are the way to go. These are made of 95% polyester rather than nylon, making them more durable than most tights On the market. They are also machine-washable and easy to care for.
Machine Washable
Dons anyone really know what all of those care symbols on clothing tags mean? More often than not it's far more convenient to simply put them in the wash with everything else. Of course, as anyone who has put a wool sweater into the dryer only for it to come out cat-sized can attest, Simply putting things in the wash is not always advisable. With some tights requiring specialized care instructions, Seeing these tights advertised as machine-washable is a pleasant surprise. Ideally, you should wash them in cold water to prevent color fading, and dry flat to keep them in good shape.
Wide Range of Sizes
Tights often only come in one or two sizes: one-size-fits-most and extended. Of course, what determines each size depends on the brand, as one brand's definition of "extended size" could be very different from that of another brand. This is why Tipsyelves used an easy to understand sizing system ranging from XS to 2XL. This makes it easier to find the right size for you, without having to fuss too much with size charts and the possibility of having to exchange them for a different pair.
Cost and Value
These tights are priced similarly to others, and unlike them, the price won't change depending on what size you choose. What makes these stand out is how easy they are to care for, and how easy it'll be to find the correct size for you.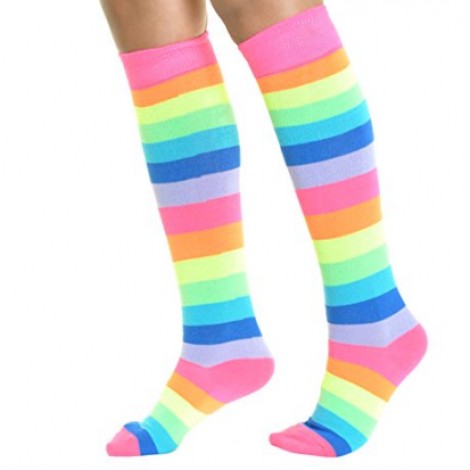 Funky Colors
Multiple Variations
Knee High
20% Spandex
The Angelina Knee High boasts a bright striped pattern that's bold and beautiful. This pair is eye-catching thanks to its brilliant color scheme that's available in several patterns to match with every style. They're super comfortable and are made from 80% acrylic and 20% spandex for the perfect fit every time. They're available for women and children alike with a one-size-fits-all for the ladies. This pair is easy to care for and can be machine washed and even dried on a low setting.
Funky Colors
These Angelina stockings come in fun and funky colors that are super bright. They're perfect for letting your individual personality shine and are a welcome change to the usual pairs. You'll enjoy having fun while wearing these and can pick and choose between several pattern and color variations for a look that's uniquely you.
Spandex
Spandex Is a synthetic material that's known for being exceptionally durable and long-lasting. Its extreme elasticity is ideal for tights and stockings alike because it ensures that they stay perfectly in place without sliding down throughout the day. There's nothing worse than having your stockings constantly falling down, but thanks to this pair you can roam freely without concern.
Cost and Value
These Angelina knee-highs are very affordable and offer great value for their low price. If you enjoy wearing fun and funky colors then this is the ideal choice for you. They boast a bold striped pattern and brilliant color scheme that comes in several variations so you can pick the one that's best for your individual sense of style.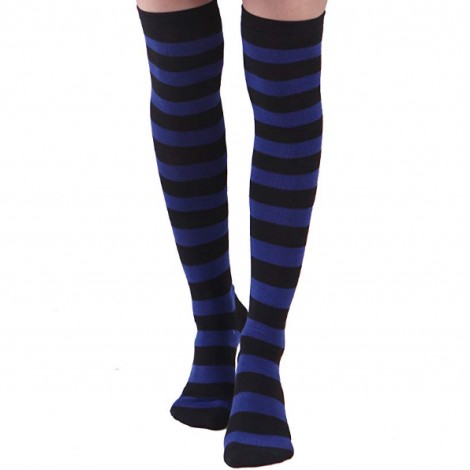 Above The Knee
Multiple Colors
65% Polyester
35% Cotton
These HDE stockings will add some color to your wardrobe and are a stylish pair. Their poly-cotton blend material provides a soft and airy feel making them a great accessory to match with a warm pair of boots. They are available in over ten multicolored variations so you'll have no trouble matching them with your favorite outfits.
Materials
These stockings are made from 65% polyester and 35% cotton blend. This mixture creates a soft combination that's both lightweight and airy. They're thicker material is perfect for keeping you warm when the weather outside gets cold and will be the ideal addition to any pair of winter boots.
Color variations
These HDE stockings are available in over 10 color variations ranging from blue and black to orange and yellow, with everything in between. You'll have no trouble matching these to your favorite outfit and will be able to pair them effortlessly with almost anything in your wardrobe. You'll enjoy the versatility of wearing a pair of these stockings that are warm, stylish, and perfect for any occasion.
Cost and value
This is another low-cost option that's perfect for women on the go. You don't have to sacrifice quality just because they're relatively inexpensive! These stockings are well-made and will last for quite some time thanks to their strong poly-blend materials.
6

. STYLEGAGA Casual Knee High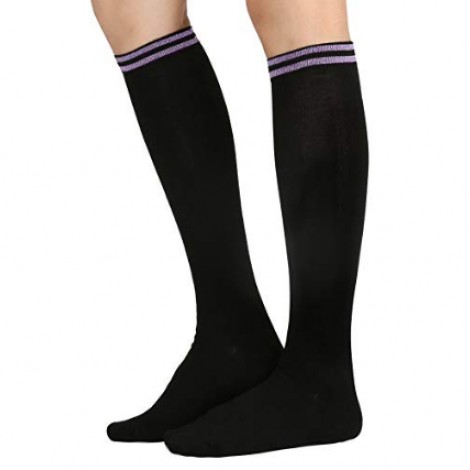 Glitter Stripes
Knee High
Footed
10% Spandex
The STYLEGAGA Casual Knee High is a super-cute pair that's perfect for almost any occasion. Go ahead and wear them while you play your favorite sport or with your new mini for a casual outing with the girls. These one-size-fits-all stockings come in multiple colorways including a sparkling double stripe that glitters in every light.
Design
These footed tights sit just above the knee and offer a soft next-to-skin feel. They're made from 90% cotton and 10% Spandex which makes for a great pair! The Spandex keeps them firmly in place and prevents any sliding while still keeping them comfortable enough to wear all day long.
One Size
Their one-size design is very convenient and works well for this pair. They fit sizes XS through to mediums quite nicely, though anyone needing a large might find them a bit snug. These are ideal for wearing with a miniskirt or a pair of athletic shorts and will definitely work well as an accessory to almost any outfit.
Cost and Value
This pair comes in both single and double packs so you can save even more by buying two for a lower price. They're very affordable, to begin with, and provide an enjoyable environment for your feet to ride in.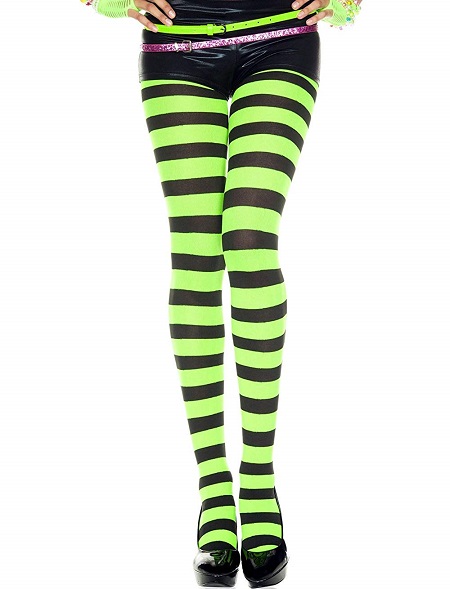 Opaque
Wide Range Of Colors
Extended Sizes Available
Fade-Resistant
A staple of Halloween costumes, these striped tights from Music Legs are available in eight color options, with certain colors being available in extended sizes as well. The fully opaque coverage means that the colors will be bright and consistent, and the nylon material is comfortable on your legs.
Extended Sizes
Tights are often a one size fits all product. However, we have come to realize that one size doesn't actually fit everyone. Everyone's body shape is different, so it makes sense that tights should be offered in more size options. This is why these Music Legs tights are also available in plus size, which is great for taller or heavier individuals.
Vibrant Colors
Striped tights offer unique styling and bright colors that may not be available in typical nylons. Not only do these tights come in right colors- from basic black and white to vibrant reds and pinks- but they are also machine-washable and the color isn't going to bleed or fade.
Cost and Value
While the price will vary based on the size and color, these tights are overall priced similarly to others on this list. Where these stand out is the wide range of color options, as well as the easy care instructions and color longevity.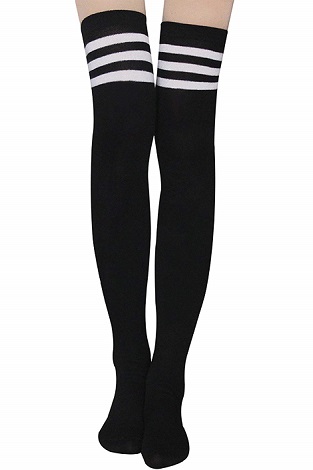 3 Upper Stripes
80% Polyester
Soft On Skin
Elastic Tops
This knee-high pair is made from 80% polyester for a more fully-covered look. You won't see any skin peeking through these thicker stockings that are perfect to pair with a cute miniskirt or form-fitting pair of shorts. They're athletic in design and won't slide down while you move. Go ahead and run wild in these super-chic accessories.
Elastic Banding
These tights have an elastic top that keeps them perfectly in place. You won't need to worry about them sliding down through the day, even with strenuous physical activity. This pairs makes for effortless wear and is very practical.
Fashionable
This pair is super cute and features three upper stripes that are easily matched with almost any outfit. Try them with your favorite denim skirt or mini dress for an effortlessly chic look that's too cool. They also look great with shorts for a more athletic vibe.
Cost and Value
You'll enjoy the affordability of these stockings! They're a very reasonable price and offer a completely comfortable feel that's enjoyable to wear. Look and feel your best in a pair of these tights that are ready to take on any occasion with style.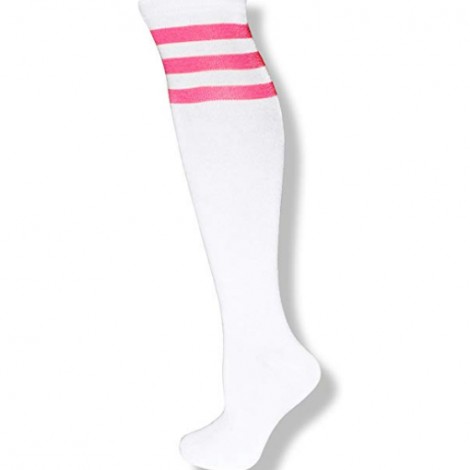 Neon Colors
Knee High
Sheer Nylon Material
Athletic Style
The Neon Nation Team Tube is guaranteed to keep you satisfied! They offer a comfortable stretch fit that conforms to your shape for the perfect stay-put wear. They are athletic in design though they're ideal to wear for almost any occasion. Go ahead and match them with your favorite go-to looks for a cool new vibe. You'll love the different colors available which are all neon shades for a bright appearance.
Comfortable Stretch Fit
This pair is made using a comforting stretch-fit blend of cotton and nylon. This makes for a lightweight and airy structure that's perfect for wearing when the warmer weather is upon us. Designed to provide an athletic and performance geared option, the Tube Dresses is great for sporty girls on the go.
Appearance
These ones have a solid white silhouette that's offset by three neon stripes which wrap around the cuff. Their totally cool to look at and allow for excellent light refraction which puts you in the hot seat, when it comes to attention, that is.
Cost and Value
This pair is completely affordable and offers a good value for the money. The material is a little thin and you'll need to use a gentle touch while washing them. Overall these ones are very comfortable and you'll enjoy wearing them thanks to their soft next-to-skin feel and sheer nylon silhouette.
10

. Sky Hosiery Fun Striped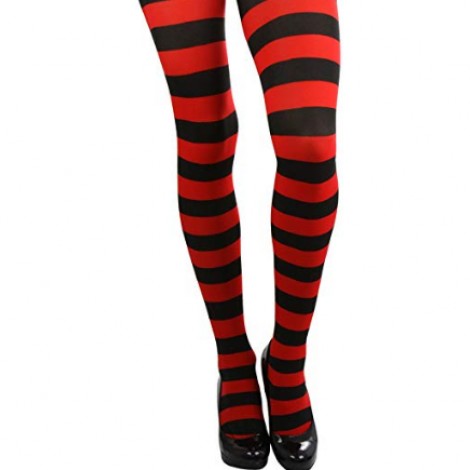 100% Nylon
Different Colorways
Stretchy
Affordable
Extra Care With Thin Material
The Fun Striped from Sky Hosiery is a lighthearted choice that's made for ladies with a larger frame. It comes in one and two packs so you can double up on pairs and save more money and who doesn't like to save! Wear these with any costume including witches, clowns, dolls, or even on Valentine's day too!
Plus Size
These plus sized tights are a one-size-fits-all pair that comes in a size large only. They can comfortably fit sizes up to 225 pounds or as tall as 5'10 and are made from 100% Nylon for a stretchy wear that won't restrict you in any way.
Versatility
This pair can double as a cute accessory to almost any outfit, or as a funky addition to your next costume. Match these with your Wicked Witch costume or your "hot police lady" getup. These are a fun loving, light-hearted choice that's as fun to wear as it is gorgeous to lay your eyes upon.
Cost and Value
This pair is totally affordable and offers a good value for the price. They come in one and two packs so you can even double up to save more money. This is a great addition to any wardrobe and will have you looking super cute no matter where you roam.
Criteria Used for Evaluation


Comfort
When it comes to any type of apparel, from shoes to clothing to tights, comfort and fit should be at the forefront. Ill-fitting tights will be very uncomfortable and in some cases can be more likely to tear or run than those that fit correctly. There are two major things to look at when it comes to determining the comfort level of a pair of tights; the overall fit and the materials used. Let's take a look at both of these in a little more detail, shall we?
Fit: Tights, similar to socks, are often considered a one-size-fits-all item. More accurately they should be described as one size fits most, as there will be people whose sizing needs fall outside of these guidelines. Those who are taller or heavier will have different sizing needs, for example. If this is a concern for you, it's best to look at consumer reviews of the tights to see how They fit in real-world situations and look at the size offerings. Some tights will be available in extended or petite sizes in addition to standard sizes.
Material: The majority of tights are made from nylon, which is a thin and super lightweight material. Of course, some tights are made of fabrics such as cotton or polyester, though these are often the exception rather than the rule. Materials will play a big part in comfort, as some people are sensitive to certain materials or textures. Thicker materials such as cotton are also best suited for cold weather, as they will more properly insulate your legs than nylon can.



Durability
Durability may not be the first thing on your mind when looking at tights, but it's more important than you think. Tights and nylons are made of much thinner materials than socks or leggings and as such, they are more likely to face damage. After all, finding a run or tear in your favorite tights is no fun. The care instructions must also be taken into consideration, as not all tights will adequately survive a washing machine or dryer. Look at the packaging for the specifics, but a general rule of thumb is cold water and dry flat.


Features
Elasticity: One of the most important features to consider with this accessory is the kind of elasticity that it offers. Having a pair with inadequate elasticity means that they'll fall or slide down your legs repeatedly all throughout the day. This can become very annoying over time and can ruin your whole look. Look for pairs with an elastic at the top cuff which will hold them in place the best and keep them from sliding down. The top cuff is the best place for the elastic to be placed. Spandex is an excellent material for a pair of stockings to be made from because it's very elastic-like in its structure and will stay perfectly in place without pulling too tightly.
Shaping: Pairs designed to help shape your figure are perfect for the last minute slim down! They work by providing extra support to the spots that need it the most like the tummy, thighs, and butt. The only downside to these kinds is that they fit fairly tightly and may feel a little restrictive for anyone who isn't used to them.
Thigh High: Thigh highs are different than full-length stockings because they do not connect at the crotch. Instead, they're simply like a really high pair of socks. This style is becoming one of the more popular and is considered to be more youthful than full-length ones. Some have a closed foot while others do not. Footless pairs are often worn overtop of the shoe like a legwarmer and are very much in style right now. Thigh high choices must have a good elastic to hold them up or they will definitely slide down your legs when you move.
Knee High: Knee-high options are pairs which only rise to the knee and can sit overtop or just below it. These pairs are considered to be very stylish, just like the thigh highs. The only issue with these is that they tend to fall down which is why you'll need to ensure that they've got a good elastic top or are made from a material like Spandex.
Full-length: Full-length pairs join together as a solid piece! They are footed and extend all the way up the legs where they join at the crotch just like a pair of pants. Full-length pairs can be made into a control-top but can be difficult to put on and take off. These pairs are usually thinner, overall and are often sheerer than a knee or thigh-high.
Footed/Unfooted: The difference between a footed and non-footed pair is simply whether or not it extends around the entire foot. Full-length pairs are usually always footed, whereas knee and thigh highs can be either. It's a matter of personal preference whether or not you like a footed pair. There are no clear benefits to either choice which outways the other.


Materials
Prints/Colors: Stripes come in multiple different styles including horizontal, vertical, zig-zag, and angular. They range in colors and can be found in almost any hue you could think of. The most common colors used are black and white stripes which are usually offset by a solid colored background. Some of the most popular kinds right now are neon or brightly colored patterns. Neon pink stripes with a white background, or Bright yellow with a black backdrop, the possibilities are limitless.
Thickness: Stockings come in varying level of thickness which can range from nylon-like to a thick wool. When the weather is cold it's a great idea to opt for a warming pair that's made from thick materials like cashmere or wool. You can wear a pair underneath your pants for added insulation and warmth to protect yourself from the harsh elements. In the summer most people opt for a barely-there feel which will usually consist of mesh or nylon. These materials allow for adequate airflow and prevent overheating. When your legs and feet get too hot they will excessively sweat which leads to a build-up of odor-causing bacteria and is very uncomfortable.
Opaqueness: This refers to how solid the color tone is and whether or not it's at all sheer. When something is sheer it's essentially almost see through and will leave your skin quite visible through the materials. Nylons, for example, are very sheer as you can almost completely see the skin beneath them. Leggings are the least sheer type of form-fitting legwear and can even be worn without anything else covering them.
Weather Protection: Being warm during the colder months is imperative to your overall health and can affect you drastically. If you're exposed to the cold it increases the chance of developing a cold or the flu and can even put you at risk of hypothermia. Tights are a great way to add some extra warmth to your wardrobe and can be worn underneath your other clothing for an additional layer. Wool and cashmere's are the best materials for insulating and keeping your warm, though sherpa is also a good choice. Materials to avoid are mesh and nylon because they really won't provide the kind of protection or warmth you need. Stockings can also help to keep you drier when it's raining by acting as another layer which shields you from the rain. Once the water soaks through the first layer of clothing, instead of reaching you, it would then have to go through another layer of material.


Style
Tights, like their thicker cousin the legging, are available in a wide range of colors and styles. Even striped tights have a surprising amount of diversity to them in color and cut. Consider what you'll be using the tights for; black and white stripes may seem basic on the surface but if you're going for a Beetlejuice look they will fit the bill perfectly. Striped tights come in a wide range of colors and cuts, making it possible to find the right pair For your needs.
Expert Interviews & Opinions
Most Important Criteria
(According to our experts opinion)
Experts Opinion
Editors Opinion
Users Opinion
By Default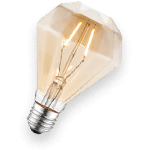 Stripes For Fun!
Not only are striped tights and socks a great fashionable choice for hosiery, they can make an outfit more playful as well. Stripes with rainbow coloring are great for both cosplay or to hide under dresses and skirts, while other opaque vertical striped leggings or tights are trendy and an appealing choice for making a statement!
Hosiery Care
While care instructions for your hosiery or socks can differ depending on the materials used, it's usually safe to throw them into the washer with other clothing.
Thin hosiery and tights may have runs that you can fix before they spread with a drop of clear nail polish at the start and end of the run.
Frequently Asked Questions
q:

What's the difference between nylons, stockings, and leggings?

a:

Nylons are very thin and sheer by design. They will easily run and must be handled with a gentle touch. This style is most commonly worn by professional women around the office. Leggings are the thickest of the three form-fitting styles of legwear and can even be worn without anything else overtop of them. Stockings fall somewhere in between the two and can vary in thickness, as well as, opaqueness. Most stockings will provide some degree of covered and won't be completely sheer like a nylon would be. Stockings are generally considered less professional and come in the most varieties of colors and designs.
q:

How can I prevent tears or runs?

a:

Gentle handling is the key to preventing tears and runs. Making sure that your nails are trimmed will help too because long nails will easily snag and hook the material. As for washing, you can hand wash them and hang them to dry, just be sure to hang them out of the direct sunlight because hanging them in the sun will cause fading. Stockings, in general, are more durable than nylons and won't snag as easily though, depending on the material that is. Thicker and heavier materials like wool and cashmere will be less likely to snag than nylon.
q:

How do I best care for my stockings?

a:

Handle them with care and be sure to follow any washing instructions on the label. Hand washing is always the safest option, though depending on the material, machine washing on a gentle cycle may be fine as well.
q:

Will I be warm in the winter if I wear a skirt with tights?

a:

You will be much warmer than you would if you were wearing a pair of nylons! Though you won't be as warm as if you were to wear them underneath a pair of pants. That's the best way to beat the winter chill! Remember to opt for a pair that's made from the warmest and thickest materials available like wool or cashmere. These have the dentist weave and will keep you shielded from the cold the best.