Best Starfish Shoes To Hit The Boardwalk In Reviewed
last updated:
Feb 06, 2019
Starfish are beautiful sea creatures that come in many vibrant colors which is why many people enjoy wearing footwear with sea star accessories and detailing. These kinds of shoes can be amazing to look at because they're often adorned with crystal gems and rhinestones that shine under both natural and artificial lighting. They also come in many colors to match the natural appearance of the starfish which can make for quite a gorgeous design.
We've carefully researched to bring you a guide to the top ten echinoderm-inspired pairs to help you in choosing the one that's right for your sense of style. We have also included a breakdown of the criteria used to select the top pairs, as well as, answers to some of the most frequently asked questions on the topic.
This is the best product on our list that is currently in stock:

A Bidda Bling Wedge
Why is it better?
1 1/2" Wedge
EVA Midsole
Crystal Details
Easy Wearing
In a
Hurry? Editors choice:

Test Winner: A Bidda Bling Wedge

3
Researched Sources
1079
Reviews Considered
4
Hours Researching
10
Products Evaluated
Accessories
Style
Comfort
Midsole
Value
By Default
Top 10 Picks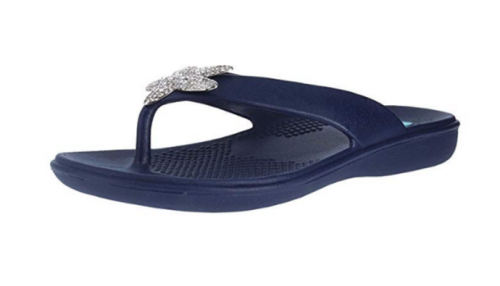 Six Colorways
Microplast Footbed
Massage Beads
Budget-Friendly
The Oka-B Oliver is the perfect pair of summer sandals that come in six stunning colors: sapphire, chai, twilight, sea glass, peacock, and coral. Try matching them with a flowing summer dress for a boho-chic vibe thanks to their thong design and beautiful rhinestone starfish detail. These flip-flops are as comfortable as they are lovely and are sure to turn more than a few heads when you stroll by.
The Oliver boasts an impressive footbed made from microplast, a flexible and supple material that provides all-day comfort. It offers excellent arch support so you won't have to worry about tired or achy feet even after hours of wear. Unique massage beads soothe the delicate underside of the foot for the perfect walking experience that will keep you coming back for more.
This option is very inexpensive and is a great choice for shoppers on a budget. Made in the USA and designed to provide serious comfort while delivering a beautiful appearance, this pair of sandals has everything you need to get your summer started off on the right foot.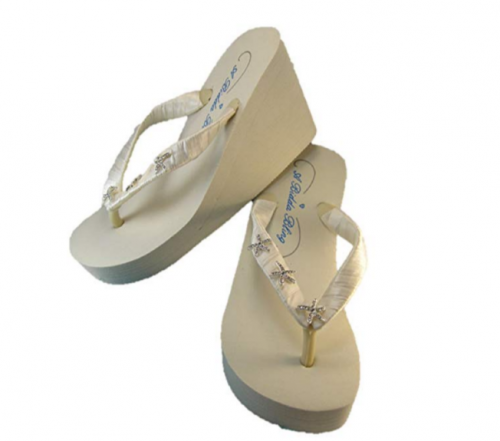 1 1/2" Wedge
EVA Midsole
Crystal Details
Easy Wearing
These wedge sandals from A Bidda Bling are a great choice for bridal wear and other special occasions during the summer, or just for enjoying while you're out strolling about. They're ultra-comfortable and offer a beautiful finish that's topped off with a crystal gem embellished accent
These sandals offer a luxurious ride thanks to their EVA midsole that provides the perfect kind of cushion to support the delicate underside of the foot. Walk for hours on end in this sandal without having to worry about aches or pains so can just enjoy the summer sunshine.
A 1 ½-inch wedge heel allows for effortless walking because of the wider structure that lets you step down more naturally. Its one-inch platform provides the kind of added lift you're looking for without being too high for comfort.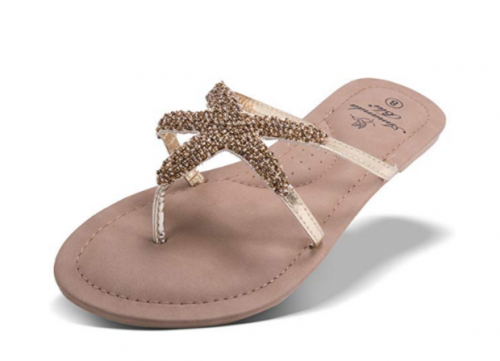 Bronze Rhinestone Details
Contoured Footbed
Slip-On
Sea Star Straps
Amanda Blu's flip-flops are a beautiful sight to behold! They feature a bronzed rhinestone starfish at the toes and a cute intertwined strappy look. This sandal is very laid-back and offers a casual boho look that's great for the summer time. Whether you're strolling seaside or sauntering through the city streets, this is a fun and lively choice of footwear that's sure to attract some seriously positive attention.
These sandals have a padded footbed that helps to prevent foot pain and fatigue by protecting the delicate arch area. Padding helps to absorb the shock waves which travel through the feet and legs with every step and lessen the negative effects. It will keep your feet feeling better by shielding them from the harsh effects of walking on the city streets and you'll notice that you experience less discomfort overall.
Choose from one of three stunning colorways including metallic silver, metallic bronze, and island aqua, which means you can easily match these with all of your favorite beach attire. While this option costs more than the first two, it's certainly still an affordable choice that delivers a beautiful finish and comforting wear.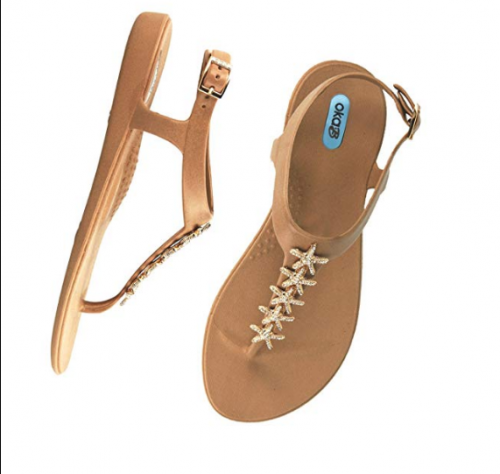 Heel Strap
Buckle Closure
Raised Toe Box
Ergonomic Footbed
The Oka-B Lelani sandal is a beautiful pair that comes in four colors: chai, coral, and licorice, and sapphire. It's as comforting as it is lovely thanks to a specially designed footbed that hugs the contours of the foot. This sandal has three dazzling rhinestone sea stars that shine like crystals under both the sun and moonlight for a breathtaking finish.
An ergonomically shaped footbed provides excellent support and improved comfort with built-in massage beads that treat your feet to a spa vacation every time you wear them. Its antimicrobial properties help to prevent odors from occurring naturally so your feet will feel fresh and clean for hours on end.
This pair is easy to care for and can even be put in the dishwasher for a convenient way to clean them up. They're also a great choice to wear while you're at the beach because their waterproof material won't be a problem in wet or sandy conditions. Made from a signature microplast material, this option is a versatile one that can be worn practically anywhere.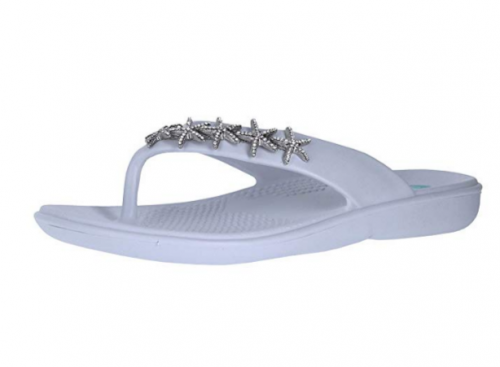 Massage Beads
T-Strap
Contoured Footbed
Microplast
Yet another exquisite choice from Oka-B, the Gillian offers different strap detailing which is equally as charming. This pair is a great choice for beach days and it really delivers a boho-chic vibe that wearers love! It's comforting to wear and looks beautiful with a flowing beach dress or a pair of summer shorts.
These sandals are made from a lightweight and flexible microplast material that's soft against bare skin for total comfort. It also prevents excessive sweating which is effective at eliminating odors so you can look and feel your best while you're out and about.
This pair has a contoured footbed that hugs every curve of the foot for total comfort. Its built-in massaging beads lessen foot strain and fatigue by treating your arch to a spa-like experience with every step. This thong-style flip-flop is the ideal choice for long days spent outside in the summer sun.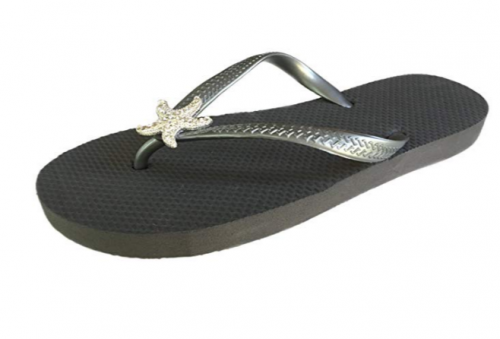 Two Colorways
Crystal Rhinestone Detail
Rubber Sole
Slender Straps
These cute flip flops from M Jewels feature a rhinestone starfish accent and cute thong design that makes for the ideal beachwear. Try matching these with a summer dress or cute pair of denim shorts for a low-key yet delightful combination. These sandals come in two colors: grey and black, which are easy enough to wear with practically any color of clothing.
A simplistic design helps to make these ones a great choice for casual days spent out in the summer sun and wearers love how effortless these are to match with all of their favorite outfits. Despite this options super-cute design, it lacks for padding and arch support which makes this a better pair for wearing when you plan on walking for shorter periods of time.
Made in the USA, this pair won't fall apart after only a few months and is sure to last you all season long! Their rubber sole is perfect for both wet and dry terrain and will keep you comfortable while you're out and about. Budget-conscious shoppers will enjoy the reasonable selling price, especially considering the quality of their construction.
7

. Lujoso Barefoot Sandal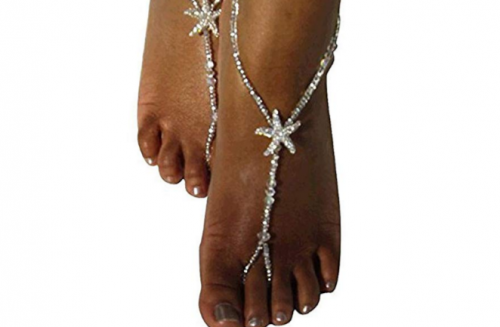 Unique Jewelry
Toe Loop
Swarovski Crystal Rhinestones
Shimmering Appearance
Lujoso's Barefoot Sandal is a dazzling choice that's ideal for beach days, weddings, birthdays by the sea and more. This gorgeous foot jewelry comes as a pair and is flexible enough to fit all sizes of feet. They're very comfortable and won't cause you any discomfort by pressing or digging into your skin so you can wear them for hours on end with ease.
This simplistic yet alluring choice boasts Swarovski crystal embellishments that sparkle under any lighting and are sure to catch everyone's eye when you walk past. They're the most stunning choice of footwear for weddings on the beach or any other beachy occasion that is! Swarovski crystals are among the most lustrous and give the best play of color under both natural and artificial lighting.
These barefoot sandals won't catch on your clothing even if you're wearing a flowing gown so you don't have to worry about any issues and will look absolutely radiant when the sun shines on them. They're also a very affordable choice that you can enjoy wearing to all sorts of summer occasion.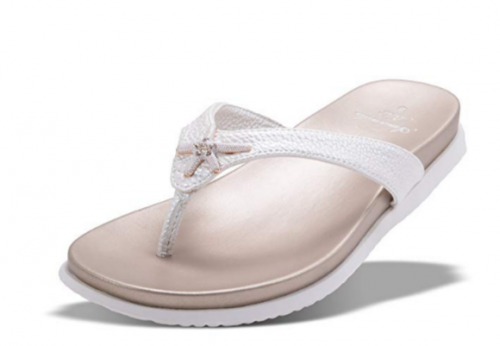 Contoured Footbed
V-Shaped Strap
Two Colorways
Sawtooth Sole
Amanda Blu's Enameled flip flop sandal is as beautiful as can be thanks to its dainty jewel embellished sea star detail and t-strap design. Choose from two glamorous colors: pearl and navy, which both look incredibly chic with nearly any kind of outfit. This pair offers a contrast footbed for added style and is sure to look perfect with all of your favorite summer outfits.
This option is as comfortable as can be and offers a cushioned footbed to help prevent foot pain and fatigue. Its sawtooth sole helps to provide solid traction on nearly any surface and is a great choice for seaside activities.
These cute flip flops are stylish enough to wear for almost any summer occasion and are a great choice for dinners, days spent at the beach, or just while you're out and about. Their molded footbed hugs the contours of your feet and offers total all-day enjoyment.
9

. Nature Breeze Leatherette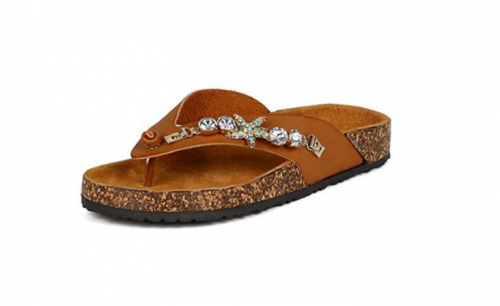 Leatherette
V-Shaped Strap
Crystal/Beadwork Details
100% Vegan
The Nature Breeze Jeweled Starfish is a cute looking pair of leatherette sandals! They have a gorgeous gem embellished strap with a sea star accent in the center of four stunning crystals. This shoe offers a unique looking 'v'-shaped thong strap that makes the feet appear dainty and is a trending design. You'll love wearing these with all of your favorite summer outfits, especially a nice dress or pair of shorts!
This pair is a comforting choice thanks to its padded footbed that helps to prevent foot fatigue so you can move around all day long without having to worry. They're made to fit securely and won't slip or slide off your feet even if you're out walking around for long periods of time.
These sandals are made from 100% vegan materials from top to bottom so you don't have to worry about any negative environmental effects. They're comfortable to wear and super stylish, while at the same time, are also a responsible product for the environment. Shoppers on a budget will love this option for its affordable price tag and flashy appearance which makes it look like a high-end sandal.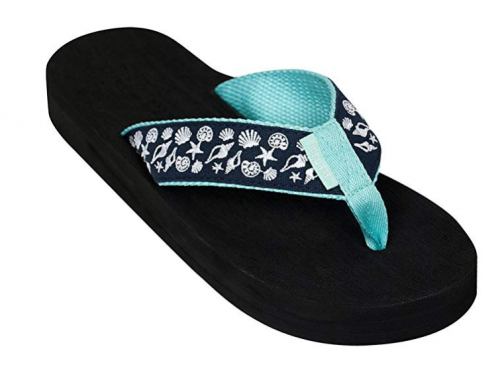 Multiple Prints/Colors
Arch Support
Shock Absorption
T-Strap
Tidewater flip-flop sandals are a great combination of fun and comfort. This pair offers a thong silhouette and enjoyable synthetic materials that help to make it one of the best sea star-themed pairs available. Choose from numerous prints and patterns in all sorts of beautiful colorways and enjoy the beach and sea print wonder of this fun-loving thong.
Tidewater is noted for their classic footbed that provides superior arch support and an ultra-lightweight structure. This pair features all of the best that Tidewater has to offer and is a great choice for fun in the summer sun. Designed to absorb shock waves from every step, these aren't your traditional flip flop! They're made to promote a healthier environment for your feet so you can make the most of the warmer weather.
This sandal is a flexible option that will look great with a pair of shorts or a flowing summer dress and is very affordable! Shoppers on a tighter budget will love the reasonable price and super cute style.
Criteria Used for Evaluation


Accessories
Seastar shoes are all about the dazzle and most offer some pretty impressive accessories. When it comes to starfish accents, 3D pieces are the absolute best! With the pairs featured on this list, we see a lot of rhinestone and crystal embellishments which sparkling like diamonds under both the light of both the sun and moon. This is what makes this type of footwear so incredible, the sheer beauty that they exude!
But, when it comes to choosing a pair with rhinestone or crystal details it's important to select one that utilizes high-quality gemstones. Lets breakdown some of the most important aspects to consider when you're shopping for any shoe with crystals or rhinestones;
Color: Rhinestones come in tons of colors with Aurora and clear gems being the most popular. The aurora sheen is a coating that's added to the outside of a clear rhinestone using a certain metallic chemical coating process. Aurora colored stones have a similar appearance to that of a diamond with the stunning play of color that it makes, but Aurora has a metallic glisten that diamonds do not. Just because Aurora is the most popular color, doesn't mean that it's the only option available. Rhinestones and crystals come in colors that range from black diamond to ruby red and everything in between. Many manufacturers include variations of the aurora overtop of other colors like red, blue, and pink.
Size: Rhinestones come in multiple sizes ranging from ss1 to ss75. The smallest is the ss1 which is used in footwear and measures in at precisely 1.10 to 1.20mm (about the size of a pinhead). Sizes then go up in small increments until reaching the largest which is the ss75 (between 17.97 and 18.22mm).
Type: There are three types of rhinestones used for shoes and clothing: flat back, hotfix, and sew on. Each is used in a different way and is attached to the material using a different method.
Flat Back Rhinestones: Flatback stones come in two variations, foiled or unfoiled. The foiled is the most common because it's easy to apply. A flatback can be applied to almost anything using just a small amount of glue.
Hotfix Rhinestones: Hotfix stones are the same as the foiled flat back but they have an adhesive pre-applied to the backside. The hotfix options need steam or heat to adhere, making them less convenient than the flatback.
Sew On: These crystals are practically the same as the flatback except they have a hole on each side. This style can be sewn into shoes and clothes easily and require less work if you're going to be removing them at some point.
The most well-known brand in crystal rhinestones is Swarovski, who are notorious for their stunning collection. Their items are precision-cut utilizing sand, quartz, and minerals which make for a dazzling finish. The second biggest name in rhinestones is Preciosa, a brand that's known for their beautiful sparkles and has a great depth in sheen.


Style
There are certain styles of footwear that feature sea star detailing and these are usually sandals. This type of print or accessorizing is associated with the beach which is why it only seems logical that sandals are the most common place you'll see them. With that being said, there are various different styles of sandals, which we'll break down now;
Barefoot Sandals: This type of sandal isn't actually a shoe, in the sense that it doesn't have a traditional upper and outsole. Instead, it consists of jewelry which wraps around the ankle and down the foot, usually connecting at the toes where it will wrap around one or more.
This kind of sandal can be quite stunning and is popular for summer weddings, birthday, and any other kind of activity that may be entertained at the beach.
Wedge: Wedges are a very popular choice because they offer a higher heel than the flat sandals but are still quite easy to walk in. This is because of the wider structure that allows for a more natural footfall.
Thong/Flip-Flop: This design has no rear strap but simply offers a single V-shaped strap at the forefoot and runs between the toes. This style is quite popular but many feel it's a little more difficult to walk in because you have to grip in order to keep them from sliding off.


Comfort
Wearing a comfortable pair of footwear can make your whole day more enjoyable! No one wants to walk around with tired achy feet, which is why it's important to choose an appropriate style that's going to protect you while you move.
Proper arch support is essential because if a shoe is too soft it won't protect you from the waves of shock that travel through the legs and feet with every step. A good midsole material will help to cushion the impact and reduce the shock felt so it's important that you choose the right kind. EVA is an excellent material for the midsole because it's both lightweight and flexible while still offering enough support to prevent undue strain and stress.
It's also important that the straps are made from a material that isn't going to rub against your skin causing painful blisters. Take a moment to examine the straps to make sure that they aren't too thick or else they'll cause you quite a bit of discomfort while you walk. You want to make sure that there is plenty of room in the toe and heel areas to prevent crowding which can hurt the delicate bones of the foot which can cause you all kinds of lasting problems that will make you sorry you chose to wear the wrong kind of footwear.


Midsole
The midsole is one of the most important aspects of any pair of footwear. It serves multiple functions including cushioning the foot and helping to control any overpronation or supination. Two of the more popular materials used to make midsoles are EVA and polyurethane (PU). EVA is a man-made foam resin that's both lightweight and flexible, making it an ideal cushioning material because it's flexible yet firm enough to support foot.
Polyurethane is tougher and able to withstand more wear and tear but doesn't provide as much cushioning as an EVA midsole does. There are also options made from various types of gels and foams, many of which are specific to certain brands. Gels are excellent for absorbing shock while at the same time stabilizing the foot, which is why many athletes prefer a midsole made with this material. The Oka-B Oliver and Tidewater flip-flops are two great choices if you're looking for a more supportive midsole because they offer better support and supple cushioning.


Value
Choosing a pair of footwear that's going to give you great value doesn't just mean choosing an option that costs less or more! The true value of a pair comes from the kind of feeling you get while wearing it and the satisfaction that it brings you.
For example, with the Lujoso Barefoot Sandal, you really don't end up getting much for your money, or so it appears but in reality the good times you'll have while wearing it is worth so much! On the other hand, you could purchase a big bulky pair that appears to be giving you more for your money but really you won't end up enjoying it so there's no value in the item.
It's important not to judge the true value of an item based on its price tag or how big or small it is. Instead, try to focus on the memories you can make while wearing the shoe because it's all about enjoying life to the fullest which is what's truly priceless.
Expert Interviews & Opinions
Most Important Criteria
(According to our experts opinion)
Experts Opinion
Editors Opinion
Users Opinion
By Default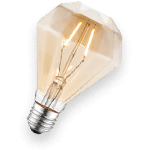 Tough to tackle!
Starfish have a layer of upper skin made out of calcium carbonate.
This material is super-strong, making the skin tough and difficult for predators to pierce.
One of many colors
There are over 1,600 species of sea stars in the world's oceans!
They come in many vibrant colors like purple, orange, and even pink!
Other Factors to Consider


Versatility
Isn't nice wearing a pair of shoes that are versatile enough to look great with nearly any outfit! It makes for an effortless kind of style that busy people who are constantly on the go crave. After all, who like to take forever getting ready?! A good versatile pair will make your life all the easier by cutting the time it takes you to get ready which means you won't have to rush around as much trying to get wherever it is you're going.
The great thing about this kind of shoe is that it's usually quite a laid-back design and won't require much fuss. One of the things that's important to remember is that the colors should be neutral enough to blend easily with other shades so you don't end up having a hard time finding an outfit that looks good with your footwear. Some great neutral choices are beige, tan, white, and black. All of these shades are super easy to style with practically any other colors and will be a great choice for those days where you want to switch up your outfit more than once but don't want to have to change your shoes too!


Bottom Line
With nearly 1,600 species of starfish on the planet, one can only imagine the vast sea of colors and patterns that these beautiful creatures display. Vibrant blues, purples, and oranges are commonplace in the world of the sea star and their appearance is quite breathtaking at the very least. These stunning visual wonders are the inspiration behind a popular kind of accessory or pattern of footwear that must be equally as captivating as the real thing.
Gorgeous crystal gems and rhinestones are often used to bring 3D accents to life and to beautify the wearer's feet in a whole new way. When you're shopping for a pair with this sort of detailing keep in mind that you'll most often see sandals because sea stars are associated with the beach so they might seem a little weird on a pair of snow boots.
You'll have to decide which style of shoe you're looking for and whether or not you want there to be a heel. If you do want a heel you should be careful when selecting the height because the one that's too high or too thin will be difficult to walk in. Where is a wedge heel or one that's lower in height allows for more natural footfall making it much easier to stride naturally?
There are tons of brands that produce crystal gems and rhinestone but there are a few that stand out above the rest like Swarovski and Preciosa that both create the most brilliant of all stones.
Frequently Asked Questions
q:

Aren't flip flops supposed to be bad for your feet?

a:

Many styles aren't the most comfortable or supportive for your feet, but a well-made pair can actually be quite enjoyable. It's all about the quality of craftsmanship and materials used because the wrong ones can really lessen the support. The footbed needs offer a good level of padding, while the midsole should be firm enough to support the delicate arch area.

The problem with many flip flops is that there was no effort put into the footbed and more often than not, you'll see a thin piece of material overtop of a rubber sole. This won't make for a very healthy environment to be walking around for long periods of time and can lead to foot pain with lots of wear.
q:

How can I clean them off?

a:

Depending on the material most can simply be sprayed off or wiped down with a damp cloth. Leather material will require a more careful method of cleaning though you should still be able to wipe them down with a damp washcloth. If you're gentle enough there shouldn't be any problems.
q:

Why would I want to wear a starfish on my shoes?

a:

Sea stars are one of the many wondrous creatures that live in our oceans and are quite spectacular to behold. Wearing a pair with a crystal or rhinestone embellished replica can be a really beautiful choice because they will sparkle under any lighting. Their gorgeous dazzle will attract all the right kind of attention and will surely be a great conversation starter.