Best Slippers for Men & Women Reviewed
last updated:
Sep 19, 2019
We understand the need for a well-designed slipper. The comfort of a cozy, warm slipper when walking around your home, lounging, or just doing chores, a nice slipper keeps your feet comfortable and feeling pampered. Check out the best slippers below and discover the benefits of having the best and most comfortable on your feet. Don't compromise. We've done the research and testing for you!
This is the best product on our list that is currently in stock: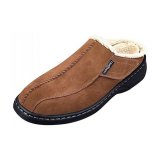 Orthofeet Asheville
Why is it better?
Anatomically-Sorrect Footbed
Accommodates An Orthotic
Hook & Loop Closure 
Available In Wide Widths
Shock Absorbent Outsole 
In a
Hurry? Editors choice: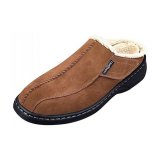 Test Winner: Orthofeet Asheville

15
Researched Sources
1478
Reviews Considered
18
Hours Researching
15
Products Evaluated
Comfort
Weight
Durability
Breathability
Ease of Use
By Default
10 Best Slippers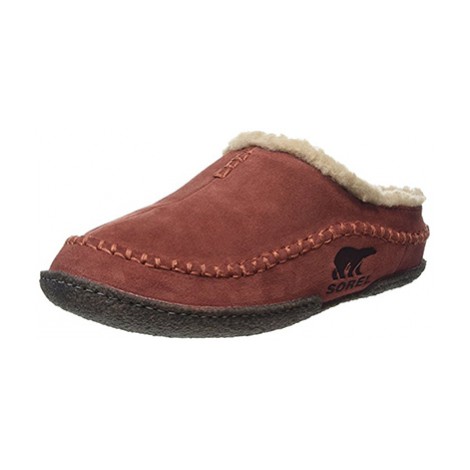 Durable But Soft 
Removable Footbed
Soft Wool Inner Lining 
Soft Rubber Outsole 
The Falcon Ridge is another casual use slipper with a similarly built sole as the Sorel Manawan and Nakiska also seen on this list. Sorel is one of the favorites in the slipper market, so it's no surprise they landed yet another on the top-rated list. The Falcon Ridge is a style-conscious, well functioning, simple slipper that features a soft wool lining, thin rubber outsole, and removable EVA foam footbed. They are designed for soft comfort, and ease of use.
With their thin rubber outsole, you have limited protection, but protection nonetheless. They allow for brief outdoor use and excel indoors where you will get the most out of their lightweight and extremely comfortable build. Given the fact they do include a rubber sole, you can get away with porch use just fine. Their convenient opening allows for easily slipping on and off, most users agree, these are definitely worth their weight. Their leather upper will ensure long-lasting comfort.
With a wool collar and insulated inner lining that is also moisture wicking, it's easy to forget you have these on. For further comfort, a lightweight EVA cushioned insole is also included, which is removable to accommodate for days you want less. Furthermore, the sole is made of soft rubber for another layer of cushioned comfort. If you want a simple, easy and comfortable slipper, these are an ideal choice.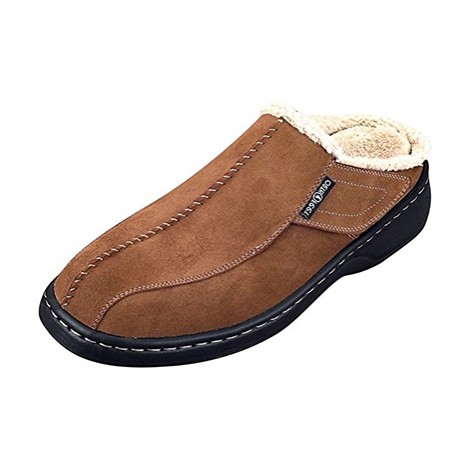 Anatomically-Sorrect Footbed
Accommodates An Orthotic
Hook & Loop Closure 
Available In Wide Widths
Shock Absorbent Outsole 
We couldn't leave out the orthotic users. This slipper is made just for you, if you require extra support, cushioning, or would like to use custom fit orthotic inserts. They come with a contoured EVA cushioned insole for increased support, that can be removed and replaced if you'd like to do so. They allow an additional three-eighths of an inch underfoot to accommodate for any insert you'd like to use. The design is highly ergonomic and assists through each stepping motion, and have a hook-loop closure for a custom fit, depending on how tight you'd like to fasten them. Along with a shock absorbing sole, they have everything needed for those whose feet require more than the average slipper offers.
These are one of the most diverse selections of this list in that don't excel in one aspect, but rather in their ability to perform well enough in many instances. They provide a durable upper and shock-absorbent sole to use for outdoor purposes. In fair weather, you will have no issues stepping outside in these for extended periods. They do well indoors too, and because they have a no-back design, they are very easy to slip on and off. No matter how hard your walking surface is, your feet will do fine as they include a very supportive EVA insole. These are sturdy and built to last.
If you want more cushion in each step or a custom feel, as mentioned, you can swap our the default insert and use any that you'd like for a personalized experience. That's wonderful, right? Many wear-testers and users certainly think so, and we do too, so we can confidently recommend this slipper for its customized comfort. For even more of a personalized feel, use the hook and loop closure to get the perfect fit. The inner surface incorporates an all-around foam padding with a soft fabric inner collar. These slippers come in a standard and wide width.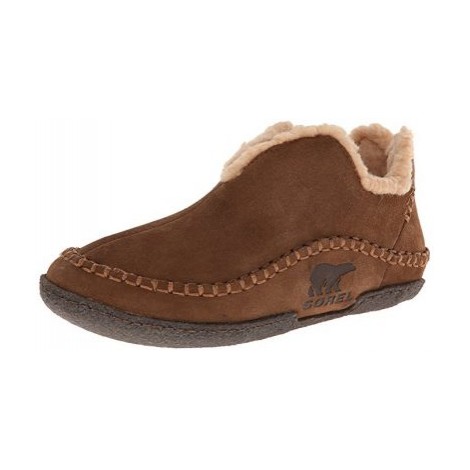 Durable Leather Upper
Cushioned EVA Footbed
Soft Padded Outsole
Plush Wool Inner Lining
Will Last For Years
This slipper has a fit which resembles that of a shoe. The high collar allows it to cup your feet just right, for a secure hold, while maintaining the flexibility for easily slipping on and off. They are made for comfort and relaxation indoors but have limited ability for outdoors if you need to run outside for a brief moment. Just keep it to short trips to the mailbox, and you will fare well with their soft rubber outsole. Indoors, these are phenomenal. The wool insulation and soft cushioned, feather-like EVA foam insoles will have you feeling like you're walking on clouds.
You will get the best use of these indoors, for navigating around the house or even the office on those easier days. Just keep your shoes handy. They do come equipped with a soft rubber sole, enough to handle brief strolls outside. The durable suede leather upper will have no issues providing protection to your feet, and the insulation provided is sufficient to bear those cold mornings.
Comfort is where these slippers excel. The inner wool layer is incredibly plush and together with an EVA foam footbed creates a snug fit that you will appreciate at every step. Just ask the thousands of users who love this slipper. Most will agree there isn't much out that quite compares to its comfortability. The fit is a bit snug, but not awkwardly so. The snugness adds to the comfort and hugs the foot just right. Weighing in at just eleven ounces, you're pretty much walking on clouds!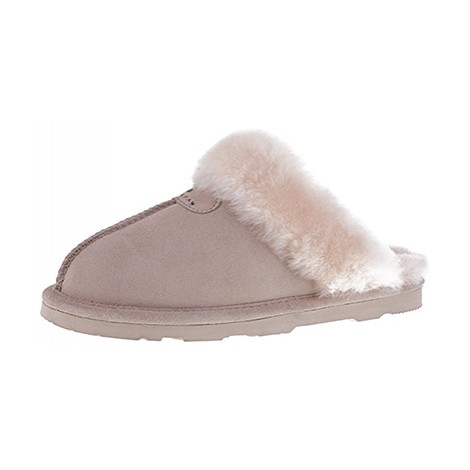 Easy To Slip On & Off
Insulated With Thick, Soft Collar
Lightweight, Durable Sole 
Perfect For Cold Days 
Durable, Soft Suede Upper
The Bearpaw Loki II is the perfect slipper for the end of a long workday when your feet need some extra TLC. Also included is a plush sheepskin lining, perfect for regulating the foot's temperature on cold days where you need extra warmth along with the comfort. They don't have a back-end, so slipping into them is as easy as can be. Their shearling collar and accommodating suede upper hugs the foot perfectly for a snug fit. The outsole is thick and sturdy enough to provide ample protection for use indoor and allows for light outdoor use as well.
These are ideal for indoor use but do accommodate for stepping outside as the sole is durable enough to handle brief strolls to the mailbox on a daily basis. Best of all, they are made of extremely lightweight material and weigh in at around seven ounces. These aren't a slipper made for fast performance, but rather for casual lounging and warmth.
Your feet will thank you for these. It's hard not to fall in love with the all-around soft insulation, and the EVA molded sole makes walking in them extremely pleasant. They incorporate a thick, padded rim for extra comfortability. As many satisfied wear-testers noted, you're stepping on clouds here, and the fact they weigh almost nothing is surprising. We approve these for comfort and guarantee you will love them.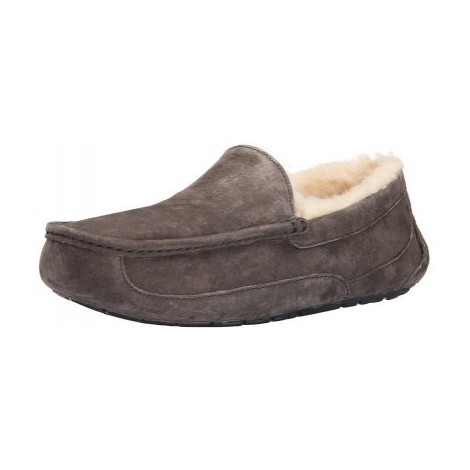 Water Resistant Upper
Durable Rubber Sole
Plush Uggpure Lining
Snug Fit
Conforms to Foot Shape
If there is one brand that really stands out for being both comfortable and cozy, it's UGG. From boots to shoes to slippers, UGG has been a leading name in the sheep fur game, and their perfectly lined footwear is ideal for chilly mornings curled up with a cup of coffee. The Ascot slippers feature a thick and plush interior, while the outside remains durable and long lasting. With a more snug fit to start, this slipper will stretch over time and you will end up with a customized fit that hugs your foot gently.
The lining and insole of this slipper are made from Uggpure which is their brand of shorn sheep's wool. What makes Uggpure different from other sheep slippers, is that it doesn't use any sheepskin in the process. The sheep are simply given a haircut essentially, and then that wool is woven into a durable yet plush lining. Less expensive and more animal-friendly, it is a great alternative to sheepskin slippers.
The outer material is made from suede that has been treated to ensure it is water resistant. This makes for a slipper that can be used both indoors and outdoors, and won't get damaged when you pop outside to collect the mail. The rubber outsole helps add to the outdoor durability of this shoe, keeping the bottom safe from wearing through quickly.
6

. Slippers International Cody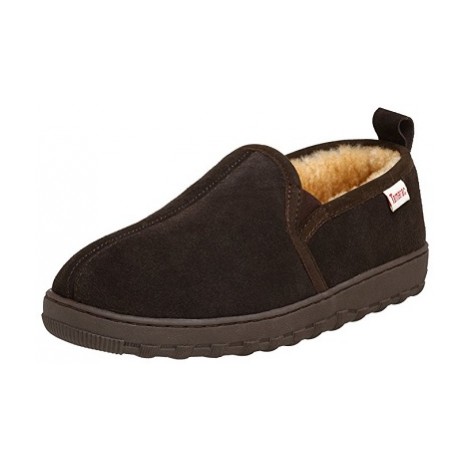 Durable Suede Upper 
Strong Treaded Rubber Sole 
Fleece Inner Layer 
Memory Foam Footbed 
Perfect Fit 
Not Available In Half-Sizes
These are at the top of the list for a reason. People love them. They are well designed, extremely comfortable and fit well. The build is almost shoe-like, but they are lightweight, able to keep the feet warm, easy to slip on or remove, and made of durable, quality material. They can be used indoors or outside, so versatility is a big factor here. The consensus is, if you don't love this slipper, you may not be a slipper person, period.
They are a slipper, indeed, but tend to be used for more. The thick sole is made of a durable rubber with tread that makes outside use possible. Even if it's cold out, no problem. They have a fleece inner layer that will keep your feet warm, and a flexible fit to ensure your feet remain snug.
The fleece lining itself offers plush comfort. With the addition of a memory foam footbed, you can forget about the couch. You may just fall asleep standing. Not really, but these slippers are "that" comfortable. We guarantee it, and so do the thousands of satisfied users. The thick sole protects the feet from the ground, thus enabling yet another layer of comfortability you can appreciate.
7

. Skechers Bobs Keepsakes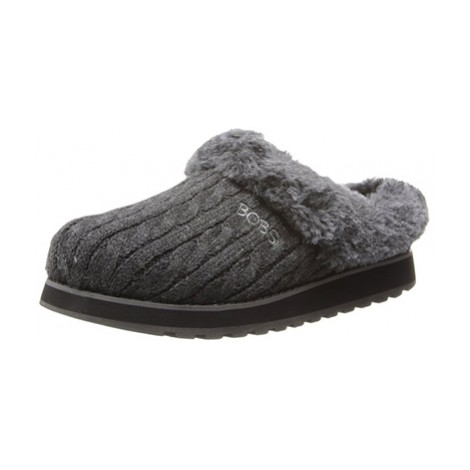 Thick, Durable Rubber Sole
Lightweight
Thick Sweater-Knit Fabric
Faux-Fur Insole
Memory Foam Footbed
Affordable
The Bobs Keepsakes Delight is a heavily padded, extremely easy to slip on, cozy slipper with an outsole profile that provides adequate traction, and a thick sole for maximum underfoot protection. These aren't a minimalist, lightweight slipper, no. Because of the large, padded shock absorbing midsole, you will have no problem on rough ground and venturing outside for extended periods around the property. These are fair weather slippers that don't provide water protection, but rather an extremely padded Faux fur inner layer and rim, with a memory foam insole for maximum comfort.
These are perfect for around the house or anywhere on the property, be it inside or outdoors. The thick, durable rubber sole provides adequate protection from the ground with a platform height of almost an inch. They are medium in width and have a luxurious feel that you will easily appreciate. These slippers excel in two major aspects, comfort and protection, but are also user-friendly as slipping on or off is a breeze. This slipper weighs in at eleven ounces for a size 9.
If you are looking for one of the most comfortable slippers available, look no further. The upper is comprised of a very soft, thick sweater knit fabric that makes them extremely pleasant to wear. To add to the already adequate comfort, also included is a thick faux fur collar and plush inner lining. Need more? The insole is also topped with faux fur. Under that layer is a memory foam footbed for yet another cushioned layer. There's not much that can beat the comfort of these slippers. Thousands of satisfied users vouch for that.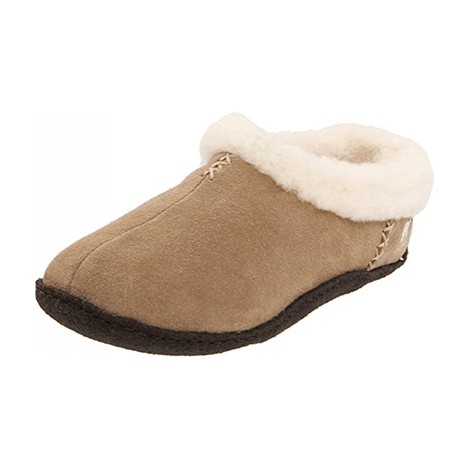 Suede Sheepskin Upper
Thick Wool Collar & Lining
Removable EVA Footbed
Soft Rubber Sole 
Wide Opening 
Very similar to the Manawan, the Sorel Nakiska is ideal for casual use and excels in comfortability. A big difference here is its collar being that of a standard slipper with a short, wide opening and thick, plush rim. They provide the same amount of comfortability, with a much easier to slip on and off design. The soft rubber sole is identical and gives the same ability for a short outside stroll to grab the morning paper.
With an emphasis on comfort and ease of use, this slipper is the perfect choice for hopping out of bed and straight into motion. Go about the home in comfort or step out on the porch for some fresh air. You will find casual use in these a breeze, so grab the newspaper, brew your coffee and kick back on a Saturday with these for a pleasant day indoors or around the house. They are made for ease of use and comfort, nothing extreme.
When it gets chilly, slip into these, and you will realize just how pleasant they are. With a thick wool collar and inner lining, the comfortability factor is undisputed. They also include an EVA foam footbed that can be removed. Need another reason to look into this ultra plush slipper? They come in at just over seven ounces, so the cut in weight means an even more lightweight step. Needless to say, users are extremely impressed, and so are we.
9

. Clpp'li Faux Fur Mules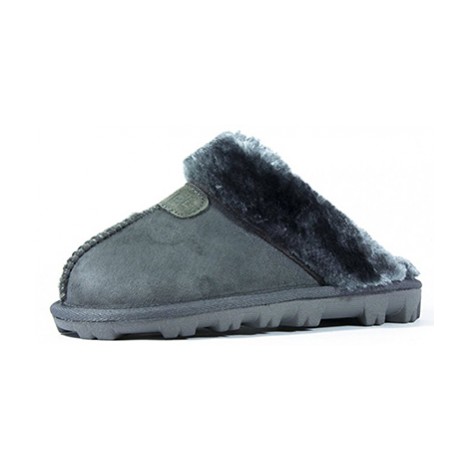 Extra Thick Faux Fur Lining 
Extremely Easy Slip-On 
Durable Protective Sole
Sufficient Warmth 
Machine Washable
Ladies, If you are in search of an incredibly "fluffy" slipper that is perfect for the cold winter months, the Afranker Clpp'li is a highly recommended and commended option. Their slip-on design allows for the quickest slipping into or off of any slipper design making their ease of use and convenience one of the highest rated on this list. On the inside and around the collar is a thick, soft faux fur lining for maximum comfort, pampering the feet with incredible softness. They are easily washed and incorporate a thick sole with pronounced tread for adequate underfoot protection and traction.
These perform well for indoor activities but do great outside just as well. They incorporate a thick, durable rubber sole for underfoot protection, with an outsole profile that provides sufficient traction wherever needed. The thick faux fur lining will give the warmth needed, but it's worth considering the lack of a back end on these slippers. This factor provides an incredibly easy slip on but leaves the back of the foot exposed. Users continuously rant about how much they love these, especially around the home.
Every slipper included on this list will naturally be rated high in comfort, but these take it to the next level. The fact that they are one of the simplest to slip on and are lined with a high amount of incredibly soft faux fur with a thick, warm collar says a lot for their comfortability. These excel when your toes are begging for warmth, and they provide just that.
10

. Slippers International Camper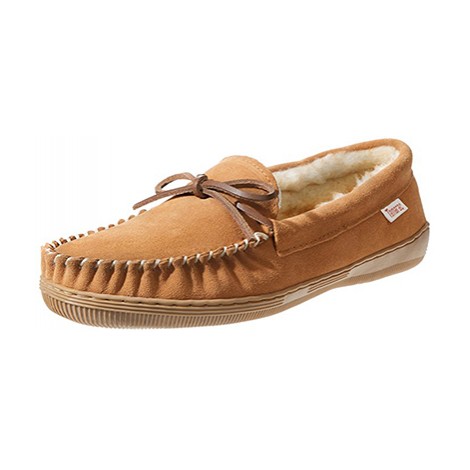 Light Inner Padding
Hard Rubber Sole
East To Slip On And Off
Plush Collar Cushioning
These are a simple, cushioned moccasin style slipper with a durable outsole for indoor and light outdoor use. The sole is firm and can withstand extended outside time but do best as an inside slipper as the inner isn't extremely padded or protected. If the weather is fair, you will have no problem with an easy stroll outdoors. These have an excellent balance of comfort, protection, and ease of slipping on or removing. The available sizes include wide or standard, so people with wider-set feet can appreciate everything about this simple, but perfect everyday slipper.
They are simple, with light padding, just enough to pamper the feet with a leather outer and hard rubber sole to allow for use anywhere around the property. These are for casual use, as their ease of slipping on and off renders any fast movement inefficient, but makes putting on wonderfully convenient. With these, you may just get too comfortable around the house, but according to user feedback, they are a must-have for those who love a well balanced, simple slipper. You can tighten the laces for a more conforming fit.
The plush faux fur inner lining is relatively thin but soft enough for a pleasant feel. The collar cushioning is more pronounced, adding to the overall comfort. The fit is either a bit loose, or very snug, depending on the size you get so consider your preference for this. If you order your usual size, they are a bit snug so if you want a loose fit order a size up.
Criteria Used for Evaluation


Comfort
The type of material used in a slipper, particularly in its inner lining and footbed, plays a role in its ability to provide adequate comfort. You will find that memory foam footbeds are quite popular. This is because they conform to the feet while providing warmth and cushioning. You will even find some slippers that have extra layers of material underfoot such as wool or faux fur to provide further insulation. Faux fur and wool are popular choices for an inner lining. These soft materials pamper the foot and provide a great amount of insulation without being constrictive.
A slippers' inner materials aren't the only factors that determine its comfort. The sole of a slipper made of hard, cheap rubber can cause aches and pain, that is why you will see most footwear with soles made of EVA foam. This material is very shock-resistant and soft enough to be an underfoot cushion in itself. There are other types of sole materials used, even in high-quality slippers, but for footwear in general, EVA is a staple because of it's lightweight, durable and cushioning nature.
Keep in mind, all slippers need to be cushioned, but not all are made solely to have an extreme amount of insulation. We covered the spectrum. More cushion equals more weight, and being lightweight is one of the other most important factors, so a fine balance is crucial.


Weight
Weight is an especially critical factor. When slippers were introduced, this was at the forefront of thought when it came to their design. The weight of a slipper manipulated quite a bit of one's overall performance. This includes it's comfort rating as well. But it's more than that. Slippers are made to be simple and quick. With this, they incorporate an easy to slip on design.
Heavy footwear, in general, is not something that is favored. Nobody wants any extra weight to pull around. Furthermore, think of how much a hassle it would be to have the weight of your footwear cause it to dislodge from the foot when walking. When physics comes into play, and gravity takes part, an easy-on means an easy off. We all want the most protection for our feet. In the case of slippers, they are not made as much for protection as for convenience.
Keep in mind, some slippers do include more layers than others, while some emphasize a minimalistic design as a priority. Even those with extra layers of insulation and cushioning are made of extremely lightweight wool, fur or other soft material. We've included the whole range of options on our top-rated list. There are many types of slippers, from basic to moccasins, to justify one factor as the utmost importance, so we've considered everything.


Durability
Just as there are many factors that determine a slipper's eligibility for landing a spot as one of the top-rated, there are many factors that determine one's durability. The longevity of any product, in general, is extremely important, but more so for footwear as a beating is a part of what they are for. You are constantly stepping on them. Anything stepped on, will take damage over time — such features as a strong sole and upper play a big role in a slipper's overall durability.
The materials used must be tough, but, they must not hinder the performance, weight, or overall comfortability of the shoe. Our choices are made up of shoes that use material compositions such as EVA foam for the sole, and soft suede leather or strong knit for their uppers. There are other material types you will see present, but these are more consistent because they are known to be effective and well balanced. Ethylene vinyl acetate is soft but holds up well, and aside from being generally long lasting, it also serves as an underfoot cushioning. The natural leather prevalent in a large number of high-quality slippers offers extreme protection and durability but is also conforming and soft to the touch, especially with a lining of wool or fur.


Breathability
Nobody wants sweaty feet, and the fact a lot of slippers are made with extra insulation may be a problem if this aspect is not considered. Thankfully, we considered it. We know how important it is for a slipper to keep the feet warm when it's cold out, but to also let the feet breath when it needs to
You will find sheepskin made slippers prevalent in our selections. Not all, but enough to give a diverse selection for all preferences. This material excels in odor prevention, which tends to be a problem with sweaty feet. The material also acts as insulation and keeps the feet warm, but best of all, it is adequately breathable. Other materials that get the job done but are breathable and moisture wicking include boiled wool, also known as knitted wool or fleece and synthetic fleece.


Ease of Use
How easy is it to put on or remove your current slippers? Chances are if it takes more than a couple seconds to slip into them, that is one of the reasons you are looking for another pair. The design is critical and highly suggestive of the overall quality of the slipper. If the company you purchased from didn't take the time to make sure your slipper allowed easy access, they probably didn't put much effort into any other part of them.
Across the wide range of slipper types, they all must be convenient to use, to hold the title. Whether you're getting up in the morning, right out of bed, or kicking your shoes off after a hard days work, you want to be able to slip right into your footwear, not fight with them. They are not a shoe, and not made to be tied up, but rather easy and simple.
We also considered slippers that have the ability, more or less, to be used inside and out. Some with more durable soles than others, but a consistent feature present will be durable soles, and outsole profiles that can stand up to either long durations outside, or brief trips to grab the mail.
Expert Interviews & Opinions
Most Important Criteria
(According to our experts opinion)
Experts Opinion
Editors Opinion
Users Opinion
By Default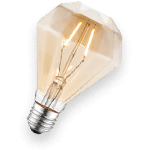 Comfort For Everyone!
Who doesn't love putting on a warm pair of slippers after a long day? Consider what your favorite kind of slipper may be for comfort, based on the material used, insulation, and what you may use them for.
Furs are wonderful for a great foot feel and insulation, while some may prefer quilted cotton for a bit of breathability. If you intend to wear your slippers on concrete, consider having a good sole on the shoe.
Winter Warmth
Slippers are wonderful to help keep your feet toasty and warm inside during winter months, when temperatures plummet. If you intend to wear them without socks, make sure to wash them now and again, to prevent any bacterial growth. Check the manufacturer's instructions for optimal care techniques.
Wearing socks with your slippers helps cut down on any foot odor in the slipper, but also can help keep you warmer for those really cold nights!
Other Factors to Consider


Bottom Line
With many options, from perfectly fitting lightweight slippers to those that are extra comfortable, we know everyone just wants the very best. We do too and hope to have provided the insight needed to make that choice. We stand by every statement made here, and guarantee this list to include ten of the best slippers out there!
Frequently Asked Questions
q:

Why would you need slippers if you already have a pair of shoes?

a:

Well, it comes down to convenience, slippers are designed to be worn for comfort, where standard shoes are made for performance and protection of your feet. If you have important things to do and need to pound the pavement, you would utilize your shoes. A slipper would be ideal if you have a day around the home ahead of you, or a backyard barbecue on a laid-back Saturday.

They are highly convenient, and usually, feature an easy to put on or take off design.
They are typically high in comfort, with soft material all around.
The most popular slippers provide warmth, cushion, and ease of use.
q:

Which slippers are the most comfortable?

a:

There are many factors that determine comfort. Some of the major deciding points are the overall fit, the material used in the upper, interior, sole or outsole, the amount of padding the material offers and whether they are well insulated or not.

A proper slipper should be flexible enough for a conforming fit.
For the footbed, memory foam tends to be a material favorite.
A wool inner lining is favored for insulation
q:

What different kinds of slippers are there?

a:

What is a slipper exactly? Well, different people may have different perspectives on this, but, simply, it's easy to slip on footwear item. Depending on your geographic location, you will have different references to these types of footwear items, and the variations of styles or uses for each. Below are a few examples of modern slippers, all of which can be labeled as something entirely different. For the sake of being thorough, we've listed various types of slippers below. We've only included basic slippers and moccasins in our above list. Feel free to visit any of our reviews for other types of slippers.
q:

How should slippers fit?

a:

They are a very particular footwear item and they have a particular fit as well. Slippers for women and slipper for men are designed differently as our feet are anatomically different. Although, the fit should be similar. The common slipper should have a somewhat loose feel compared to a shoe, but be able to hold onto your foot firmly. We're not talking flip-flops here, as they tend to stay true to their title. Basic slippers will have a relatively looser fit, as most tend to be without a heel closure so they may tend to bounce around somewhat, and that's alright as you won't do doing any major maneuvers in the home. Moccasins and similar style slippers tend to be more of a snug, tight fit as they are closed in the back, and fully wrap the foot, but again, maintain an overall looseness compared to shoes.

In the case of sheepskin made slippers; they tend to be tight in the beginning but loosen up quickly as the leather tends to warp a small amount. Keep this in mind.

Then there's the alternative style – boot slippers tend to have a snug fit as well and are usually heavily insulated. The typically favored fit for slipper boots is fairly snug but fairly flexible to allow easy access for the foot compared to a standard boot. Of course, most have a high to moderate collar length, so that's a huge difference compared to mocs or bedroom slippers.
q:

What size should I get?

a:

Because slippers fit relatively loose, you will need to consider their sizes if you have a preference and want a custom fit. There are two common size structures that may occur with different manufacturers, so it can be tricky. Size charts help but also consider the feedback and reviews provided for each individual slipper to see exactly how they fit, and whether you should size up or down.