Best Shoe Covers For Professionals Reviewed
last updated:
Jul 10, 2019
Imagine you are home and waiting for the electrician to show up to help restore power. It is raining outside and there is a knock on the door. You go to answer, open the door, and there is a torrential downpour. The electrician needs to step inside, but you have white carpeting between them and the electrical box.
You smile and pull out a pair of shoe covers for the service personnel. They grin, slip them on, and both of you are quite content with the result. After all, shoe covers are great for service people, workers in the medical field, real estate personnel, for keeping your shoes dry from the pouring rain and drifting snow, and more.
In a Hurry? The test winner after 9 hrs of research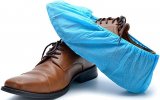 Strongman Tools Anti-Slip
Why is it better?
Lifetime Guarantee
Anti-slip
Non-Woven Polypropylene
Environmentally-Friendly
ISO 13485 Certified
In a
Hurry? Editors choice: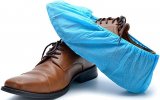 Test Winner: Strongman Tools Anti-Slip

5
Researched Sources
3,217
Reviews Considered
9
Hours Researching
10
Products Evaluated
Durability
Water Resistance
Fit
Traction
Value
By Default
Our Favorites
1

. Strongman Tools Anti-Slip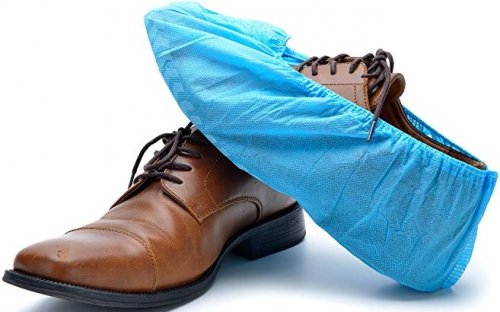 Lifetime Guarantee
Anti-slip
Non-Woven Polypropylene
Environmentally-Friendly
ISO 13485 Certified
Made with non-woven polypropylene (30 grams per sq. meter), the Strongman shoe covers are packaged in a lot of 55 pairs. They are both FDA approved and ISO 13485 certified, as well as 100% disposable. Remarkably enough, although disposable, these do last through multiple wears, depending on the situation. Furthermore, a non-skid lining is part of the sole and these are breathable, as well.
A lifetime guarantee means you can return these shoe covers for any reason and get a full refund. In addition, they fit up to size 12 and, also, contain elastic tops for an improving fit. Moreover, machine stitching along the bottom allows the anti-slip feature to bite into slippery surfaces, thus giving a safer environment in the process. This means you can navigate polished floors (wood, tiles, etc.) with greater ease and confidence.
Water-resistant, these are perfect for varying weather conditions and can help to keep your shoes somewhat drier than without using them. Additionally, the ISO13485 certification standard means they can be worn inside health zones, such as clinics, hospitals, labs, etc.
For anyone who is a professional making a home visit, these are a must-have item. Furthermore, they are great for those in the field of house inspection, real estate showings, construction workers, medical workers, and for those who just want to keep their carpet nice and clean.
2

. Blue Shoe Guys Premium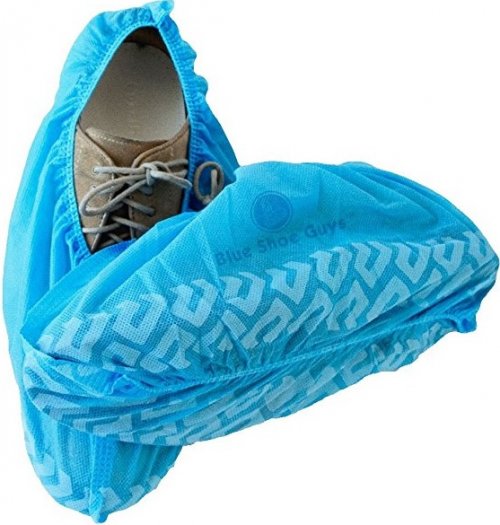 Waterproof Option
100% Satisfaction Guarantee
Eco-friendly
ISO 13485 Certified
Slick Floor Slippage
Doesn't Fit Construction Boots
Whether you are looking for the non-waterproof or the waterproof option, the Blue Shoe Guys provide it all. With elastic at the top for a better fit and the one-size-fits-all approach, a busy work life will not be put on pause while stepping into these great slip-on shoe covers. They fit a men's size 11 and smaller; these can make the perfect grab for those who need economical and versatile wear. Backed by a 100% satisfaction lifetime guarantee, Blue Shoe Guys are confident in their product!
This package comes with 50 pairs that are made with anti-slip traction. The material makeup is of 100% virgin medical-grade polypropylene (40+ grams per sq. meter) and the secure band ensures a snug fit. In addition, these shoe covers are safe, non-toxic, latex- phthalate- and PVC-free. Moreover, for those interested in eco-friendly wears, these are 100% recyclable.
We love the fact the customer has the option for a waterproof alternative, as we all know how important this can be when out and about. More importantly, the Blue Shoe Guys Premium are FDA approved and ISO 13485 certified, which means they're medical device compliant. This is especially important for those working in clinics, labs, and similar surroundings.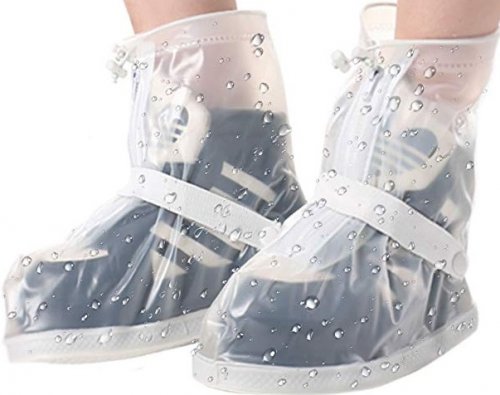 Waterproof
Anti-slip
Variety of Styles
Black/Transparent Option
PVC Material
Finally, a product meant for boots! That's right, these shoe covers are great for high-tops, low-cut boots, and similar designs. There are six sizes to choose from, as well as six styles to fit your individual needs. Additionally, they're constructed out of PVC, making them waterproof. They're an ideal choice for keeping you dry during light snow and rain.
The styles differ, in terms of how the cover is secured to the shoes, albeit, they are all somewhat similar in nature. There is the choice between a zipper, a zipper with a pull string, button-down straps, and button straps with a pull string. It is important to pay close attention to how the item is secured, as each choice has its own set of pros and cons (e.g. an item with a button-down strap may not be as snug as one with a pull string).
There are two color options (clear and black) which makes these shoe covers perfect for matching your wardrobe choice. Additionally, the ability to fold them for easy storage is a nice feature, as well. Overall, this is a product which meets our criteria in terms of durability, water-resistant properties, fit, traction, and value.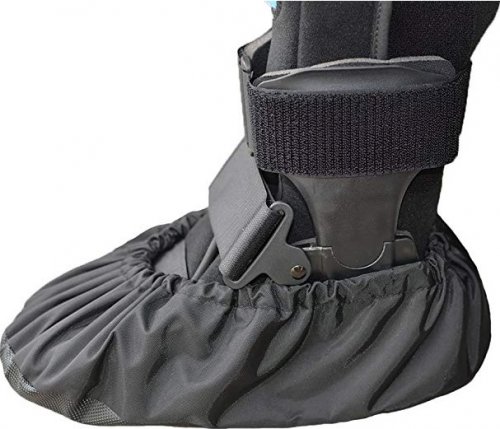 Water-Resistant
Indoor/Outdoor Use
Slip-Resistant
Machine-Washable
4 Sizes Available
A change from the norm in our list, these shoe covers are specifically designed with walking boots in mind. If you have been searching for an item to cover your medical device, you can rest assured that this is exactly what you have been looking for! The upper is made with a coating of polyurethane, so this is perfect for short trips in light rain (e.g. walking to your car from the house).
The sole is rubber and has a design with small bumps to enable better traction. In addition, there is an elastic top which creates a better fit and makes things a bit easier with life after surgery. But that is not even the best part; that is, this item is both machine-washable and reusable! With the other shoe covers, you might reuse one of them a time or two, but the machine wash just might deteriorate the product quickly. Not with this cover, however!
Furthermore, these are safe for both indoor and outdoor use. They have a design meant for short distances. If applied as intended, these will last quite a long time. They are great for keeping your bedroom clean and free from debris as you rest after surgery. And with the sole design, those floors you may have worked on so tirelessly before the walking boot came into play can remain mark-free and stay intact.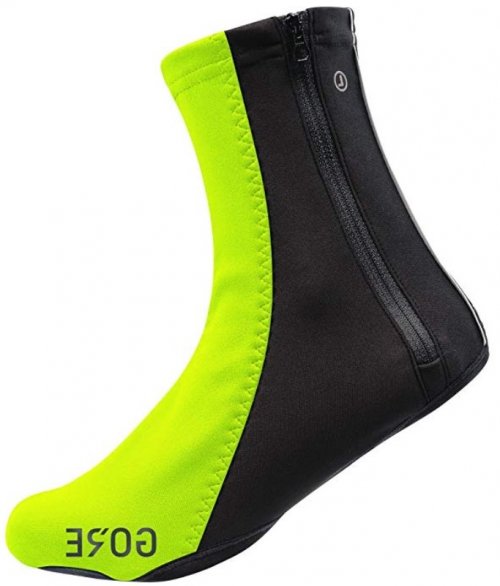 Durable Polyester
Elastic Form-Fitting Wear
Zipper Closure
Light Reflective Details
For Cycling
Out of all of the options in this guide, the Gore Wear Windstopper is definitely the champion when it comes to performance shoe covers. Designed for cycling in extreme conditions, this overshoe is meant to withstand rain, wind and yet be amazingly breathable at the same time. If you are looking for that one overshoe that can keep up with you as you push your body to the limits, the Windstopper is definitely it.
It is made from a combination of polyester for durability and colorfastness and elastane for that form-fitting, snug fit. There is a zipper closure in the outer side to make sliding into the Windstopper a breeze, and the elastic back ensures maximum comfort. The piping and the logo on the design are reflective, so you can take it out even when you're cycling in poor visibility.

The Gore Wear Windstopper is not meant for everyone. It is a high-performance design, one crafted for those who are serious about their cycling. It will keep you protected from chilly rain, from sharp winds and it won't cause your feet to overheat. When it comes to this type of shoe covers, it doesn't get better than the Windstopper.
6

. G&F Products Disposable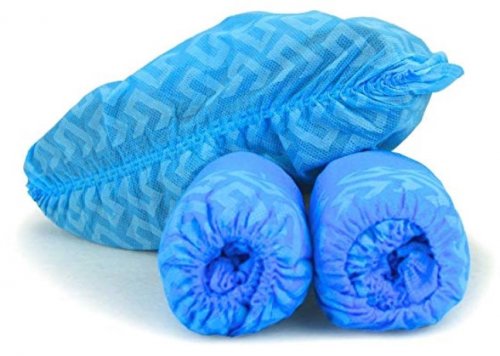 For a Dust-Free Environment
Made of Polypropylene
Easy Fit
50-pair/250-pair Options
Not ISO 13485 Compliant
Minimal Water Resistance
These shoe covers are made of polypropylene, non-woven fabric. There is a 50-pair and a 250-pair option when purchasing. Not designed for heavy-duty situations, these are more for those who may be showing homes. They work great for light-duty occasions, such as a quick trip back into the house when you forget something or for clients who come over without any covers for their shoes.
These fit a size 12 in men's footwear and lower. This does not include the thickness found in men's construction boots. They are not ISO 13485 compliant, so are not for those in the medical field or for those who must adhere to sterilized conditions. They are, however, perfect in situations which need to remain dust-free; that is, your shoes and environment can remain protected within this regard.
They are disposable, and with the thinner-grade of material when compared to others on this list, they will last through a single day of use. This cover does have an anti-slip feature in the form of stitching across the bottom; thereby, it is perfect for indoor use. Furthermore, these perform well in dry, airy conditions.
Although low on the water-resistance scale, these shoe covers do have some, minimal, protection. The fit is decent with the elastic tops and these will remain snug for hours at a time. At the end of the day, these are a great solution in keeping both your shoes and environment dust-free.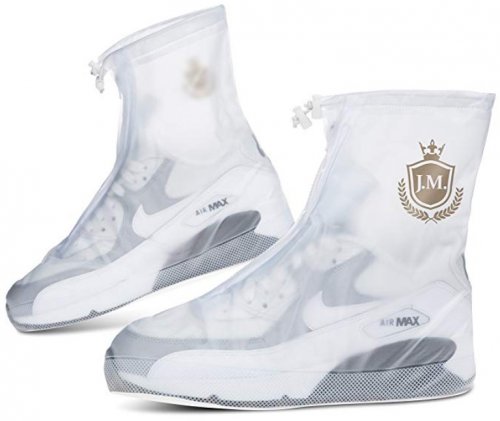 Elastic Plastic Material
Zipper Closure
Drawstring At The Top
Full Slip-Resistant Outsole
Reusable
Difficult Sizing
Thin and Flimsy
Among most of these medical-grade shoe covers in this list, we had to include a stylish, somewhat unorthodox, but still attractive way to protect your favorite sneakers in the rain. Want to wear your cool, sporty kicks, but it's wet and dreary outside? With the Dry Steps Waterproof, you can now simply slide into these covers and be effortlessly urban chic as you go about your day, knowing your sneakers are dry and safe.
The Dry Steps Waterproof has it all: it is made from elastic plastic that you can easily slide into thanks to a zipper closure, and there's even a drawstring at the top so you can tighten the fit and prevent any water from sneaking in. This shoe cover has a full outsole that keeps you stable and slip- and skid-free even in wet conditions. It is a model that is reusable and that easily travels wherever you want to take it.

The Dry Steps Waterproof comes in sizes for both men and women, so that you can enjoy these funky shoe covers together! They are cute and stylish with their transparent sides, and, come rainy weather, your sneakers will be grateful for the extra layer of protection.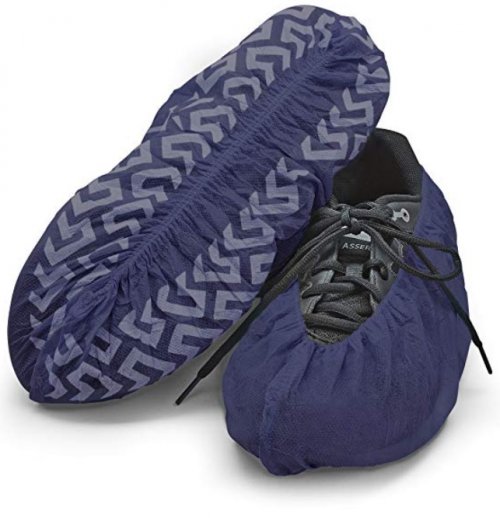 Non-Woven Polypropylene
Elastic Top
3 Colors
Decent Durability
Not for Boots
Only For Smaller Footwear
Unlike most of the items on our list, these shoe covers actually have a color variety to them! Of course, there is the standardized light blue, but the other two options are green and dark blue. This adds to the attraction of this particular shoe design. Additionally, they are somewhat durable and have decent traction, in the form of a seam rib strategically placed at the bottom.
The traction is decent for a product of this type, as the seam rib at the bottom has a gathering at the forefoot and the heel area. This makes navigation on slicker floor surfaces a bit safer. Furthermore, the polypropylene material adds breathability and a lightweight factor as well. In essence, you will hardly notice these covers after placing them over your shoes.
These shoe covers are best utilized for smaller footwear, as they do not cover boots very well. Additionally, they have a design for men's size 10.5 and lower. This means they fit over a men's size 9 like a champ, but a size 11 is reaching past the limits. Also, the non-woven design prevents scratching and scarring of those precious wood floors.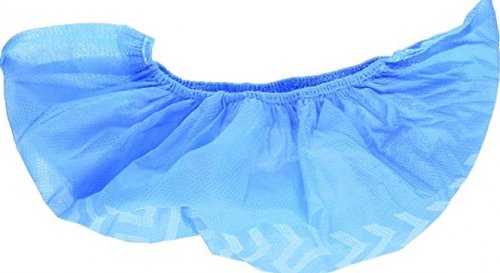 Non-Woven Polypropylene
50-Pair Pack
Real Estate & Service Workers
Elastic Top
Limited Sizing
Not Waterproof
These shoe covers come in a 50-pair packaging. They are the standard light blue in coloring and are made with polypropylene (both lightweight and breathable). In addition, these hold up well in light conditions, such as home showings, service personnel usage, and in the office. As with a lot of items of this nature, the durability is more dependent on the user than the product itself. That is, wearing these along a rough sidewalk may cause you to burn through the box in a day, whereas, on the carpet, not so much.
The VersaPro Disposable is not waterproof, although you may get a little water resistance under tame conditions. Walking through puddles is not recommended, however, as the product will soak through and the durability will deteriorate rapidly. This also means these should not be worn in heavy, humid conditions or out in the rain.
In addition, this is not a non-slip design, so extreme caution should be taken when approaching slick surfaces.
Overall, these shoe covers have a decent amount of durability when not exposed to water and they are a perfect grab for service workers, those who work in real estate (home showing), and similar. We do not recommend these to any hospital or medical staff, as they do not meet the ISO 13485 certification standard. Other than this, they do provide good quality in terms of a dust-free environment and overall worker usability. Lastly, the sizing accommodates men's size 10 and lower.
10

. Thetis Homes Disposable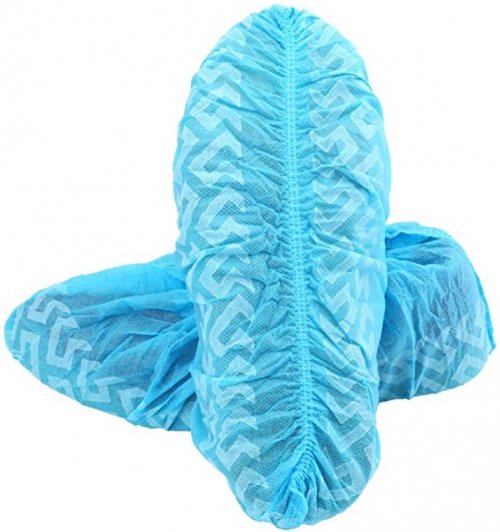 Made of Polypropylene
Elastic Top
For a Dust-free Environment
50-pair/80-pair Packs
Minimal Water Resistance
Indoor Only
This is a product for home or office use. Perfect for workers entering places with carpeting or recently cleaned floors, these are available in both 50-pair and 80-pair packs. Reminiscent of those found in hospitals, these shoe covers are blue and thin in the overall design. In essence, they are not to be used with construction boots or for outdoor activity.
The Thetis Homes Disposables are made with the standard polypropylene fabric and can keep your house tidy and clean via a dust-free product. These are not, however, ISO 13485 certified; meaning they will not meet the expectations for medical surroundings, as this applies to hospitals, medical clinics, laboratories, etc. The sizing caps out at a men's 11 and any shoe size larger than this will cause ripping and/or tearing of the product.
With the thinness of the material, it is advisable to only wear these indoors, as any rough surface (i.e. sidewalks, gravel, etc.) can cause holes to form throughout. They are available with both 50-pair and 80-pair packs. For those who have guests who frequent their homes, this is an ideal choice to keep on hand, as you can hand these shoe covers out and protect your floors in the process.
Criteria Used for Evaluation


Durability
With shoe covers, durability depends on the number of times you wear them, the place where you wear them, and how many times you're going to reuse the item (if applicable).
Short-term shoe covers, such as disposables, are normally one-and-done. That is, these are not expected to last beyond one time before being tossed into the trash can.
If, however, the product should last through multiple wears and it rips upon first use, then the shoe cover is definitely not very durable. This means, as consumers, we must be aware of the product's material make-up as well as our own expectations for the shoe cover.
Some of the materials you will see include PVC and polypropylene.
PVC is a plastic which can be utilized for waterproofing. It is mainly found in waterproof shoe covers which are expected to be reusable (many times), and in some cases, can even be machine-washable. This makes life much easier, especially when combined with a medical product, such as a cover for a walking boot.
Polypropylene, on the other hand, is a material which helps shoe covers remain lightweight and also breathable. It is measured in GSM (grams per square meter) and the higher the number, the higher the quality; including the durability.
An ISO 13485 certification standard can be met by utilizing polypropylene. This is why we find disposable shoe covers with polypropylene in the medical field (i.e. clinics, labs, hospitals, etc.).
Having an element of polypropylene does not mean, however, that this ISO standard has been met. This is why it is important to pay attention to whether or not the shoe covers are ISO 13485 compliant, especially for those who need covers working in the medical field.


Water Resistance
Water resistant and waterproof are entirely different; albeit, we may interchange the two phrases as one. With shoe covers, it is very important to notice the difference, as this may impact which product best suits our needs.
Waterproofing is mainly found in shoe covers containing PVC. These are thicker in nature and stiffer as a result. Freedom of movement is not as important as is remaining dry. A drawstring closure at the top, also, is a good indicator of the cover's ability to keep water out. In the best case scenario, the drawstring closure accompanies an elastic binding along the top.
Water-resistant properties, as this applies to shoe covers, is in relation to the thickness of the GSM in polypropylene, and whether or not a coating has been applied to increase water resistance. In most cases, water resistance is a low priority in disposable shoe covers.
Some disposables will be water resistant, while others may have very little impact against water, and may even soak through if exposed to wet conditions. In disposables, most of the water-resistant capabilities will only cover the outsole of the footwear; thus, the upper is still exposed when in contact with liquids.


Fit
It's obvious that fit, in relation to placing something around our shoes, can be subjective. What we might look for in this case is the ability to easily place the shoe cover on, whether or not it is too bulky, and if it remains snug during use. A drawstring closure is an ideal solution for waterproof covers and also creates a nice, snug fit.
An elastic opening (at the top) is usually the norm for disposables and, therefore, this type of opening is common. It provides a decent fit and makes life easy, in terms of removing the product or placing it on your shoes. A combination of the two (drawstring ad elastic) is the perfect mix for waterproofing covers.
When it comes to fit, in addition to the opening, the overall size should not be too bulky. If it is, you could be in danger of tripping and the shoe cover will become more problematic than it should be.
If it is bulkier than what can be considered to be safe for your personal use, then the cover is not a good fit. In other words, if you can't walk in confidence, then the product has a terrible fit.


Traction
Traction with shoe covers is minimal at best. After all, when using one, the footwear's native traction becomes obsolete.
For disposables, traction is found in the seam which follows the bottom of the sole of the product. If the seam is not present on the sole, then traction reduces drastically.
For waterproof shoe covers, an actual tread is utilized along the sole. This is because the item, itself, is normally made of PVC and is slick by default. Without an added traction outsole, the experience could be akin to sliding around on ice. And, obviously, this could be a serious hazard for everyone.
Traction expectations for disposables versus waterproof covers vary. We cannot expect the same level of traction for an item designed for minimal usage against an item having a long-term usage capability. If the traction rating is low for a PVC (waterproof) design, then this means the shoe cover falls short against other items made of the same material.
Likewise, if an item falls short in the traction rating of polypropylene products, then it falls short against others of the same type of material.
So, if disposable (utilizing polypropylene) shoe covers have a high traction rating, they may or may not have a lower traction 'feel' when compared to an item made of PVC. This is why we separate the two into their own individual comparison groups.


Value
Value is not always about the price tag. More often than not, it is the price tag in conjunction with other factors, such as durability, fit, quantity, and so forth. A box of one-hundred disposable shoe covers may seem like a great value when compared to another box of the same exact item (e.g. 50-pair box of disposables), if it is, indeed, cheaper in actual monetary cost. But the reality, however, proves different.
With shoe covers, you might find two items which are made of polypropylene. They both have elastic tops, are light blue in color, and may even have the same pattern designs. But when we take a closer look, one of the products may be ISO 13485 certified, whereas the other is not. The former is fit for medical personnel and the latter falls short in this area. The latter may be cheaper, in terms of monetary cost, but the value is lower because it lacks a central feature.
The same is true when we compare the item's ability to provide adequate traction. One may be missing the invaluable seam across the bottom. It might be cheaper in monetary cost, but the value is, obviously, lower than the product which provides betters safety.
At the end of the day, the value of shoe covers is more than the monetary cost, it is the item's ability to serve the customer up to their expectations.
Expert Interviews & Opinions
Most Important Criteria
(According to our experts opinion)
Experts Opinion
Editors Opinion
Users Opinion
By Default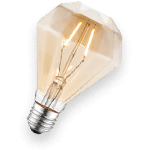 Shoefree House?
For a hassle-free experience, keep some of these around for when your family and friends come over. This gives them the option of leaving their shoes on.
Home Care Solution
If you have an elderly member of your community you're helping to take care of, these are a dream! Anybody with a weakened immune system will benefit from visitors covering up their dirty shoes.
Other Factors to Consider


Breathability
When we compare PVC to polypropylene, polypropylene has a distinct advantage, in the realm of breathability.
That being said, PVC is waterproof and polypropylene helps the environment and your footwear remain dust-free. One is not like the other, and as such, we must consider this.
PVC will not have high breathability; after all, waterproofing is the top priority here. Polypropylene, on the other hand, has measurable breathability via the GSM amount. The higher the number, the lower the breathability levels are.


Safety Hazards
Under normal circumstances, safety hazards fall into the realm of electrical resistance and similar features. With shoe covers, however, the item's ability to be non-slip and also not be too bulky in design play an important role in whether or not the product is a safety hazard.
It's one thing to protect the carpet from dirt and grime from environmentally-exposed footwear. It is quite another to wear something that could cause us to trip down a flight of stairs. Considering the item's overall design is the first step in choosing the right shoe covers for us, as this applies to overall safety.


Bottom Line
As you can see from our extensive list, there are shoe covers for many different settings and many different purposes. There are simple ones meant to protect your footwear from the dirt or the wet conditions of outside to more intricate ones meant to be used in a professional, medical institution.
Which shoe covers you go for in the end depends entirely on what you intend to use it for. Is it to keep your house clean? Your workplace? Is it to keep your shoes from getting wet and/or damaged? Is it to maintain a specific level of hygiene in a place? Answer all of these, and you won't have any troubles choosing the right shoe covers for yourself.
If you happen to have any questions, make sure to check out our FAQ section below. Good luck!
Frequently Asked Questions
q:

Are there any waterproof disposable shoe covers available?

a:

Technically, yes. These can be found in the form of waterproofing along the sole. These types of shoe covers, however, will still soak through if you step into a deep puddle. This is because the item only protects your footwear's outsole from the water. If you are searching for a waterproof option, then a PVC cover is a must-have. These, however, are normally not disposables.
q:

What is PVC?

a:

PVC (polyvinyl chloride) is a plastic material. It is lightweight, yet sturdy. Its very nature makes it possible to craft shoe covers with full waterproofing capability. Furthermore, when plasticizers are added, the material becomes softer. This, in essence, means you can freely bend the final product, or even roll it up.
q:

What is polypropylene?

a:

Polypropylene is a polymer which is non-toxic. For shoe covers, this polymer enables them to become ISO 13485 compliant products. In other words, most hospital disposables will contain polypropylene as a central element in them.
q:

What is ISO 13485 Certification?

a:

Generally speaking, this certification means a certain hygienic standard has been met for medical devices. If you work in the medical field and have been asked to provide your own disposables, then look for products which contain polypropylene. Then, make certain the product meets the ISO 13485 standard. Not all disposable shoe covers with polypropylene meet this standard, so be mindful of this.
q:

Are there any shoe covers that I can wear on slick floors?

a:

Yes. The best would be the waterproof shoe covers, as these normally have an added traction outsole. The next best thing is a seam that runs along the bottom found in disposables. Although not as grippy as the waterproof option, the rib can give you a bit more traction than the covers without the rib can.