Best Shark Shoes for Kids Reviewed & Rated
last updated:
Feb 07, 2019
Many of us, especially those in the younger population, find something fascinating about these sea predators that are seen as strong, fierce, and downright mysterious. It is no wonder then, that children wish to wear apparel and footwear with this theme, as the toothy and perhaps even menacing image of these creatures creates an aura of power and cool that is rarely found anywhere else. For that purpose, we have put together this guide for children who want to feel a little rebellious and as enigmatic as these creatures of the deep.
This is the best product on our list that is currently in stock: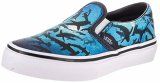 Vans Classic
Why is it better?
Lightweight Canvas Upper
Two Gore Panels
Padded Collar
Waffle Outsole
Deep Blue Ocean Print
In a
Hurry? Editors choice: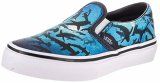 Test Winner: Vans Classic

3
Researched Sources
1059
Reviews Considered
5
Hours Researching
10
Products Evaluated
Upper
Comfort
Style
Materials
Durability
By Default
Our Favorites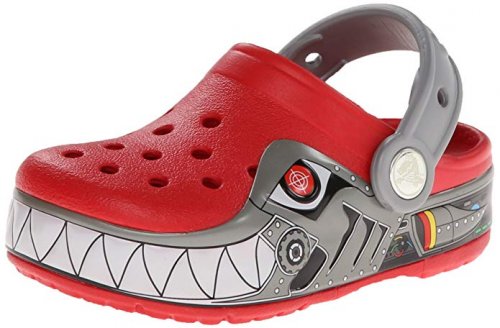 Croslite Material
Water-Friendly
Twinkling LED Light
Rotating Strap
Lights Fail Quickly
Not Too Durable
We present to you: robot sharks! The new Crocs Clog for children comes with a unique combination of the ocean predator in the form of a machine, complete with razor-sharp teeth and laser eyes. No one would dare mess with a clog this tough, and your young one will love it so much they will never want to take it off.
As all Crocs clogs, this one is also made out of Croslite material. Croslite is a special closed-cell resin foam which is exceptionally lightweight, cushioning and shock-absorbing. On top of all of that, it is also water-friendly, as it doesn't stretch out or lose shape when it comes in contact with wet conditions.

The backstrap of the Clog is a great way to keep the shoe in place as your child runs around and has fun on the beach, but if they wish to wear it as a slipper instead, they can always rotate the strap to the front to get it out of the way.

A bonus feature on this version of the Crocs Clog is that it has an LED light show! That's right, this design comes with a light feature in the row of teeth on the upper, which light-up on each step, adding another dimension to the fish robot.

There is nothing about this Crocs Clog that your child won't love. It has twinkling teeth, a body of wires and cogs, it can be worn absolutely anywhere, while being addictively comfortable at the same time. A great deal all around!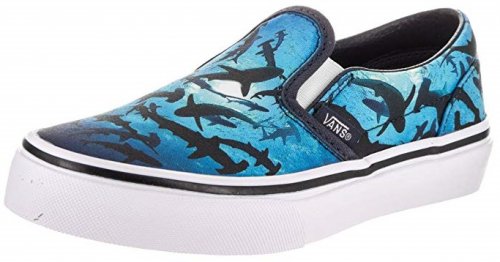 Lightweight Canvas Upper
Two Gore Panels
Padded Collar
Waffle Outsole
Deep Blue Ocean Print
No Arch Support
Stiff to Put On
Even though most footwear in this theme plays up the dangerous, toothy side of these sea creatures, the Vans Classic takes a different route - on its upper this slip-on features calm, blue ocean depths with these peaceful toothy creatures moseying around. Sunlight is pouring in, the fish are calm and lazy, and the scene is soothing all around.
The Vans Classic is that iconic silhouette which everyone loves to wear. It is light, it is easy to put on and easy to take off, and it is simple in design. The upper is made out of canvas, and it features two gore panels on the sides, which stretch out and accommodate your child's foot no matter what shape it is.

The collar of the Vans Classic is padded for extra comfort, and there is that well-known waffle outsole on the bottom. Vans has truly outdone itself with the construction of their outsole. They made sure that a good grip has priority, and as a result, we have a sneaker which keeps kids on their feet at all times, providing them with all the necessary slip- and skid-resistance to prevent them from injuring themselves.

The Vans Classic is, as its very name says, a classic. It is a sneaker which goes well with everything, which will keep the wearer comfortable and yet fashionable at the same time. And the image of the deep blue ocean only adds to that relaxed, laid-back vibe.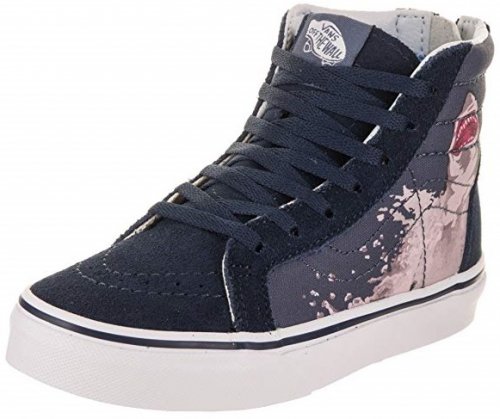 Breathable Canvas Upper
High-Top Design
Back Zipper
Excellent Traction
Well-Designed Motif On The Side
With a bone-chilling picture of the ocean predator leaping out of the water, the Vans SK8 HI is one badass skater sneaker. Now your child can show off their love for jaws in these lightweight, canvas high-tops, with a long lace-up closure that allows for maximum adjustment. They will look cool and laid-back, and effortlessly fierce at the same time.
The Vans SK8 HI is a high-top design, which we applaud because it adds that protective quality for the ankles. Regardless of what your kid is doing - be it walking or running or jumping or climbing the jungle gym - these sneakers will keep their ankles stable and supported, and will reduce the risk of injuries such as sprains and twists.

What's more, the upper of the Vans SK8 HI is constructed out of canvas, an easy breezy material which promotes proper air flow through the sneaker. This prevents sweating and bad odors which might result from that.

If you're worried about all the laces at the front - don't be! While these do help with adjusting the fit right, the real way in and out of this sneaker is through the zipper in the back. Your child can simply undo it, slide their foot in, and zip it back up without any trouble!

Lastly, we can't not mention the legendary Vans waffle outsole which comes with all of their shoes. This is a specially patterned rubber layer which allows for maximum grip on the board, but also maximum traction off the board as well. Your child will be safe from slipping or skidding on any type of terrain.

The Vans SK8 HI is for that kid who wants to feel a little rebellious, a little punk, and yet still be comfortable and protected from injury at the same time. What a winning combination!
4

. Capelli New York Rain Boot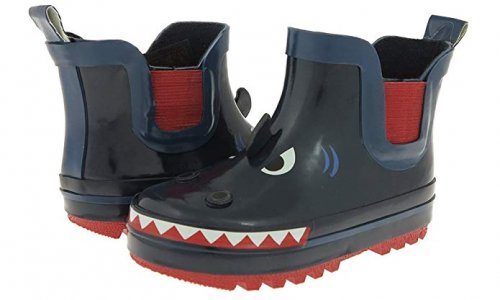 Waterproof Rubber Upper
Elastic Inserts in the Sides
Easy Slip On
Deep Tread Outsole
Angry Face Design
Fin Breaks Off Easily
Unreliable Sizing
Rainy days are overcast, gray and generally lacking color, and we completely understand if children don't really feel like going outside. However, you are surely going to brighten their day with a pair of Capelli New York Rain Boots! These all-rubber boots have a face of a sassy sea monster on the upper, with a fin sticking out the top and pointy teeth lining the toe bumper.
Needless to say, the Capelli Boot is completely waterproof. Its upper is made out of smooth, non-toxic rubber, with elastic inserts in the sides and a pull tab in the back. These allow your child to slip the boots on with minimal effort and take them off just as easily.

As with most rain boots, this one also comes with a rubber outsole with a deep tread pattern. The pattern provides necessary traction on slippery terrain and ensures that your child doesn't slip and fall even as they run and play in wet conditions.

We will be the first to admit that, construction-wise, the Capelli Rain Boot doesn't stand out from the rest of its kind. However, it is solid, hits all the required marks for a good, protective rain boot, and it is amazingly whimsy at the same time. There is no kid who wouldn't love wearing these in bad weather!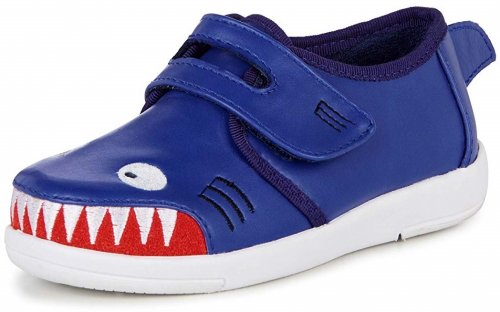 Faux Leather Upper
Velcro Strap Closure
Memory Foam Footbed
Terry Cloth Lining
Silly Design
Scuffs Easily
Upper Not Durable
From a company which started out as an expression of love for the Australian landscape, comes a rather unique sneaker, both in materials and in appearance. The Emu Australia Fin is a design which pays tribute to the ocean predator in the form of a fin coming out the heel counter, and a row of teeth, gills, and eyes at the front.
Its upper is constructed out of faux leather, and it comes with a velcro strap across the front. This is a convenient way of getting in and out of the sneaker, as it enables even those who are not skilled at tying shoelaces to easily put on their footwear.

The inside lining of the Fin sneaker is made from terry cloth, a material which towels are made of. This provides a padded sort of comfort to the sneaker, but also much needed moisture absorption, and we all know how good towels are at absorbing moisture.

The Emu Australia Fin also has a memory foam footbed which molds to the contours of the wearer's foot, as well as a lightweight sole unit with a durable rubber outsole.

If you're looking for that simple sneaker to treat your child, it really doesn't get any simpler - or wackier - than this one. The closure of the Emu Australia Fin is easy to handle, it is light enough to be worn on any occasion, and its silly design will just make anyone smile. What a fun product!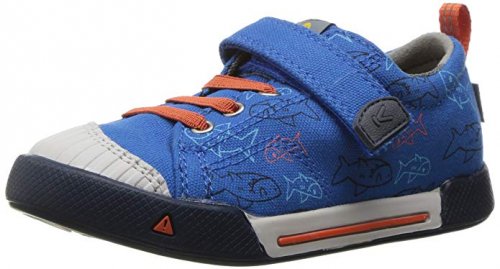 Double Closure for Security
Adjustable Lacing System
Odor Control
EVA Midsole
Non-Marking Outsole
Stiff Construction
Can Cause Blisters
While it is a design that is subtle in its sharkiness, the Keen Encanto Finley is truly a low-top option worth your attention. It has everything a good sneaker needs - a lightweight upper, a secure double closure, adjustable elastic laces, and a great fishy-themed pattern all over.
To provide that breathability even in summer months, the Keen Encanto Finley comes with a canvas upper and a mesh lining. These are porous materials, allowing the air to easily pass through in and out of the design, and they keep young feet sweat-free. In addition, there is a Cleansport NXT feature, which is an agent that helps control odor.

The closure of the Keen Encanto Finley is twofold - there is a lacing system in the front, which allows your child to customize the fit to however tight or loose they need it to be, but there is also a velcro strap on top of that, to provide good lockdown and ensure that no sneaker gets left behind even in a game of tag.

To round up this design is an EVA footbed for shock absorption, and a non-marking rubber outsole to ensure good traction.

The Keen Encanto Finley is that versatile sneaker that your child can take anywhere - to school, to the playground, to the park, to grandma's house. It looks simple and respectable, but it also has that dash of goofiness that all children like. A perfect choice!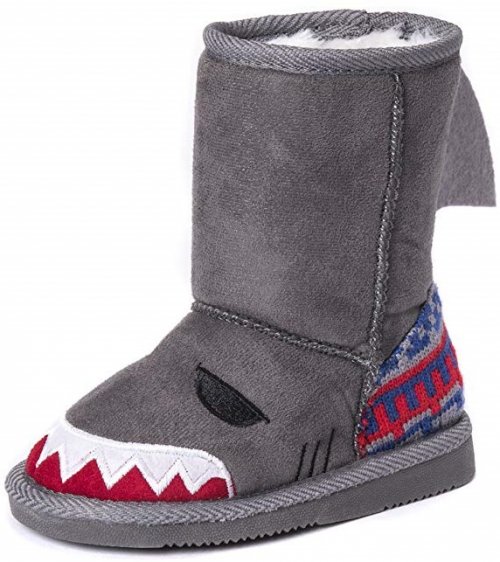 Soft Plush Upper
Faux Fur Lining
Heat Preserving
Rubber Outsole
Teeth and Fin Decorations
Not Waterproof
Wear Out Quickly
Muk Luks is a symbol of all things cozy, knitted and steeped in autumn colors. They specialize in vintage-meet-modern designs for all ages, and there is hardly a product which is as comfortable as theirs. The same is true of the Muk Luks Finn boot, one which comes with a fierce set of teeth in the front, and a protruding fin in the back.
This winter boot is made out of faux suede, plush and addictingly soft to the touch. The inside is lined with faux fur, keeping young feet well-padded and comfortable, but also toasty and protected from the cold at the same time. It is a slip-on style, one that is simple to pull on and even simpler to take off.

The outsole of the Muk Luks Finn is rubber, with a special tread pattern that makes walking easy on any type of surface. In this unique boot, you can be sure that your child won't lose their balance and accidentally hurt themselves.

While it is not ideal for wet conditions, the Muk Luks Finn is still a great option for dry, freezing weather. It will preserve heat and provide comfort, while at the same time looking adorably sharky!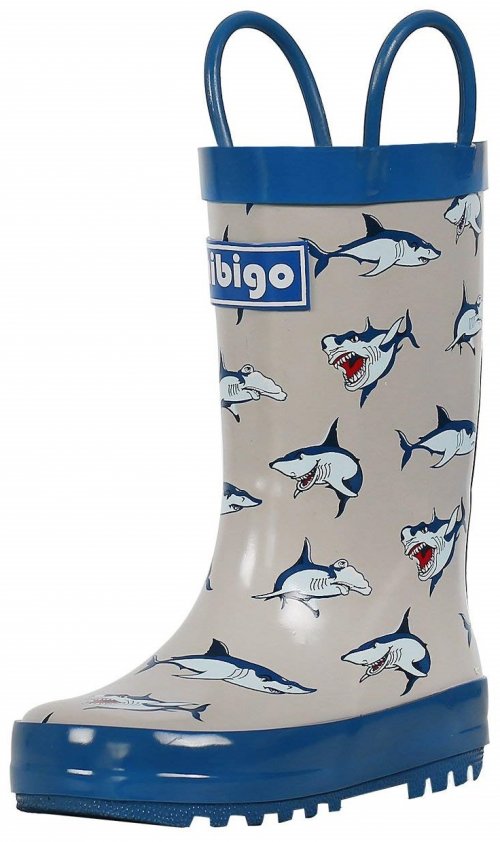 Non-Toxic Rubber Upper
EVA Midsole
Soft Cotton Lining
Deep Groove Outsole
Easily Transportable
Rubber Wears Down Quickly
Not Enough Cushioning
Dive into puddles and splash around in the rain in the Hibigo Rain Boot! This glorious waterproof design will keep all the moisture out while your child enjoys their play time outside, and it is definitely the go-to option for rainy days.
The upper of the Hibigo Rain Boot is made out of non-toxic, carefully selected rubber. It is flexible, and specially crafted and tested to prevent even the tiniest of leaks. Your child's feet will be nice and dry all throughout the wear.

On the inside, there is a cotton lining which is gentle on the skin, and also a breathable EVA midsole. EVA has the ability to absorb shock, relieving pressure off of ankles, knees, and hips as your young one runs around the playground. What's more, the breathability aspect will help with odor control, so that there are no sweaty feet once the boots come off.

The Hibigo Rain Boot comes with a thick rubber outsole with deep grooves on it. These grooves will channel water away as well as provide outstanding traction - it will feel like your child is walking on solid ground even if they're taking on muddy terrain or going hiking in the forest.

Finally, this design is also easily transportable, as it comes with a neat pair of handles fastened to the top. It is flexible enough to be packed in any travel bag so that your child can now enjoy their favorite rain boots wherever they go!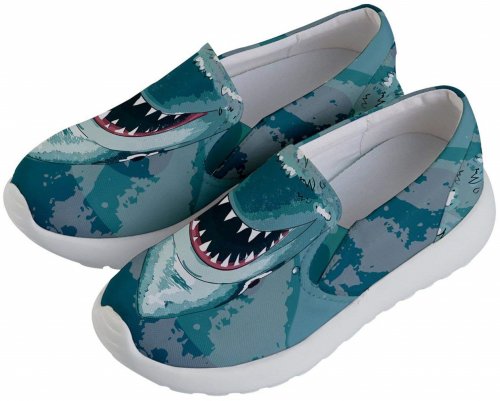 Elastic Fit
Removable Insole
Two Gore Panels
Easily Washed
Vibrant Jaws Print
Plastic Smell
Size Runs Big
You can't miss the gaping jaws on the front of this sea-green sneaker. The PattyCandy Slip-On is a lightweight design meant for warmer weather, one that your child will love wearing everywhere they can, while at the same time proudly displaying their love for these scary sea creatures.
This sneaker is made out of 90% polyester and 10% spandex. Spandex is an exceptionally elastic material, and it ensures that stretchy, flexible fit of the upper. To add to that are the gore panels on the sides, which make it extremely easy to slide in and out of the design.

The PattyCandy Slip-On has a comfortable sole and an insole that you can easily remove. This allows you to wash the insole without any problems to get rid of potential bad odors, but it also means that by removing it you can add more space inside the sneaker, should your kid need it.

While it is minimalistic, made out of unremarkable materials and lacking any special lights or gadgets, the PattyCandy Slip-On serves its purpose well. It is comfortable, vibrantly colored, and bound to satisfy anyone's craving for toothy sea creatures.




100% Recyclable
Vegan
Flexible Footbed
Gentle Rubber Straps
Colorful Print
Ipanema is a collection named after one of the most famous beaches in Brazil. It features fun, colorful and chic summer styles, such as sandals and flip flops, for customers of all ages, gender identities, and backgrounds. And of course, that wearing a Jaws-themed flip-flop is only appropriate, as you can take your love for these toothy fish out to the beach!
This flip-flop is very simple and actually quite standard in design. It is made out of 100% synthetic materials, meaning that it is vegan, and those materials are also 100% recyclable, making this flip-flop completely environment-friendly.

The straps on the Ipanema Jaws are made of rubber, but one that is gentle on your skin and doesn't dig in or leave any kind of indentations. The sole is the signature Ipanema's footbed, flexible and moving along with the foot, reducing strain on the joints and staving off foot fatigue. We are especially taken by the colorful print on the inside, adorned with shapes of different sizes.

The Ipanema Jaws is that wonderful option when you just need a regular summer shoe, one that will keep your child's toes exposed and wiggling, and have them be comfortable and breezy. It is easy to pack and even easier to clean, and definitely the right choice for when you're planning your next summer vacation!
Criteria Used for Evaluation


Upper
By 'upper' here, we mean, all the prints, images, drawings and add-ons on the upper one can find when looking for a specifically themed design. Of course, the possibilities are endless, but we have still found a certain pattern or some decorations which are the most common when it comes to this type of footwear.

The one way of decorating the upper which dominates these collections is the row of teeth at the front of the design. Indeed, because of the shape of a shoe in general, it is quite easy to make its front resemble the face of this sea predator, complete with eyes on the sides, a row of razor sharp teeth along the toe bumper, and maybe even a fin on the top - or even the back. This is something we see in the Capelli Rain Boot, the Crocs Clog, the Emu Australia Sneaker, and the Muk Luks Finn.

This style - mimicking the creature's face in the shape of the design - is definitely popular, and children everywhere love it, especially if it is enhanced by twinkling lights, such as in the case of the Crocs Clog.

An alternative way of decorating a design is by placing images on the upper. This can be one large print across the entire material, as we see in the PattyCandy Slip-On, but it can also be a pattern of smaller creatures, like for example in the Hibigo Rain Boot.

The type of the image can also vary - it can either be a realistic depiction of the fish, like on the Vans SK8 HI, or it can be an illustration, a drawing, like in the case of the Keen Encanto Finley.

At the end of the day, the purpose of all of these decorations is to reinforce the theme of the design, but also to be visually appealing to those who are interested in it. Which one you or your child will go for depends on a number of factors - first, does your kid like it? Do they find it cool enough to wear? And second, is it appropriate for the setting they're going to wear it in? Perhaps some of the more threatening pictures are not suitable for the classroom, and this is also something you should take into consideration before making a final decision.


Comfort
While the visual appeal is important when it comes to this category of footwear, we also can't ignore the fact that these designs have to be comfortable at the same time. After all, your child spends a lot of time on their feet, either going to school or sports practice or playing outside with their friends, or running around the backyard with the dog. Throughout all of this they need to be comfortable and pain-free, otherwise what even is the point of good-looking footwear?

But how does one actually decide if a design is comfortable? Without wearing them for a period of time first, how can you tell if a shoe will be good for your child or not?

While it is true that everyone's comfort levels are different and that if a design works for one child it may not for yours, there are some key things you can look for before you treat your kid to new footwear. Let's see what they are.

Footbed:
One of the best ways to determine if the design is comfortable for covering long-distances is to look at its footbed. It should be soft but supportive at the same time, and it should be able to mold to the shape of the foot. That means that your child's sole contours will be cradled gently by the footbed as they walk, reducing foot fatigue and pain even after hours of being on their feet.
Leather and cork footbeds, in particular, have this great ability of changing shape over time and getting impressions of the toes and the heel which provide the wearer with exceptional comfort the longer they wear the design for.
Furthermore, if possible, the footbed should have arch support. While children don't suffer from joint or lower back pain like adults do, they still need to develop a proper gait and a well-balanced way of walking. Good arch support prevents their foot from rolling inward as they move, and enables them to make stable, confident steps.
If, by any chance, you find that the design you and your kid picked out doesn't have a good footbed - don't despair! You can always purchase insoles to insert into the shoes separately, and thus increase the comfort levels.
Seams and Lining:
The construction of the design is also important for comfort. Check for any seams which might be sticking out inside the shoe, and possibly become a pressure or even pain point for your child. Additionally, make sure that the lining inside of the design is soft and gentle, and that it won't cause any chafing or hotspots over longer periods of time. Blisters are formed quite quickly and they can not only impede the wearer's activity levels, but can also prevent them from getting into and enjoying other footwear they have until the wounds heal.
Fit:
Finally, because we all have feet of different shapes, it is important that the design fits right. It shouldn't be so loose that it is slipping off of your child's foot, but it also shouldn't be so tight to be cutting off blood flow. It would be ideal if the design you're looking at has elastic inserts in it, such as with the PattyCandy Slip-On or the Capelli Rain Boot. These stretch panels allow for a foot of almost any shape to feel comfortable and supported inside the design, while also not being restricted in movement in any way.


Style
This guide is truly filled with a wide range of different footwear styles for different occasions. Which one you will go for depends on what you're looking for. Consider the season and the weather - is it a hot summer? A snowy winter? - and also consider the events, or situations your child will be wearing this design in. Is it for school? Only hanging out with friends? Do they have to look presentable for their extended family members? All of these factors come into play when you're choosing a style which best suits you.

There are three major style categories we can sort all of the items on our list in, and we're going to do that here, to make it easier for you to understand the pros and cons of each.

Sneakers:
Arguably the most common, most comfortable, and most widespread of all footwear styles. Sneakers are so popular, especially among children, because they are light and easy to wear, and they can be worn absolutely anywhere - to school, to the park, to visit a friend, on a shopping trip, when travelling… There is no situation in which the sneaker isn't appropriate, at least when you're young.
In our list we have several sneaker variations, such as a slip-on low top (Vans Classic), a high-top (Vans SK8 HI), and a low-top with different types of closures - the velcro and a combination of velcro and shoelaces (Emu Australia Sneaker and Keen Encanto Finley, respectively). In terms of comfort they are all pretty similar - the only difference here is what your child prefers to wear and what style goal they're trying to achieve with their look.
Boots:
When the sun hides behind the clouds and the temperatures drop, it is not easy to keep warm outside. If we add unfavorable weather conditions such as rain or snow, then regular sneakers no longer cut it. We need something sturdier, more solid, to keep us protected from both the cold and the elements. And what else is there, than the boot.
Boots are an amazing style, as they are usually just as comfortable - albeit somewhat heavier - than sneakers, and yet they meet all of our needs when it comes to walking through slush, jumping into puddles or making snow angels. They keep us warm with special insulating liners (like the faux fur on the inside of the Muk Luks Finn), and they also stop any moisture from getting in with their waterproof uppers and constructions (all the rain boots in our arsenal).
If winter is coming (and according to the House of Stark it always is), you would do well to supply your child with a solid pair of boots so they can continue enjoying their play time outside even when it gets chilly and wet.
Sandals:
Finally, on the opposite end when it comes to season-appropriate styles, we have the sandal. This style is perfect for sweltering summers, unrelenting sunshine, and heat that does not ease up even in the evening hours.
Your child can choose whether they prefer open-toe (Ipanema Jaws), or closed-toe designs (Crocs Clog). Both of these come with more than enough ventilation (or exposed skin) to provide that necessary breathability to the feet. This is important not only for comfort, but also to prevent sweating, bad odors, and possible bacterial and fungi infections which can result from confining the feet to hot, damp spaces when it's hot outside.
The difference between open-toe and closed-toe designs is that the latter has a bonus feature of protecting your child's toes from getting bumped, stubbed, cut or otherwise physically hurt. If you're going to a place with potential hazards lurking about - such as an unexplored beach or a hiking trail - a closed-toe sandal would be a good alternative to a classic flip-flop.


Materials
The quality of a design is directly related to the quality of its materials; there is simply no way around it. If a design is constructed out of fine, breathable, and comfortable materials which will last for several seasons, then the shoe itself will also be every bit of that. Similarly, if the materials are of poor quality, we can't expect much out of the design itself.

In our list, we have several different options when it comes to materials, and in this section we will take the opportunity to explain a little more about each of them, and what their advantages and disadvantages are.

We'll start with the best, most innovative of materials - the Croslite. This is a special type of substance which hasn't been seen before Crocs came up with it. It is exceptionally lightweight and comfortable, since it is a foam-type material, but it is also very durable and provides good odor control. Croslite is largely the reason Crocs are so popular despite their less than appealing aesthetic, and it is definitely the best material we have come across during our research for this guide.

After Croslite, we have rubber. For some of the designs (the Capelli Rain Boot and the Hibigo Rain Boot), rubber is the main component of both the outsole and the upper. This is a highly resilient material, one that is resistant to water, oil, stains, scrapes, scuffs, creases, and pretty much anything but very high heat. If used as an outsole, it provides slip- and skid-resistance, but if used as an upper it also makes the design waterproof and flexible at the same time.

The downside to rubber is that it is not very breathable. This is why it is used as an upper material only in those designs where breathability is less important than water resistance.

If you are interested in breathability, however, there are more than enough canvas options to go around, such as the Vans Classic and SK8 HI, and the Keen Encanto Finley. Canvas is great at allowing air to pass through in and out of the design, and it is also extremely lightweight. While far from water- or stain-proof, it is a great choice of material for summer footwear, as it will protect the feet from sweating and make them feel light and free.

Lastly, in the case of the Emu Australia Sneaker, the Muk Luks Finn and the PattyCandy Slip-On, we have synthetic materials, such as polyester. These are beast-free and inexpensive to purchase - as a result, footwear made of synthetic materials is also inexpensive - but they are not as durable as other materials we discussed.

While materials do make or break a design, they are not something you should be losing sleep over. Other criteria we talk about here - style, comfort, appearance - are as important when it comes to footwear, and in the end, if the materials end up being subpar, then you can always go for a different setup next time.


Durability
Durability is heavily dependant on our previous section, the Materials. While construction of the design itself plays a role in how long it will last, materials are those which determine how long it takes before you start seeing signs of wear. Genuine materials, such as leather or suede (faux suede doesn't count), and also rubber, offer the most durability, while synthetics and more lightweight fabrics such as canvas usually get frayed or scuffed within a few months' time.

Of course, the way your child wears their footwear, and what they use them for is also a factor in how long the design lasts.

Children are infamously hard on their footwear, because they are an active bunch - they run, jump, play soccer in the grass, race around the sports field, and do all sorts of fun, high-impact activities which lead to deterioration of their footwear. This is not something that you can, or even should, prevent. Children are supposed to be lively and spirited and to explore the world around them, and nothing should stop them from doing so, not even the possibility of ruining their shoes.

There is also another thing to take into account here - the fact that children grow. In a matter of months, a design you purchase today won't fit your child's foot anymore, and you'll have to look for one in a bigger size. In light of that, durability - at least long term - is not that important. All you can hope for is that the design lives long enough for your child to outgrow them, and then it's back to square one.
Expert Interviews & Opinions
Most Important Criteria
(According to our experts opinion)
Experts Opinion
Editors Opinion
Users Opinion
By Default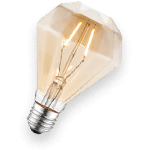 Did You Know?
Sharks don't have bones! Instead, they have a complex system of cartilege.
20/20
Most sharks have excellent eyesight!
Other Factors to Consider


Ease of Use
When we say 'ease of use', we mean, 'how easy it is for your child to put on and take off their footwear by themselves.' This largely applies to the concept of closures, or lack thereof, and if they are simple enough to be used by a child, or if there needs to be an adult around to help. Because after all, you, or any other adult, won't be around 100% of the time. Your kid needs to be able to easily get in and out of their footwear whenever they so desire.

So think about this: does your child know how to tie shoelaces? If yes, you have no problem! Any design is good for them.

However, if not, then maybe opt for something that doesn't have laces, such as slip-on designs, or those with velcro straps across the front. These are easy to use and mean that your child doesn't have to wait for you, another family member or a teacher to come to their assistance.


Bottom Line
What is the bottom line here? Even though a lot of information we have laid out may seem overwhelming and like it requires some processing, we assure you that it is not that critical. At the end of the day, you are choosing footwear with a fun theme to treat your child who likes to read about or watch documentaries about sharks.

In line with this, have them sit beside you as you scroll through the choices, and let them tell you which one they like the best. Yes, comfort and style and materials and durability are important, but it is also important that your child loves wearing their new kicks, and that they feel good in them. Because nothing can beat their genuine smile and delight when they realize they can have their favorite toothy fish with them everywhere they go from now on.
Frequently Asked Questions
q:

Is this footwear appropriate for school?

a:

It depends on the design. If it's a regular, unobtrusive style like a sneaker, and if the print isn't too aggressive or doesn't have too many distracting features - such as blinking lights - then we don't see why your child shouldn't wear these to school. However, if there is something that could drag the children's attention away from the lesson at hand, perhaps it's better to leave that design for play time after school.
q:

Can both boys and girls wear these shoes?

a:

Of course they can! Since both boys and girls can express equal interest in these sea predators, we see no reason why anyone who's a fan wouldn't be able to wear this kind of footwear.
q:

Are these acceptable for growing feet?

a:

When buying children's shoes the focus does need to be on foot health - and we always take this into consideration when selecting products. All shoes on this list are designed for small, growing feet and should be comfortable and safe.
q:

Can these shoes be purchased for adults?

a:

While some of these models are available in adult sizes, not all are. Our best advice is to search places like Amazon to find out what sizing options are for purchase.
q:

What other sea creatures can I find?

a:

When it comes to footwear the possibilities are virtually endless! Check out NicerShoes for more guides on various funky footwear and discover new and creative designs.