Best Sandals For A Beach Wedding Reviewed
last updated
Feb 07, 2019
Beach weddings are, without a doubt, some of the most amazing ways to celebrate your love with your partner. The wind caresses your skin while you exchange vows, with seagulls singing along the music and the waves splashing your feet. Your loved ones bathe in the sun and get all the joy a destination wedding brings along.
But, should you dress for a beach wedding the same way you would for a regular one? Won't your heels get swallowed by the sand, causing you to fall over on your very important day? Is a combination of a long dress, high heels, and sand a good idea? Many more questions can arise here, but you lean on to us because we've got you covered! At least, for now, when it comes to footwear. We have carefully selected some of the best sandals you can wear for the big day, that will make your wedding unforgettable!
In a Hurry? The test winner after 5 hrs of research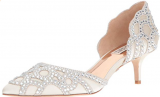 Badgley Mischka Ginny
Why is it better?
Scalloped d'Orsay Upper
Shimmering Rhinestones
Rosy Gold Soles
Kitten Heel
Leather Insoles
In a
Hurry? Editors choice: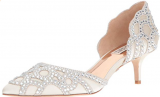 Test Winner: Badgley Mischka Ginny

9
Researched Sources
312
Reviews Considered
5
Hours Researching
10
Products Evaluated
Comfort
Materials
Style
Accessories
Color
By Default
Top 10 Picks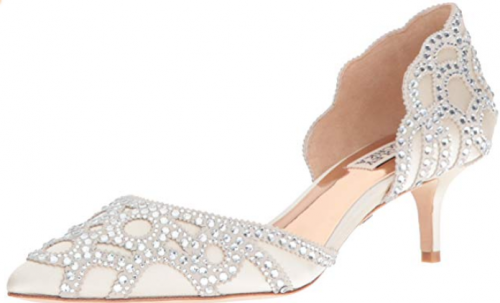 Scalloped d'Orsay Upper
Shimmering Rhinestones
Rosy Gold Soles
Kitten Heel
Leather Insoles
Tastefully embellished and royal, the Ginny will add an elegant accent to your garb. The d'Orsay silhouette slims down your feet and lets your skin enjoy the view. The scalloped heel cup contrast the perfectly straight toe box, adding a dynamic flow to the kitten pump. Their upper is made out of satin, colored in ivory and black, with a high luster and delicate feel.
The pointy toes and intricate heel cup have glistening veins circling in and out, transforming the Ginny from a simple kitten pump to a magnificent evening sandal. The ivory and black are both complemented by the rose gold insoles and outsoles, which work in perfect harmony to point out the sunny hues in the upper. The soles are leather, wicking away sweat and keeping you dry and smelling great!
2

. Bienvenu Crochet Sandals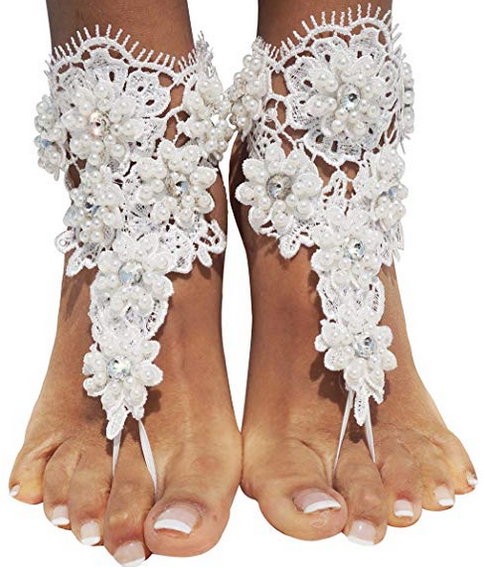 Very Dainty
Lace Crochet Upper
Flower Details
Pearl And Rhinestone Embellishments
If you love lace and feeling the sand between the toes, then these are what you've been waiting for. Show off your smooth skin and lovely nails, and experience what it's like to walk without soles again. Feeling the warm surface under our feet improves our mood, and helps us connect our mind with nature. Walking shoeless also relax your toes and stretches you out, giving your feet the freedom they deserve.
Two lovely satin ribbons tighten the dramatic, yet sophisticated upper to your legs. They wrap around your second toe and anchor themselves in, making it impossible to lose them along the way. One big, pristine white flower is enveloped by a meadow of smaller ones, all falling down at your toes. Their petals are pearls, the pistil a crystal, and their pearly petals surrounded by a frosty crown. You can combine them with regular sandals as well, adding a touch of sensuality to whatever you wear.
3

. Blue By Betsey Johnson Maddi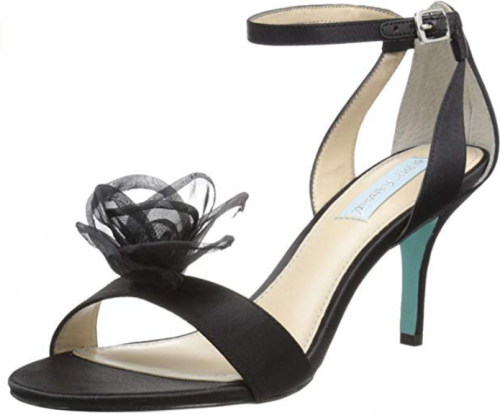 Cut Out Heel Cup
Black Satin Upper
Mesh Bow
Slim Adjustable Strap
Lightly Padded
We all love white wedding shoes, but why not go with something a bit...darker? Black wedding sandals are unusual, but not unseen, especially nowadays when more and more brides are releasing their inner wilderness and desires! The Maddi is perfectly black but pure enough to make you shine on your big day. The upper is satin, making the black glisten and shimmer under the light. The heel cup has lovely side cutouts, making them strappier and sexier, while a slim adjustable buckle strap helps keep your feet in place.
The thick toe strap features a dimensional mesh bow. Bows were always a symbol of femininity, so don't worry about looking way out of character just because the sandals are dark. The heel is slim and wrapped in satin as well, be careful around sand! Slim heels and sand are never a cutouts combination. The soles are fabric, padded just enough to make a difference. The signature blue outsole is there, contrasting the gleaming black and adding beauty to the sandal.
4

. Badgley Mischka Tristen



Dangling Crystal Cascade
Serpentine Straps
Foam Footbed
Back Zip Closure
Color Is Off
Not True To Size
This unforgettable sandal fastens the light of a thousand suns around your feet. The satin upper unifies the crystals gleam and brings the cascade of light to a blinding finish. The serpentine straps slither from your ankles down to the sides, while the bedazzling gems hang and dance as you walk. The zipper on the back lets you easily slip out of your heels and into their glowing embrace.
The thick, gemless toe strap keeps your feet from hanging out and softens the shine from the crystals. But, the insoles bring a whole new dimension of metallic light with them, leaving you with nothing short of a burning star under your soles. The outsoles have a latex foam-cushioned footbed. The latex is located around the arches, preventing the feet from wiggling around, making them concentrate all of their power into support. The foam-cushioned footbed makes up for the lack of heels, as it will minimize the effect flats usually have on our feet.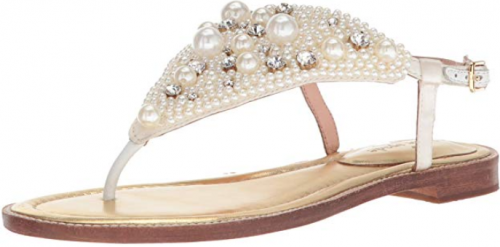 Leather And Satin Upper
Golden Details
Pearl And Rhinestone Bridge
Ivory Color
Padded Heel
These pearly beauties accentuate your purity while keeping your feet safe and pain-free! Their upper is made out of satin, located on straps that will not rub you the wrong way and cause blisters when you need them the least. They have an adjustable buckle around the heels, securing your feet in and preventing the sand from swallowing them up! A strap between the toes ensures they don't wiggle around too much.
Now, let's talk about the obvious - that sea of shimmering pearls interrupted by dazzling rhinestones. The pearls vary in size, giving your eyes a little bit of variety to soak in. Consistent patterns are boring and do not excite the mind, whereas variety is the spice of life! The rhinestones sprouting in between bring out the shine of the pearls and glisten as you walk in the sun. Their ivory color gives you a gentle tone, while the golden buckle and insoles bring out the warmer hues. The insoles have a cushion on the heel, providing you with cozy comfort throughout the day. A short heel gives arch support and makes corns and calluses a distant dream (or nightmare)!
6

. David's Bridal Slingback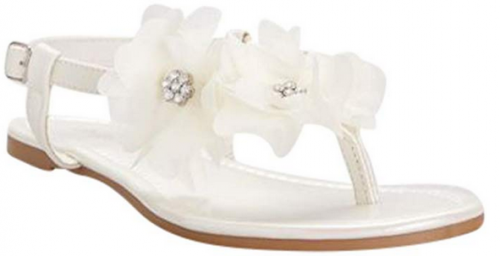 Adjustable Buckle Strap
Swaying Flowers
Smaller Crystal Flowers
Secure And Tight
After a full day of walking around on heels, you just want to escape, and who can blame you? Rule the dancefloor and never slow down with this slingback hugging your feet. The upper is synthetic, which shouldn't worry you that much since they are open, and you will get plenty of air! An adjustable buckle sits on the back, which allows you to easily accommodate the swollen feet you will have after standing around the whole day.
This thong sandal will stay in place no matter how excitedly you dance, and the strap between the toes makes that a possibility. The two-pronged upper is hidden with chunky, exaggerated flowers. Their swaying petals will harmonize with your steps, giving off an elegant vibe. A smaller, rhinestone flower sits in the middle, and glistens in the night, attracting the eye and contrasting the perfectly solid upper.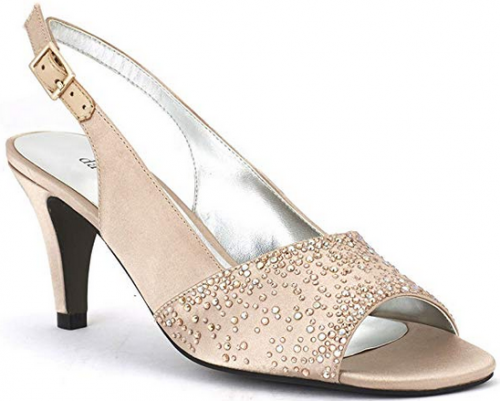 Slingback Style
Adjustable Buckle Closure
Metallic Linings
Sea Of Rhinestones
Lightly Padded Footbed
Peep Toes Cut Skin
Rhinestones Fall Off
The Stunning sandal is, without a doubt, a stunning pair that will surely bring out your hidden sparkle. Their satin upper will softly glow as you walk down the aisle, helped by the sea of little glowing rhinestones. The open toes will let you dictate the tone of the shoe, giving you full power to do whatever you want with your pedicure.
Their slingback strap offers a buckle closure that can be adjusted to your liking, keeping you safe and sound inside your sandal. The linings are synthetic, colored in an illuminating metallic hue. They won't make you sweat up since there are plenty of openings left for extra moisture to escape. The footbed is lightly padded, enough to keep you standing, but not enough to uncomfortably squeeze your feet up to the upper. The sculpted and wrapped heel makes your gait elegant, and your legs desirable. The outsoles are rubber and slip-resistant, so even if it does rain during your big day, you won't need to fear falling down.
8

. Blue By Betsey Johnson Lucy




Pointy Toes
d'Orsay Silhouette
Rose Cut Outs
Tonal Studding
Blue Outsoles
The Lucy flat shows us that you can look just as extravagant as you would in heels, without the trouble to go with it. The d'Orsay silhouette lets your skin make an appearance, and also helps the air circulate underneath your soles, making sweat and bad odors a thing of the past. It's made out of satin, that has three color varieties - sensual black, rosy blush and milky ivory.
The edges of the upper are serrated, so if you're a lover of vintage trends, then this one is for you. The upper also has laser cut outs resembling roses, wrapping you up in their delicate charm. Little rhinestones are scattered around the roses, shining like the stars in the night sky. The pointy toes only add to their style, making them ideal flats for a wedding. And, no Betsy shoe would be complete without the signature blue outsole, so if you are struggling to find something blue, the Lucy's got you covered!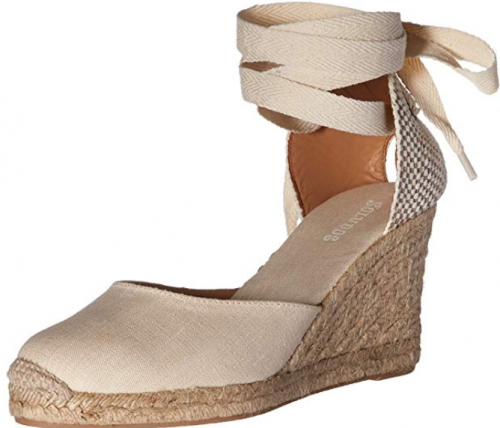 Espadrille Design
Linen Upper
Trendy Laces
Checkered Heel Cup
Thin, Tall Wedge
Stiff Heel Cup
Linen Doesn't Stretch
Espadrilles always seemed like a casual shoe, but believe us when we say they can definitely be a wedding sandal! This blush wedge will pair with your ensemble like any other wedding sandal while being perfectly adequate for a beach! Their upper is made out of linen - used by citizens of the hottest countries because they simply know linen breathes the best and dissipates heat. If you have a hot, humid wedding coming up, this sandal will keep you nice and cool.
The heel cup has a small opening, promoting even more airflow, and is decorated with a minimalistic checkerboard. The long, wide laces wrap your legs up and slim them down. The thin, tall wedge supports you, while giving you balance and stability. It will perk up your muscles and add the finishing touch to your elegant physique. A platform supports you even more, helping your joints work better.
10

. Jewsun Barefoot Sandals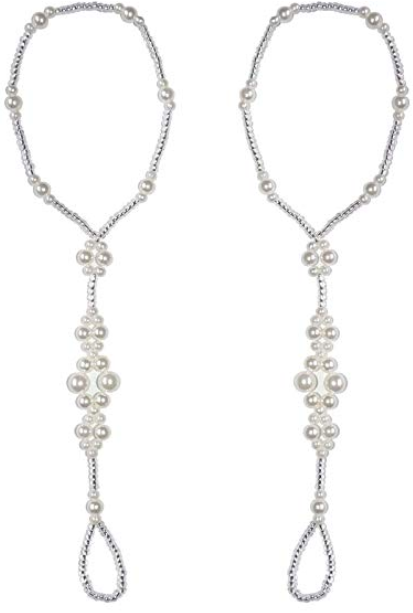 Minimalistic Design
Silver Plated
String Of Milky Pearls
Pair With Regular Sandals
Free Gift Box
If you feel like your dress is already too much to handle by some standards, then these barefoot sandals are just what you are looking for. Their minimalistic design is enough to accentuate your beauty, without clashing with the extravagance of your gown. They wrap around your ankles with a string of imitation pearls - all the beauty without hurting anything in the process.
The anklet ends with a bundle of milky pearls and continues down to your toes. The bridge connecting the anklet and the toes is adorned with pearls as well, varying in size, yet still perfectly symmetric. Be sure these will shine in the sun, as they are silver plated and ready to bedazzle the crowd. If you feel like they are just not enough, you can always pair them with your favorite sandals and create the ideal wedding shoe.
Criteria Used for Evaluation


Comfort
Getting married is a huge deal, and being comfortable and relaxed during the ceremony should be very important! Uncomfortable footwear can distract you and make you think of nothing more but the pain, which is the last thing you wanna be thinking about. Therefore, you should invest in a proper wedding sandal that will not cause you any discomfort! You're likely going to spend the whole day on your feet, chatting up the guests, dancing and running around, so you gotta make sure your pair will be up for the challenge. If you are someone who is definitely not used to wearing heels, avoid them! There are plenty of gorgeous wedding sandals, and you can even go barefoot.
Always remember to wear your shoes before the wedding day. Break those babies in! You will probably worry about staining that pristine satin, or snagging leather on something, so wear them at home. Get your thickest pair of socks and slap on your sandals. Walk around, sit in them, dance, do whatever you are going to be doing on your big day - this way, you will stretch them out, and you will recognize problem areas and you can be prepared ahead of time.
As we already said, mind the height! This will not be a simple night out in the city, this is something you will remember for the rest of your life, and you don't want to wince every time you think about it. Stilettos are a no go unless you are absolutely sure you can rock them for a long time without them causing any issues. Choose heels that are shorter than three inches, or go barefoot! Your feet can enjoy the warm sand, and there is no need to worry about uncomfortable footwear.
Most wedding shoes have padded insoles or extra cushioning. All of these will make sure you don't feel that much struggle while you walk in them, but you should still be careful - a four-inch heel will be painful, no matter how much cushions it has! Platforms can alleviate some of that pain because they will let your feet rest in a more natural position. If the insoles are not doing their job properly, you can always buy orthotics or inserts and just pop them in. They will surely help with the burning pain heels usually cause.
If the straps are rubbing you in a wrong way, there's a simple solution. Grab your deodorant and moisten the strap! This extra oil will lower the amount of traction between the strap and between your skin, so nothing will rub you or cause blisters and irritation.
If you know you have wider feet, go the extra mile and buy a wide width wedding sandal. Shoes can be widened by a degree though, and if they are bothering you and pinching you, you can do something about it. Before you break your shoes in, warm them up with heat. The source of heat is not so important, you can use a hairdryer or place them near a radiator. If the details are glued on, be careful though, the heat can melt it and the crystals can fall off!


Materials
What your wedding sandals are made out of can also make a difference. Silky satin sandals are the most popular choice since the material adds the perfect backdrop for a sensational wedding. If your sandals were made out of solid leather, they would be considered too heavy and you'd get tired very fast. Textile should be left for casual shoes, like sneakers - they have no place at extravaganzas!
Let's discuss leather. This natural material comes from the hides of animals, usually cattle. Leather is a supreme material, with its extreme durability and toughness. Leather is soft and molds to the shape of your feet, but only after you break it in, which can be tough work. This material also breathes well and protects you from the harmful outdoors. Although, it won't do this well since it's only going to be present on the straps! The most troubling aspect of leather, when it comes to wedding shoes, is its weight. Leather is thick and hardy and does have a significant amount of weight, so buying shoes completely made out of leather would doom you, since you need to be pretty active, and you won't be able to do that if you are shackled by your own shoes!
Ah, satin. Your silky touch makes us tremble, and your luster brightens our day. This sublime material is manmade, woven in a special way to help it achieve its look and feel. It really does look out of this world, which is why most wedding shoe designers use it for the upper. Satin can be colored in many different ways, and it holds on to that color well. Combine it with shimmering details, and you'll have a shoe fit for a classy wedding. But, satin does have one major flaw - it gets dirty like a toddler!
And it's tough to clean since it's sensitive to water. As soon as you see dust particles clumping on the upper, grab a soft bristle brush and remove it, otherwise it can set deeper in the material, and then you'll clean it much harder. If you get stains, try removing them with a damp cloth and a mild soap, and then instantly dry the shoe with a cloth again to prevent even more stains. If that doesn't work either, you'll have to resort to chemicals, which can be pricey. Take care of your wedding shoes, and they will take care of you.


Style
Sandals are your best bet for a beach wedding. Flat sandals, wedge sandals, dressy sandal - whatever you choose you'll be set. And if you like walking without shoes on, you can always buy barefoot sandals! They can be considered both jewelry and shoes and can add character to your dress. Think about all that sand, or mushy earth near the water - stilettos can easily get stuck there, and you'll be without shoes before you even realize it. If you go barefoot, you will get your feet dirty, but lucky for us, water and soap exist!
These shoes have been around for centuries, and are here to stay. They are the perfect beach weather companion, keeping you cool and well aired. Sandals can be flat and heeled, so you won't be left without an option. If you find flats to be too casual for such an event, and you always imagined yourself gliding down the aisle in stunning heels, don't worry, there's plenty of cozy heeled sandals you can choose from. But, don't dish out the flat sandal just yet! When paired with graceful details and ravishing materials, they can too be worthy of being called a wedding shoe. Your best bet is to buy two pairs - heeled or with a wedge and one flat. That way, when you inevitably get tired of standing around on needles, you can easily switch your pair and save your feet from all the pain!
Should you buy the dress or the shoes first? That depends on what is more important to you, but make sure the styles don't contradict each other! If you have a traditional wedding gown, don't go over the top with your shoes, Choose a calmer style, fit for vintage ideals. They can have embellishments of course but go for pearls or lace, as they work with the scene better. If you have a short dress, splurge and buy statement sandals! Go for that perfectly polished look and consider everything before you actually buy the item, otherwise you risk looking tacky.


Accessories
The details are what makes a shoe deserving of a wedding. A few gems placed in the right place, some ruffles enveloping your legs, and kinky lace caressing your feet are just some of the ways a sandal can be transformed from casual to mind-blowing. But, consider your dress too. If the dress already has a million crystals cascading down, don't buy shoes that are the same way! Choose a less detailed one, and the details won't clash together and create chaos. A huge variety of decorations can be found on sandals, ranging from crystals, pearls, and rhinestones to lace and unusual details, such as cut-outs and sassy prints. All of these details can be coordinated with your dress effortlessly and can make you look like a million bucks.
Mind the details, though! Crystals and rhinestones look lovely in theory, but in reality, if you decide to wear a long flowing dress, they can easily snag it and tear it open! You can check whether or not this will happen with your shoes by taking a piece of fabric that shares its properties with your dress. Then, run the fabric over the shoe - if it snags, say goodbye to it!


Color
The color of your sandals is also something to think about. But, you shouldn't worry about the hue of your sandals that much, because a wide variety of colors is accepted today, and they can be seen as a statement, rather than a failure. White used to the be color of choice, as it was seen as pure and perfect, just like the bride. Later, the colors fanned out into nudes, ivories, and champagnes. If you consider yourself to be conservative, and you'll have a wedding that is based on tradition, then these are the colors you should choose. Pair them up with a dress of the same shade, and you'll be a star.
If you are a more fashion-forward bride, however, the world is your oyster! Don't be afraid to think out of the box, and let your imagination run wild and free. Consider metallics, rose golds and silvers, as their shimmer will draw the eye and attract attention. These tones can also enhance the details on your dress, and according to those very details, choose the proper shade of metallic.
Golden colors accentuate warm decorations, while the silver will complement cool details. It can even pair up with your jewelry! Some brides like pastel colors, because they don't drag the attention away from the pure white, but they still add some life into the solid whites. The color of choice is usually a pale blue - many brides to choose this for their Something Blue! Betsey Johnson realized this and has started to create sandals with a blue outsole. Royal blue also works, and everything in between. Any color can work, honestly, if you know what to do with it!
Expert Interviews & Opinions
Most Important Criteria
(According to our experts opinion)
Experts Opinion
Editors Opinion
Users Opinion
By Default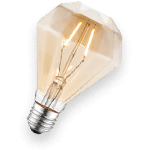 Try Barefooting It
Barefoot sandals are gaining traction and becoming more popular for beach weddings. But what are they, can they really be considered sandals? They are dainty and amazingly beautiful, accentuating the gentle lines of your feet. They are, simply put, adornment for feet. Instead of going with an anklet or toe ring, you can simply put these on and call it a day. Brides love it because plenty of them feature intricate patterns, crocheted details, and gorgeous decorations, making them worthy of a ceremony.
But What Are They?
They look like flip-flops, so are often called sandals. They can be worn with regular shoes too, you just need to match them with whatever you plan to combine them with. Even babies can wear them, who are famously fussy about shoes! And the best part, they are quite easy to make, so you can make them yourself!
Other Factors to Consider


Weight
A lighter shoe means you will be rested and running around, while a heavy shoe means a day full of sitting and doing nothing. Or does it? It's pretty obvious that a lighter shoe will allow you to move with ease, but still, there are some other factors we should consider. If you are light, then light shoes will work for you, but if you are on the heavier side, then you should get a heavier shoe as well. A lot of the weight of the shoe is added by cushions and pads, something you truly need. You will be dancing and standing and moving around the whole day, and you really do need those cushions!
Shock-absorbing midsoles also pack some weight and trust us when we say you really do need them. Prancing in heels hurts your joints and muscles, and these midsoles will work to relieve some of that pressure, helping you immensely. Yes, you will be able to move with ease if the shoe is light, but you'll end up in pain much faster! Avoid discomfort by choosing a shoe that has proper cushions and construction - you might slow down, but you will reach your goal, which is holy matrimony!


Flexibility
Your wedding sandal should also have flexibility. But how much is too much, or not enough? A very flexible sole can spell bad news just as much as a non-flexible one can! Shoes that have enough elasticity allow your feet to have enough room for motion and let your muscles work the way they are meant to. Sandals that do not have elasticity will cage your feet in, and squeeze your arches, making it impossible to relax and rest. Those that have too much flexibility won't offer support, and soon enough you will feel joint aches and tiredness. Find a bendy sandal, and you will push through the day effortlessly!


Bottom Line
Choosing the proper wedding shoe is seriously tough work, and when that wedding is outdoors, it becomes even harder. You have a lot of things to consider - the weather, the terrain, the venue, your dress, everything! Be well prepared before you go sandal hunting, and you will make this task much easier. With so many different models included in this guide, we hope we made the journey easier, and that you managed to find your dream pair! We wish you the best of luck on your big day!
Frequently Asked Questions
q:

What color should my sandals be?

a:

As we mentioned before, you should not stress about the color of your sandals that much. Depending on what kind of bride you are, be it a more traditional kind, or the more fashion-forward one, your color choices change. Traditional weddings require traditional colors, like whites and ivories. Wild and dramatic weddings simply need bold colors, so the choices you have are infinite. Just make sure the shoes match the overall color palette!
q:

Can I wear multiple pairs throughout the day?

a:

You can, and you really should! This is not frowned upon, and you can relax knowing you can give your feet a well-deserved break. Wear your favorite shoe for the main part of the event, and change into flats later in the evening, or begin your journey in them. If you've got barefoot sandals, leave them for the ceremony, and buy spectacular party heels to dance the night away! You really can't go wrong there, and we encourage you to bring multiple pairs.
q:

What kind of sandal is too casual for a wedding?

a:

This is a worry for both the bride and the guests. Is it possible to go over the top? How do I know if I'm underdressed? Try to imagine an evening shoe - bedazzling, stunning, a true head-turner. Something like this would be perfect for a wedding. If you are considering wearing a pair that you can also bring with you to a casual stroll down the beach, forget them! Those are too casual and should be avoided. Generally speaking, embellished shoes and luxury materials are what you are looking for.
q:

Should the shoes of the bridesmaids match?

a:

There is nothing wrong about having matching shoes, but having variety is a better option. This way, you take different needs and shapes of feet into account, and you allow your bridesmaids to express themselves and select the perfect shoe for them. Give them guidelines though, like the style and the color, so that they match at least on some points. Also, not everyone has the same budget, and demanding that they all shell out for a pair that doesn't suit them, that they won't probably wear again is a little selfish!
q:

Do wedding sandals need to have a lot of details?

a:

That is all up to you! If you choose a well-detailed dress, don't go for sandals that have a lot of details, because you can look kitschy. Harmonize the number of adornments and their style, and you can void having a lot of details on your sandal. If you go with chunky jewelry and an exaggerated gown, you can avoid having detailed shoes all together!