Best Quilted Boots Reviewed
last updated:
Feb 08, 2019
A quilted boot makes for a beautifully thick and warming pair that's perfect for those cold winter days. The process of quilting sees three fabrics sewn together to make a thicker material and the squares are often stuffed with insulating materials to make them even more enjoyable. If the thought of wearing a pair of boots like this sounds too good to be true, or you just aren't sure how to choose a stylish option, keep reading for our guide to the top ten pairs. We've included a detailed review of each, as well as, a breakdown of the criteria used to narrow down the ten best.
This is the best product on our list that is currently in stock: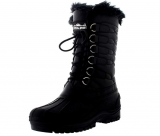 Polar Products Snow Duck
Why is it better?
Fur Trim Collar
Rubber Duck Shell
Nylon/Leather Upper
Fully Lined Interior
In a
Hurry? Editors choice: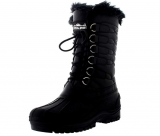 Test Winner: Polar Products Snow Duck

Style
Insulation
Outsole
Upper
Weather Resistance
By Default
Top 10 Picks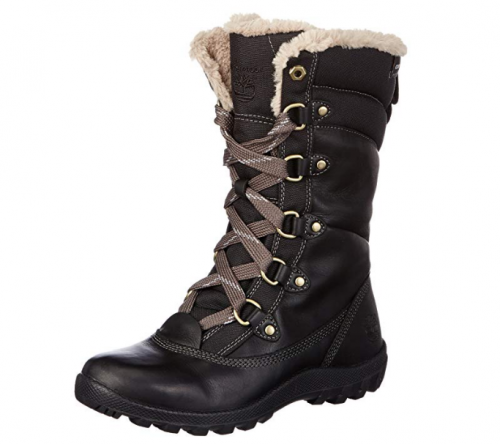 Fur-Trim Collar
1.25" Heel
200g Primaloft Insulation
Quilted Shaft
Timberland's Hope is a hot looking pair that boasts discrete quilting for added enjoyability. It offers 200 grams of Primaloft insulation which makes this a great choice for colder weather and it's low 1.25-inch heel lets you move the way you choose. Anyone shopping for a waterproof pair that comes to a stylish finish will love this pair! Its quilted shaft provides extra warmth and its faux-fur lining ensures your feet feel great even after hours of wear.
The Hope boot has a sturdy rubber sole that prevents any accidental slips or falls while effectively keeping water out of your boot. This makes for a dry and comfy environment that you'll love on those wet and rainy days.
Go ahead and choose from four colorways including black, tobacco, tobacco forty leather, and black forty leather. These fine choices make matching them to your wardrobe a snap which is why wearers can't get enough! Timberland is a brand that's notorious for their in-style looks and well-made footwear that wearers have come to love. Anyone shopping for a quality pair that's fashionable to will love this option!
2

. Polar Products Snow Duck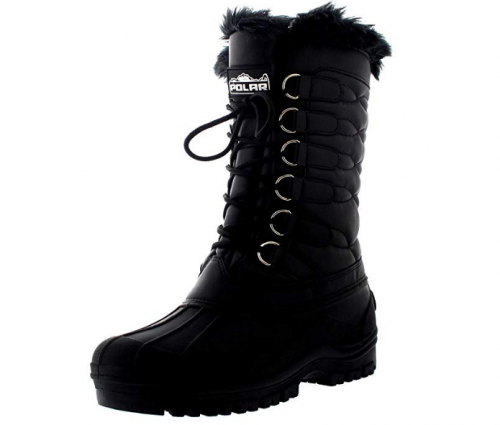 Fur Trim Collar
Rubber Duck Shell
Nylon/Leather Upper
Fully Lined Interior
Polar Product's Snow Duck is yet another great looking pair of boots that offer great functionality for the colder months. This option features a waterproof rubber duck shell lower half and a choice of either leather or nylon for the upper. It's available in several shades which makes for easier styling while its 13.5-inch shaft makes for a nice knee-high fit.
You can forget about chilly tootsies while you're wearing these fully-lined boots that offer a fur-trim collar for additional warmth. This also helps to keep snow and rain from sneaking inside of your boot, helping to keep you dry and comfortable all throughout the day.
 
The Snow Duck is a securely fitted pair thanks to its five eyelets lace-up closure system that keeps them from sliding down. It's also a great choice for shoppers on a budget as it retails for an incredibly low price that is as friendly on your wallet as the Snow Duck is on your feet.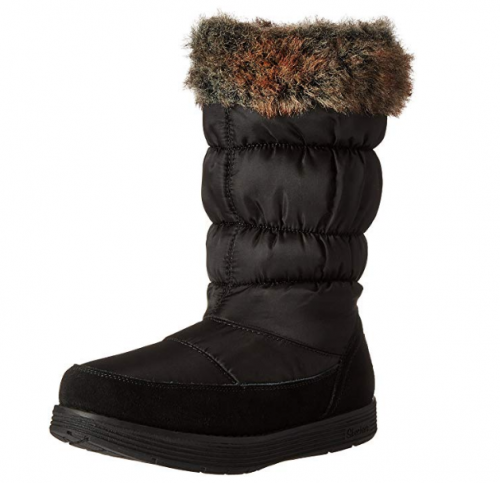 Fur Trim Collar
Warm-Tech Memory Foam
Flexible Sole
1.5" Platform
Skechers' Adorbs is a warm and cozy pair of quilted boots that offers the ideal mix of function and style. Its faux fur-trim collar and quilted nylon upper make for an irresistible appearance that's perfect for those chilly winter days. An eleven-inch shaft keeps your legs warmer too, while its 1.5-inch platform rise adds the kind of lift you've been looking for.
The Adorbs features a Warm-Tech memory foam footbed that absorbs and retains body heat for a warming place to step down. These boots have a flexible sole that's a great choice for those slippery days when you need to be quick on your feet, though it's firm enough to still support the delicate arch area.
These cute Skechers' boots are available in three colorways: black, chocolate, and charcoal, so you'll have no trouble matching them with your favorite outfits. Wearers love the affordable selling price that these boots go for, especially since they offer such an amazing value!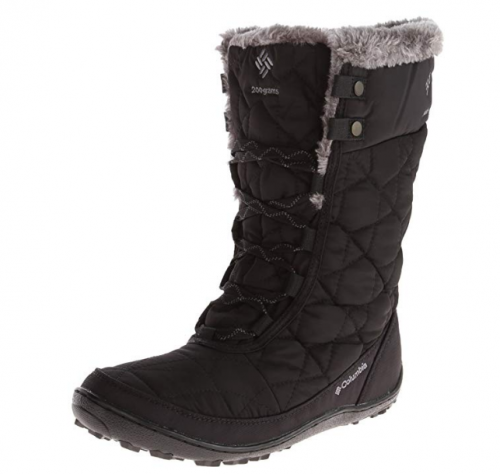 200g Insulation
Faux-Fur Collar
Lace-Up
Omni-Heat Reflective Technologies
Columbia has designed one stylish boot that is the ideal choice for those chilly days! It features 200 grams of insulation and protects in weather as low as -25 for superior comfort in almost any conditions. This boot is made with a woven synthetic upper that's quilted to help keep the body heat inside for even more warmth and offers a waterproof wear. Its Omni-Heat Reflective Technologies bounce the body heat back at the wearer for superior heat distribution that makes the ideal choice for harsh weather conditions.
The Minx Mid 2 is as cute as it is functional thanks to its ten-inch shaft that's topped with a faux-fur collar that helps to keep snow and rain from falling inside of your boot. This pair offers a non-slip rubber sole that provides superior traction on any surface, including wet and slippery ones. Its removable PU footbed is contoured to the shape of the foot for all-over comfort and support, which is one of the reasons wearers can't get enough of this pair.
Anyone shopping for an effective and reasonably priced winter boot will love this quilted pair! It delivers incredible value for its relatively low selling price and is sure to impress when the snowy weather arrives.
5

. Tommy Hillfiger Ravel 2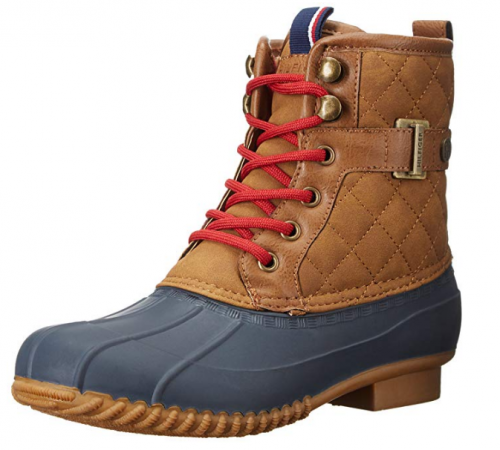 Dual Pull Tabs
Affordable Price
6.5" Shaft
Cushioned Footbed
Tommy Hilfiger's Ravel 2 is a great looking pair of boots that offers stunning quilted details. It fits true to size and features a stylish rounded toe for the illusion of smaller feet. Wearers love this pairs 6.5-inch shaft that sits perfectly above the ankle bone and its grippy rubber sole that's perfect for wetter weather. The Ravel's semi side zip closure is super-cute and makes for easy accessibility ensuring a hassle-free wear.
These boots are very comfortable thanks to a lightly cushioned footbed and breathable synthetic materials. You'll have no trouble with on-off wear because they offer both front and rear pull-tabs that make for a quick get-up-and-go.
The Ravel's cute ⅝-inch heel adds some lift without making it more difficult to walk which is why these boots are so practical. They're also perfect for anyone shopping on a budget because they're very reasonably priced, especially considering the value that they bring to the table.
6

. Sperry Saltwater Nylon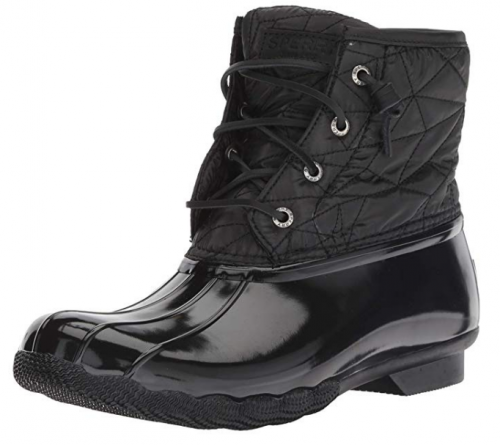 Rubber Duck Shell
Nylon Upper
Rawhide Lacing
Rust-Proof Eyelets
The Saltwater Nylon from Sperry is a great looking pair that's fully functional. Its 6.25-inch shaft sits nicely above the ankle for a stylish finish that looks great with nearly any outfit which is one of the reasons wearers rave about this pair. Forget about chilly feet thanks to the Saltwater's microfleece lining that helps to keep you warm and toastie no matter the weather condition, while its medial zipper allows for easy on-off wearability.
Wet feet will become a thing of the past thanks to this boots rubber duck shell that completely seals out water from the lower half and its high-quality nylon shaft provides a comfy ride that you couldn't help but enjoy.
 
Sperry's root is with deck-inspired shoes which is why they know the ins and out weather-proofing. The Saltwater offers rawhide barrel laces with rust-proof eyelets so your boots will stay looking as fresh as the first time you wore them despite exposure to the elements. This pair is a bit more costly than some of the shoes on this list, but they're certainly a worthwhile investment that can be worn for many years to come.
7

. Dream Pairs Knee-High Riding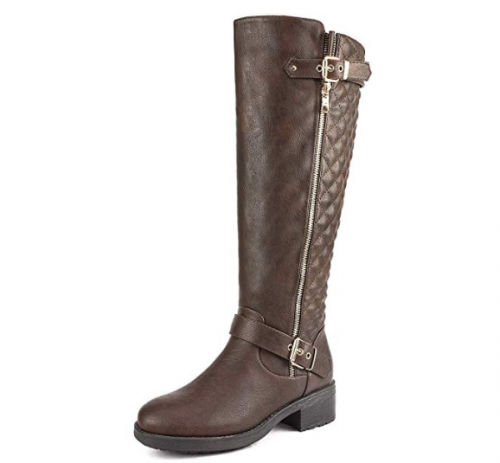 15 Colorways
TPR Outsole
Rounded Toe
Slouch Design
This knee-high boot from Dream Pairs is a super-stylish and versatile choice of footwear! It offers a slouch style and rounded toe that give the illusion of a smaller frame and a low 1.25-inch heel that makes for effortless strides. This pair comes in nearly 15 colorways, including a gorgeous quilted print that looks fashionable with nearly any outfit and provides an added bonus of a warmer wear.
Comfort is always at the forefront of any Dream Pairs design and that rings true with these boots! They have a lightly padded footbed that provides a luxurious wear and a TPR outsole that makes for a supportive underfoot feel.
 
The Knee-High Riding Boot is a great example of fashionability and functionality rolled into one! Its inside zip closure looks amazing and works to ensure that your boots stay perfectly in place without slipping or sliding down throughout the day. Wearers can't get enough of this pairs amazing foot feel and versatile style that makes getting ready a snap thanks to its easy-to-match style.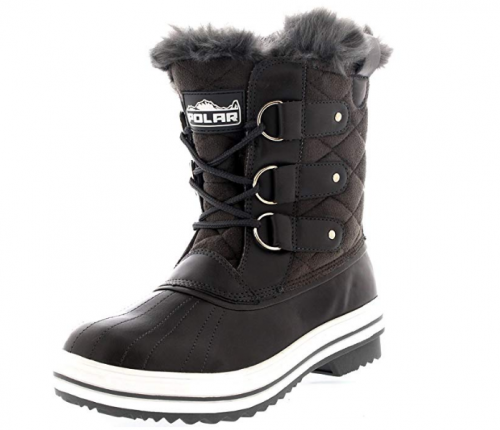 Fully Lined
Waterproof
Non-Slip Rubber Sole
Lace-Up
Polar's Quilted Snow Boot is a must-have for chilly weather! It is a casually structured pair that's perfect for outdoor winter activities thanks to its warm lining and fully waterproof design. This pair offers a lace-up closure system that keeps your boots in place all day long and lets you customize the way they fit for all-around comfort. Fur-lined cuffs help to seal off the entry and prevent snow from getting inside of your boots, while a slip-resistant calendered rubber outsole prevents any accidental slips or falls.
This pair of winter booties sit nicely just above the ankle for effortless wearability that lets you match them with practically anything in your wardrobe. Polar's infamous for their color-coded outsole and this quilted option comes in nearly 15 color variations so you can easily wear them with almost any color apparel and still look stylish. These snow boots will keep you extra toastie during colder weather thanks to their fully-lined interior that was designed to keep body heat inside of the boot.
Its non-slip heavy duty rubber outsole is the ideal choice for wet and slippery conditions and will ensure that you don't accidentally take a tumble. These boots are a great choice for anyone shopping on a budget because they retail for an incredibly affordable price while offering an excellent value.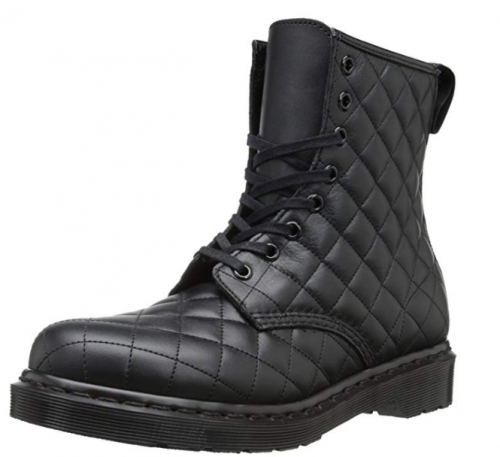 100% Leather
Durable Construction
Versatile
Diamond Pattern
Dr. Martens' Coralie is a militant looking pair of quilted boots made from 100% leather. Its synthetic sole is slip-resistant for secure steps and its seven-inch shaft sits nicely above the ankle for a cool and collected look. Wearers rave about Coralie's comforting ride and unique diamond quilt pattern that adds to the uniqueness of this pair.
Dr. Martens is notorious for their comforting footwear that helps to alleviate pain in the feet and lower limbs. This pair will help to keep you feeling great all day long and is guaranteed to impress with its no-holds-barred attitude.
 
Choose from four colorways: black, pink danio, cherry red danio, or purple, so you'll find it all too easy matching this boot with anything in your wardrobe. Its lace-up closure helps these boots stay perfectly in place and makes for an adjustable fit that feels perfect on your feet.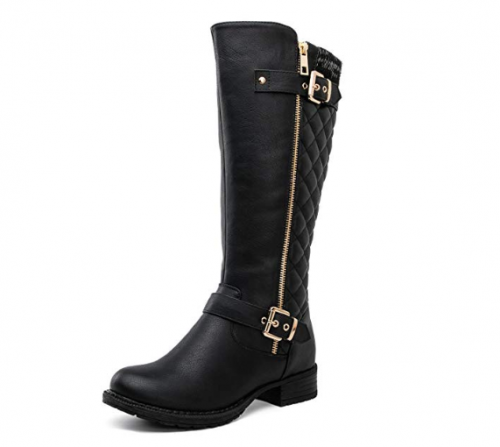 1in Heel
Multi-Texture Detailing
Several Shades Available
Cruelty-Free Faux Leather
Beautiful Gold Accents
Globalwin's 18YY06 is a stylish pair that's ready to take on any occasion. Its available in over 20 colorways so you can match them with practically anything. This pair is made from faux leather and rocks a knee-high height that's super chic. These boots are perfect for wearing in the fall and winter months thanks to its trendy riding style and casual wearability.
Globalwin really designed a great looking quilted pair that's as trendy as it is versatile. A padded footbed and low heel height let you walk with ease for hours on end which is why wearers can't get enough of this pair.
 
A non-slip rubber outsole keeps you steady on your feet and prevents any accidental slips or falls for a safe ride. This pair is a must-have for the colder months because it will keep you nice and warm while delivering a stylish finish that looks amazing.
Criteria Used for Evaluation


Style
When it comes to this type of boot there are several style elements to consider. The first is the style of the actual boot itself and the second is the type of quilting used in its construction. Let's break down the two key style elements to consider when shopping for these kinds of boots;
Type Of Boot:
Quilted boots come in all sorts of shapes and sizes including booties, ankle, mid-calf, and thigh-high, but there are also specific variations for different weather conditions. These are as follows;
Pac: This kind of winter boot is made with a thick lower half that's always made from waterproof rubber. Its upper will either be waterproof or water-resistant, depending on the different materials used and it will always include a warm thick insulated lining. This style of boot is made to keep your feet warm and toasty during the coldest of weather conditions.
Snow: Snow boots are, well exactly what they sound like, boots that are made to wear while it's snowing outside. These pairs will have a warm insulation that is designed to protect your feet from the cold weather. The difference between Pac and snow boots is that the latter probably won't have that thick rubber lower half making it a more lightweight choice, though its waterproofing will not be as good.
Rain: Rain boots are made to keep you dry when it's raining outside and are mostly made with a full rubber body that provides superior waterproofing. Quilted rain boots have a rubber body with the added bonus of a quilted exterior layer that helps to keep your feet nice and warm on those chilly days when you're looking for more than just protection from the rain.
 
Type Of Quilting 
There are different methods of quilting available, though most mass-produced products are made with the use of mechanics, there are some higher-end labels that actually quilt their products by hand. Let's take a look at the types available;
By Hand: This process involves the use of a needle and thread to hand sew the entire quilted section of the footwear. This process is very lengthy and time-consuming which is why it's rarely used today in the manufacturing of products, though the results are excellent it's still too long of a timespan to make just one pair.
Machine: A machine or long arm is a technique that used that requires no human labor and is very fast and efficient. In this method, the layers of material are placed on a frame that has special bars that roll the layers, eliminating the need for pins.
Tying: This technique is used when something needs to be done quickly and involves manually sewing with a sewing machine. While faster than hand sewing, this method is still quite a time consuming and is only used commercially by small or high-end designers.


Insulation
Winter time is almost here! That means it's time to start looking for a pair of boots that will keep you warm and toastie when the snow starts to fall. One of the most important aspects of a winter boot is its insulation (the stuff that keeps you warm). Let's take a minute to examine the most popular kinds of insulating materials used;
Primaloft: This is a common choice that's used by all different labels. It's made with tiny hollow fibers which are filled with polyester. This makes for a highly compressible material that is actually quite water-resistant. Despite this insulations excellent warmth it isn't as long-lasting as some of the other options available because its fibers tend to clump together forming uncomfortable bumps.
Thinsulate: Thinsulate is made of the same kind of fibers as Primaloft but it delivers a more lightweight feeling overall. This material is prone to the same complications as the Primaloft, though it too offers excellent warmth and considerable waterproofing.
Omniheat: This insulation an innovative material developed by Columbia. It offers a warming environment for your feet while, at the same time, allowing for adequate airflow to prevent sweat and overheating.


Outsole
The outsole of any shoe needs to provide solid traction in order to prevent accidental slips or falls, but this is especially important when it comes to winter boots. Quilted pairs designed for wear in snowy weather need to offer a solid tread pattern and should, ideally, have an outsole made from rubber. Rubber is an excellent choice of material because it's very grippy and provides solid traction on most any surface. It's also a waterproof material, adding to its overall appeal for winter weather footwear.
 
The sole should also provide a solid foundation that is firm enough to support the delicate arch area of the foot. It's important that there still be some flexibility to allow for unrestricted movements because you need to have a shoe that moves with you in order to feel completely comfortable wearing it.
 
It's important that the sole is firmly attached to the rest of the shoe and should ideally be sewn together. Glue has a tendency to come apart and will shorten the lifespan of the boot overall. If the pair has a heel, you should consider how easy it will be to walk in because too high, or too thin of a heel can put your safety at risk especially if it's slippery outside.


Upper
The upper unit of the boot will often be made from either nylon or leather. These materials are good for keeping you warm while also allowing for adequate airflow inside of the shoe to prevent overheating and sweating that can lead to a build-up of odor-causing bacteria.
 
It's also important to keep rain and snow out of your boots which is why there should be certain design aspects in place that help to keep your shoes dry. A drawstring at the top or a fleece collar will help to keep the snow out and heat in, making for a winning combination. A fur-trim collar or lining material is perfect for keeping snow and rain out of your shoes and looks super cute too. Wearers are very fond of pairs which have a mesh upper and thick lining because the mesh allows for good breathability, while the lining material keeps you warm and cozy.
 
With quilted pairs, the pattern can cover the whole upper or one, or two areas. For winter boots you would ideally want the quilt pattern to cover the whole upper surface so that it can provide even, whole foot warmth. But for other styles, you may want to opt for a pair with only a partial covering, possibly along the back side.


Weather Resistance
When it comes to weather resistance there are many aspects to consider. The main thing wearers are usually concerned with is whether, or not, the pair is waterproof, but there are also choices which are water-resistant rather than waterproof. The difference between the two is that the option which is resistant only won't provide complete protection from water but will keep you dry to a certain extent. Whereas, waterproof shoes will protect you up to 100% from water. These pairs are usually made from rubber which is the best protection from moisture.
 
Another factor is the temperature. Your boots need to keep you warm enough when it's snowy outside or allow for enough airflow when it's warmer. The type of insulation used in its construction plays a big role in how warm a pair will be.
 
When synthetic insulation is used it's measured in grams - 200g means that a one by one-meter square weighs that much. The more weight the insulation has the warmer it's going to be. Most options range somewhere between 40 to 120 grams with winter boots being heavier and reaching up to 400 grams (though 200 grams is the preferred weight).
Expert Interviews & Opinions
Most Important Criteria
(According to our experts opinion)
Experts Opinion
Editors Opinion
Users Opinion
By Default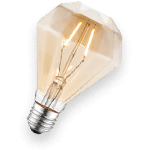 Did You Know?
Oymyakon and Verkoyansk, towns which straddle the Arctic Circle, are the places where the lowest recorded temperatures in the northern hemisphere.
Up Your Winter Game
Even if your boots are waterproof it never hurts to invest in a good spray! We have an excellent guide to the best sprays on the market.
Other Factors to Consider


Materials
The materials used make a world of difference, especially when you're dealing with a winter boot.Though quilted pairs can be worn for any season, winter is an especially good time of the year because it can add an incredible level of warmth to any boot.
 
With winter choice, the best materials to look for are ones that are water-resistant and provide ample protection from the cold weather. When it comes to waterproofing, the best material, by far, is rubber. Rubber is fabulous at keeping your feet 100% dry even in extremely rainy or snowy. It also provides great traction in wet and slippery conditions which makes for a safer wear overall.
 
For the upper, leather and nylon are popular choices because both insulate well and help to keep the warm inside of the shoe rather than letting it escape. A leather material will also help with moisture control inside of your boots and will prevent a build-up of sweat and odor-causing bacteria. This makes for a fresh and comforting environment for your feet.


Bottom Line
Quilted footwear is a great way to add some unique style to any wardrobe and it's also an excellent source of added warmth during the colder months. Quilting allows for three separate materials to be sewn together to form one. Each section has a square (or other shaped) section that can either be insulated or not.
 
When insulation is added to the quilts it makes for an incredibly warming pair that helps to retain body heat preventing the freezing air from affecting your feet. Quilted options are thicker and warmer than other styles, though, for the spring and summertime, pairs with non-insulated quilts can be worn because they won't make for any extra heat.
 
If you're shopping for a pair of winter boots it's important to consider the materials that they're made of. Rubber is an excellent choice, especially for the sole and lower region of the boot because it's waterproof and provides a solid grip on any surface, including wet and slippery ones. Whereas, for the upper, a leather or nylon option is best because these materials are lightweight and allow for adequate airflow, preventing sweat and overheating. Once your feet sweat it can lead to a build-up of odor-causing bacteria and can quickly make your favorite pair all too smelly.
Frequently Asked Questions
q:

What is a rubber duck shell?

a:

A rubber duck shell is a term for a boot that's made with a lower half that's rubber and an upper that's not. This style is effective at keeping your feet dry because the rubber is 100% waterproof and it encases the entire lower foot. The benefit to this style is that the upper part (or part above the ankle) is made from another, often more fashionable, material.
 
Rubber shoes aren't noted for being too stylish which is why the contrast material is preferred by many.
q:

Won't my feet get hot in these?

a:

This is one of the reasons that the materials are such an important part of the construction of the boot. The wrong materials can encourage sweating and overheating because they restrict the airflow inside of the shoe effectively smothering your feet. Whereas, the right materials like leather or nylon are perfect for allowing airflow without compromising on warmth or comfort. Try to avoid heavy fabrics because they can get quite hot inside and are more likely to cause sweating. They also don't have any wicking properties like leather, for example, which helps to draw excess moisture away from the skin.
q:

What looks good with this style of footwear?

a:

Just about anything can look great with a quilted pair, though skinny jeans are a fan favorite! Tuck your skinnies into these super-cute boots and you've got a great look that's right on-trend. For winter wear, consider opting for a lined pair of skinny leg pants, or even a lined pair of leggings which would look great with the added 'pop' that quilting brings.
q:

What benefit is there to quilting?

a:

With quilting, the process sees three layers of material sewn together to make one. The squares are often filled with insulating material that can make a pair of boots incredibly warm and cozy which is why so many people love wearing this style in the fall and winter months. On top of the added warmth, a quilted pattern is very fashionable right now and looks super cute on a pair of boots!
q:

How can I pull off wearing a skirt with these?

a:

For pairs like Forever Links' Mango or Dream Pairs Knee High, pulling off a skirt is an effortless task. Try opting for a denim skirt or a solid tone number for a great match, just try to avoid wearing long or flowing skirts because they will clash with the style of boot.