Best Pedicure Kits For Spa Days Reviewed
last updated:
Feb 06, 2019
Our feet can sometimes look less than perfect, especially if we have jobs or hobbies where we are spending a lot of time on them. It is easy to forget to give ourselves a break and pamper our toes a bit. Most people don't think they have the time to live in a little luxury. It has never been easier to provide yourself with a little self-care, especially now that all these amazing kits and solutions for dry and cracked feet are available. Dive right into the luxury of at-home pedicures with one of our easy to use suggestions.
In a Hurry? The test winner after 5 hrs of research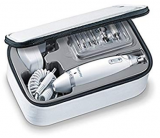 Beurer
Why is it better?
Sapphire And Felt Attachments
Traveling Case
LED Lights
Dust Shield
10 Attachments
In a
Hurry? Editors choice: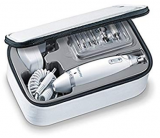 Test Winner: Beurer

5
Researched Sources
3186
Reviews Considered
5
Hours Researching
10
Products Evaluated
Accessories
Ease of Use
Portability
Effectiveness
Water Resistance
By Default
Top 10 Picks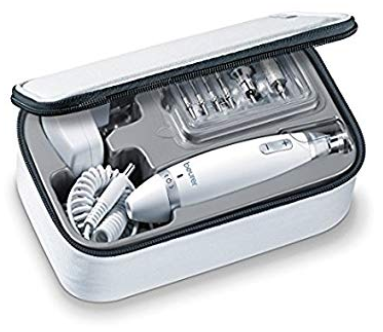 Sapphire And Felt Attachments
Traveling Case
LED Lights
Dust Shield
10 Attachments
Slightly Complicated To Use
A brand for technology focusing on health and overall wellbeing that has been operating since 1919, Beurer is a German company that knows quality. Beauty care, baby needs, and even medical devices: Beurer has everything covered. Your health is their main priority, and it really shows in everything they manufacture. The Beurer family in 1919 had an amazing idea to develop a heating pad as a poverty-stricken couple looking for an alternative to the hot water bottle. Not having in-home heating was a struggle, and their invention proved both effective and practical. That kind of ingenuity has followed Beurer throughout the years, to bring amazing solutions to everyday problems into your home, from their family to yours.
This electric manicure and pedicure kit is phenomenal and easy to use. With professional quality, it comes with 10 attachments that have different purposes to suit all your nail and foot care needs. The ergonomic shape is super easy to hold and get a firm grip on, which provides a lot of control when navigating the area that needs maintenance. Adjustable speed fits your comfort level whatever it may be, and it can be set to both counter-clockwise or clockwise, which helps people regardless of their dominant hand.
Rather than plastic like a lot of similar kits, these are made with sapphire and felt to really ensure every fixture is performing at it's best. LED lights are near the tip to offer light and precision when working on the nails of either your hands or feet. A dust shield protects the instrument for at home use. Premium tools require premium storage, so this comes in a protective and durable case to keep it nice and together! The price is a bit higher than some similar kits, but very few matches this one in abilities and features. Definitely a bargain for all you are receiving and a must before breaking out the summer sandals!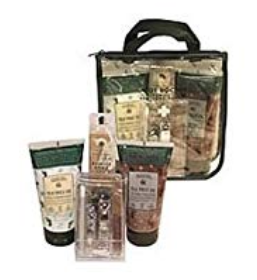 Include Nail Tools
Healing Tea Tree Balm
Tea Tree Scrub
Eco-Friendly Case
Pumice Stick
I love this brand's philosophy. While others may be focused on seeming like they have their customer's wellbeing in mind, Earth Therapeutics really see the big picture. They want to make products people of all walks of life can enjoy and afford. Even beyond that, though, they constantly check themselves to see if their profits negatively affect their long term goals of bettering both humanity and the Earth. Though this sounds pretty humble and simple, it has proven to make the company very prosperous in the field of self-care. If you want to give back to the world while giving back to yourself, this is the best brand you could choose to do so.
So, this basically has it all. Earth Therapeutics kit contains the necessary physical nail care tools, such as a pumice stick, cuticle pusher, cuticle clipper, toenail clipper, and file, but it doesn't end there. In addition to the physical tools, there are awesome products to treat your feet and skin! The tea tree oil foot scrub is perfect for before your care routine. Relax in a hot bath, scrub your feet, rinse off, and then get to work with the pumice stone on callouses and the cuticle pusher and clippers for nail beds.
Once you have finished nail maintenance and enjoyed the cooling foot scrub, you can turn your attention to your feet themselves. The tea tree repair balm will do wonders for cracked and broken skin. It will totally heal and moisturize even the most damaged skin. These all come wrapped up in a cute, reusable, and eco-friendly bag. What more could you ask for in a kit! Earth Therapeutics really covered all the bases with this, and it would be a great gift to yourself or someone else who may just be getting into pampering themselves. The price is moderate to low considering it includes everything you need. Definitely worth the try!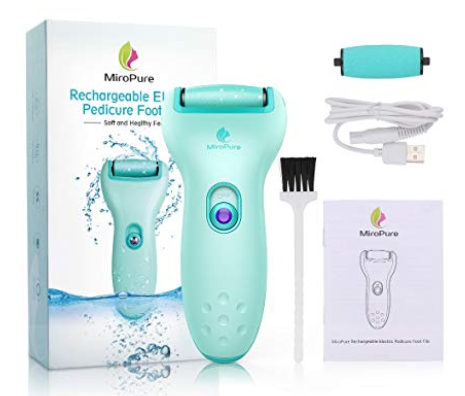 IPX7 Waterproofing
Course And Fine Heads
Long Battery Life
Easy To Use
Cordless
MiroPure specializes in hair care, but their skincare options are no joke. MiroPure cares about their products not only when they are trying to sell them, but also once you get them home. Quality assurance is really important to the brand, and they want every item you decide to fall in love with to live up to your expectations of it. With warranties on every product they have available, your new favorite pampering accessory is guaranteed to bring a smile to your face and amazing results to your body, hair, or skin.
Roller heads can be tricky, and low-quality options often do not work correctly or for very long. This electric callous remover has diamonds in the roller, which changes the game completely. Coarser roller heads are for the toughest of callouses. These will be focused on your heel and ball of the foot. Depending on the severity of your foot callouses, you may also want to use the coarser heads for the inside of your big toe, which can get a bit of callous build up from normal shoe wearing. For the perfect experience, soak your feet for about 10 minutes before filing callouses. This will soften and make the skin more workable.
For a charge that only takes an hour in a half, and a full charge is indicated by a green light above the port, the file can work for 80 minutes. Most similar files will not have the same kind of battery life, so if you have extra rough and stubborn skin, this is a great product to help you take care of them since it won't die mid file. Also, the file is amazingly IPX7 waterproof, the same technology used on waterproofing phones. A feature such as waterproofing is awesome, it allows you to use it in the bath or shower without worry of interfering with its function! The price is great for an electric device and it is super simple to use. You will love this on the first try.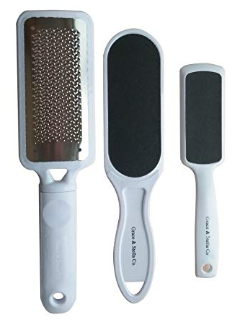 Use Wet/Dry
Comfortable Handles
Multiple Grains
Tough On Calluses
Simple To Use
A company who actually got their start with a pedicure product, Grace and Stella Co. has been making their way into beauty regimens and skincare routines since 2015. Their footcare products were an instant hit, and their brand took off after people saw the potential of the brand. Talking directly to consumers is a large part of their philosophy; they are happy to help you through any issue you're having with any one of their products. A brand who is concerned with animal ethics, they guarantee to not test on animals. Once you try them, you won't have any trouble figuring out what the fuss is all about!
Sets generally have a few functions, while some focus on one important aspect of the pedicure or foot care. This one is just trying to get you the smoothest, most unbelievably soft skin possible. A giant foot rasp is used to get those thick and unsightly callouses and corns. Tougher skin can handle the larger grater like device, but it still needs to be handled with care as to not hurt your foot! Gently using the rasp over the thick, dry, and dead skin is the first step in a great foot care routine. Soft and easily held handles improve your control when using the rasp, so don't be scared to try the more aggressive method of removing callouses and corns!
For the two files, both are different sized but double-sided, which will give you longevity with their use. Easy to use wet or dry, you can even take the files into the bath or tub with you to work away callouses when your skin has a bit more give. Their money back guarantee is serious about your satisfaction, the first time you try this set you will know they mean business. After using, just wash with soap and water and let dry, and you will have a great experience every time. Don't forget to lotion after removing all the dead skin, either. Amazing price on these tools, awesome for beginners in self-care!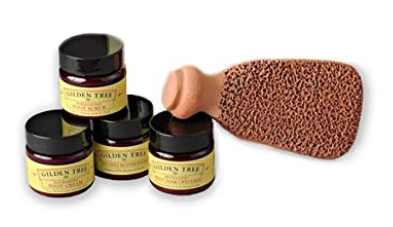 Certified Organic
Multiple Skin Care Products
Calming Foot Soak
Terracotta Scrubber
Healing Ingredients
Natural and organic products are important to Gilden Tree. Since 1990, their body care products have been working on sustainable ways to provide you with the luxury of a spa in your very own home. In their products, they combine ingredients with natural healing elements to help you reach your most luxurious potential. With things like jojoba oil, aloe vera, and shea butter that are all certified organic, you can rest easy knowing anything you use by Gilden Tree will be all natural and amazing for your skin and body. With feet on their mind from the beginning, their first product was a terracotta foot scrubber, Gilden Tree knows their way around the body part we tend to be the hardest on.
Most people who are familiar with pumice stones know all too well that they tend to wear out the more you use them. Gilden Tree recognized this problem early on, and they brought their terracotta foot scrubber to the United States to show Americans that there was a better way. Well-known and used in Indian subcontinents, this terracotta tool virtually never wears out. An amazing feat, pun intended, for the care of our feet. The women making the first food scrubbers were from Pakistan, and as thanks from Gilden Tree, the company began to pay the way of their children and the women themselves after only three short years.
Humanitarian efforts aside, this is a great product. This kid doesn't only come with the phenomenal scrubber, but also botanical scented shea butter balm, foot cream, foot scrubber, and foot soak crystals. Everything you need for intensely soft and supple skin is included. Once you try this complete kit from Gilden Tree, chances are you will be a life long customer. Start with the Epson and sea salt blend to relax and soften your skin, then follow with the scrubber and softening products to lock in that baby skin! The price is a bit higher than other kits including sample product sizes, but this comes with the extremely long lasting and durable terracotta tool which ends up paying for itself multiple times over.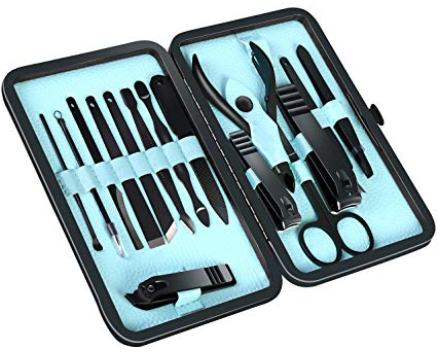 Three Nail Clippers
Cuticle Tools
Nail Scissors
Stainless Steel
Carrying Case
Though their main focus is preventing the effects of aging on the skin and mature skincare in general, Utopia does multiple facets of self-care really well. Award-winning experts have developed a brand that creates specific products fitting all of your needs in terms of maintenance and beauty regimens. Every product is extensively tested and safe for all skin types. Utopia even ensures all manufacturing and final items are vegan! Attention to detail is important here and Utopia certainly pays attention.
This is a classic manicure and pedicure kit. Rather than the boring brown or neutral case that we are used to seeing with all-in-one kits such as this, we get this striking turquoise and black creation. A matte finish makes this look as sophisticated as you will feel using it. In the kit are all the tools you need and more. From cuticle pushing devices to a couple different sizes of clippers and tweezers, you will be prepared for anything with this kit. Organized and nice looking, this kid is great for travel and even better for people who lose everything.
Matte black tools may look flimsy or only for aesthetic, but these are actually made of stainless steel. Stainless steel won't cause a reaction in your skin or any irritation. Plus, it is really long lasting and durable. You won't have to replace this kid anytime soon! Maintenance tools from your ears to your toes are included in this handy little set! Pricing for this lightweight kit is wildly low, you don't want to miss out on these grooming tools!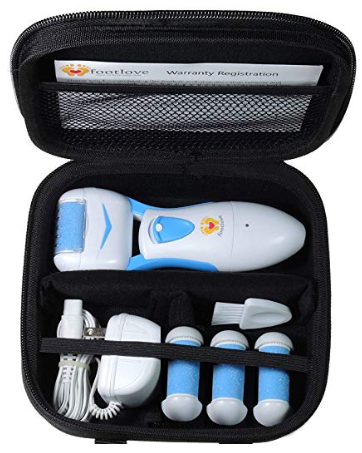 Coarse Attachments
Rechargeable
Cordless
Travel Case
Very Powerful
A brand dedicated only to feet, they realize that we are so, so hard on our feet and taking care of them should always be a top priority. For 15 years, Foot Love has been bringing items not only for aesthetic aid and skin care problems but also to aid in overall foot health. It is no secret we spend a lot of time on our feet, they support us throughout the day, so we need to take special care in supporting them back if we want to feel good and have them look good too. Easy and accessible products for awesome pedicures are kind of a big deal when done right, which Foot Love has down pat.
Electric devices always speed up skin maintenance, this callous remover is absolutely no exception. It is one of the most powerful options on the market, and it is a super quick and easy alternative to manual filing or pumice stones. This comes with a detachable grinding head and has two different coarsenesses to suit your needs. Coarser heads are for those really thick and tough callouses. When you're done, just rinse clean and you'll be ready for next time! A nice and neat travel case keeps everything together when not in use, or easily helps you transport to wherever you're headed to next!
While many of these types of pedicure products have cords that need to be plugged in while in use, this doesn't require an outlet during your filing. The rechargeable device operates cordlessly which makes using is so much more convenient. You don't know how much cords restrict and get in the way until you have the privilege of going without one! A compact kit, this also includes a cleaning brush and cover to make it feel like a new product every time you use it. The price is in the moderate range and truly a great addition to your at home beauty care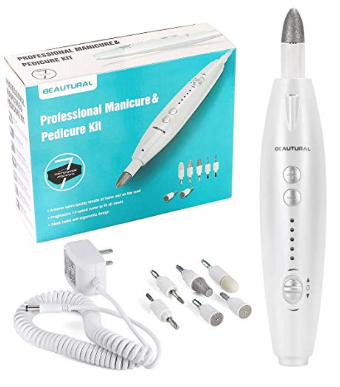 Sapphire Coated Attachments
Carrying Case
Counter-Clockwise/Clockwise Rotations
LED Precision Lighting
13 Speed Settings
Innovation is one of the biggest areas of importance for this brand. They have products in multiple different categories, but one factor remains the same: effectiveness. No matter what you are looking for, 1byOne has a tried and tested item that will suit your need. They are accountable for everything they release, which makes them willing to correct any errors to make sure their customers are satisfied. Enhancing technology brings people together and forges greater connections among collaborators and customers. Their goal is to make daily tasks easier and more accessible for all.
A lot of the electric files for foot care are pretty basic, but this is something special. 1byOne has created a professional kit. Not only can this file away callouses and rough skin, but it can improve and round the shape and length of your nails. If you need to buff out your toenails due to striations in the nail or snags, it is a breeze with this tool. 13 different speed settings, clockwise and counterclockwise rotation and five different indicator lights make this a comprehensive tool to add to your favorite maintenance accessories.
An integrated LED light shines the way so you can easily see what you're doing whether you're working on your hands or toes. Ergonomic designs feel great in the hand, and this tool is no exception. The carrying pouch is slim and slips into a suitcase for travel, taking up very little room. Accompanied by a 90-day satisfaction guarantee and a two-year warranty, there is little to no risk in trying out this professional tool. The attachments are strong and sapphire coated, so they will last for a very long time. Reasonably priced, you will love the way this makes your nails look and feel.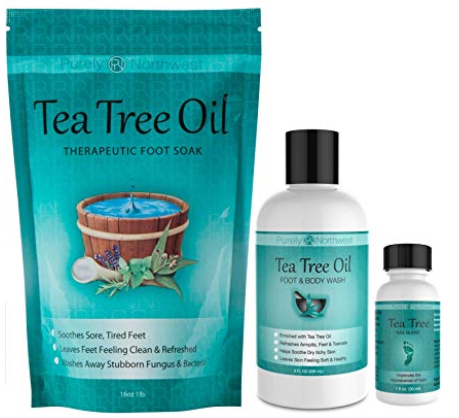 Antifungal
All Natural
7 Essential Oils
Epsom/Sea Salt Blend
Great Smell
Softens Skin
Their simple philosophy is to bring you the best products available while also treating every customer with respect. Their attention to the golden rule makes them a brand that is easy to support. Every product has ingredients completely sourced by Purely Northwest themselves, and they make sure only the finest ones make it into their final formulas. Transparency in their business is key to making things that are not only safe and sustainable for humans to use, but also don't exploit animals for testing or their by-products. If you love the world as much as you love yourself, it means a lot to choose a brand that cares so deeply about both.
Unlike the other physical items on this list, Purely Northwest put together a product bundle that does all the heavy lifting in terms of skincare for you. Pedicures start first with the actual health of your nails, so their kits biggest asset is the tea tree oil foot soak. Tea tree oil is naturally antifungal, and using it regularly can reduce and even completely rid your nails of discoloring and thickness caused by fungus or bacteria. After your first step of soaking, there are two other products that are indispensable to this pedicure process. A tea tree oil body and foot wash serve up even more antifungal power.
The finishing touch is the tea tree oil nail treatment. With a blend of rosemary and other assorted natural oils, dull nails become glossy and healthy. Accompanied by a nail brush, you should first use the foot soap after the initial soak to really clean and refresh your feet. When utilizing the nail treatment, put on a soft and breathable sock to keep the oils close to the skin and nailbeds. This process is amazing for tired and overworked feet and can be done in any foot basin or spa without damaging it. The price is a little high to reflect all the essential oils being used in the products, but it is one of the most effective soaks you will find, especially for fungal issues.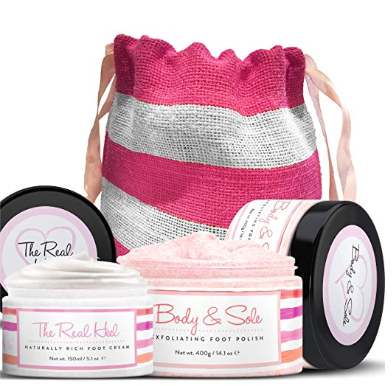 Himalayan Scrub
Cute Carrying Pouch
84 Natural Minerals
Silky Foot Cream
Handmade
Sustainable
Personalized so perfectly, Pure Sanctum is a brand that is taking quality control to the next level. All their items are handmade and luxurious. With beautiful rich scents and chic packaging, Pure Sanctum is truly a gorgeous company inside and out. Every item is entirely cruelty-free, vowing to never harm an animal for a beauty product. Their crews are called All Girl Crews and they have their hands in every single thing that is produced, coming to your straight from Pure Sanctums Bath Bakeries. If you are looking for luxury with little impact, Pure Sanctum has amazing principles that will align with your needs.
You will fall in love with this product set the moment you receive it. Not only does it come in a precious pink and white striped pouch, but the scent is a heavenly wild mint that will intoxicate you before you even begin to treat your feet. The foot exfoliating scrub uses 99 percent pure Himalayan salt to detoxify and soothe tired and achy feet. Not only that, but dead skin will be a thing of the past once you get a little soak in. With 84 minerals and trace elements, the scrub and soak will work wonders on your feet no matter the conditions of your skin.
The foot cream is just as rich. Almond oil, coconut oil, seaweed, every ingredient has so many health benefits it is almost hard to keep track. After utilizing the scrub and drying your feet, use just a bit of the silky foot cream. Once you feel your skin almost melting into your hands with buttery softness, you will want to slip on a soft and breathable sock to lock in the moisture and really heal your feet. This is low priced, handmade, sustainable, and lovely in look, smell, and effect. If you want beautiful feet, Pure Sanctum can help you take that first step.
Criteria Used for Evaluation


Accessories
The more accessories in a kit the better! From files to cuticle pushers, to clippers, a complete kit means less work, less money, and more ease. No matter your grooming issues with your hands or toes, we want you covered. Every kit here has products to cover multiple facets of your nail and foot care.
The Purely Northwest kit really focuses on foot health and has tea tree oil nail treatments to compliment a healing soak. Our electronic files such as the 1byOne have attachments that not only get rid of callouses and corns but can smooth the nail bed itself and trim for length. Even our more simple kits like the Gilden Tree has an amazing terracotta scrubber that will last forever, and products to lock in the awesome benefits you get from using it.


Ease of Use
Grip and simplicity make handheld tools so much more convenient to use. Ergonomic designs and smooth textures feel good in the palm and give the user ultimate control. Bulky files without a handle or plain pumice stones sometimes just won't do.
Feeling good is the goal, which means we want to avoid slips, knicks, and hand cramps. Basically, everything that is handheld on our list is fit with a comfortable grip for the user. Though one of the options has a pumice stone stick, there is not a single other file or scrubber that won't feel good when held.
When something is easy to hold, our confidence in using it is greatly increased. Safe and complete grooming doesn't have to be intimidating when you're using one of our accessible options.


Portability
Vacations are one of the most important times for our feet. From luxe outfits to gorgeous shoes, we want smooth, beautiful feet to show off on hot, summer nights. What makes that easier you ask? Kits that can easily be transported.
Carrying cases are a pretty big must when it comes to hygiene and maintenance tools. Everything except for the Gilden Tree and Foot Love options is completely portable and ready to throw in a suitcase or carry on. Looking forward to sticking your toes in the sand but scared of stares at your unsightly callouses?
Just slip this into your bag and do a little bit of self-pampering before your excursions. You will feel so much more confident and comfortable traveling with beautiful and smooth feet. Don't just take my word for it though, bring one of these kits for a spin!


Effectiveness
There is no use for foot care items if they don't work as they are intended. Rich healing balms and amazing scrubs and soaks are guaranteed to care for your soles just as they say they will. Sapphire and felt, or even diamond, file heads are awesome at taking away bulked up dead skin.
Beautiful feet are possible, and you shouldn't feel bad about your feet from a product not delivering on its promises. From kits like Gilden Tree that have the foot scrubber that never quits and high-end products, to total package options like Earth Therapeutics, we found what works so you don't have to do the guesswork.
Quality ingredients and materials are necessary for self-care. Let us help make it easier to feel amazing about your feet. You should fall in love with every part of you, and products that can help get you there are indispensable.


Water Resistance
While the product kits won't really need to be water resistant, the tools should be. Since skin is softest and most workable when wet, you want tools that won't have their abilities diminished by moisture. All but one of the electric tools here are water resistant, and that is mainly due to its short cord. I wouldn't recommend you using the professional 1byOne style near water, but everything else, including the Grace and Stella Co. files, can be used wet or dry.
This is most practical for anyone trying to do an at-home pedicure for the first time. Softening the skin before filing or shaving down corns and callouses smooths the edges so you don't have any hard, jagged skin. We want your feet to look as supple as they feel when rocking open-toed shoes.
Expert Interviews & Opinions
Most Important Criteria
(According to our experts opinion)
Experts Opinion
Editors Opinion
Users Opinion
By Default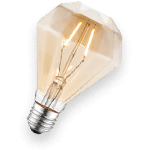 Stay Safe
Always pick kits you feel comfortable using. A little bit of research goes a long way to make you sure you've found the right one (hence why we've done so much for you on this article!).
Check Twice
Check ingredients and materials for anything you are sensitive to.
Other Factors to Consider


Bottom Line
It can be hard to remember to treat ourselves with kindness. The least we can do is treat our feet. With any of these at home pedicure options, you will be saving money from going to the salon without sacrificing all the beautiful effects of a proper spa day. Giving yourself a little luxury once in a while isn't only good for the feet, it is good for the soul. An at-home pedicure can brighten up your whole week, so what are you waiting for?
Frequently Asked Questions
q:

I have very thick callouses, what is the best product to start my regimen?

a:

I would probably go with a soak to first soften dead skin, and then gently utilize the rasp for exceptionally hardened skin.
q:

Which product will have me most sandal ready?

a:

I definitely love the Gilden Tree teracotta scrubber and aftercare products. If you're showing off your toes, this is something to continuously maintain the skin when wearing a chic sandal.
q:

Should foot care be painful?

a:

No! If you are in pain, try easing more into it with a low power electronic file and soak.
q:

Is it normal to have corns and callouses?

a:

Completely, everyone who walks or stands generally develops thicker skin in certain areas of the foot.
q:

What causes very dry foot skin?

a:

It could be a number of things: eczema, athlete's foot, cold weather. There is no complete way of knowing, but generally if the skin is just dry with minimum discomfort, moisturizing and buffing is enough to get back to baby softness.