Best Nina Shoes Reviewed & Rated
last updated:
Jun 25, 2019
Nina Shoes offers a wide assortment of dress footwear, bridal footwear and any other evening option that you might need for that extravagant gathering this weekend. They are all about luxury and fine detailing, high-quality fabrics and construction that bring you only the most stunning of choices.
With this brand you will find classic, simple heels fitting for a mother of the bride; you will also find more embellished, glittery footwear for those who wish to feel more like a Cinderella. If you are an individual with a stunning, sophisticated style, the list below will fulfill your passion for looking amazing on every occasion.
This is the best product on our list that is currently in stock: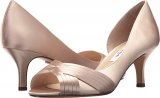 Contesa
Why is it better?
Half-D'Orsay Design
Smooth Satin Sheen
All-Night Wearability
Leather Sole
Kitten Heel
In a
Hurry? Editors choice: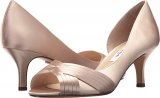 Test Winner: Contesa

7
Researched Sources
332
Reviews Considered
7
Hours Researching
10
Products Evaluated
Style
Comfort
Features
Heel
Materials
By Default
Top 10 Nina Shoes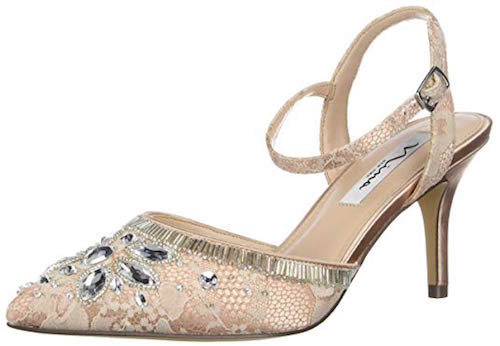 Satin or Lace Upper
Leather Sole
3 Inch Heel
Open Back
Adjustable Ankle Strap
For fancy affairs when you want to look simply stunning, the Thora is an excellent choice. This classic shoe is sure to elevate any of your outfits, and you can purchase it in one of three color options, a satin navy or black, and a sand option which includes lace overlays for a delicate but confident look.
The eye-catching thing about the Thora are definitely the black or white crystal and bead embellishments on the toe. Elevated in style, these are still subtle enough to be paired with almost anything, without causing you to look overdressed.
Other notable features include an adjustable ankle strap that increases stability and allows users to spend their nights on the dancefloor. Because the back is open, the perfect fit is easier to attain than with regular pumps. Plus, the 3 inch heel is the perfect height to give you a glamourous look without putting too much pressure on the front of your foot. As for cost association, this is one of the cheaper items listed, so it's a great choice for those on a tighter budget.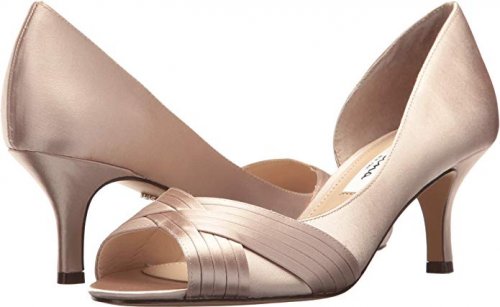 Half-D'Orsay Design
Smooth Satin Sheen
All-Night Wearability
Leather Sole
Kitten Heel
Easily Stained
Not for Wide Feet
There is something effortlessly extravagant, feminine and downright royal in the smooth sheen of a satin design. The Contesa knows it best, as it is a peep-toe pump entirely constructed out of this alluring material, and as such represents one of the most expensive-looking designs on our list.
There is a woven detail at the front of this pump which adds interest to an otherwise simple, classic design. What we're especially glad about is the half-d'Orsay construction, with the inner side of the pump cut away to reveal more skin. This sensual detail elongates the foot and the leg, and as a result, visually slims down the figure.

At the back of the Contesa, there is a satin-wrapped heel of a little over two inches in height. It is comfortable to wear for as long as you want to, and the leather sole on the bottom makes sure that the design fits the contours of your foot for that tailored support.

If you are not one for over-the-top embellishments; if sparkles and gleaming crystals are not your thing, then the Contesa is the perfect choice for you. It is elegant, it is luscious, and it will be a great pump for that special occasion that's upcoming.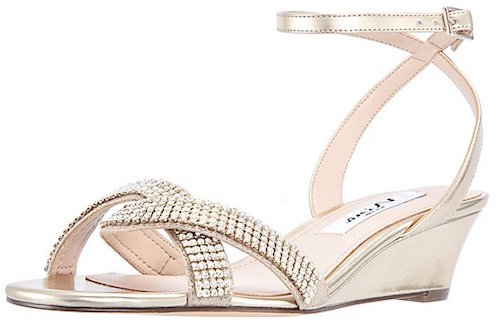 Crystal Decorations
Adjustable Heel Strap
Open Toe
Leather Lining
2 Inch Wedge Heel
An elegant wedge, the Florina is the perfect solution for those who want to look amazing, but prefer to stay away from high heels. This sandal is made with a metallic upper (gold or gunmetal) and is embellished with a multitude of crystals that are sure to add a bit of spark to your outfits.
This open toed sandal is ideal for summer wear, mainly due to the amount of breathability the design offers. Because your foot will get plenty of fresh air, you won't have to worry about overheating, sweat build up, or even blisters which develop due to moisture. Plus, the footbed and straps are lined with leather, which is one of the best choices of material you can find.
The wedge on the Florina has a 2 inch heel, and it is extremely easy to wear. Not only will your weight be evenly distributed over the entire foot, but the greater area of contact between your shoe and the floor will increase your stability when walking and dancing. Add to this the fact that wedges offer a higher level of shock absorption, and you'll find that this is a model definitely worth checking out. Plus, it can be bought at an average price, making it the perfect choice for many.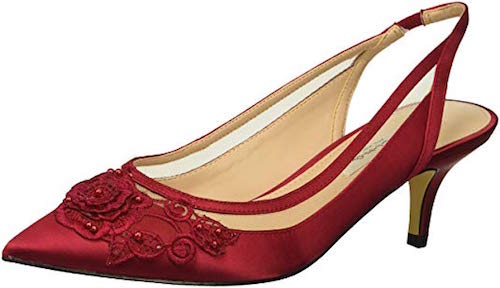 Satin Upper
Leather Sole
Elastic Heel Strap
Flower and Mesh Decorations
2 ½ Inch Heel Height
This slingback pump is an excellent pair of footwear for formal occasions - it will look just as good with a dress as it will with a tailored pair of slacks, and the feminine design comes in a variety of color options, so you can choose the one that works best for you. It is also a great choice for brides, and those who are looking for comfortable heels to wear to weddings.
The upper of the Taela is made from a satin fabric that looks and feels expensive and chic. The front portion is decorated with mesh and flower applications, and the pointed toe along with the 2 ⅕ inch heel both contribute to a timeless look.
This model has a number of comfort and functionality driven features, including the lightly padded footbed. The heel strap includes an elastic portion that helps attain the perfect fit without having to deal with tiny buckles. Furthermore, the sole is made from composition leather that has a luxurious feel, and is highly comfortable to walk on, even for long hours. As for price point, the Taela can be purchased at an average price, and you may even get lucky and find it on sale.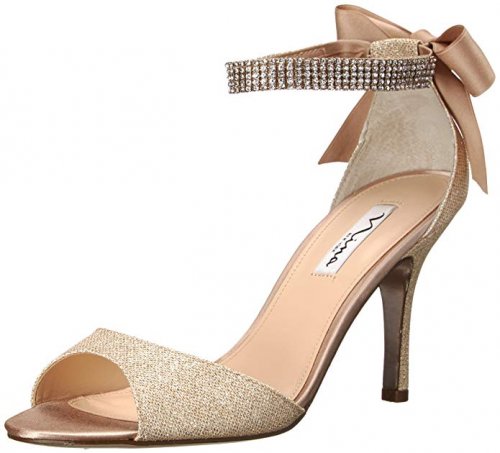 Leather Sole
Smooth Satin Upper
Adjustable Ankle Strap
Satin Bow Decoration
Peep-Toe Design
Slippery Sole
Questionable Quality
Experience a touch of Hollywood glamour with the Vinnie peep-toe pump. With this sparkling, elegant design you will feel like you're on the red carpet and all eyes are on you. Tilt your chin up, roll your shoulders back and stand proud as you show off the satin sophistication that is the Vinnie.
This pump comes with an ankle strap entirely encrusted with rhinestones. It is adjustable, and you can easily tie it to however loose or tight you'd like it to be using the satin bow at the back. The satin of the upper is smooth and luxurious, and it feels soft on your skin, not causing any blisters or hotspots.

The heel of the Vinnie is wrapped and stiletto in shape, around three and a half inches in height, meaning that you will need some practice in walking in these before the big day. However, the leather sole ensures that you are comfortable, as it molds to the shape of your foot and supports you in your every step.

With its gentle design, the feminine bow accent and the soft glimmer of its upper, the Vinnie is that perfect romantic heel for when you want to captivate the crowd. It is elegant, aristocratic, and it will make you feel like a princess.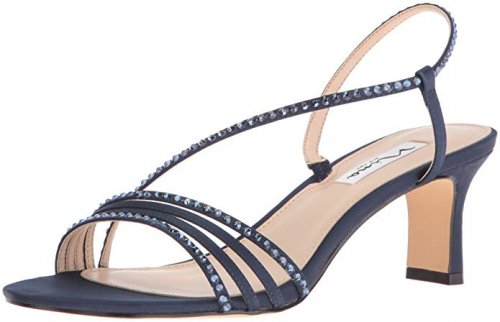 Two and a Half Inch Heel
Textile Straps
Crystal Embellishments
Leather Sole
Slingback Strap
Straps Not Adjustable
Not for Wide Feet
A classy option at a comfortable height, the Gerri sandal is that perfect mother-of-the-bride design. It is undoubtedly formal, with the elegant way the slingback strap is shaped around the foot, and the crystals lining the straps, but it is also unobtrusive, and won't distract from the outfit in general.
The Gerri is made out of textile, which means that its straps are soft and easy on the skin, and that they won't dig in or cause any lacerations. The slingback strap is of an unconventional design, as it follows the lines of your foot in an elegant way, and still prevents the sandal from slipping off as you walk.

The heel of the Gerri is around two and a half inches in height, which makes it perfect for those festivities that last well into the night. It also has a somewhat wider base than the stiletto, providing you with stability necessary to dance to your heart's desire.

The leather sole is there to ensure that your foot is comfortable and supported throughout the event.

The Gerri sandal is not a show-stopper, but it is a design which is easy to wear and easy to pair up with any formal look. Just the right amount of glimmer on it makes it a great option for that wedding reception you're going to attend!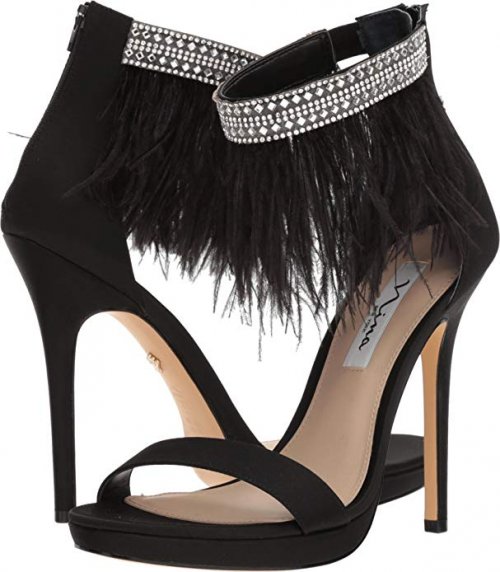 Stretchy Ankle Strap
Cascading Feather Fringe
Rhinestone Decorations
Fabric and Satin Upper
Open-Toe Design
Almost Five Inch Heel
Causes Blisters
Have you ever wanted to feel like a model on a runway? Are you actively looking for footwear which is bold, sassy and completely irresistible at the same time? Well, look no further, because the Fran sandal is here! With this ultimate party heel, you will feel like conquering the world, while looking amazingly sexy at the same time.
The Fran has an upper made from fabric and satin, a combination which offers both comfort and extravagance. What is the undeniable attention-grabbing detail is the sparkly, rhinestone-adorned ankle strap with cascading feather fringe. The strap itself has an elastic insert in its side which stretches out to accommodate ankles of all widths.

There is a zipper in the back of the heel counter which allows you to easily slip in and out of the design at a moment's notice. The Fran comes with a stiletto heel of almost five inches in height, however, walking in it is made easier by the half inch platform in the front. This platform eases the strain off of the ball on your foot and makes it seem like you're walking on a slightly lower heel than it really is.

Among all the poised, proper designs in this guide, it is refreshing to run into one which immediately makes us go wow! Due to its staggeringly high heel, the Fran is not for everyone, but it is definitely a sandal which will grab attention and make you the star of the show.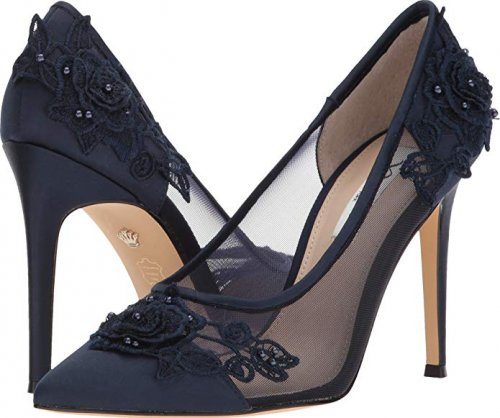 Breathable Mesh Inserts
Interesting Rose Appliques
No Unpleasant Odors
Classic Silhouette
Leather Outsole
Four Inch Heel
Not for Extended Wear
For a moment we are stepping away from the satin, the rhinestones, and the feminine bows and moving into something a little different, a little unusual. The Donela pump takes the classic pointy-toe design and turns it on its head with mesh inserts and rose appliques that we simply can't get enough of.
The mesh inserts in the textile upper are an enticing detail, one that offers a glimpse into more skin than usual, but that also serves a purpose - thanks to this porous material, air can freely circulate in and out of the design, and thus the feet are kept sweat-free and without any bad odors or other unpleasantries related to too much moisture inside.

What makes the Donela stand out among the others is the floral applique on the heel counter and the front of the pump, with decorative pearl beads of the same color. This makes the design elegant and chic, and yet in an entirely different way than we've seen so far.

Lastly, the wrapped stiletto heel of the Donela is approximately four inches high. This means that the pump is right on the edge of being too high to comfortably spend more than a couple of hours in. However, if you are not a stranger to wearing high heels, and are confident that you can endure the entire night in these beauties, don't let us stop you!

The Donela is truly one of a kind design that could perfectly reflect your own sense of playfulness and unconventionality with its whimsiness!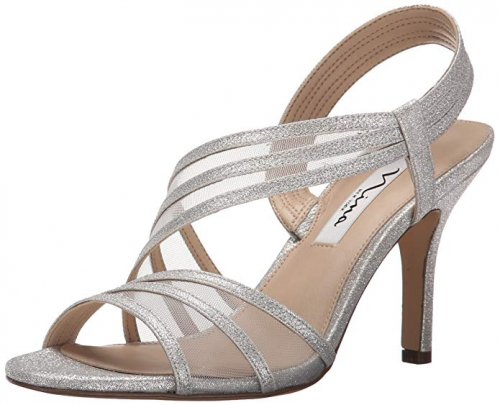 Breathable Mesh Inserts
Slingback Strap
No Blisters
Three Inch Heel
Elegantly Curved Design
Narrow Toe Area
Back Strap Slips Down
The Vitalia sandal is like liquid silver - a design which elegantly wraps around the foot, curved lines of its straps following the shape of your instep perfectly and accentuating just the right parts for that effortless elegance. It is nothing short of admirable how the Vitalia succeeds in being one of the most eye-catching options on this list without even a hint of rhinestone embellishments.
This sandal is made out of synthetic materials, combined with mesh for a tantalizing peek of skin, and well as for breathability. It has a slingback strap which wraps around your instep and secures your foot in the shoe, thus preventing it from sliding forward and your toes from falling over the front edge.

The sole of the Vitalia is made of leather to up the class value, and it also features a three-inch stiletto heel. With this comfortable height, you will have no problems partying the night away without any discomfort.

This asymmetrical design is not one you will often see in stores. The Vitalia is undeniably glamorous and refined, and yet it doesn't stand out too much in an ensemble. In fact, it is the perfectly balanced formal sandal that you'll need to complement your evening gown.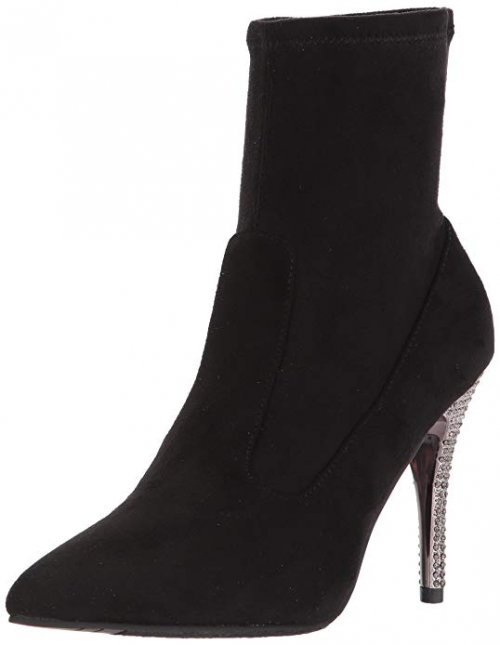 Stretchy Faux Suede Upper
Lightly Cushioned Insole
Rubber Outsole Tip
Leather Outsole
Ankle Bootie Design
Four Inch Heel
Not Weatherproof
So what happens if you need to look elegant, to impress with your sophisticated style and glam, but it's cold outside? What if you can't wear even closed-toe pumps, let alone sandals, for fear of freezing your toes off? Well, there's an answer to this, too, and it comes in the form of the Roxie ankle bootie!
Now, the important thing to mention here is that this bootie is not designed to keep you warm for longer periods of time, nor does it provide ample ankle support. It is a dress bootie, so to speak, and so its main goal is to make you look chic, while at the same time covering your foot to protect you from the cold at least a little bit.

The upper of the Roxie is constructed out of synthetic suede, a fabric that has enough give so that you can slide your foot into the design with minimal effort. Similarly to the Teressa pump, the interest comes in the form of a rhinestone-encrusted heel, which is also approximately four inches in height.

The front of the outsole on the Roxie has a rubber layer which stops you from slipping, and the rest of the outsole is made from leather. In terms of comfort, there is a lightly cushioned insole which will keep you nice and padded as you brave the cold winter months in these stunning booties.

The Roxie is certainly not revolutionary when it comes to insulation and waterproofing, but it is as sexy a bootie as we've ever seen one, and it will definitely serve you well in chilly special occasions.
Criteria Used for Evaluation


Style
One thing is for sure - Nina footwear is all about that gracefulness and opulence that comes with an evening look. Whether it is a low heel designed to be comfortable, or a sky-high option which is meant to attract everyone's attention - all of the designs here are rooted in elegance, and there is not one that isn't fit for a ball, a wedding or a gala of any kind.

That being said, it is also clear that these options are not for a casual outing. They don't belong at the office, at a bar, or on a shopping trip downtown; your gorgeous Nina shoes are reserved only for the most formal of events, where you need to dress to impress.

And impress you certainly will, whichever design you go for.

In terms of style, there are those in our guide which are less eye-catching. They have smooth uppers made from textile or satin, are monochrome in color, and usually offer only a tiny detail to attract interest, such as a crystal-encrusted heel or a woven toe area. They won't distract from the overall outfit and will mainly seek to blend in with what you're already wearing.

If you are someone who loves a safe choice, one that won't fail you no matter where you go, then these simpler designs are definitely the right ones for you.

On the other hand, we also came across a number of choices which are a lot more lavish. There are heels with quite a bit of sparkle, a brooch that reflects all the dazzling lights, a large satin bow that sits atop your heel as a romantic accent. Not to mention the fringe detail of the Fran, wow, we won't forget that one any time soon.

These more grandiose designs are what you wear when you wish to garner compliments when your goal is to look good and have everyone else notice it. They may not be suitable for every occasion - there are events where we have to dress in a less provocative fashion, after all - but they will certainly leave a lasting impression on your surroundings.

Which one out of these two styles you will go for depends entirely on you. What type of person are you? Do you prefer more streamlined, classic silhouettes, or do you not mind a bit of spice in your outfit?

But also, carefully consider the footwear style in relation to your ensemble. It wouldn't do to overdo it, and have rhinestones everywhere, glitter galore, since in the end such an exaggeration only seems tacky and distasteful. Weigh the visual impact of the shoe to the one of your outfit and strike a balance between them. Remember, you want your clothes and your footwear to effortlessly complement each other, not to clash.


Comfort
Attending an event that lasts for several hours can be a real killer on our feet if we're not wearing the right footwear. A heel that is too high, a strap that is too tight or a seam that's digging into our skin can become a nightmare really quick, and we're left with trying to weather through, smiling through our teeth and counting down the seconds until we can go home and free our poor, suffering feet.

This is why it is essential that your special occasion footwear is comfortable.

Now, when it comes to this aspect, Nina Shoes does not offer any special technologies. Compared to brands like Rockport and Clarks who utilize innovative comfort systems in their high heeled shoes, this brand relies on the tried and true - gentle materials and cushioned footbeds.

In terms of the materials, the designs from this list feature a wide variety of them, and we're going to mention them here and how they relate to comfort, before expanding on this topic in our later, Materials section.

For the uppers, this brand uses satin and textile, with a little bit of synthetic suede thrown in. These materials are soft on the skin, not causing any chafing or abrasions. They won't give you any nasty blisters or otherwise irritate you as you're trying to conquer the dance floor.

There are also a couple of designs which have mesh inserts in them. Mesh is a great, breathable material which promotes proper air flow through the design. It helps maintain a healthy foot climate inside the shoe, and reduces the risk of sweaty feet and bad odors and even foot infections that might arise from that.

What is also a key aspect when it comes to comfort is the fact that all of the designs we've looked at have leather soles.

At first, you might think that leather soles are hard and unforgiving. However, they are made from animal hide, which is a skin essentially, and thus they have excellent molding properties. Over time - the longer you wear your shoe for - the leather sole will take the shape of your foot and allow its natural contours to take place. In the end, leather soles are quite soft and flexible and irreplaceably comfortable.

Aside from materials, the second comfort feature that the brand from this guide offers is cushioned footbeds. Now, we admit that they have missed the mark a bit on this one, as there are more designs without a padded footbed than with it.

However, the ones which are outfitted with cushioning in the footbed provide you with a smooth, supported ride that will help you focus on enjoying yourself more than on how much your feet hurt. Extra padding works as a shock-absorber and thus reduces the amount of pressure put on your joints and lower back. This is especially useful when it comes to high heels, as bonus cushioning under the ball of your foot reduces foot fatigue and enables you to stay on your feet for longer.

Lastly, we have to mention that, due to all of the items here being high heels, the comfort of a design largely depends on the height and the shape of the heel itself. We will explain more about this in the Heel section.


Features
By features in this section we actually mean all the embellishments that you might run into in your search for the perfect evening design. Because that's what dress footwear is all about, isn't it? It is about the shine, the glitter, that dose of extra decorations that you wouldn't be able to wear anywhere else.

There are a few different types of decorations you can find, and we have sorted them for you so that you can make a quick and easy decision on which ones you like the best.

Rhinestones:
Easily the most widespread of embellishments, rhinestones come in various shapes and sizes. They can be large or small, clustered in a group or scattered over the upper. Their cuts also vary, much like the cuts of a diamond, and thus you can have square crystals, round ones, or even those shaped like flowers or hearts.
The color of rhinestones also differs, ranging from that crystal clear which goes well with everything, to colored ones that complement the color of the upper.
How much bling you want on your foot is all up to you. You can choose a sandal with crystals all along the straps, or you can go for a peep-toe pump with a rhinestone-studded brooch on the front. This is entirely dependant on your personal taste, on the event you're attending and on what you're wearing. If your outfit is quite sparkly in itself, maybe it'd be best to wear a more toned-down shoe.
Bows:
Bows are always a sweet, romantic detail, reminiscent of cute little girls and their bouncy pigtails. As in the case of rhinestones, these also come in many different shapes and sizes, from small ones that are barely noticeable, to large, satin ones that take up much space on the design. They can be made of various materials - from grosgrain to lace, and can even have additional ornaments on them in the form of dangling charms.
There is something inherently innocent and pure about a bow, and if you are attending a romantic event, such as a wedding (perhaps even your wedding!), then this type of decoration is always a good choice.
Fringe:
Finally, what we see in one of the more striking designs on our list, is a cascading fringe accent. Fringe gives off a flirty, sexy vibe because it moves along with your foot, which creates an especially alluring image when you dance, for example. It shows the world that you have spirit and that you can't be easily tamed, especially if this decoration is paired with high heels and a sultry silhouette.
If you're looking to be bold and irresistible, fringe is definitely the right choice.
Of course, as we mentioned before in our Style section, you can always opt for a design which has none of these embellishments. The amount of decorations doesn't reflect on the quality of the design, and thus you should always simply choose what you're most comfortable with.


Heel
Given that all of the choices in this guide are formal in style, it stands to reason that they are all high heeled designs. There is a number of ballet flats which could also work for a formal event (think pointy-toe silhouettes and attractive crystal patterns), but they are rare, and most commonly it is advised to wear at least a little bit of a heel when you want to look your best.

So, does that mean that you have to sacrifice your comfort at the expense of looking good? High heels are known to be unpleasant on the feet, and spending hours walking, standing or dancing in them might not sound very appealing to you, especially if you're not used to wearing them.

However, there are designs both on this list and in general, that you can turn to so that you don't have to experience the pain and the discomfort associated with wearing high heels.

First of all, as we are known to say on this website, bear in mind that the height of the heel is in direction correlation with how comfortable it is. Meaning that low heels, such as those of two inches (kitten heels) and three inches (classic heels) are far more comfortable than those of four inches and higher. The less there is distance between your heel and the front of your foot, the more natural your foot position is and the less pain you will feel.

Secondly, the heel shape is also an important comfort factor. While most Nina designs have stiletto heels, which are, admittedly, the worst when it comes to high heel comfort, there is also an option of a wider heel, such as in the Gerri, and a wedge heel, like in the Faria.

Stilettos are way too narrow to provide any stability, and all of your weight is shifted forward in them, putting unnecessary pressure on the front of your foot. The result are numb toes, cramps and bunions, all of which are quite unpleasant conditions.

By contrast, heels with a wider foundation, and especially wedges, provide a good base for you to walk on. They not only reduce any wobbly movements you have in your ankle and thus minimize the possibility of injury, but they are also easy to wear for as long as you want to.


Materials
To be able to provide such beautiful designs at an affordable price, this brand doesn't use premium genuine materials. Except in the case of their soles, at least, which we have already established are made of leather.

Apart from being comfortable and ensuring a healthy foot climate inside a design (very important in preventing foot infections, such as athlete's foot!), leather soles are also quite durable. This depends on the number of layers they have, but a three-layered leather outsole can outlive any rubber alternative that is currently on the market.

The one downside to leather soles is that they are somewhat slippery, especially on sleek, polished surfaces. This might pose a problem if you're not careful how you step, and you also might consider either getting a pair which has a rubber tip to prevent slipping (such as the Roxier), or having a rubber part layered over the leather sole.

For the uppers, we have also listed how this brand uses mainly textile, satin, faux suede and mesh materials. These are gentle on the skin and easy to wear both in colder and in warmer climates, and your feet won't feel too confined or otherwise uncomfortable.

However, we have encountered a few examples of where these materials stretch out and lose shape over time - especially if they are exposed to wet conditions - and thus the design starts slipping off of the foot or becomes unwearable. Unfortunately, there is no way around this, as it is a natural occurrence in a product which has run its course. It is still an undeniable fact that all these materials are not as durable as genuine leather or suede, which is appropriately reflected in the lower price of Nina footwear.
Expert Interviews & Opinions
Most Important Criteria
(According to our experts opinion)
Experts Opinion
Editors Opinion
Users Opinion
By Default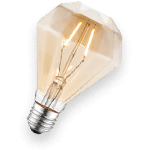 Accessories
Nina isn't just a shoe company, and they are in fact an affordable luxury brand that specializes in footwear, purses and bags, as well as accessories for the modern bride.
Featured Content
From US Weekly to Oprah's O Magazine, Nina's shoes and accessories have been featured in numerous magazines. Popping up on style watch lists, these stunning pieces are fit for celebrities at an affordable price point.
Other Factors to Consider


Adjustability
One more thing to consider when deciding on the right option for yourself is how adjustable the design is. Especially if you are someone with chubby toes, wide feet, or a high instep - most of us have something unique about our feet which might make it difficult to fit into certain designs, and thus the ability to customize the fit to our liking is invaluable.

Your shoe should always fit snugly; not so loose that it is slipping off or that your foot is sliding forward in it, and definitely not too tight that the edges of the upper are digging into your skin or cutting off blood circulation.

If you are not sure how easily you will fit into a design, look for one which has elastic inserts, straps with buckle closures or, the best of all, straps which can be tied around the foot or the ankle. All of these provide an excellent way to adapt the design to the shape of your foot, and thus to ensure that you are comfortable and pain-free throughout the event.


Bottom Line
In order to look expensive, you don't actually have to spend a lot of money. If Nina Shoes has taught us anything it's that elegant, refined designs can also come at an affordable price, be decently comfortable and a real treat for the eyes.

If you're on a quest to find that perfect evening heel which will complement your dress, but don't wish to put a large dent in your budget, then you have definitely come to the right place. This brand has it all - the satin, the sparkle, the creative silhouettes and effortless charm.

Keep in mind what your aesthetic is, what type of design you will feel most comfortable in, and of course which one will go best with the outfit you're wearing. Take a deep breath in, and commit to that heel you've been eyeing since the start of this guide - sure, it might be a bit more seductive or a bit more glittery than you have first imagined, but life's too short to not indulge yourself once in a while. Go for it, we won't tell anyone.
Frequently Asked Questions
q:

Are Nina Shoes high in quality?

a:

As we described earlier, we wouldn't necessarily call this brand of footwear high in quality, but it certainly is decent. You shouldn't expect revolutionary levels of comfort or durability out of these designs, but they will definitely serve their purpose, make you feel beautiful and poised at the event, and all for a very reasonable price.
q:

Does this brand have only women's footwear?

a:

They don't! This brand also has footwear for girls who are invited to special occasions, and especially those who have a role in the service as flower girls. These are all adequately sparkly and glimmering, usually in the form of a pump or a Mary Jane, with barely a hint of a heel in the back. Fit for a princess!
q:

Can I find any flats with this brand?

a:

Yes, you definitely can! While we did mention how flats are usually not a good choice for a formal event, we are making an exception for Nina flats, as they are definitely fancy enough to go well with evening wear.
q:

What else can I find from Nina Shoes?

a:

This brand also offers handbags and jewelry, as well as special bridal collections where you can find all the accessories you need for your big day. It's a good idea to head on over to their official website, and take a look at all the wonderful bling they have in store.
q:

How do I get the best value for my money with this brand?

a:

While footwear by Nina Shoes isn't exactly what we'd call expensive, it is understandable that you would want to get the most out of your investment. To make the best of your purchase, we would recommend going with a versatile style such as a classic pump you'll be able to wear on multiple occasions. Ideally, you'll go with a shoe that can be dressed up or down, as this way you will be able to wear it more often.
q:

Are there any sizing issues with this brand?

a:

On the whole, models by this manufacturer run true to size, but to ensure a successful purchase, we would recommend trying on the model before buying. If you are ordering online, it's always a good idea to wear your new shoes around the house for a bit, to ensure there aren't any critical fit issues. This way, they won't get damaged, and you'll be able to replace them should the need arise.