Best Organic and Natural Deodorants Reviewed
last updated:
Aug 29, 2019
Do you find that regular deodorants bother your skin? Or are you alarmed at their long list of ingredients that are unpronounceable? Well then, meet natural deodorants.
They are definitely the way to go for anyone wanting to cut out harsh chemicals from their personal care products and to live a healthier lifestyle. These products are often made out of organic and natural ingredients that are gentle on your skin.
Wondering if they still do the job?
Users rave about how well these products work. They do the job just as well, if not better than regular products. A wonderful selection of different scents are available to choose from, and most of them are recognizable like lavender or rose, rather than being a generic fresh scent. We are going to look at the ten best products available, as well as what to look for when buying.
In a Hurry? The test winner after 15 hrs of research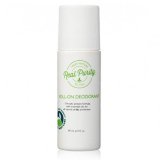 Real Purity Roll On
Why is it better?
Easy application
Essential oils
Sensitive skin friendly
Doesn't clog pores
Helps prevent sweat
In a
Hurry? Editors choice: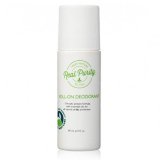 Test Winner: Real Purity Roll On

18
Researched Sources
13k
Reviews Considered
15
Hours Researching
14
Products Evaluated
Application
Effectiveness
Product Purity
Side Effects
Brand
By Default
Top 10 Best Organic Deodorants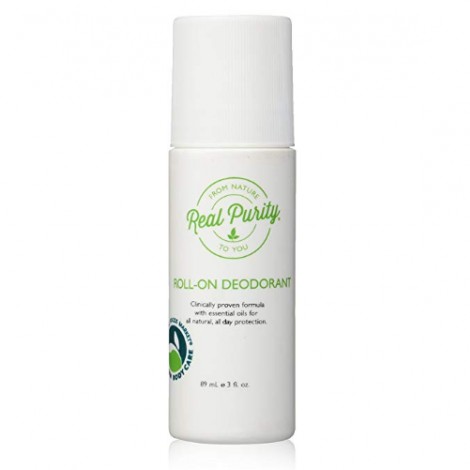 Easy application
Essential oils
Sensitive skin friendly
Doesn't clog pores
Helps prevent sweat
Since it is made out of ingredients from essential oils and aloe vera, the Real Purity natural deodorant is a great option for sensitive skin. Users consistently say that after trying many products that bothered their skin, this one did not.
Some users love the roll-on applicator of the Real Purity organic deodorant, while others prefer a different application method. The roll-on is easy to apply, but it can get clogged, according to users. Another potential detractor of the Real Purity is that the gel is white in color, and is not clear like many people prefer. This means it could stain clothing, and it could potentially cause a lot of trouble with black garments. On the other hand, the Real Purity dries quickly, which should at least help prevent problems with staining. Keep in mind that with roll-on products, you will need to shake them before each use.
The essential oils that Real Purity is made out of are pure and organic and they include lavender oil, apricot oil, and rosemary oil. Each of these types of oils has its own unique benefits and strengths, as well as simply smelling wonderful. Lavender, for example, adds a fresh scent and keeps your pores clear. Apricot helps dry away the gel and prevents residue from forming. Rosemary gives a nice, clean scent. Those are just a few of the oils that are included in this product. It has a whole bunch of different kinds of essential oils listed in the ingredients. In combination, they smell really nice, but they are also each there for a practical purpose, as well.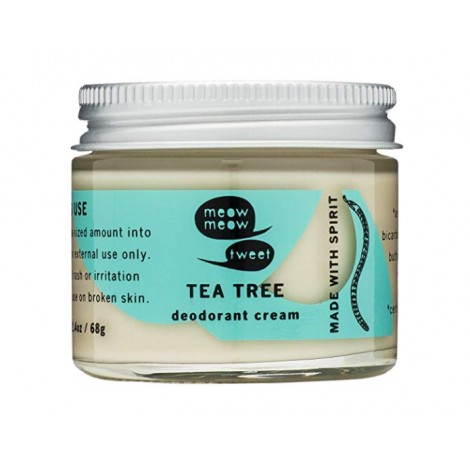 Small batch company
Package plastic free
No parabens
Handcrafted
Non-staining
Meow Meow Tweet natural deodorant cream has got to be just about the cutest name for a brand, and it conjures the idea of a fun, easy-to-use, and gentle product. Fun fact: the name of the brand comes from the founders' pet cats and bird and it was meant to show their dedication to animals, plants, and the environment.
This organic deodorant from Meow Meow Tweet comes in either tea tree scent or lavender scent. The brand makes the product in small batches, and each batch is handcrafted. You only have to use a little tiny dab of the product (the brand recommends a pea-sized dab). It comes in a cream, which you rub into your skin. The tea tree variety contains baking soda, which definitely helps eliminate odors, but it has also been known to cause skin irritation. But the lavender variety does not have baking soda. So if you know you have a sensitivity to baking soda, make sure and go with the lavender scent to prevent any irritation from occurring. Not everyone is sensitive to baking soda. Some find that it is gentle on their skin, but some do have trouble with it.
Other ingredients include arrowroot, shea butter (which helps moisturize sensitive skin), and clay. Ingredients are responsibly sourced by the brand and are vegan, fair trade, and cruelty-free. The containers that the product comes in are made out of glass, and the lid is made out of metal, which prevents the usage and disposal of plastics. You can reuse the containers after you are done with them. Storing things in them is one idea, but you can certainly also take them to be recycled.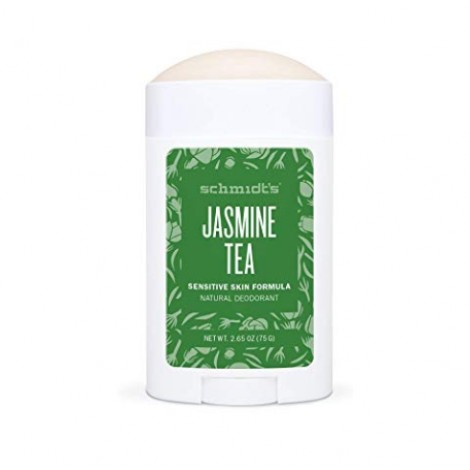 Sensitive skin formulated
Nothing artificial
Smooth and creamy
Non-greasy
Enriched with minerals
Schmidt's Natural deodorant combines the floral scents of jasmine with the fresh scents of green tea. None of the fragrances used in this product are artificial.
If you are looking for a product specially formulated with sensitive skin in mind, then Schmidt's Natural might be for you. It is free from baking soda and does not contain anything harsh. Natural minerals are added to enhance the health qualities of the product. Although this natural deodorant is not greasy, some users have reported that it is a bit sticky. A few have said that it makes their clothes stick to their skin. The brand recommends that you use a tiny amount of the product which might help prevent this. Smoothness and creaminess are also qualities that make the Schmidt's Natural more gentle on your skin. It is not gritty like some natural products you might find.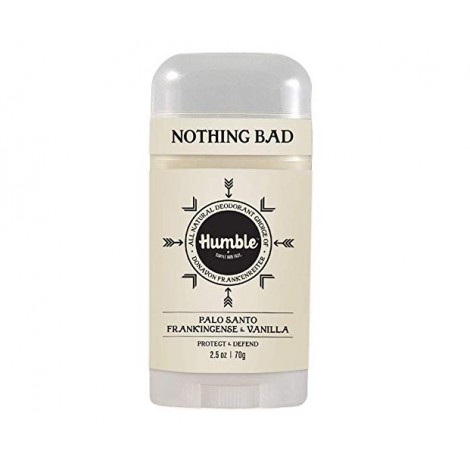 Gender neutral
Only seven ingredients
Money back guarantee
Free from alcohol
Uses corn starch
Humble is a natural deodorant for women and men. It is flavored with palo santo, frankincense, and vanilla.
The palo santo is a type of tree that grows in South and Central America. It has a woody and slightly smoky scent. Paired with frankincense and vanilla, it has a pleasant smell. Palo santo is thought to have natural healing properties and is also calming and soothing. Although the brand claims to have only five ingredients, that is only because they count three different essential oils as one ingredient. So there are actually a total of seven different ingredients. These ingredients are corn starch, coconut oil, beeswax, baking soda, palo santo oil, frankincense oil, and vanilla oil. Corn starch absorbs moisture, and it is made from non-GMO corn. The coconut oil is fractionated and is good at killing the bacteria that causes body odor. It also soothes sensitive skin and moisturizes the skin without causing clogged pores. Beeswax makes the product smooth, creamy, and easy to glide on. A strange effect that users noticed was that after applying the product, it would sometimes clump and form little beads on their underarms. Users say that you can simply brush these off, but some thought they were a little weird and were put off by it. Some products use alcohol to make them dry quickly after applying, but this also has the potential to make your skin dry so Humble organic deodorant does not include alcohol in its ingredients.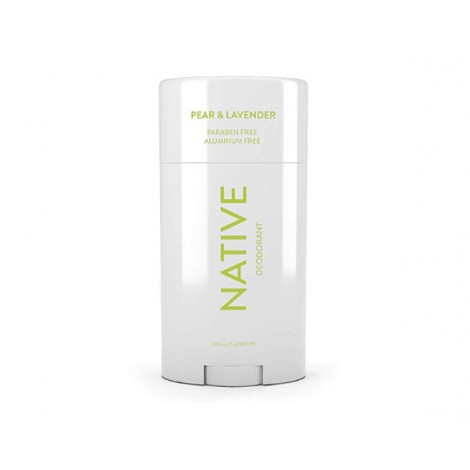 Highly tested
Does not stain
Four available scents
Absorbs sweat
No aluminum
May need periodic reapplying
Native tested thousands of ingredients in order to find the most effective ones for suppressing odor and eliminating wetness all while remaining completely natural and free of harmful substances.
While this brand of natural deodorants does do extensive testing of their products, they never use animals for this. The ingredient that provides the moisture absorbing properties in the product is magnesium hydroxide. This is a safe ingredient that is often used in antacids like milk of magnesia. Native comes in four different scent combinations and they are pear and lavender, almond and vanilla, coconut and lime, and cranberry and plum. The product does pretty well at not causing staining on clothing. Once in a while, a user will experience staining, but it often because they applied too much at a time. Although it can't completely block sweat like antiperspirants can, Native organic deodorant does help at least lessen sweat. Some users have said that this product does not last throughout the day and that you might need to reapply it at different times during the day. This is not true across all users, but it would probably be true for those who usually use stronger deodorants.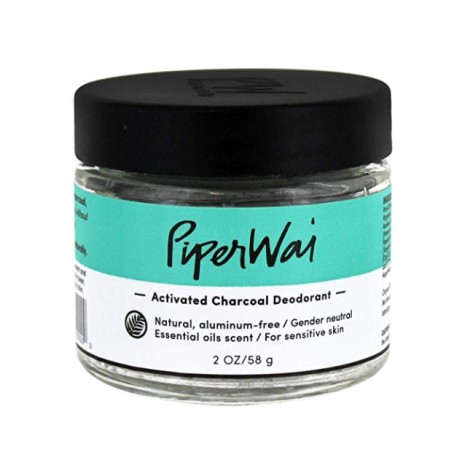 Activated charcoal
Balances PH levels
Eleven essential oils
Fights bacteria
Vegan
PiperWai natural deodorant uses activated charcoal to wick away moisture. Charcoal can absorb moisture up to 1000 times its weight. You will notice that the product has a gray color to it rather than the usual white or clear and this is because of the charcoal.
One way the PiperWai works is by balancing PH levels which makes it impossible for odor-causing bacteria to survive. The product also uses eleven different essential oils to create a pleasing scent blend. Some of the oils are lavender, clove leaf, tea tree, thyme, tangerine, peppermint, lemongrass, rosemary, and bergamot. This might seem like too many different scents together, but users report that the overall scent is pleasing and is a little minty. But, one thing users did not like was that the smell is very strong, some said overpowering. Something good about PiperWai is that it is both gluten-free and vegan, making it a safe choice for those who are on a diet. The brand says that the product goes on gray but dries clear, but some users have said you still need to be careful about letting it dry before it comes in contact with your clothing, or it might stain your clothes.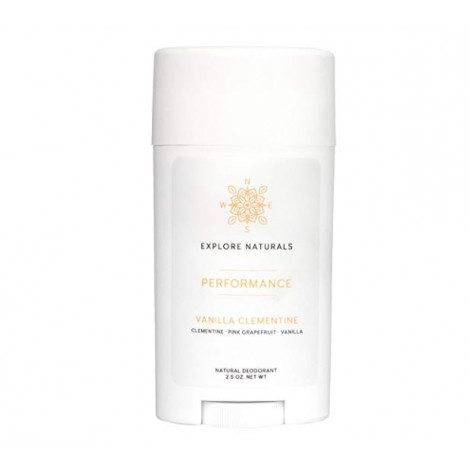 24-hour protection
Dairy-free
Soy-free
Minimal baking soda
Hypoallergenic
Doesn't work for exercise
Sometimes these kinds of natural products have a tendency to be a little weaker and need to be applied a couple of times a day. Not so with Explore Naturals deodorant. It lasts for a full 24 hours which means you can follow the same routine that you used with regular products.
Explore Naturals has no dairy and no soy in it, and it uses a small amount of baking soda so that it is less irritating to sensitive skin. The unscented variety has no baking soda at all, but the five different scented products do have a little bit of baking soda. Scents include vanilla clementine, sea sage, rose garden, coconut delight, and Cypress breeze. These products are designed to have the right amount of moisture. They are not so dry that they will not glide on, but they also are not so wet as to be runny, which also helps prevent them from staining your clothes. In Austin, Texas, where this organic deodorant is designed and manufactured, the employees all wear the product to make sure that it really works, especially in the extreme heat. The brand's parent company actually started out making natural perfumes, and they have used this knowledge to build the fragrances that they used in making these deodorants. You might notice that the ingredients include something called stearyl alcohol. This is not the same as regular alcohol, and it does not have a tendency to dry out your skin or to cause irritation. Some users have reported that the product does not last if used for working out. You might have to reapply it after exercising, and certainly after showering. The 24-hour protection may only apply to a day of minimal sweating and no contact with water.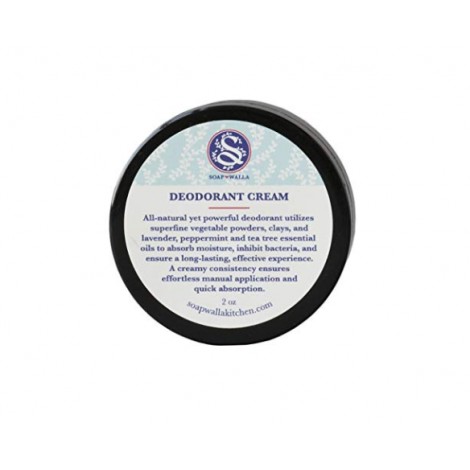 Uses vegetable powders
Consistency of frosting
No petrochemical byproducts
Rapid absorption
No residue
The light and airy consistency of Soapwalla organic deodorant cream can be compared to that of cake frosting. This helps it to be absorbed faster and ensures that it is not greasy.
The brand recommends that you use up the product within 12 months, which should not be a problem since it comes in such a small container that you will probably have to buy more than one to last 12 months. If in a warm environment, this natural deodorant can melt into a liquid state. To fix this, you simply need to put it in the freezer for a little while and it will solidify again. This is a perfectly natural occurrence and happens because the product does not include any artificial waxes. You might also have to mix the product from time to time since it has a tendency to separate. The main ingredient is very fine vegetable powders which are safe and effective.
9

. Ursa Major Hoppin' Fresh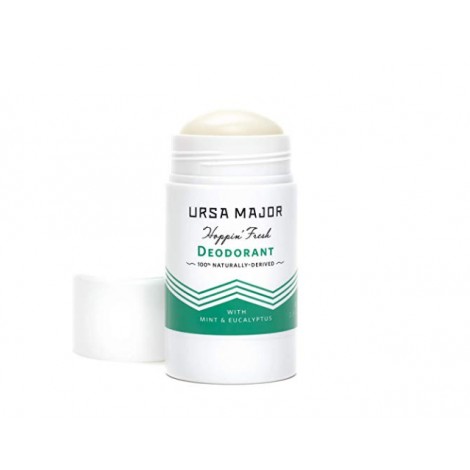 Cooling aroma
Smooth texture
Mint and eucalyptus
Lasts several months
Absorbs moisture
At 2.9 ounces, Ursa Major natural deodorant roll-on is estimated to last approximately two to three months if used every day.
Ursa Major feels cool on your skin, and it also has a fresh, cooling smell. This comes from the combination of mint and eucalyptus. Eucalyptus is a great addition to the product's ingredients because it is soothing to the skin. It kills bacteria as well as cleanses your skin and promotes a healthy immune system. The texture of this product is very smooth and silky which makes it glide on easily. This is something users commented on. They loved the texture of the product. Although users consistently say that they love the way the product smells, some have said that the scent does not last as long as they would have liked. After applying, it tends to wear off, and the odor-blocking properties may still be present, but the fresh-smelling scent might be gone.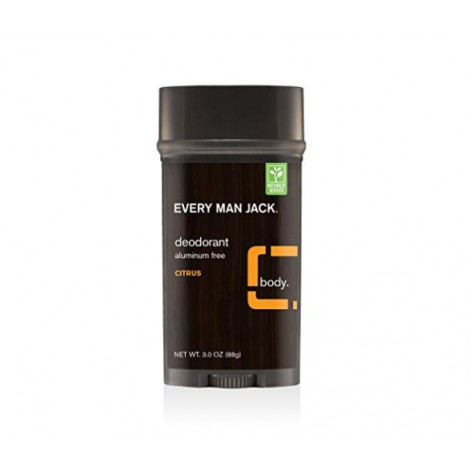 Recyclable container
No dyes
Non-GMO
Certified by PETA
Derived from plants
Even though this is designed to be a natural deodorant for men, some women have reported using it and liking it as well, especially the citrus scent, but the mint option would also be a great choice.
Not only are the containers made out of at least 50% recycled plastics, but they are also recyclable again after you finish using them. An ingredient in the product comes is a substance derived from non-GMO corn. Two other ingredients are witch hazel and cotton extract, and these help to absorb moisture. Every Man Jack uses some really unique ingredients. Another one is lichen extract which kills the bacteria that cause odor. The scents that are available are citrus, cedarwood, fresh scent, sandalwood, and mint. Ingredients are made out of plants, and PETA has certified the brand's ingredients and manufacturing process as being safe and cruelty-free. Something to be aware of is that this product is made to be a little stronger than some natural deodorants, and because of that, it has a bigger chance of causing irritation. It might be best used on non-sensitive skin.
Criteria Used for Evaluation


Application
We found that there are three main designs for product application. One is the roll on. The second is cream or paste. And the third is the solid stick. Everyone has different preferences for which of these they like best, and each one has its own strengths and weaknesses. Let's look at some of the specifications for each design.
The strengths of the roll on are that it is easy to apply and that you will not end up with an unusable bit at the end like you would with solid stick products. Users sometimes did not like that the roll on can become clogged, and also that if you use it on sweaty skin, the sweat can cling to the roller and be drawn back into the bottle, contaminating the liquid inside. Another possible downside to the roll on is that it applies a thin liquid. If you apply too much, it can become runny. It also might take a little bit more time to dry. The roll on could feel quite cold, as well, especially if you store it in a cold cabinet.
Users have a love/hate relationship with cream types of product. On the one hand, it is a little inconvenient since you have to rub it on and since it gets on your hands and has to be washed off. On the other hand, it is like applying a lotion and can be quite soothing to your skin. Some people have trouble with the gliding stick variety because rubbing it on their skin causes friction and can irritate sensitive skin. You will probably notice that you can find a lot more cream products in the natural "aisle" rather than in the regular "aisle." They tend to be a little fussier than roll-on or stick products. Sometimes they separate and will need to be stirred. Warm temperatures will melt them causing them to melt into a liquid. If this happens, you simply have to put it into the freezer for a bit. Applying it can be a little tricky. You should apply much less than you think you need since too much will make you sticky and will not be absorbed. Usually, a pea-sized amount is about right, but it never hurts to start with less. With all these potential downsides, you might wonder how the cream variety is very good at all. We decided to include it on this list because there are still some great aspects. For one thing, it is easy to use up every last bit of the product which saves you money. During our research, we learned that cream has a tendency to dry out toward the bottom of the container, but this is an easy fix. You can simply mix a little water with it to rejuvenate it. Another good thing about the cream is that it is easy to be precise in how much you put on.
Finally, the traditional stick product is probably the one that most people feel comfortable with. It is the kind that most of us are used to with regular products. The solid consistency means it is less messy and is easier to apply. Staining should be less of an issue with it. The only drawback is that you are left with a little bit in the very end that can't be used unless you take it out of the container.


Effectiveness
To judge the effectiveness of each product, we first needed to find out what it is that causes bad odors in the first place. What we learned was that odor is caused by bacteria that live under our arms. These bacteria are not necessarily bad, but they produce waste that stinks. The same is true of odor that is found on other parts of the body, like with stinky feet, but our focus for this guide was the underarms. Eating certain foods, like spicy foods can make the odor stronger. With this information in mind, it was easy to see which products were most effective. We looked for products that had ingredients that killed or at least lessened the odor-causing bacteria.
Another factor related to effectiveness was the benefits of each of the ingredients. We always looked at the ingredients list, and we researched the ingredients to find out what they were and what their benefits were. Let's look at some of the ingredients we researched.
Arrowroot - Great for heart and kidney health, as well as for getting better sleep. It helps harden the product and absorbs sweat.
Clay - Helps with detoxing the body. It has a fine, soft texture, does not stain, and does not have an odor. Clay absorbs moisture.
Shea butter - This is great for keeping your skin moisturized and preventing irritation. It softens the skin and does not clog pores.
Tea tree oil - Blocks odors and kills bacteria. It also has an amazing ability to help your body heal, so if you have a rash under your arms, tea tree oil can make it go away.
Lavender - Soothes your skin.
Eucalyptus - Prevents rash. Purifies, cleanses, and kills bacteria.
Jojoba oil - Regulates skin oil and prevents clogged pores and acne.
Baking soda - Increases the salt content in that particular area of your skin. This makes it so that the bacteria can't grow there.
Those are just a few of the ingredients we often came across. We saw several essential oils in all of the products. When researching, we learned that essential oils are good for their scent (which helps block odor) and their health properties. We learned that most essential oils need to be paired with a carrier oil so they do not irritate your skin. Jojoba oil is a common choice for this purpose and is another reason many products include it.


Product Purity
To us, product purity means that the product contains only natural ingredients, and nothing artificial or synthetic. We read through the ingredient lists. researched the common ingredients and found out if any of them were man-made. Often, the plant-based ingredients came from organic and non-GMO plants. We found that for the most part, these products do an excellent job of using only natural ingredients and absolutely nothing synthetic. From our research, we learned that this does not necessarily guarantee that the product will not bother your skin, at least until you get used to it. This is especially true if you have very sensitive skin. But at least the ingredients are not harmful to your overall health and wellbeing.
We learned about the common non-pure ingredients that you will find in regular products, and we watched closely to make sure these did not pop up in any of the ingredient lists of the products we chose. There is a temptation to use some of these ingredients because of how they make the product more effective, but the health trade-off is not worth it. Aluminum was the biggest example. We chose only products that do not have aluminum in them. While it does reduce sweating, it is also harmful in many ways, including being a possible contributing factor to Alzheimer's. This is one of the reasons why we decided aluminum would be a dealbreaker for a product's purity.


Side Effects
It turns out, side effects are common even with natural products, but this is not due to harmful ingredients, but instead is your body detoxing and getting used to a new product. The most common side effect we came across was skin irritation or rashes. Sometimes this is caused by a sensitivity to a certain ingredient, like baking soda. In this case, we learned that it is best to simply stay away from baking soda and instead buy a product that uses a different ingredient. That is why we included plenty of options that are free from baking soda and instead use charcoal or clay or some other ingredient to absorb sweat and block odors. If you are not allergic to baking soda, however, it is an ingredient that can be very effective for you. Another thing we learned during research was that essential oils are so concentrated that they can cause side effects such as burned skin if they are not properly diluted. When evaluating a product, we looked to make sure they included the essential oils in a way that would be gentle on your skin, and we checked user reports to make sure no one reported that as a cause for skin irritation.


Brand
A lot of natural products are from relatively small brands. Not all of them are, but some are. In our research, we found out that this is a good thing. The smaller companies tended to focus on making a really good quality product. They made small batches of the product, and many of them tested the products on their own employees. Small brands tended to be focused on the little details of the product, evaluating each and every ingredient and not being afraid to take a lot of time to develop the product. Many started out as a passionate project by a person or a group of people who saw a need for better quality healthy products. We researched each of these brands to see who there were, what they stood for, and how they started out. It was pleasing to learn that they were all committed to a better environment and healthier people. Some of the things on our list of things we researched for each brand include the name and its meaning, the brand's history, and each brand's self-imposed guidelines (like no animal testing, no aluminum, no parabens, etc.). We learned about their processes for developing, testing, and then manufacturing the products, and also how they sourced their ingredients. Product packaging was also an important factor. We looked for packaging that was made out of either recyclable or reusable materials. These pointed to a brand that was responsible in their production.
Expert Interviews & Opinions
Most Important Criteria
(According to our experts opinion)
Experts Opinion
Editors Opinion
Users Opinion
By Default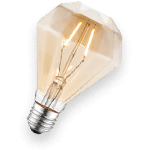 Healthy Alternative To Perfume
Even though many love to wear perfume, it is an unfortunate fact that sometimes some people can't wear perfume due to health reasons. Maybe it is because it bothers their sensitive skin. Sometimes it is because the chemicals in perfume trigger certain autoimmune responses in individuals with a history of this. Either way, a great alternative to perfume is a natural deodorant. These products let you smell nice while staying healthy at the same time. Many of them have a fresh, perfumy scent that comes from natural ingredients so you do not have to worry about negative side effects.
Detox
Here is something you might not have realized about switching from a regular product to a natural one. Your body actually goes through a kind of detox as it gets used to the natural product. This last for a week or two, and during this time you might notice more odor than usual. The new natural product might not seem to be working, and you might even develop a rash. If you are able to stick with it for a couple of weeks to give it a really fair test, you might find that it begins to work wonderfully after that.
Other Factors to Consider


Bottom Line
Many people are choosing to go the natural route with deodorants. They are healthier, better for the environment, and have better-smelling scents. If you are just starting out with these kinds of products, it can be an introduction to an exciting world of fun new products to try. You might find that these natural products work just as well as regular products, and you might even like them better.
Frequently Asked Questions
q:

Are essential oils beneficial?

a:

Yes! Research strongly suggests that each kind of essential oil has its own unique health benefits. Including them in these products is not only potentially beneficial to your health, but they also give the products a nice, natural scent.
q:

What are parabens and why are they bad?

a:

Parabens are synthetic preservatives that are often found in cosmetics and personal care products. Scientists are not yet sure if they are harmful or not. Some think they can cause cancer or disrupt the endocrine system, but the evidence is not yet conclusive. Parabens are found in so many common products that they can build up in our systems. The natural products on this list take the attitude of "it's better to be safe than sorry" and they all choose not to include parabens just in case they really are harmful.
q:

Will I get a rash?

a:

You might. If you do, stop using the product and wait a few days for your skin to heal. After that, you can try again. Make sure you use a small amount. Try not to use the product directly after shaving, and you might also try applying moisturizers to the skin.
q:

Will the natural deodorants block perspiration?

a:

No, not completely, but this is actually a good thing. Your body gets rid of some toxins by sweating them out, and blocking that means that these toxins will build up in your body. Antiperspirants block sweat by creating a seal over your skin that does not allow sweat through. They often use aluminum as an ingredient. Natural products do not contain aluminum, and they can't completely block sweat, but they do contain products that absorb sweat, which at least helps. Ingredients like corn starch, charcoal, or clay are great at absorbing sweat.
q:

How do I adjust to using a non-antiperspirant?

a:

One idea is to wear the appropriate clothing. If you are going to be in a high-sweat environment (like exercising), wearing sweatpants and sweatshirts will help absorb the sweat and make up for the lack of antiperspirant.
q:

Some products say they include fragrance. Are they still natural?

a:

Yes. Some regulations require or suggest that brands use the term fragrance, but the ingredients that make up the fragrance are simply all natural essential oils. There are no artificial fragrances in these products.