Best Kids Socks Reviewed & Rated for Comfort
last updated
Jan 28, 2019
Dressing your children can be quite an adventure, even when it comes to the most basic clothing items. When shopping for kids' clothing, you need to consider things like quality and comfort; then take design into consideration as many children will have their notion of what is acceptable for wear in public and what isn't (even though your own opinions may differ greatly on this subject). Kids socks are another of those categories that may be a no-brainer for adults, but when it comes to your children, there's simply so much to think about. Most offer imaginative prints, bright colors, and fanciful designs, but there are also those which focus on comfort, quality, and durability. The best possible option is to choose a pair that will combine the two. Nonetheless, this is often easier to accomplish in theory than in reality.
In a Hurry? The test winner after 15 hrs of research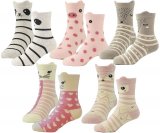 HzCodelo Seamless
Why is it better?
Cute, Novelty Design
Skin & Eco-Friendly
Pack of Five
Average Price
Y Shaped Heel
In a
Hurry? Editors choice: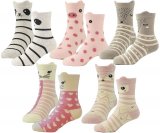 Test Winner: HzCodelo Seamless

16
Researched Sources
1267
Reviews Considered
15
Hours Researching
20
Products Evaluated
Brand
Ease of Use
Materials
Style
Durability
By Default
In Depth Review Top 10
HzCodelo Seamless
Tandi Novelty Cats Crew
Danis Choice Anime Print
Deluxe Non Skid Crew
Jefferies Fashion Crew
Gold Toe Athletic Quarter
Jefferies Tech Sport Low Cut
TeeHee Stripes
Adidas Graphic Crew
Jefferies Seamless Sport
Table of contents
Criteria Used for Evaluation
Frequently Asked Questions
Sources
10 Best Kids Socks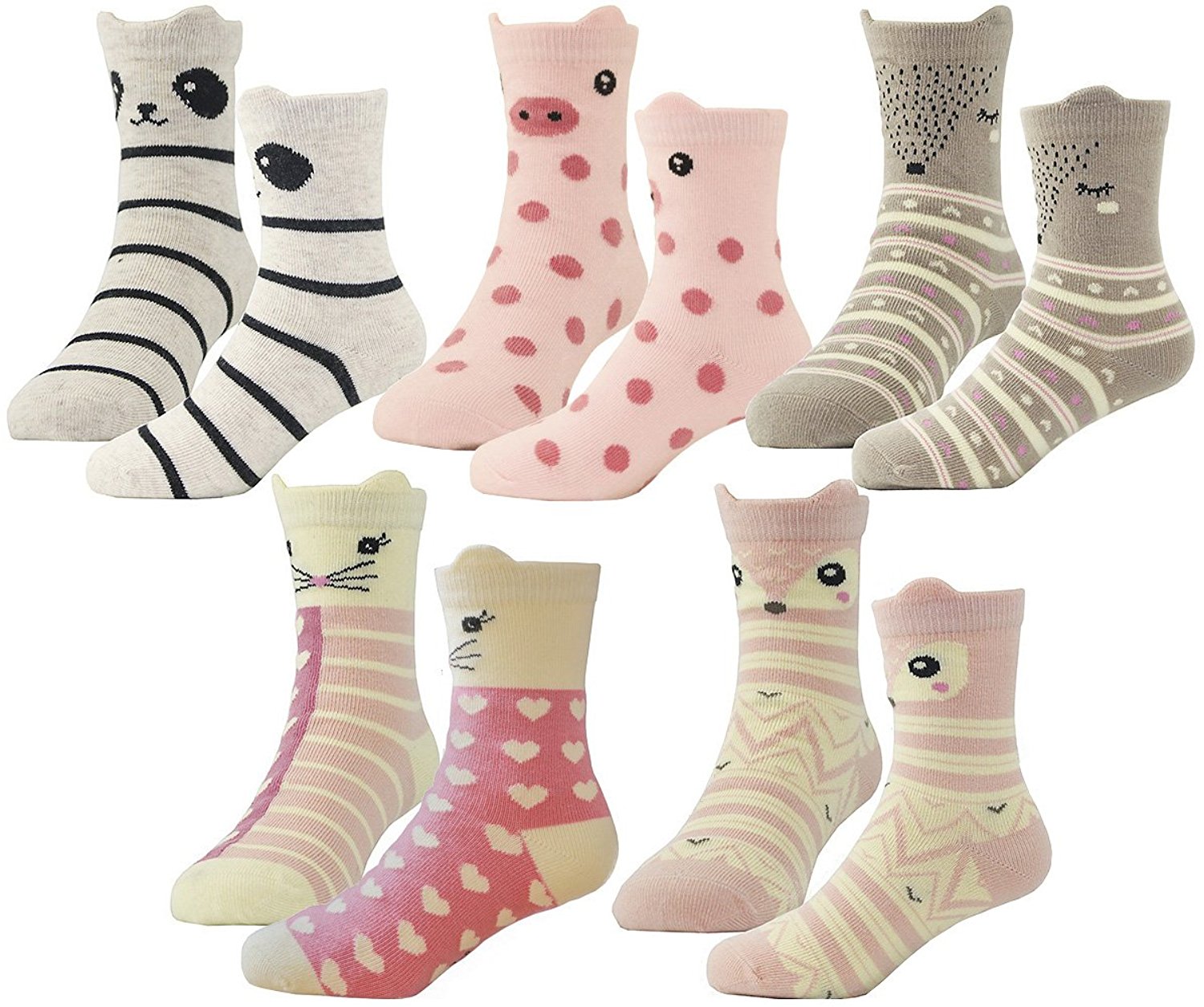 Cute, Novelty Design
Skin & Eco-Friendly
Pack of Five
Average Price
Y Shaped Heel
Not Completely Seamless
Lack Options for Boys
These socks by HzCodelo are the perfect choice if your child prefers a cute design and a soft sock to wear on a daily basis. Made out of 84% Australian cotton, 12,8% Polyamide, and 3,2% Spandex, these socks use eco-friendly and skin friendly materials and dyes, meaning that they will work well with sensitive skin and won't damage the environment. The five pairs in this pack will be adored by any little girl who prefers to have animal friends with her throughout her day.
Read more
Hand Linked Make
These socks have been assembled using a hand linking system which eliminates the rough sewing band inside which may give some children blisters or cause discomfort. Instead, there will be a knot on each side of the seam which will be completely fine with most kids, avoiding irritation and rubbing.
Secure Heel Fit
The Y designed heel on these ensures that the foot is covered correctly, placing the heel at the desired place and avoiding discomfort that may appear when a pair of socks slips from their place. Your child can wear these with sneakers, boots, and even more formal styles of shoes, and they will look good and feel good with any footwear.
Cost and Value
These socks cost about the same as the average kid's sock on this list. They come in a pack of five which gives you not only plenty of styling options but is also handy because it can get you from one laundry day to the other without running out in between. The downside of these, however, is that kids with very sensitive feet will not appreciate the threads that can be felt on the inside, so if you know you have a very sensitive or picky kid, you may want to skip them.
2

. Tandi Novelty Cats Crew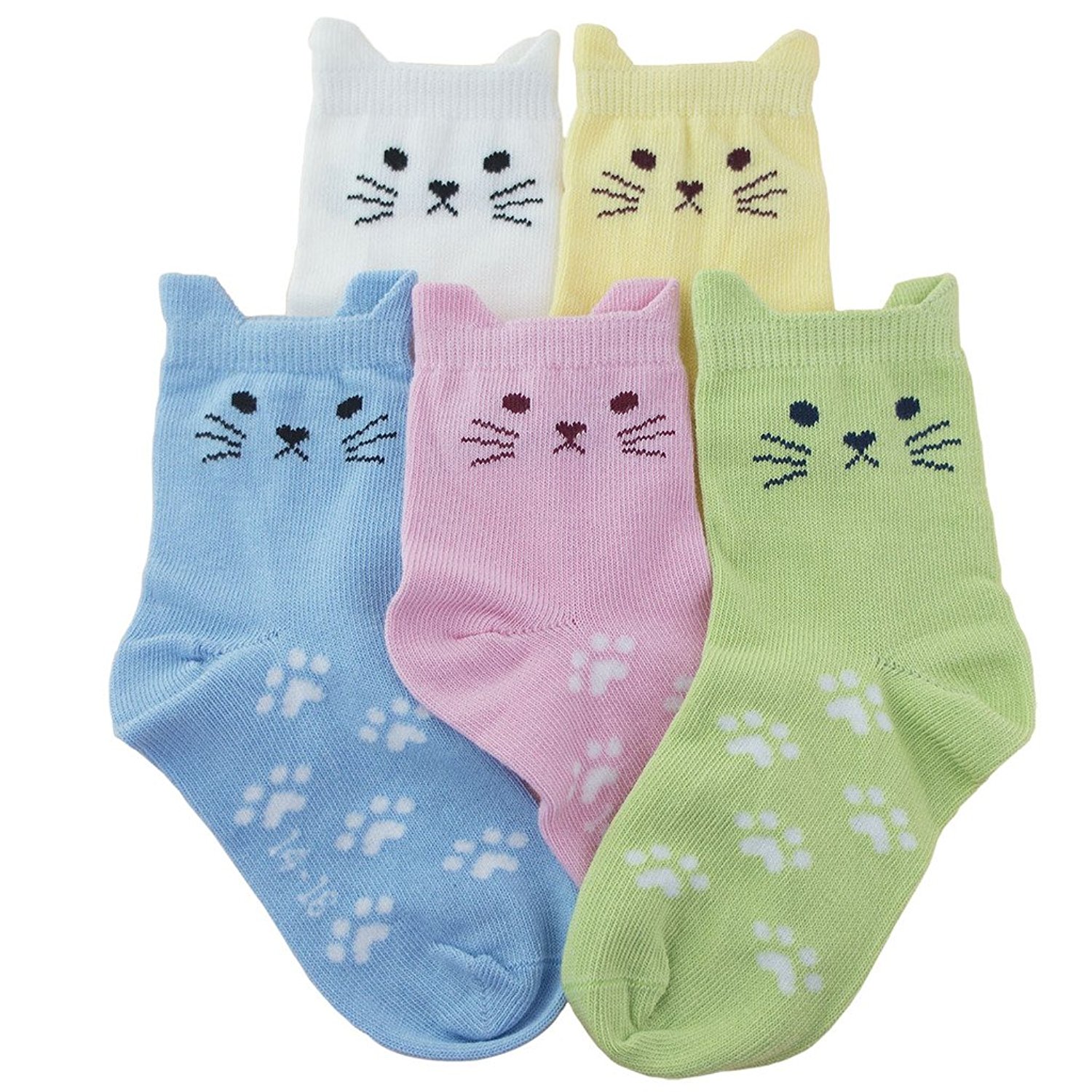 Pack of Five
Available in Children's & Adult Sizes
No Seams
Comfortable Elastic Cuff
Y Shaped Heel
Threading Inside the Socks
Limited Color Options
These novelty socks by Tandi are the perfect gift for anyone who is in love with kittens, and simply cannot go through their day without a cute pair of ears and some cat paw prints. With five beautiful colors coming in a pack, your boy or girl will love wearing these to school regardless of the season, as these can be worn both in cold and warm weather. Using high-quality cotton mixed with lycra for added stretch, these are breathable and will retain their shape even after several washes.
Read more
Flat Toe Seam
These socks are an excellent choice even for those with more sensitive feet, seeing that they feature a boneless toe seam which is more suitable for kids who find this part of regular socks to be too rough on their skin. With these socks by Tandi you can avoid chafing, rubbing and blisters while still looking great.
Available for Moms as Well
You can get these socks in various sizes, including adult sizes for your teens or even for yourself. This is great if, like us, you feel that kids often get to have all the fun when it comes to cute designs and comfy clothing.
Cost and Value
These socks come in a pack of five at an average price for this type of product. They offer a nice design and durability, which makes them a perfect purchase for your child, or even as a gift. We especially appreciate that they are seamless, however, there is threading inside the sock where the cat faces and paws are on the outside - something that parents with kids who have sensory issues will definitely want to skip.
3

. Danis Choice Anime Print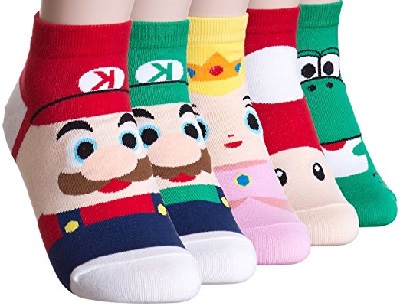 Exceptional Quality
Carefully Stitched
Flexible Material
Well-Placed Toe Seams
Unique Design
Limited Availability
Prone to Shrinking
Offering playful and fantastical Japanese Anime-based prints, these print crews are sewn with colorful threads while designed in a chic high cut style. These children's garments by Dani's Choice feature whimsical characters that your kids are sure to recognize like Mario and Friends, Pokemon, Sailor Moon and others. Turning the Japanese Animation theme up a notch, these sleek socks offer impeccable construction and a good level of durability. Each pack displays five different prints, giving consumers fun options highlighting individual characters.
Read more
Truly Unique Prints
The category of Japanese Anime socks being a limited one, Dani expands on the idea by introducing My Cousin Totoro characters from the legendary luminary, Hayao Miyazaki. While there are some companies who produce Anime socks, very few feature distinctive and attractive prints conveyed on fabric.
Interesting Toe-box and Design Blueprint
The toe box is designed with the seam further back along the toe, reducing the possibility of chafing and ensuring a snug and smooth fit. The cuff portion is incredibly smooth for a crew sock, which is usually heavily ribbed. Certain Dani sock options feature 4D animal ears, stitched into the top cuff.
Cost and Value
Clocking in at one of the highest price points (per sock) on the list, Dani's Anime socks are still relatively affordable when compared to similar companies offering Japanese Animated theme socks. Few companies make high-quality, Japanese Anime-themed packages and the ones that do all charge considerably more than Dani's, making these an excellent choice!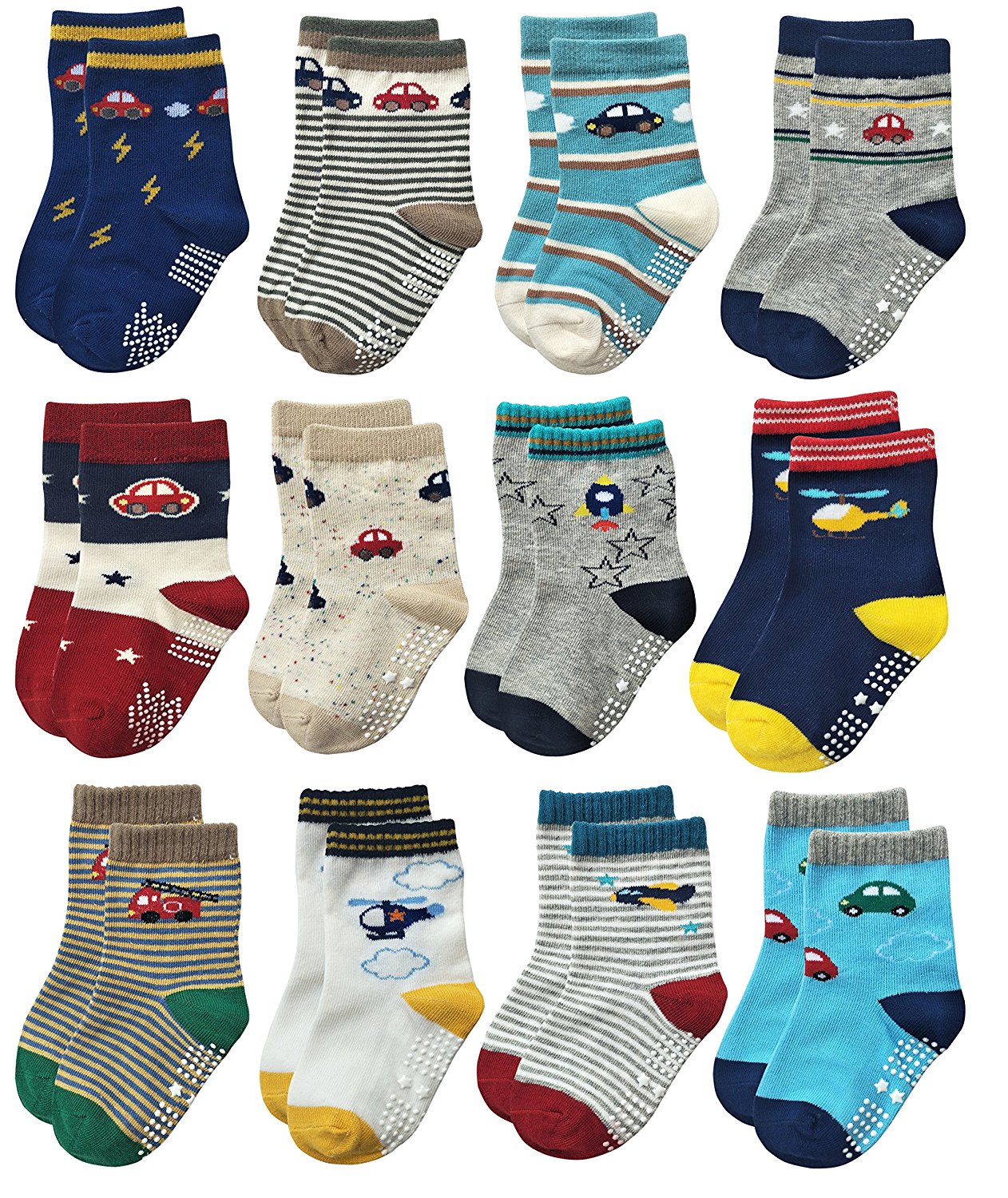 Durable Make
Machine Wash & Tumble Dry
Non-Slip Sole
95% Cotton, 5% Spandex
Appropriate for All Seasons
No Girls Style Available
Tight Cuff
These cute socks for toddlers and little boys come in packs of six or twelve and are perfect for little guys who just love running around the house without slippers or shoes. They feature beautiful designs with cars, helicopters, fire trucks or animals, paired with red, yellow, blue, green and gray colors, all of which will bring some happiness into your everyday life. Featuring a standard crew height, these are made out of a medium thickness material, making them a great choice for all seasons.
Read more
Grippy Soles
As a parent, you will love these because of the non-slip soles they have, enabling your little tyke to run around anywhere, including tile, hardwood floors, and other slick surfaces. You will be calmer, knowing that your little one is protected against slips and falls, and they will enjoy the extra grip their new favorite socks provide them.
Durable Make
These socks are 95% cotton and 5% spandex and will prove to stand the test of time, even with aggressive wear, machine washing, and drying. Not having these socks become torn or deformed after a few wears mean that they are an excellent investment, especially if you get the bigger pack which gives you 12 pairs of socks to wear on a daily basis.
Cost and Value
Whichever pack of these socks you opt for, they will provide you with great versatility, style, comfort and durability. The pack of twelve is our favorite as it gives you just the right number so that you always have a clean pair of cute and grippy socks that are just waiting to be worn by an active little child.
5

. Jefferies Fashion Crew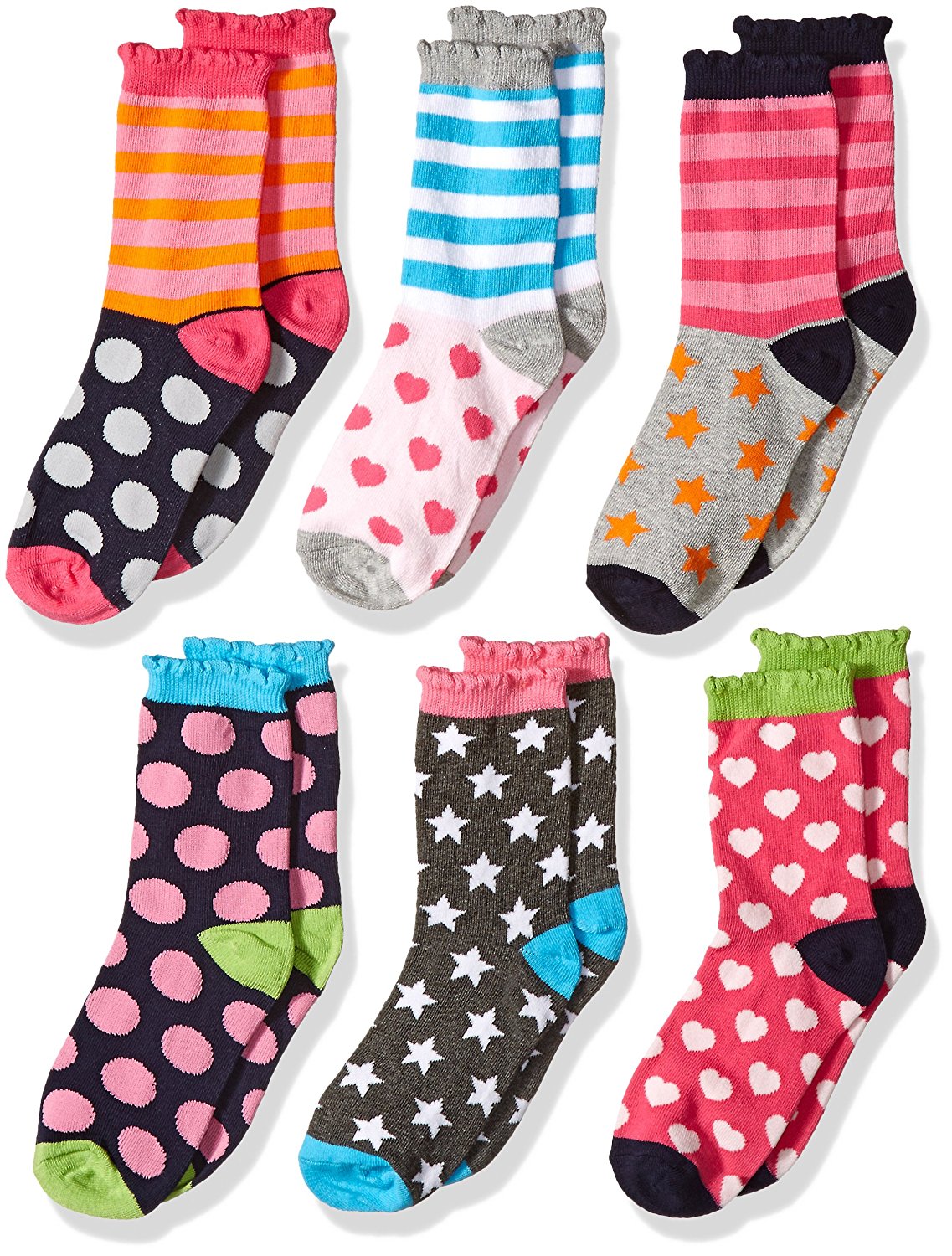 Knit-In Pattern
Won't Lose Color or Shape
Pack of 6
Average Price
Fun, Scalloped Top
Jefferies socks are a great choice for the entire family if it is high quality and fun design you want. These fashion crew socks are made for kids who appreciate fun patterns, ruffles and pretty colors that will brighten even the rainiest of days. These socks are made out of premium cotton, blended with polyester and spandex to ensure they retain their shape even after numerous wears and washes. They are comfortable and provide just the right amount of stretch to give your child a secure but unrestrictive fit.
Read more
Knit In Pattern
The pattern on these socks is knit in, using the best quality yarns available, and making a high-density sock with more stitches per inch than most other socks on the market. What this ensures is a longer durability that will stand the test of school, play, and everyday wear.
Trusted Seller
This product is sold by Amazon.com which means you can rest assured you will receive the product and quality you paid for, with considerably less chance for defect products, disappointments, and counterfeit items.
Cost and Value
Coming in a pack of six, these socks are an excellent choice due to the price which is just around average for this type of novelty socks. They'll make your kid happy with the fun colors and shapes, while you will appreciate the durability and quality of the make, resting assured that you won't have to throw these out after a few washes.
6

. Gold Toe Athletic Quarter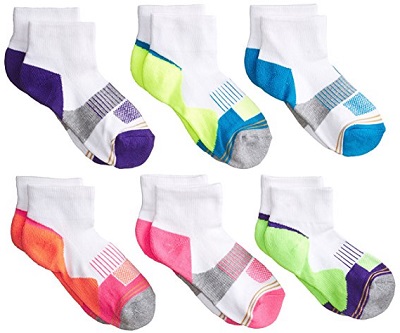 Well-Made, Soft Fabric Composition
Reinforced Arch
Reputable Company
Perfect Thickness
Athletic Height
Limited Color Options
Run Small
Gold Toe is a long-standing company known for well-made sock products. These are the athletic version, thinner in density than a crew, built with extraordinary stretch and smooth feel to the touch. A true low-cut athletic sock, Gold Toe quarters come in two different designs and are composed of ribbed accents flanked with colored highlights.
Read more
Designed By a Reputable Sock Maker
Gold Toe is the United States third largest producer of socks, making quality Menswear since 1934. With a solid reputation based on durable material and caliber stitching, these socks hold true to Gold Toe standards, stylized in a sporty twist.
Ultimate Athletic Ankle Styling
Composed of 80% Polyester, 18% Cotton, and 2% Spandex, these athletic socks sit perfectly near the ankle. The cuff grips well and is of medium weight, offering the perfect fit for active days.
Cost and Value
For an affordable price, you receive quality workmanship from a time-honored company. The Gold Toe quarter rates as an excellent value for the money, serving up classic designs in tasteful styles.
7

. Jefferies Tech Sport Low Cut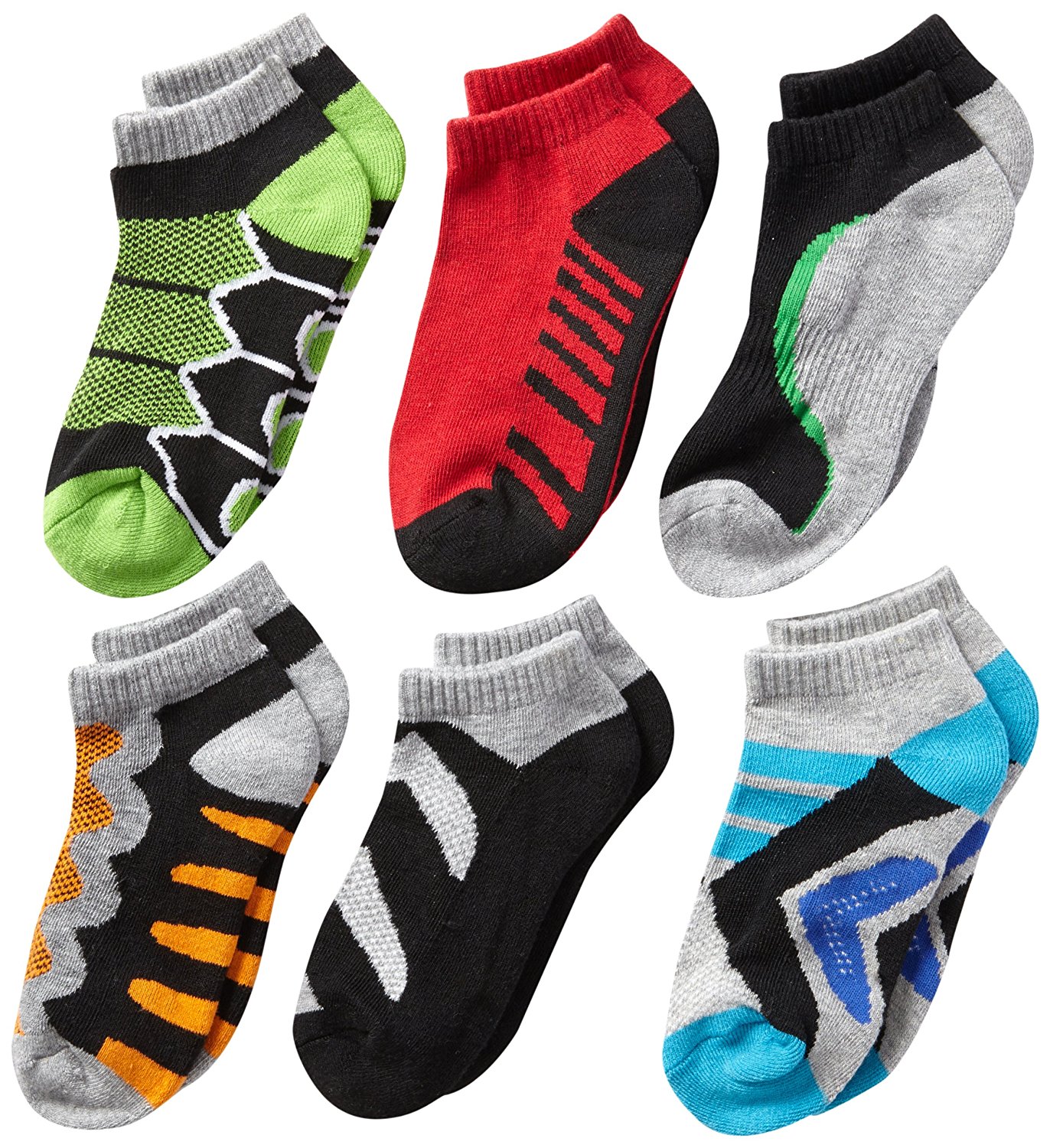 Extremely Durable
Affordable Price
Half Cushion & Breathable Upper
Arch Support
No Bulky Seams
This is another pair of children's socks by Jefferies, and this time, it's a pack of athletic socks that are perfect for wearing with sneakers, to sports practice, to the playground, or just everyday wear around the house. These come in six different colors, and are an affordable option if you're looking for low-cut athletic socks that will stay in place even after the roughest of activities.
Read more
Half Cushion and Arch Support
These athletic socks for boys offer cushioning and arch support that were made to provide a greater level of comfort even with long wear. The arch support will prevent fatigue and can aid all day wear without sacrificing the soft comfort your kid has come to expect from their favorite pair of socks.
Secure Fit
While these socks feature minimal seams, and a breathable mesh top material, the upper has a reinforced band that will keep these on securely, without allowing them to slip off mid play. Despite the reinforcement, these will still not compromise comfort, as they will not cut into your child's leg, and provide plenty of stretch and elasticity.
Cost and Value
These socks are some of the most affordable on our top list, and a welcome surprise is that they will outlast almost any other sock you will ever find. Some parents have even reported these to have lasted over two years without any holes in them! That's impressive!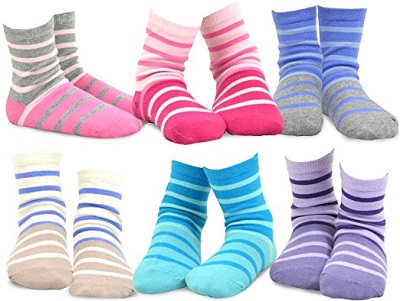 Good Fit
Imaginatively Designed
Durable
Machine Washable
Non-Slip
Runs Small
Shrinkage Issues
TeeHee, a smaller company compared to others on the list, ranks high in the best kid sock category by artfully blending the best of children's prints and sock features. Beautifully done in subtle shades, TeeHee socks combine ruffles, polka dots, and stripes - fulfilling every child's dream. These are a shorter crew option, featuring a thinner density fabric with slip-proof embellishments. TeeHee is a widely-reviewed brand, with a reputation as a sock requiring little maintenance.
Read more
Super Creative Tailoring
Perfectly blending children's favorite patterns of circles and stripes these socks are sure to be a hit. A ruffle delicately sandwiched between polka and stripes equals a delicious, adorably designed sock.
Non-skid Lettering
The smaller sizes of this fashion sock offer non-slip bubbling in the form of lettering, perfect for the safety of little ones. The rubber-soled grips improve traction and reduce slippage.
Cost and Value
For the price, it would be hard to find socks that combine the three elements of stripes, polka dot, and ruffle. TeeHee delivers a girl trifecta, wondrously tailored, sporting an optimal fit with quality detailing.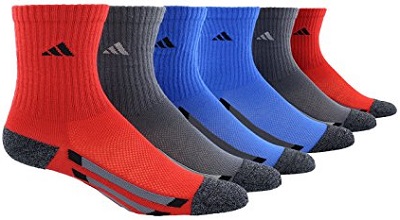 Well-Respected Athletic Company
Hybrid Style
Sleek Styling
Fairly Affordable
Tailored Fit
Prone To Developing Holes
The sportiest of all crew socks, this entrant from Adidas offers contemporary styling with striking racer stripes. This is the sleekest of crew socks, a true sock hybrid offering the lightness of an athletic sock with the length of a crew. A cult favorite, Adidas gives the Graphic Crew added name recognition. Available in six different shades composed of an innovative fabric blend, this is the only sock on the list offering natural latex, in addition to spandex.
Read more
Massive Brand Popularity
An athletic dynasty, adidas has a reputation as a premier athletic wear company, the Graphic Crew, is no exception. adidas is a storied moniker, founded during the aftermath of a brotherly fight; the two brothers went their separate ways post-argument, one founded Puma, the other adidas.
Quality of Construction
Soft with a supernatural stretch, adidas uses 96% Polyester, 2% Spandex and 2% Natural Latex woven together with revolutionary technology. adidas engineered ClimateLite technology, a space-age fabric allowing for maximum breathability and dryness.
Cost and Value
At a price point somewhere in between low and medium, the adidas Graphic Crew is an excellent option thanks to design elements alone. There just isn't any other crew sock, no other contender, that embodies the best traits of a traditional athletic sock while keeping the length and fabric associated with crew socks.
10

. Jefferies Seamless Sport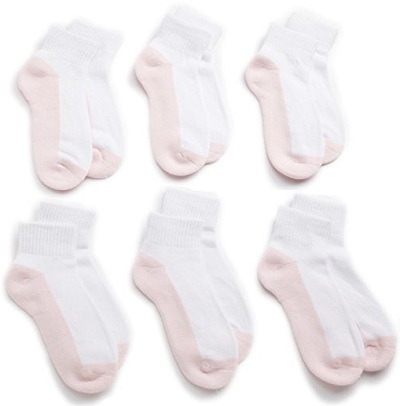 Innovative Seamless Styling
Washes Well
Affordable
Higher Ribbed Cuff
Good Stretch
Runs Large
Limited Color Options
Handily packaged in a set of six, these sport socks crafted in a cotton blend material offer an alternative to low cut styles. Simply colored, the seamless athletic quarter is white with a contrast grey sole panel. The rise is slightly higher than that found in typical low cut kids socks, and the item is overall slightly thicker than the average athletic sock. The ribbed, heavy cuff offers plenty of stretch, promising users hours of heavy use.
Read more
Washes Well
Earning points for wear-and-tear, kids socks by Jefferies are heavily reviewed as a great sock for overall endurance. After repeated washes and dryer spins, these socks performed extremely well, with no pilling or loss of stretch. These socks contain nylon and spandex elastic material, fortifying a cotton and polyester base.
Thick Grip Cuff
This thicker and taller version of the slim, skinny low-rise athletic, is a welcome alternative due to its heavy padding and ribbing. The higher rise off the cuff is distinctive seeing that most athletic socks tend to be low-rise.
Cost and Value
Running at a slightly higher price point than other items on this list, Jeffries is a healthy and practical alternative for consumers looking to try different brands at a reasonable cost. For kids bothered by toe seaming, the seamless design makes it the most affordable choice available - a better-than-average quality option.
Criteria Used for Evaluation

Brand
It is possible that the brand of a garment may be a considerable factor when making a choice when selecting items for your next purchase. Chances are, if a pair of socks were produced by a reputable undergarment manufacturer, you will connect this to overall quality that is of a higher standard. With this type of clothing item, just like with anything else, you expect to receive quality that is directly related to the price you paid, but very often, smaller manufacturers will be able to provide a better garment than those who mass produce. It is not rare to find that big brands make items that are manufactured in overseas factories where quality control is not as high as you would expect from a well-known, popular brand. While our best list includes both reputable companies, as well as smaller, lesser-known manufacturers, it is important to note a few things that you might find useful before making your next purchase.
First and foremost, big brand names will often overcharge, based on reputation, packaging, and simply because they can. It is a well-known fact that people are willing to shell out considerably more if they think they are getting a superior product, but this doesn't mean that you should disregard other manufacturers that may even be giving you better quality and a better price, but have not yet gained in popularity. Under Armour, a reputable brand that makes high-quality sports equipment, including hosiery for athletic use, is a great example – just a few years ago, this was a small company which focused on athletic undergarments, while today, they are not just a leader in the sportswear field, but even more, have gained the reputation of a driven brand that is in the process of expansion and that is slowly becoming a household name.
The other thing you need to consider when making a choice of brand is whether the tag is relevant for the specific product you are in the market for. While certain brands may have a reputation for producing items of a high quality, it is very likely that socks are not their main focus. Thus, you should consider whether a brand such as Jefferies Socks, for example, may offer you more quality than a sportswear magnate who is selling socks in addition to hundreds of other products they put their logo on.

Ease of Use
Just like any other item of clothing worn by a kid, socks can get quite messy. We are not going to go ahead and evoke the images and associations you may already have in mind when you think dirty socks, but we are going to say that kids need clothes that can be easily washed and kept clean, regardless of what body part they have the function of covering and protecting. One of the most important criteria a pair of socks you purchase for a kid need to meet is that they need to be appropriate for a hot machine wash. Being suitable for tumble drying is an added plus, especially as this garment is more often worn in winter when it's so much more complicated to get clothing to dry, particularly so if you live in a cold climate. Unfortunately, not all socks will do well in this category, so that's why there are two things we wanted to pay special attention to when making our selection.
The first of these is how they perform when being washed. Most clothing will shrink when washed at higher temperatures, but as a parent, you may find that you simply need to use hotter water as some stains are more difficult to get out than others. Another thing to consider is that most bacteria will not be killed off unless you use a washing temperature of 60 degrees Celsius or higher. What happens with most items when washed at such high temperatures is that they lose their shape. While some lose their elasticity and thus become unsuitable for use as they refuse to stay on the feet, others will shrink even up to several sizes. When making your choice, you need to consider how much a pair of socks will shrink when washed – is this just 1 or 2%, or is it considerably more? If your child is between sizes, we would recommend sizing up in order to avoid having a pair (or a whole pack) of socks that are too small to be comfortably worn.
The other thing you need to pay attention to is color retention. Some makers use low-quality materials, knits, and colors that will easily fade or even become warped when washed even in cold water. That's why it is important to know that the pair of hosiery you choose to purchase for a kid won't bleed or fade after one wash – this will ensure easier laundry days and will be helpful in avoiding disappointment when a favorite pair stops looking like what they were originally supposed to resemble. Also, note that this quality of dye and knit can also reflect on your child's sensitive skin. Some children have skin that is more sensitive than others, which means that choosing socks dyed in eco-friendly and non-toxic colors is imperative for anyone shopping for childrenswear.

Materials
There are quite a few things a pair of socks needs to achieve, and a lot of these depend on the materials used in the production process. A perfect pair will be breathable, elastic, soft, won't lose their shape, won't feel too tight or too loose, will wick moisture away from the skin and will help prevent the overgrowth of bacteria and won't develop odors. Also, they will be seamless, with as few bumps and rough patches as possible, and will be strong enough to stand up to the test of all-day wear without developing any holes in them.
When shopping for children, most people will want a fabric that is natural and soft. Cotton, terry cloth, and wool are all excellent options, but more often than not, they do not possess all the properties we mentioned above. The most important of these is elasticity, which is crucial for a pair that will provide enough stretch so that they stay in place, and don't slide down or bunch up around certain areas. Manufacturers will usually add a small percentage of synthetic fabrics to the material blends used, and these include nylon, polyester, spandex, and acrylic.
Nylon is a great choice for elasticity, but its main downside is the fact that does not only promote perspiration, but it also retains moisture close to the skin, which is not a good thing, especially when considering that your kid will be wearing a pair of socks throughout the day which will most probably include strenuous activities such as running and playing.
Polyester is very similar to nylon – not only is it elastic, but it is also durable, and can take quite a beating. What it does well with is moisture, as it won't retain as much perspiration as nylon, and will provide you or your child with a more breathable garment that will dry more easily.
Acrylic resembles wool and is an excellent choice for the colder months when you need some added warmth. It will also do well at sports practice as it does quite a good job at wicking away moisture from the body so that your child does not end up with foot odor or a skin rash or even infection.
Finally, there is spandex, elastane or lycra, which manufacturers will add because of their extreme elasticity. You will find that most cotton socks have some percentage of these materials. Otherwise, they would be extremely difficult to put on, and would probably not even stay on without the added stretch.
Another thing that you need to consider when looking at materials is the number of seams and exposed thread that will be in contact with your child's foot. Children have skin that is more sensitive to the touch than that of adults and will often feel heightened discomfort from tags, seams, and scratchy fabrics. That's why you need to make sure that the product you purchase doesn't hurt them or make them uncomfortable. Some manufacturers make seamless socks that have no bands, bumps or exposed threading, and for kids with sensitivity issues, these are often the only option. For other children, it is still important that you take softness and comfort into consideration. Look for socks that don't have rough seams on the toe part to prevent rubbing or even blisters, and try to find products that won't be too tight around the calves, as this can cut off circulation and cause marks to appear on your child's skin.

Style
Kids are a tough crowd to shop for, and you will find that providing them with clothing that is colorful, comfy and fun will do much better than sensible, monochrome options that adults may prefer to look professional and presentable. A perfect pair of socks will tick all the boxes not just for you as a parent (durability, price, ease of maintenance) but also for your kid who might find that a pair of cat ears is much more important than how well their socks wash on high temperatures. All the products on our list have been chosen so as to meet the highest design standards, and include both novelty socks with fun designs and happy colors, as well as those more classic models that will be suitable for wear on more serious occasions such as formal events or schools with a stricter dress code.

Durability
Last but not least, it is important that we mention two of the most important factors for choosing a winner pair of socks for your kid to wear. As you already know very well, children do not hold the reputation of being gentle on their clothing, and you need to invest in items that will stand the test of rough play, barefoot prancing around the house, sports practice, after-school activities, and any other activity your child might think of performing wearing nothing on their feet but a pair of socks.
Socks that get holes in them after just one wear, or after a few washes can be frustrating and a source of embarrassment for your child, while you will feel that you have spent your hard earned money on a product that was not worth the investment. All of the items on our top list have been tested for durability, and the pros and cons should give you an idea of the lifespan you can expect of each of these items. While you may find that those which last longer have a higher price tag, the difference is usually just a couple of dollars, while the added time you get to use them can range up to a year or two.
When it comes to shopping for children's hosiery, our suggestion is to do this by purchasing packs, as they will usually cost considerably less when bought in larger numbers. Almost all items on our list come in packs of five, six or twelve, which will not only provide you with a few saved dollars but also will allow you to finish your intended shopping faster and with less hassle.
Expert Interviews & Opinions
Most Important Criteria
(According to our experts opinion)
Experts Opinion
Editors Opinion
Users Opinion
By Default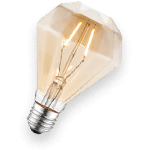 Warm And Breathable
You little one's feet should be treated right with warm socks to keep them comfortable, but also have some breathability to cut down on sweat. Materials like cotton are best for breathability, but don't always keep your child warm, and are better suited to warmer weather.
Breathable merino wool can keep you child warm and toasty in the winter time, but allows enough ventilation to help keep their feet dry.
Fun For Wear
Socks can be one of the most fun things your child has to wear! Socks without traction on the bottom can make for a fun rainy day 'skate' across the wood floors. But, if you'd rather traction for your little one, look for socks with grippy textures on the bottom. From bright stripes or character patterns, they'll find one they'll fall in love with.
Frequently Asked Questions
q:
How should I wash my child's garments?
a:
The procedure for washing socks made for children is exactly the same as for those made for adults. Make sure you follow the manufacturer's instructions and always wash them with similar colors to prevent staining other garments. Some socks will have to be washed at higher temperatures due to being too stained or having developed odors. In these cases, you can wash them the same way you would wash your towels. Otherwise, you can put them in the washer with the rest of your similarly colored clothes, and they'll be okay.
q:
Can I tumble dry them?
a:
Sure, but as with all other clothing, this will shorten the lifespan of your kid's favorite foot covers. High temperatures in dryers may break down the elastic fibers in the sock material, making them lose their shape or speeding up their deterioration process. However, a quality pair of socks should not show signs of wear after a few washes, and you should be able to get at least a few months to a year of use out of any pair that haven't suffered mechanical damage such as tearing that happened outside the washing process.
q:
What materials are the best option for my kid?
a:
Your best bet is to go with a cotton blend that includes a small percentage of elastic fabrics (spandex or lycra) so as to ensure a good fit. If you have a child who is highly athletic and needs something to wear to sports practice, you may also want to look for materials that have moisture wicking properties such as polyester or acrylic. Babies and toddlers with more sensitive skin may prefer to wear socks that are made out of softer fabrics, such as the Gerber terry cloth bootie.
q:
What are the best options for toddlers?
a:
Toddlers and small children will need something that will keep them warm, cushioned and that will help them safely explore the world around them. A great option to have is a non-slip bottom, which will allow your little one to run around the house without fear of slipping and hurting themselves. You may also want to look into seamless socks, as well as those made out of softer fabrics and with plenty of stretch to allow for growing feet.
q:
How long should a pair of socks last?
a:
This is something that is quite individual, as all kids wear their clothes differently. However, a quality pair of socks, with regular washing, drying, and proper care should be able to last you at least one year. Of course, there will be tears that happen when they are caught on something, but generally speaking, a pair of socks that will come apart after just a few wears or washes is not a good investment, even though the initial price may look cheaper in the beginning.