Best Halloween Socks & Shoes Fit For The Pumpkin King Reviewed
last updated
May 16, 2019
Hardly any other time of year lends itself so perfectly to the sense of magic, mystery, and atmosphere than the night of Samhain. Whether it's macabre, scary, freaky or all of it at once, the perfect combo of socks and shoes is something that needs to be planned long before the occasion calls for it, and considering that the sounds and scents of autumn have long since announced the arrival of the night when specters of the deceased walk the Earth, here are a few models for you to consider. Those socks are designed especially for the individuals that have great attention to details, and now you can complete your style by choosing a spooky enough pair.
In a Hurry? The test winner after 16 hrs of research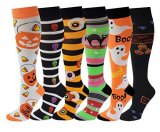 Sumona Patterned Knee High
Why is it better?
Polyester Blend
Eco-Friendly
Robust
Perfect Price
Diverse Models
In a
Hurry? Editors choice: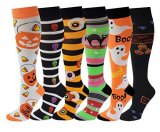 Test Winner: Sumona Patterned Knee High

20
Researched Sources
2800
Reviews Considered
16
Hours Researching
10
Products Evaluated
Style
Fit
Ease of Use
Value
Bottom Line
By Default
In Depth Review Top 10
Sumona Patterned Knee High
Show Story Bone Heel
Disney Nightmare Before Christmas
Leg Avenue Skeleton Socks
Funtasma Halloween Saddle
Gone For a Run Jack-O-Lantern
Zagone Hoof-Hearted
Ellie Lace Heel
Ellie Hazel Witch
HDE Long Striped
Table of contents
Criteria Used for Evaluation
Frequently Asked Questions
Sources
Our Favorites
1

. Sumona Patterned Knee High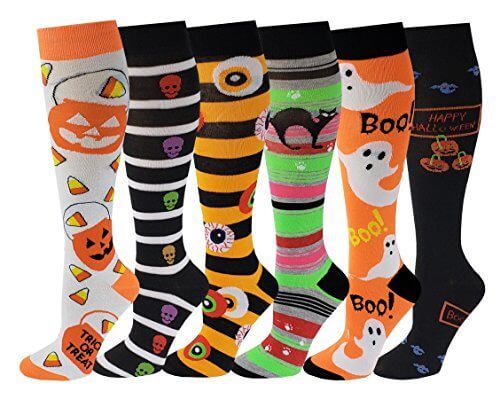 Polyester Blend
Eco-Friendly
Robust
Perfect Price
Diverse Models
If you are a type of person that has a hard time deciding on the outfit color-combo before the last minute, the best case scenario is when you have numerous options to choose from. In that case, you should definitely look into this package of theme patterned knee-high socks. Just like in the case of Nightmare Before Christmas socks, you get multiple pairs that are very stylistically diverse. In this package, you get 6 knee-high models, which gives you an impressive range of options when it comes to mixing and matching clothes.
Read more
Made of polyester
 
They are made of 95% polyester and 5% spandex, which means that you will be purchasing strong and flexible socks which will dry rather quickly after a thorough washing and they also don't easily shrink or wrinkle. The touch of spandex also adds to the retention of the shape integrity, plus it keeps your foot supple and smooth.
 
Green clothes
 
These are the type of socks that tend to stay odorless for longer intervals and, once they are ready for a rinse, you can wash them along with clothes that will easily get cleaned in a machine with eco-friendly settings. In addition, you don't have to waste electricity on putting them through a dryer – as it has been mentioned, you can air-dry them quickly due to their composition.
 
Cost and Value
 
For six pairs of durable socks that can be washed quickly (this also gives you a quick turnover in terms of wearing them), the cost is practically negligible. In the case you are a proud owner of wide calves, stretching them all the way up to your knees might leave you in a tight spot, but they should otherwise fit you like a glass slipper.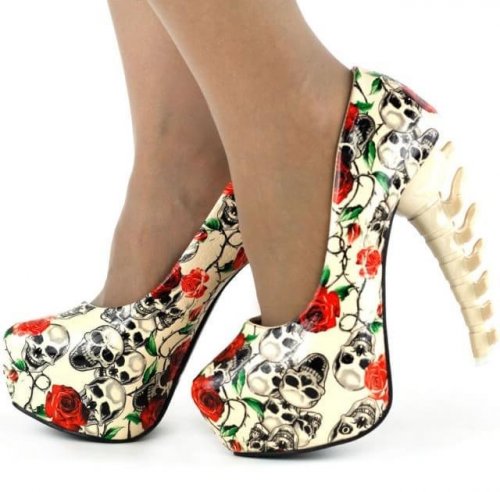 Short Life Span
Limited Use
It is perfectly understandable if you have a yearning to feel both creepy and sexy for this spooky holiday. In fact, one can easily argue that those two types of appearance often go hand in hand since the inception of modern horror – just take a look at vampires in the era of silent films with Bela Lugosi. Still, a pair of bone heel pumps is not as "discreet" as the black and white robe-wearing bloodsucker, but it definitely gets the point across – it's threatening, it's sexy, it's stylish as hell!
Read more
Awesome design
 
Shoes such as these are all about the design. The bone-shaped heel is a stroke of genius and it manages to come across as macabre without teetering into a kitschy territory. The print on the shoe itself comes in several variants, but the most appropriate ones for the end of October are definitely skull heads combined with roses – they come in blue or red variations, depending on your tastes and choice of costume.
 
Sturdy basis
 
One of the fears one may have before purchasing this shoe is a matter of durability and integrity – the bone heel does not instill a lot of security in someone who sees this shoe for the first time, and it is perfectly understandable to question how it fairs under full-body weight. Thankfully, the designers of the shoe understood the looks are not all that sells a shoe, and they have made sure the entire frame is very sturdy, including the heel.
 
Cost and Value
 
This is a shoe for people with very particular range of tastes, so if the overall appearance of this accessory titillates you in all the right ways, you definitely won't regret purchasing them, especially since the price is just right for this sort of a product. The bone heel shoes are a perfect, sexy fashion accessory, and they are also pretty appropriate for wild parties and club binges.
3

. Disney Nightmare Before Christmas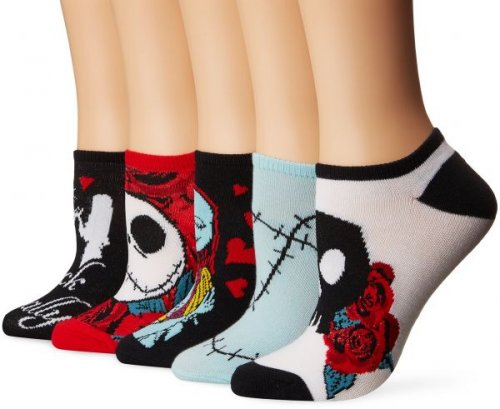 Colorful
Familiar
Flexible
Soft
Amazing Price
Shrink After Washing
Wear Off Easily
What can one say about Disney's "Nightmare Before Christmas" that is not already widely known? It is one of the most ubiquitous pieces of pop culture in the entire world, so it comes as no surprise that there is a whole range of products related to this feature-length animated film – including countless pairs of charming yet appropriately themed socks. As light, ankle-length socks, they are a perfect counterpart for bulky and warm holiday footwear and a nice fit altogether if the weather promises to be warm for this time of year.
Read more
Recognizable Brand
 
Depending on what type of shoes you are about to put on, the printed motif can be fairly visible and the recognizable brand can be a casual conversation starter if you are mingling with a lot of people at a party. This is especially handy if you are a big fan of the animated film – by wearing any sort of recognizable brand, you are increasing your chances of attracting people that share your aesthetic and artistic sensibilities.
 
Five different pairs
 
This package of socks includes five pairs that come with different prints and diverse primary colors. This means that, if you are truly bent on wearing these spooky socks, you have a lot of options to toy with your outfit combo and create a truly distinctive costume for the occasion - and have every item of clothing matching and/or contrasting.
 
Cost and Value
 
This package of Disney's "Nightmare Before Christmas" socks is fairly affordable no matter how you cut it, but the greatest perk of purchasing this arrangement lies in the fact that you get five different pairs! Of course, this also means that you can mix and (mis)match them according to your preference and, owing to the fact that they share a theme, the combination will look deliberate even if the socks appear stylistically disparate.
4

. Leg Avenue Skeleton Socks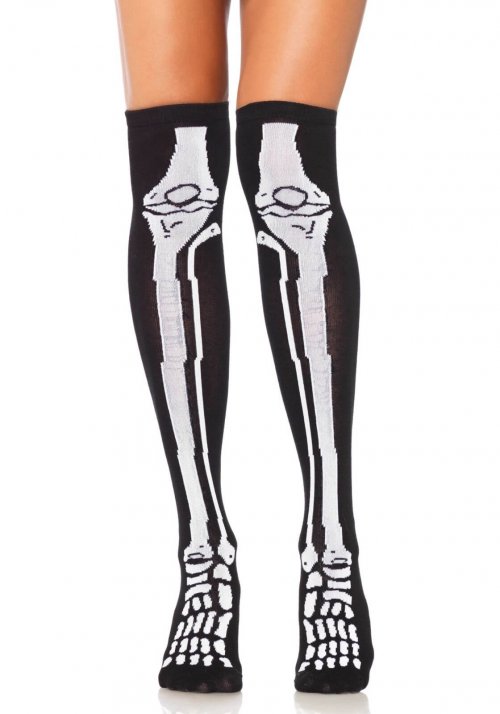 Acrylic Blend
Funny
Affordable
Elastic
Easy to Slip On
Unrealistic Print
Doesn't Fit Everyone
The main selling point of these socks is pretty much already in the name - Leg Avenue's skeleton socks. As an accessory, skeleton socks are popular with people of all ages and genders. They go all the way over the knees with an appropriately anatomically correct print that is meant to match your anatomy. They work as a part of cosplay and as your regular socks for a chilly autumn season because they are reliably warm.
Read more
Acrylic blend
 
These skeleton socks are composed of a unique acrylic blend which keeps your legs dry. However, since acrylic is not particularly elastic (it does not stretch nearly as much as cotton) it is combined with spandex. This adds a level of flexibility to the socks, but this also means that you should watch not to stretch them too thin – the print will become anatomically incorrect.
 
Good for a laugh
 
Just like brown hooves, skeleton socks are as good for a laugh as they are appropriate for the season. The print is not exactly something that can be mistaken for an accessory on a masterful costume – it is more about going along with the playfully bleak nature of the holiday, in a similar vein to Nightmare Before Christmas socks.
 
Cost and Value
 
Leg Avenue's Skeleton Socks are very affordable, so even if you dislike the way print stretches along the front of the leg, it is not really a waste of money and you can always turn the purchase into an opportune gift for someone thinner or petit. That being said, stretching these socks over your knees should not represent much of an issue, and the macabre visual theme is suitable even if it doesn't look realistic.
5

. Funtasma Halloween Saddle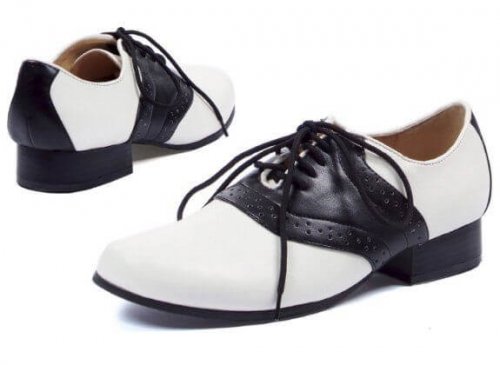 Multi-Purpose
Handmade
Easy to Wear
Robust
Elegant
Do you want to be a ghostly tap-dancer, a zombie from the 50s or a bone-chilling mad surgeon covered in blood splatter? Maybe you just want a touch of wholesome retro detail on your special outfit without going overboard with style. No matter what your motives for purchasing a pair of saddle oxfords are, you definitely shouldn't sacrifice looks for comfort, and this playful pair from Funtasma satisfies all of the requirements mentioned above with an added bonus of making the wearer feel as if they are walking on clouds.
Read more
Custom made
 
One of its main selling points is that the shoe itself isn't mass-produced on a conveyor belt. In fact it is handmade, so the quality and uniqueness of the craftsmanship can be detected by anyone who decides to inspect them up close. This lends Funtasma's oxfords an intrinsic level of quality you can boast about at the big party.
 
A chameleon accessory
 
These saddle shoes are a fashionable accessory for any occasion and can easily be fitted with an impressive range of costumes. Their stripped-down aesthetic quality makes them an ideal "chameleon" accessory and a curiosity, all folded up into one. They can be worn on occasions when you're dressing up, but they can also serve a purpose beyond that, as you can easily wear them on everyday basis.
 
Cost and Value
 
These oxfords might not be made from real leather, but they are robust and non-constraining. You will definitely feel light on your feet as you wear them, which is what makes them a perfect candidate for becoming your default shoewear (of course, they also have to be sensibly combined with proper clothes). This all indicates that they are well worth the price tag, which is not very steep to begin with.
6

. Gone For a Run Jack-O-Lantern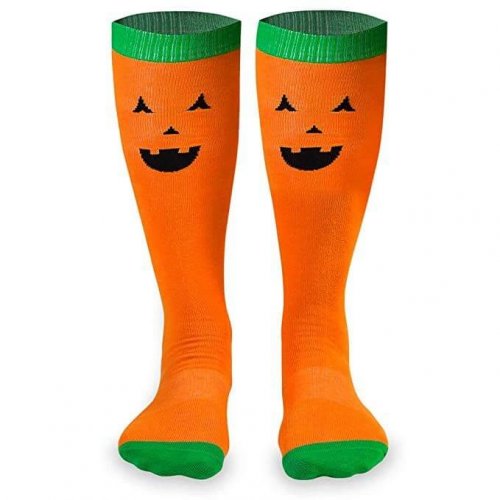 Athletic
Vibrant
Tasteful
Quality Performance Blend
Extremely Stretchable
Too Goofy
Tight on Larger Calves
Sometimes, in order to accentuate the creepiness of a specific part of your outfit, you need to contrast it with something jolly. This is where the playful, knee-high Jack-O-Lantern socks come in handy. As a matter of fact, these cushioned athletic socks come in a variety of colors and prints, but a pumpkin themed model is absolutely dead on for the night of Samhain, especially if you have signed up to participate in an athletic competition for the holiday.
Read more
High performance blend
 
The Jack-O-Lantern socks are made of a special blend that has been conceived to offer a perfect feeling of comfort, elasticity and durability for those that have decided to wear them as part of their costume. While it is 80% acrylic, it also has a mix of 15% nylon and 5% spandex. This means that, whether you are going for a run or for a long night of trick or treating, your feet will stay comfortably dry and warm.
 
Highly stretchable
 
The knee-high Jack-O-Lantern socks can be purchased in several dimensions, depending on the size of your foot. However, even if you purchase a smaller model, you can feel safe that your feet won't feel cramped once you don them – the socks are highly stretchable due to the nature of the material. The only downside is that the socks might not go all the way up to your knees if they are several sizes short of what you need.
 
Cost and Value
 
The value of a certain item according to the price tag is usually directly judged based on how durable the said item can be. In this case, the Jack-O-Lantern socks are "built to last". As a type of thematically appropriate athletic socks, they can endure through a lot. You will definitely squeeze a good mileage out of them for a price that is appropriate to begin with.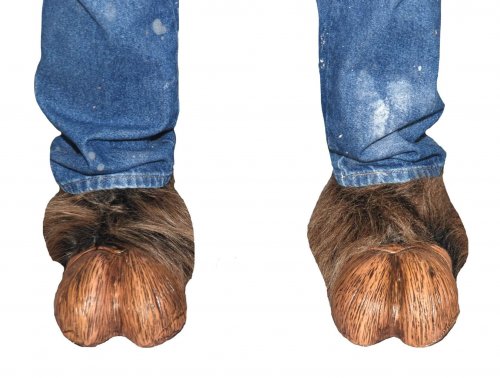 Convincing
Lasting
Safe to Wear
Elastic
Warm
Damages Easily
Can Look Awkward
If you want to try something completely different and unnerve your friends and family, you can try on Zagone's brown hooves, a part of a costume that looks as audacious as it is disturbing. Zagone Studios is a brand with a long and proud legacy of impressive products, offering an excellent range of costumes and masks. Try the hooves on and behave as if nothing's out of the ordinary, and see how the family members and friends react!
Read more
Convincing, yet playful
 
The hooves themselves are hand crafted by the diligent Zagone costume maestros and the hairy part is made out of polyester. The craftsmen have made the "ornament" rather convincing, but not too realistic to appear repulsive. It is both believable and playful. While wearing them can be quite a bit of fun, there is a caveat that comes with purchasing them – due to the materials it they are made of, the hooves need to be hand washed, so do not be tempted to just throw them into the washing machine.
 
They fit on diverse shoe sizes
 
The hooves are designed to be fitted on shoes of various shapes and sizes. They can easily fit on size 13 without looking awkward - the basis is made of latex so they can be stretched according to your needs. In other words, as soon as you put them onto your shoe, you will practically forget they are there in the first place (until someone else reminds you with scream or laughter). The hooves are comfortable and fun.
 
Cost and Value
 
Zagone's brown hooves are a great fit if you are in a playful mood this year, and if you are rethinking your costume, you can easily store them for the next year. If this is your kind of accessory, the price is pretty negligible when one considers the mileage you can get from this item. Because of its flexible basis, it can be used by multiple people.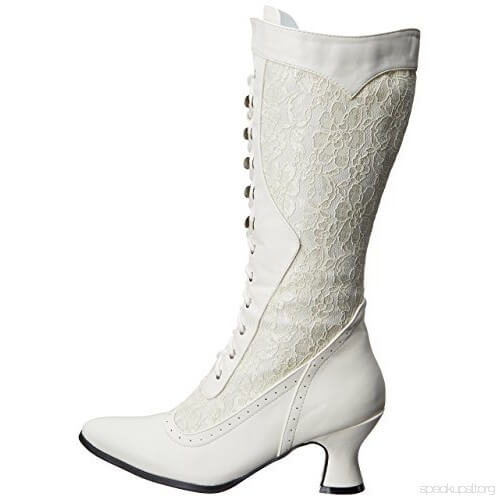 Sinfully Comfortable
Expertly Crafted
Stylish
Sturdy
Water Resistant
Inappropriate for Everyday Use
Bulky Ankle Area
If you want to add a dash of sexy and chic to your costume, look into the intriguing palette of choices from Ellie Shoes – a brand that is renowned for offering "piquant" designs with playful variations. The lace heel boots that come in white and black variants has sleek contours and almost Victorian framework covered in discreet floral details. It will make you feel elegant and imposing in equal measure.
Read more
Impeccable craft
 
Ellie Shoes is a brand with a stellar reputation for its craft, but when it comes to this particular lace heel boot, the attention to detail is nearly jaw-dropping. The lace extends all the way up the boot and the layering of the material compliments the outline of the design. It looks and feels sturdy, so this is not one of those disposable boots that you put on for show and throw away after the party.
 
Polyurethane for comfort
 
Polyurethane is used to fashion a perfectly comfortable sole of the shoe. It is a type of material that has become the shoewear industry standard for a very simple reason – it is affordable yet durable and it guarantees quality and comfort of the highest order. Polyurethane is also water resistant, which bodes well if the forecast promises volatile and rainy weather.
 
Cost and Value
 
The pair of Ellie's lace heel boots is by no means a bargain, but you will definitely get a bang for your buck if you need a reliable pair of whimsical yet elegantly designed shoes for several holiday seasons. They are comfortable for everyday use as well, but they are primarily designed as "costume items".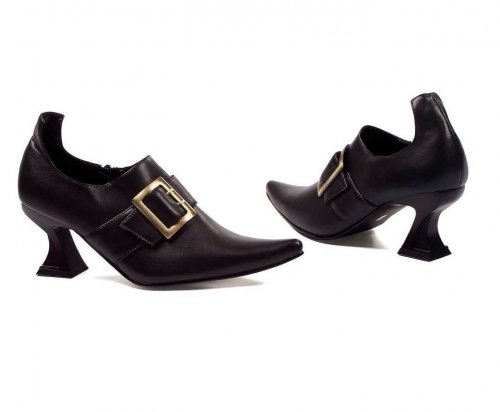 Expertly Designed
Visually Enticing
Whimsical
Quality Craftsmanship
Easy-On-Easy-Off
All the witches come out to play as the clock strikes midnight, and if an idea of Samhain mischief and magic this gives you a giddy sense of exhilaration, you might want to don Ellie's Hazel Witch Shoes. Yes, Ellie brand obviously knows how to tap into the inner child in broom-wielding taxpayers, and this shoe manages to tick all of the imaginable boxes – the whimsical design, the wicked cartoony feel that still manages to straddle along the lines of creepy and, of course, quality craftsmanship.
Read more
An impeccable witchy look
 
It is hard to find a picture-perfect witch's shoe. Most designs out there, if they are deliberately trying to emulate the archetypal witchy footwear, tend to go overboard with details and turn into caricatures. This shoe has a hint of that playful design but it manages to keep the details tastefully minimal – which gives it a desperately needed serious quality. It almost looks like a quality movie prop from a "Wizard of Oz" production.
 
Easy-on
 
No laces, clasps or dysfunctional buckles (the one in the front is mostly decorative). It is a shallow piece of shoewear, and all you have is a short zipper on the side, so as soon as you purchase a pair, as long as you have ordered the right size, it's an easy-on affair. There is even enough place in there for orthopedic insoles, if you are used to using them.
 
Cost and Value
 
A reasonable mid-range price for a perfect pair of shoes to match your witchy costume. It can be really hard to find an appropriate pair of hyper-stylized witch's shoes that do not look completely goofy, so this one is a keeper. In addition, Ellie Shoes is a reliable brand that is known for creating quality thematic accessories, so you can feel pretty confident as you pay for the asking price that the features will meet necessary quality requirements.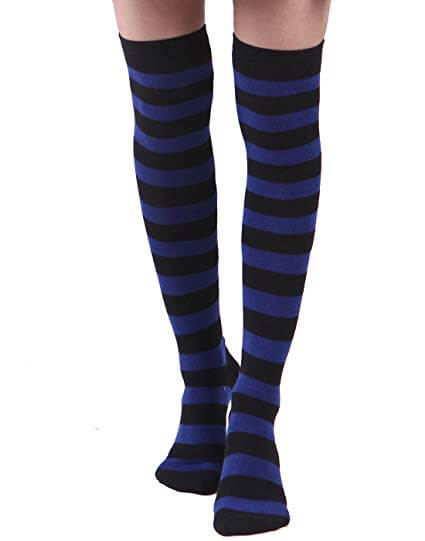 Stretch Easily
Soft
Poly-Cotton Blend
Warm
Diverse
Long striped socks have become a staple of this holiday's costumes. The iconic legs of the Wicked Witch of the East from "The Wizard of Oz" have ingrained this idea into the global consciousness. The striped socks do not necessarily have to be a part of a costume. Pair it with lumberjack boots, shorts or torn jeans and you have the making of a casual outfit. The socks come in a variety of hues and combos and they are bound to keep you warm.
Read more
Breathable blend
 
The most important thing with long socks that go over the knee or all the way up to the thigh is whether your skin can breathe after you have donned them. This 20 inches long model comprises of 35% cotton and 65% polyester, which is a well thought out blend that manages to keep your skin dry while still retaining a desirable level of softness.
 
Diverse color choices
 
Since striped socks do not have a dogmatic combo of two contrasting colors, there is a range of diverse color choices to choose from – but if you want something appropriate for a creepy costume, a combination of black and purple or black and lime green lends itself perfectly to the macabre (read - sickly) color palette of the holiday.
 
Cost and Value
 
Striped socks are extremely diverse as a piece of clothing, you can combine them with pretty much anything, and this specific model comes with a reasonable price tag, so purchasing a pair is a no-brainer. After all, you can wear them long beyond this season's parties.
Criteria Used for Evaluation


Style
Even though the costume design industry is incredibly diverse and big, browsing for exactly what you need can turn into a world of frustration. Simply put, you have to begin your research in time in order to comfortably purchase exactly what you have envisioned. If you keep an open mind, research can actually be half the fun – constantly surprising progress filled with whimsy and moments that will tickle your creative bone. Who knows, you might just rethink your entire costume along the way (and sometimes, rethinking a costume is actually a good idea).
 
Still, as the search for the right shoes and socks continues, you should keep in mind that the most important aspect of any accessory reserved for your costume is that you find the design appealing. Comfort is the added bonus if you come across a well-assembled piece of footwear or a fluffy pair of socks, but aesthetics should definitely be prioritized. After all, you will be donning this costume for one night this year and maybe never again, so it is not exactly the end of the world if something is not as comfortable as you might have hoped initially.
 
When it comes to combining (or re-combining) these specifically themed shoes and socks, there are several factors you should take into consideration – as you browse, you should either write them down on the piece of paper or in a word processor so you can be constantly reminded of them:
 
The aesthetics
Complementary Colors
Contrasting Colors
Mixing and matching patterns
Elegant or Crude
Funny or Scary
 
The Material
Organic or non-organic
Waterproof
Prioritize utility
Prioritize consistency
 
Sole
Heel or flat
Thick or thin
Additional insole
Strengthened padding
 
Of course, these factors should align with the pre-planned set of potential outfits you have been thinking about as the autumn rolled in. The shoes can easily be combined with clothing items you already have in your closet. Let's be honest, we all have at least several costume ideas in the back of our mind almost automatically as the first leaves begin to turn.


Fit
Socks that don't fit tear easily. Shoes that don't fit lead to sores, blisters and calluses. This opens the door to a potential infection and a whole laundry list of medical complications. Even when you are purchasing footwear that is meant to be playful and bizarre, you have to make sure that the shoe fits in order to avoid such complications. Mind you – the shoe that fits is not necessarily a shoe that is comfortable. In order to fulfill at least some basic requirements you need to pay attention to several details:
 
1. See if the shoe can accommodate your foot according to its width.
2. If the shoe is knee-high, the upper part needs to stretch enough to accommodate your calves.
3. If a shoe comes with zippers and/or laces, that is a big plus.
4. Consider open-toe variants if you are afraid the size won't fit.
5. Always purchase one size up if you can.


Ease of Use
You have probably noticed that the "Ease of Use" criteria across all items has the highest scores overall and this is due to a very simple matter - the entire point in purchasing a themed accessory is to find something that is not overly complicated to handle. You want slip-on-slip-off approach with all of your footwear, so avoid purchasing items that have intricate laces that need to be handled every time or clasps that, almost by a rule, tend to malfunction too often. While socks are pretty easy to handle by their very nature, seek out a shoe that is just as easy to put on - you will want to be ready to don your outfit in the blink of an eye and spend the rest of your valuable time on convincing makeup and crazy hairdo.


Value
When it comes to value, this sort of items simply cannot be looked at through the same lens as your everyday accessories, especially if they are meant to be something functional like footwear. The goal is to find items that will be sold for either around or below the average price for such everyday item but, as it has been implied before, you can look beyond that and find stylish shoes and socks that can be used beyond costumes, on an everyday basis. In that case, the value of a particular item goes through the roof.


Bottom Line
Another important question is whether the particular item fills you with a sense of fun - and this is the bottom line as far as Halloween is concerned. As you put on the part of a costume, you need to feel at ease to slide into the shoes (pun unintended) of that particular creature, be it a ghoul or a monster with a human face (like a mad scientist). It is all about role playing. In order to venture into the night as a ghoul without feeling as if you could have done something different or better, you have to:
 
Start on time
 
As it has been mentioned before – begin your search for accessories with a comfortable time distance from the important holiday and you should be able to find exactly what excites you and reconsider your costume accordingly. Throughout your search, fun should trump everything – do not get hung up on brands and preconceptions about the type of shoewear.
 
Keep an open mind
 
On the topic of reconsideration – if you want to have fun, you should keep an open mind as you look for the appropriate shoes and socks. During your browsing sessions, you will come across a multitude of different items and some of them might take you in totally different directions. For example, you might begin your search wanting to don the costume of a witch or a warlock, but you might end up assembling a Victorian vampire outfit with intricate steampunk influences.
 
Be financially prepared
 
Some of the designs you will come across are very intricate so they require a hands-on approach from the craftsmen. This usually means that an item will be far more expensive than expected. The worst possible feeling during your search is the one of futility – when you come across something fun and exciting, yet it turns out to be out of your price range. This is why you should definitely be financially prepared for your holiday shopping. When you have a good financial backing for unpredictable escapades, assembling the outfit can be as fun as wearing it.
Expert Interviews & Opinions
Most Important Criteria
(According to our experts opinion)
Experts Opinion
Editors Opinion
Users Opinion
By Default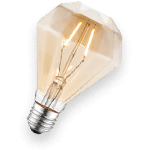 Samhain
Halloween is derived from a Celtic festival called Samhain. Translating to "Summer's End", this was considered a sacred time and was not only a celebration of the dead, but also perceived as a type of New Year's Eve.
Trick or Treat
Nowadays we are used to receiving candy on this holiday, but that wasn't always the case. Originally treats were left outside homes as offerings for the spirits, ensuring they were happy and would not bother the people inside.
Días de los Muertos
In Mexico the Day of the Dead falls on November 2nd, and is cause for great celebration. With festivals and parades, people remember and honor their deceased loved ones; creating altars and leaving out food as an offering.
Frequently Asked Questions
q:

Should I endure through discomfort?

a:

Absolutely not! If comfort is not a priority, this does not mean that it is not on the list of requirements. It all comes down to the question of what you are comfortable with – a good costume does not mean you will wear a cozy outfit. Some concessions and sacrifices have to be made in order to get the required look. That is the nature of masquerade.
Sometimes, a pair of shoes will feel perfectly comfortable once you put them on and, in fact, they can be quite nice to walk in for a few hours. However, as the night goes on, you might begin to feel discomfort here and there. Since this can happen even when you've had enough time to stretch the shoes, you should always have an additional pair waiting for you – it is always good to have a backup plan.
q:

Should I have backup shoes even if the ones I plan on wearing are both comfortable and appealing?

a:

Even if the footwear ticks all the boxes when it comes to the requirements for the night, you should have a backup pair ready, either in your purse, your backpack or in the back of your car. Simply speaking, you have to take the factor of unpredictability into consideration. A part of the footwear might fall off, the zipper might malfunction or the heel can break. Such occurrences are not uncommon for newly bought accessories.
q:

What if the shoes do not look as impressive as pictured?

a:

When you are purchasing items online, there is always a possibility that footwear will not look as impressive in person as it does on the photos. The retailers will often spend some time finding the best possible angle to snap a photo of the proto-model that has been assembled with utmost care. Sometimes, later designs can be lacking in flashiness.
In order to avoid infuriating situations where you get the shoe that simply does not live up to the standards, time the purchase so that the package arrives at least two weeks in advance. This will give you enough time to return the shoes and order something else.
q:

What's the problem if my feet tend to sweat profusely?

a:

Most masquerade footwear contains a mixture of materials which can create an additional problem when in contact with your feet (and unavoidable sweat), and your socks are the first and the last line of defense. However, if your feet are sweating profusely and you are wearing 100% cotton socks, get ready for awkward odors and bacteria infestation.
Many people live in an illusion about the nature of cotton when it comes to footwear and socks – while it is a high-quality material for clothes, it is very problematic for sweaty feet (which will spend more and more time in warm shoewear as the cold weather rolls in). While it is true that cotton is light and comfortable, it is also notorious for retaining humidity and odors.
q:

How to solve the problem of sweaty feet in warm footwear?

a:

Old school synthetic mixes and fabrics are usually not the answer you are looking for your sweaty feet, but the best bet out of all of them is polyester. It can dry rather quickly, it is very strong (though elasticity can be an issue) and it is very easy to clean. Of course, the problem with polyester is breathability (something that cotton alone provides), so always look for socks that mix one or more synthetic materials with polyester. This is usually the safest bet. Antifungal powders and specialized antiperspirants also work.
q:

What if I have to use an orthopedic insole?

a:

Shoes tend to get tighter with orthopedic insoles placed inside. This is why you should definitely purchase a model that is one or two numbers bigger than you actually size. The problem with this is that the measurement standards might vary, depending on where the shoe has been produced. In order to be clear about the exact size of the shoe you are purchasing, you can easily find and use the shoe-size converter online or, at the very least, an image chart that clears things up.
q:

Can I turn these shoes into everyday footwear?

a:

Sometimes, we just want to prioritize fashion over the spook factor. If the newly bought shoes and/or socks pass the "trial period" of that first night and they can easily pass off as your regular everyday footwear, there is no good reason to avoid wearing it on everyday basis. In fact, if you want to go completely chic with your costume, this will probably happen.