Best Foam Rollers Reviewed
last updated:
Jul 22, 2019
For sore and achy muscles after working out, foam rollers can provide a lot of relief. They reduce pain and inflammation by providing a deep tissue massage that loosens tight muscles and helps you recover more quickly. These products can be used on many different muscles of the body including your back, abs, legs, feet, neck, and arms. Although using these at first might feel a little strange, you will soon get used to it and come to wonder how you ever got along without it.
In a Hurry? The test winner after 5 hrs of research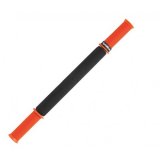 Original Tiger Tail
Why is it better?
Highly portable
Versatile usage
Gentle on skin
Comes with handles
Is durable
In a
Hurry? Editors choice: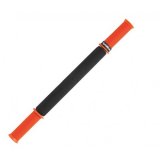 Test Winner: Original Tiger Tail

15
Researched Sources
14k
Reviews Considered
5
Hours Researching
10
Products Evaluated
Advanced Features
Comfort
Style
Durability
Size
By Default
10 Top Foam Rollers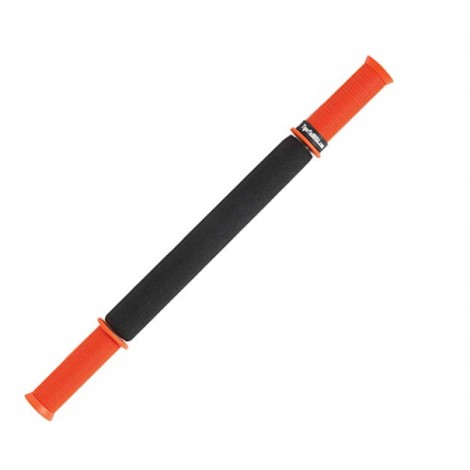 Highly portable
Versatile usage
Gentle on skin
Comes with handles
Is durable
The Tiger Tail foam roller has a unique design with its non-slip rubber grip handles and its small size, both of which make it convenient to take with you and use anywhere. The Tiger Tail is built to be comfortable and has non-pinch cushioned foam on it that is made to avoid irritating your skin.
The Tiger Tail is a popular brand which is used in many gyms. It can be used before your workout to relax and warm up muscles which prevent injury, and it can also be used after the workout to cool down and stretch out muscles which will help prevent soreness the next day. The foam on the Tiger Tail is non-absorbant, which means it will not soak up sweat and will be longer lasting. The type of foam is called closed cell, and it resists any kind of deterioration like falling apart or cracking, and it also resists bending or breaking.
The Tiger Tail roller is very lightweight, and it is ideal for handheld use in massaging your legs, arms, and neck. It might be somewhat less effective for working on your back, especially your upper back since you might have trouble reaching. If you can get another person to use the product on your upper back, then that would work, and you probably will also have no trouble using it to reach your lower back. The product is available in three sizes, an eleven inch, an eighteen inch, and a twenty-two-inch model. The shorter ones are good for your legs and arms where a long one might be a little too clunky. The shortest one is also the easiest to fit in a gym bag. But the long one is absolutely necessary if you want to be able to reach your lower back.
The Tiger Tail comes with a three-year warranty, and the product has an easy to clean surface. The middle part of the product spins, while the handles remain stationary. This way it works a lot like a rolling pin that you would use to roll out cookie dough.
2

. Lifepro 4-Speed Vibrating Roller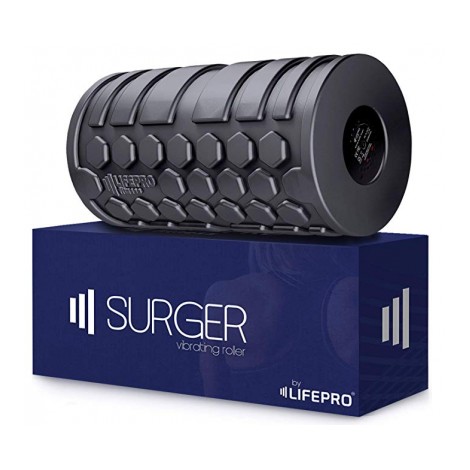 High intensity
Good for CrossFit
Four frequency levels
Lifetime guarantee
Video library included
Material is somewhat hard
The LifePro comes with a travel storage bag and it also includes full access to an online video library with exercises and instruction for how to use the product. The LifePro also comes with an instruction manual and an ebook. A 100% lifetime guarantee is included with the LifePro, and users have said that the product has great battery life. The battery is rechargeable.
Since the LifePro is a vibrating product, it is more efficient than stationary models. It is good for increasing your range of motion up to 40% and it helps you become more flexible. The texture on the LifePro foam roller mimics the shape and feel of the fingertips so it feels like you are getting a real massage from a masseuse. The texture in combination with the material which is somewhat stiffer than other models means that the LifePro might not be very comfortable, at least until you get used to it. Some users have mentioned that the stiff material is necessary since this is a vibrating model since softer material would jiggle and possibly fall apart. This model is probably best for those users who are experienced with these kinds of products and want some advanced features to get more out of their workouts.
The LifePro comes with some bonus accessories including three resistance bands of varying difficulties. The makers of LifePro designed the product to help with recovering from ACL injuries, but it is also good for everyday muscle recovery. The vibration can be set to four different levels of frequency from low intensity to high intensity. It also includes a customized timer for 60 seconds up to 120 seconds. This product is a good mid-sized product which is good for any muscle group, but might be a bit too short for use in some exercises. The strengths of this product are in its uses as part of sports therapy, for reaching deep tissue and helping with trigger points.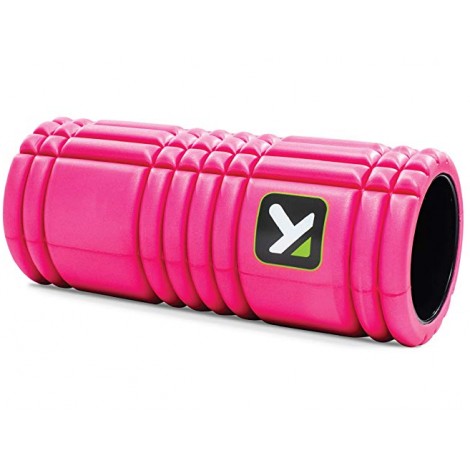 Multi density exterior
Hollow core
Grid pattern
Five color options
High weight limit
Interior plastic can break
The TriggerPoint features a hollow core which aids in greater durability. Just like the LifePro, the TriggerPoint has ridges, but the TriggerPoint is made out of softer and more cushioned material, so it is a good compromise between comfort and reaching deep muscle tissue.
The TriggerPoint foam roller comes in some great color options such as black (with lime green interior), camo, lime green exterior, neon orange, and bright pink. The outside of the TriggerPoint has three types of texture areas. One is a grid pattern of high points to mimic the fingertips. Another is a series of long, tubular patterns to mimic the fingers. And the third is a flat area to mimic the hand. Each of these in combination helps reach different levels of tissue.
The TriggerPoint has a weight limit of 500 pounds, and it comes with a one year warranty. Some users have had trouble with the interior shell breaking. It is made out of plastic and has a strong design, but some users had issues with its durability over time. The hollow core does make it much lighter, though. A few users also said that the product made marks on their skin. To prevent this, it is a good idea to wear clothing over your skin when using this. You might want to wear some leggings if using this on your legs, or a good, thick pair of socks if working on your feet.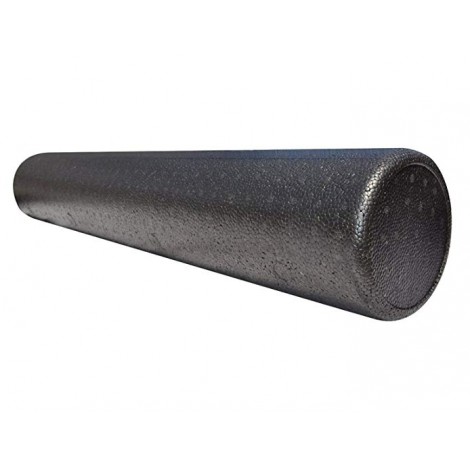 Extra firm density
Three sizes available
Durable foam material
Textured for grip
Lightweight
The LuxFit is made out of very strong foam that is packed extremely tightly which makes it more durable but also makes it a stiffer product which is preferred by some users and not by others. Despite being such high-density material, the LuxFit is still relatively lightweight.
The type of foam that the LuxFit is made out of is polypropylene foam that has been molded. It has a density of two pounds per cubic foot. The lengths available are 12 inches, 18 inches, and 36 inches. All of them are six inches in diameter. While the LuxFit is much smoother than many models, it does have a fine texture to it which is necessary to keep it from being slippery. Some users have said that the firm feel of the product was hard on their skin. The product does have a seam that sticks up and runs lengthwise, but users have said that it is minimal enough so that it does not bother them. One of the good things about the dense material is that it will not lose its shape after many uses.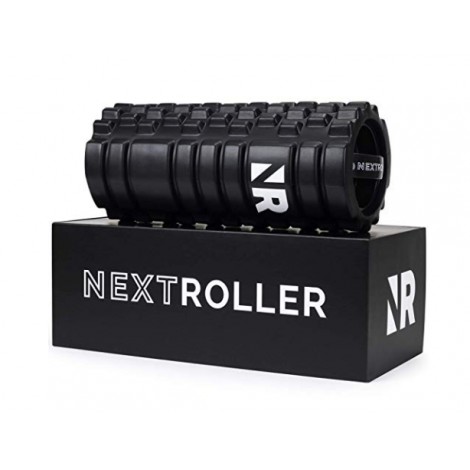 Three levels
Handle for carrying
Two hour battery
Wall outlet charger
Deep tissue massage
Eventually doesn't hold charge
There are three levels of vibration intensity on the NextRoller. The product has an attached handle in one end which makes it easy to carry, and it comes with a battery charger that you plug into a wall outlet.
The texture on the NextRoller is pretty extreme. That in combination with the vibrating function means that this product will thoroughly release muscle tension, but it also means that you might want to expect some soreness from working the muscles so deeply. The texture on this one can be a bit harsh and some users thought it was quite uncomfortable, at least until you get used to it. It might be best for those who have been using a textured model and want something a little more intense. Another thing users have mentioned is that eventually the battery of the NextRoller can get weaker and it will still work but you will have to charge it after every use. The knob to change the vibration settings is on one end of the foam roller, on the opposite end as the carrying handle.



Half circle option
Cross linked foam
Low density
Easy to clean
Comfortable
Shape doesn't bounce back
The OPTP Pro foam roller is available as an 18 inch round blue model, a 36 inch round blue model, a 36 inch round pink model, or a 36 inch half circle (flat bottom) model.
The EVA foam of the OPTP Pro is designed to be soft and cushioned yet durable. It is made to be a more gentle, comfortable product. The foam is cross-linked and also closed cell which is what gives it durability. The foam is molded using heat, and it has a water-resistant surface that can be cleaned with disinfectant wipes or a wet cloth. The half circle option is especially good for your legs and feet. It is a more stable option for your feet since it will not roll around, and using it on your arches can help heal plantar fasciitis. If you are looking for a gentler option, this one is worth looking in to. Users have said that it is just the right amount of firmness—not too much, not too little. Unfortunately, on softer foam products like this one, there is a tendency for the product to lose its shape. It molds to your body and then might have trouble bouncing back to its original shape.



Professional grade foam
Holds shape
Recycled material
Resists flaking
Free from irritants
This foam roller from Rolling With It combines a soft outer layer with a firm core. It is made out of strong foam that resists chipping or flaking and that has a completely smooth texture which is gentle on the skin.
The foam that is used in the Rolling With It is made out of recycled materials and is free from certain skin irritants, although users have said that it has a bad chemical odor when you first take it out of the packaging, although this odor does dissipate after a day or two. It does a good job of holding its shape even after many uses. The combination of soft exterior and firm core help it to spring back and retain the original shape. Even though this model is softer than many, some users have said that it is still somewhat stiff and that it might be painful to use if you are a beginner. The Rolling With It is best for intermediate users. It is not too harsh like some models, but not extremely gentle, either.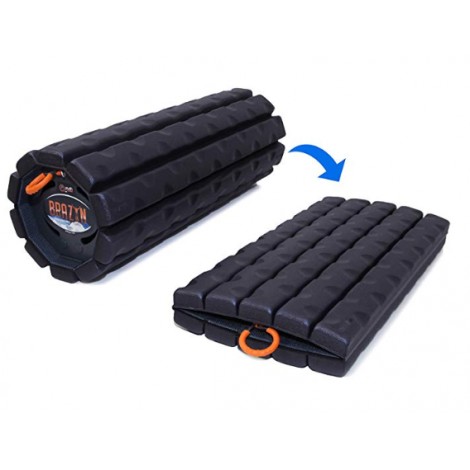 Space saving
Sustainable materials
350 pound capacity
Targets metabolic waste
Includes mobility deck
This foam roller comes from a brand that was founded by an NFL tight end. With a weight capacity of 350 pounds, it was designed to be strong enough to support all sizes of athletes, even NFL linemen.
The Brazyn roller is made out of recycled materials including foam, aluminum, and bamboo. The bamboo is a great addition because it is so strong yet very lightweight. To fold the Brazyn, you just have to push in the tabs at each end. It then collapses to be 1.9 inches thick. To unfold it again, you have to pull at the tug strings. Users have spoken highly of the collapsible feature. It is very handy and saves space. One thing that users did not like, though, was that the particular texture of the Brazyn has a tendency to pinch your skin. If you wear a protective layer of clothing over your skin, that might help, but you still might experience some discomfort. The Brazyn comes with two accessories and those are a travel pouch with a handle, and a deck of cards showing all the different exercises you can do with this foam roller.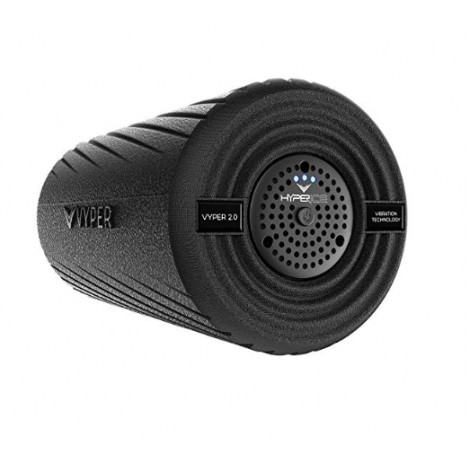 Non-pinch design
Side lights up
Shorter for legs
Quick charging
Durable material
The Hyperice combines the vibrating feature with the softness and comfort of the simple foam models.
The Hyperice vibrating roller has a semi-firm surface with a diagonal design that prevents bruising or pinching your skin. The only detractor about the surface of the product is the raised brand lettering and logo which can be uncomfortable and can basically put the brand name into your skin. One great tip from users was that you should put the product on a carpet or a foam mat to prevent the vibration from making noise against a hard floor. The Hyperiece is somewhat shorter than many models which makes it ideal for calves and quads.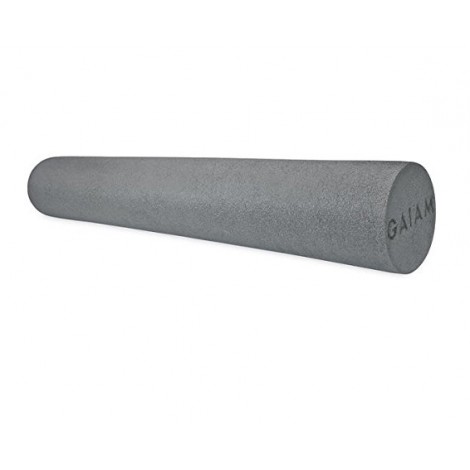 Many size options
Best for balance
Included workout video
Medium density
Best for beginners
The Gaiam foam roller offers more size options than most of these kinds of products. You can get different sizes and colors for targeting different muscle groups, and there is also the option to get a bundle kit that comes with a roller, a massage stick, and a massage ball.
The Gaiam comes with a 25-minute workout video from James D''Silva. Some users said that the workout came on a DVD, while others said that it came as a code for a downloadable online video. It might be the case that different size and color options come with one video type or the other. The workout video is for full body strength training and it features a progression of gradually more difficult exercises, but it starts out simple and teaches you how to use the product. Users have said that sometimes the Gaiam has been known to collapse in the middle after a few months of use. This could especially be true of the longer size options.
Criteria Used for Evaluation


Advanced Features
These products come with a variety of different features. Some of them are very advanced while others are extremely basic. We did not necessarily take points away because a product was basic. Sometimes basic is what is needed. But we did appreciate the many advanced features that are available in some models, and we tried to include a range of both basic and advanced products.
One of the most obvious advanced features that we examined was the vibrating option that some of these products come with. Adding this option brings with it more potential for durability issues, so we paid extra close attention to the product's quality in these instances. For vibrating models, we looked at the quality of the battery, specifically how long each charge lasted, if it was rechargeable, and if so, how long it took to recharge. We also looked to see what users said about how long this feature lasted and if it worked very well in the first place. We also looked for products that came with different settings for frequency and a timer. Another great aspect of this particular feature is that it is great for stationary use. This way you do not have to roll on the product but can instead simply hold it against your muscles. This makes it a great option if you have issues with mobility, or for use in sensitive areas like the neck.
The advanced features that we looked at were not confined only high tech features. We also considered things like handles and accessories to be advanced features. A number of these products come with some good instructions for use. Some come with books or DVDs or access to an online library of videos. We decided that these features added more value to the product because users often mentioned how helpful these extra features were. It is frustrating to get a product and not know exactly how to start with using it, so including everything you need to get started is essential.


Comfort
We all know how exercise can be a bit painful with sore muscles and achy joints, but how it also greatly benefits our overall health, strength, and energy level. The same is true for using the kinds of products on this list. Many users say that while using these can be a bit painful at times, it is well worth it and benefits you in the long run. With this in mind, we considered how each product was designed and we took into consideration whether the product was built to be comfortable or not, and even whether comfort was a priority with some products that offer other features instead, such as a texture for an extra deep tissue massage.
We came to the conclusion that there are basically two categories of products when it comes to the criteria of comfort, and each of these categories has its own strengths and specific uses. One is the comfortable products that are made out of soft, smooth foam. These are effective, to be sure, but they are also quite comfortable. These are an excellent option for beginners. They are also a good choice for injury recovery. They are not going to give you a deep tissue massage, but they will definitely still help relieve tension and will help you relax.
The other category is textured products. These are often made out of a much stiffer material, and they will not be quite as comfortable to use as the smooth products. But even the textured products have their strong points. They are great for really detailed and deep work on your muscles. They will help get the knots out of the tensest muscles, and they are good for athletes and serious fitness users. They will be uncomfortable to use, but the results you will notice will be somewhat more dramatic.
The research we did about how to use these products effectively and what you can expect when using them suggests that many users both love and hate these products at the same time. They love how the products help them recover faster and feel better after a workout, but they sometimes dislike the uncomfortable of deep tissue muscle release. What we have found is that the use of these products is steadily gaining in popularity, which suggests that many people are finding that the benefits far outweigh any potential detractors.
Another thing we considered was how gentle the products are on your skin. We realized that many people have sensitive skin which could potentially become irritated by some materials, or by chafing from the friction. To avoid this, we looked for products that were made out of gentle, non-irritating materials, and that had smooth surfaces, not abrasive ones, so they would not cause blisters. We included many products that are made out of foam, and not plastic which can pinch your skin. We thought it would be best to list products that minimize discomfort since that will make you more likely to use these and to enjoy the benefits from them.


Style
Every product on this list has a unique design, and each one is best at different things. When considering the style of each product, we looked at factors such as the texture, interior design of the product, and fun little details like available colors. We researched all the different opinions on texture and how different types of texture helps with different levels of muscle tissue. We found that texture is important sometimes, while other times a smooth non-textured product might be preferred. That is why we included some of both types of products on this list, and the textured products we chose all have different texture patterns to suit all users' varied preferences. When examining user reports, we found that it is hard to know just what kind of texture you will like best. Everyone has a different comfort level. So instead of finding the single best type of texture design, we chose a whole variety of textures and made sure that they at least met our standards for quality. That way, you can know you are getting a good quality product, even if you do not yet know if it will be the right style for you.
We found that even the interior design of each of these models has its own strengths and weaknesses, and most of the time neither is very clear cut. We examined many products of all kinds of designs, from solid interiors to hollow interiors, to interiors that spun on an axis. Hollow interiors are good because they are so lightweight, but the models that have the option to vibrate can't have hollow interiors because that is where they store the battery and motor. So the features of different styles is a kind of give and take. What we found is you really can't have it all in one product. But one thing we did read from users is that they often choose to have more than one style of product because each one serves different purposes.


Durability
We recognized right away that the foam could have the potential to wear out since foam is typically a weakness of foam. But foam is certainly much more comfortable than other possible materials, so instead of looking for non-foam products, we chose to find products with the most durable types of foam. The more durable foam tended to be the densely packed kind, which did make it a bit stiffer and a little less comfortable, but what we found from what users said was that it was a good compromise between comfort and durability. It also seemed to do the best job of relaxing the muscle tissue.
We also looked for foam that was at least a little resistant to water so that it would not absorb sweat which could definitely wear it out. This also helps prevent staining of the product, which we considered to be a detractor to durability. We also looked at the product's cleaning instruction to make sure that maintenance is simple and quick to do. If the cleaning is easy, you are more likely to do it regularly which will help keep the product in good working order.


Size
We looked at both the length and the diameter of these products, and although each side is best for different kinds of uses, we tried to stick with a middle range size with a few extreme options thrown in. The typical average length is usually somewhere around 18 to 24 inches. Extra long products are often around 36 inches long. And then there were models that were extremely short, sometimes as short as four inches long. We mostly stuck with mid-range length products since those tend to be the most versatile. The extra long and extra short products are usually for very specific uses. The mid range sizes also were the best compromise between length and portability. The typical size of diameter is five to six inches. The great majority of the products we chose are around this size, with just a few being a different size or having more options.
Expert Interviews & Opinions
Most Important Criteria
(According to our experts opinion)
Experts Opinion
Editors Opinion
Users Opinion
By Default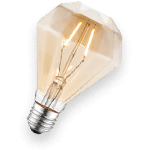 Classes
Using these products is definitely something you can learn to do yourself as part of your workout program at home or at the gym, and there are a whole bunch of great resources out there to help you learn. There are plenty of good books available, as well as online resources such as websites and videos. But there are also classes out there that you can take if you prefer to learn from a professional. Some are dedicated to learning how to use these products, while others are mainly pilates classes that also use these products as part of their routine.
Discomfort
Using these products can be a little uncomfortable, especially when you first start out and before you get used to the feeling. But even those who have been using these for a long time still feel some discomfort occasionally. This is normal. Rolling the knots out of your muscles can be a tad painful, just like any kind of exercise, or more closely resembling a deep tissue massage which can make you sore. But on the flip side, using these can also feel good, like getting a relaxing massage, and you will definitely notice some great benefits like faster muscle recovery after workouts.
Other Factors to Consider


Bottom Line
If you are new to the world of foam rollers, this might seem like a lot of new information to take in, but also an exciting and helpful new tool to add to your workout routine. The very best thing about these products is that they can greatly reduce pain which will help you to feel much better overall, and which will also help you stay motivated to exercise. We have seen how these products come in a great many different shapes and sizes with different features from the simple to the complex, but we have also broken each of them down to the essential information to help you make an informed buying decision. Hopefully, you now feel confident to begin this new part of your fitness journey.
Frequently Asked Questions
q:

What is Myofascial Release?

a:

You will hear this term used a lot in relation to using these kinds of products. It is simply the technical term for what is happening to your muscles when you use these products. It has to do with applying gentle and slow but sustained pressure to your muscles in order to get the knots out of them or to get them to release their tightness. It is a very safe and effective method of helping your muscles recover from both exercise and injury. Myofascial Release is a kind of massage you can get from a professional, but when you use these products to work on your own muscles it is called self-administered myofascial release or SMR for short.
q:

What are some exercises I can do with foam rollers?

a:

Here are a few ideas for you, but you can find a lot more ideas and instruction online.

Back - One of the most common uses of these products is to put it on the floor and then lie on it on your back and then gently and slowly roll back and forth. You can do this for your entire back, or you can target a specific area like your upper, mid, or lower back, depending on whatever is causing you pain. This exercise will help remove tension in your back and is great for improving your posture as well as relieving pain after a long day of sitting at a desk.

Feet - Using a sturdy chair or table for balance and to support yourself, stand with one foot on the roller and then lean some weight onto that foot and gently roll back and forth along your entire foot. This exercise is excellent for anyone who spends all day on their feet. It can definitely help relieve those achy feet at the end of the day.

Quads - Lie facedown with the product underneath your upper legs. Place your arms under you to hold up your torso, kind of like the beginning of the cobra pose in yoga. Then roll forward and backward, allowing the product to massage the tension out of your quads. This is a great exercise for runners.
q:

Why do some of these products have ridges or different textures on them?

a:

The products that have texture provide different amounts of pressure in different areas. The raised areas provide more pressure and the lower areas provide less pressure. This gives a more precise massage and allows the product to deeply work your muscles. Smooth or textured products have different uses, but some people also find that one or the other works better for them.
q:

Are these good for injury?

a:

Yes! Many people have found great success in using these products as part of their rehab after an injury. In some ways, exercise recovery and injury recovery are very similar since both are damage to your body which your body repairs and uses to grow stronger. For injury rehab specifically, it is a good idea to talk to your doctor or physical therapist about using these products. Not only will they let you know if this is a good option for you, but they can also recommend some good specific exercises for your situation. You might also want to ask about the different types of products (smooth vs textured, etc) and find out what kind might be best for you.
q:

How do these help prevent muscle soreness from exercise?

a:

These work in a similar way to stretching after a workout. They help to reduce the build up of lactic acid in your muscles, preventing soreness. Lactic acid is something that is naturally present in your muscles after you exercise, but it is often the reason for the soreness you feel the next day. Rolling out your muscles has been shown to help reduce this delayed muscle soreness.
q:

Do these help with poor circulation?

a:

Yes, they do. Using these helps to stimulate the flow of blood in your muscles, which will help with both muscle recovery and also for problems with circulation.