Best Fluffy Shoes For Decadent Divas Reviewed
last updated:
Feb 07, 2019
Do you miss that little something extra decorating your shoes? Do you want to stand out in the crowd, be the center of attention? Well, go for fluffy shoes! They are called like that for a reason - fur or feather details sprout from their uppers and dance as you walk, making your feet appear chunky or elegant, depending on the amount and location of the fluff. They can instantly improve your style, and if they are painted in lively hues, be sure you will make a statement! Both casual and evening shoes have various decorations, in different amounts, so you will have plenty to choose from. If you are not sure about where to begin, read through our handy guide as we have prepared a full course of these little wonders!
In a Hurry? The test winner after 5 hrs of research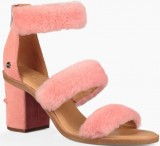 Ugg W Del Rey
Why is it better?
Fluffy Pink Fur
Suede And Sheepskin Upper
Zipper On Counter
Foam Cushioning
Elastic Gore
In a
Hurry? Editors choice: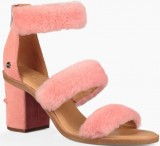 Test Winner: Ugg W Del Rey

6
Researched Sources
57
Reviews Considered
5
Hours Researching
10
Products Evaluated
Comfort
Materials
Style
Versatility
Accessories
By Default
Top 10 Picks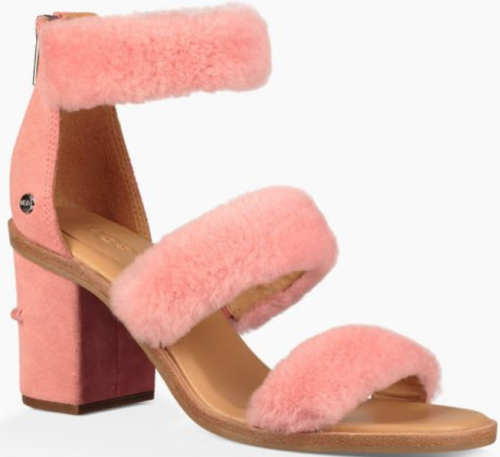 Fluffy Pink Fur
Suede And Sheepskin Upper
Zipper On Counter
Foam Cushioning
Elastic Gore
Are high heels the dress code for that party you are heading to? Do you find wearing regular heels bland, not exciting enough? The Del Rey is here to revolutionize your style, with its chic lines and soft, baby pink fur. Three wide straps cover your feet, securing them in. And these straps are just what makes the Del Rey stand out from the crowd. Delicate pink fur stands proudly at the top, improving your summer style.
Ugg is a company well known for their soft leather and fur that improves the comfort of their shoes greatly. They might have only made booties before, but we are so happy they branched out and started creating more footwear considering they all carry Ugg DNA, which is their softness and cushy comfort. The fur here comes from real sheep or lamb, that has been bleached and then dyed to make it pop.
These sassy sandals have so much to offer! The pink fur hides real suede underneath, which can be seen on the heel counter and wrapping the block heel. Suede is naturally plush and soft, and it has an opulent finish making any pair meet the evening shoe standard. A little silver coin marks the location of the logo, as it shines like a little star while you dance or walk. The heel counter has a handy zipper on the back, minimizing the amount of time you spend trying to squeeze yourself in.
The ankle strap tickles the skin around your calves, but it also has an elastic gore. This is a little piece of rubber inserted for improved comfort and an ideal fit. The lining is leather, which will breathe and help dissipate sweat and moisture, leaving you fresh. You know these heels will last for a long time since they are completed with a leather welt, which holds them together better than super glue. The insole has foam cushioning, which retains its shape no matter how long and hard you dance, or walk around the city. The trendy block heel is wrapped and gives you much needed arch support and balance, something regular heels lack. The outsoles are rubber, and they will give you enough traction and grip to keep you standing all day long.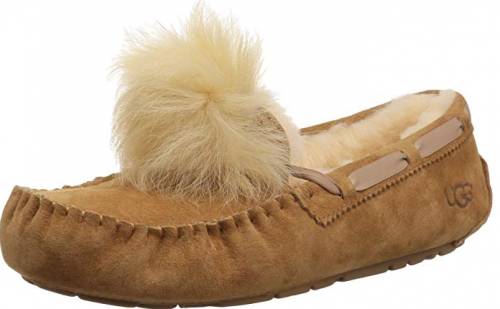 Versatile Moccasin
Mocc Toes
Real Fur Pom Poms
Satin Ribbon
UGGpure Lining
Dirt Magnets
Pom Poms Fall Apart
This moccasin has everything casual footwear should have while having a little fashionable detail enough to bring out the best in you. The upper is silky suede, a water-resistant material all about keeping you dry and warm when the weather gets chilly. A satin ribbon is pulled through the many loops scattered around the opening, meant to improve their look and to tighten the fit. The stitching is moc toe, which will surely make them last a long time.
The pom-poms are super sweet and are made out of genuine fur. This might throw off some people, but know that the fur is environmentally friendly, as synthetic fur has a big carbon footprint. As you slide your foot inside you will notice many soft strands gently touching you and keeping you warm. This is the UGGpure lining, made out of high-quality fur, that wicks away moisture and keeps you warm. The footbed also brings comfort with it, as it is padded with foam, a light and comfy solution to all-day comfort. The rubber outsole is molded, and allows you to wear these even indoors, so you can look fancy all the time!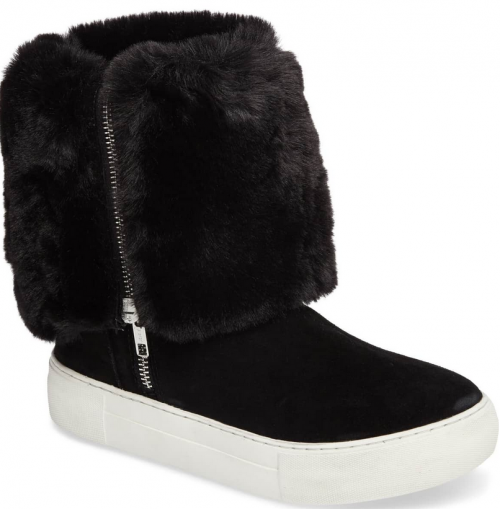 Sneaker-Inspired Look
Faux Fur
Cushioned Insole
Arch Support
Chunky White Outsoles
Do you wish to stay warm and toasty while looking swank and fashionable? Wish no more! The Apple Bootie will make you warm and insulated, and keep you looking fly. These boots are sneaker inspired, so it's safe to say you will get a pretty versatile boot, well versed for both a work environment and a casual one. The upper is made out of leather, so you will stay warm and dry too. Leather also helps you have a great fit and keeps you ventilated and cozy. Of course, the most noticeable detail is the thick, dense fur hugging the ankles. This will make your legs appear thicker, which works well with skinny jeans and leggings. It also keeps heat trapped in, saving you from the harsh outdoors. If you got tired of the fur though, you can just flip it over and make the boots longer, which will, in turn, keep a bigger area of your legs warm, and won't look so thick.
A handy zip sits on the side, so even the highest of arches can wear these booties without a problem. The fur we mentioned is faux, which may make a lot of animal lovers happy. Nothing was harmed when they were created, so you have a guilt-free item. The insole is cushioned, ensuring a smooth ride and pain-free soles. The cushions also have arch support, which will help your feet move and bend naturally, while also supporting your bigger joints, ranging up to your back. The calf circumference is 16 inches, so pretty much anyone can fit in there. You may notice the outsoles right way, as they contrast the black upper with their brilliant white color. They might be a dirt magnet though, but lucky for us rubber is easy to clean.
4

. Manolo Blahnik Pelosus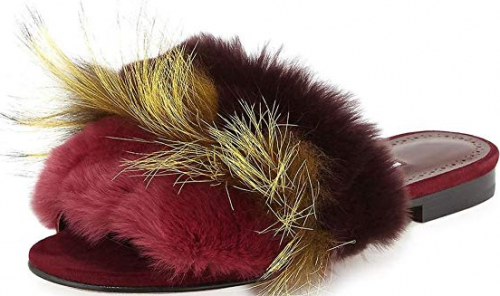 Luxurious Fur
Slip-on Construction
Stacked Heel
Suede Trim
Padded Footbed
Nothing about this furry slipper is regular. Coming from Manolo Blahnik, a renowned fashion designer, they combine extravagant fur with a slip-on construction to bring you a fashionable style that you can slide into with ease. Now, let's talk about all that fur! It's a combination that originates from two animals - rabbit and fox. If you already feel guilty just by reading this, skip the shoe altogether and go for a more friendly option. Now, this sandal combines the two types to create the fluffiest slipper in existence. It starts off calm, then transitions into a full funky fringe that spikes out everywhere, and then calms down like a wave with a short, fuzzy finish. The colors only accentuate this transition, as the lively hues bring the shoe to life.
The flat heel is stacked, and it offers much-needed arch support that plenty of slippers lack. The upper is suede, because what else can match that dramatic look of the fur? You will get a smooth, pleasant experience with the suede surrounding your feet. The footbed is padded, so you won't feel achy or fatigued after a day of showing them off to the world. The outsole is rubber and helps keep you upright and pushes you to strive forward!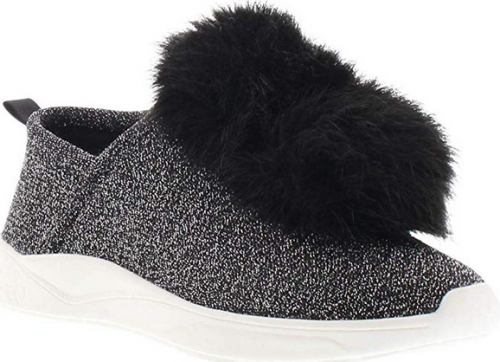 Stylish Casual Look
Stretch Fabric
Glitter Details
Faux Fur
Cute Pom Poms
A welcome update to regular sneaker styles, the Ariana is what every casual shoe should strive to become. The upper is made out of fabric that will stretch and contort to fit any shape and size you throw at it. It's adorned with glittery details and will sparkle with every step you make. The lack of laces makes them appear like loafers and make it as easy to put them on. A handy pull tab makes this even easier!
The pom poms are what make them pop and bedazzle the crowd. They are oversized and will bring out that childish side of anyone who dares to put them on. The fur is faux, meaning there is no need to feel bad about indulging and buying them. The toes are round, so you will have plenty of room inside them to stretch out to the max. The chunky white outsoles only add to the whole sneaker look, and they will flex and bend as much as your feet need them to, and will also prevent any accidents from happening, as they provide sufficient grip and traction!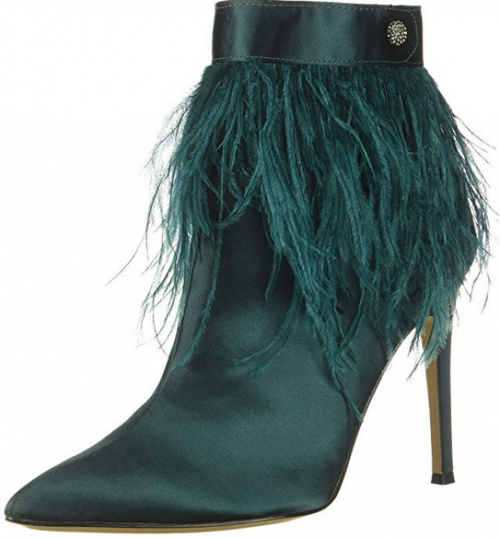 Rich Hues
Long, Flowing Feathers
Silver Button On Cuff
Dramatic Look
Pointy Toes
This stylish stiletto boot will wow the crowd as you walk around with a waterfall of lively plumage waving by. The upper has a rich, glossy finish, with a deep pine or a bold black finish. These colors ensure you will be able to match them up with a lot of festive clothing combinations. It might be a little tough to care for the easily stained synthetic material, but we are sure you will take care of them just fine. The toes have a pointy silhouette, enhancing the trendy note these ankle booties have.
The cuff is where the magic happens - many long, yet thin feathers hang down from it and help you glide through the crowd with ease. The cuff is finished with a silver pitted button, which contrasts the shiny upper perfectly. If you are worried about pushing your feet into these shoes, worry no more! There is a zipper on the side which eases putting them on and off,m so you can easily transform yourself from your casual, everyday persona to the glam, sensual being you really are. The four-inch heels might seem threatening, but as soon as you let them support you, you will realize they are nothing to be scared of. The Danella might lack cushioning, but it's great construction and quality outsoles will make it worthwhile!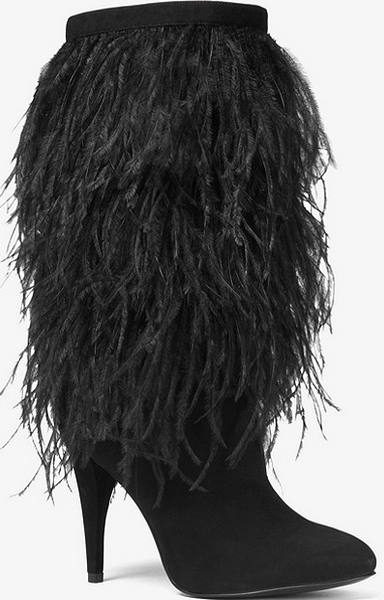 Almond Toes
Slim Heel
Rich Feather Embellishments
Suede Upper
Textile Lining
Stun the world and make your way with the Asha decorating your legs! Emanate pure drama and let those feathers bounce as you make a statement. Their upper is made out of 100% suede. Suede is a well-known luxurious material that highly fashionable footwear can't be seen without. Suede might be tough to clean, but the payoff is great, as you will get a soft and comfortable pair that looks out of this world. They are set on a slim, delicate heel that matches the thin, chipper feathers. These will give you plenty of height and will add an elegant note to your gait.
The feathers and the shape lower their versatility, but if you are someone who regularly enjoys nights out and has a colorful social life, be sure you will have plenty of opportunities to take them for a ride. The lining is textile, meaning it will breathe and keep you fresh and dry. It will also lightly caress your skin, so you will enjoy all the comfort in the world.
The toes are almond shaped, leaving plenty of room in the toe box for your fingers to wiggle around and stretch. There is no zipper present, so these might not be a good fit for people that have high arches, as you will struggle to put them on. Also, anytime you pull the zipper up, you would snag a lot of the feathers, leaving part of the boot bald! The outsoles are rubber, giving you much-needed stability when you are propped up on such a thin heel!
8

. Seychelles Ruffle A Few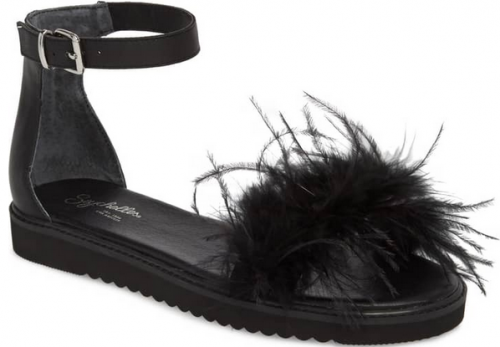 Feathery Strap
Goth Note
Adjustable Buckle Strap
Protective Heel Counter
Thick Outsole
Tougher Break-in
Rubs Ankles
You can easily deduce by looking at this pair that a vogue-casual sandal is a reality. As the name suggests, ruffle a few feathers with this lovely fashion statement of a sandal, and let everyone know the best casual pair has arrived. The strap holding your toes in place is adorned with many little feathers that harmonize with every step you take. The surface underneath the plumage is leather, meaning you won't have any trouble wearing them all the time, every day. Their color and style make them versatile, so you can easily match the little gossamer-like feathers with anything your closed hides inside.
Speaking of straps, the one around the ankles is on the thick side, chunky, and has a bit of a goth note. A buckle can be seen, making the belt very adjustable. This will be particularly helpful in the evenings when our feet tend to swell up and start to push into the surrounding material. The heel counter makes them closed off, yet the open toes and sides let your skin breathe and enjoy the sunshine (or the city lights). The lining inside is synthetic, so it might not breathe that well, but that shouldn't be too troublesome considering the fact that you have a pair of sandals, not closed off sneakers or boots. The footbed is lightly padded, so it will protect your feet to some degree. They are raised all around just a little bit and have a serrated rubber outsole which provides sufficient grip and traction.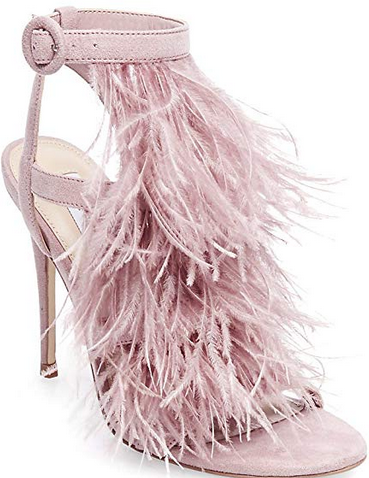 Microsuede Upper
Cascading Feather Details
Lovely Buckle Design
Thin High Heels
Trendy Colors
Straps Rub Skin
Not Enough Cushioning
Taking hot looks to the next level, the Fefe is a skilled coquette flirting with any curious bystander! The upper is made out of microsuede with cascading feathers tucked in the straps. The straps engulf your feet, giving them a coy, yet sophisticated note. The stiletto heel is four inches high and wrapped with the microsuede, completing the gentle pink look. Microsuede is an exceptional synthetic material. It's created by tightly packing a lot of tiny polyester threads. It looks and feels like regular suede, without the hassle! It's also stain-proof, meaning there is no need to spend a portion of your day cleaning them from the night before. It breathes like cotton and caresses like suede, bringing the best of both worlds to the table.
A lovely strap with a circular buckle makes the fit adjustable, combining usefulness with class. Now, we come to the main part - the feathers! They will hide some of your skin away, adding a dimension of secrecy, while your gait gets an elegant touch - the feathers will accentuate your stride, amplifying your femininity and good looks! The high stiletto heel will bring out even more of your cheeky side, and you won't be able to do anything but giggle with excitement as the feathers hop and dive while you walk.
10

. Tory Burch Scallop Slide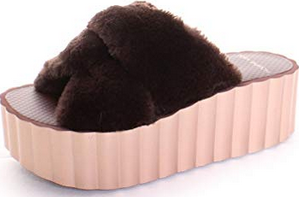 Huge Wedge
Thick Furry Straps
Leather Lining
Eye-catching Texture
This slide has what the only the best fashion items boast, and it's to no surprise since it comes from Tory Burch herself. Right of the bat, we should talk about that gigantic thick outsole that will surely steal all the spotlight to itself. It's synthetic, golden waffle-like waves wrapping it up like a present. If you are a fan of the chunky style, be sure not to miss out on these! They pack some height as well and will prop you up without trouble. Furthermore enhancing the big look are the thick, brown straps crisscrossing each other, complete with brown plush. If you desire the warm hug the teddy bear straps will provide without a doubt, slide your feet in and be prepared for a world of cushy comfort.
Their slide-on construction makes this even easier, and you can easily change from regular to extravagant! This bohemian pair is a must-have accessory for anyone that feels like they need an out of this world pair of sandals. The lining is leather, so your skin will be able to breathe well and you won't feel any kind of discomfort. A rubber sole hides underneath the gargantuan wedge and helps keep you balanced on this salon slide!
Criteria Used for Evaluation


Comfort
Comfortable shoes are an important step toward healthy feet. Footwear that sits wrongly on your feet can cause plenty of problems. Blisters seem to be the most common ailment that stems from uncomfortable shoes - if the shoe is too snug, or the material irritates the skin, or some seams and bumps exist inside that cause friction, creating the fluid-filled sacks to appear, and if they are rubbed a lot they will pop, leaving you with a nasty wound that can get infected.
Corns and calluses are a common issue too - bringing a different level of pain with them, which can increase if you keep wearing the same shoes. They will grow out of control, and they are very hard to get rid off, sometimes requiring the help of doctors. Bunions are the worst of all and are caused by narrow shoes, bending the big toe out of place, requiring surgery to get it back into place. Also, your knees, back, and ankles can suffer long after you get rid of the bad footwear, so think twice before you buy a bad pair!
The lining can affect the comfort of our footwear. The lining sits on the inside and is in close contact with your skin, or socks. It only makes sense to create a comfortable, moisture-wicking lining! Leather linings do this the best but don't be afraid of synthetic uppers either, they're not so bad!
Padded footbeds are the most important part of the shoe when it comes to comfort. If you've got a footbed without any cushioning or padding, you will feel pain and soreness in no time. Your feet will burn and you'll get exhausted very fast. Pads with foam can greatly improve overall comfort. They have a low compression rate, which means they will keep their shape and the amount of comfort they bring for a long time. They absorb the impact force while you walk, and let your joints relax.
We can't miss discussing high heels when the topic is comfort. Thin, high heels do nothing about comfort, and if there is not enough padding, you will only enjoy looking at the pair - no one will want to suffer that much for beauty! So one way to fix this is by having a pair that has chunky block heels. Block heels provide a lot of comfort and stability, much more than regular heels, and they are making a comeback, so you will always be in style.


Materials
The material a shoe is made out of can affect our decision on whether or not we should buy the pair. Choosing the right kind of material plays a huge role, as the comfort, efficiency, and style will all be affected by this one factor. Always be on the lookout for quality materials - it's better to spend a few dollars extra now than to be stuck with a sub-par pair!
Leather is virtually the best material out there, both for casual and fancy footwear. It's a natural material taken from the skin of sheep or cows. Exotic options like crocodile or snake exist as well, but this leather is not so ethical, and it's super pricey! What makes leather so good is the fact that it's literally skin, and it does everything regular skin does. It shields us from the harsh outdoors, bends and lets our feet flex, and breathes thanks to many small pores it has all around its surface. But leather does come with drawbacks - it's usually very heavy, and very tough to break-in, requiring a lot of time spent wearing them in short bursts before you can actually enjoy the pair.
Twinface sheepskin is a quality leather variant. Ugg is well known for using this material to create most of their footwear. They aim to provide you with plenty of comfort and quality, so only the best leather passes the test. This leather gets treated on both sides, so the footwear becomes very soft and cozy, something UGG is known for.
Suede appears quite a bit on our list. This material also comes from leather, and it's just regular everyday leather treated a bit different. The shoemakers turn regular leather upside down, and a short strip gets cut off, revealing the super soft and luxurious upper. Besides looking so elegant, suede is also very light and it breathes very well. The only drawback is the upkeep. It's a horrible dirt magnet, and to make matters worse, it's very difficult to clean it without ruining the plush look!


Style
The style of the shoe decides whether or not we will buy the shoe. These shoes are super stylish, and the fur only brings that to a whole new dimension, making even the most casual of shoe evening worthy.
Loafers are a very popular casual shoe, making rounds all around the world. Plenty of different variants exist, all created with the sole purpose to bring you comfort. They have no laces and are very easy to put on thanks to their slip-on construction. Usually made out of leather, they keep you safe and warm, and are a popular choice for warmer weather. UGG, however, made a warm variant so you can wear them even when the weather gets cold.
Short boots and ankle booties make rounds when the weather starts to cool down, and we say goodbye to the sun. Sometimes, they show their faces even in the warm summer air, but they usually have lace uppers meant to breathe and ventilate your skin. Boots can either be evening shoes or casual footwear and even work boots appear. Boots offer a lot of warmth, and when sensual materials and dazzling decorations are used, they can become the best looking footwear out there!
Sandals appear plenty of times on our list today, and they have been out there for centuries. They first appeared during the Roman era and made such an impression that they never got out of style. They are characterized by straps hugging the feet, meant to keep them in place. They are pretty open and drafty, allowing the skin to breathe. Today, wedges and heels are added to make them look luxurious, and when crystals or rhinestones enter the equation, they turn into evening shoes, ready for the greatest fashion shows!


Versatility
Versatile shoes can be considered the most valuable out of the bunch. They will match any outfit you can think off without any trouble. Styles like sneakers, formal dress pumps or loafers can be considered the most versatile options. If you add some more mature details, you can combine them with formal attire as well. The fluff we love so much also plays a role here - you can't exactly call a sneaker like this casual!
The color can affect the versatility as well. If footwear sports lively colors and intricate patterns, you won't have that many options, to begin with. If, however, you decide to go with simple, neutral colors, like black or silver, you will have much more options available. These colors can match plenty of your wardrobe, and their calm colors will blend with any pattern you throw at them!


Accessories
The accessories we should talk about here is, without a doubt, the fluff. It comes in two varieties - feathers and fur. Feathers come from birds, obviously. Taken from chickens or geese, they are bleached and then colored to whatever color you desire. Exotic options like marabou can happen too, but some people consider that unethical as they worry about the well-being of the animal. Both down feathers and huge flight feathers can be used, and they both change the look of the shoe in a different way. Down is little and jumps happily all around, while huge feathers appear bold and proud, making any shoe extraordinary.
The fur can either come from animals or can e faux. Both of these options have a drawback - the animal fur is obtained by ending the life of the animal itself, something that many people feel guilty about. Faux fur, however, gets treated with harmful chemicals and synthetic is used to create it, a material not friendly to the environment, No matter what you choose, fur will always be a luxury detail. It can be short, long, dense, in the shape of pom-poms, and it's easily bleached so it can be colored in every hue imaginable!
Expert Interviews & Opinions
Most Important Criteria
(According to our experts opinion)
Experts Opinion
Editors Opinion
Users Opinion
By Default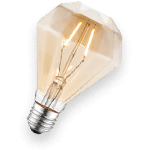 Ethically Sourcing
If you're unsure about the ethics behind the company's sourcing, feel free to give them a call or e-mail. They'll be able to tell you, point-blank, where they are sourcing their materials from and whether or not they're cruelty-free.
Spice It Up!
If you're not sure where to wear these... why not just around the house? I personally love wearing a cute, silk housecoat with a pair of feathery heels while I'm doing my make-up. You might be plain-jane in the office, but there's no reason not to be a diva in the morning!
Other Factors to Consider


Bottom Line
You might think that these shoes are pricey, and that is true in some cases, but we hope we proved that not all of them are. As you may have noticed, they are making rounds in the fashion world, and not one season can be seen without at least one item of clothing adorned with such a detail. Improve your style with these options we have here, and you can change up both your formal and casual outfits! No matter what you may have chosen, we are sure you will be very pleased!
Frequently Asked Questions
q:

Are these shoes hard to take care for?

a:

Just like with any type of hair, you should take the proper steps to take good care of it. Your shoes will attract dirt, and it will get stuck between the fibers. So, read the details about the shoe carefully, and discover which type of fibers are used in the fluff.
q:

So, how do you clean them?

a:

Natural fur and feathers are sensitive, so you should use mild soaps and damp cloths to remove the dirt, and be sure to dry it instantly. You can also use a soft bristle brush to remove built-up dirt, making the fluff clean again. If its synthetic though, cleaning will be easier, you just have to make sure to be gentle so as to not rip it out of the shoes!
q:

Can I find cheap shoes like these?

a:

You might think that this footwear is pricey, and you would be right in some cases. If they come from a famous fashion designer, or if exotic fur and feathers are used, the price tag will be hefty. But, if you wish to be in style and keep your wallet thick at the same time, opt out for man-made variants.
q:

Why are man-made options less expensive?

a:

These require fewer sources to be made and are not harvested from animals, which all require care and money to keep the fluff good looking. Just head out to your local shoe store, or check online stores and we are sure you will find some cheap ones!
q:

Are these appropriate for an office setting?

a:

Generally speaking, no. This selection we've lined up today are all pretty much for fun nights out, casual parties, or other laid-back situations. They can be a little out there for professional places of business.