Best eS Shoes For Skate Style In The Streets Reviewed
last updated
Jun 25, 2019
This is one of the first skateboarding shoe brands. It released a pro-line in 1995 and ever since its inception it has been a brand that has taken the advice of legendary skateboarders like Tom Penny & created some of the best shoes on the market. The Accel changed the game, introducing into the market a tough alternative to the products available at the time. The Sal 23 was released the same year, being the antithesis of what was the standard skateboarding foot gear available at the time. The innovative sleek design, gripping bottom, and tough suede exterior became an instant hit with skateboarders.
This is the best product on our list that is currently in stock: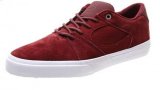 Square Three
Why is it better?
Durable Suede Upper
300 NBS Outsole
Ankle Mobility
Vulcanized Construction
In a
Hurry? Editors choice: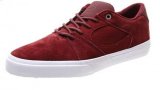 Test Winner: Square Three

20
Researched Sources
4991
Reviews Considered
5
Hours Researching
10
Products Evaluated
Motion Control
Protection
Breathability
Durability
Overall Fit
By Default
Top 10 Picks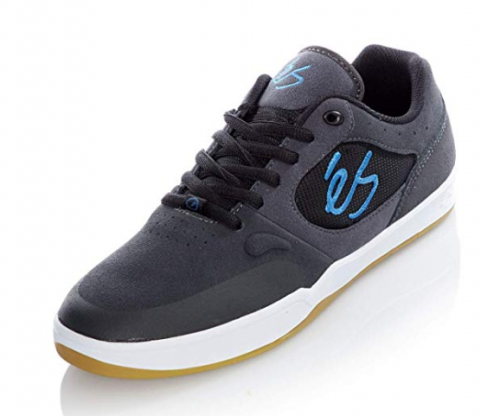 Hidden Lace Loops
Tongue Stabilizers
200% Energy Return
The Swift 1.5 pulls together in an elegant fashion a modern, sleek aesthetic and classic functionality. The logo is prominent on the mid- overlay and gum bottom created a pulled together branded look. How an item looks comes secondary to how it performs, however. Aesthetic appeal is the icing on the cake but with an increasingly connected world, it has become of more importance. The toe-cap of this item is made from an abrasion resistant material called thermothane. This item features a strategic mix of new and old materials for an item that delivers on style and durability.
Security is something every performance item needs to have as a safety measure. One unique aspect of this product is the strong yet elastic lycra tongue straps. These work to keep the tongue of the footwear in place even during dynamic movement. The seamless lace eyelets add a unique touch but would be stronger if they were reinforced. When the lace eyelets aren't reinforced the lace holes are prone to ripping faster.
Another exciting aspect is the energy return insoles. During regular daily life, it's more important to have an item that absorbs shock but products that return energy as well are very useful as performance wear. Energy return creates a bouncier step and gives more energy to every movement. Mesh isn't always used in these kinds of products but when it is used it's alleviating to the wearer. Many of the materials traditionally used in skateboarding apparel don't offer a lot of breathability. The mesh is placed in areas in need of sweat-wicking and airflow.



Firm Tounge Placement
Breathable Mesh Accents
Firm Flexible Bottom
Sleek Aesthetic
In recent times the style of performance attire has changed drastically. The Accel Slim is a modern spin and a classic style. The Accell has been a best seller since its inception and creating a slim version is ingenious as a simple way to modernize a classic. Some of the newest features also increase durability, optimal egg-crate design for increased shock absorption and foot feel. This is a great option for enthusiasts that enjoy a stylish item that is breathable and sturdy.
The egg crate design allows the foot to firmly fit into the footgear for easy mobility and it fits like a second skin. Usually, when this midsole is used it creates a bulkier shoe. Thanks to modern technology an item can offer the same security while keeping a slim sleek aesthetic. This item not only has the uncommon ability to wick sweat but it also offers an uncommon comfort. This item is designed to encase the foot for superior board feel and shock absorption.
The padding around the collar and tongue are interesting. While other brands will make the tongue and collar with extra padding on this item the padding is minimal. The tongue was made with a breathable mesh instead of extra padding and stays in place with strong lycra spandex straps. This minimizes any undue movement during intense tricks or competitions while allowing some give for flexibility. The bottom of this item is typical for this brand being 400 NBS rated rubber outsole, which provides flexibility and killer grip.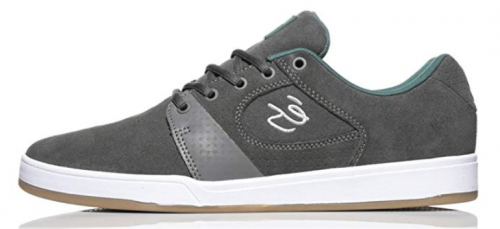 Secure Tounge Stabilizer
Double Stitched Outsole
Hardy Shock Absorption
A product like this is hard to get your hands on, it's a re-release of the original design. In the spring 2005 collection, this product was unveiled and raved about. This item is fitted with groundbreaking technology that changed the nature of sportswear going forward. This design was specifically created to absorb an incredible amount of shock. This protective measure helped to reduce injury and introduce an uncommon amount of comfort to this specific industry.
This brand works tirelessly to constantly deliver products that exceed standards. The Accelerate was one of those expertly crafted constructions. This product is designed to handle impact in three layers. The full-length gel midsole minimizes the force of impact at the gel and ball of the foot. When combined with the dual cushioning and airbag technology this easily becomes one of the most comfortable and protective items on the market. Other features elevate this product further, offering a lycra tongue stabilizer, side vamps for extra ventilation, and double stitched the bottom to ensure longevity.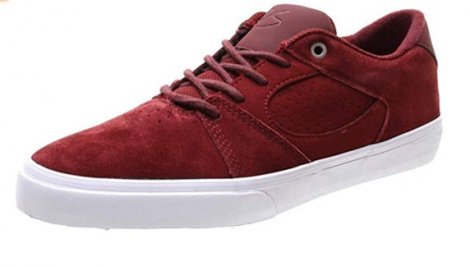 Durable Suede Upper
300 NBS Outsole
Ankle Mobility
Vulcanized Construction
Inspired by predecessors the Square One and Two, the Three embodies all the great aspects of the older models with newer flair and function. Vulcanized construction keeps this pair durable for wear and tear on the board and off. Elastic tongue straps help keep a snug fit, and a clean toe keeps a sharp look as well as function for flips and flicks.
Rubber sole allows for proper traction and grip, while STI energy foam insole gives you plush cushioned comfort. And, to help prevent blisters, a micro fleece panel resides at the inner heel, preventing any irritation from movement.
Low top design allows for ankle flexibility and gives the shoe a great clean design for casual, non-sport wear. Hidden lace loops add to the look, presenting a simple sleek design when paired with suede uppers. With plenty of color options available, you can find one to suit your style on the board or when just hanging with friends.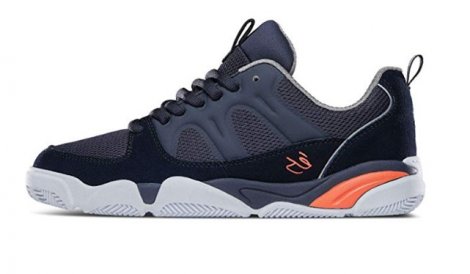 Hi Top Ankle Stability
Breathable Mesh Interlay
400 NBS Rubber Outsole
Pull Tabs On Heel And Tongue
This pair of eS kicks keep a lightweight feel with more on trend look and flair. Don't let its great looks fool you though! This pair keeps function inside of style, with energy foam midsole, and 400NBS rubber on the outsole for grip and traction. Mesh upper keeps them super light for a great airy on-foot feel.
Thermothane quarter panels helps keep these shoes sealed and durable for whatever punishment you throw at them on or off the board. Herringbone pattern gives the Silo a bit more fashion and style, while it's sturdy thick outsole gives shock absorption like no other.
Mesh interlay in the upper allows for proper breathability, and the pull tabs on both the heel and tongue let you get the best fit possible for riding or tricking. The Silo is the prefect mix between on trend fashion with functional build!
6

. Swift Everstitch Skate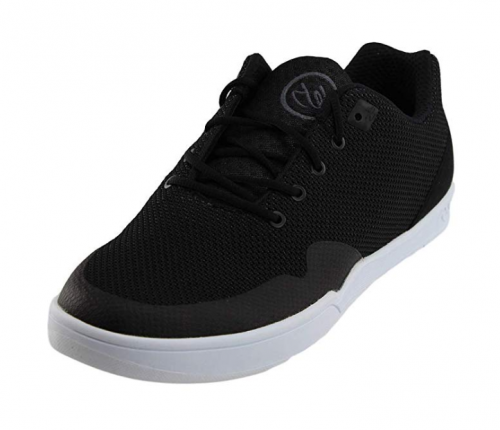 Vegan-Friendly
Natural Rubber Bottom
Knitted Mesh Exterior
Metal Lace Holes
The knitted footwear trend is not going anywhere. This breathable yet durable trend has finally made its way into performance outerwear. The exterior of this product has a knitted aesthetic made of mesh. Mesh is very breathable and has the ability to dry sweaty feet quickly. One unique feature of this product that can not be overlooked is the fact that this item is vegan. Many customers have become more aware of what their clothing is created with and this has lead to a rise in designs that care. Engineering a hardy vegan item is difficult and the attention to detail is fascinating.
The free-flowing nature of this attire is commendable. A mesh exterior allows more breathability than traditional skateboarding attire. The mesh is knitted for durability and the synthetic overlay on the heel area add extra protection against premature wear. The toe area is reinforced with an STI thermothane coating, this technology was developed by this company. It is a thin rubber-like material that protects against abrasion in high-stress environments.
This product was designed for the foot to stay firmly in place and the added metal rings in the lace holes are particularly intriguing. This feature protects the material from ripping in important lacing areas. This increases the security of this item. The interior was designed so that the foot sinks a bit to really mold to the product. This creates minimal movement for maximum confidence when executing a tricky move.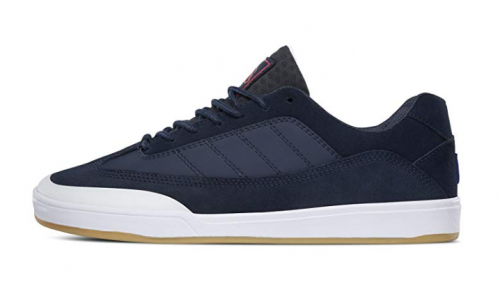 Innovative Abrasion Protection
Multiple Durable Overlays
Secure Molded Tounge
Classics die hard, once a great product is immortalized, releases are anticipated eagerly. The Sal 97' was the third creation from renowned shoe designer and legendary skateboarder Sal Barbier. He spearheaded many innovative changes within the performance shoe industry. Many of which are used widely today. His vision brought the brand to the forefront of skateboarding shoewear in the 90s. This classic has been modernized in the spirit of innovation and got-to-have-it style this item has been known for since its birth.
This product protects the foot with a wrap around insulated construction that isn't overly bulky. This item has a lightly cushioned mesh tongue to allow for some airflow. The open cell foam that lines the interior of this item provides heavenly cushioning that molds to the foot to increase board control. The bottom is made from bendable and durable rubber, offering a confident grip when skateboarding.
The control this item offers is due to a number of features and one major feature is the centralized foot wrap. This offers extra stability where it's needed to ensure safety when executing new tricks. Not only is this footgear indulgently comfortable but also offers a number of features that offer a very secure in-step.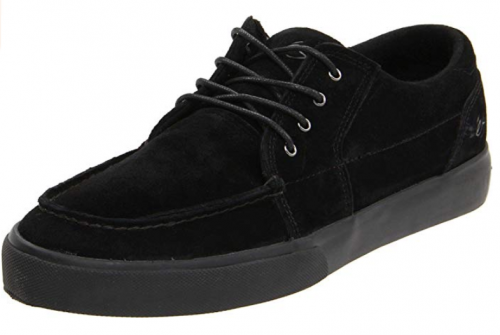 Tough Vulcanized Rubber
Mocassin Inspired Toe
Flat Lay Laces
Plush Collar/Tounge
Those who are enthusiasts and want to be ready to shred on a board even after a relaxing gathering with friends will love this sporty loafer. This creative architecture is classy and casual concealing its true sportswear nature. This product tends to sell out very fast since it has a one of a kind design. Moccasin-inspired, this apparel offers durability in a reinforced heel overlay and hardy stitching. This is a one-of-a-kind product that offers comfort that is uncommon.
Leather or suede are luxurious materials and when used for the exterior either will create a flexible product. The flat laces and metal reinforced lace holes make this product more lasting than other comfort wear. The one thing this item is not lacking in style, this is an understated classy product that becomes a fast favorite quickly. The vulcanized rubber on the bottom of the shoe makes is product grippy and very strong. The outsole and midsole will not separate even after many uses. In terms of comfort, the collar and tongue of this item are lightly padded to provide an all-around plush feel.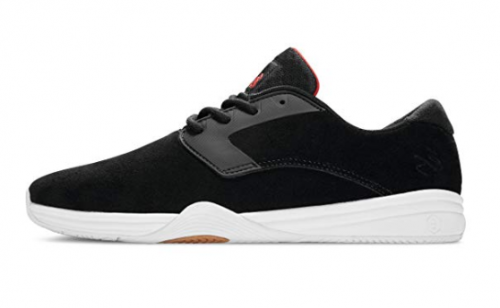 Modern Aesthetic
Firm Interior
Abrasion Resistant Exterior
Shock Absorption/ Return
The sense is updated skateboarding apparel that enjoyed a limited release in 2017. This quickly became a favorite due to its modern look and timeless efficiency. The modern item uses a lot of tried and true features that have been established by this company. The modern aesthetic of this item creates a product that isn't too bulky or too slim creating a strikingly appealing appearance. The mix of fabric and leather creates a product that uses clean lines and lightweight materials for ease while using.
Aside from comfort when choosing performance gear it's important to have an interior that keeps feet in place. The interior of this particular item is kept in place by using open cell STI foam. Which aides in shock absorption and molds to the shape of the foot. The overlays are minimal but thermothane is used for abrasion resistance. The centralized footwrap compresses just the right areas for a firm fit and better board control. The outsole is the brand's signature 400NBS rubber that is balanced in terms of flexibility and reliable grip. Products like these sell out fast but are worth the purchase.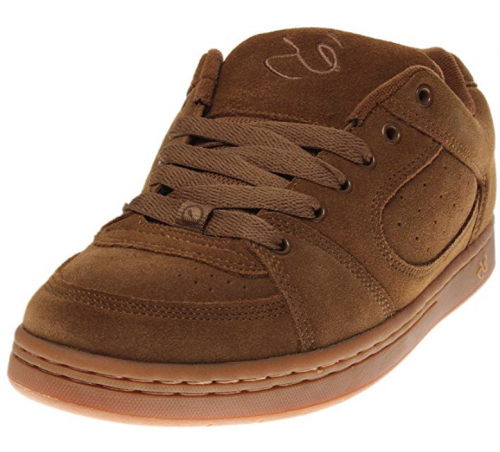 Gripping Flexible Outsole
Shock Absorbing Interior
Hardy Stitching
Maximum Board Control
Accel's are one of the most respected items in the performance footwear world. The Og takes some modern innovations and mashes them up with this classic design to produce a good fitting, rugged product. The exterior is full suede or suede mixed with some synthetic materials, having extra overlays to increase durability in high wear areas. Since suede isn't typically known for allowing airflow, it's important that this particular item is fitted with some perforated detailing. This was accomplished by adding this kind of alleviating detailing strategically in a side quarter panel. This increases airflow without sacrificing the rugged detailing required for performance wear.
The foot-feel this style offers is one of a kind. The design is reminiscent of the popular 90's egg-crate shoe. A benefit to this design is the product actually encases the foot and absorbs shock effectively. The stitching around the bottom of this item is visible and will undoubtedly increase durability for a sole that doesn't separate after just a few uses.
The bottom of skate-inspired shoes is very important for performance-wear because this particular product will need to grip more than other items. Gum rubber is used on the bottom and has a rating of 400 NBS. This rating is for the density of the rubber and 400 hits a sweet spot because of its ability to grip and to remain flexible without cracking. The interior is plush and absorbs shock for those times when a board could come down hard after a trick.
Criteria Used for Evaluation


Motion Control
A sport that is based on balance requires an item that can increase motion control. Board-feel, flexibility, security, and grip come together to create balance. Features like a wraparound midsole and interior cushioning that molds to the foot are excellent additions. These kinds of features ensure the foot is firmly in place even when landing difficult moves. There are even certain products that will have an inner neoprene sock to further ensure a firm fit.
Special or particularly innovative design elements will be noted when choosing an accurate score for each item. Another aspect to consider when evaluating motion control will be the traction footwear is fitted with. When choosing performance wear for more extreme sports it's important the bottom provides a flexible yet strong grip. The bottom should almost be sticky when against the top of a board. This will give the rider greater control. That along with a molded interior ensure the foot is in a stable position. Using a combination of features or defining elements will be evaluated and based on those an accurate score will be assessed.


Protection
High-impact sports typically cause a lot of wear and tear for gear. Items that have effective features that have abrasion resistance, extra overlays, toe and heel protection are typically in high demand. These kinds of products give the serious rider what they need to perform at the top of their game. Since this sport typically wears out shoes very quickly, protecting against premature wear and tear is imperative.
Extra overlays and leather accents help to ensure holes don't form even after the toughest sessions. When an item is fitted with extra toe and heel protection it ensures the product will protect key areas of the foot from injury as well. When landing hard after tricks repeatedly it can cause a lot of pain long term in joints. The body is not made to endure that type of shock to joints. This is why having a full-length gel midsole and other elements that protect joints by absorbing and returning shock. Shock return has the added benefit of making movements more powerful without having to use extra energy on every move.


Breathability
Many skate shoes are very oppressive and after hours of practicing feet can become unbearably sweaty. This can cause athletes foot and chronic bad foot odor. This can over time make practicing difficult. This is why an item that helps to circulate airflow and keep feet dry is so valuable. If mesh or other materials are not reinforced and made to be durable they won't be as durable for performance wear.
Items that sacrifice strength for ventilation are not as good as a performance item. Incorporating proper vamps, perforation or reinforced mesh accents will ensure the strength and air-flow. These mechanisms are imperative for an item that will undoubtedly be a favorite for those who want rugged attire that will circulate air properly and cool feet. Each item will be rated for its ability to ensure breathability without sacrificing durability.


Overall Fit
There is nothing more hilarious then a shoe falling off during a kick-flip. Friends will undoubtedly laugh and the video will most likely be posted all over social media. That doesn't mean however these kinds of occurrences are safe. It's better to go with an item that has a secure fit even if it costs a little more because it can be trusted when things get intense. Lacing should be designed to be abrasion resistant and lace holes should be reinforced to ensure they don't rip with repeated use.
The interior of the design should be comfortable and offer a molded secure feel. Feet should never move around but also don't need to feel overly tight. The right interior will be a firm secure fit. These kinds of advanced features will ensure every feature is used correctly and foot control is established for security and board feel.


Durability
When a skating apparel falls apart after a few uses it can be disheartening. Those who need reliable performance-wear can't afford to constantly have to purchase new items, especially before a big event or competition. While many seasoned skateboarders are aware they will need to replace their footgear fairly often, no item should fall apart after just a few uses. Traditionally extra suede material will be placed over high wear areas like the heel and toe area of apparel. This extra material is called overlays and it ensures holes don't wear into the exterior of a product prematurely.
The quality of stitching on an item is a trait many buyers overlook. When the stitching is clearly present on the rubber bottom of a shoe it ensures a more durable attachment between the material upper and typically rubber base. This will keep the bottom from separating prematurely. Double stitching can typically be seen in the toe area for an extra tough product. The bottom of an item should be fitted with a durable rubber that doesn't wear easily. These features will be the criteria when rating various products to ensure the item is something customers can put their trust into.
Expert Interviews & Opinions
Most Important Criteria
(According to our experts opinion)
Experts Opinion
Editors Opinion
Users Opinion
By Default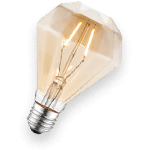 Did You Know?
Skateboarding originated in sunny California. It's just another reason to love this state that sets the stage for fashion and pop culture worldwide!
The Name To Know
Although many think about Tony Hawk when skateboarding comes up, Rodney Mullen is really who you should be thinking of. He's the man responsible, essentially, for skateboarding becoming an actual sport.
Other Factors to Consider


Bottom Line
Sports-wear is an ever-evolving industry and extreme sports like skateboarding and demanding and have been on the cutting edge of breakthroughs in technology. It wasn't long ago that the sport was done completely barefoot and since the early 90s technology has been accommodating the protection of feet from harmful scrapes and bumps. This is one of the first and most trusted brands to provide superior apparel for a culture that is ever growing. Safety is the first priority when doing sports that are extreme. Design elements come together to create a safe, secure and stylish item. Every product must be durable, offer traction, have a firm fit for maximum board control and safety.
Frequently Asked Questions
q:

How can I be sure my lace holes won't rip prematurely?

a:

Even if lace holes are seamless they should be reinforced by using leather or using metal rings to ensure longevity.
q:

How can I make sure that the bottom of my shoe has enough traction when I'm riding?

a:

The bottom of a skate shoe should be made with no less than 400 NBS rubber or vulcanized rubber. This makes the rubber more "sticky" for lack of a better word and ensures it will grip the board more effectively. This rating also ensures the rubber doesn't lose its flexibility.
q:

How can I be sure my product will be comfortable?

a:

Most of these kinds of apparel don't offer a ton of arch support due to the nature of the sport. They do, however, offer a lot of cushioning typically. When you first wear an item it should mold to the foot and allow it to sink in a bit for security. The extra cushioning will offer some shock absorbing abilities as well, which is a necessity for protecting joints.
q:

What items will offer the most longevity?

a:

Products that feature abrasion resistant materials and extra overlays will offer more durability. Visible stitching around the rubber area of the shoe offers more strength as well. The rubber on the bottom needs to be strong enough to handle a lot of wear and tear without cracking as well.