Best Antiperspirants and Deodorants for Women Reviewed
last updated:
Aug 23, 2019
Deodorants for women offer a way to maintain good hygiene and boost self-esteem. They also help reduce the wet, clammy feeling that sweat brings as well as eliminate the bacteria that cause bad odor.
Deodorants keep you fresh, provide an additional confidence boost, and reduce the stress that comes with bad odor. They come in many brands, sizes, and formulations; as well as in many forms from crystals to gels.
The following are some of the best deodorants for women in the market. There is also a handy buyer's guide to help you find what best fits your needs.
In a Hurry? The test winner after 9 hrs of research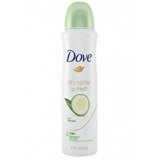 Dove Bar Cool Essentials
Why is it better?
Gentle on skin
Mild Scent
Dries quickly
In a
Hurry? Editors choice: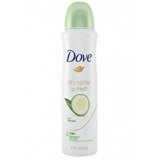 Test Winner: Dove Bar Cool Essentials

5
Researched Sources
25000
Reviews Considered
9
Hours Researching
10
Products Evaluated
Application
Effectiveness
Product Purity
Side Effects
Features
By Default
Best Female Deodorants and Antiperspirants
1

. Dove Bar Cool Essentials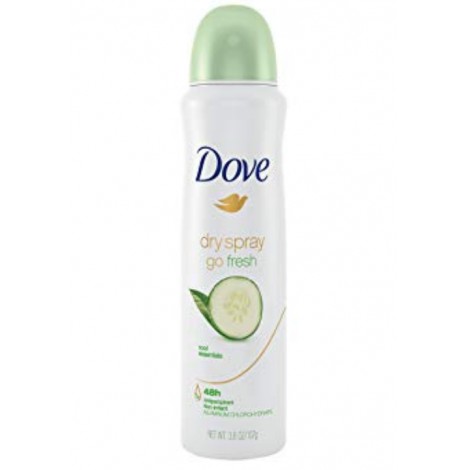 Gentle on skin
Mild Scent
Dries quickly
Unsuitable for heavy workdays
Dove dry spray is a deodorant for women that provides up to 48 hours underarm wetness protection and freshness. It comes in a sleek bottle that's easy to store. Its formulation consists of 25% moisturizers that nourish the skin and a mild cucumber and green tea scent that keeps you fresh and rejuvenated all day.
Dove's dry spray also offers excellent underarm skincare and helps in recovery from the sensitivity caused by shaving. The formulation of this deodorant for women is wet when applied, but it dries quickly. It doesn't cake up or leave white stains on dark clothes.
For the best results, apply immediately after showering, ensure your underarms are dry and cooled if possible. Shake the can to mix the formulation evenly. Then, hold the canister about 6 inches away from your underarm, give it a generous spritz for about 2 seconds, which should sort you out for the day.
Another significant aspect of this deodorant for women is the fact that it works as an antiperspirant as well. If you have a lower preference for cucumber and green tea, you can also get it in other sophisticated scents with sparkling floral, amber musk and sandalwood notes. Always take in reading the directions, safety warnings, expiry date, and any additional information printed off the canister for the best use and personal safety.
2

. Secret Scent Expressions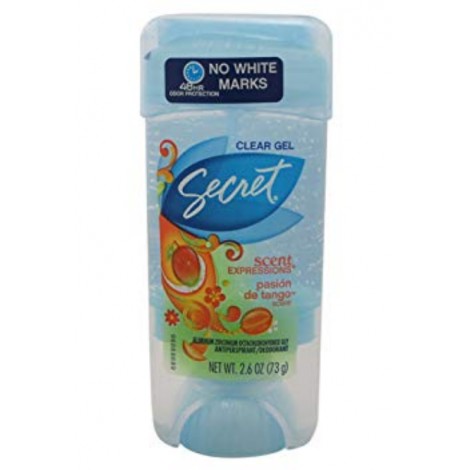 All skin-types safe
Clear gel formulation
Long lasting
Contains propylene glycol
Secret scent expressions antiperspirant and deodorant for women comes in a clear gel in an easy to use package. The clinical strength formulation of Secret scent has a mess-free consistent gel that makes it easy to apply. Secret perfume does not stain clothing, works great on all skin types, and dries quickly.
Secret scent comes in exciting smells with hints of cocoa butter, sweet coconut, lavender, rose floral, green pear, and more aroma cues fit for you- especially if you have particular sinus issues. You also get to enjoy a wider variety of scents for any day of the week. Secret scent deodorant for women also comes in a twin pack giving you more freshness for a long time and a lower cost.
The formulation also does not flake, stain, or clump up. This means that your underarm will be free of the uncomfortable feeling, which is common in most antiperspirants for women in the market. A pack of secret scent is guaranteed to last you from two to six weeks. You will also get 48 hours of odor and wetness protection.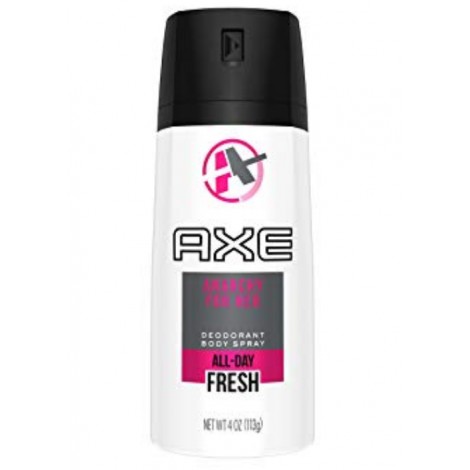 Energizing scent
Sturdy canister
Travel-friendly
AXE Anarchy for her is a new deodorant for women from a product line that has specialized in Men's spray for the longest time. Anarchy for her has a soothing fragrance that lasts and protects you all day long. It comes in a hygienic canister with metal, pink, white and shades of black, making it look very stylish in your make up station and bag.
The female deodorant has an invisible liquid formulation that is colorless and evaporates on contact. This fast action cools you, provides freshness, and doesn't build up to stain your clothing. Unlike many body sprays, Anarchy energizes you while preventing any nausea, headaches, or irritation.
The canister is also quite sturdy, travel-friendly, and leak proof. If you have light to moderate physical activity, the body spray can last you for up to 12 hours. However, if you have some light daily business, you can rest assured of hints of the scent even the on next day.
AXE Anarchy for her is hassle-free, easy to use, and has a safety cap that prevents any unwanted spurting even when packed in a cramped space. Now you don't have to steal spurts from your significant other's AXE for him product to enjoy the same scent tailored for the feminine touch.
4

. Degree Women UltraClear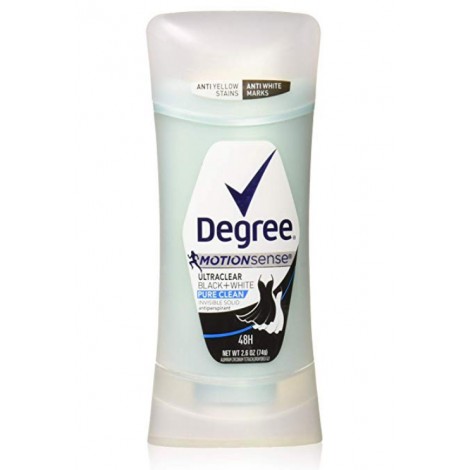 48-hour protection
Available in packs
Welcoming scent
Contains traces of neurotoxins
A major selling point of degree ultra-clear deodorant for women is that it leaves no marks. Degree's ultra-clear black and white formulation has a unique formulation to keep your whites whiter, darks darker, and all your other colored clothes also stay vibrant for longer. It also eliminates those annoying yellow pit stains from your clothing, so you don't ruin your clothing by scrubbing them hard on every wash.
Degree's unique formulation has an innovative motion sensor technology that reacts to the way you move, to release extra freshness. This formulation of this female deodorant and antiperspirant has unique microcapsule, which sits on the surface of your skin for up to 48 hours, eliminating the need to re-apply deodorant every time you sweat. Whether you are hitting the gym, running a marathon, or making a vital presentation to your boss, there's no need to worry about your scent.
When applied to the underarm, it soothes the skin, prevents razor rash, and prevents excessive wetness for longer. You still need to take care in applying, it is recommended for external use only, and that excludes broken skin or anywhere besides the underarm area.
5

. Donna Karan Cashmere Mist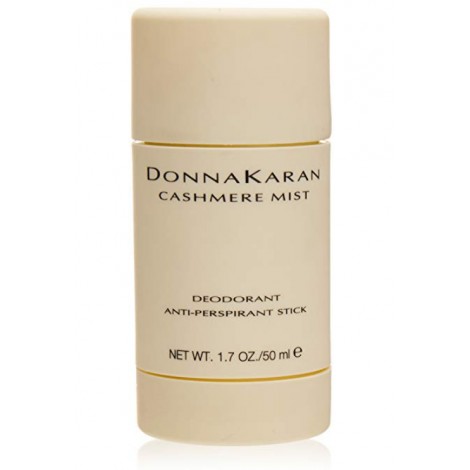 Natural deodorizer
Suits sensitive skin
Wetness control
Donna Karan cashmere mist deodorant for women is a scent for the discerning buyer. Cashmere mist is another in the long line of indulgent luxury antiperspirant and deodorant for women that Donna Karan has provided for years. If you enjoy the perfume version, then you will enjoy the long-lasting effects of this high-end, stick deodorant for women.
The antiperspirant stick's formulation is super effective, yet gentle on the nose and skin. Cashmere mist effectively neutralizes odor, protects you from underarm wetness, and even prevents excessive sweating. Cashmere mist leaves you fresh all day even when you go through strenuous physical activities.
If you find the perfume version too harsh then you'll enjoy the more subtle antiperspirant stick. It has a mild yet fragrant mix of lily of the valley, sandalwood jasmine, and musk. Cashmere mix comes in an easy to use 1.7-ounce applicator that is compact and ideal for traveling.
The price point may be a bit of a splurge for an antiperspirant, but well worth it for a taste of decadent luxury that most consumer female deodorants don't provide. Try it, and you won't be able to stop all the heads turning whenever you pass.
6

. Nivea Invisible Black & White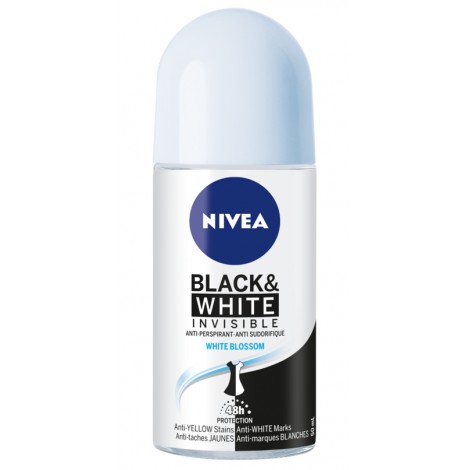 Lightly scented
No white marks
Washes off clothes
Nivea roll-on deodorant for women leaves no white marks on your skin or clothing. It is also the first roll-on to protect against yellowing pit stains on whites, and white deodorant build-up on dark clothing. This effect means that your whites remain white and your darks remain dark for longer.
Nivea's formulation offers up to 48-hour protection and care. This deodorant and antiperspirant for women comes from a well-established super brand. Therefore, you can rest assured of scientifically proven underarm protection, support for any skin tone and a smoother, drier underarm.
One of the best things with Nivea is the manufacturer's production capacity; you will never find and any distributor out of stock. The deodorant for women is also free of alcohol and colorants; this drastically increases the tolerance of the product to people that have unusually sensitive skin.
Nivea female deodorant roll-on comes in an adequate 1.69-ounce bottle and comes in packs of three. This budget pack means that the product will last for quite a while, offering enhanced sweat protection and underarm skincare.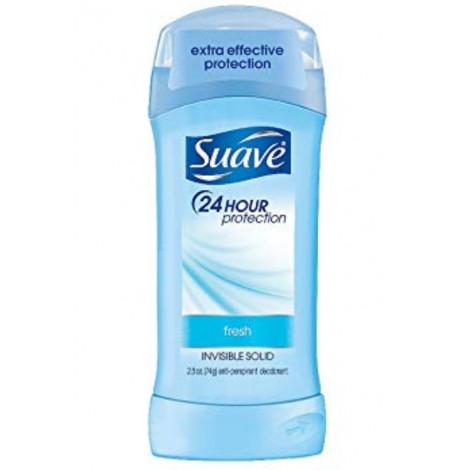 Invisible on application
Sweet feminine scent
Fair price point
Suave shower fresh deodorants for women come in a stick for transparent application. It gives you a fresh scent and wetness protection for up to 2 hours of use. If you have a particular dislike for white streaks on your clothing, you will enjoy the stable invisible formulation that the Suave line of deodorants for women has to offer.
The female deodorants in this collection come in a variety of scents like power, fresh, wild cherry, ocean breeze, tropical paradise, and everlasting sunshine. No matter your taste, there's something for you for whatever occasion, mood, or outfit. With 75 years of professional quality deodorants and other salon products, rest assured of reliable odor protection.
The formulation consists of hydrogenated castor oil for a soft and supple underarm; this protects you from skin sensitivity and any irritation. It also has alcohol that evaporates of application to provide you with extra wetness protection. To apply, pop the cap and glide the stick.
The deodorant's container is also compact, easy to handle, and it fits right in your bag.
8

. Super Natural Goods Underarmed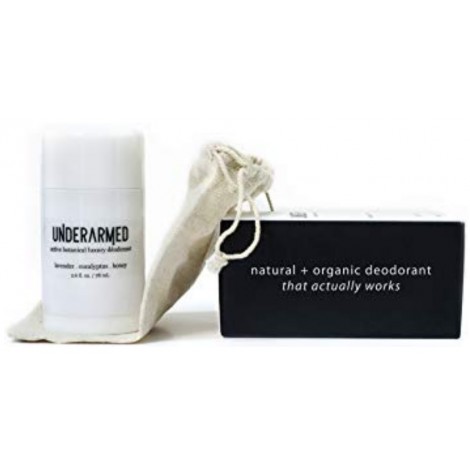 Vegan standard
pH balanced
Zero zirconium content
Ineffective sweat prevention
Underarmed Deodorant for women comes highly rated among all natural antiperspirant. The deodorant for women's formulation is the outcome two years of effort that saw the product go through 200 iterations for a perfect mix, which works for longer. If you have, an aversion to the overpowering perfume smells that many brand varieties offer, then Underarmed is the antiperspirant for you.
Unlike most antiperspirants, undreamed doesn't contain zirconium which clogs your sweat pores. It's also formulated to prevent skin irritation and malodor by balancing your pH levels whenever you sweat. Underarmed meets vegan approval as it contains zero traces of Parabens, phthalates, SLS, and propylene.
It also comes in a PBA-free container, and it is cruelty-free since no animal testing was done during the development of this female deodorant. If you adore a natural smell, then the subtle lavender with avocado and eucalyptus scent will come as a joy for your experience.
It comes in a sleek package that's handy for travel and easy to use.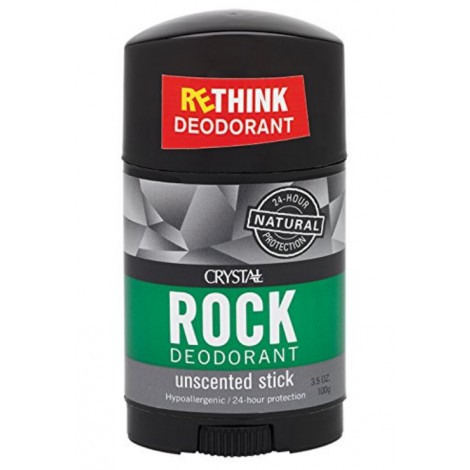 Hypoallergenic
Perfume free
Shatterproof
Ineffective sweat prevention
The crystal Deodorant for women is a piece of salt-based mineral. It is the ideal option for people with extreme allergic reactions to chemicals and perfume smells. It is hypoallergenic, 100% fragrance-free, and contains zero traces of parabens, zirconium, or aluminum.
The natural salts in crystal deodorant for women have antibacterial effects. Adding a small layer of the deodorant for women to the underarm effectively counters malodor. It does this by eliminating the germs that grow on your skin, which cause unpleasant odors. Crystal also encourages you to sweat naturally without blocking your pores: though some people might not like the undertone of natural musk.
Unlike most crystal-based female deodorants, this product doesn't cake up, dissolve, or shatter over time. This sturdiness of form means you can enjoy using it for longer. You also don't have to worry about it disintegrating when you rinse it off after use.
Crystal deodorant for women is applied when you are fresh from the shower. Rub it to your wet underarm skin to transfer a thin film of crystal and rinse off the stick for future use. It also comes in light and travel-friendly container handy for use anywhere you go.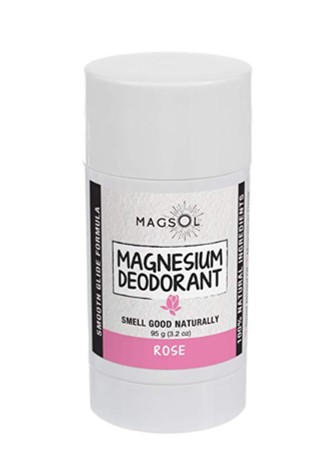 Magnesium Based
Paraben & Aluminum Free
Variety Of Scents
Essential Oils
If you are looking for something made with natural ingredients to help ward off odors and moisture, MagSol Organics has a few wonderful scents to try out. The active ingredient in this deodorant for women is magnesium, but it also includes several other natural ingredients that will help protect against odor, and keep your skin soft and healthy. Check out a few key aspects below that we love about this product, and select a scent you love to try out!
Available in six different scents, you have the option to choose Rose, Sweet Orange, Sandalwood, Jasmin, Lavender, or Lemongrass to help keep you smelling fresh and clean. These scents are made from essential oils of a therapeutic grade, so they aren't overpowering to the sense of smell. It also includes almond oil, all of which help to nourish the skin and keep it moisturized and soft.
MagSol deodorant is also free of aluminum, which can sometimes end up staining clothing, as well as parabens and baking soda, which can dry out the skin. In a simple glide on formula, this deodorant isn't messy when you apply it either. Other natural ingredients include beeswax and magnesium, which can help work to keep you drier and prevent any unwanted odor during the day. It's a great all-natural product to try out!
Criteria Used for Evaluation


Application
Even the best-formulated deodorant for women needs an effective delivery system.
The design of female deodorants factors in the use of the product. The market has various brands, each fitting personal preferences. Before settling on a particular product, it is essential to know all the available options. Some are applied directly to the skin, others to clothes. Each type of deodorant for women also feels different when used. Here are some of the most common designs and methods of use.
Roll-ons spread liquid deodorants when rubbed on to the body; their bottles have a rolling ball at the top. They have a wet and cooling effect when rubbed on to the skin. They dry quickly, have active antibacterial properties, and provide odor protection.
Aerosol deodorants spray on to the body or clothes. They are cold at first but dry with a powdery finish. You can share them with others, as the applicator never comes into contact with the skin.
Gel deodorants consist of thick liquids that are clear once dry. They keep the body fresh and odor free.
Stick deodorants are mostly made of wax, oil, and silicone. They usually leave white marks on clothes and residue on the skin though some are invisible assortments.
Crystal deodorants consist of natural mineral salt formulations. They don't contain harmful chemicals like aluminum zirconium and make the best choice for people with sensitive skin.
Deo-wipes are disposable wipes that come individually packed. Each wipe is suitable for single use. You can keep a few on hand, for those days you forget to apply deodorant in the morning or when you travel.
Solid deodorants are thick, white and powdery but eventually dry when applied. They leave residue on clothes.


Effectiveness
For how long will your deodorant for women keep you fresh?
Every manufacturer uses a different formulation with varying strengths and abilities in keeping you fresh. Some last for 12-hours, while others will keep you smelling great for 48 hours or more. This is the effect of some of the components used in the deodorant.
The amount of physical activity you get in a day also has a direct result on the effectiveness of a deodorant. If you have less physical activity within a day, you don't need to spread a massive amount of deodorant on your skin. However, if you sweat a lot or do a lot of physically engaging activity like sports, you'll need an extra strength deodorant.
Another factor to consider with the effectiveness of deodorants is the scent. When shopping for a deodorant for women, the most significant selling point of most deodorants is their aroma. Deodorants, just like clothing and shoes, can be used as an extension of your personality.
An effective female deodorant or antiperspirant will be useful even when applied sparingly. Having to carry deodorant around to reapply when the smell fades can be cumbersome. Luckily, for you, all the deodorants featured here will last you for at least 12-hours.
Some ingredients also enhance the effectiveness of a deodorant. Some essential oils soothe the skin, especially when there is razor burn or ingrown hairs. The alcohol contained in some products also cools the skin and energizes the user.
An effective deodorant or antiperspirant for women is one that comes without build up and pit stains. When doing your laundry, one annoying aspect of deodorants for women rears its head- pit stains and deodorant build up. These stains make you use powerful detergents and scrub harder; these actions degrade the quality of your clothing.


Product Purity
It is counterproductive to use too much deodorant due to the apparent side effects.
Every women's deodorant can help you with underarm hygiene; some will keep you fresh all day. However, there is just that one specific product which will make people notice you before and after you have entered a room. This scent can enhance your self-confidence in whatever task.
Natural flowery aromas are typical in deodorants for women. Lavender, rose, vanilla, lily of the valley are just some of the naturally extracted essential oils used in deodorants for women. Regardless of personal preferences, there is bound to be a scent that compliments you in every way.
Another aspect of a deodorant's product purity is whether it stains your clothes or not. There are plenty of products features on this review having invisible formulations. These formulations help your white clothing remain white and darks to stay dark because you will scrub them with less effort.
If a female deodorant has a low potency, it may possess a lower product purity. You are well advised to look for an alternative since deodorants are meant to be used as sparingly as possible. Product purity is equal to the alluring quality of a deodorant's scent.
For the best result with deodorant for women is to use it as directed on the packaging. You should also make your selection based on scientific evidence and trusted customer reviews. This precaution will help you avoid disappointment in the end.


Side Effects
Always take heed to safety warnings.
Many beauty products like deodorants for women come with some side effects. Nasty and harmful composite compounds do not bring about these side effects. It is a more subjective matter that is dependent on the sensitivity of a user's skin and pre-existing skin and other health conditions.
Some people violently react to sodium bicarbonate; they experience rashes and irritation in the armpits. If you ever experience such symptoms, stop using the deodorant immediately. Some people have a low tolerance for fragrances due to respiratory conditions like asthma; a scent-free deodorant for women would be ideal for such people.
Use of deodorants without showering and maintaining good general hygiene can be counterproductive and even dangerous. There are some unique cases where microbial agents in the product offset the pH balance of the underarm area. This imbalance may cause increased body odor due to a more sustainable environment for bacterial growth.
Switching from a particular formulation to another may also result in increased amounts of sweat. When you switch from an antiperspirant to a crystal deodorant, your body will require some time to adjust. During this adjustment period, you will experience a lot more sweating than usual, but with time, your body will adapt to this new product.
Most of the women's deodorants in this list have distinctive formulations that meet your needs without irritating, even if you have the most sensitive of skins. There is no standard application dosage for deodorants and antiperspirants. You typically use them as sparingly as possible.
However, you should be keen on the safety and usage instructions that come printed on the packaging. If you experience any adverse or even slight side effects, immediately stop using the product and seek medical attention.


Features
First-rate ingredients make great products.
Antiperspirants and deodorants have several ingredients that help in keeping you fresh. They also have components that make them more intuitive to use and easy to carry. Here are some of the features you need to keep an eye out for when looking for a deodorant.
Aluminum salts are the main active compound in antiperspirants. They effectively cut down the amount of sweat that reaches the skin surfaces when you sweat aluminum chlorohydrates are usually used in roll-ons and aerosols. Solid deodorant for women like gels and stick use aluminum and zirconium.
Aluminum chloride is an active agent; it is used to treat people suffering from excessive sweating (Hyperhidrosis).
Anti-microbial agents: malodor in the underarm area comes from the enzyme action of the bacteria that feed off the salt and body waste products found there. The underarm area has a bacterial population of about 1 million bacteria per square inch. Antimicrobials in deodorants kill the bacteria found on the underarm effectively reducing bad odor.
Aluminum salts and Alcohol are the main antibacterial agents in most deodorants, although some natural products use natural antiseptics like Aloe Vera.
Fragrances and perfumes found in most antiperspirants and deodorants mask bad odor and provide you with a fresh feeling.
Skin conditioners moisturize the underarm and keep it feeling supple. They also help roll-ons glide as you use them on your skin. Most antiperspirants use glycerin or vegetable derived oils with silica as a stabilizing agent, to prevent the formulation from getting too greasy or sticky.
Carrier substance: The formulation of deodorant for women needs to be dissolved and held in a substrate. Water is the most commonly used carrier substance, as it is a universal solvent and adds some fluidity to the deodorant.
Heavier formulations like gels and other solid antiperspirants use compounds like "PEG-8 distearate" because they contain heavier ingredients like glycerol fats and stearyl alcohol, which need to be bound together to keep them from disintegrating.
Parabens are commonly used as a preservative in many beauty products. However, most deodorants have a self-preserving formulation.
Propellant: propane and butane are the most commonly used propellant. When compressed in a can, propellants provide a low, moderate, or high pressure that allows you to spread a thin film of deodorant at the push of the canister top.
Alcohol is present in most roll-ons, gels, and aerosols. The active agents in most deodorants are dissolved in alcohol since it dries quickly. It also gives the skin some cooling effect on contact. Alcohol can dry skin, so if you have mainly dry skin, you may want to avoid products containing more than two percent alcohol content.
Expert Interviews & Opinions
Most Important Criteria
(According to our experts opinion)
Experts Opinion
Editors Opinion
Users Opinion
By Default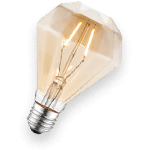 Rock Those Heels
You have that pair of shoes that you have not broken in yet or a pair that has pressure points, which hurt on every wear. Applying some antiperspirant to the affected area can reduce your discomfort. The antiperspirant will act as a barrier between the shoe surface and your skin.
Summer Blues
Bikini lines are red itchy bumps that add some discomfort to your holiday. An unscented deodorant for women can help reduce the strain and chafe that comes with bikinis. Apply a fair amount to the panty line; you won't have to worry about ingrown hairs and razor burn again.
Other Factors to Consider


Bottom Line
Despite what many think, sweating is a sign of good health. It is a way for the body to purge itself of toxins. Swearing also has a cooling effect on the body. The byproducts of sweating are the reason why this natural process doesn't feel hygienic.
When picking the best deodorant for women, the formulation, delivery method, scent, and general effectiveness should act as your guiding principles. Some deodorant formulations have natural components, which effectively provide freshness and other benefits to a deodorant.
Others depend on aluminum-based salts to plug the sweat duct while allowing the body to purge waste products through sweating. They solidify the sweat into an invisible gel. It is important to note that the brands featured on this list won't inhibit the vital sweating and thermoregulation function of the sweat duct.
Crystal based deodorants have the lowest rate of irritation. However, they don't adequately deal with excessive sweating, and a hint of your natural musk can still be felt. You can use them together with your favorite perfume for a pleasant scent.
Naturally, derived scents provide you with a great scent that can be used in giving you an identity and an enhanced presence. There isn't a formula you can use to identify your signature perfume scent; it all goes down to what you like or what works best for you.
For those with particularly sensitive skin, a brand featuring natural oils can be the best option for you. However, if you experience discomfort, an allergic reaction or irritation, it is best to seize usage immediately. You might also want to consult a doctor for advice on what you should use.
Frequently Asked Questions
q:

How do antiperspirants differ from deodorants?

a:

Deodorants are products that eliminate bad odor from your underarm. It masks or neutralizes the smells produced by the enzyme action of bacteria in your underarm. They give you a great scent, but they don't prevent sweating.

Antiperspirants make you smell fresh while actively blocking or clogging the sweat pores. This action prevents excessive underarm wetness and the sticky feeling you might get in your underarm area. Antiperspirants are ideal for people whose significant concerns include pit stains and excessive sweating.
q:

Can a woman use a deodorant made for men?

a:

Men may sweat more and at lower temperatures than women. However, studies show that the salt and water content of sweat remains the same across genders. Therefore, the only difference between deodorant for women and men is the scent.

It the past unisex deodorants accounted for a fair share of the market. Creative marketing campaigns have pushed the differences between deodorants to take a more significant percentage of the market. Otherwise, there isn't much of deodorant for women or one made for men.
q:

How does a women's deodorant work?

a:

When a deodorant for women is exposed to the underarm skin surface, the components (usually aluminum salts) dissolve in the sweat. The gel formed in this process temporarily plugs up the sweat pores on top of the skin. This gelling significantly reduces the amount of sweat secretion; the gel formed also has antibacterial properties and a perfume that keeps you smelling fresh.
Once you take a bath, the deodorant or antiperspirant is effectively washed off the skin. You will need to reapply the antiperspirant to help you stay fresh and to reduce the amount of sweating. Deodorants are effective in reducing sweat without affecting your body's capacity to control its temperature.
q:

Aside from the underarm, where else can you use deodorants?

a:

Aside from areas with mucosa membrane like the mouth, genital openings or eyes and anywhere with broken skin, you can use deodorants in a veritable range of places. Applying some on your face can help dying out zits as well as curbing a breakout. An antiperspirant with an invisible formulation can be applied to the neck and hairline to reduce sweating; it is a trick used by many performers.

Applying a little antiperspirant to your inner thighs can reduce the chafing experienced when you walk in shorts during the summer. A light spritz of spray-on deodorant for women can help reduce the amount of sweat than pulls behind the knees when cycling. A light spritzing of deodorant for women to your breasts can prevent too much sweat from pulling around the area, especially in the summer.
q:

Are deodorants for women that contain aluminum dangerous?

a:

The aluminum present in most deodorants doesn't wholly hinder your body's natural ability to produce sweat. Instead, it solidifies the sweat into a gel and prevents excess sweat from reaching the skin surface — other components of the antiperspirant act in neutralizing bacteria and making the smell.

There are scientific publications, popular blogs, and websites that link aluminum compounds to breast cancer, kidney disease, and early-onset Alzheimer's disease. However, relevant bodies like the FDA, American Cancer Society, National kidney center, and American Cancer Society haven't found conclusive evidence to support these claims. There are many aluminum-free deodorants in this list and the market.