Best Men's Deodorant Reviews
last updated:
Sep 18, 2019
Sweat is your body's natural way of cooling itself, and in most places on your body sweat is odorless. However, certain area, like the underarms, can harbor odors during stress or workouts. To fight off odor, you'll need the best deodorant for men to protect you.
Using an effective deodorant for men is a great way to tame the funk. Deodorants have come under fire as being something that is unhealthy to put on your skin. However, if you select the right one for your needs, there is no reason that you need to fear body odor ever again.
In this guide, we have compiled a detailed list for you so you can find the best antiperspirant or deodorant for men that is safe to use and works best with a man's body chemistry.
In a Hurry? The test winner after 16 hrs of research

Art of Sport
Why is it better?
Clear gel stick
No aluminum
Fresh scent
In a
Hurry? Editors choice:

Test Winner: Art of Sport

2
Researched Sources
10
Reviews Considered
6
Hours Researching
10
Products Evaluated
Effectiveness
Product Purity
Application
Features
Side Effects
By Default
Top Rated Male Deodorants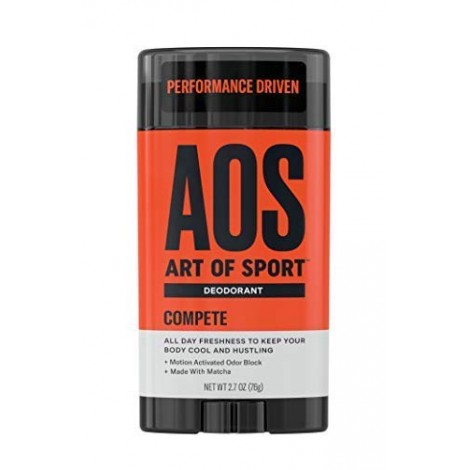 Clear gel stick
No aluminum
Fresh scent
This is our favorite brand of deodorant for men currently out on the market for a few reasons. First of all, it is made for men on the move. This means that no matter how hard you sweat on your long-distance runs in the middle of summer, this brand is designed to keep up with you. Plus, it is made from all-natural ingredients and botanicals that you will feel good about putting on your skin.
The most important thing to note about AOS is that it is made without the use of aluminum. Aluminum salts cause the pores in your armpits to close down altogether, which can actually make you smell worse over time! This formula has also been dermatologist tested to be safe even for sensitive skin, and it does not contain parabens.
Another thing that we really liked about this stick is that it is a clear gel. It glides onto your armpits clean, and won't leave those embarrassing white marks on your clothing when you change clothes in the locker room. It uses matcha and arrowroot botanicals to deliver a fresh scent while soothing your skin.
If you are in the market for something that is made to work all day long but doesn't use harsh chemicals, AOS is worth a look. This gentle formula of this men's deodorant will not clog your pores, and it is a perfect solution for those with sensitive skin. Plus, it can keep up with you even when you really start to build up a sweat on the treadmill!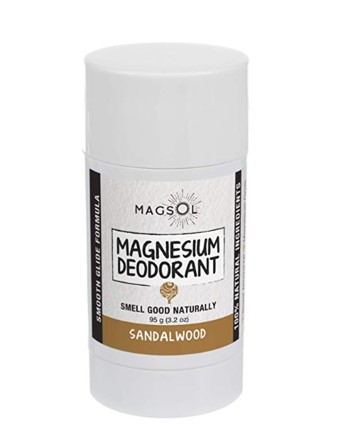 Magnesium Based
Scent Options
Easy Application
Cruelty-Free Product
Aluminum-Free
Frequent Application Needed
Do Not Shave When Wearing
This deodorant from MagSol Organics is another great option that's aluminum free. It comes in several different scents including a wonderful sandalwood scent, gentle to the nose, but tough on wetness and kind to sensitive skins. And while some other all natural deodorants include baking soda, which does help keep you dry, this deodorant for men utilizes magnesium instead. It's worth a look if you're searching for an all natural product that's cruelty free.
Available in six different scents, you can select from rose, lavender, sandalwood, lemongrass, jasmin, or sweet orange to help keep you smelling fresh without overpowering those around you. This deodorant does not contain baking soda, parabens, aluminum, or phthalate, but instead is concocted with all natural ingredients to fight wetness and odor. You'll find almond oil, magnesium oxide, beeswax, and essential oils in this product only.
With a simple twist of the bottom, you can gentle slide this deodorant to your underarms. MagSol also is a brand that believes in keeping animal testing out of their product line, so you can feel good about using a deodorant that's cruelty free. Available in a 3.2 ounce solid stick, this natural, magnesium enriched product is definitely worth a shot! Grab your favorite scent, test it out, and fight wetness and odor with a natural product.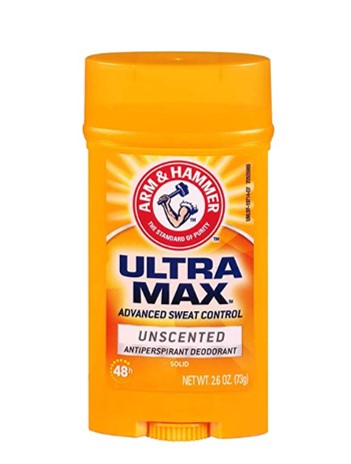 No Added Fragrance
Trusted Name Brand
Effective Against Wetness
Budget Friendly
Not Effective Against Odor
Most people are familiar with the Arm & Hammer brand of health products. They make not only deodorants and antiperspirants, but also laundry detergents, cleaners, baking soda, and cat litters. They're a well known and trusted brand not just for baking up a quick batch of cookies with their baking soda, but also for helping to keep you and your clothes smelling great. The Ultramax is a roll on antiperspirant designed to help protect you against wetness all day long.
The active ingredient in this antiperspirant from Arm & Hammer is aluminum, known for keeping moisture and wetness at bay, even when you are under stress or hitting the gym hard. What we love about this product though is that fact no fragrance is added, so for those that prefer unscented options that don't overpower those around them, it's perfect.
The Ultramax antiperspirant comes in a 2.6 ounce size, similar to most other standard deodorant and antiperspirant products. With its clean unscented smell and wetness-fighting protection, it's great for business professionals or those who work closely with others on a regular basis. Plus, backed by a trusted brand name, you know you'll get a product you can count on!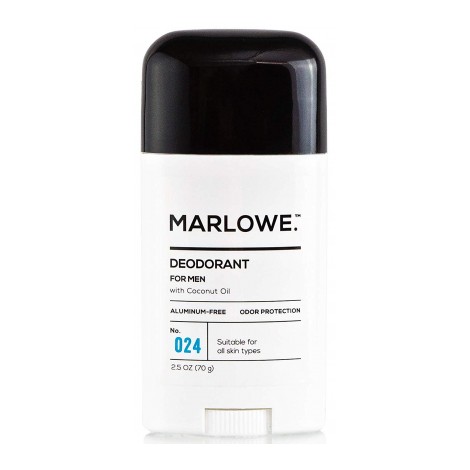 Simple formula
Light scent
Aluminum-free
Contains alcohol
Leaves white marks
Simplicity is the name of the game when it comes to this deodorant for men from MARLOWE. This formula provides you with all of the things than men need to stay cool and dry without using any harsh chemicals that can irritate your skin. If you want something that is light, fresh, and simple- this is one of your better options.
This formula doesn't use parabens or aluminum, and none of the ingredients were ever tests on animals. The main ingredient is arrowroot powder, which works the same way as baking soda at absorbing moisture in an all-natural way. We found that it does contain alcohol, which is great at keeping you dry but it can dry out your skin a little with prolonged use.
This deodorant for men comes in a white stick form that doesn't feel wet when applied under your arm. It can, however, leave white marks on your clothing if you apply too much under your arms.
What we loved about this men's deodorant is that it feels light and fresh, and has a gentle scent that makes you feel fresh but isn't too powerful. The formula is non-toxic, gentle on your skin, and was never tested on animals.
5

. Old Spice High Endurance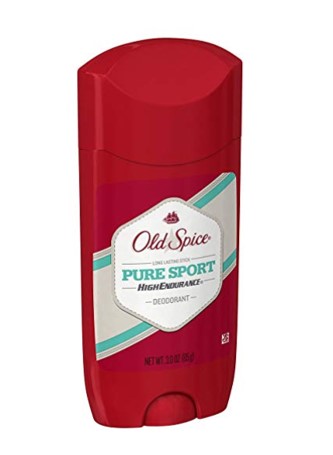 Budget Friendly
Easy Roll On
Light Scent
24 Hour Protection
Manufacturer Changed Formulation
May Cause Skin Irritation
We've all seen the commercials on television or heard on the radio for Old Spice brand products. They make us laugh with the manly absurdity of lightning, shower scenes, and horse riding, but when you get down to it, the brand makes solid products built to do just what they say. They make both antiperspirants and deodorants, so you can select a product right for your needs. Here we've selected their deodorant to include on our list, as it's a bit safer for sensitive skins to keep you smelling fresh!
Old Spice deodorant for men has a few scents to choose from, which aren't overpowering, but clean and crisp. To help you combat any underarm odors, they've included several ingredients known to beat back odor into submission, so you stay fresh. We like their 'Pure Sport' scent, which has a little lemony freshness to its smell, but not overpowering to the senses. Their 'Fresh' scent is a bit lighter, but still as effective at keeping odor away.
The High Endurance version of their deodorant is made to help fight off odors for 24 hours, so that long training session or car drive won't be cause for concern. And while this product doesn't have aluminum to fight against wetness, for those that prefer deodorants to antiperspirants, we love the smells of these. Available in a 3 ounce roll on stick, it's also one of the more budget-friendly options on our list of top antiperspirants and deodorants for men.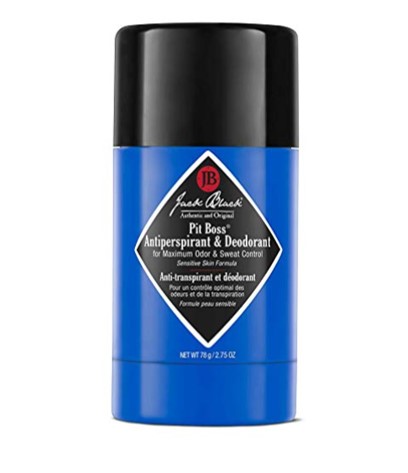 Dermatologist Tested
Surfactant Free
No Artificial Colors
Vitamin E
Roll On Stick
Hard Consistency
Hard To Wash Off
If you've not yet heard of the Jack Black brand of health care products for men, have a look at their Pit Boss deodorant as a start. Most of their products are vegan friendly, as well as cruelty free. They highlight several key ingredients in this deodorant for men that will help keep you dry, skin soft, and confidence boosted. This stick is a roll-up that goes on easy, smells amazing, and will keep you dry and protected for hours to come.
Available in a 2.75 ounce solid stick, Jack Black's Pit Boss deodorant for men has Vitamin E as one of the components, which can help keep skin soft and smooth. Your underarms will get a boost of hydrating help from the Aloe Leaf Juice that's included as well. Protection from wetness is found in the included Aluminum element, powerful enough of a concentration to work even under high stress or hot gym sessions.
This deodorant for men is tested by dermatologists, so you know it works. It's free from some things that irritate sensitive skin, like artificial colorants and surfactants, so your skin won't react poorly due to harsher components some deodorants may have. With a simple swipe under the arms, you'll have hours of protection with a gentle pleasant scent. For those who found aluminum products successful, but are still needing a different brand to try due to sensitive skin, this could be an option for you!
7

. Super Natural Goods Underarmed: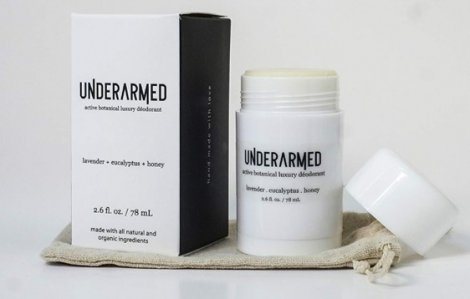 Cruelty Free Tested
Refundable
Essential Oils
Natural Products
Not For Sensitive Skin
Can Cause Rash
This deodorant from Super Natural Goods is one natural product that has gotten rave reviews for it's effectiveness, as well as soft, subtle scent. Underarmed deodorant for men comes in a lavender eucalyptus scent, made from essential oils that are therapeutic grade. And, like a few other of the natural deodorants on our list, this brand prides itself on creating a product that hasn't been tested on animals, making it cruelty free and a great option for those concerned with animal testing.
One of the things we absolutely love about Underarmed, is the brand's guarantee! If after 60 days, you don't feel the product works for you, or you don't like it for some reason, super Natural Goods will refund your purchase! Available in a 2.6 ounce stick, it's a bit more expensive than other products for the amount you get, but peace of mind and chemical free is worth the cost. And, with the money back guarantee, it's basically a risk-free purchase!
Underarmed is a deodorant made with essential oils, avocado butter, beeswax, coconut oil, and a few other ingredients to help keep your underarms soft and protected. It's tested by human individuals, making it an animal-cruelty friendly product. If you're on the hunt for all natural, cruelty free, with little risk to your purchase, this deodorant is worth a look!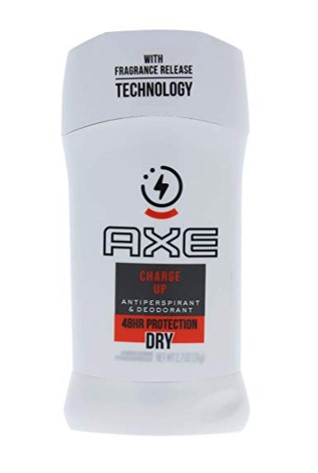 Encapsulated Fragrance Technology
Effective Against Wetness
Scent Variety
Easy Roll On
May Not Last 48 Hours
Scent Strong
This brand may be familiar to some as it's more popularly advertised in media and television. AXE Antiperspirants come in a variety of different scents, and levels of protection, but one of our favorites is the AXE Charge Up. This one not only will keep your protected from wetness and odor for an extended period of time, it has a musky scent that's enjoyable and pleasant to the senses. We'll take a look below at some of the technology included, as well as ingredients from this well known brand of men's products.
The AXE Charge Up deodorant is a solid stick that will leave you protected for 48 hours at a time! This is one of our favorite features as many regular deodorants will only last about 24 hours or less, so if you find yourself in a 12-hour layover or longer flight, you can rest assured you'll smell fresh and be dry. And while this deodorant is not made from all natural products, it's main ingredient is aluminum based, known for wetness protection, even under high stress situations.
Fragrance comes in a pleasant intoxicating Iced Musk and Ginger scent, which is release due to AXE encapsulated fragrance technology. This technology kicks in based on your body temperature and sweat, so when things heat up for you, you'll still be smelling great! If you're a fan of the brand, or perhaps a first-time user, give AXE Charge Up a go for long lasting protection.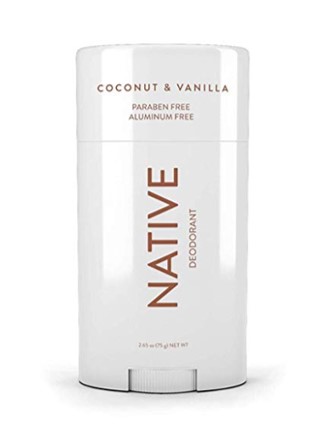 All Natural Ingredients
No Aluminum
Light, Pleasant Scent Options
Animal Friendly
Vegan Friendly
Less Effective Against Perspiration
Not For Sensitive Skin
Looking for something that is paraben and aluminum free in your deodorant? Native Deodorant for men is not only for those who are sensitive to these components found in many brands of deodorant, but it also has a pleasant scent in three different varieties. Native has found a formulation of deodorant for men that not only works to help keep you dry, but ingredients are all natural and easy to understand. Safe and effective, this deodorant is worth a closer look.
The main components that create Native Deodorant consist of coconut oil, probiotics, shea butter and baking soda. Shea butter helps keep skin soft, while baking soda helps keep you dry under stressful or heated conditions. You won't find aluminum in this product, so you can be assured this deodorant won't stain or damage clothing over time.
Available in several different scents, you can choose from coconut/lime, coconut/vanilla, cucumber/mint, or cranberry/plum, none of which doesn't have a strong fragrance that drowns out the air around you, but instead is light and pleasant. Native also won't test products on animals, so your mind can rest easy knowing this brand is animal-friendly. The brand asks for human volunteers to test out their products instead. It's a great option if you need something with all natural products!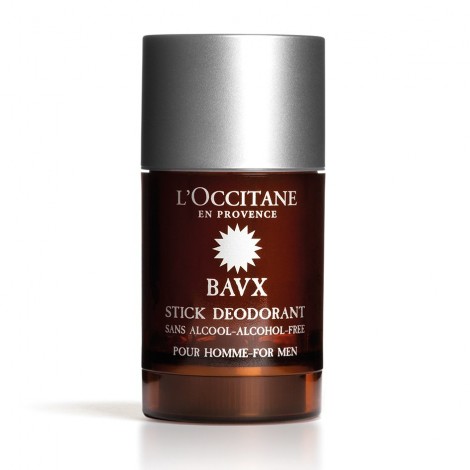 Light application
Great scent
Works all-day
What we loved most about this male deodorant is that it is incredibly powerful and quick-drying, and it does a great job at keeping you fresh without any harsh chemicals. This formula doesn't use aluminum salts or alcohol so you can feel really good about putting it on your skin.
What we liked most about this option is that it doesn't come in the traditional stick form. This deodorant for men is a liquid in a bottle that you apply with a roller. It goes on wet but dries almost immediately. It makes you feel like you aren't wearing anything at all, and it will not leave any marks on your clothing.
One of the things that users love the most about this gentle formula is that it has a really great scent. The scent isn't too overpowering and uses natural spices like cinnamon to create a gentle but masculine scent. Plus, the formula is powerful enough that it lasts all day long before it needs to be reapplied.
If you are in the market for a gentle formula that works and smells great, L'Occitane is with checking out. It doesn't irritate the skin, and it goes on incredibly light so you may forget that you are even wearing men's deodorant!
Criteria Used for Evaluation


Effectiveness
Taming the funk was our most important goal when selecting products.
All-natural products are great, but if you are still generating body odor, they aren't doing their job! We wanted to make sure that we selected deodorant for men that would keep you feeling fresh.
You sweat all over your body, but your armpits are what's responsible for unpleasant body odors. The sweat itself isn't what cause an unpleasant stink, however. When sweat comes into contact with the bacteria that grows under your armpits, it causes a chemical reaction that is responsible for that distinct odor. If you can eliminate the bacteria under your pits, you eliminate the odor (but not the wetness)
There were a few key ingredients that we made sure we included in every formula. Below, we have gone into a little more detail as to what those ingredients are and why they are important for deodorants or antiperspirants.
Propylene glycol: This is one of the most popular ingredients that we found out there on the market outside of alcohol and aluminum. What makes this chemical compound great in the use of deodorant is that dries quickly, absorbs moisture, and it is perfectly safe. In fact, it has been approved by the FDA and is actually found in a lot of food that we eat.
Baking soda: Baking soda is one of the best all-natural ingredients used to wick away moisture, and can be found in some deodorants or antiperspirants. It is incredibly safe to use topically, and it will not dry out your skin. Many products use baking soda as their main ingredient, while others opt for an alternative such as arrowroot powder.
What makes arrowroot powder a great alternative due to the fact that not only is it great at absorbing moisture, but it also kills many types of bacteria. By using deodorants with arrowroot powder, you can stay fairly dry and fresh at the same time. Plus, it won't irritate your skin and it is completely safe to use.
Aluminum: Aluminum has received a bad rap over the years, and some of it is deserved while much of it is not. There are some claims that aluminum causes cancer, although most of their claims have yet to be substantiated. What makes aluminum salts perfect in men's deodorants is that it works to close pores that get sweaty- stopping odor and wetness in its tracks.


Product Purity
It is important that you know exactly what you are putting on your skin.
Due to the fact that these deodorants are the thing that you will use every day (and sometimes more than once), we wanted to make sure that they were made from ingredients that you can feel good about. Below we have gone into a little bit of detail into the ingredients and sources that we avoided.
Animal testing: Believe it or not, there are some companies that use ingredients that were tested on animals. We wanted to make sure that we avoided these brands whenever we could. When you opt for natural ingredients, you want to know that those ingredients came from pure sources so that you can feel good about using them!
Aluminum: If you want to ensure that you are using all-natural ingredients, aluminum salts are something that you may want to avoid. While there are concrete no studies that prove they cause cancer, they can have some other unwanted side effects when used in deodorants and antiperspirants.
Due to the fact that it closes up your pores completely, it means that the pores will be twice as big when you stop using products with aluminum. The goal with the best deodorant for men is to allow your body to behave naturally and not disrupt is natural cooling defense mechanisms.
Using aluminum keeps you cool and dry, but your body will overcompensate to adjust to the foreign chemical you are putting on your skin in unwanted ways. To keep things simple and natural, aluminum is something to avoid when you can.


Application
No one likes a gloopy mess under their arms!
Sometimes, the application of deodorant for men can make all of the difference in how effective it is. We wanted to make sure that we selected brands that felt good when you put them on. There were a few different application methods from the various brands we found.
Clear stick: The clear stick feels almost like a thick gel. This method has a few benefits, but it also has a few disadvantages as well. First- the advantages. A clear gel goes on incredibly smoothly and doesn't clump up increases of your arms they way white bars can. It also will not create those embarrassing white streaks in your clothing if you get dressed after you put on your men's deodorant.
The downside to clear sticks is that they take a long time to dry. In fact, your arms may feel a little bit wet for the first part of your day. Plus, gel sticks do not feel as light as white sticks, and often feel a little gooey and sticky at times.
White stick: The white stick has its distinct disadvantages, but users often prefer how light it feels on their skin. The downside to white sticks is that it can leave those embarrassing streaks on your clothing (which come out easily with a little water and scrubbing), and clump in the crevices of your arm.
The upside to white stick deodorants is that they feel a lot lighter than their clear gel counterparts. Plus, they won't feel sticky, and you can apply a light layer and may even forget that you are wearing anything at all!


Features
We liked brands that added a little something extra into their formulas.
Men take the time to wash and style their hair, carefully shave their face and moisturize to keep their face smooth. Your underarms should have the same kind of care and maintenance, and some deodorants can help do this.
That's why we loved deodorant brands that add a little something extra in their formulas to take care of your pits! Below we have listed some of our favorite features and ingredients we found in some of the best deodorants for men out there on the market.
Natural scents: We loved deodorant brands that offered a nice masculine scent to their products. Natural scents like pine, cinnamon, cloves, musk, citrus, and sage continue to be incredibly popular among men. These scents are light and fresh without being overpowering. Plus, scents derived from natural sources irritate the skin far less than unknown fragrance chemicals.
Botanicals: Formulas that include botanicals into their products help to keep the skin under your arms happy and healthy. When you use products such as propylene glycol, alcohols, or even baking soda- your skin has a tendency to dry out. Dry skin often leads to irritated skin. To keep skin happy, ingredients in deodorants such as aloe vera keep skin moisturize and protect.
Quick-drying: Some deodorant brands feel like they take forever to dry, which makes you feel wet and sticky for most of the morning. Brands that offer quick-drying formulas feel like you are wearing nothing at all!


Side Effects
If you are reluctant to try new and different deodorant formulas if you have sensitive skin, it is important to consult your dermatologist first!
The good news here, however, is that most of the deodorant brands that we selected for our list are made from natural ingredients that will not irritate the skin. Those that advertise as dermatologist tested are great options to consider as well. If you aren't sure if you have any allergies to some ingredients found in your deodorants, it's best to ask your doctor about the product, or try a bit on a less sensitive area of your body first.
Skin irritation often comes from ingredients that dry out the skin, such as harsh alcohols or aluminum. If you are prone to skin irritation, we suggest skipping out on brands that include these types of ingredients.
To keep your skin happy, stick to deodorant brands that are marketed as aluminum and alcohol-free. For an added boost to sensitive skin, look for botanical ingredients such as aloe vera and arrowroot powder.
If you really want to keep things simple, we also suggest opting for a brand that doesn't have any fragrance. Often when using deodorant products that use fragrances (even those that come from natural sources) skin irritations can occur. There are many brands out there on the market that are still very effective even without the use of any fragrance!
As we mentioned before, it is important that if you are reluctant to try out a few deodorants for men on your sensitive skin, consult your dermatologist first. They will have the knowledge to scan through the list of ingredients on the package to find any ingredients that may or may not irritate your sensitive skin.
Expert Interviews & Opinions
Most Important Criteria
(According to our experts opinion)
Experts Opinion
Editors Opinion
Users Opinion
By Default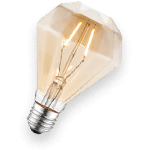 Check Your Ears First!
We know it sounds odd, but you may be able to skip the deodorant altogether based upon your earwax! If your earwax is white and flakey, it means that your body doesn't have the bacteria that causes body odor. If your earwax is dark and sticky, you may need to apply more than one coat the next time you head for the gym!
The History Of Smelling A Little Funky
Humans have been insecure about their body odor dating back to the ancient Egyptians! Many bathed in scented baths and placed perfumed water under their pits to control their odor.
Switch It Up
Want to try every deodorant on our list? Good! Studies show that your body actually becomes immune to your deodorant over time, so it is in your best interest (and the interest of those around you) to switch up your brand at least every 6 months.
Other Factors to Consider


Bottom Line
The human body is a complex system that requires quite a bit of daily maintenance! Ensuring that you aren't the smelly person in the room means that you need to take proper care of your feet, hair, and armpits!
The good news here is that armpit-care is simple with the help of a good deodorant for men! Many of the brands out there on the market go above and beyond simply keeping you smelling fresh. The addition of herbs and botanicals such as aloe vera keep your much-neglected armpits healthy and hydrated.
Healthy armpits are happy armpits. When your armpits are happy, you are less likely to generate a funk that would fend off bear attacks, and encourage the special people in your life to lean in just a little bit closer!
Frequently Asked Questions
q:

What's the difference between an antiperspirant and a deodorant?

a:

If you have ever perused the shelves of a drugstore, you may have noticed that there are two different types of formulas: antiperspirant, deodorant, as well as antiperspirant deodorant! So, what exactly is the difference between the two?

First of all, antiperspirant works by keeping your pits from getting wet in the first place. If you often contend with sweat stains on all of your shirts, and antiperspirant may be your best options.

However, antiperspirants are much harsher than deodorants because they often contain aluminum which works by closing off your sweat glands. This may keep you dry but at the cost of limiting your body's natural defense mechanisms.

Deodorant, on the other hand, doesn't keep you from getting wet under your arms. The reason that you pits smell bad as your start to sweat compared to other parts of your body is that it is interacting with bacteria under your arm. Deodorant works by killing that bacteria that live in your pits so that when you do start to sweat, it won't smell bad!
q:

What makes deodorant for men different?

a:

There are a few things that make deodorant for men stand apart from women's deodorant. The first thing that makes it different is that it is more powerful at cutting out the funk. Women actually have more sweat glands under their arms than men, but a man's body actually produces more sweat.

This is taken into consideration when crafting deodorant for men. Simply put, it is more powerful at halting odor than women's deodorant.

The other thing that makes it stand out is the scent. While certain scents don't necessarily belong to any one gender, there are some men that prefer not to smell like a bouquet of roses. That's why most brands craft unique scents that men will love, and women will love to smell! Scents such as black pepper, cinnamon, musk, and pine remain the reigning champions in the male scent department.
q:

Which is better, a white stick or a gel stick?

a:

The answer to this question is a simple matter of personal preference. Some men love their white stick, while others won't use anything but a gel stick.

The benefits of a gel stick are pretty straight forward. It won't leave any white market on your clothing, which is a big bonus. It glides on very easily, and won't cake up in the crevices under your arms.

The downside to gel sticks is that they are sometimes wet, heavy, and gloopy.

White sticks, on the other hand, glide on easily and are incredibly lightweight. This means that you may even forget that you are wearing it! The downside, however, is that it can leave behind white stripes on your clothing, and cakes up in the crevices in your arm.
q:

Can I put men's deodorants on my feet?

a:

So, you have pretty sweaty and smelly feet- especially after going for a run. If it works for something as funky as your armpits, will it work for your feet as well?

Yes, it will! Your feet have an impressive 250,000 sweat glands, and those glands are capable of some pretty ripe odors. To combat odor, your traditional deodorant will actually do the trick!

However, we suggest combating foot odor with products that are specially designed to help keep your feet dry and happy, and we happen to know of a few products that will help out!
q:

Do I have to wear deodorant?

a:

Hey, we aren't about to tell you what to do! However, the people around you may start singing a different tune. The biological function of body odor in primitive humans is believed to help females select their desired mates. If they liked the smell of a human male, they would select them as their partner.

Today, we have tons of ways to select mates without the hassle of smelling tons of unpleasant males to find one that wasn't as offensive to our senses! That means that you probably should try and mask your odors, or you run the risk of attracting no partners at all!

Most of the brands out there on the market come in small and compact tubes that are simple to toss into a gym bag to freshen up before and after a brutal workout.
q:

Are all-natural formulas of deodorant for men actually effective?

a:

We know, the words all-natural are often synonymous with not-effective. However, when it comes to the deodorant, this isn't the case at all! To tame the funk, all that you need is an ingredient that will kill the bacteria under your arm that causes odors, and ingredients such as baking soda or arrowroot powder are great at that task!

Antiperspirants are notorious for adding unwanted chemicals into their formulas, because stopping sweat in its tracks is a little more difficult that killing off bacteria. The most effective antiperspirant contains aluminum, which many users feel do more harm than good in the long run.

Plus, many users that complain about all-natural formulas being ineffective are often talking about antiperspirants. If you simply stick to deodorants with all-natural ingredients, you will not be disappointed!